6 Multicultural Wedding Celebrations—and What You Can Learn From Them
These couples prove that regardless of your cultural or religious differences, it's possible to throw a wedding that equally represents both of you.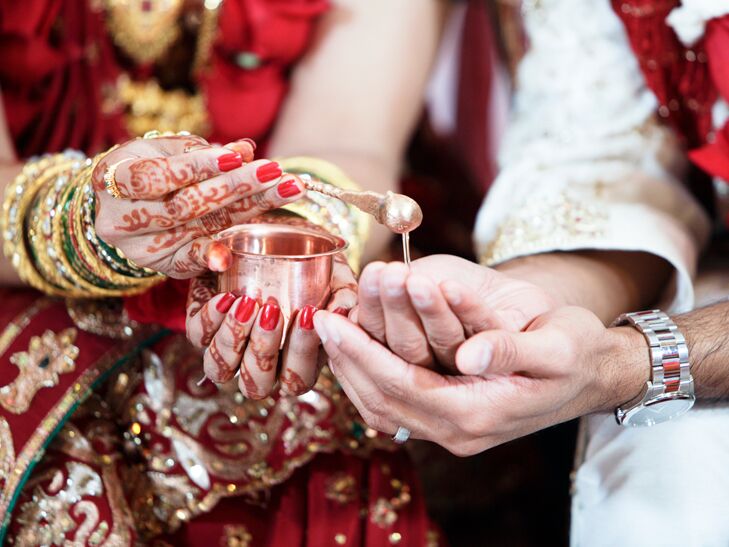 iStock
No matter where you're from or what you believe in, weddings are always a sacred event. So how do you combine two (or even more) different cultures into one celebratory union? Below, see how six couples were able to incorporate traditions to honor both their families' heritages—and each other—and create a wedding that was 100 percent them.
Alexia Skouteris and Santiago Gallo of Atlanta, GA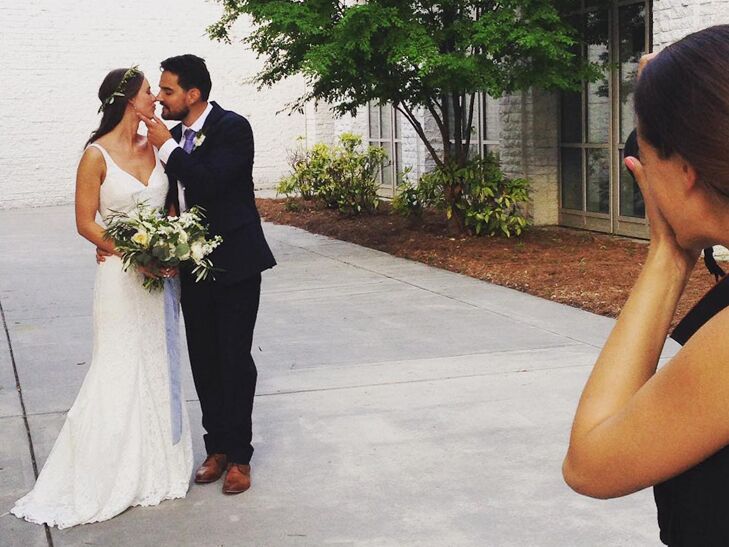 Their Backgrounds: Santiago was born in Bogota, Colombia, and moved to the US as a child. "One of the many things I love about him is his love for his country and culture," Alexia says. She's Greek American—her father emigrated from Greece—and was raised in the Greek Orthodox church.
How They Combined Cultures: "We knew from the start we wanted to showcase both of our cultures," Alexia says. They wed in a Greek Orthodox church in Atlanta and had a traditional Greek ceremony. Since most of it was conducted in Greek, they gave guests a program explaining the various traditions, including the blessing of the rings and a crowning that symbolizes the couple's unity. As is custom in Colombia, Santiago's mother gave him away at the altar.
Music is also really important to the couple, so at the reception they made sure to play both traditional Greek songs as well as salsa and modern Spanish music. They also stocked the bar with the Colombian liquor aguardiente and Greece's famous ouzo. For favors, they gifted their guests with olive oil made from Alexia's grandfather's olive tree in Greece and then ended the night with a Greek-inspired after-party including belly dancers, table dancing and a napkin toss. "We both have large families that love to party," Alexia says.
Their Best Planning Advice: "Be proud of who you are and where you come from, and don't be afraid to mix different traditions into your wedding day. In fact, your guests will probably enjoy it more if they know your wedding is going to be different then most they've been to."
Maryam Nabi and Patrick Kallerman of Oakland, CA
Their Backgrounds: Maryam is Afghan American and Patrick is third-generation American.
How They Combined Cultures: "We wanted to make sure our wedding was a fusion of us and who we are. My family emigrated from Afghanistan 30 years ago and as one of the eldest in my immediate and extended family, marrying someone outside of my culture was a new experience for everyone," Maryam says. A week before their wedding, the couple held a traditional Afghan ceremony called a nikkah and Maryam wore her culture's customary green dress. During the second ceremony, she wore a white dress but still included nods to her Afghan roots throughout the day, including reading a poem by Rumi, a Persian poet who was born in what is now present-day Afghanistan. The couple walked into the reception to a traditional Afghan marriage song, but played a range of music throughout the night. The dinner featured Afghan dishes like mantu—Afghan dumplings—alongside classic American wedding foods such as filet mignon and salmon. Guests were also invited to have henna applied to their hands, which turned out to be a big hit.
Their Best Planning Advice: "At first we were hesitant to plan a mixed wedding, but we're so glad we did! Juggling everyone's expectations can be tricky and we were worried that those who weren't familiar with the traditions would find them strange. We ended up outlining all the traditions—and the meaning behind them—on our program so that our guests could understand and feel part of certain rituals."
Diana Limongi and Ludo Gabriele of New York, NY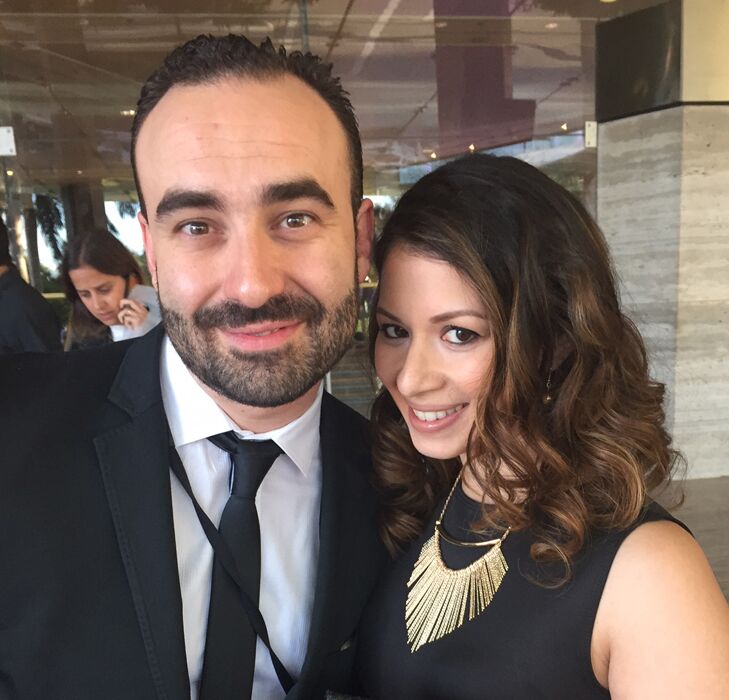 Their Backgrounds: Ludo is French and Diana is Ecuadorian American. "My husband is spiritual but was not raised religious at all. I was raised very religious, with a Catholic school upbringing," Diana says.
How They Combined Cultures: In a perfect mix of their customs and beliefs, Diana and Ludo wed at a Catholic church in the South of France, and had readings in both English and French. "I had bridesmaids, which isn't customary in France. I actually had to order their dresses in the USA and have them shipped to my bridesmaids in cities all over the world," Diana says. At the reception, they danced to cumbia, salsa and merengue music. As for food, the couple went above and beyond. "We had a traditional Provencal dinner with many courses, including a cheese platter, and served wine with labels that said 'cheers' in Spanish, French and English," she says. And the dessert table was also a clear homage to their roots. One cake was made with traditional French pastry puffs in the shape of the Pont d'Avignon, a 12th century bridge in France, and another was a "torta de novia," an Ecuadorian wedding cake with fruits and nuts. A third cake honored their American home: a Statue of Liberty made of sugar, featuring both the American and French flags.
Their Best Planning Advice: "A multicultural wedding is just the beginning of a multicultural life together. It's the first of many moments when you will fuse your cultures and build your own traditions. Try to strike a balance and be open to what your partner wants, and look at every element to see how you might incorporate the other culture."
Tanya and Arun Khoot-Lloyd of London, UK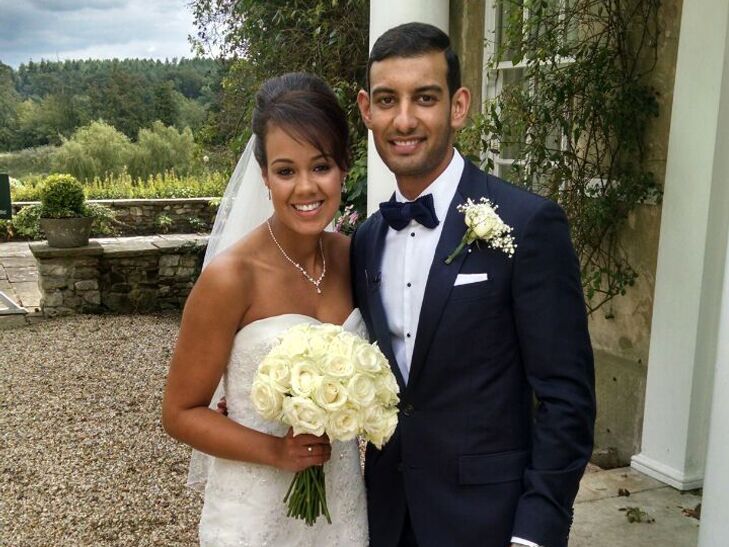 Their Backgrounds: Arun is Indian, and Tanya's background is Jamaican and Irish—both were raised in London.
How They Combined Cultures: The ceremony and reception took place in a traditional English setting, at a country house in Surrey, but the couple incorporated both Southeast Asian and Caribbean touches throughout the day. The bridesmaids wore saris, but the dress code was left open, allowing guests to opt for traditional formal Hindu dress or whatever they felt comfortable wearing. The meal was a true smorgasbord, including Indian starters and Caribbean main dishes, followed by the iconic English dish—fish and chips—for a late-night snack. "The DJ was a personal friend of ours, so he played absolutely every kind of music to make sure everyone of different backgrounds would dance," Arun says. The evening ended with a fun Hindu tradition: as Arun and Tanya drove away, they ran over a coconut for good luck.
Their Best Planning Advice: "I think it's important to try and gauge early on how involved your parents want to be in the planning. When you mix cultures everyone might have an opinion or an idea. We found that as the day drew nearer, there were more requests from our parents on how they wanted things to be. There's a balance between having your day and being respectful that this might be 'the only child's wedding' or 'the only daughter's wedding.' "
Linda and Seth Kuriloff of North Bergen, NJ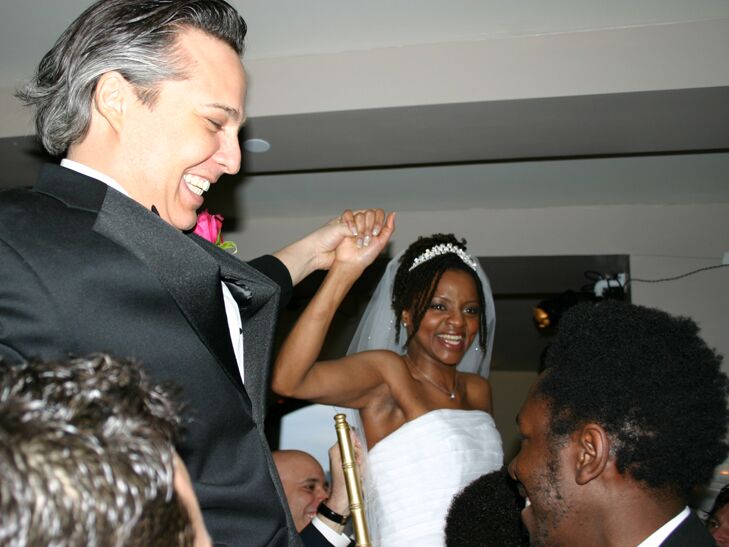 Their Backgrounds: Linda is of the Zulu Tribe from South Africa and Seth is Jewish.
How They Combined Cultures: The couple's ceremony took place at the Manhattan Penthouse in New York City, where they had their close friend officiate. At the reception, the couple focused on music and dance to celebrate their different cultures, playing a song by South African singer and civil rights activist Miriam Makeba to honor Linda's culture and dancing the hora to recognize Seth's Jewish faith. Linda's family also sang a Zulu wedding song and invited guests to dance along.
Their Best Planning Advice: "Consider what elements of a traditional wedding in your culture your grandparents would miss if it were not included and then decide on how you want to incorporate them into your day. Also, be careful not to choose too many traditions from one culture over the other. Most of all, celebrate!"
Jennifer Suk Lee and Andrew Jee Wen Lim of Chicago, IL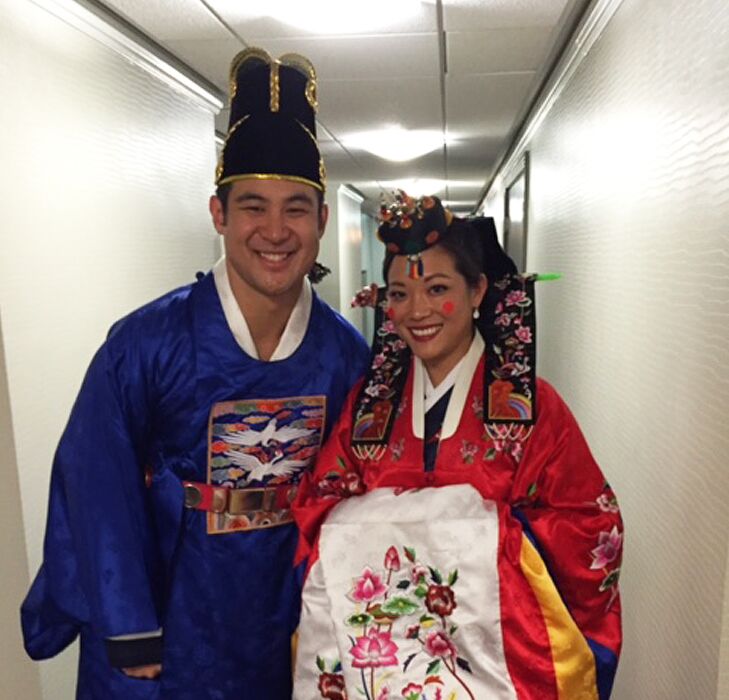 Their Backgrounds: Jennifer is Korean; Andrew is Malaysian and Chinese.
How They Combined Cultures: To ensure they were able to honor both of their Asian backgrounds, Jennifer and Andrew held two traditional events during their wedding weekend—a Chinese ceremony and a Korean Pyebaek—along with their Western-style reception. For the Chinese ceremony, which symbolizes the coming together of two families, Jen wore a two-piece wedding dress called a Qun Kwa in the customary color red, which symbolizes love and good fortune. At the Pyebaek, she wore a custom Hanbok made up of two main pieces: a full high skirt and a long-sleeved top with ties (shown above). That ceremony includes a tradition where the groom carries the bride around the room to signify he can provide and take care of her. "The bride and groom also place a date between their lips and kiss, each taking a bite of half the date. It is said that the one who gets the seed has the power in the relationship," Jen explains. Their Western-style wedding celebrated the couple's love of food. Instead of a traditional cake they ordered doughnuts from their favorite local spot and created a tiered doughnut cake. Close to midnight, they served McDonald's cheeseburgers for a late-night snack.
Their Best Planning Advice: "Multicultural ceremonies are about being open-minded and accepting. A person unfamiliar with the ceremony may have a different perspective on the cultural outfit and ritual. To one person it may be strange and foreign, but to another, it may be a beautiful display of pride and respect. Remember you're not only marrying into another family, but also into their cultural beliefs and traditions. It's an honor to be able to experience something that has been passed down through generations."