Multicultural Wedding Planning Advice From 17 Real Newlyweds
Throw a wedding that represents both of you equally.
No matter where you're from or what you believe in, weddings are always sacred events, often filled to the bring with meaningful rituals. But how do you approach the wedding planning journey when you and your partner don't share the same heritage? How do you combine two cultures into one wedding? That's where multicultural wedding planning comes in—arguably, combining two (or more) different cultures or religions into one celebratory union can make a wedding day that much more special.
While researching what traditions and rituals are most commonly celebrated in your culture is a straightforward first step in planning a multicultural wedding, sometimes it helps to see what other couples chose to do. Below, see how 17 couples incorporated cultural traditions into their own fusion weddings to honor their families' heritage and each other. While you may hail from a different culture than these married couples, these real-life examples of multicultural fusion weddings are sure to inspire you.
Bahamian-Honduran Multicultural Wedding in San Francisco, California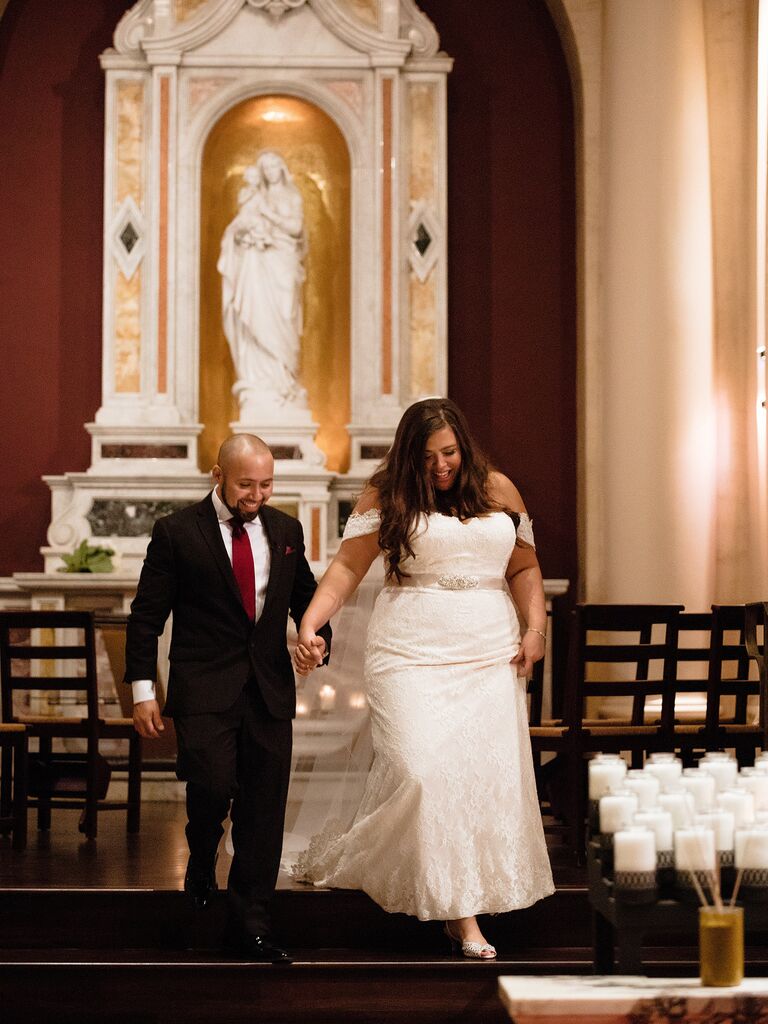 Their Backgrounds: Kiara is ethnically Cuban, Colombian and Polish but born and raised in the Bahamas, while Arles is Honduran.
How They Combined Cultures: Kiara and Arles scentscaped their wedding to connect themselves and their guests with their heritage by infusing it with a sweet tobacco and incense smell. For the ceremony, Kiara and Arles made sure to include religion since it's important to them and their families. "We are both Catholic, so it was a unifying element for us when we married in the Saint Ignatius Church in San Francisco. We had a Catholic Mass, communion and the kneeling prayers to Mary," Kiara says. They also involved their Latin American heritage in the ceremony by doing las arras, a lasso ceremony and having readings in both English and Spanish.
The couple also participated in a shared veil or mantilla ceremony, a ritual with Spanish roots. The mantilla is a long white lace veil that's traditionally draped on the bride's head and groom's shoulder by two female family members of the bride and groom, typically the couple's mothers, as they kneel before the altar during the Catholic Mass. The white mantilla symbolizes the pureness of marriage, while the ceremony as a whole, represents the couple being united by love.
For the reception, they kicked off the party with a cocktail hour that revolved around Kiara's Cuban and Bahamian background. We had a cigar bar and cigar rollers, island cocktails, and a photo booth with island props. "I didn't want a wedding cake, so my mother brought a traditional island pastry, guava duff, from home instead. My husband's family really wanted a pastel (a traditional Latino dessert) or a cake, so they gifted us a wedding cake as well," Kiara says. Culturally in Honduras, favors are a big part of the departure from events, so Arles' family made custom miniature statues so Kiara and Arles could give them as wedding favors. Finally, to connect to Kiara's Polish roots, they did the dollar dance. Kiara wore her aunt's wedding apron with babies on it, which represents fertility.
Their Best Planning Advice: "The small details matter, even if it's just for you, bring them in," advises the couple. "You will remember those details. Overall, leaning into bilingual elements throughout the wedding was so important for us and for all family members to feel welcome."
Brazilian-American Fusion Wedding in Paraty, Brazil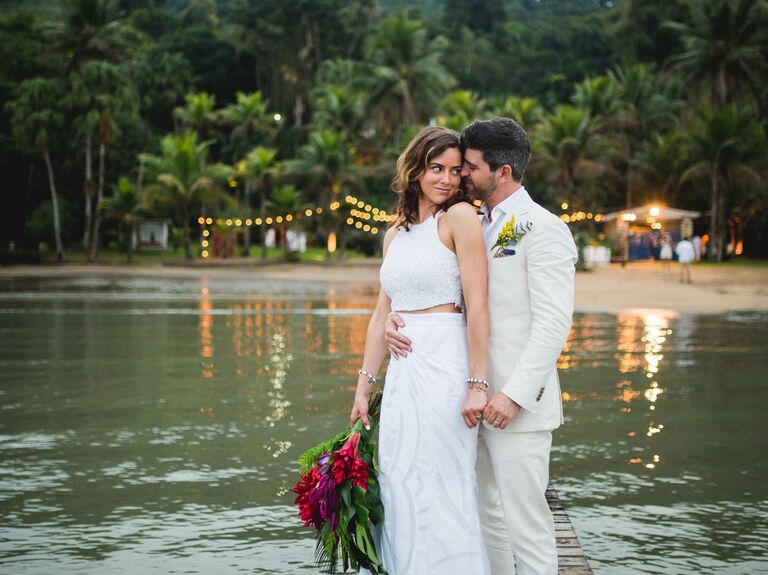 Their Backgrounds: Daniela is Brazilian-American and Jamie is American.
How They Combined Cultures: "We had about 100 guests at our wedding, 70 of them were English speakers, but we wanted the ceremony to be both in English and Portuguese," explains Daniela."My brother did a reading in English, and Jamie's uncle, who had been living in Rio de Janeiro for decades, did a reading in Portuguese. We also had samba dancers come during the Festa à Fantasia (a traditional element in Brazilian wedding receptions) to show off the culture and excitement of Brazil."
Their Best Planning Advice: "Trust your vendors, especially if you decide on a destination wedding," advises Daniela."They're the professionals, and if you invested in them, trust them to throw you an epic event. Don't worry if everything doesn't go to plan. Most guests would never know if something went wrong or didn't show up."
Their Backgrounds: Joan is Korean and Nghi is Vietnamese.
How They Combined Cultures: Alcohol is an integral part of Vietnamese weddings, especially cognac. Traditionally during dinner, the newlyweds go to each table to thank and welcome their guests. This custom is called chào bàn, which translates to a greeting table. Many couples take shots of cognac or play drinking games with their young guests. Joan and Nghi included this tradition in their multicultural wedding. "One of our favorite parts of our wedding was the cart with Hennessy XO shots. We went around each table and took shots with our family and friends. It was so fun and a great time for us to mingle with our guests."
Their Best Planning Advice: "Having a wedding planner makes life much easier for the couple. I know wedding planning can be stressful, but just meet your partner halfway on certain things and ask yourself, is it worth it in the end," the couple says.
Their Backgrounds: Eric is Jewish and Lucy is Chinese.
How They Combined Cultures: "During our first look, we ate noodles and drank shots of tequila to represent longevity and celebrate two families becoming one according to Chinese traditions. Then, during the ceremony, we worked with the venue and our florist to decorate a chuppah with a modern twist," the couple says.
While certain wedding traditions are lucky in your culture, there's a possibility those same traditions are unlucky in your partner's culture. Eric and Lucy dealt with that scenario at their wedding, but here's how they handled it seamlessly. "At the end of the ceremony, we stepped on 'glass' for the Jewish tradition or bubble wrap in our case, since it is unlucky to break glass during the wedding day in Chinese culture. Finally, our favorite part of our wedding was being lifted in chairs during 'Hava Nagila,' and being able to celebrate with our friends and family," Lucy says.
Their Best Planning Advice: "Our advice is to make this day your own," says the couple. "Your wedding is a special day when your friends and family come together to celebrate your love. It meant so much to us to show our guests how we brought two cultures together, and they were able to be there to celebrate us and have a great time. Another piece of advice is to splurge on the areas that are the most important to you. For us, this was the photographer, venue, music, and hair and makeup. Then we cut back on the other areas if needed."
Their Backgrounds: Robert is Lutheran and Angeli is Hindu.
How They Combined Cultures: Before the main wedding ceremony, Angeli and Robert decided to have their Indian sangeet and mehndi ceremony on the same night before their wedding. For the main ceremony, they had two faith leaders, a Lutheran priest and a Hindu representative. "We chose certain elements from each faith and then had rituals based on that element. For example, fire. In Hindu weddings, there is a sacred Indian ritual called saath phere. Then for the Lutheran ritual right after, we had our moms come up and light a unity candle. Alternating these traditions felt equal and inclusive. Something I hadn't seen done in any other interfaith wedding."
Their Best Planning Advice: "Start hair and makeup and photography early. People said this to me, but I didn't think we would need so many hours. We could have used more. But even bigger and something I regret now is I let the weather get me down. If you're going to have your wedding outdoors, my advice is to be okay with the rain. Prepare yourself emotionally for it," Angeli says.
Their Backgrounds: Anamika is Hindu and Jean is Quaker.
How They Combined Cultures: "We had many influences that converged into a loose theme that I'll call 'California nature meets Indian tradition meets Handmade.' These influences included the gorgeous California coastal setting, our favorite birds of Bolinas (hummingbirds and cranes), my Indian heritage, Jean's Quaker heritage, and all the artistic influences in our lives. Our theme was a strange yet harmonious combination of these elements," Anamika says. Because of the pandemic, the couple didn't have a large wedding or a sangeet. "The one part of Indian weddings I did miss was the sangeet night, but my little sister surprised us by organizing a virtual sangeet in which she compiled songs, dances and speeches from our families and put in an awesome video for us to watch. To top it off, my mom ordered us Indian food and champagne that night," Anamika says.
For the wedding ceremony, Anamika wore a pink-and-gold silk wedding sari with a gold netted pallu and spent hours with her mom on Zoom learning how to tie the sari correctly.
Their Best Planning Advice: "Our tip is to plan things in a way to maximize flexibility. You never know what may change these days, so make sure you have contingency plans. For example, with our caterer, we made sure she could be nimble and plan a last-minute dinner in the park in case our venue fell through. Ensuring flexibility minimizes stress," Jean says.
Their Backgrounds: David is Armenian and Erica is Vietnamese.
How They Combined Cultures: "We wanted to honor both of our cultures, so before dinner, we said a prayer in Armenian, which was led by the same Armenian priest who held our separate religious ceremony for our immediate family. We also surprised our guests with a lion dance, which is a tradition many Vietnamese weddings start their receptions with. However, rather than it being our grand entrance to the reception, we snuck away after the cake cutting to change into traditional Vietnamese wedding attire for a surprise performance with 4 'lions' and a drum ensemble," Erica says.
For the lion dance surprise, Erica changed into an áo dài, which is traditional Vietnamese wedding attire with a tunic worn over pants and a headpiece.
Their Best Planning Advice: "Figure out how you both prefer to plan. A little bit each day? Longer chunks of dedicated time? Getting on the same page early on will go a long way," Erica advises.
Their Backgrounds: Susannah is Jewish and Gustavo is Venezuelan.
How They Combined Cultures: "We were married under a chuppah, that's been used for decades in the Eig family, and our ceremony included a Catholic las arras and a hand-fasting ritual. During the reception, we drank from a German wedding cup, danced the Jewish hora and ended the evening with la hora loca, a Latin 'crazy hour.' We also recited our vows in English and Spanish since many of our guests were only fluent in one language."
Their Best Planning Advice: "Enjoy every moment of the process; it goes by so fast, you can't even imagine. If possible, say hello to every guest at the wedding. You won't regret spending a moment with every person, and it will be so special for them," the couple urges.
Their Backgrounds: Althea is German and Seyi is Nigerian.
How They Combined Cultures: After the ceremony, the guests joined the couple outside for a traditional German log cutting. The tradition of cutting a log at the wedding represents the first obstacle the couple will overcome in their marriage. Althea and Seyi used a decorative long saw with two handles as their friends and family watched and cheered them on. During the reception, Althea and Seyi re-entered in traditional Nigerian wedding attire and participated in the Nigerian money spray dance.
Their Backgrounds: Emilia is Iranian-American with a Persian background and Calum is Scottish.
How They Combined Cultures: The wedding ceremony featured Persian wedding traditions such as a sofreh and the sugar cone ceremony. The women wedding guests rubbed two sugar cones together while bridesmaids held a mesh cloth above Calum and Emilia's heads. The sugar falling from grinding sugar cones represented the women's wishes for sweetness in the couple's life. To honor Calum's Scottish heritage, he wore his family heirloom Gunn tartan kilt. The kilt has been in his family for generations and was passed from Calum's grandfather to Calum and his brothers. Calum wore also wore a sporran and his kilt shoes.
Their Best Planning Advice: "As Emilia said in her wedding vows, what we have together is enough. Keep it simple," Calum says.
Their Backgrounds: Tony is Chinese-American and Arthika is Sri Lankan-American.
How They Combined Cultures: "One of our favorite wedding personalizations was probably the hand-calligraphed chopstick holder name cards that contained our wedding favor, a set of golden chopsticks for future dumpling nights. We also hired an amazing team of lion dancers for the event that blew everyone away. Our custom dessert trio was also a perfect fusion of Tony's and my cultures, and all of them tasted amazing despite being unique requests. Vattalappam from Sri Lanka, egg tarts from China, and chai panna cotta for our shared love of panna cotta after visits to Italy together," Arthika says. This is a perfect example of why you shouldn't be afraid of including other cultures in your wedding as long they are significant to you and your partner.
Their Best Planning Advice: "If you can make it through planning the wedding of both your dreams, you can make it through almost anything in life together. You've just got to maintain perspective, and that's what your partner is for," Arthika says.
Their Backgrounds: Joe is Guamanian and Vanessa is Nigerian.
How They Combined Cultures: For the Nigerian wedding traditions, the couple did the money-spraying custom, the bride's family offered kola nuts to the groom's family and the bride changed into a traditional gold Nigerian lace dress (known as aso oke) during the reception for the Nigerian dance portion. For the Guamanian (and Chamorro) traditions, the couple hired Guamanian dance performers, provided shell leis for guests to wear at the reception and did money pinning for the bride and groom.
Since Joe is a part of the military, he wore a dress mess uniform. He also honored his 17 family members who were currently serving or veterans and passed military challenge coins to those veterans.
Their Best Planning Advice: "If most of your guests are coming from out of town, try to make it a memorable experience. The majority of our guests were from out of state, so we wanted them to feel like they were having an experience or mini-vacation. On Friday we had a welcome reception that all guests were invited to, not just the wedding party and family as you would for a rehearsal dinner. Our DJ was there to play music and get a feel for what would resonate with our guests for the big day, which was great. The venue was a resort, so anyone staying on the property could go to the pool, visit a winery or play golf before the reception started in the evening," the couple recommends.
Their Backgrounds: Misbah is Pakistani and Frank is Chinese.
How They Combined Cultures: "Red is a lucky color in Chinese culture, so we made sure to include it in our wedding. Reds and pinks are also often included in Pakistani culture, so I wore a red lehenga to represent that. To add a personalized cultural aspect to our wedding, we had a Chinese tea ceremony the morning of our wedding to include Frank's culture. Two days before our wedding, we also hosted a mehndi ceremony to tie in my culture. Both events included family and friends from both sides of our family," Misbah says.
Their Best Planning Advice: "The best thing we did was get a wedding planner for the day of our wedding and then some. I think it was important to do this detail because we wanted to tie together two different cultures and were very detail-oriented," Misbah says.
Their Backgrounds: Ashlyn is Hindu and Darren is Chinese.
How They Combined Cultures: For their fusion wedding, the happy couple had a Chinese tea ceremony before their Hindu wedding ceremony and prayer. During the wedding ceremony, the bride wore an Indian lehenga and henna.
Their Best Planning Advice: "Our best advice is to do it as a team. You would be surprised how your opinion can change after you hear the vision and inspiration of your partner," the couple says. "Wedding planning can be a lot of work with added stress to your daily life, so trying to make it fun can at least curb some of that. Plus, doing it as two people allows you to have dividable responsibility."
Their Backgrounds: Brianna is Catholic and Pavan is Hindu.
How They Combined Cultures: "Leading up to the wedding weekend, I had a small mehndi party with close family on both sides. Our actual wedding day included a Catholic ceremony in the morning followed by the Hindu ceremony and reception. We decorated a Detroit pedicab to carry Pavan into his baraat. Finally, Indian weddings are known for bright, vibrant colors; therefore, we incorporated that into our flowers and table settings," Brianna says.
Their Best Planning Advice: "As cliché as this sounds, your wedding day goes by in a blink of an eye. With your partner, give yourself pause and grace to soak in the absolute joy of being surrounded by friends and family to witness your wedding day. Don't sweat the small stuff. At the end of the day, no one remembers those little details that drove you crazy. And, most importantly, have fun," Brianna suggests.
Their Backgrounds: Aimee is Christian and Ayush is Hindu.
How They Combined Cultures: "We blended traditions from both cultures and religions, including a baraat (on a Baltimore water taxi), Hindu ceremony, Indian luncheon, Christian ceremony, followed by a reception that included a mini Sangeet. Ayush and I even surprised our guests at the reception with a choreographed Bollywood dance to 'Jalebi Baby' by Jason Derulo and Tescher," says Aimee. "We used the Ludwig leaf in particular as a design element to bring our fusion concept to life. Some other notable design features of our wedding included a mandap draped in vibrant flowers for the Hindu ceremony."
Their Best Planning Advice: "The biggest advice we have is to relax and enjoy the wedding planning process. The day will go by so fast, so there's no point stressing the small stuff," the couple encourages.
Their Backgrounds: Jordan is German and Beverly is Chinese.
How They Combined Cultures: "To honor my Chinese and Malaysian culture, it was important for me to incorporate a Chinese tea ceremony to invite our family to partake in and learn the tradition and beautiful meaning behind it. To honor my husband's German roots, we opted for a unity ceremony with a German beer and Coca-Cola, a drink we enjoyed on a previous trip to Munich," Beverly says.
Their Best Planning Advice: "Our advice for engaged couples is to make those connections while seeking out your vendors. People in the wedding industry still recovering and bouncing back from the pandemic. Take the time to research and get to know the person behind the business," Beverly says. "Once you find them, trust them wholeheartedly! These vendors you choose with intention will be people who pour their heart and soul into their craft and want the very best for you. They know what they're doing and what works for your wedding."