10 Wedding Traditions From Across the Country You Should Steal
Pull these traditions from all over the country and make them your own.
Kristine Pringle Photography
You may have your "something blue," your grandmother's veil and a signature cocktail ready to roll on your wedding day, but what about looking for inspiration outside of Pinterest, your sister and friends? Adding a special touch from another region will make a great memory for you and your guests—because who wouldn't love a table full of homemade cookies at the reception?
Here are 10 steal-worthy wedding traditions we love from all over the US—and how to make them yours.
From New York and New Jersey: A Viennese Hour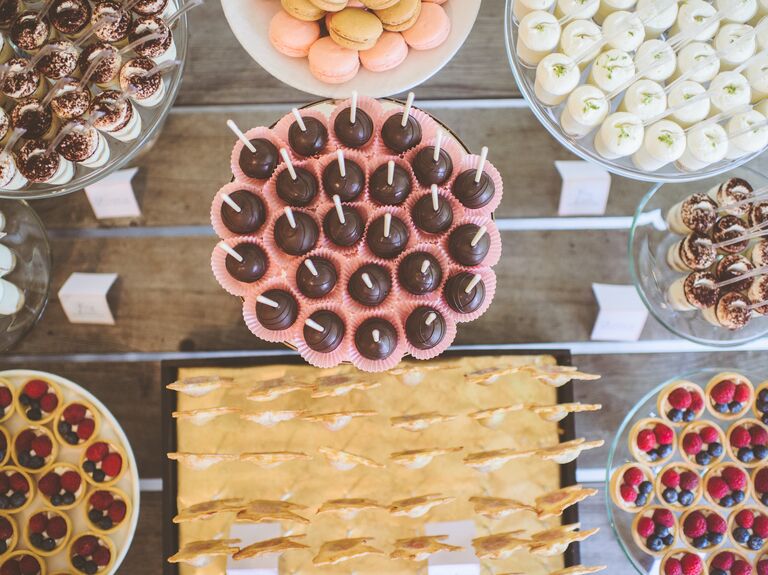 What It Is: Stemming from Italian tradition, a Viennese (or Venetian) hour is usually served after dinner and the wedding cake cutting. The tradition includes a massive (and we mean massive) assortment of desserts that guests can help themselves to, like pies, cookies, brownies, cheesecake, pastries, chocolate-covered fruit, ice cream, candy, coffee and other sweets. Sometimes other fancier desserts, like bananas Foster or custom sundae bars, are available too, depending on how extravagant the display is. Some couples understandably choose to forgo the wedding cake completely in lieu of a Viennese hour, but it's perfectly acceptable to have both. Who ever complained about too many sweets?
Make It Yours: You can personalize the Viennese hour any way you want. Consider adding sprinkles in your wedding colors to an ice cream sundae bar, or if you and your fiancé love a pie shop from your hometown, present an assortment of your favorites. Or get super trendy and offer a decadent doughnut display (doughnut walls, anyone?). The sky's the limit.
From the Midwest and South: A Pounding Party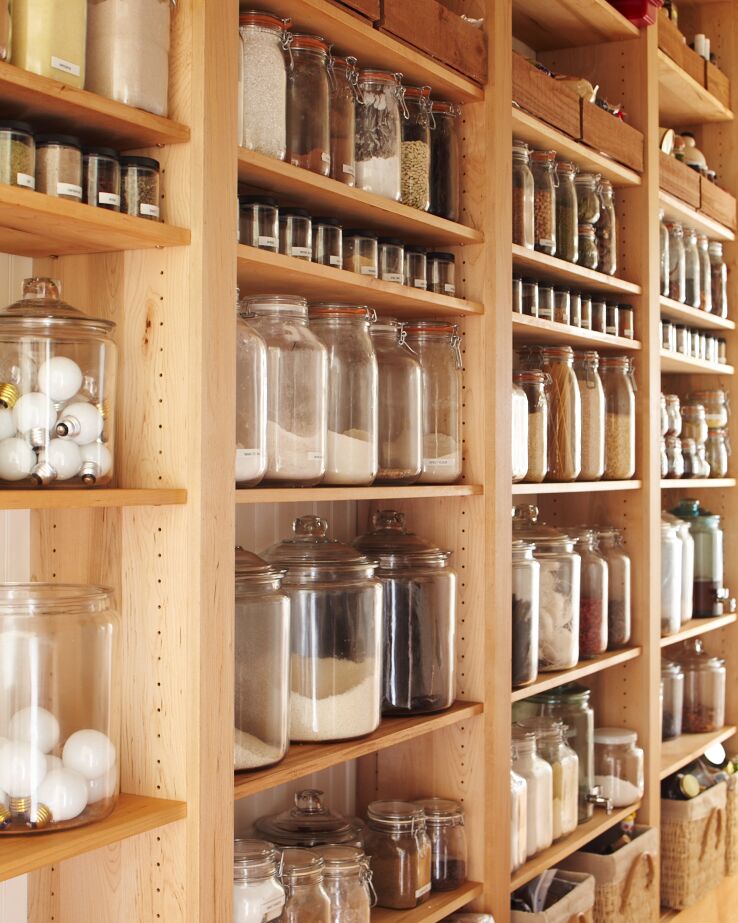 What It Is: This isn't what it sounds like—we promise! Just hear us out. Derived from Quaker tradition, a pounding party is similar to a housewarming party, except the soon-to-be-weds or newlyweds are given flour, sugar, butter and other pantry-stocking goods by the pound. Other items can be given too, like cleaning supplies and handmade items for their new home. 19 Kids and Counting stars Jill Duggar and Derick Dillard had one before their wedding.
Make It Yours: If you've got all the goods you need, you could ask your guests to write down a favorite family recipe and bring that to the party instead.
From College Football Towns: Game Days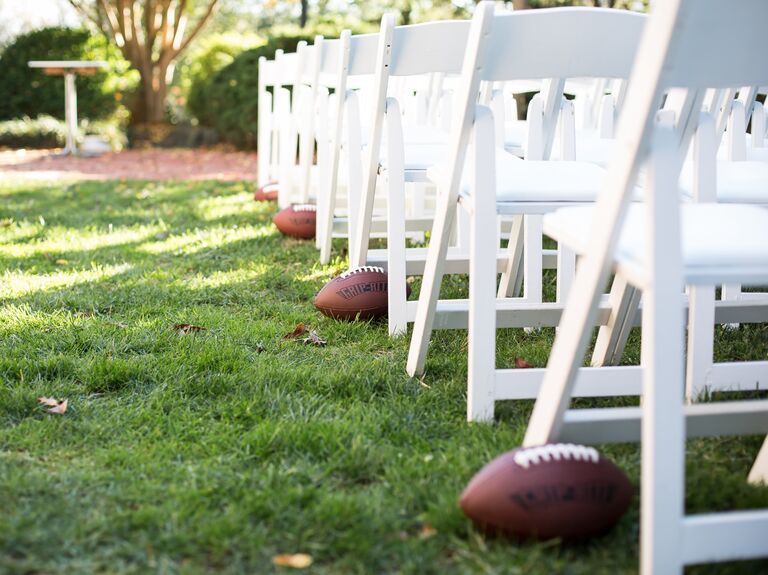 What It Is: For states where college football reigns supreme during fall, like Alabama, it's tradition to never set your wedding date on certain Saturdays. Although it might sound laughable to some, lots of couples in football-fanatic towns consult the home team's schedule before they set their date, or they zero in on any week the team has off. Otherwise, they know that hotel blocks will be impossible to get for their guests, or people will be sneaking peeks at their phone and bar TVs throughout the reception. If it's the game of the season, and depending on the die-hard level of the guest, the to-be-weds know that some will just have to choose the game over the wedding.
Make It Yours: If you have a similar situation in your town, you can take this into consideration, but include something event-related in your favors, cake or colors.
From the South: Burying the Bourbon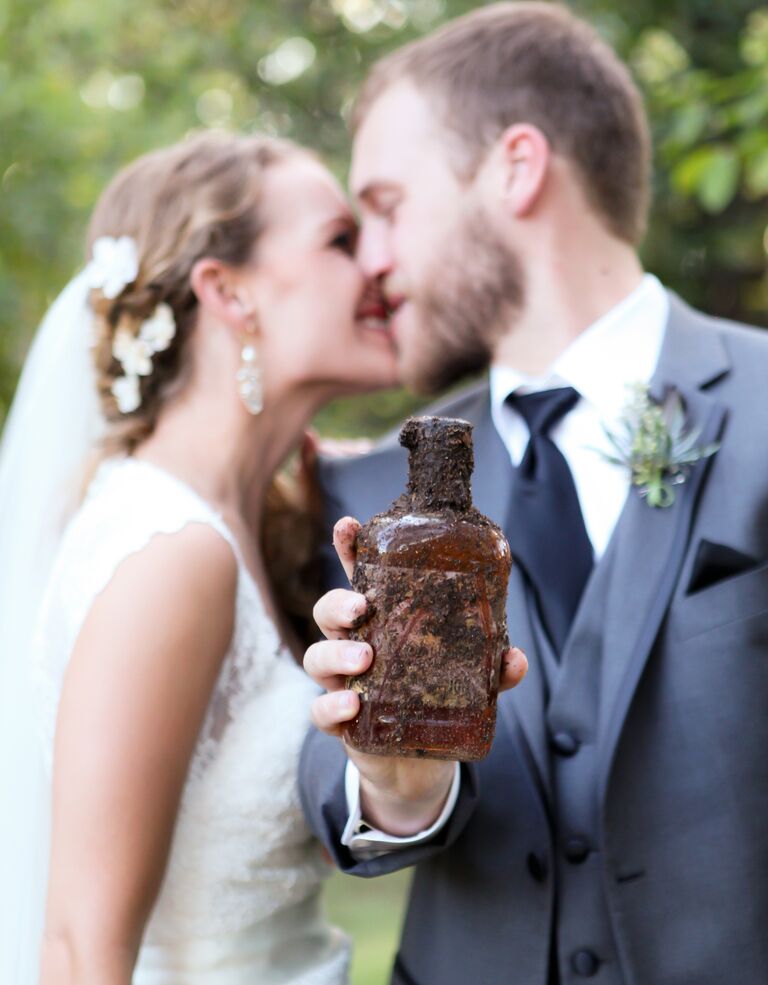 What It Is: Couples bury a bottle of bourbon at their ceremony venue precisely one month before their wedding date so it won't rain on their day. According to folklore, if you don't follow this tradition to a T, it may downpour. The rules: The bottle must be completely full and sealed (no taste testing!) and buried upside down as close as possible to where you'll say your vows. Then on the day of—and this, of course, is very important—you're supposed to dig it up and enjoy with your wedding party during the reception.
Make It Yours: Tie in the tradition with a fun bourbon bar during the cocktail hour, or create a signature bourbon drink for the reception.
From New Orleans: The Second Line Parade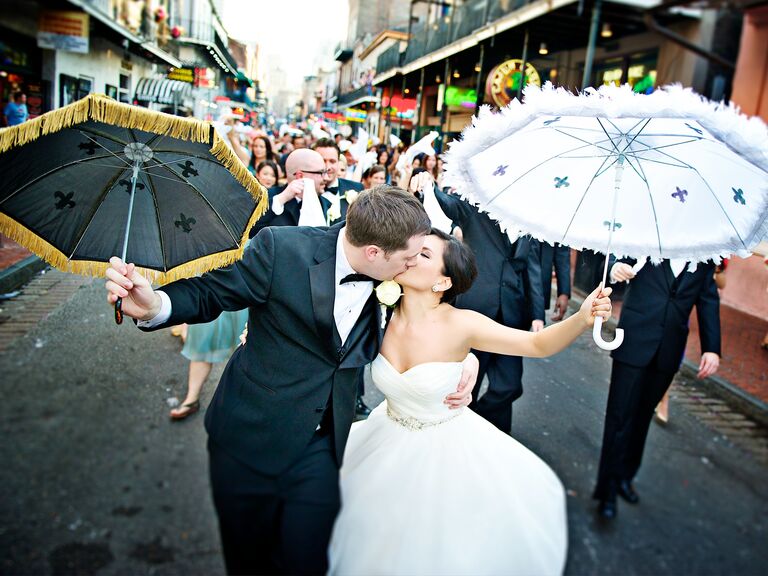 What It Is: As tradition goes, brass band parades in Louisiana have two lines: The first line includes the main members of the band, and the second line includes anyone who wants to join and wave a handkerchief. The second line parade is said to signify the start of a new life and has long been a fun way for New Orleans couples to travel from the ceremony to the reception. Usually the couple will join the band on the first line, and then guests make up the second line, parading down the street and waving their handkerchiefs, cocktail napkins or colorful parasols. Laissez les bons temps rouler! (Let the good times roll!)
Make It Yours: You don't have to live down South to pull off this tradition. It can also work in a big city if you want to hire a favorite local band and parade down the sidewalk.
From New Orleans: The Cake Pull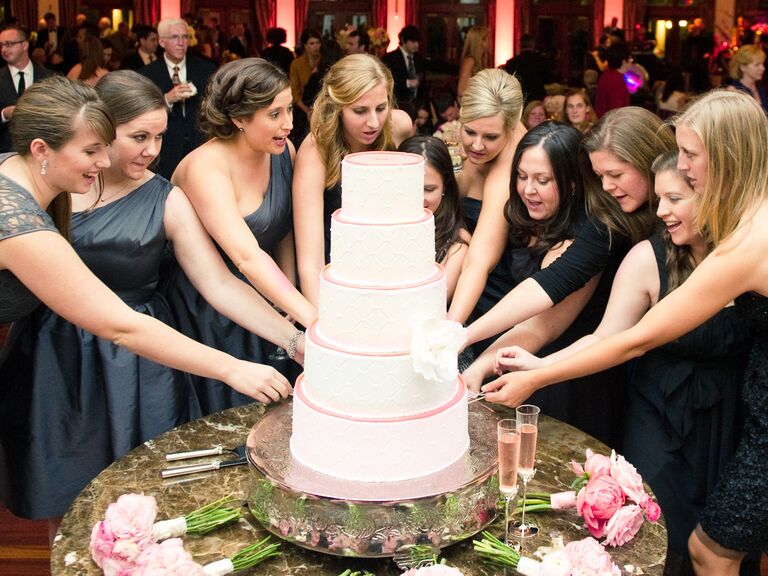 What It Is: Another New Orleans tradition, cake pulling comes from an old Victorian custom of "ribbon pulling." Back then (and still today), brides wanted to bestow good luck and fortune on their single friends, so they placed small charms with different meanings in the wedding cake for them. For example, a telephone means that good news is on the way, and a flower means that a new romance will come soon. Now Southern brides usually attach the charms to pieces of ribbon that are pulled out by members of their bridal party before the cake cutting.
Make It Yours: You don't necessarily need to include this ritual at the wedding—you can put the cake pulls in a smaller cake or individual desserts at the bridal shower or bachelorette party.
From Pittsburgh: A Cookie Table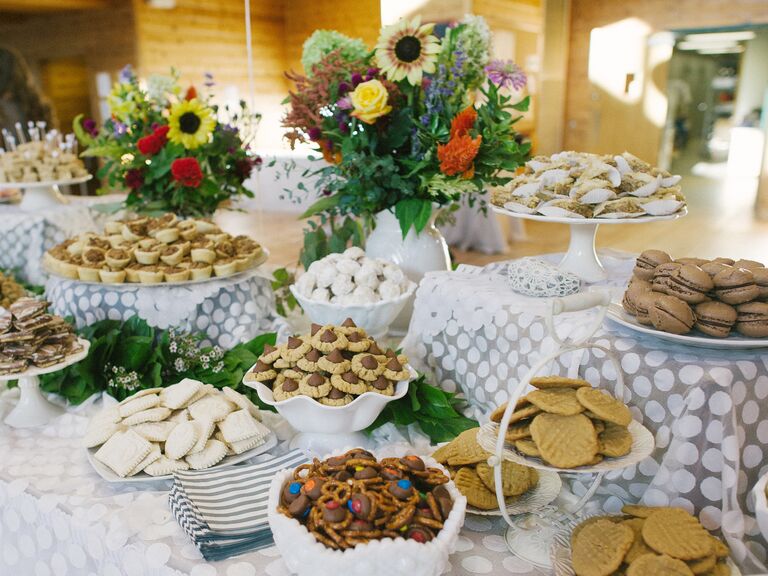 What It Is: Couples in Pittsburgh don't need an excuse to have a giant assortment of cookies at their wedding—it's tradition. In fact, it's more important to have a cookie table at a Pittsburgh reception than a wedding cake. Originating in southwestern Pennsylvania, it's said that Eastern European, Italian and Greek immigrants in that region wanted to bring a little of their homeland to the US and made lady locks, pizzelles and other treats for wedding receptions. Now the cookies are mostly homemade (by the hundreds) by the couple's friends and family, and guests look forward to trying all the different varieties.
Make It Yours: While all the cookies on your table certainly don't need to be homemade, you could have a few family members make their favorite cookie or other dessert recipe to showcase the sweets that mean the most—and taste the best—to you.
From the South: A House Party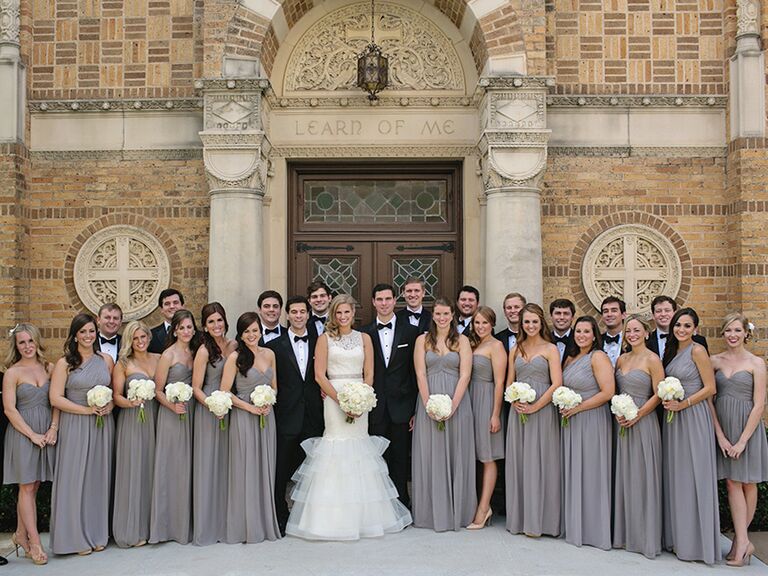 What It Is: While honorary bridesmaids can be a controversial topic, in the South (especially Texas), they're tradition and called a "house party." House parties are made up of the bride's friends and family members, who don't stand at the altar with the bridesmaids but are assigned other wedding duties, like giving a reading during the ceremony, overseeing the guest book, handing out programs and more. They're also included in all bridal festivities, including lunches, showers and the bachelorette party. Jenna Bush Hager, former President George W. Bush's daughter, had a 14-person house party for her Texas nuptials.
Make It Yours: Assign close friends or family members the special task of giving a ceremony reading of their choice, or invite them to the rehearsal dinner to do a toast.
From the South: A Groom's Cake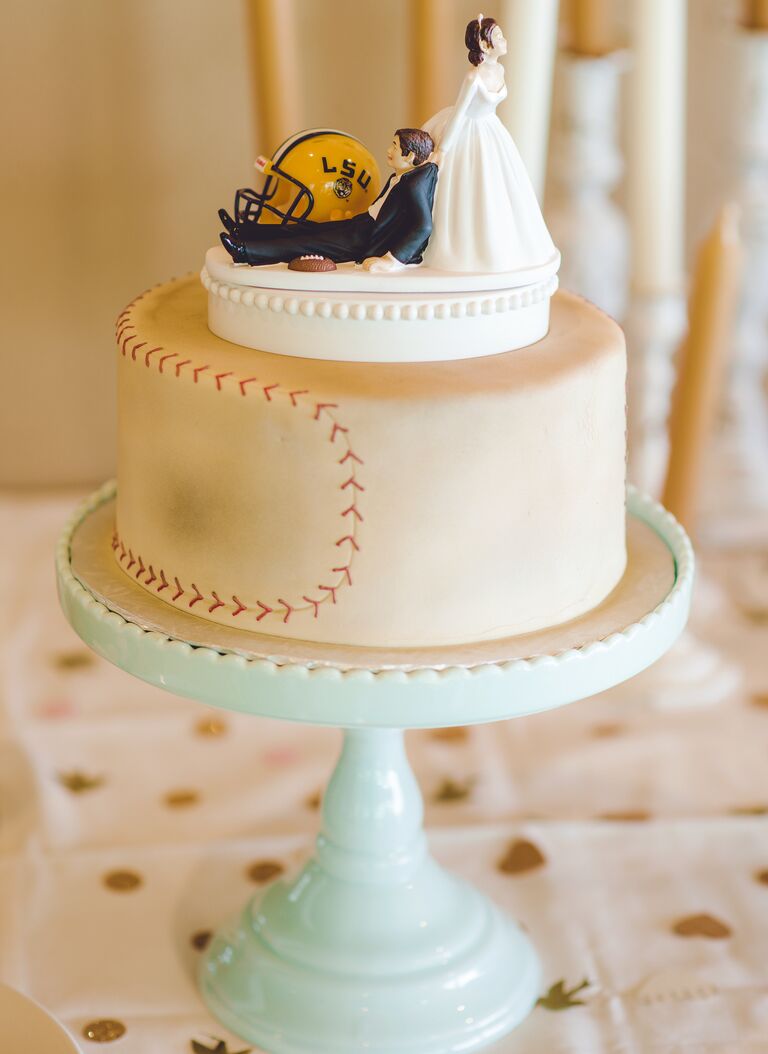 What It Is: Even if you're not from the South, there's no reason why the groom can't have a cake of his own. Groom's cakes are a popular Southern tradition from Victorian-era England, where grooms ate their own type of wedding dessert, which was usually a fruit cake laced with chocolate and alcohol—much lighter than the bride's cake. Today groom's cakes are still served alongside wedding cake for a nice contrast and are usually decorated with the groom's favorite hobby, food or team—whatever theme and flavors he wants.
Make It Yours: The options here are endless. Does your spouse-to-be love the Red Sox? Ernest Hemingway? Seinfeld? His alma mater? Chocolate-peanut butter everything? He can choose a cake that speaks to him.
From Wisconsin: Bar Hopping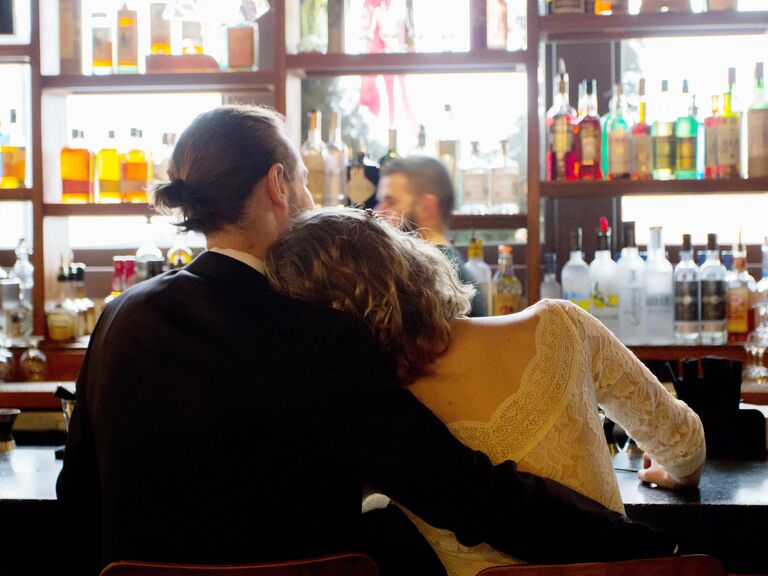 What It Is: Some Wisconsinites want to get the party started before the reception, so it's not unusual for the wedding party to go bar hopping after the ceremony while the newlyweds take photos. Some even rent limos and party buses to do so and continue on into the night after the reception's over.
Make It Yours: If you don't have the time to go bar hopping, consider having a cocktail from your favorite bar as a signature drink or offering your ideal selection of craft brews during the reception. If you do, it's a fun idea to go someplace special to the newlyweds.