The Trinidad and Tobago Honeymoon Guide for a Dynamite Getaway
Culture, diversity and pristine natural beauty await in "T&T."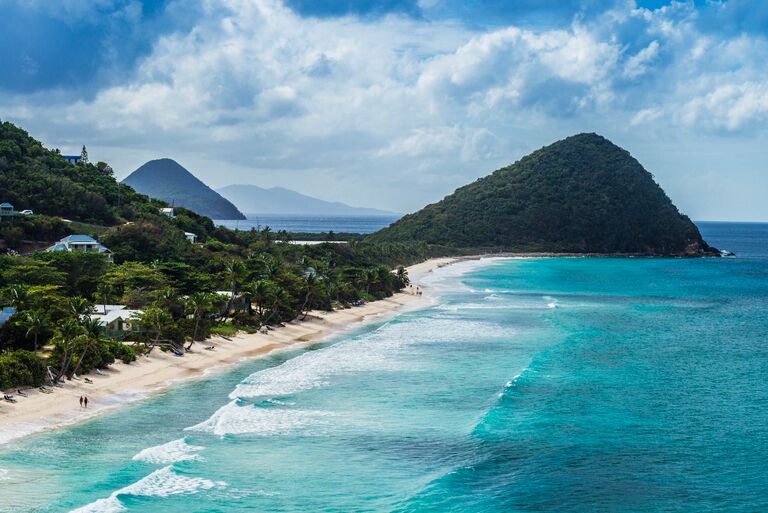 Walter Bibikow / Getty Images
We have included third party products to help you navigate and enjoy life's biggest moments. Purchases made through links on this page may earn us a commission.
The tiny twosome of "T&T" (Trinidad and Tobago), which together comprise an island nation off Venezuela's northeastern coast, is renowned for its zesty Caribbean culture and dynamite natural surroundings. Pristine rainforest cloaks the mountainous terrain against the aqua-tinted Caribbean Sea and deep blue Atlantic Ocean.
Ethnically diverse hamlets (predominately African and East Indian with a bit of Middle Eastern, European and indigenous Arawak) create a cultural mélange across the lush landscape. The dual Caribbean islands are siblings, yet set apart. Trinidad is the livelier cousin–home to a raucous annual Carnival festival and year-round Calypso musical performances–while Tobago is more of a respite. (Think lush forests and plenty of wildlife.)
Are the Islands of Trinidad and Tobago Good for a Honeymoon?
One moment you're passing a Hindu temple and the next you're dancing to a Carib-African steel band beat. Then it's off to Amazonian-like rainforests for glimpses of plumed birds, or to the seas where palm-lined beaches provide a honeymoon postcard setting.
The Pros of a Trinidad and Tobago Honeymoon
Trinidad and Tobago offers something for every taste, but the beaches stand out. "Trinidad is home to some of the most beautiful beaches in the world," says travel agent Jim Campbell, founder of Honeymoon Goals. "Whether you're looking for a quiet spot to relax or want to take part in some exciting water sports."
The trek isn't long from the East Coast of the US. A flight from New York City takes about five hours, and a departure from Dallas requires six hours of travel. West Coast couples will want to plan for more travel time as it takes about nine hours to get from San Fransisco to Trinidad and Tobago.
Rain forests and swamps offer a different kind of scenery and experience, including a chance to spot some of Trinidad and Tobago's wildlife residents, like flamingos. Both islands are rich in history, culture and Creole cuisine.
The Cons of a Trinidad and Tobago Honeymoon
As you research the best honeymoon destinations tailored to your liking, remember that Trinidad and Tobago isn't for every couple. For example, many Caribbean islands are reputable for packages or all-inclusive resorts to streamline planning. A Trinidad and Tobago honeymoon, on the other hand, is more a la carte.
For those couples who rate destinations based on weather, the dual island can get humid in the summer. "Trinidad and Tobago may not be the right choice if you're looking for a tropical honeymoon destination with mild weather," Campbell says.
The Best Times of Year to Go on a Trinidad and Tobago Honeymoon for Good Weather
Like many islands in the Caribbean, Trinidad and Tobago has a dry and rainy season. The dry season lasts from January to May and the rainy season runs from June through December. Temperatures during the day are warm, but not unbearable, and it's pleasantly cool in the evenings. A Trinidad and Tobago honeymoon is perfect for winter couples—or those opting to vacation during the holiday break.
Things to Do During a Trinidad and Tobago Honeymoon
Experience Carnival
If you have your pick of days to go on a Trinidad and Tobago honeymoon, consider going during Carnival. The two-day celebration is the Caribbean's answer to Mardi Gras, held each year on the Monday and Tuesday before Ash Wednesday. It's perfect for honeymooners looking to keep their dancing shoes on long past the last song on their Big Day.
Beach Hop Across Islands
Since Trinidad and Tobago is a dual island, you can bet on a range of beautiful beaches. Trinidad's Maracas Beach, Pigeon Point Beach and Nylon Pool are all popular choices. Though the crowd at Maracas is usually large, the drive is serene and scenic, courtesy of rainforest views. "It's located in a protected cove, making it a great spot for swimming, snorkeling, and kayaking," Campbell says, adding that plenty of seafood restaurants give you options for refueling during a day trip.
Beautiful views and glistening turquoise waters make Pigeon Beach feel a world away. But plenty of restaurants and water sports like stand-up paddleboarding keep it hopping. Snap a photo next to the jetty at Pigeon Point Heritage Park. Nylon Pool earned its name from Princess Margaret for its crystal-clear water. Despite all the foot traffic during modern times, it remains that way today, making it an ideal spot to snorkel.
Explore Port of Spain
While hitting Maracas Beach, pay a visit to the capital of Trinidad. Port of Spain blends city and seaside life, mixing in plenty of culture and history along the way. It's home to the Royal Botanic Gardens, the West Indies' longest-running Botanic Garden with 700 trees. Nearby, the Emperor Valley Zoo houses lions and raccoons and giraffes — oh my. Independence Square, Queen's Park Savanah, and the row of opulent turn-of-last-century mansions known as the "Magnificient Seven" offer a taste of history.
Turn Back Time at Tobago Historical Museum
Dive further into the dual island's history at Tobago Historical Museum. The small museum is filled to the brim with artifacts from yesteryear and art from new and emerging names. Outside, you'll find an elevated view of the city. Note: It's currently closed for renovations but promises to re-open "soon."
See Flamingos at Caroni Swamp
"Swamp" and "honeymoon" may not sound like they go together like "wedding" and "vows" on the surface. But Caroni Swamp is a must-see. Situated in the Northern Range of Trinidad, the spot is also a natural habitat for caimans, otters, and Trinidad piping guans.
Take in Mountains and Forests
Waterfront and forest views are what people's minds automatically drift to when they think of a great escape to Trinidad and Tobago. But Main Ridge in Tobago marks a breathtaking mountainous 18-mile stretch. It's also where you'll find Main Ridge Forest Reserve, a protected area that plays host to plants and wildlife galore. Think hundreds of different bird species, more than a dozen types of lizards, and armadillos.
The Best Hotels and Resorts in Trinidad and Tobago for a Honeymoon
Resort experiences are harder to come by in Trinidad and Tobago, but Magdalena Grand Beach & Resort offers one to write home about. Situated about six miles from Fort King Goerge, the resort has an 18-hole course on-site and rooms with private hot tubs.
This stylish hotel is set on a hillside and boasts stunning views of Rockly Bay. It's not far from Fort King George and a golf course. The antique furnishings in the rooms give it a throwback feel, but modern amenities (like internet) keep it contemporary and convenient.
Campbell loves this contemporary waterfront hotel, which is only 40 miles from Piarco International Airport. Once honeymooners arrive, they can dive right in and enjoy the sweeping views of the Gulf of Paria.
According to Campbell, Acajou Hotel is a hidden gem. "It's located on the beautiful and dramatic Northern Coast of Trinidad in between pristine beaches and crystal clear riversides with lush rainforest coverage," Campbell says. The family-run hotel has cottages for a more intimate experience. The staff can also arrange activities, such as turtle or bird watching, surfing, or waterfall hiking.
The otherworldly views of the Gulf of Paria and the property's proximity to Queen's Park Savannah and Stollmeyer's Castle are perks. Each room comes outfitted with Whirlpool tubs, balconies, an outdoor pool, and a fitness center for comfort.
This hotel is a hop, skip, and a jump (literally right across the street) from Royal Botanic Gardens. Guests can take in sweeping views of the lush greenery from private balconies. On-site dining options include a poolside bar and grill and sushi joint.
What to Pack for a Trinidad and Tobago Honeymoon
Since Trinidad has year-round warm weather (ideal for honeymooners), light clothing will keep you cool and comfortable. Think T-shirts, shorts and lightweight pants for day trips. Polos, dresses, and nicer shorts or slacks are perfect for dinners. A swimsuit is a must, and your skin will thank you for sunscreen. Outdoor adventures also call for insect repellent.
Flip flops are perfect for beach days, but Campbell suggests bringing a pair of sturdy shoes and rain gear if your itinerary is taking you to a rainforest. A backpack can store guidebooks, rain gear, extra sunscreen, and bug spray.
–Dan Klinglesmith contributed to this article.