Do You Really Need Honeymoon Insurance? We Asked Experts
What is honeymoon insurance exactly and is it a necessity when traveling? Agents and experts weigh in.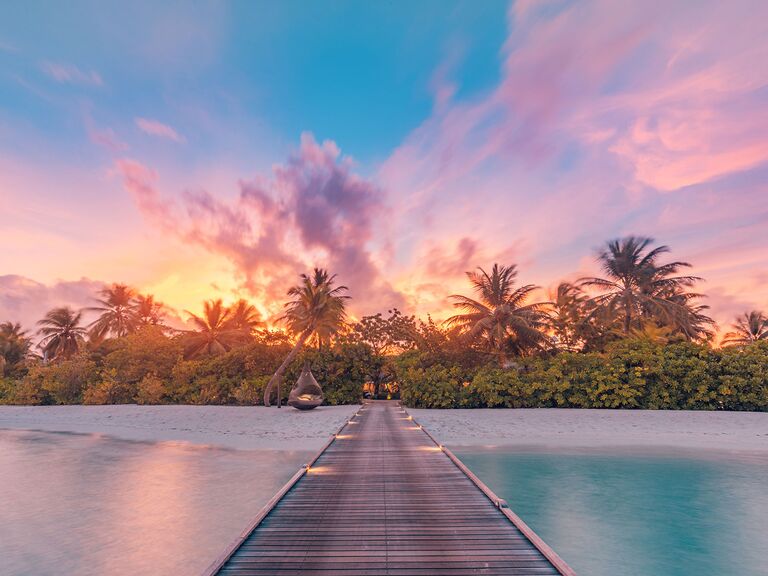 Getty Images
Do I need honeymoon insurance? It's a common question asked by couples when planning and booking their bucket-list getaways. Exceptions apply in any scenario when traveling, and a small set of couples will statistically face a nightmare-ish situation (like a property going bankrupt or unexpected health issues arising upon departure). In fact, the travel industry has seen it all.
"We've had cancellations due to a death in the family, cancellations due to COVID, cancellations due to an illness or a sudden medical need, such as a broken leg," says travel advisor Piper Fenton, founder of Remarkable Honeymoons.
Obviously, a canceled honeymoon is a downer—but it could be way worse. By taking out a honeymoon travel insurance policy beforehand, you can manage to get nearly all of your money back. Travel insurance is a great idea for honeymooners (and travelers in general), particularly if you're purchasing any expensive and nonrefundable trip. It does, however, involve an up-front investment, starting at around just 4% of the total cost of your trip. With insurance, you won't break the bank or face anxiety about airline woes.)
In fact, purchasing honeymoon insurance could very well swing in your favor despite unfavorable circumstances. "For example, I had clients traveling home from Europe and their last connecting flight was canceled. They were stuck at the airport, so they decided to charter a private plane," Fenton recalls. "When they told me about this, I asked them to send me a copy of the receipt. I then filed a claim and they were reimbursed for the full cost of the private charter. While I did not expect this claim to be accepted, it was a very pleasant surprise. Not sure I want people to know about this as I can't always guarantee that a claim will be approved." Read up on the ins and outs of honeymoon insurance below.
In This Article:
What Exactly Is Honeymoon Insurance?
What does honeymoon insurance cover specifically? As couples are increasingly spending on this once-in-a-lifetime getaway, the travel insurance that protects this single trip for couples is known as honeymoon insurance. "It's a specific type of trip insurance that protects you if your getaway is canceled or interrupted by something outside your control," says Michael Giusti, an analyst at InsuranceQuotes.com. "It is meant to refund you for non-refundable deposits."
"Honeymoon insurance covers cancellations for 'covered reasons' depending on the policy, or cancellations for any reason," elaborates Fenton. "It also covers medical and dental insurance, though there are limits while traveling in the case of primary coverage. Policies also cover trip delays or trip interruptions. A policy is exercised more often during a medical emergency or travel interruption over an entire trip cancellation."
"As an example, we had honeymooners returning from Greece in July–their flight from Athens to London was delayed by several hours and they missed their connecting flight home. They had to stay in London for three nights as it was a holiday weekend and flights were fully booked," says Fenton." (Thankfully, the couple had insurance.) "They were able to file a trip interruption claim for all accommodations, meals, transportation and even luggage delays. This type of coverage is especially helpful given flight issues during the travel boom."
Should I Get Travel Insurance for the Honeymoon?
Why is it important to have honeymoon insurance? Anyone who travels frequently will tell you it's a fail-proof add-on–especially when exercised. "We highly recommend all [couples] have travel insurance to protect their investment," says Fenton. "Some of our suppliers offer a 'cancel-for-any-reason' coverage (CFAR) option, which gives travelers the alternative of exercising future travel credits, which must be used within one year. Some suppliers also offer cash-back options, less than the cost of insurance, should they cancel for any reason up until the time of flight departures… I would say 95% of our clients have opted to purchase some form of insurance since COVID's onset."
In fact, some resorts and destinations require travelers get insurance, a practice that especially kicked up during the pandemic in the event a traveler tested positive before heading back to the US. "Some businesses require insurance be purchased with a deposit," says Fenton. "If it's too late, we use Allianz and my team handles everything–from initial policy purchasing to filling a claim with the travel insurance company."
What Honeymoon Insurance Covers & What to Look for
Now that you know the basics of honeymoon insurance, the primary tip is to select a policy that covers both trip interruptions and/or cancellations. While the hope is that you aren't impacted by any unpleasant surprises, the following coverage tips could be resourceful in the event you're delayed or stranded.
Coverage of Financial Default
Arguably the most important policy point to look for when shopping for travel insurance is to narrow in on coverage of financial default. This is what will save you when your hypothetical airline or cruise line goes belly-up.
Seek Out an Independent Policy
Though some airlines and cruise lines offer insurance as add-ons, couples should purchase independent policies. For example, if you're booking through a company that goes bankrupt, it's safe to say they won't be reimbursing you.
Look Into Terrorism Clauses
Another point many travelers look into (particularly for travel outside of the Americas) is a terrorism clause, which would allow you to cancel your trip without penalty should an incident occur in any city on your itinerary. But beware—these are tough to find, and it can be even tougher to actually get your money back. For example, you won't be covered if the incident happens in an area that has a US State Department warning (even if you don't think there will be trouble where you're headed, you should always check—a little-publicized incident that happened six months ago will jeopardize your being repaid even if you canceled because of something that just happened).
Do Your Homework Online Before Booking
Overall, you're probably better off finding a policy that includes a more generous cancellation clause (again known as a cancel-for-any-reason option). These will usually set you back up to 10 percent of the cost of your trip, but they'll get you back most, if not all, of your money in the case something happens.
Again, Be Sure Your Policy Addresses Medical Issues
Lastly, be sure the policy covers cancellation or trip interruption due to medical issues (including any pre-existing conditions). No matter what policy you choose, read the fine print. Some policies require you to have insured your trip a certain number of days in advance of departure, while others may have specific expiration dates. Either way, you should be safe so long as you know what you're signing.
Finally, Store That Paperwork When Traveling
A handy digital folder, records printed out or whatever you fancy, Fenton advises couples keep track of all paperwork and exercise discretion when traveling. "We remind all of our clients who have purchased insurance, to keep all receipts and to be sure and let us know if they feel that something did not go right on the trip," she notes. "As an example, I had clients who missed their flight due to a snowstorm. They had to pay the airlines to purchase new flights. I asked them to send me receipts, and I also Googled the storm that happened on that day. I then filed a claim for them with their receipts and a printout documenting the freak storm. They were reimbursed by the insurance company."
Please note: The Knot and the materials and information it contains are not intended to, and do not constitute, legal advice and should not be used as such. You should always consult with your legal advisors about your specific circumstances.