11 Unique Spots for Your Bachelor or Bachelorette Party
From a yurt in France to a former jailhouse in Boston, these one-of-a-kind properties are perfect for hosting your prewedding bash. ​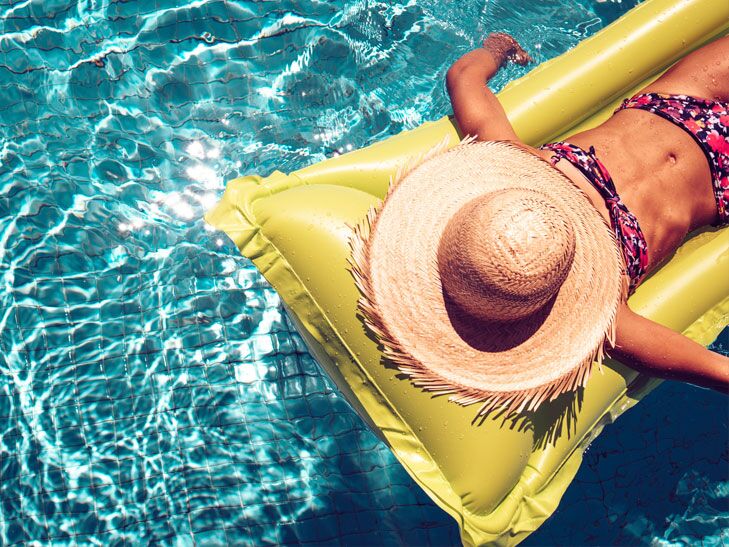 iStock
Planning to head out of town for your bachelor or bachelorette party? Anywhere you go with your friends to celebrate your last days of singledom is bound to be memorable, but for a truly unforgettable trip, pick one of these spots from Booking.com. (And if you're not doing a destination bachelor or bachelorette party, you should definitely go ahead and bookmark these accommodations for your honeymoon.)
1. Do the Jailhouse Rock in Boston, Massachusetts
It may look like a luxury hotel at first glance, but The Liberty, located in the Beacon Hill neighborhood, was once home to the Charles Street Jail. Quirky nods to the hotel's roots, like jail cell décor and its restaurant appropriately named Clink, are sprinkled throughout the property. Modern amenities aren't overlooked: Plush bedding and Molton Brown bath and body products are found in-room, and the hotel offers complimentary yoga and a running concierge. While you're in Beantown, your group can take in a Red Sox game, bar hop in the North End and tour the Sam Adams Brewery.
Explore: The Liberty Hotel at Booking.com
2. Get in Gear in Stuttgart, Germany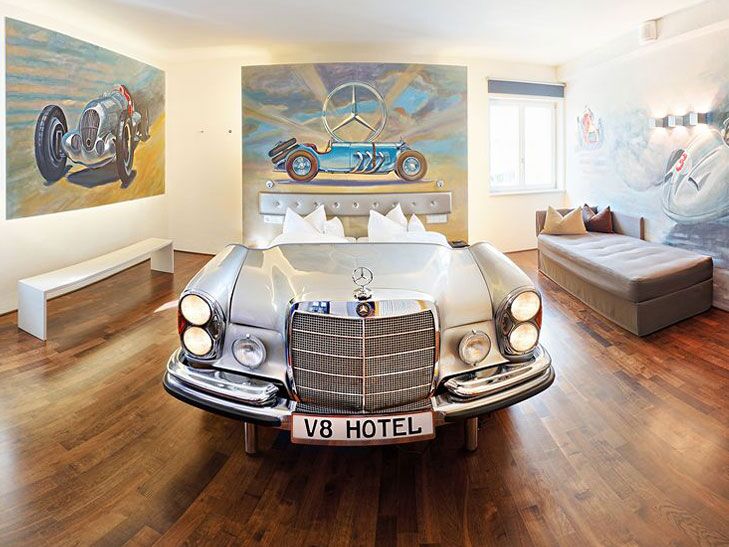 For beer and car lovers, there's no better place to party than Germany. Book your best buds a stay at V8 Motorworld: It's part hotel and part auto museum, featuring a rare collection of classic, collector and vintage cars. The property, near the Mercedes-Benz and Porsche museums, includes a steak house and brewpub. Rooms are upscale and auto themed (think: retro drive-in and Route 66) and many come complete with adult-size race car beds—how cool is that?
Explore: V8 Motorworld Region Stuttgart at Booking.com
3. Grab the Bull by the Horns in Oaxaca, Mexico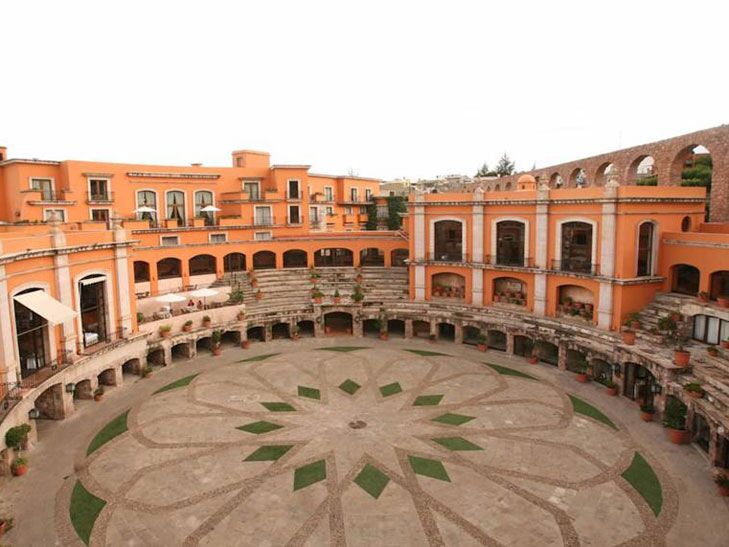 No one can deny that Mexico makes for the perfect party destination. And the Zacatacas Quinta Real completely one-ups most, with history and luxury rolled into one. Situated near the downtown area of Oaxaca—just an hour flight south of Mexico City—this former 19th-century bullfighting ring has been transformed into a posh party pad with 49 elegant suites. Guests can dine overlooking the former ring and sip cocktails at the bar, which was once the holding pen.
Explore: Zacatacas Quinta Real at Booking.com
4. Bed (and Breakfast) in New Orleans, Louisiana
Sure, you could rent a few hotel rooms for the big bash, but how much fun would it be to take over an entire bed-and-breakfast for the party? Situated in the much-loved Faubourg Marigny neighborhood of New Orleans, the Auld Sweet Olive Bed and Breakfast is within walking distance to the French Quarter, but far enough to be away from the madness (and the tourists—but shhhh, we didn't say that). The incredibly charming cottage boasts five rooms, each with a private bath. There's a double-parlor for socializing, stocked with wine from the honor bar, and the courtyard is canopied with fragrant flowers and plentiful seating.
Explore: Auld Sweet Olive Bed-and-Breakfast at Booking.com
Find your kind of venue
From barns to ballrooms, discover reception venues that feel like you.
5. Camp in the Round in Conques-sur-Orbiel, France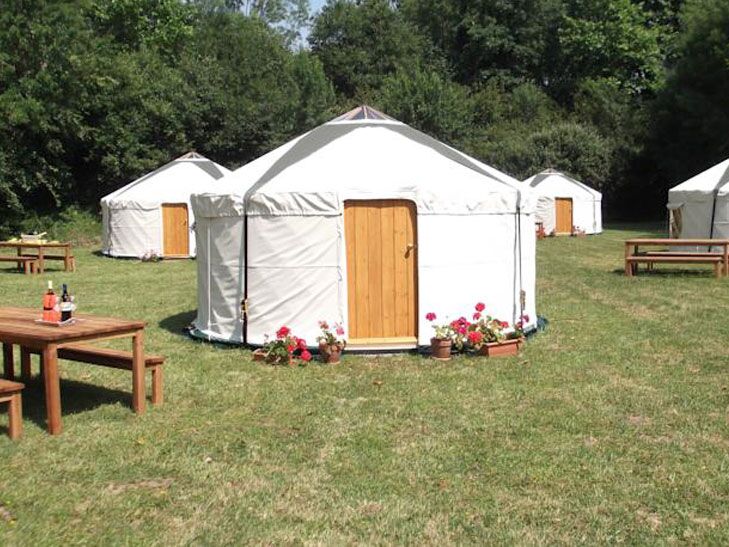 If your gang is into glamping, this is the way to go. The Coachhouse Yurts are set among four acres of lush green land in Conques-sur-Orbiel's South of France. Each of the four yurts (round tent-like dwellings that originated in Central Asia) is handcrafted with cozy, country-chic furnishings and plush bedding. Gather the group for outdoor games, bouncing on the trampoline or sunning by the sparkling swimming pool that's surrounded by loungers and picnic tables. Nearby, the medieval city of Carcassonne, a UNESCO World Heritage Site, is a draw for history buffs and wine lovers, and offers lots of dining options.
Explore: The Coachhouse Yurts at Booking.com
6. Set Sail in Barcelona, Spain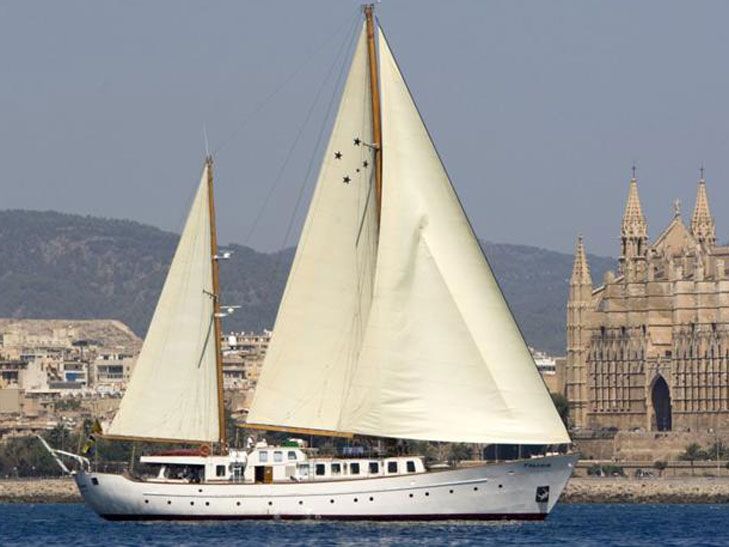 Queue up the perfect yacht rock playlist. ("I'm on a Boat" and "Sailing," anyone?) For the ultimate party, gather your first mates and head to sea aboard the Southern Cross, a restored yacht in Barcelona's Port Vell Marina. Here, five comfy cabins are outfitted with nautical décor and boast air-conditioning and a private bathroom. The yacht offers a spacious deck for parties, along with a hot tub, bar and lounge with a TV, sofa and games. You and your besties can easily fly into the cosmopolitan city of Barcelona and hop on and off the boat to take in sights, indulge in Catalan cuisine, shop, enjoy nightlife—then finally fall asleep to the sound of the waves.
Explore: Hotel Southern Cross at Booking.com
7. Discover a Quirky Landmark in California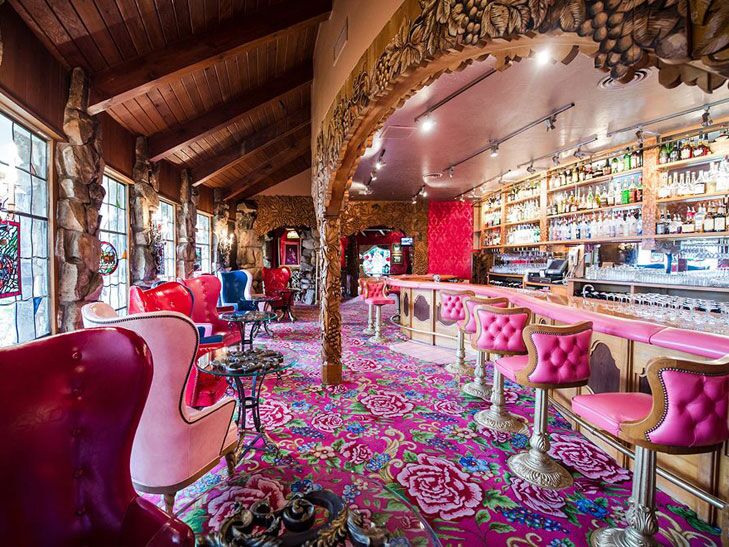 One of America's most iconic hotels, the Madonna Inn is the epitome of kitsch. Located in San Luis Obispo, along California's central coast, each of the 110 themed rooms and suites is bedecked with over-the-top décor. The Vous Room boasts a circular bed and blue walls, while the three-story Pick & Shovel suite features party-perfect leather wraparound seating, a fireplace and massive bar. San Luis Obispo has plenty to do, especially for those touring the nearby wineries. But even if you don't venture out, you can horseback ride, hike or even hit the spa right on the property. Those with a flair for pink will especially appreciate the Inn—there's a pink dining room with pink barstools and a pink tennis court too.
Explore: Madonna Inn at Booking.com
8. Perch in a Tree House in Sweden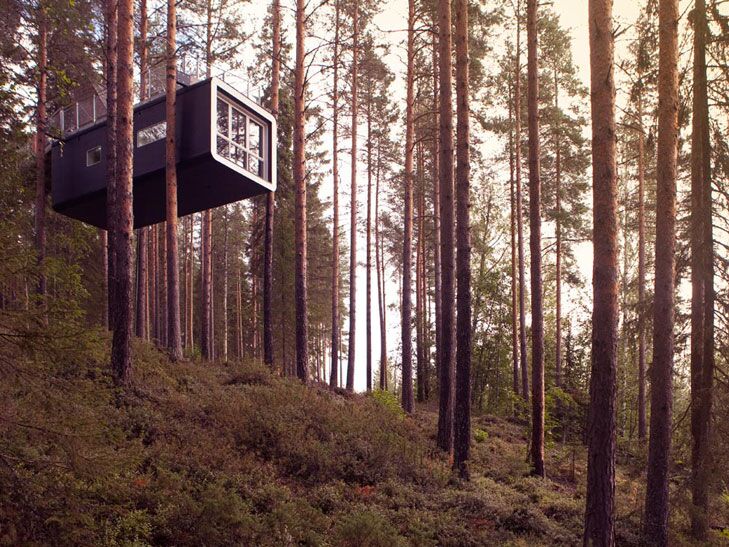 Heads up, nature lovers: The Treehotel in Harads, Sweden, is about as fun as it gets. This eco-friendly property is set among a dense forest and marries modern architecture and design with eco-friendly digs. Each of the five rooms (think: an ultra-modern treehouse) are suspended 13 to 20 feet above the ground and are unique in design. There's the bird's nest room, a UFO room or the modern mirrorcube. The on-site hot tub and tree sauna make for the perfect gathering place during Sweden's cool evenings. And while your group may be in the middle of a forest, there's white-water paddling, kayaking, a moose safari, zip-lining and lots more to keep the party going.
Explore: Treehotel at Booking.com
9. Bunker Down in a Cave in Turkey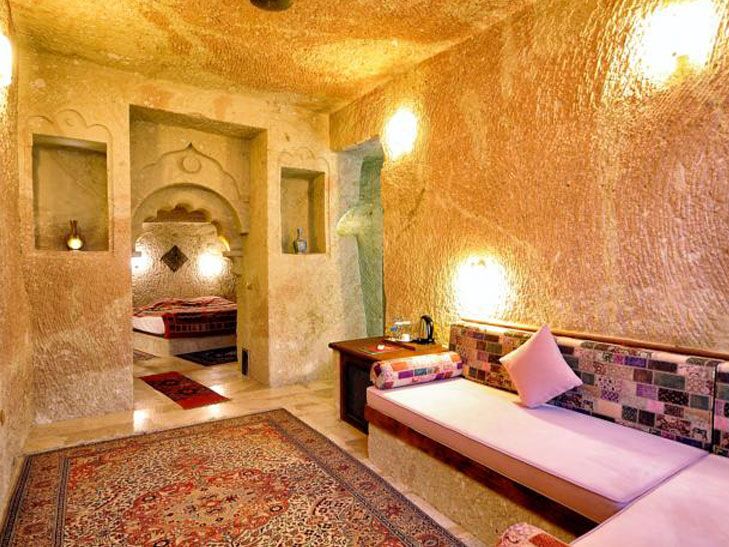 This hotel isn't much different than any other luxury property—except that it's been carved from a cave in the Cappadocia region in central Turkey. MDC Cave Hotel offers guests palatial suites with balconies, stunning arched ceilings and cozy fireplaces. But just because you're in a cave doesn't mean you'll have to give up modern amenities. The rooms are equipped with Wi-Fi, a minibar, Jacuzzi tubs and heated floors. Your party can lounge around drinking local wine on the terrace or rent bikes and hike the nearby lush Cappadocia Valley.
Explore: MDC Cave Hotel Cappadocia at Booking.com
10. Go Airstream Camping in Santa Barbara, California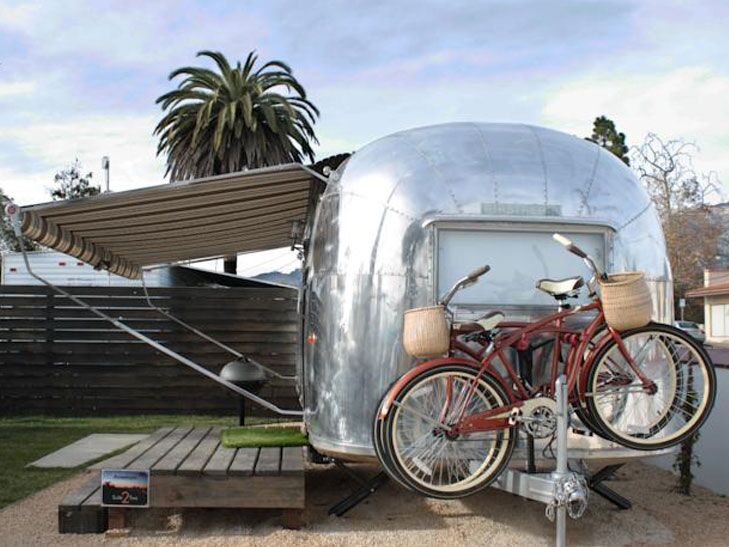 For something more nostalgic-chic, an Airstream camper makes for the perfect retro party. The Santa Barbara Autocamp features five uniquely designed Airstreams (a sixth is coming soon) with all of the modern conveniences of home. Amenities include down comforters and pillow-top mattresses, spa bathrobes, Malin+Goetz products and deep-soaking tubs. Spend the days on your complimentary beach cruisers exploring downtown Santa Barbara's quaint shops and cafés—or head to the nearby beaches. Then in the evenings, you can take turns barbecuing on the private patios, complete with comfy Adirondack chairs.
Explore: Santa Barbara Autocamp at Booking.com
11. Stay in a Salt Palace in Colchani, Bolivia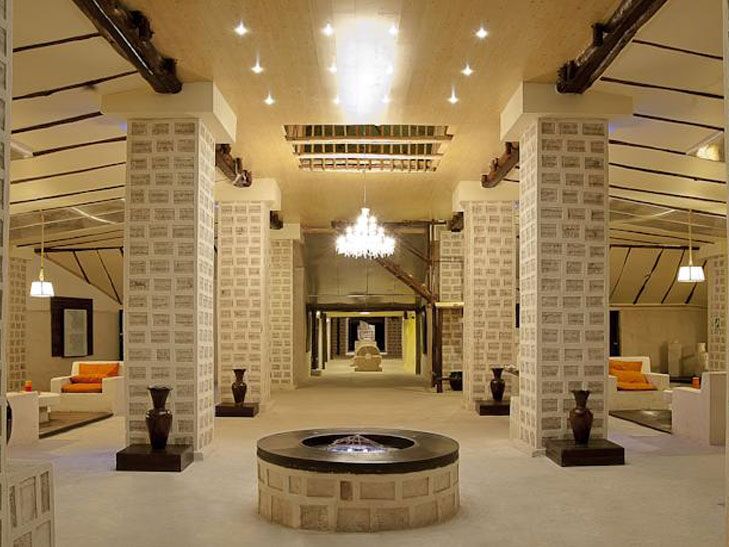 Any architecture aficionados or foodie will flip over this hotel, made entirely of salt. Here, everything from the walls to the ceiling and even furniture is constructed of the seasoning. Bolivia's Hotel Palacio de Sal—meaning Salt Palace—sits at the edge of Great Salar de Uyuni, the world's largest salt flat. The stunning structure consists of 30 guest rooms that resemble igloos made of salt blocks instead of ice. But don't worry: You and your friends will have the most comfy of accommodations, including fluffy bedding, sleek bathrooms and even Wi-Fi. The on-site restaurant is known for its salt chicken (naturally) and there's also a game room and a bar. Want a tour of the salt desert? The hotel can organize a 4x4 tour for your crew.
Explore: Hotel Palacio de Sal at Booking.com

The Knot and Booking.com present Travel Done Right, a sponsored series featuring curated properties perfect for all of your wedding events. Visit Booking.com to check out the latest deals to the hottest worldwide destinations.