Everything You Need for a Retro '90s Themed Bachelorette Party
Grab your girls and your fanny packs and let's party!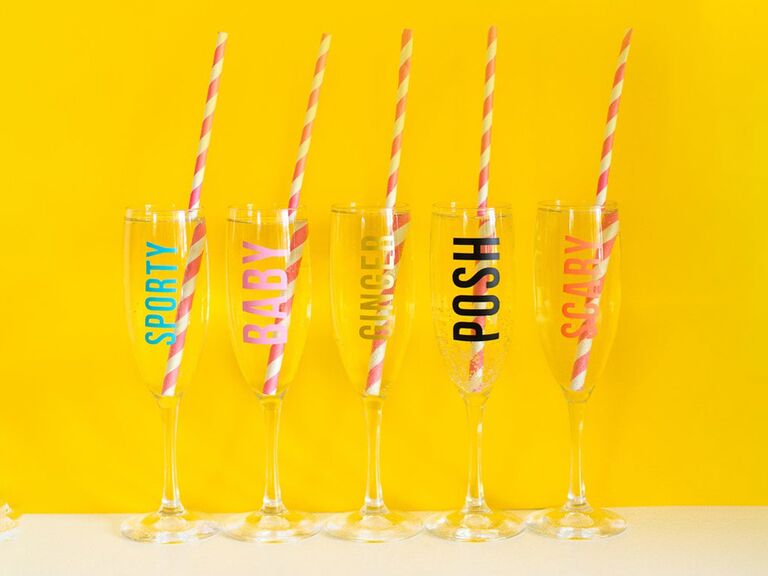 We have included third party products to help you navigate and enjoy life's biggest moments. Purchases made through links on this page may earn us a commission.
We all know it's true—the '90s are iconic. From Backstreet Boys karaoke nights to endless sleepovers watching Clueless, we just can't seem to let the decade go. Looking to bring it back for your bachelorette party theme? We have you covered, throwback style! From the perfect retro party decorations to themed T-shirts, tie-dye and more, we've pulled together a slew of awesome ideas for your '90s themed bachelorette party. Grab your besties and get the bride squad ready—this is going to be fun.
Brant Point Prep '90s Theme Party Huggers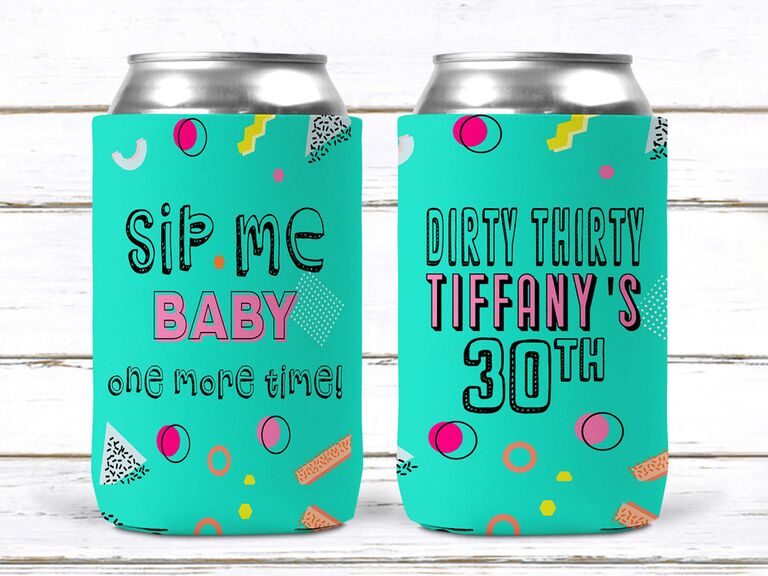 Sip me baby one more time! Keep your drinks cold and Instagram-worthy on your bachelorette weekend with these customizable drink sleeves. Not only do they include a punny Britney Spears reference, but the color palette is so totally 90's.
Liars & Lovers 3-pack Happy Bead and Pearl Bracelets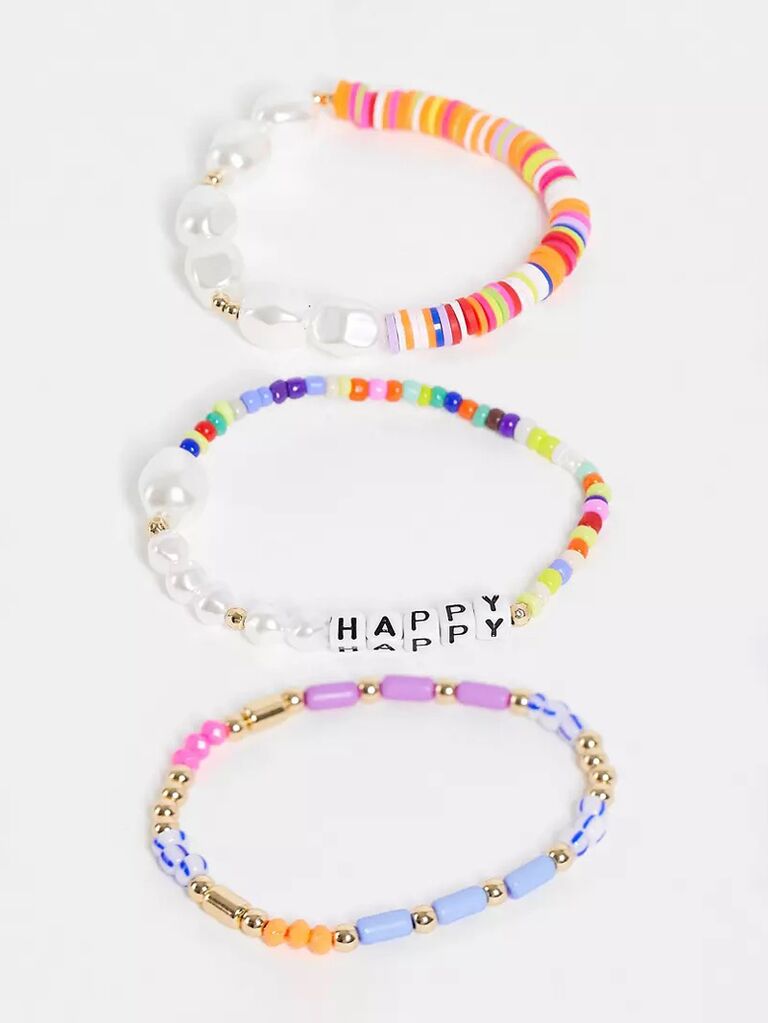 Every well-planned '90s party involves some matching accessories, right? These brightly-colored bracelets are such a fun way for all of your besties to match throughout the weekend.
The Brides Last Bash '90s Bachelorette Party Shirts/Retro Bachelorette Party Shirts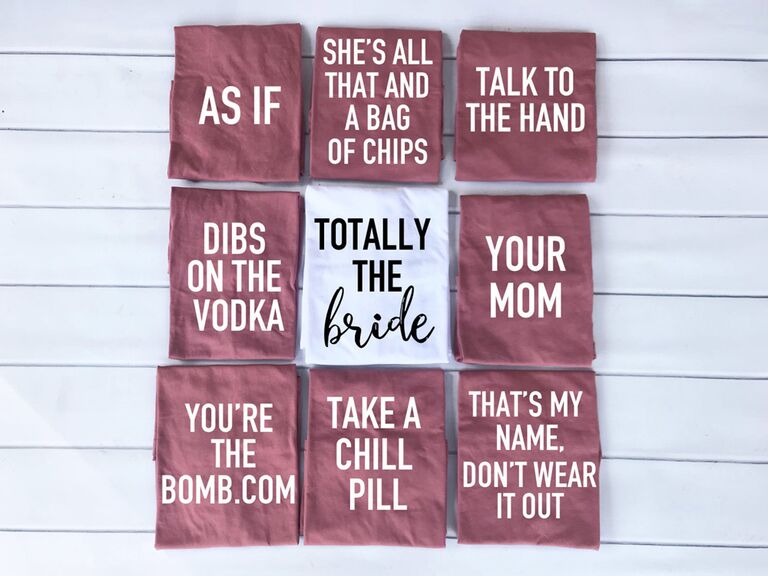 A bachelorette party without matching T-shirts? Ugh, as if! Kidding—but we love a good Clueless reference. This cute collection involves that and more, decking out you and your besties with some best-of-the-'90s phrases.
Stoney Clover Lane Classic Fanny Pack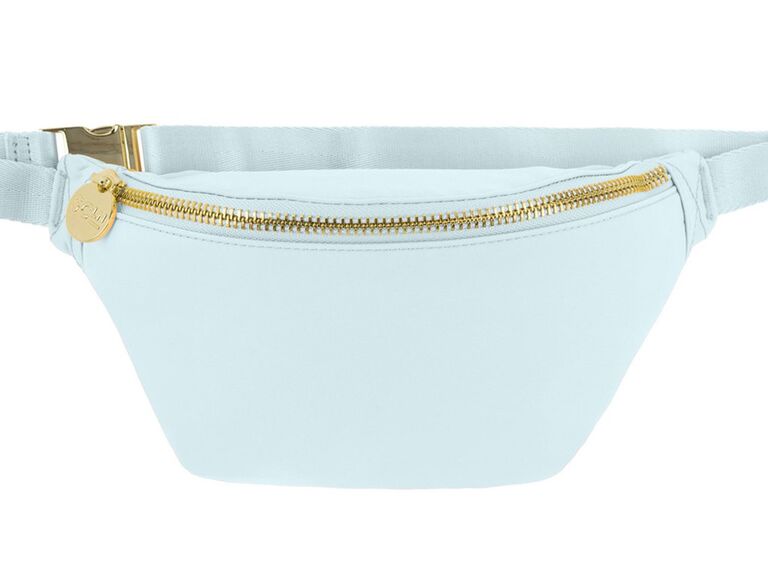 No '90s outfit is complete without a fanny pack, and the ultimate accessory is the ideal way to tote around your must-haves (iPhone, butterfly clips, Lip Smackers) for the weekend. Bonus: This cute style from Stoney Clover Lane is totally customizable and comes in a slew of fun shades.
Then Came Marriage I Do Crew Party Bag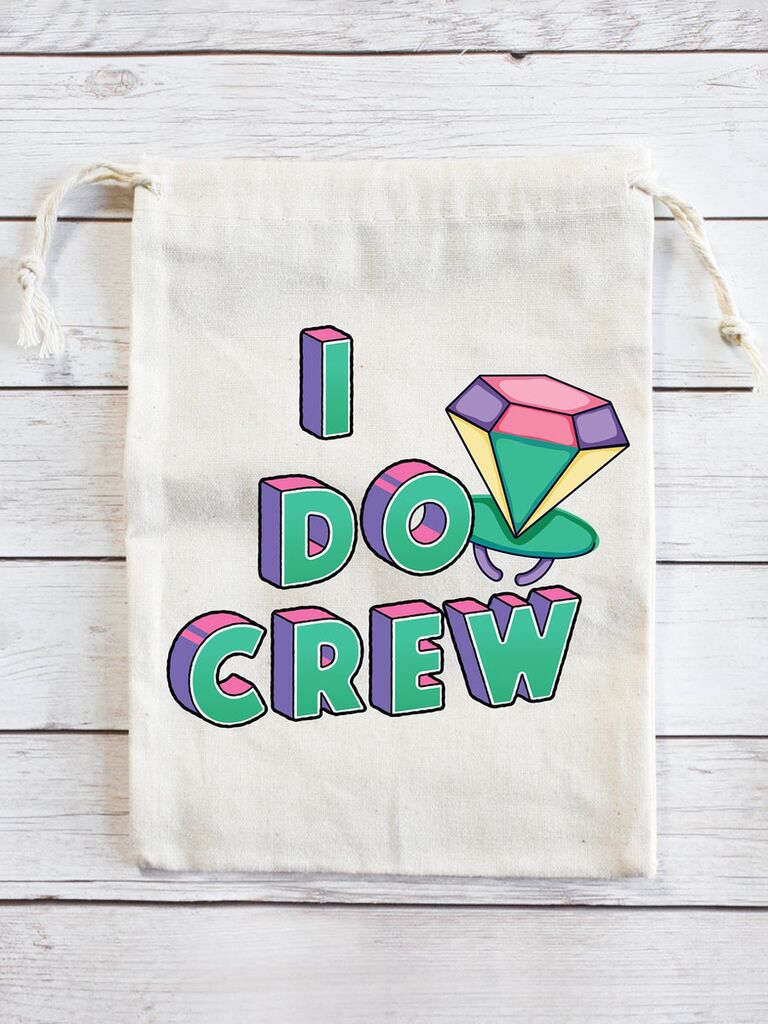 You'll need a place to put all of those bachelorette party favors for your girls, so why not make it match the 90's theme? This petite bag is perfect for housing party essentials like hand sanitizer, retro sunnies and Ring Pops (obvi).
Freedom Moses Two Band Slides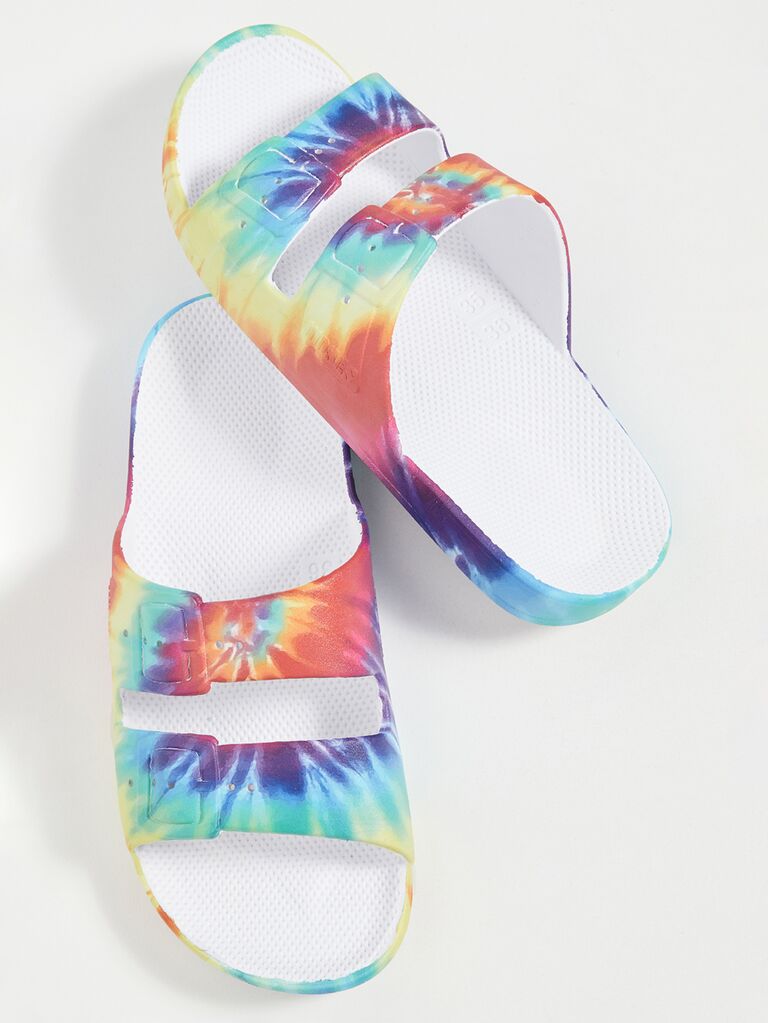 If exploring a new city is on the bachelorette party agenda, then you're going to want a comfy pair of shoes to take you around in style. These slides are made of cushy waterproof rubber and come in a very on-theme tie-dye design.
Unmeasured Event TOPANGA 90's Bachelorette Invitation Template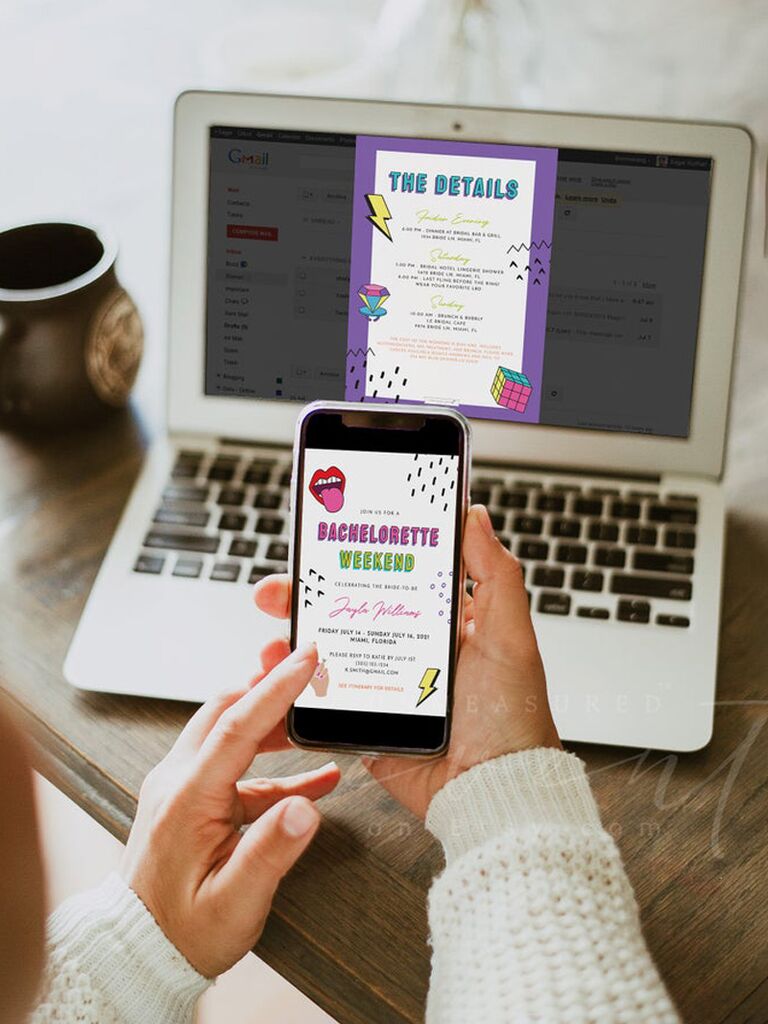 Get your crew amped before the party even starts with these '90s-themed bachelorette party invitations, which feature cheeky illustrations of some true gems, like lighting bolts, peace signs, Ring Pops and a Rubik's Cube. Bonus: They're available for instant download, so you can easily customize them with all your info.
Show Me Your Mumu Morning Glory Set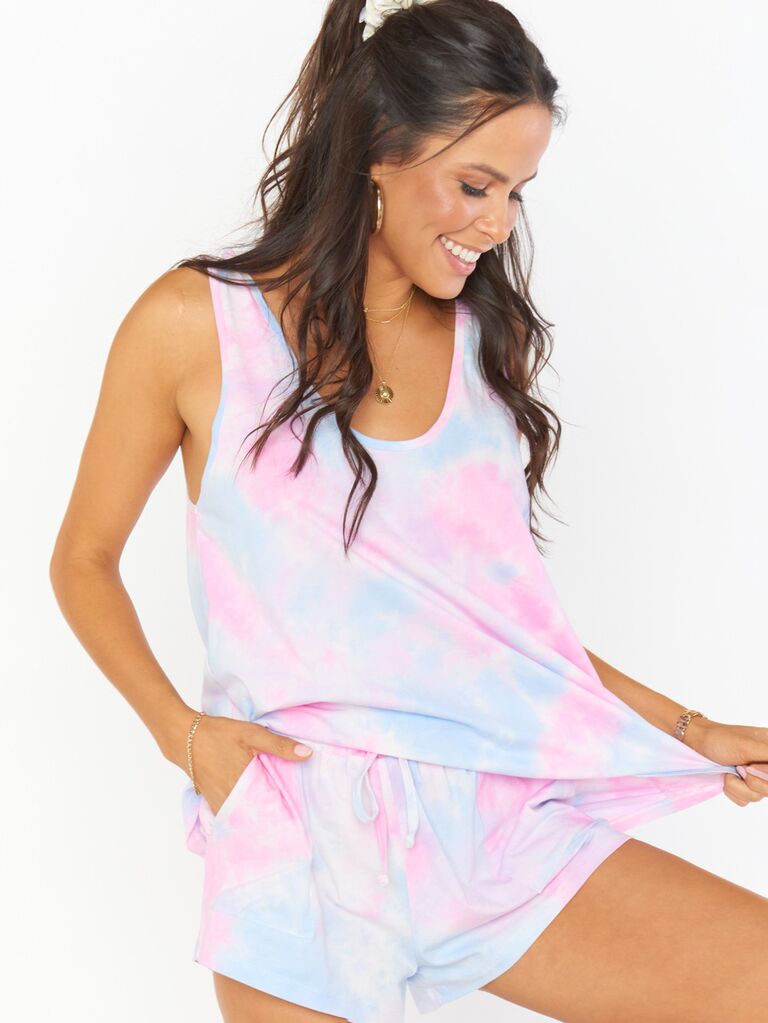 Let's be honest, a bachelorette party is basically just a big adult sleepover. True to form, this tie-dye set will have you and your besties waking up in the '90s. They're even cute enough to wear during your morning iced coffee run if you guys had a rough time the night before.
Bespoke Bride Shop Spice Girls Stickers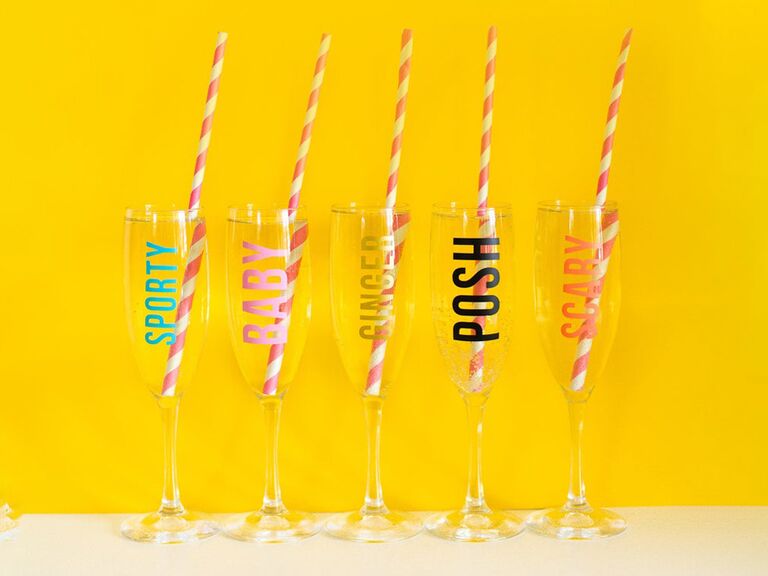 A plain champagne glass? Next! Now that we've seen these vinyl Spice Girls stickers, we can't imagine drinking out of anything plain ever again.
SunnyLife Neon Coral Pool Ring Glitter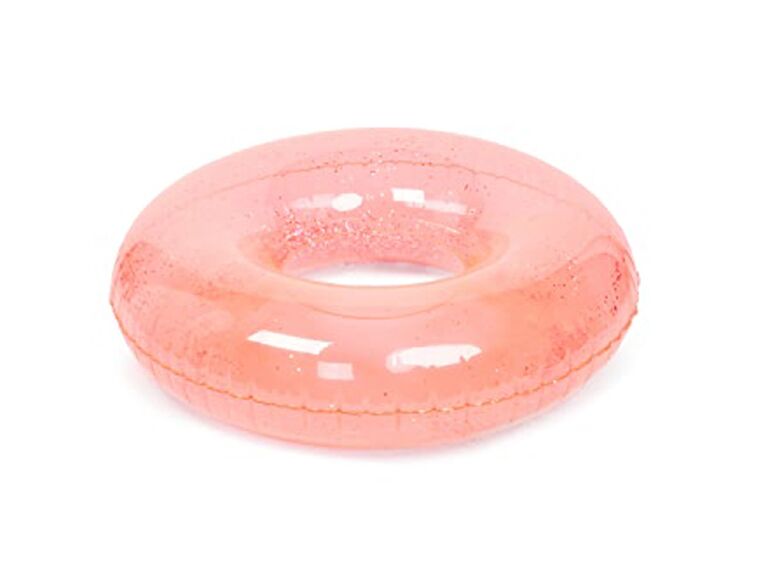 Planning a bachelorette pool party or beach bachelorette weekend? This neon, confetti-filled pool float gives us total Lisa Frank vibes (a '90s queen if there ever was one) and will be a great addition when hanging water-side.
Basic Bridesmaid Bachelorette Party Game '90s and '00s MASH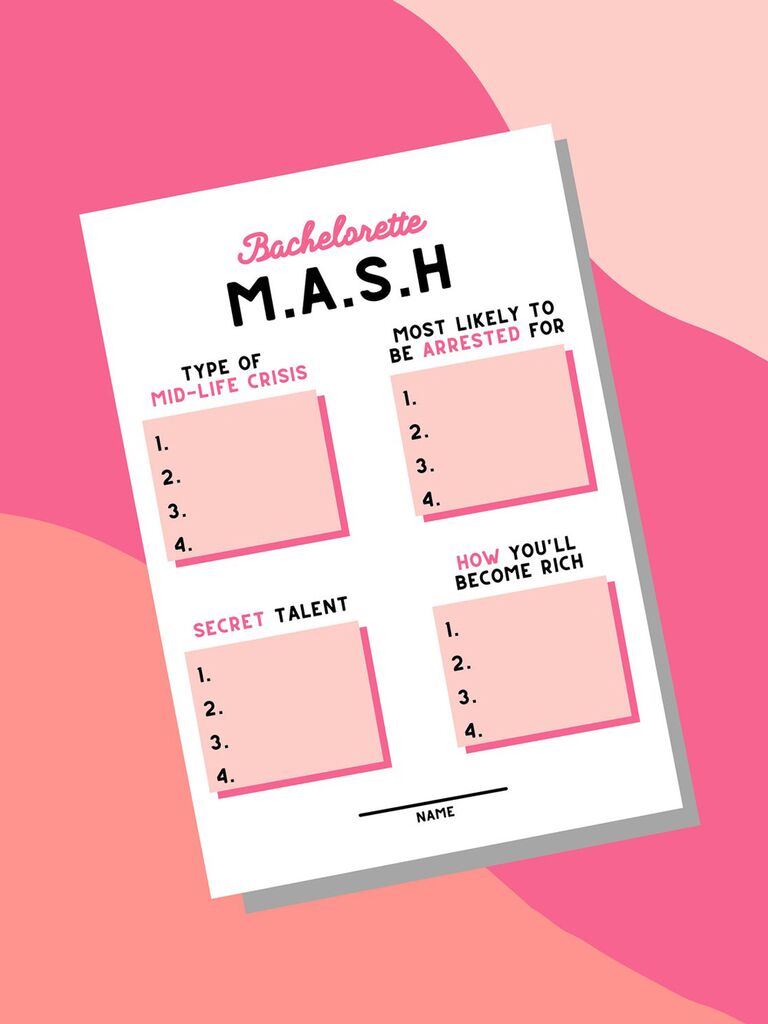 A bachelorette party isn't complete without a few games, so let's throwback to one of our schoolyard faves: MASH. You and your crew will have the time of your lives reliving this future-predicting game together.
Frankies Bikinis X REVOLVE Jax Bucket Hat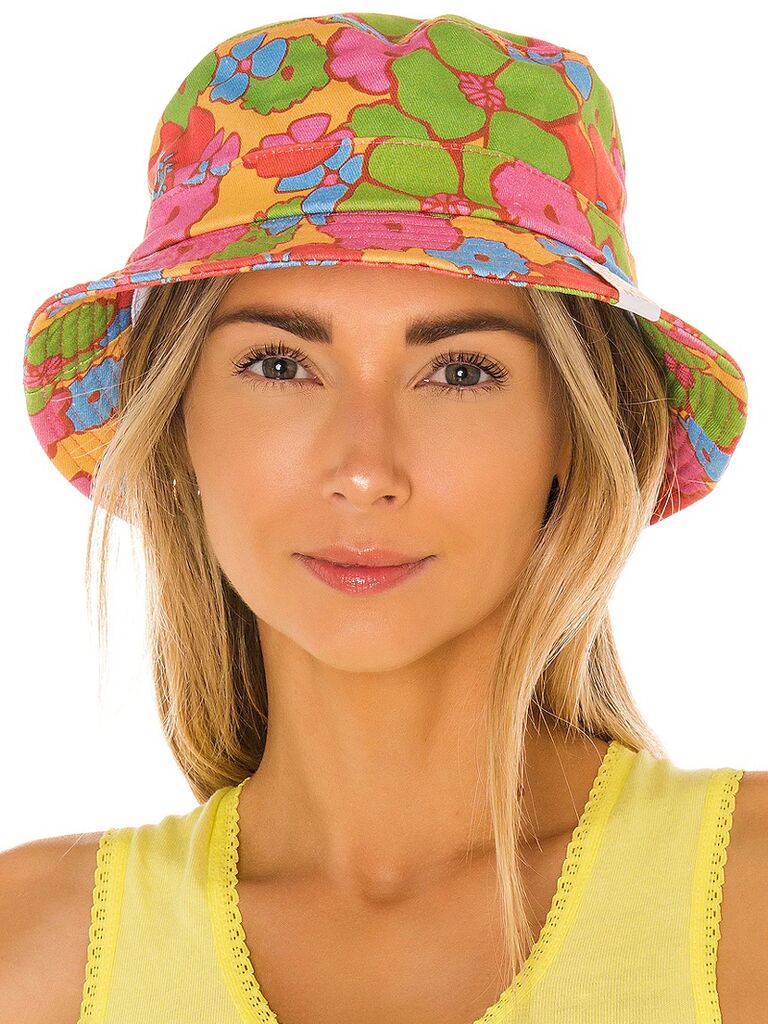 We never thought we'd see the day, but word on the street is that bucket hats are back. Show respect for the '90s (and '21?) trend with this charming tie-dye style, which would make great party favors for your friends.
Talk In Chalk Back to the '90s Printable Poster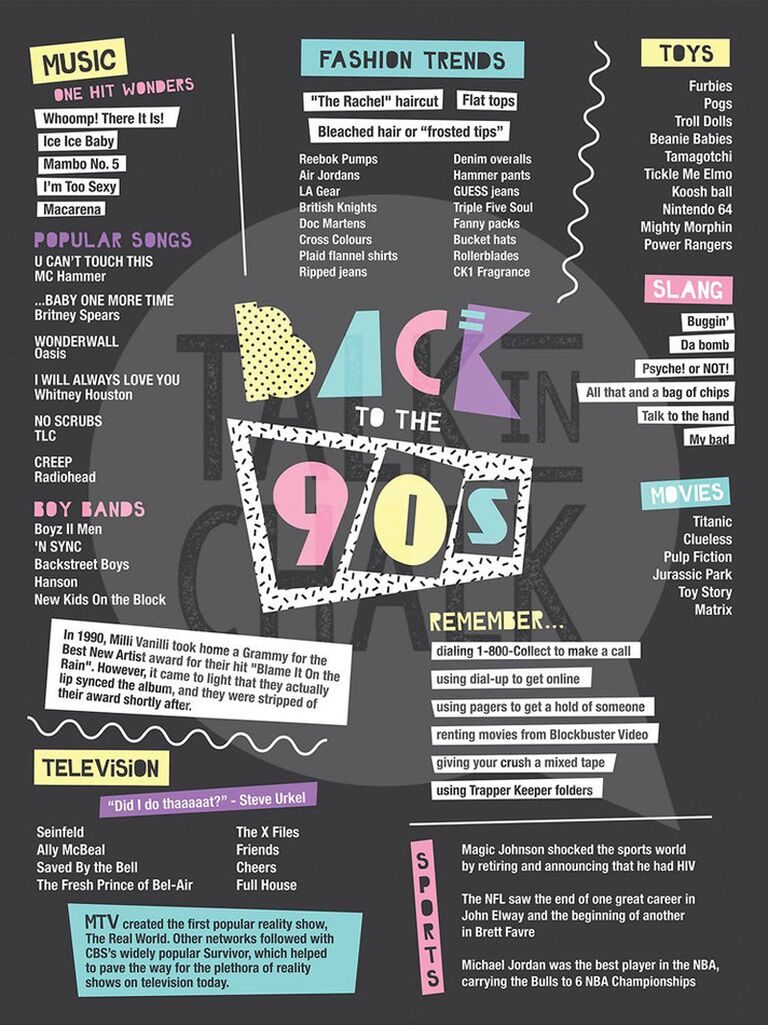 Furbies and Full House? Sign us up. Your '90s themed bachelorette party wouldn't be complete without some funky decor, and this printable poster would be a simple way to spice up a hotel room.
Urban Renewal Vintage Colorful Mini Butterfly Clip Set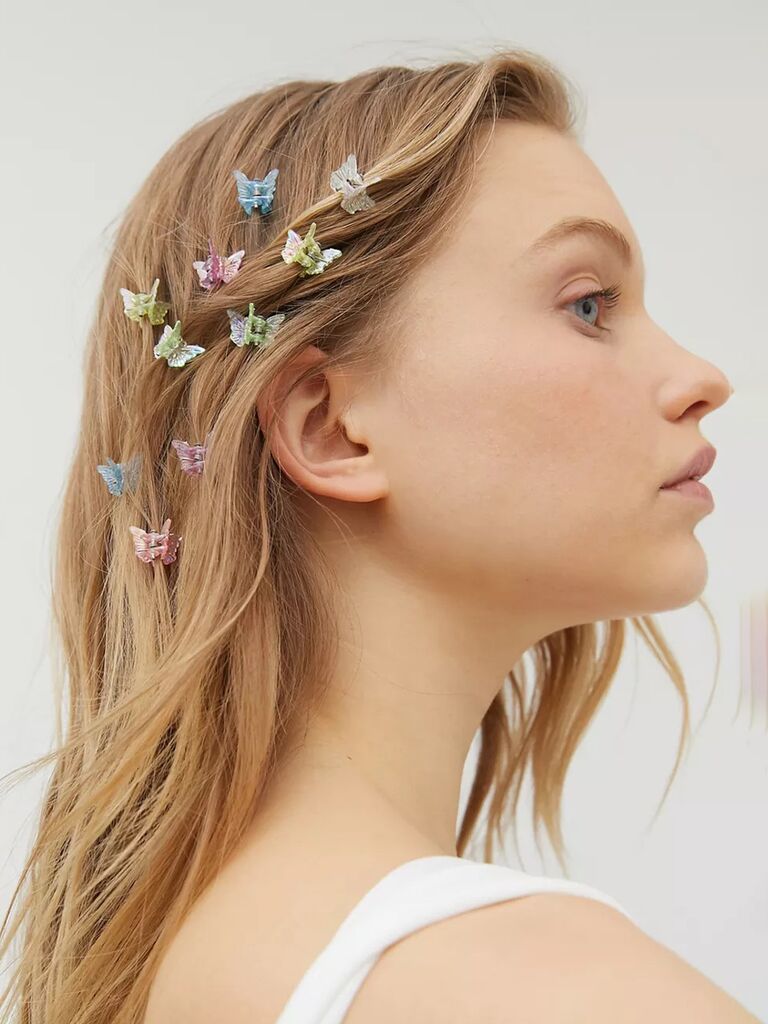 Upgrade your 'do for the weekend with every '90s kid's fashion accessory: butterfly clips. With a pastel palette and iridescent wings, these are even better than we remember.
Anthropologie Terry Visor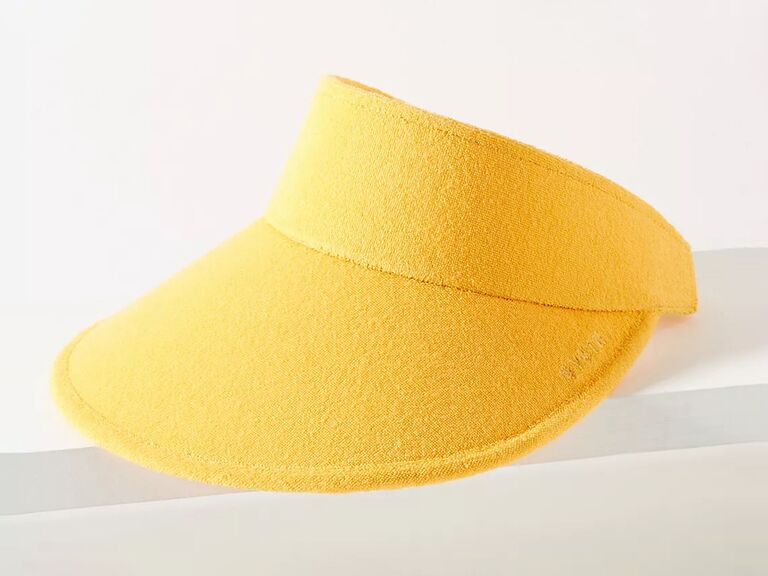 Stay out of the sun (and in a '90s state of mind) with this playful terry cloth visor reminiscent of those oh-so-popular sweatsuits of the era. Bonus: It'd also be a great bridesmaid gift so no one gets burned ahead of the big day.
Buffalo Games Hella '90s Pop Culture Trivia Game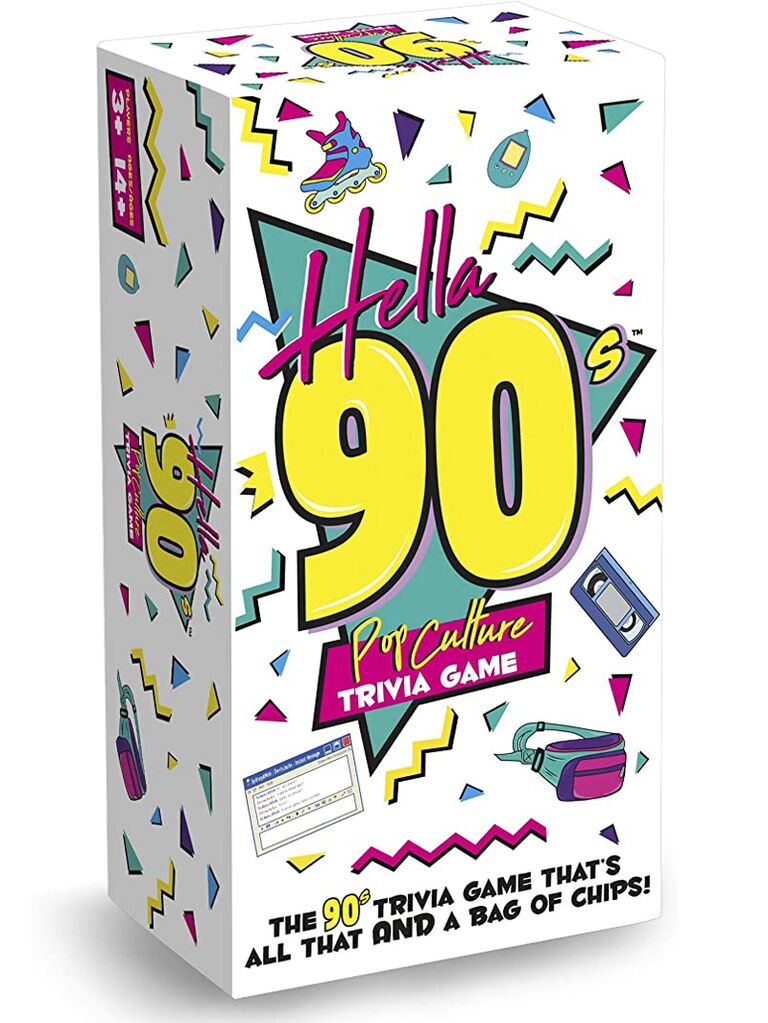 Think you know the '90s? Think again. This pop culture trivia game sets out to test the knowledge of your crew with over 400 questions (and a decade-themed Spotify playlist to listen to while you play). Our proposition: loser buys the first round of drinks!
Cher Can Do It BACH to the '90s Balloon Banner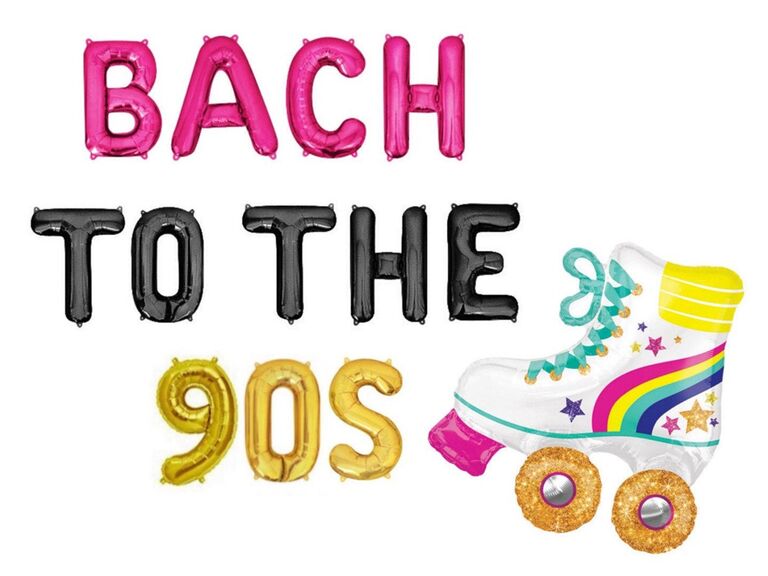 A bachelorette weekend isn't complete without a balloon banner or two. This pre-designed set features an adorable rollerskate (what a throwback) and doubles as a photo booth backdrop for your friends to snap pics in front of.
HunascoStore '90s Spice Girls Bride Shirt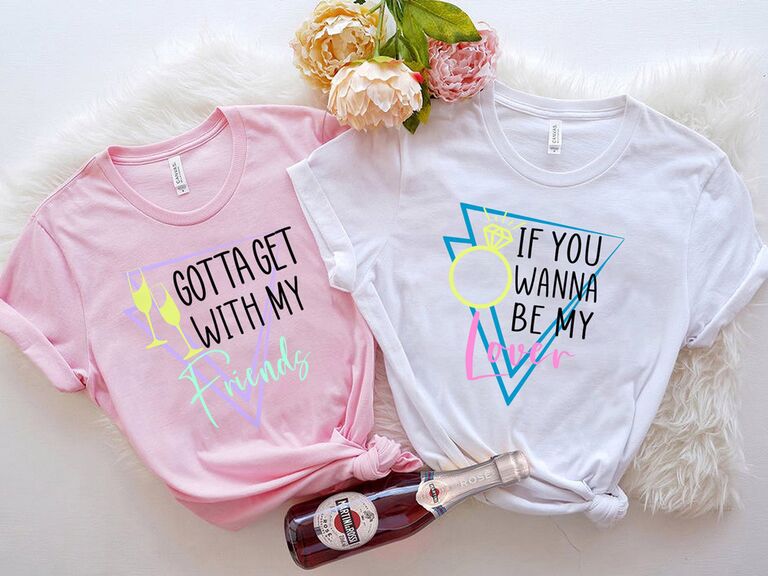 Matching T-shirts are an essential bachelorette party supply and these Spice Girls shirts are no exception. The charming toppers come in a colorful palette, allowing you to match with your girls for your special weekend. Tip: Make sure you have a playlist filled with lots of Spice Girl songs at the ready to jam to.
Shop Tattitude '90s Party Tattoos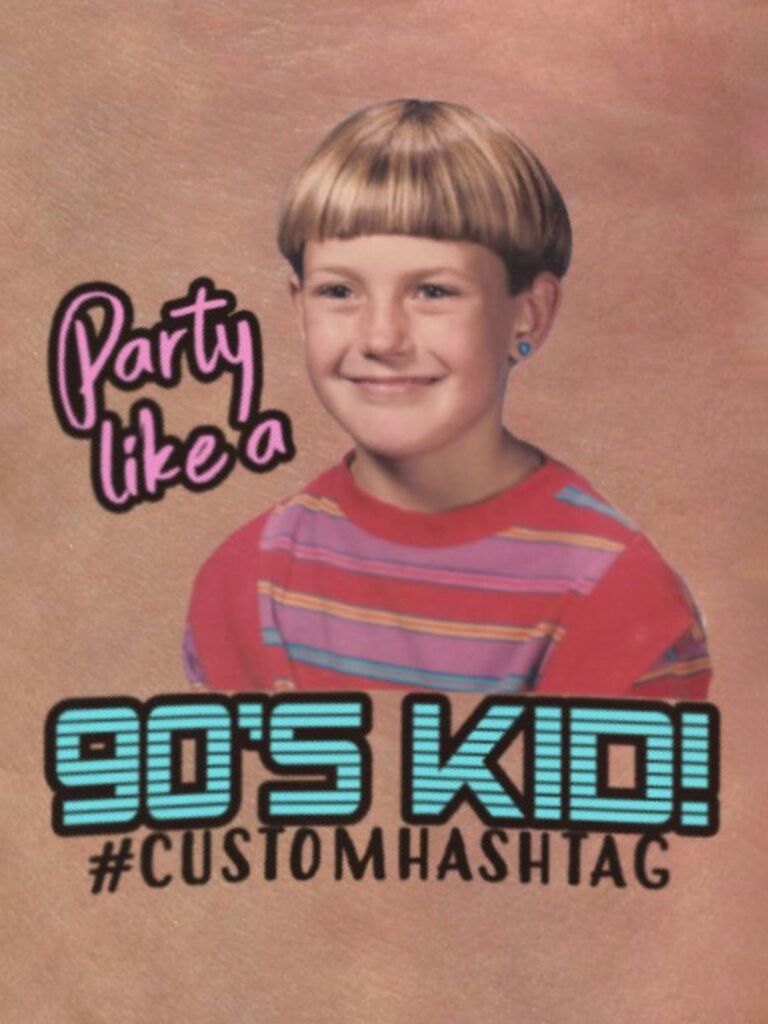 This totally hilarious temporary tattoo is sure to serve up more than a few laughs throughout the weekend. It may pain you, but choose the nerdiest picture you can find for this—your friends deserve a good giggle at your expense.
Anthropologie Plaid Scrunchie Set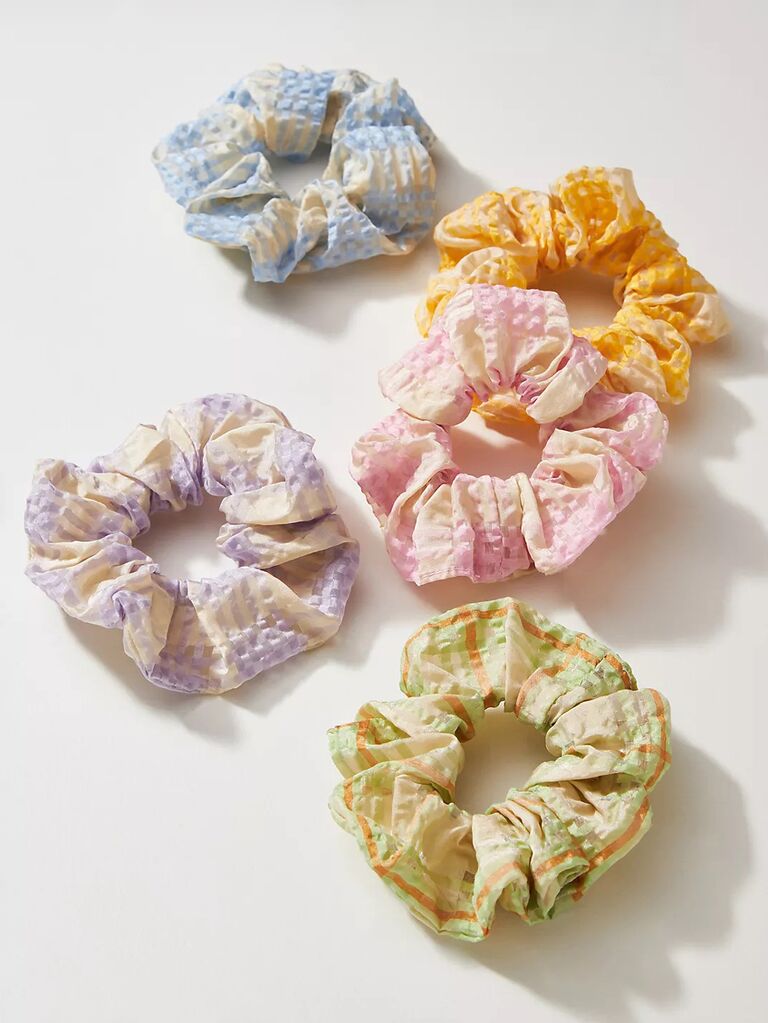 '90s scrunchies, but make them chic! This pastel scrunchie set is the perfect party favor to welcome pals to your bash. Bonus: They'll come in handy if any forgetful friends overlook packing a hair tie.