How to Throw the Ultimate Mermaid Bachelorette Party
Alexa, play under the sea.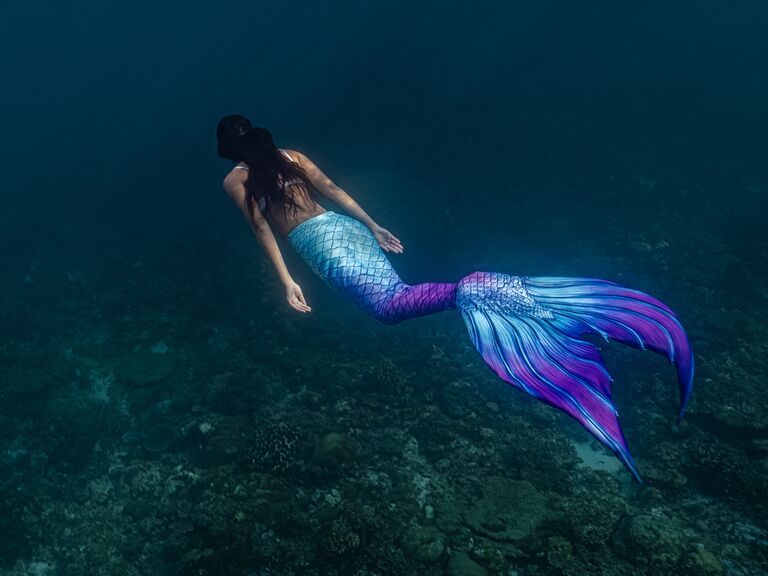 SaltedLife/Shutterstock.com
We have included third party products to help you navigate and enjoy life's biggest moments. Purchases made through links on this page may earn us a commission.
Sometimes you just want to let your inner mermaid out—and what better time than your bachelorette party? Get your friends involved and really make a splash with our favorite mermaid bachelorette party ideas. Do you have a pool party on the horizon? Or maybe you're getting the girls together for a beach bash? Whatever your plans are, we think you'll love one or two (or all) of these mer-mazing bachelorette party essentials. Whether you're planning your own bash or enlisting the help of of your mermaid of honor, we have everything you need to plan the ultimate under the sea party. And for even more inspiration, The Knot Shop and Etsy are bursting with on-theme apparel, supplies and decorations. Ready to get started? Let's dive in!
Mermaid Bachelorette Party Ideas
You may feel like your sea-inspired bach party options are limited, but there are endless possibilities. Check out our favorite mermaid bachelorette party ideas, below.
Mermaid Camp
Yes, you read that right. You can actually go to camps and clinics taught by professional mermaid swimmers. You and your mermaid squad can learn how to do tail swimming, floating, twirling and more. Get ready for an unforgettable experience.
Beach Day
Live out your mermaid dream with your besties by planning the ultimate beach bachelorette. Bring snacks, drinks and mermaid-inspired gear (think: sparkly swimsuits, mermaid tail towels and shell-shaped accessories). Make sure you and your crew go for a swim to bring the theme to life.
Boat Day
Take things up a notch by inviting your swad to a boat day. Lean into your mermaid bachelorette party theme by renting a sail boat for the occasion. Bring along nautical decorations, mermaid fins and drinks.
Seafood Dinner
If you can't get to the water for your mermaid bachelorette party, bring the sea to you. Organize a seafood dinner where your crew can enjoy delicious food in an on-theme setting. Bonus points if the restaurant overlooks water.
Pool Party
Skip the ocean entirely and head to a pool instead. Whether you rent an Airbnb with a pool or you book a local rooftop pool, you can still host an incredible mermaid bachelorette party. Bring glittery decorations and on-theme accessories to bring the bride's vision to life.
Aquarium Outing
Hosting a mermaid bachelorette party in the winter? You can still have an on-theme celebration. Go under the sea by taking your crew to the local aquarium. Tour around the building and check out all the different sea creatures before heading out for a quick meal together.
Mermaid Bachelorette Party Invitations
Set the tone for the event with mermaid bachelorette party invitations.
Last Splash Invites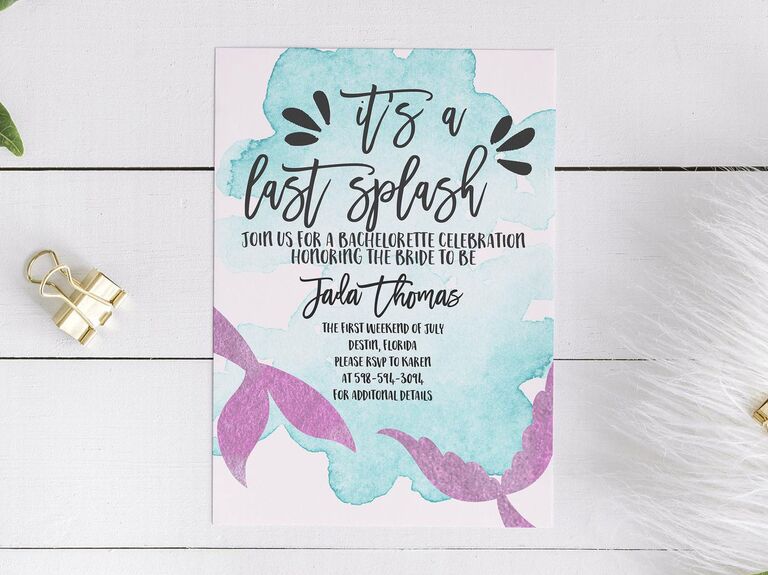 Make sure everyone knows to bring their best flippers with an under-the-sea-themed bachelorette party invitation. These watercolored beauties are printable, so you can start organizing your "last splash" bachelorette straight away!
Piper and Finch instant Last Splash mermaid bachelorette party invitation, $12 for a digital download, Etsy.com
Sparkly Mermaid Tail Invitations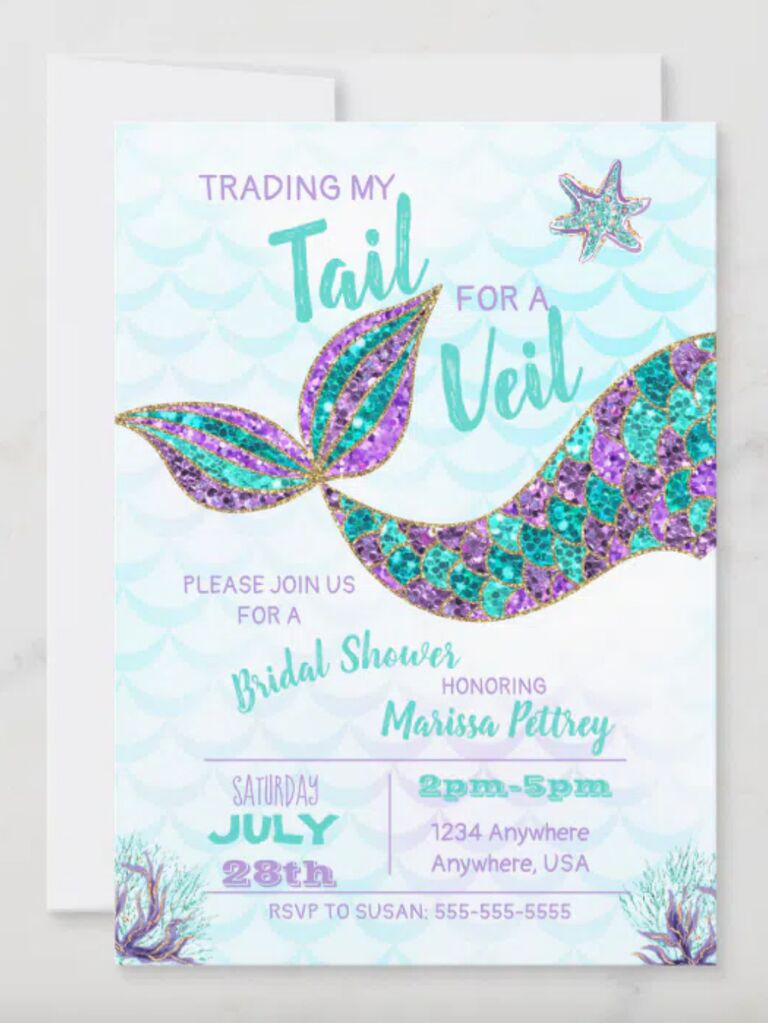 Add a touch of humor to your event with this clever rhyme. The sparkly tail will stand out in your guests' mail piles and look amazing on their fridges too.
Michelle Ray Designs mermaid bridal shower invitation, $30 for 25 cards, Zazzle.com
Siren-Inspired Salutations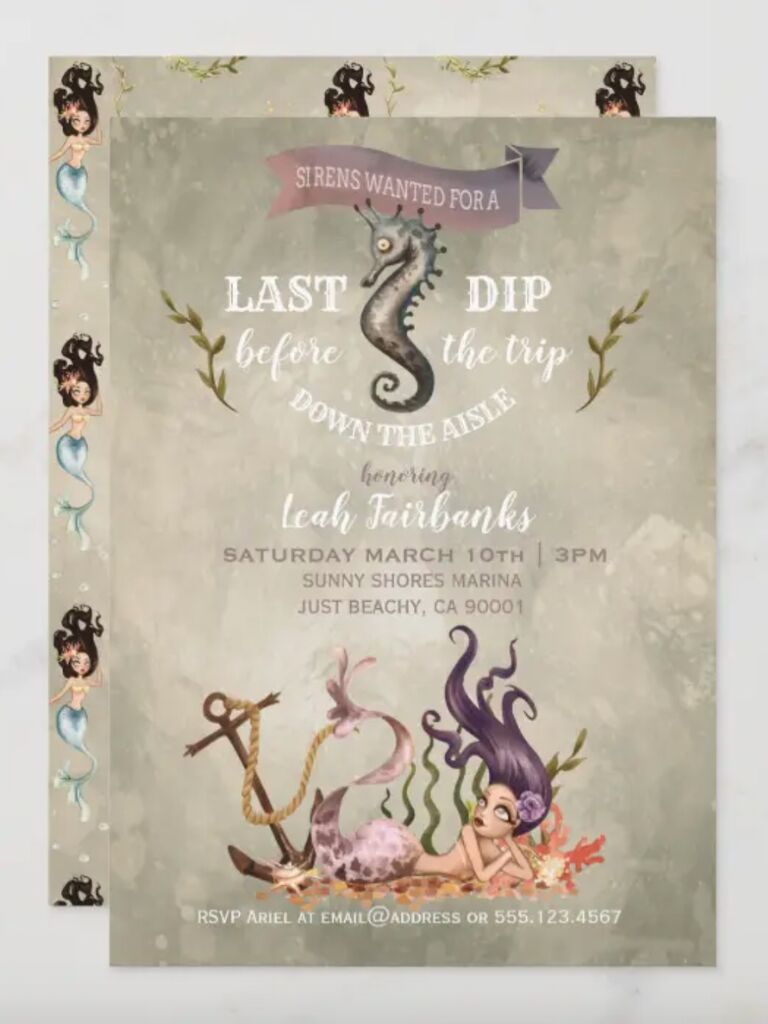 Lean into the spooky side of mermaids with this siren-inspired invite. It's a unique spin on typical mermaid bachelorette party invitations.
Dapper Bob watercolor mermaid bachelorette party, $34 for 25 cards, Zazzle.com
Tail-Patterned Invitations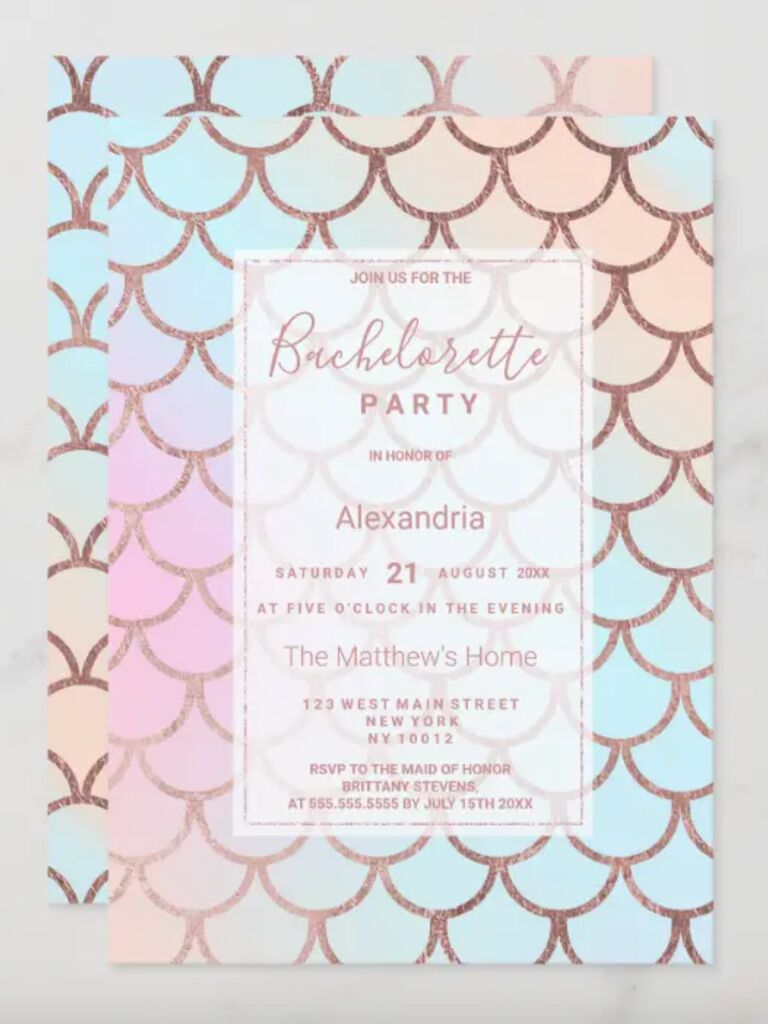 For a more subtle approach, consider using a mermaid-inspired print on your stationery. It's still on-theme without feeling too over-the-top.
Paperi rose gold pink ombre mermaid bachelorette invitation, $30 for 25 cards, Zazzle.com
Mermaid Bachelorette Party Decorations
Pulling off a themed party is all about the details. Bring the mermaid magic to your bach bash with these adorable party decorations.
Mermaid Tattoos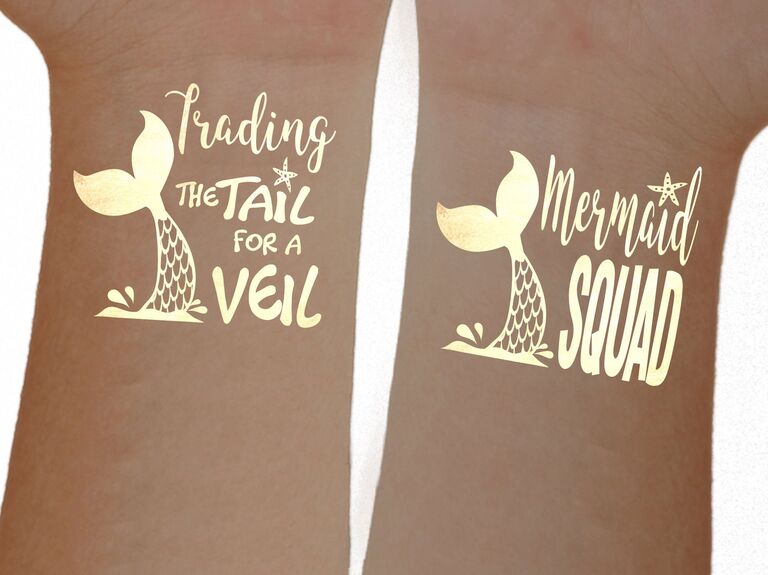 Bring a bohemian vibe to your mermaid bachelorette party with some temporary tattoos. These metallic gold party supplies are even waterproof, so you can spend as much time in the pool as you want. We also love them as fun mermaid bachelorette party favors.
No Regrets Tats mermaid bachelorette party tattoos, from $7, Etsy.com
Insta-Worthy Pool Float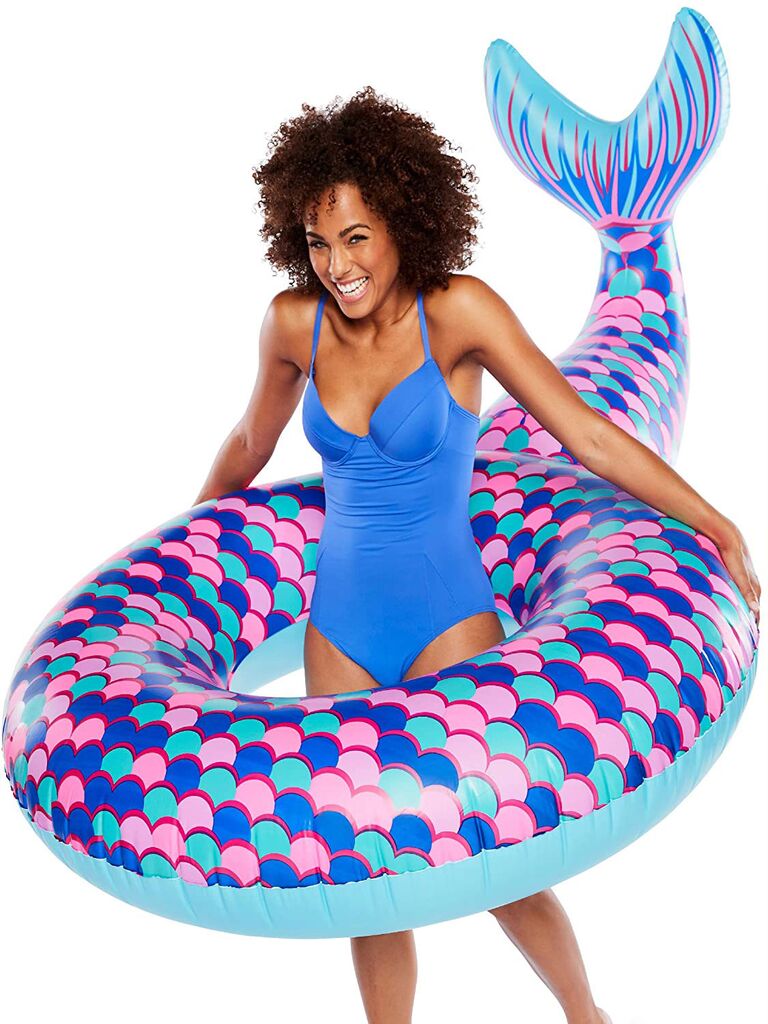 Be the belle of your bachelorette bash with your brand new mermaid tail. Haven't you heard? Pool floats are the new black.
Big Mouth Inc giant mermaid tail pool float, from $17, Amazon.com
Another Pool Float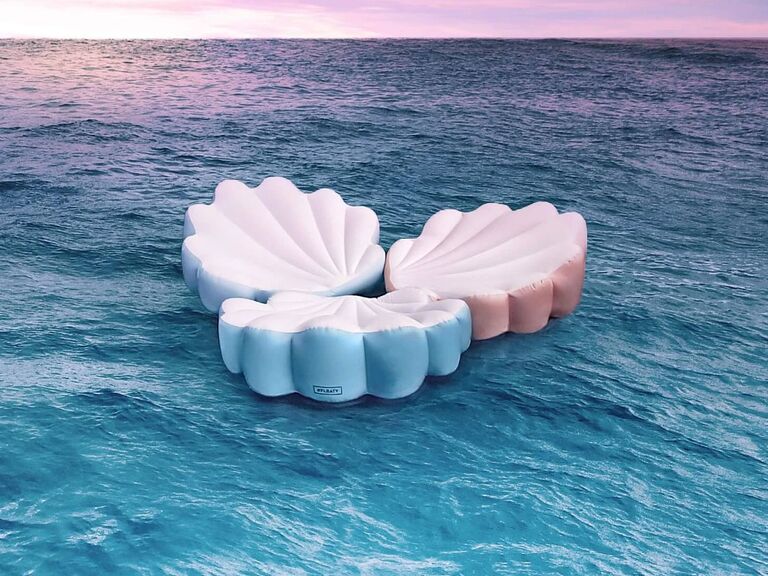 Is one really enough? This pool float is a tad more understated but still oh-so fun. It inflates in just minutes with a hairdryer, perfect if you're jetting off for a bachelorette party in the sun. Plus, you can connect your float to a friend's and laze around the pool together.
Get Floaty blue seashell, $78, GetFloaty.com
One Last Pool Float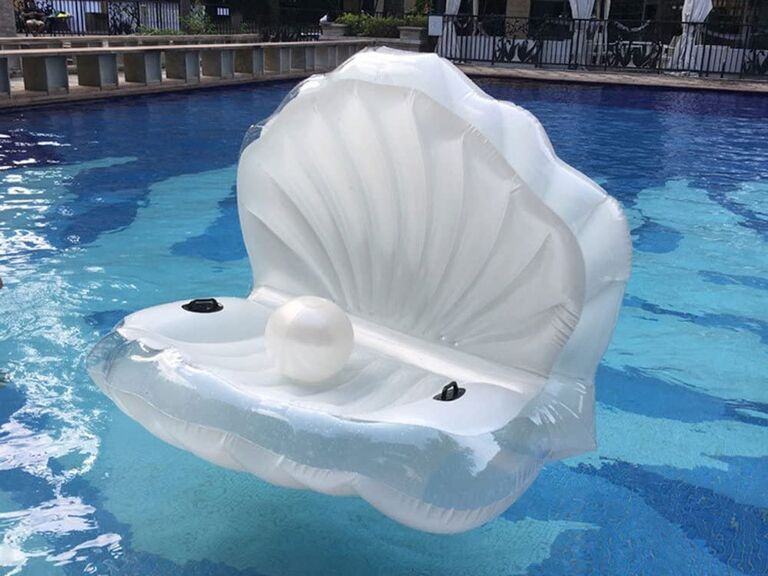 Okay, just one more float for good measure. You'll be the center of attention at your bachelorette party with this seashell and beach ball combo.
Bk giant mermaid shell pool inflatable, $98, Amazon.com
Tail Bottle Stopper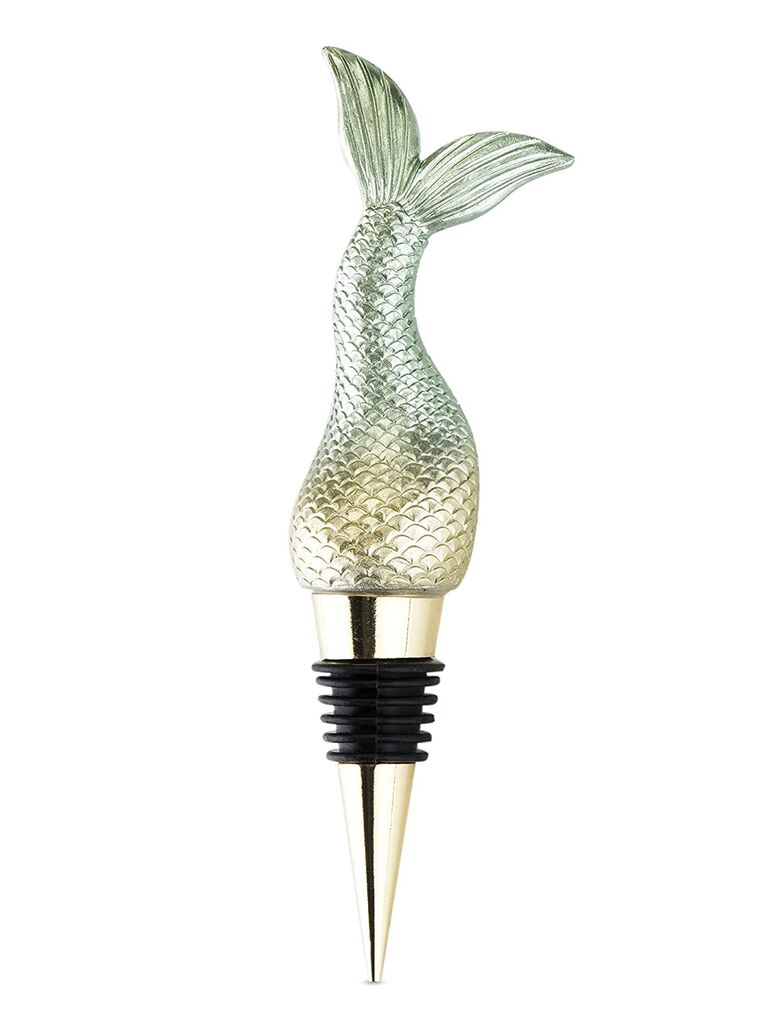 If you're having too much fun at your bachelorette bash to finish the bottle, don't worry! A wine stopper is one of those must-have bachelorette party supplies, and this mermaid design blends usefulness with quirky style.
Blush multicolor bottle stopper in Siren, $17, Amazon.com
Floating Cup Holder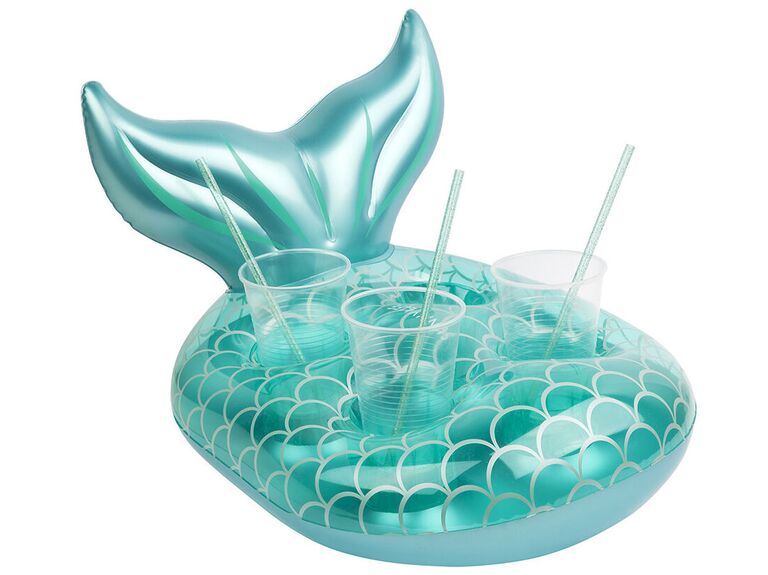 With this mermaid tail drinks holder, you'll never be too far from a refreshing tipple. Spend your bachelorette party lounging on the water with your closest friends as this piece can carry up to four drinks at a time. You'll also appreciate the handy repair kit it comes with, in case you get carried away with the celebrations.
Sunnylife inflatable drinks holder in Mermaid, $25, Amara.com
Crystal Crown for the Bride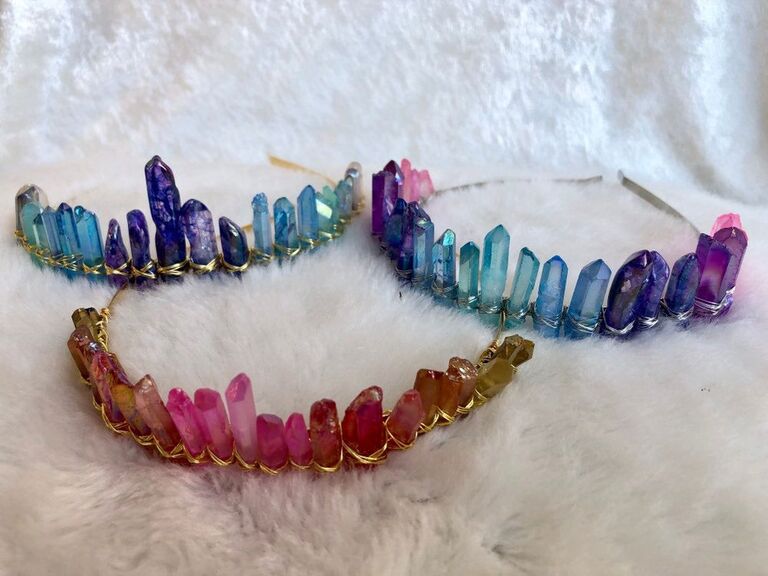 Swap the bride-to-be sash for a made-to-order quartz mermaid crown fit for a sea queen. Use it as a subtle hint at the mermaid theme of your bachelorette party. We're big fans of how customizable the colors are, from the metal of the headband to the trendy ombre stones in a rainbow of shades. (Still think a sash is more your style? We've got you covered with this mermaid bachelorette party option.)
Titania's Wardrobe ombre quartz mermaid crown, $48, Etsy.com
Fondant Cake Topper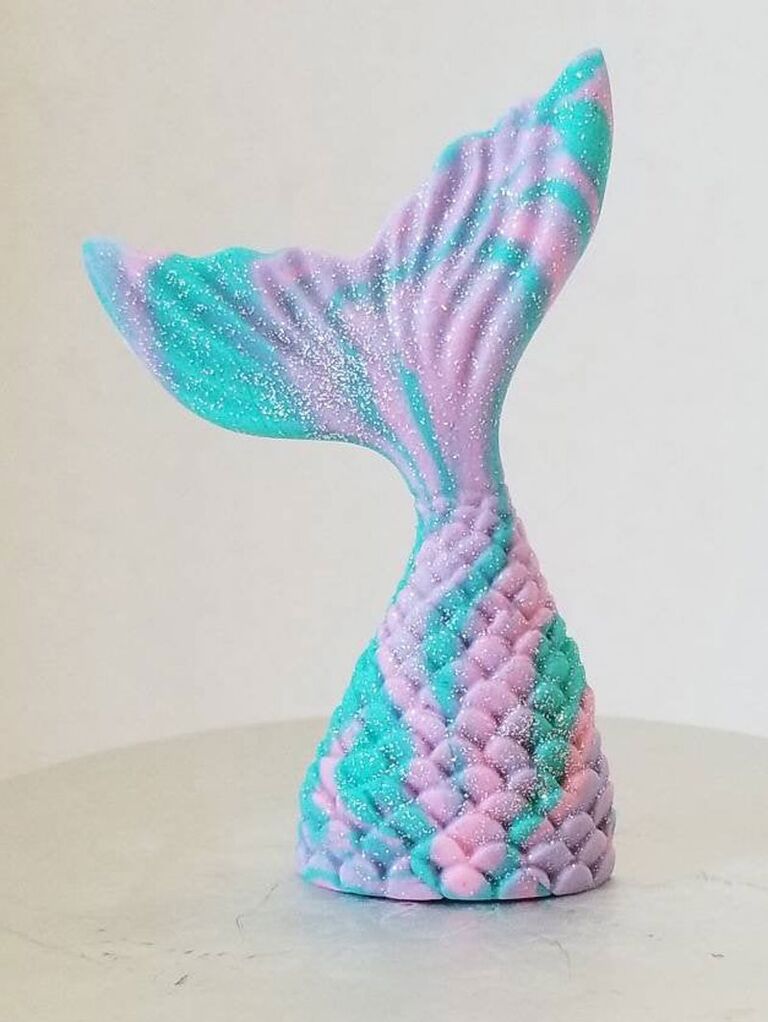 Put the finishing touch on an unforgettable mermaid bachelorette party with a cake topped with this shimmering mermaid tail. Go all out and eat the dessert from an iridescent shell-shaped plate.
The Cake Beautician fondant mermaid tail cake topper, from $8, Etsy.com
Under-the-Sea Party Games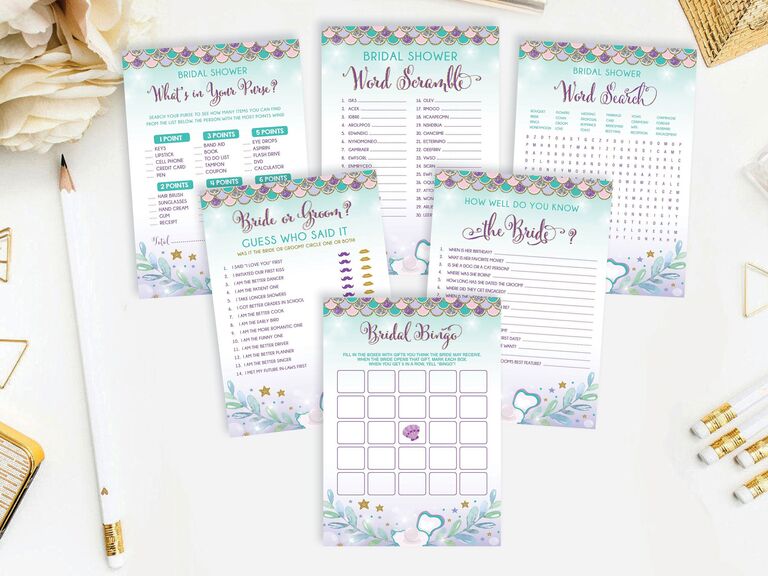 Want to spend some time on land? We have you covered with these cute on-theme mermaid bachelorette party games. The activities bundle is printable so you don't have to wait for the paper goods to ship out.
Blue Bunny Printables mermaid games package, $10, Etsy.com
Last Splash Decorations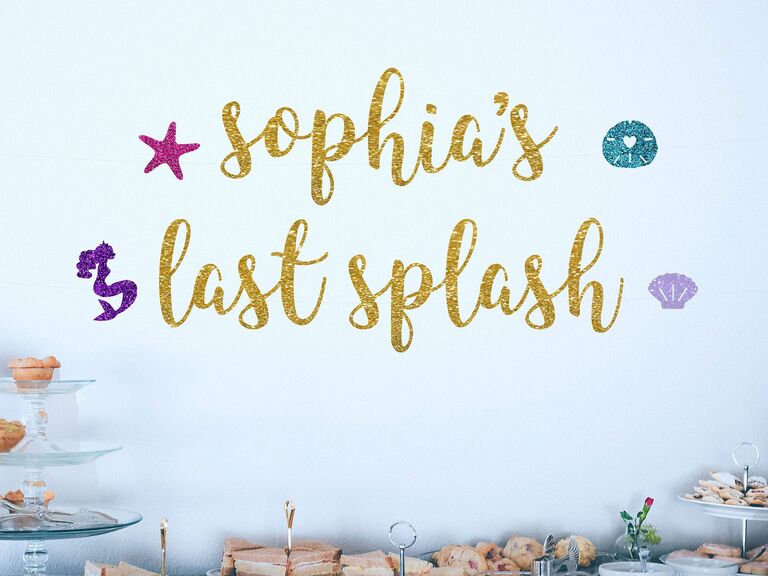 So you've organized your mermaid looks, laid out your mermaid cups, made a few pitchers of mer-mosas and inflated your mermaid floats. Now what? Mermaid bachelorette party decorations, of course! This sparkly banner is the perfect finishing touch to your big splash.
Glam Celebration Last Splash mermaid bachelorette banner, from $16, Etsy.com
Mermaid Bachelorette Party Favors
No party is complete without favors. Drive the underwater theme home with these mermaid bachelorette party favors.
Breezy Tank Tops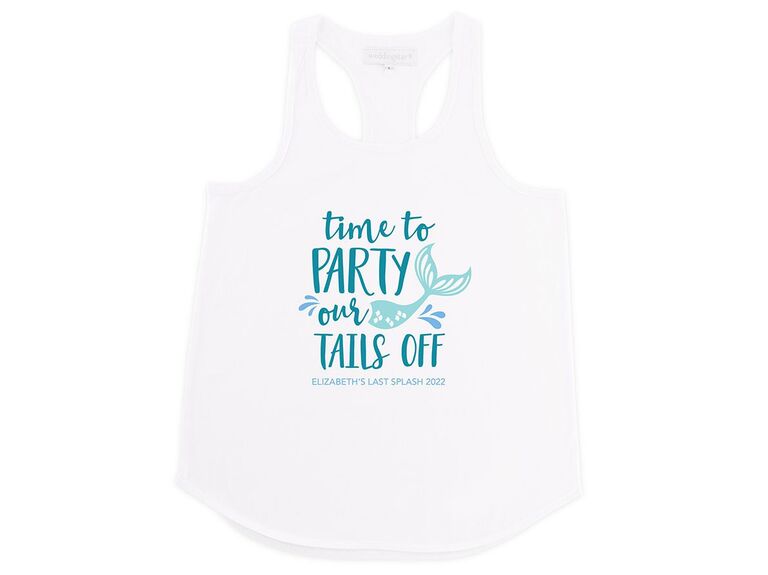 Here's an easy throw-on, throw-off top for when you want to cover up. Plus, the mermaid bachelorette shirts can be mementos of all the fun everybody had at your party.
The Knot Shop personalized bridal party wedding tank top in Party Our Tails Off, $15, TheKnotShop.com
Themed Tote Bags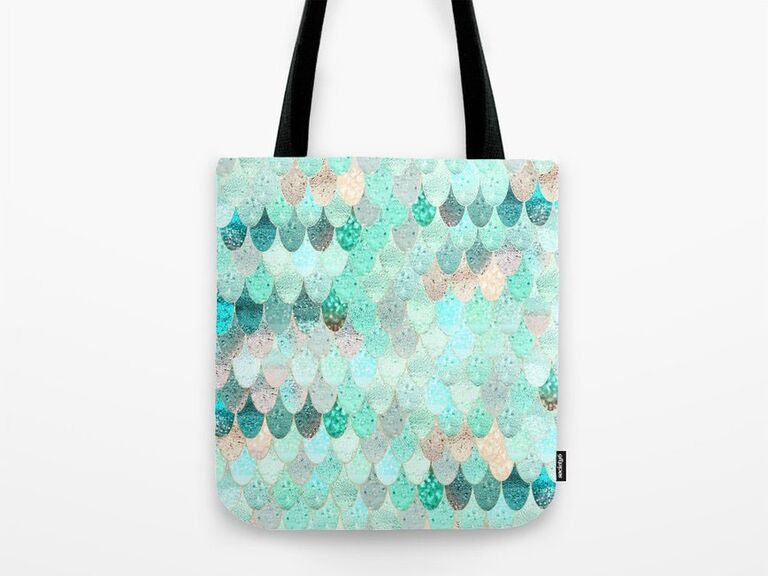 Every pool party needs a sturdy tote bag. This fun mermaid scale-patterned tote has room for all your gadgets, gizmos, whozits and whatzits galore (hello, The Little Mermaid lovers!). Use them to hold the party favors to stay on-theme. Then afterward, repurpose them as eco-friendly alternatives to plastic grocery bags.
Monika Strigel Summer Mermaid tote bag, from $23, Society6.com
Personalized Mermaid Cups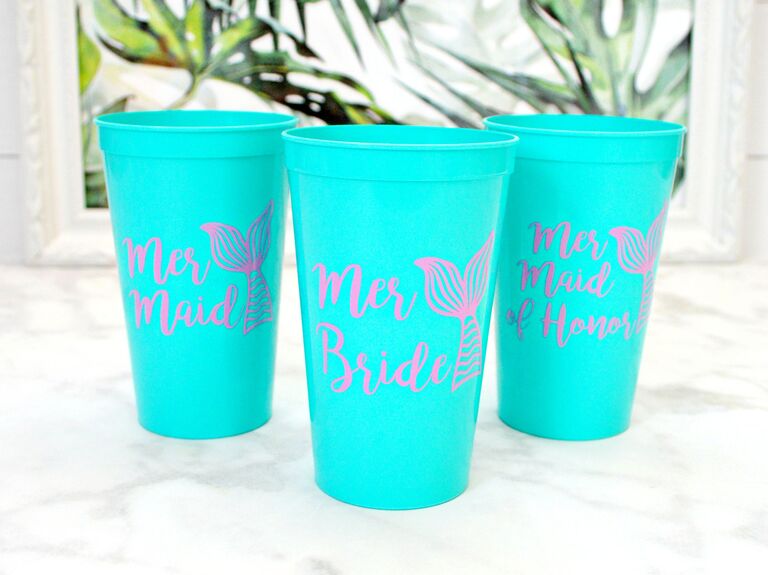 Swap your crystal stemware for these Instagram-friendly mermaid bachelorette party cups. Why not try to create a fun ocean-themed signature cocktail to sip while you enjoy the party?
Pineapple Proper mermaid bachelorette party cups, $5 each, Etsy.com
Mermaid Hair Ties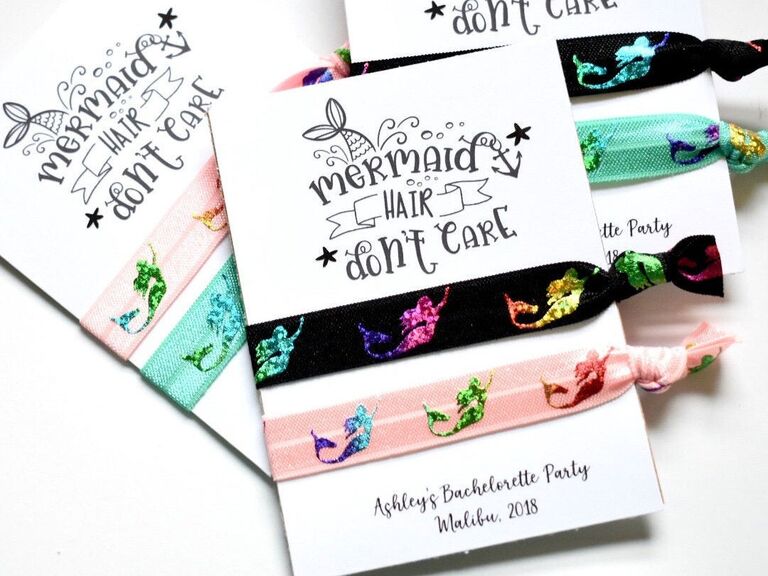 Sure, mermaids are known for care-free tresses, but sometimes you just want to get them out of your face. (And what a cute giveaway! They go perfectly with these iridescent bachelorette party favor boxes.) These adorable mermaid accessories are available in a range of colors on a personalized display card that states the date of your bachelorette party.
Hoo Hair Ties Mermaid Hair Don't Care hair ties, $3 for a card with 2 hair ties, Etsy.com
Metallic Swimsuits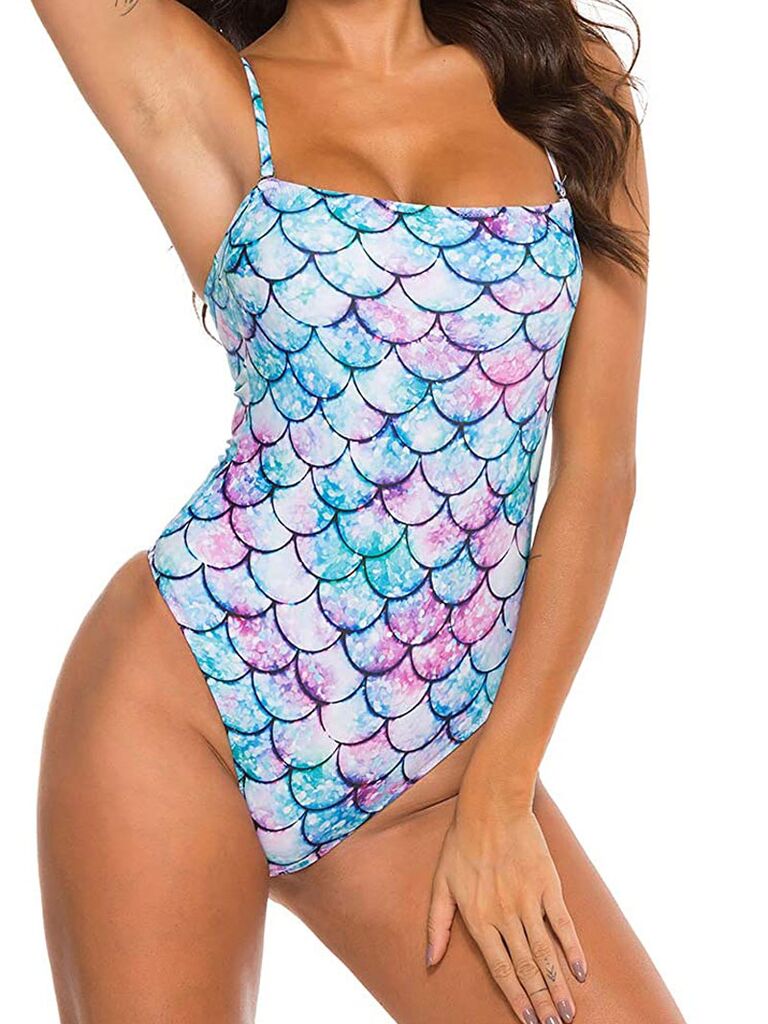 Make a statement by striking a pose with your bachelorette party in matching mermaid swimsuits. We love the fun mermaid-tail pattern and comfy one-piece style for an effortlessly glam look at your beach bash.
Eomenie one piece swimsuit in Color 1, from $27, Amazon.com
Shell Accessories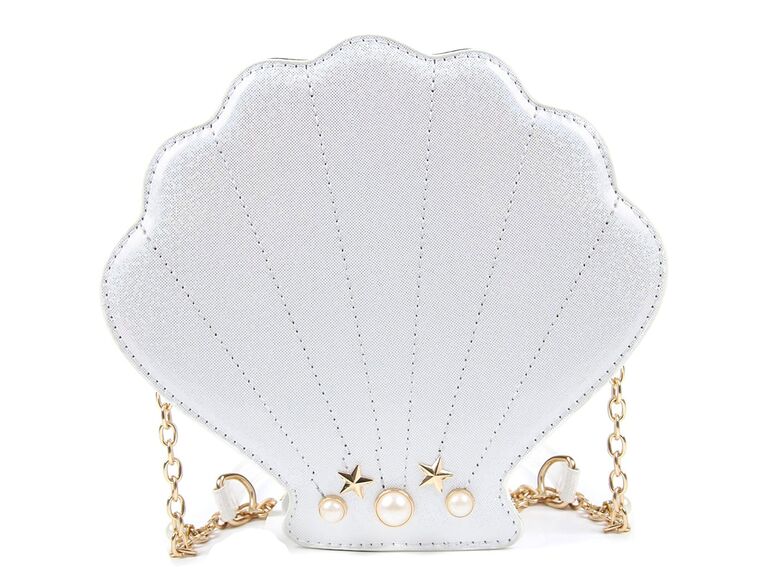 Bring a bit of mermaid magic with you by bringing this seashell bag wherever your bachelorette party takes you. The long crossbody strap leaves your arms free to keep on celebrating, with just enough space to carry the essentials. It also comes in glittery pink and blue for a sparklier touch.
Kuang seashell crossbody purse in White, $17, Amazon.com
Mermaid Makeup Brushes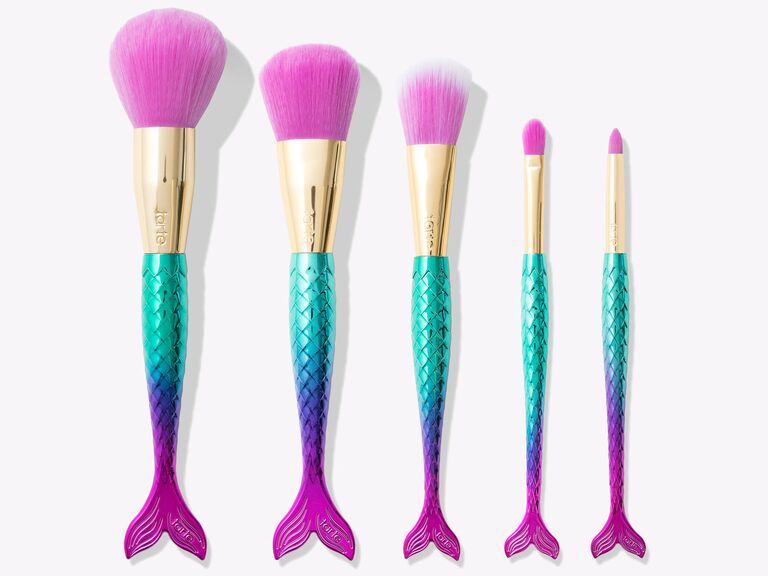 Keep the mermaid vibe strong during touch-ups in between your bachelorette party's happy hour and dinner. This set of makeup brushes features all the essentials for a flawless face, complete with mermaid tails. What makes these must-haves even better is that they are both cruelty-free and vegan! They're also excellent on-theme bachelorette party gifts for the bride.
Tarte Minutes to Mermaid brush set, $42, TarteCosmetics.com
Mermaid Tail Travel Mugs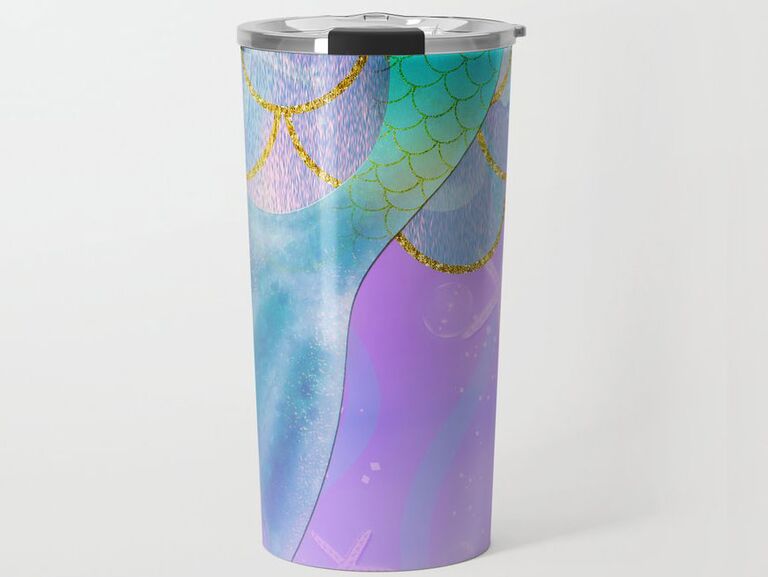 Lightweight but lovely, this colorful travel mug is perfect for mermaids on the go. You can use these as whimsical bachelorette party supplies to help you stay hydrated throughout the day. Or, if you're going to be drinking from cans, cute koozies can help you stay on-theme instead.
Christyne mermaid iridescent shimmer travel mug, $29, Society6.com