How to Upgrade Your Wedding Ring, According to Experts
Whether you swap in a larger stone or start from scratch, ring upgrades are a stellar way to celebrate a milestone.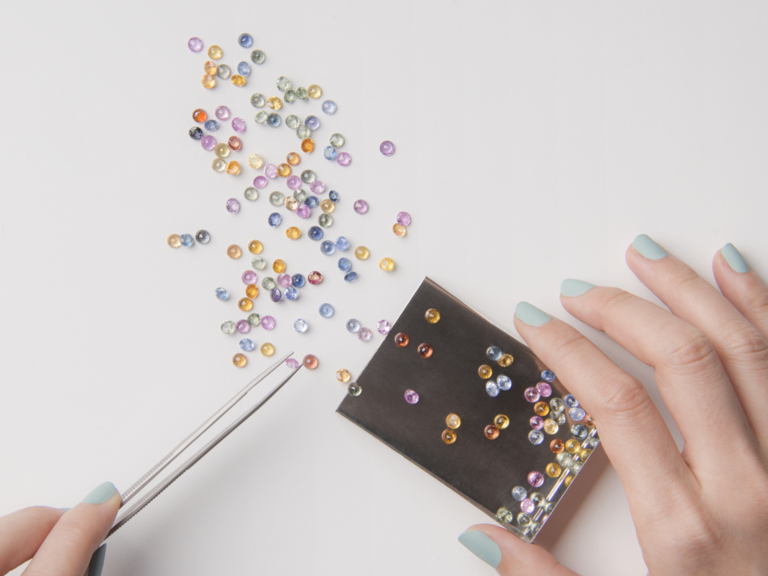 Photo: Renu.M / Shutterstock
our wedding represents a new season of life, the start of so many meaningful milestones to come. But, as seasons come and go and the journey progresses, you may notice that your tastes change—and you can upgrade your wedding ring or band to honor and celebrate the changes. First things first: Let's clear any stigma around an upgrade. It's no offense to your original ring or the partner who selected it. Rather, an upgrade is a celebration of how far you have come together, mentally, physically (and yes, maybe even financially).
There's no one correct way to approach an upgrade; it's an aesthetic decision as personal as choosing your wedding gown or tuxedo. We tapped some experts for advice and inspiration. Lauren Forbes Cameron is the director of diamonds and gemstones and staff gemologist at Valerie Madison, a Seattle-based and Black-owned fine jewelry brand. She specializes in customization and helping clients upgrade their engagement rings. Chelsea Holtzman Lawrence is the VP of marketing and communications for CD Peacock, one of the oldest and most storied jewelers in Chicago. Here, they weigh in on some of the reasons clients come in for an upgrade, and what the process looks like when they do.
Why Do People Get a Ring Upgrade?
The better question is why not? There are countless reasons people opt for a ring upgrade. Change of personal style or celebrating a life milestone or anniversary are some of the top reasons, Forbes Cameron says. "And, just for fun!"
They Started Small
Especially for couples who get married young, teeny-tiny engagement rings are more commonplace than you'd think. At that stage, it's the thought that counts; the love is big but the budgets are small. "Often, couples have so many costs to consider while planning a wedding that they have usually discussed an upgrade to a larger stone once they feel established with their home and family a few years later," Holtzman Lawrence says. As circumstances change and you decide to go bigger, you can keep your original setting but swap in a larger center stone; this works particularly well for solitaires.
To Celebrate a Milestone
Swapping the stone is one option; adding more stones is another. We love the idea of adding a second diamond for an anniversary, upgrading from a solitaire to a three-stone with the birth of twins, or infusing some color to celebrate a new job or other special occasion. Adding on could also come in the form of wedding bands: Build a bold stack by adding a diamond infinity band for each momentous life milestone. "Couples renewing their vows also choose to upgrade their rings as a symbolic fresh start for their union," Holtzman Lawrence adds.
Tastes Change
And then, there's the most basic reason to upgrade: You simply have different aesthetic tastes than you did when you got married. Would you pick the same gown today? The same vendors? If not, it may be a sign you're ready for a ring upgrade. You can't go back and change most things about your wedding day, but you can change the everyday reminder of it. Aesthetic upgrades could be as simple as resetting the ring in a different metal color or swapping the diamond for a unique colored stone; others decide to start fresh with an entirely different ring.
What Happens When You Upgrade Your Ring?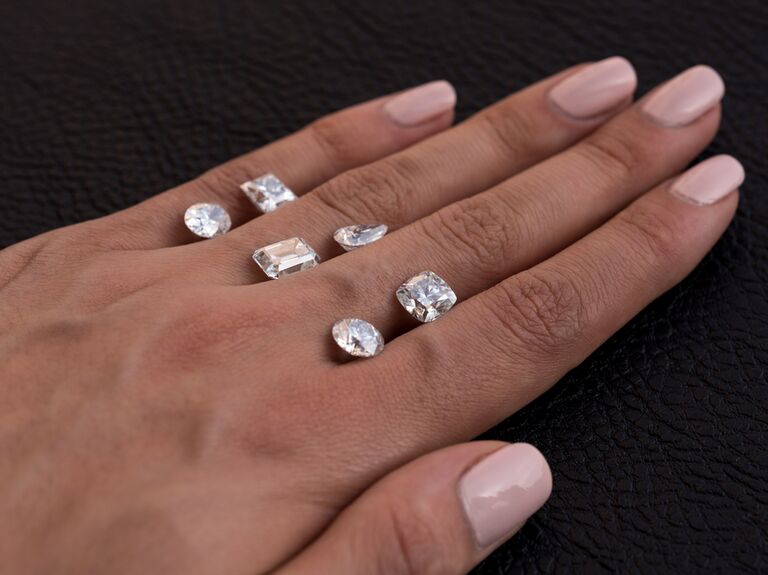 Whether you're starting from scratch with a new ring or reimagining the old, the process is similar to creating a custom engagement ring: You'll meet with a jeweler who can sketch out your options or create 3D renderings, and select stones, metals, and more. While keeping the integrity of your original design is an option, Forbes Cameron says most of her clients completely change the ring when upgrading to match their current preferences. However, you don't have to scrap the original. "If the setting is sentimental, I have had clients put a sapphire or gemstone in their original mounting and wear it as a right-hand ring." She's also repurposed clients' original diamonds into pendant necklaces or other jewelry. Here are a few ways to upgrade your wedding ring.
Trade It In
If you know you want to start from scratch, there may be ways to get credit toward a new ring purchase. Some jewelers may buy back the original diamond and offer a credit toward the new (re: larger) one. The same goes for gold: Inquire if your jeweler can recycle your gold and offer credit, or melt it down and recast it if you're keeping the same metallic.
Modify the Original
Another way to start from scratch keeps the sentiment intact: You can make modifications and upgrades to the original setting or stone. "If clients are coming in to redesign their ring, they're often completely changing the structure," Holtzman Lawrence says. "CD Peacock has in-house custom designers who work closely with clients to develop a reimagined piece that retains the heart of the original while updating it to the client's preference."
Note that modifying your original ring is a similar process to creating something custom—and takes just as long. "Custom design is an excellent way to upgrade and reimagine your ring, but the process takes time to consult, finalize, and build," Holtzman Lawrence advises. "If you plan on doing it for a specific anniversary, allow yourself a few months before the occasion."
Add or Swap Stones
Holtzman Lawrence has seen clients swap out their stones for lab-grown diamonds; others modifying their rings will add or swap in a colored gemstone for something that more accurately reflects their style and personality.
Consider the Band
When working on a redesign, don't forget about the wedding band. It's one of Forbes Cameron's favorite additions. "Most clients love redesigning their ring with contour bands in mind," she says. "This allows them to have multiple looks within their set that they can switch up as much as they'd like." And, having multiple aesthetic options is a nice protection against tastes changing again—however, we're certainly not opposed to a re-upgrade.
Can Anyone Upgrade Their Wedding Ring?
The short answer: Absolutely! But, an upgrade might look different for each client. Men are not excluded from the upgrade game, though their upgrades are typically more simple: A swap for a different metal color is the main way to upgrade a men's wedding ring. We also love the idea of embedding a secret diamond inside the band or adding a meaningful inscription. "We're seeing men choose diamonds and gemstone accents and explore materials such as titanium and carbon fiber," Holtzman Lawrence says. "It's also an opportunity for the couple to upgrade their rings together as a matching set, and being part of the custom design process allows for a different level of creativity."
When Can You Upgrade Your Wedding Ring?
Milestone anniversaries are an ideal time to upgrade your wedding ring. "10 and 15 years are popular ones," Forbes Cameron says. But, keep in mind that timing might depend on budget, too. "Typically with ring upgrades—[especially] if they decided to upgrade their center stone—our clients are spending two times the cost of their original ring," Forbes Cameron says. "If they are looking to redesign their setting but keep their original stone, the price can vary depending on the styles they are most interested in."