A Wedding Photography Shot List to Help You Prioritize Your Pics
Pack your wedding album with these precious moments.
There are so many wedding moments you don't want to miss. From your pre-wedding prep to your post-wedding dancing, you'll want to remember everything about the day. Most photo pros have a standard wedding photography shot list that covers all the basic pictures you'll want captured. If you're unsure of what pictures they'll take, you can ask to see their wedding photography shot list or send this one over to them. Of course, the style and number of these images will all depend on the photographer you've chosen and how long you've hired that pro for, but a shot list of wedding photos you'd love to have is a great way to cover your bases.
While it may not be feasible to get all of these pictures taken, work with your photographer to narrow down the pictures you definitely want. You can also add in any additional shots you'd like taken that aren't on this list. For example, if you want a picture with a grandparent, godparent or another important person in your life, make sure you tell the photographer. If you want a special detail of your day captured (like your personalized wedding menu or your grandparent's heirloom), add that into your list. Just be sure you communicate your wishlist of pictures to your wedding photographer ahead of time so you can all finalize your wedding photography shot list in time for the big day.
Pre-Wedding Pictures
Capture your pre-ceremony excitement. Take pictures with your wedding party (bridesmaids, groomsmen and any other loved ones) to remember this special moment.
To-Be-Wed #1:
Wedding day outfit or wedding dress hanging on the wardrobe, on the bedpost or over a chair
Wedding party and guest of honor getting dressed and applying makeup (if you're going to be wearing makeup)
Parent or other guardian helping to-be-wed with one last detail, such as veil, shoes or zipping up outfit
Full-length shot of to-be-wed in outfit looking in mirror
Detail shot of clothing, shoes, accessories, and any other special items (something borrowed, something blue, etc)
Emotional shot of to-be-wed with parent/s and/or stepparent/s
Touching shot of to-be-wed with sibling/s
To-be-wed hugging honor attendant or close friend
To-be-wed with wedding party
To-Be-Wed #2:
To-be-wed getting ready with parent and pals (Psst: tying the tie is a classic)
Emotional shot of to-be-wed with parent/s and/or stepparent/s
Touching shot of to-be-wed with sibling/s
To-be-wed with arm around honor attendant (for example, the best man)
To-be-wed with wedding party
Wedding party putting final touches on outfit (boutonnieres or bowties, for example)
Both To-Be-Weds
Emotional shots of each to-be-wed talking to/hugging parents and siblings before the ceremony
To-be-wed #1 ready to go
To-be-wed #2 ready to go
Each to-be-wed separately making their way to the ceremony (in a limo backseat, hailing a cab, walking down the street/hall/stairs)
First look (if the couple is going to do one)
Wedding Ceremony Photo Ideas
Of course, you'll want your wedding photographer to capture you and your partner exchanging vows. But what else? Ensure you capture smaller details, like your guests arriving or a close-up of your wedding bands. See our full list of recommendations, below
Guests entering the site
Ushers escorting guests to their seats
Ushers escorting parents to their seats (if applicable)
Close-up of to-be-wed #2 waiting for partner
Wedding party coming down the aisle
Flower girl and/or ring bearer coming down the aisle
Honor attendants coming down the aisle
Grandparents walking down the aisle (if applicable)
Wedding party waiting at the altar
To-be-wed #2 coming down the aisle (with or without parents)
To-be-wed #1 and Dad/escort/parents (if applicable) walking down the aisle
Close-up of to-be-wed #2 just before making entrance
Couple at the front (including the officiant)
Arch, altar or canopy from the back during ceremony
Wide shot of audience during ceremony, from couple's point of view
Faces of the couple as they exchange vows
Close-up of the couple's hands as they exchange wedding rings
The first kiss as a married couple
The couple's recessional
Couple outside ceremony site
Congrats shots: couple hugging, laughing, and crying with friends and family
Couple leaving ceremony site
Couple in limo backseat
Family & Wedding Party Photos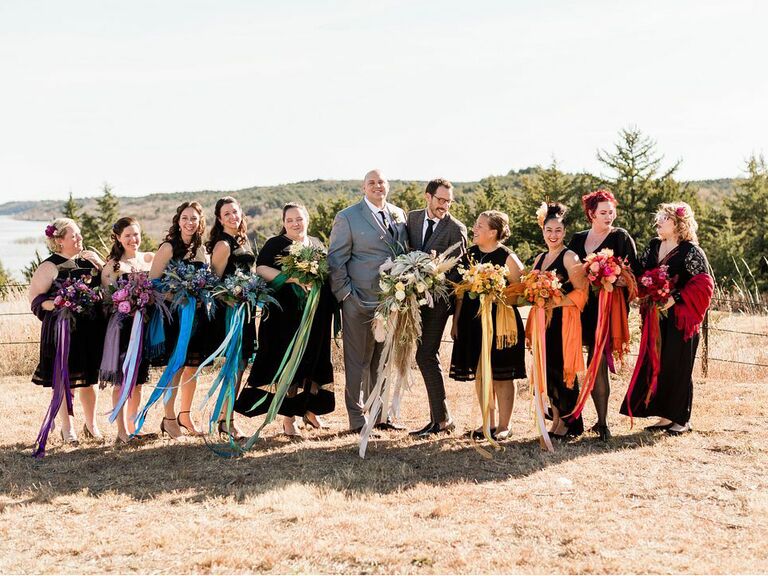 You did it! Time to celebrate with some friend and family photos during cocktail hour. Take pictures with your wedding parties, your loved ones and just the two of you. Note: You can also take these before the ceremony.
Couple together for portrait
Couple looking at each other
Couple hugging or kissing
To-be-wed #1 with parents and/or stepparents
To-be-wed #1 with entire immediate family
To-be-wed #2 with parents and/or stepparents
To-be-wed #2 with entire immediate family
Couple with all parents
Couple with immediate family members from both sides
Couple with wedding party of to-be-wed #2
Couple with wedding party of to-be-wed #1
Couple with whole wedding party
Wedding Reception Photos
You'll want to remember your post-wedding party for many years to come. Ensure your photographer captures the details that are most important to you (whether that's your food, your decor or your dance party).
Shot from outside reception venue
Reception details such as place cards, guest book, centerpieces, decorations, table settings, favors table, and champagne glasses
Stationery flat lay
Couple arriving to reception
Receiving line moments
Couple at head table
Parents' table
Guests' tables
Close-up of friends and family making toasts
Couple sipping champagne
Couple's parents talking to each other during dinner
Couple chatting up the guests
Detail shot of food
Couple's first dance
Parents dancing
To-be-wed #1 and parent dancing (such as father-daughter dance)
To-be-wed #2 and parent dancing (such as mother-son dance)
Wedding party dancing
Grandparents dancing
Kids playing or dancing (if applicable)
Musicians or DJ doing their thing
Guests going nuts on the dance floor
Couple laughing with guests on dance floor
Wedding cake (or dessert) table
Cake cutting moment
Couple feeding each other cake
Couple leaving reception
Couple waving from vehicle
Rear of vehicle departing