Here's Everything You Should Include on Your Wedding Enclosure Cards
Sending out your invitations soon? Here's why you'll want to include a wedding enclosure card.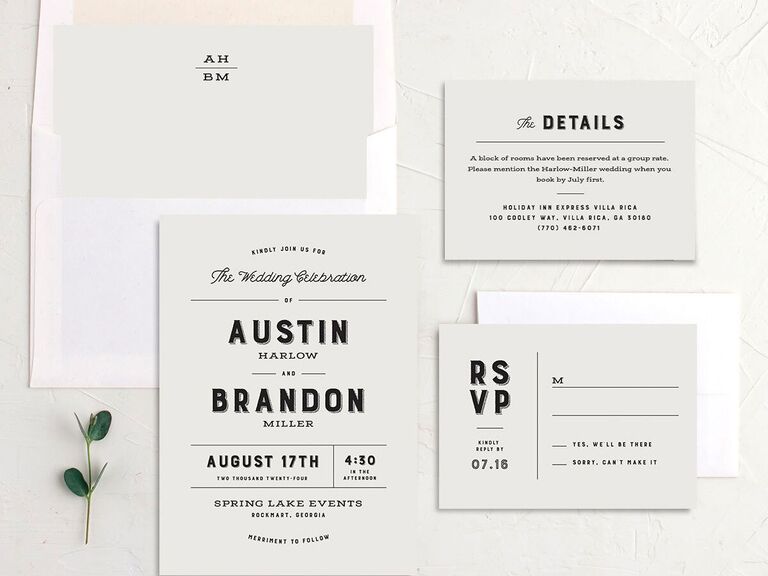 You've chosen your wedding stationery and sent out your save-the-date cards. Now it's time to finesse your wedding invitation wording to ensure you communicate all of the important big day details to your guests. If you have additional information to relay to your guests that goes beyond what you plan to include on the wedding invites—like accommodations, directions, dress code or brunch plans—you may want to consider including a wedding enclosure card.
What is a wedding details card?
A wedding details card (also known as an enclosure card) is a part of the wedding invitation suite that provides guests with additional information for your celebration. According to traditional wedding etiquette, your invitation suite may also include a directions card, a wedding RSVP card, accomodations card, reception card or information on the wedding registry. If you're planning a very formal event, you may opt to insert a different card for each item—however, many couples now simply have an RSVP card or response card along with a wedding enclosure card that shares any additional information about the event in one place and invites wedding guests to visit your wedding website for more details.
Do you need a wedding enclosure card?
If your wedding day involves a lot of moving parts, enclosure cards provide extra space for you to share the key details. The goal is to not crowd your invitation with too much information. Your wedding invites should include your ceremony details and reception location, while the enclosure cards can take care of the rest. Additionally, if your reception is located at a different venue than your ceremony you'll want to include this info (as well as transportation instructions) on your details card to avoid confusion on the big day.
A wedding enclosure card is also an important addition if there's a specific dress code in place. For example, you'll want to inform your guests if your wedding day is black tie or if you're getting married in a rustic barn so they can dress accordingly. If you're planning a destination wedding or a multi-day wedding weekend, an enclosure card is crucial. Use this key piece of stationery to communicate vital location information and instructions.
Do you need a wedding enclosure card if you have a wedding website?
If you have a wedding website set up, you'll want to include an insert card that lets your guests know that they can rely on it as a resource leading up to the big day. A wedding website card points your guests in the right direction so they can get additional information about everything from your shower and wedding registry to your dress code, transportation details, local activities, hotel pricing and more.
If you need some inspiration for your wedding invitation inserts, The Knot Invitations has plenty of amazing options to choose from. Whether you're planning an elegant wedding with a black-tie dress code or a tropical destination wedding on the beach, you'll find beautifully designed wedding information cards for every taste.
The Knot Lush Greenery Personalized Wedding Details Cards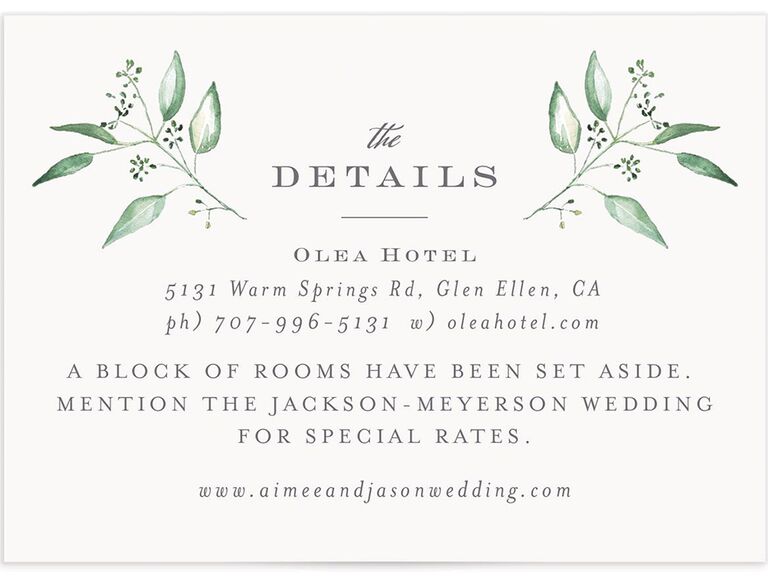 Add some lush greenery to your wedding stationery with this fresh wedding details card that features eucalyptus leaves adorning the header. Fully personalized, this wedding enclosure is a great option for an accommodations card with room to share important details about the hotel and reserved room blocks.
The Knot Romantic Frame Wedding Enclosure Cards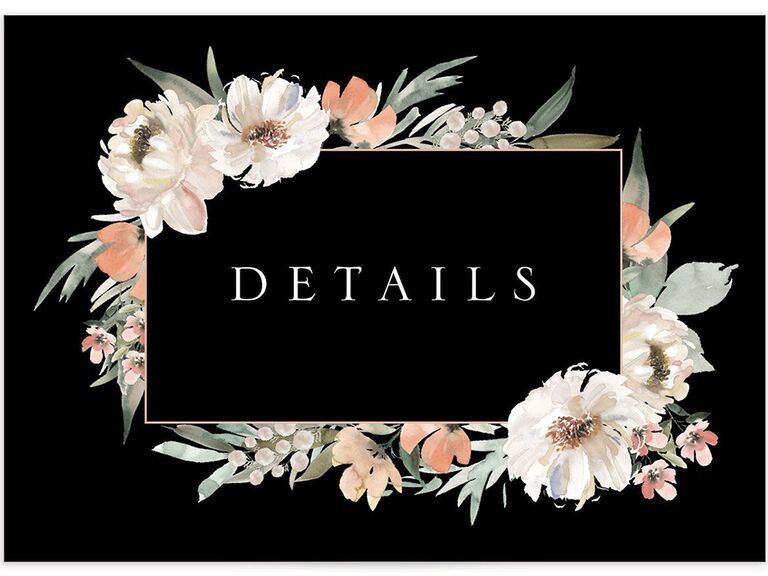 This romantic wedding enclosure card features the word "Details" surrounded by gorgeous bohemian florals. The reverse side includes personalized modern script with plenty of room to include your wedding website and additional information about your big day.
The Knot Woodgrain Lace Wedding Enclosure Cards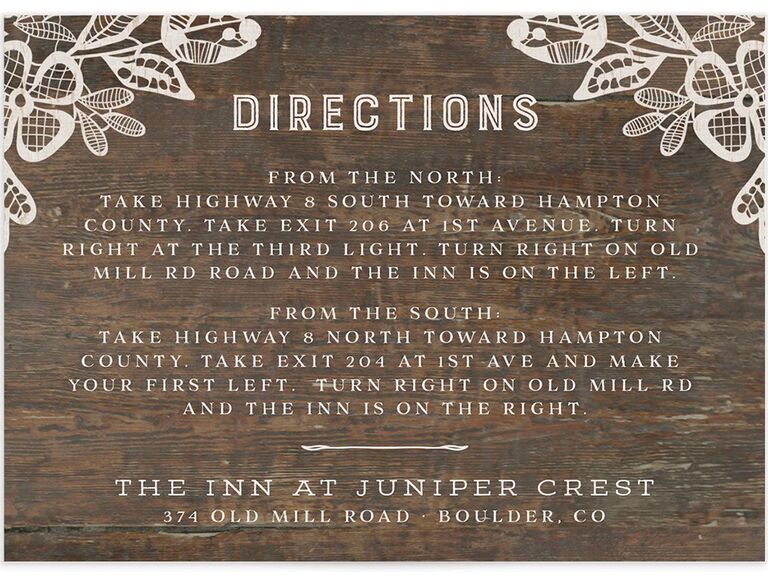 Planning a rustic wedding? These woodgrain-themed wedding details cards feature a beautiful floral lace pattern and are perfect to use as a directions card or to share other important details. The reverse side has the same woodgrain background and features both your initials surrounded by a coordinating lace pattern.
The Knot Rustic Vines Elegant Wedding Enclosure Cards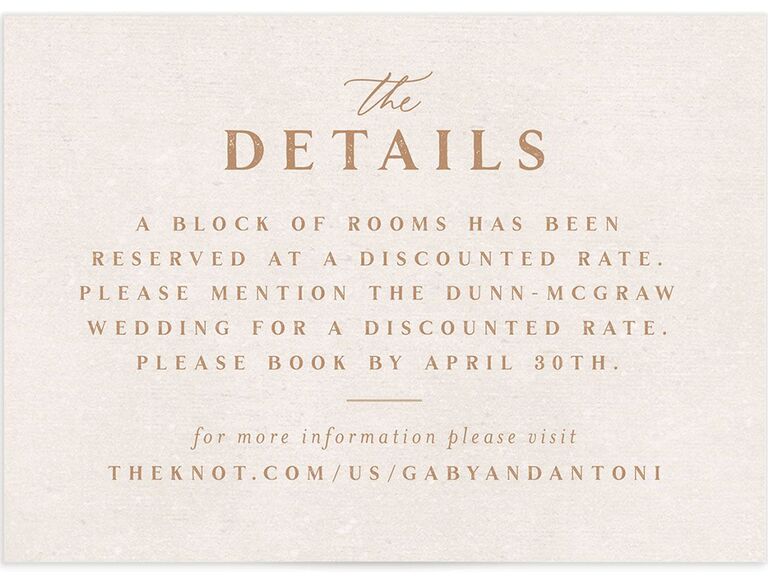 Perfect for an elegant wedding, this wedding details card features a lovely vine motif with just a touch of modern calligraphy. Include all of the additional information for your special day in a serif font over a warm romantic background.
The Knot Autumn Leaves Wedding Enclosure Cards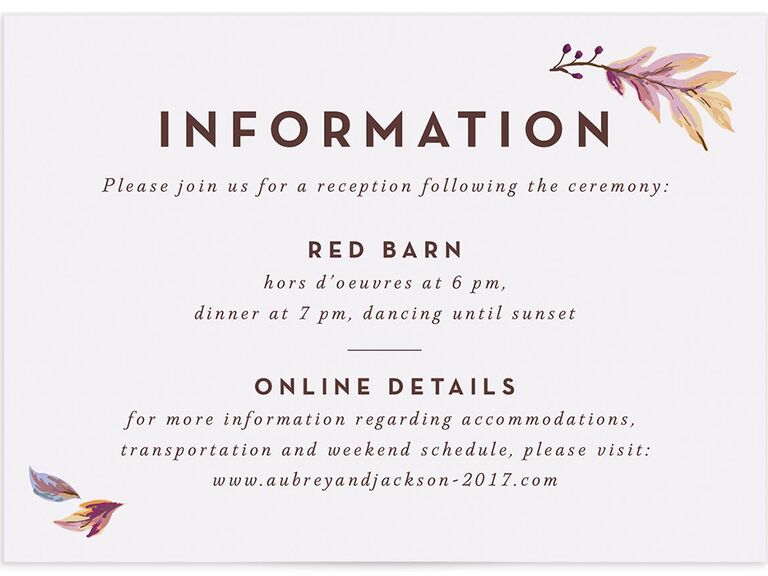 These beautiful wedding invitation inserts feature whimsical watercolor leaves that are perfect for a fall wedding. Simple and stylish, the reverse of the card includes a purple textured background for a pop of pretty color.
The Knot Palm and Protea Wedding Enclosure Cards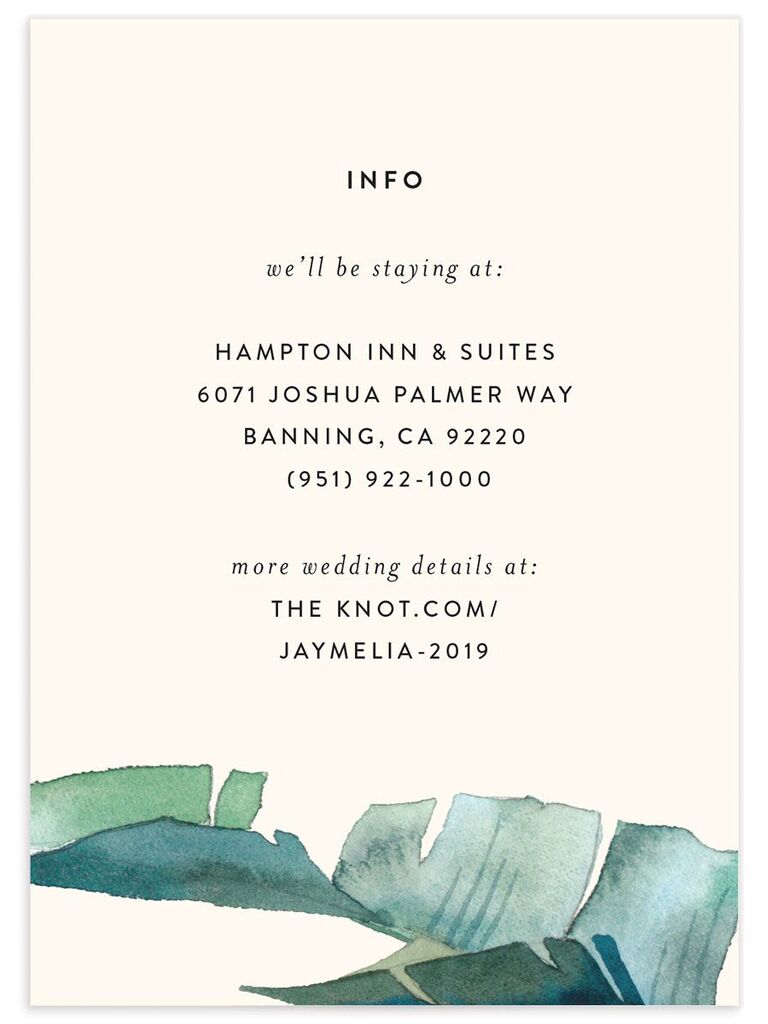 Planning a destination wedding? You can't go wrong with these gorgeous tropical-themed wedding details cards. Decorated with a watercolor palm leaf and protea plant painting, this insert card will bring a cohesive look to your tropical wedding invitation suite.
The Knot Rustic Chic Wedding Enclosure Cards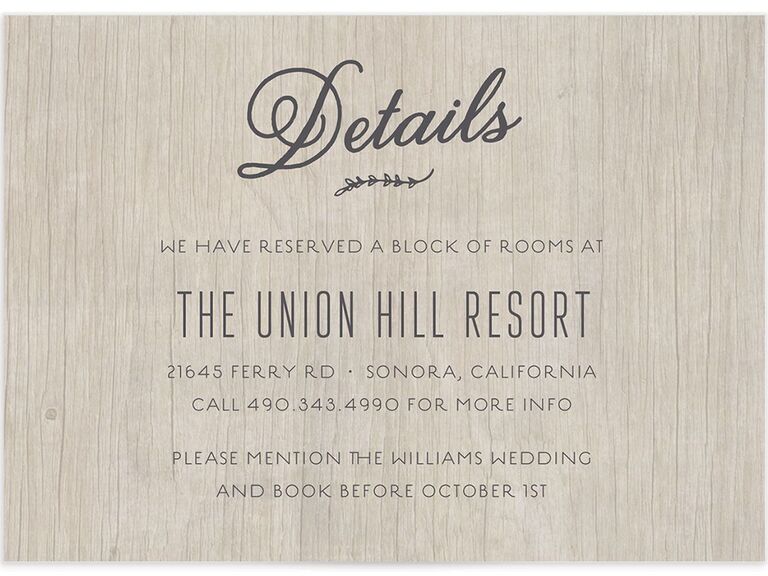 With a woodgrain background and romantic cursive lettering, this wedding invitation enclosure makes the perfect directions card for your special day. Personalized with your wedding info, this insert card is also available as part of a complete wedding stationery suite.
The Knot Simple Script Wedding Enclosure Card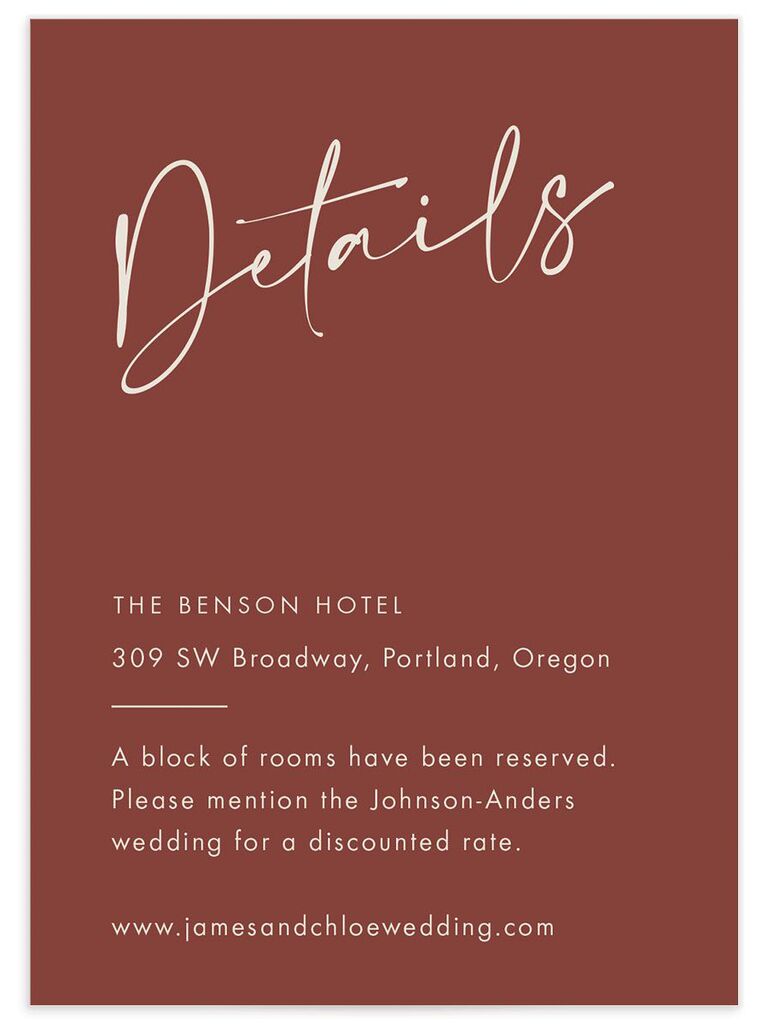 Calling all minimalists! This warm and inviting wedding information card is the ideal place to share additional information about your wedding day. Featuring a header in hand-drawn script with a serif font below, these simple and chic cards make a lovely addition to your wedding stationery.
The Knot Rustic Typography Wedding Enclosure Cards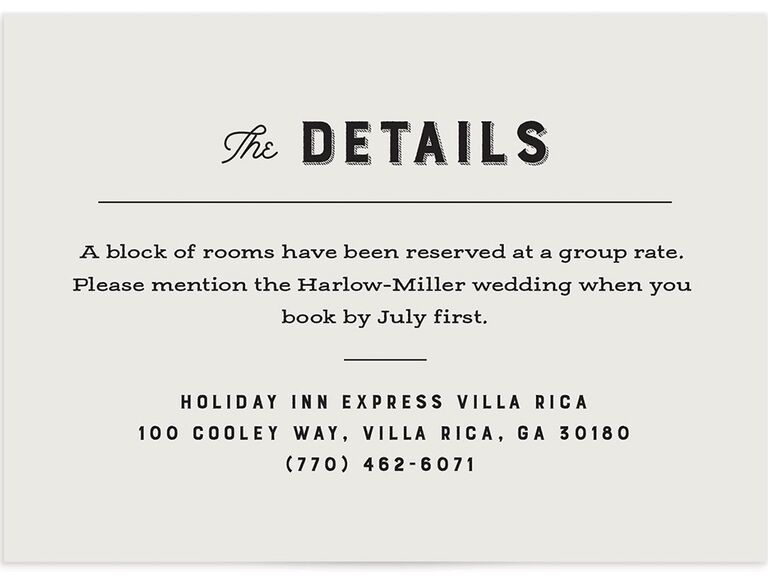 Let your wedding guests know that you've reserved a room block or share other important details about your wedding with these retro and impactful wedding details cards. The front features a vintage-inspired type with plenty of space for all your need-to-know info.