Stick to Your Budget in Style With These Affordable Wedding Invitations
Guests will have no idea how much you saved on this gorgeous stationery.
We have included third party products to help you navigate and enjoy life's biggest moments. Purchases made through links on this page may earn us a commission.
Don't let your budget get in the way of having stunning wedding stationery. Based on a study of over 27,000 newlyweds, couples spend an average of $280 on invitations and RSVP cards combined. We're here to show you just how many beautiful (but cheap!) wedding invitations there really are out there, as well as where to find them. Whether you're looking for something classic and elegant or bold and modern, there are lots of online stores offering high-quality paper invitations at an affordable price. We might be just a tad biased, but we love The Knot Invitations' offerings. They're elegant, affordable and easy to customize. (Bonus: You can also design your invitations to match your wedding website theme, creating one cohesive aesthetic.)
Of course, you don't have to shop online to save money. If you've got your heart set on working with a stationer, there are other ways to cut down on paper costs. Forgoing the fancy stuff (think: letterpress and engraving) will help make your invites more affordable, and a professional stationer will be able to recommend other options within your price range. Keep reading to learn our top tips for buying your wedding invitations on a budget. Then, check out some of our favorite wedding invitation designs you can shop online.
In this article:
How to Shop for Wedding Invitations on a Budget
Whether you're working with a local stationery designer or browsing invitations online, here are some great tips and tricks you can use to cut down on costs.
Compromise on the customizations. While having completely custom wedding invitations is a nice touch, it's not a necessity. Predesigned stationery can be just as eye-catching (without the extra cost). Plus, most online stationery sites still allow for a little customization—for example, at The Knot Invitations, you can play around with different fonts and colors or request design assistance at no additional cost.
Swap out the fancy details. Sure, expensive printing techniques like letterpress and foil stamping look great, but they're not the only way to go. Nowadays, digital printing is a great alternative, producing high-quality stationery quickly and cost effectively. If you're still seeking a little something extra, designs with faux foil or bold typography are excellent options.
Take advantage of your wedding website. Save on your wedding invitation suite by forgoing optional extras like enclosure cards. Instead, point guests in the direction of your wedding website on the bottom or back of your invites. There, you can add all the extra details, like information about hotel blocks and transportation. Just make sure your paper invitations still include the date, time and location of the celebration.
Use plain envelopes. If you're looking to save a few bucks, plain envelopes are the way to go. They're the one part of the invitation suite you know will be thrown out—so why not put that cash toward something on your must-have list instead? Sounds like a pretty good compromise to us. Feeling hung up on the finer details? DIY liners and on-theme stamps are both budget-friendly ways to zhuzh up those envelopes.
Pay attention to paper weight. When it comes to mailing wedding invitations, size matters. Big, heavy or oddly shaped stationery will up the price, so stick to standard sizes where possible and limit extras like enclosure cards that will add more weight.
Where to Buy Inexpensive Wedding Invitations
Not sure where to get wedding invitations that are cheap enough to fit your budget? If you've ruled out working with a professional stationery designer, The Knot Invitations should be your first stop. Our wedding stationery website has almost 300 stunning designs to choose from, meaning you're pretty much guaranteed to find one you love. Search by style, season and color to make finding the perfect invitations easy peasy. The icing on the cake? You can easily score these wedding invitations on a tight budget. You'll spend less than $2 per invite if you're buying 100 or more, and less than $3 per invite if you're buying under 100.
Our Favorite Affordable Wedding Invitations
Ready to start shopping? We've picked out some of the best wedding invitations you can buy online that don't look cheap (but are actually very budget friendly). We've got styles for every type of celebration, whether you're planning a rustic backyard affair or a romantic beach wedding.
Couple Portrait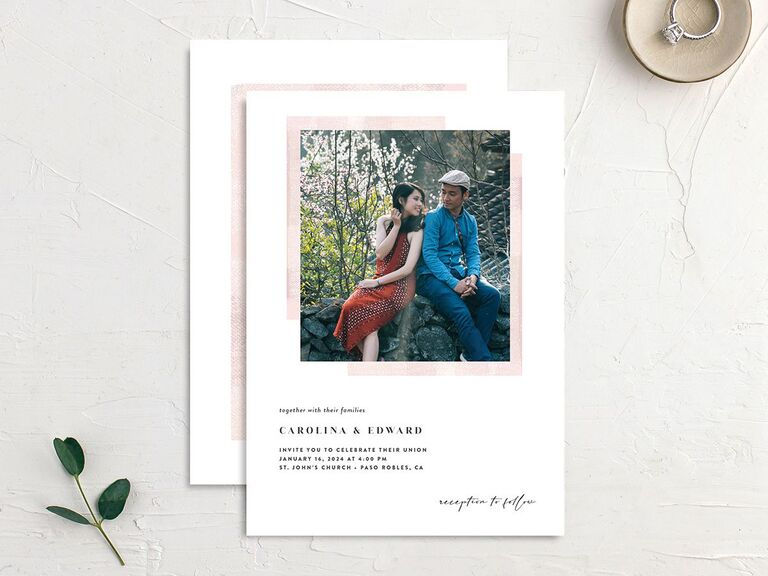 These custom photo wedding invitations definitely don't look cheap, but they're as easy on the wallet as they are on the eyes. Choose between four subtle color schemes to suit your style and finish it off with a romantic snap of you and your other half—engagement shoot, anyone? If you've got a little wiggle room in your budget, The Knot Invitations also offers affordable eco-friendly invites printed on recycled paper.
Black and Gold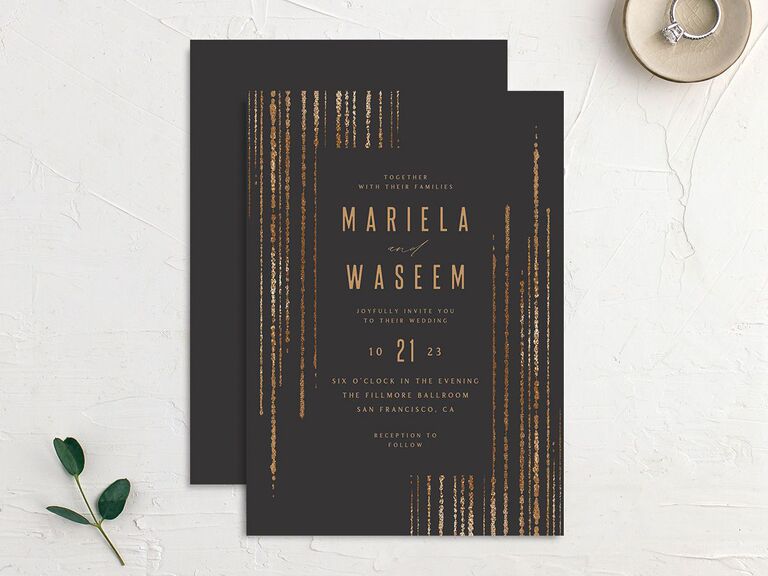 Cascading faux foil gives this shimmering stationery a luxe edge. The celebratory black and gold color palette is perfect for a New Year's Eve wedding. Create your own inexpensive wedding invitation set by picking up matching RSVP cards or save-the-date cards.
Bright Sunflowers
Imagine your guests' delight when they receive these bright and colorful invitations in the mail! The cheery sunflower motif will bring almost as much joy as the news of your big day. Cut down on spending by opting for The Knot Invitations' signature superfine card stock or upgrade to pearlescent or recycled paper for a small extra cost.

Winter Weather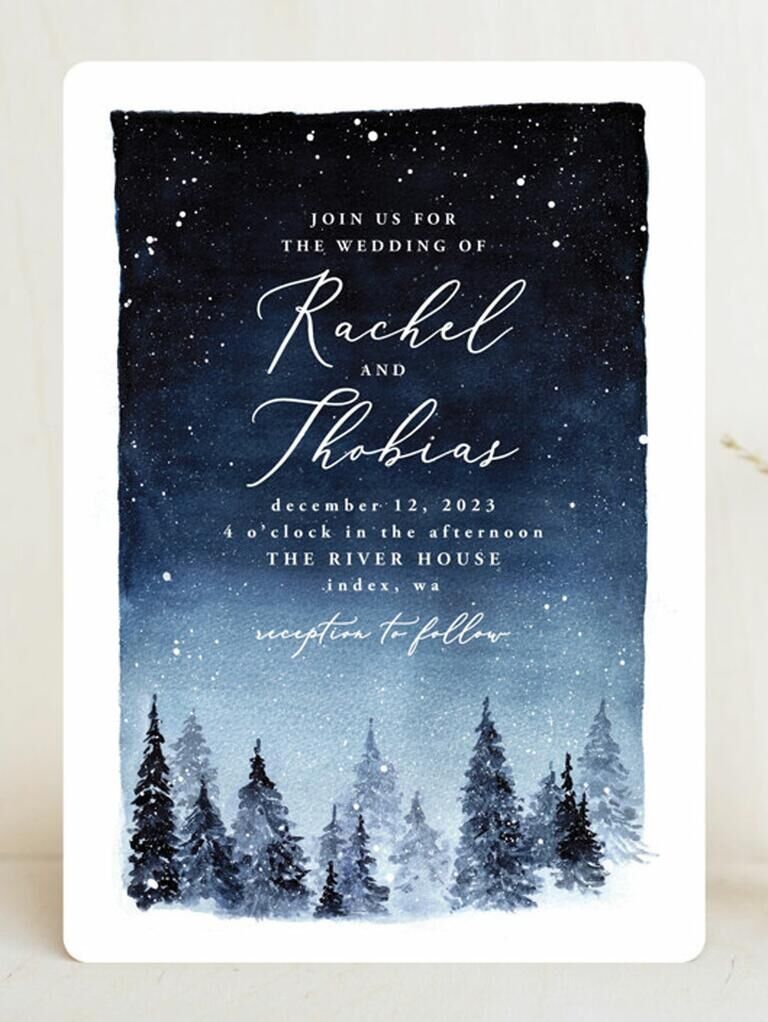 Choosing a design that matches your wedding season is a cute way of giving your stationery a personal touch (without splurging on customizations). If you're shopping for winter wedding invitations on a budget, we love this outdoor watercolor scene. It pictures snowflakes falling on a peaceful forest.

Tropical Flower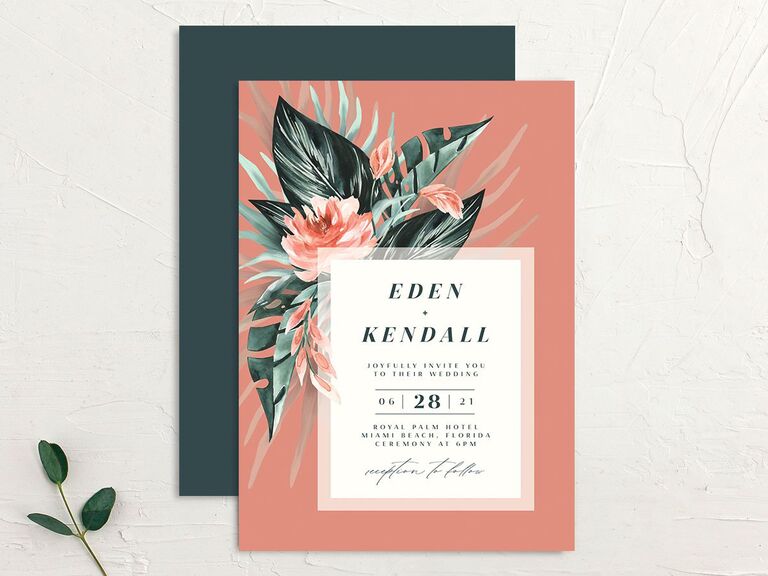 Whether you're going all out with a destination wedding or you just love a tropical theme, these inexpensive wedding invitations fit the bill. The coral pink hue and tropical foliage give us major vacation vibes.

Modern Brushstroke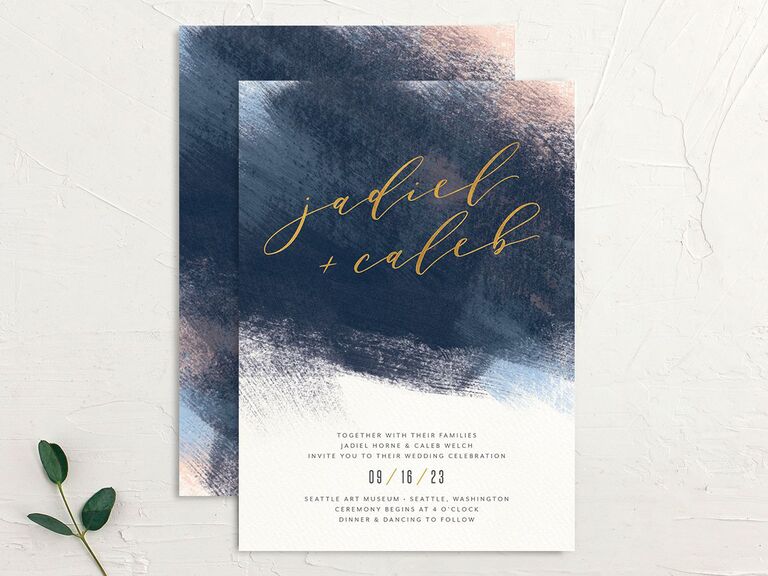 There's nothing we don't love about this modern stationery, which is available in three color themes. From the faux gold foil calligraphy to the abstract brushstroke background, every detail is delightfully contemporary. Plus, faux foil is a great way to get more bang for your buck.
Lavender Illustration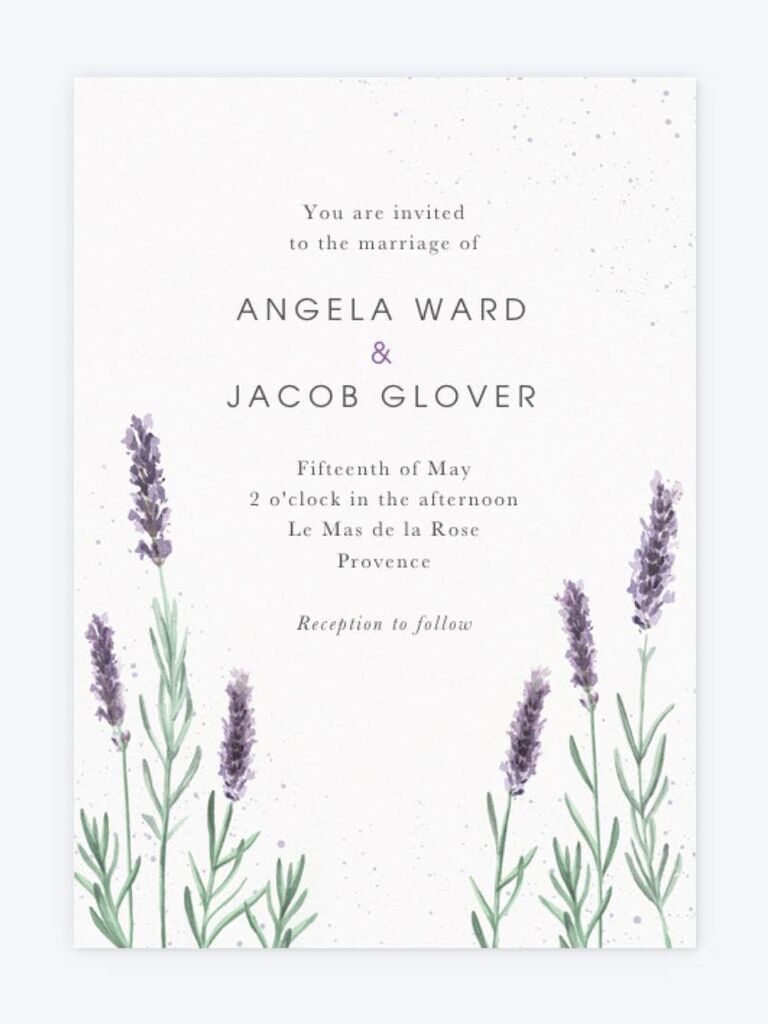 If you needed more proof that cheap wedding invitations can be super pretty, here it is. Combining beautiful rustic-inspired details with modern minimalism, these unique invites are definitely worth holding onto after your special day.

Enchanted Forest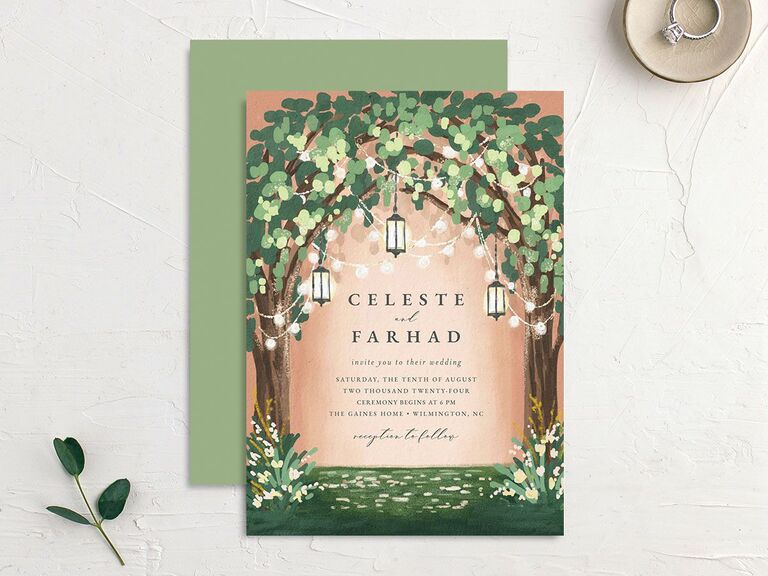 Play up a woodland wedding with these affordable tree-motif invitations. This on-theme stationery depicts a charming forest setting complete with string lights, lanterns and floral details.

Beach Background
Searching for beach-themed wedding invitations on a budget? This gorgeous modern stationery looks much more expensive than it actually is. Your loved ones will instantly get a feel for your special day with your wedding details printed against this abstract beach backdrop.

Shimmering Foil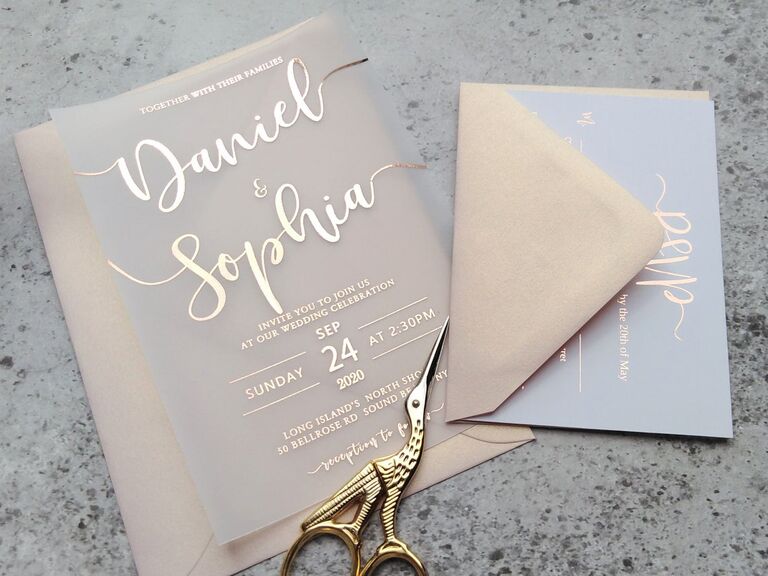 Okay, metallic foil on vellum paper is officially our new favorite thing. How elegant and unique is this affordable wedding invitation and envelope set? These inexpensive wedding invitations can be purchased separately or with RSVP and enclosure cards—either way, they won't break the bank.

Blush Blooms

Who doesn't love a blush pink color palette? These budget-friendly blush wedding invites are perfect for a romantic theme. Want another budgeting tip? You can save on the cost of response cards (and precious wedding-planning time) by asking guests to RSVP on your wedding website.

Dainty Lace
Looking to buy rustic wedding invitations on the cheap? The faux bois background of these unique invites hints at a country theme or shabby chic celebration. A lace motif and classy font add an elegant finishing touch.

Bold Lettering

We love the striking typography on these inexpensive wedding invitations. The minimalist black-and-white design makes your initials stand out even more. White envelopes are included with the invites, and you can add matching RSVP and detail cards before checkout.
Blue Florals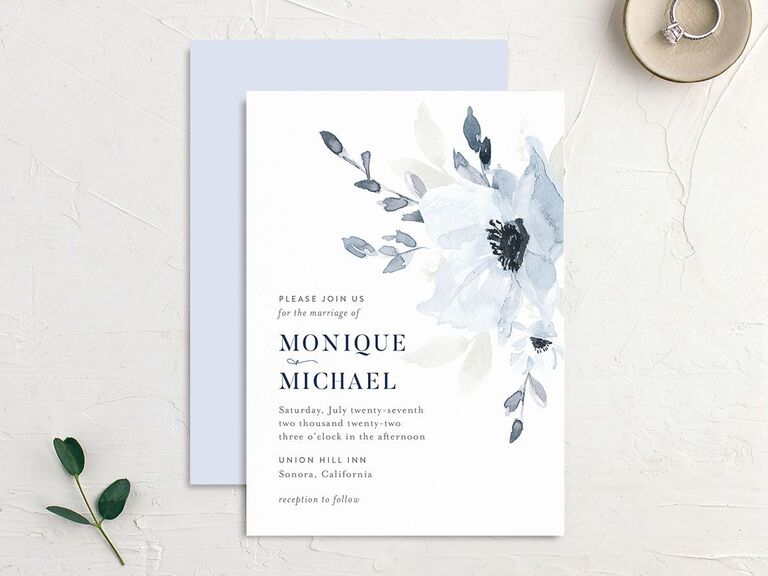 This classy stationery proves that floral wedding invitations aren't just for spring and summer. Icy shades of blue look amazing as part of a winter color palette.

Cascading Blooms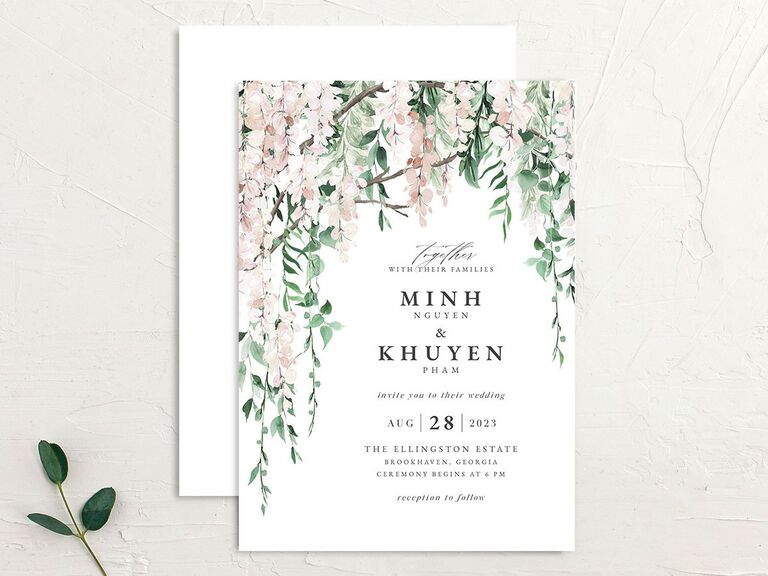 Speaking of the seasons, these summery invites give us major garden wedding vibes. The draped greenery and pretty pink flowers set the scene for a beautiful outdoor event in a quaint English garden or lush country estate.
Black and White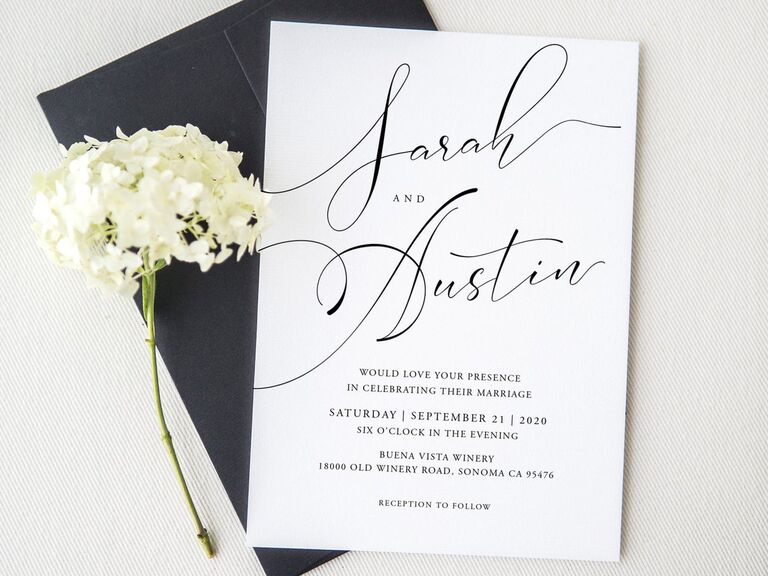 Printing your own wedding invitations is another way to make shopping for stationery cheaper (just keep in mind that you likely won't be able to get the same high-quality finish from the printer in your home office as you would from a professional stationer or stationery site). These printable invites are modern, elegant and budget friendly to boot.
Mountain Scene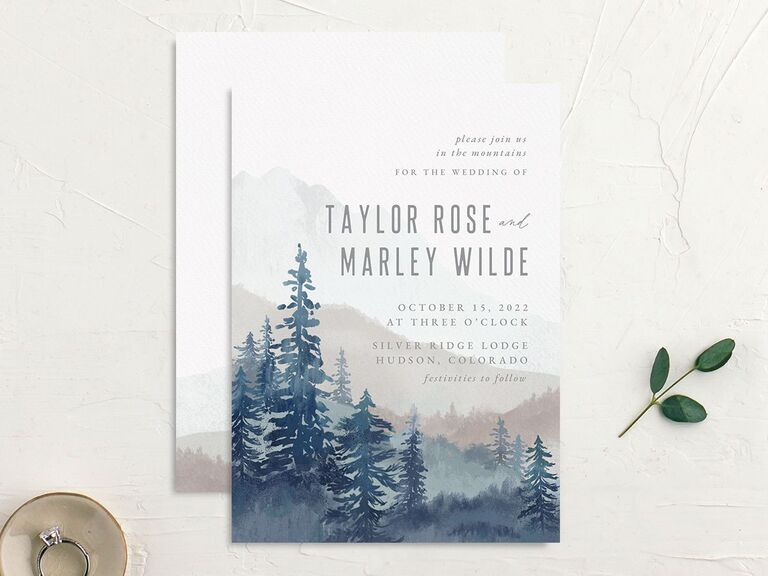 A wedding in the mountains is so dreamy—and so are these invitations. The majestic mountain and forest scene will have guests packing their bags for your special day as soon as they open the envelope. The pretty scenery continues on the back of the invitation where there's space to include the date and your wedding website.

Vintage Style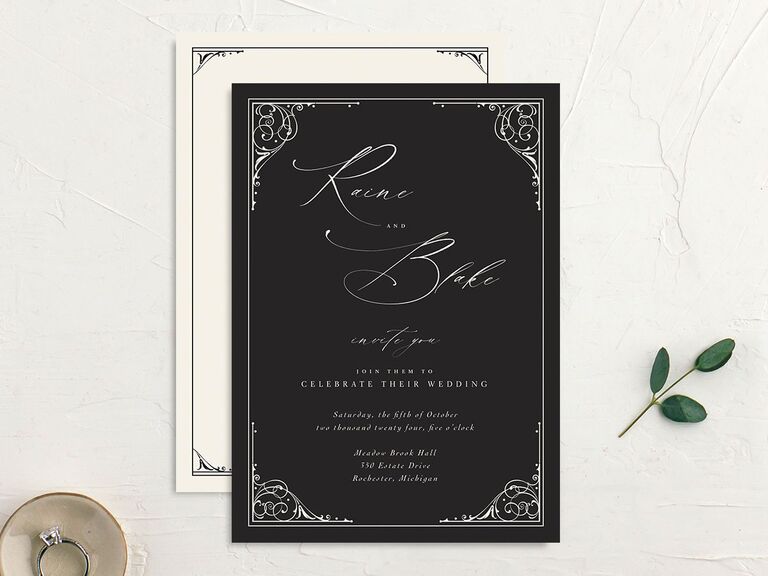 An ornate gothic filigree frame and elaborate script give this vintage stationery a sophisticated style. The black and white invites work especially well for an elegant Halloween or winter wedding, while the pretty pastel green hue is great for spring or summer.
Fairytale Theme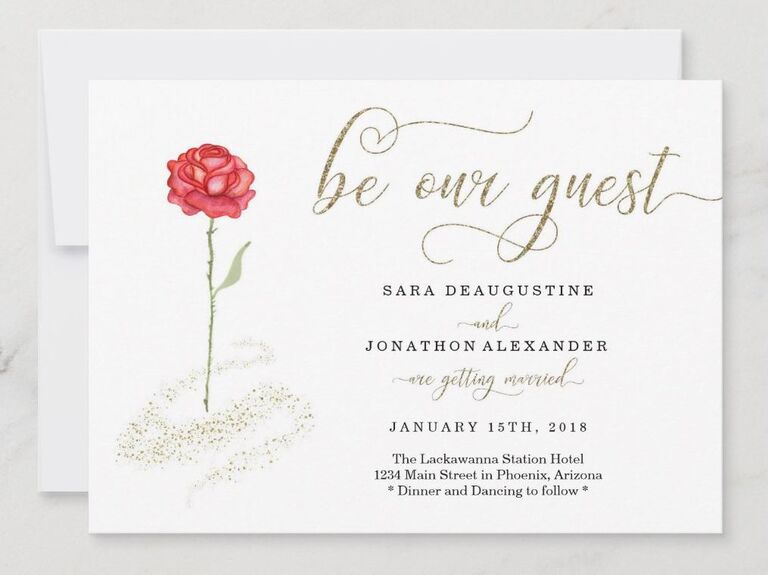 Planning a fairytale-themed wedding? These affordable wedding invitations are inspired by one of the best Disney love stories of all time: Beauty and the Beast. If clever wedding invitation wording is your thing, you'll love them even more. Each invite reads "be our guest" in pretty gold lettering.

Floral Monogram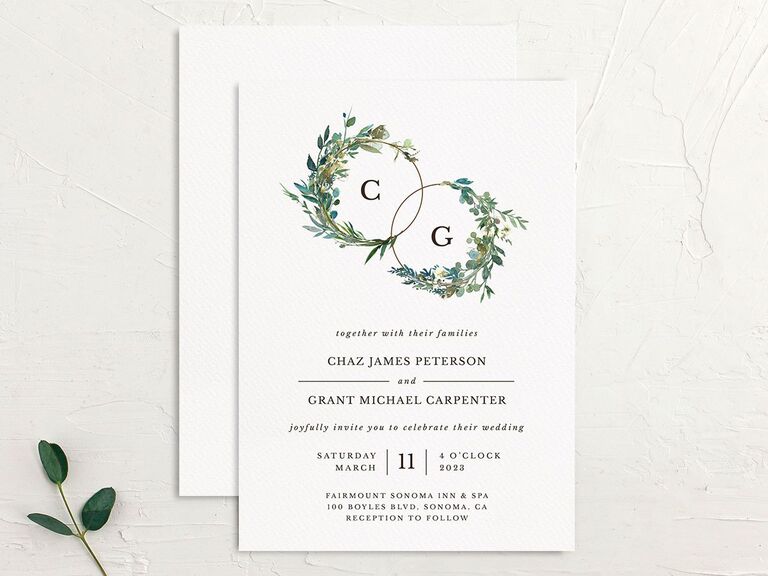 When it comes to wedding stationery, spring invitations are easy to nail. Look for something with light greenery, colorful blooms or pretty pastel hues. We love the greenery-adorned wreath motifs on this boho-chic pick from The Knot Invitations. These budget-friendly invites represent you and your S.O. joining together in love and marriage.

Elegant Calligraphy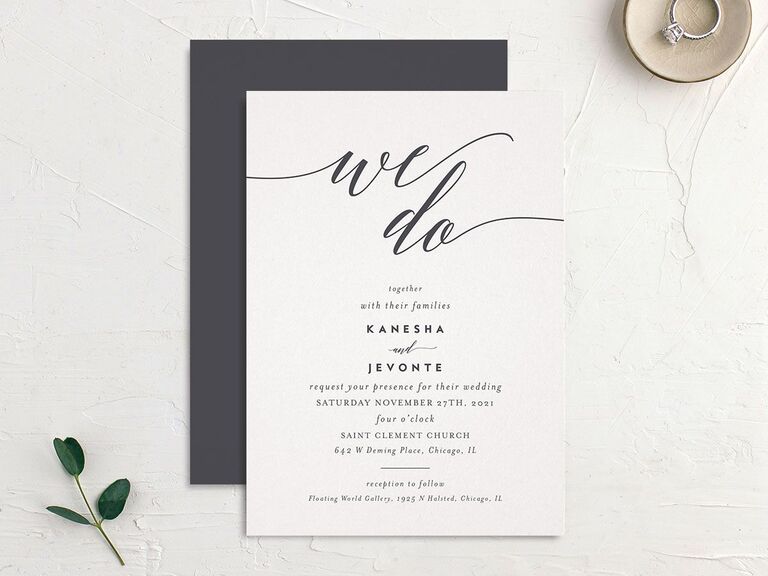 There's no reason you can't get elegant wedding invitations on a budget. This stationery has a clean, modern finish (and that's not to mention the romantic wording!). Choose between four different colorways depending on your chosen palette.

Country Theme
These playful invites are perfect for a casual country celebration. The woodgrain background and chalkboard-style typography create a welcoming vibe. The best part? This inexpensive wedding invitation set includes matching RSVP cards.

Forest Ferns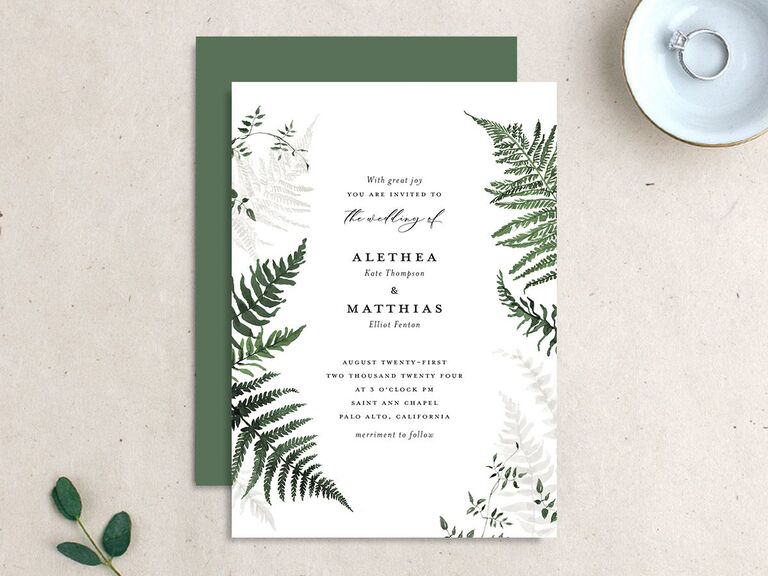 Everyone on your guest list will love this nature-inspired design. These wintry ferns are a great option if you're tying the knot during the holiday season.

Sophisticated Style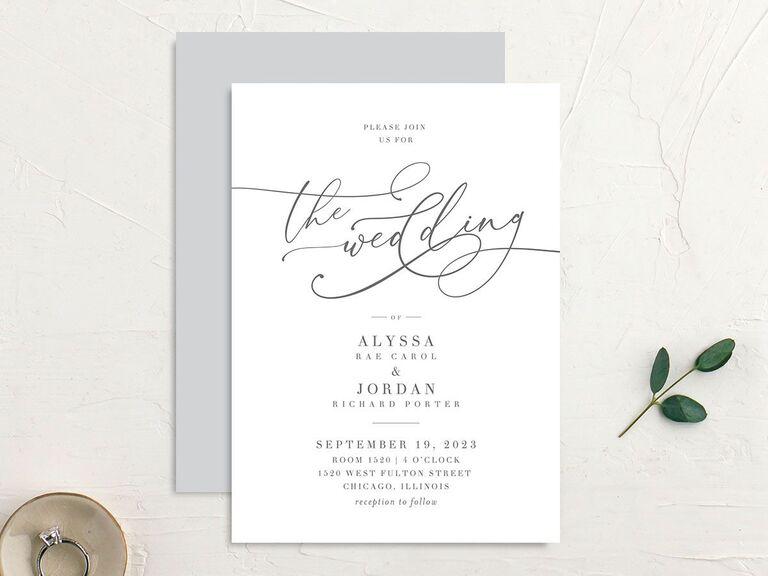 Here's another one of our favorite affordable wedding invitations from The Knot that'll work all year round. Minimalists will love the classic gray color palette, while romantics will appreciate the pretty floral option. Nab the set by picking up some matching response and enclosure cards.

Blended Hues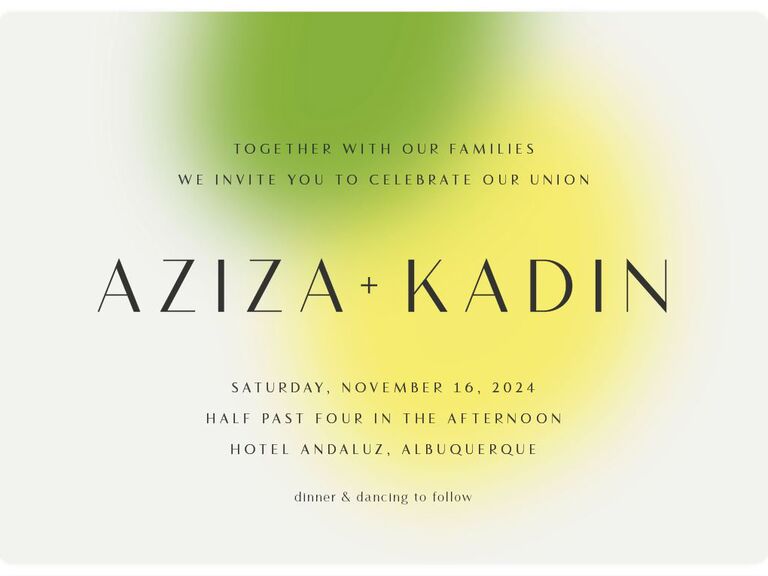 We love the bright and cheery vibe of these affordable lime green wedding invitations. This unique stationery is abstract and minimalist thanks to its unusual (but pretty) colored background. The blending of two different shades is a lovely representation of your families joining together on your wedding day. Choose between eight predesigned options or select custom hues to suit the style of your celebration.

Abstract Strokes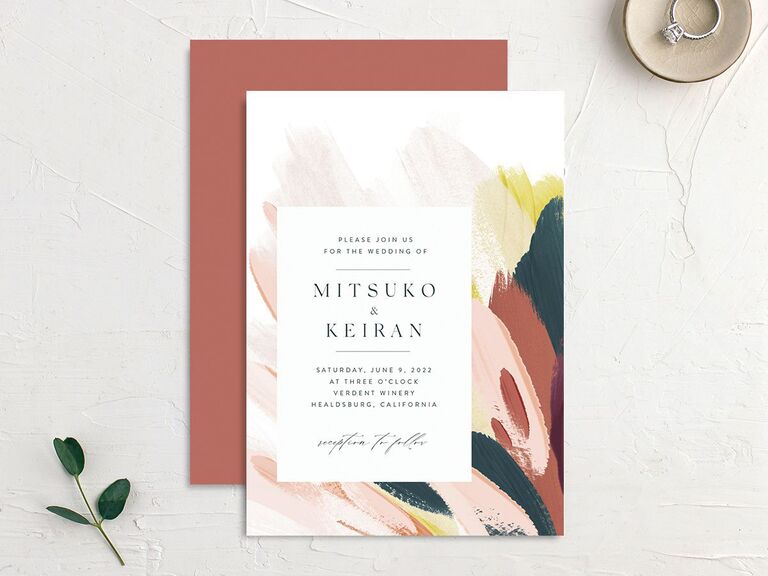 On the hunt for affordable but stylish fall wedding invitations? Let autumnal colors be your guide. We love the contrasting jewel tones, earthy terracotta hues and muted shades on this brushstroke-style stationery.

Traditional Script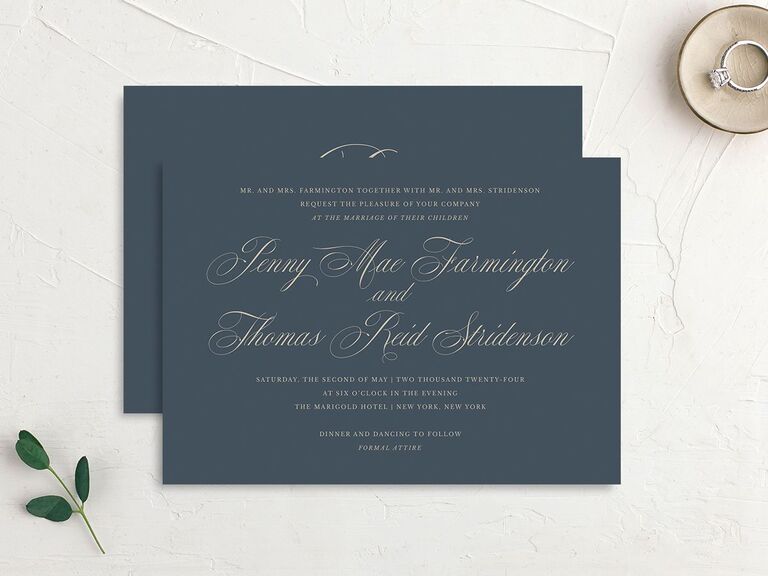 For a formal affair, we recommend sticking with classic invitations like this elegant design. Timeless calligraphy on a neutral background will help inform guests just how formal the event will be. The reverse side can be personalized with you and your partner's names in the same pretty font.

Romantic Florals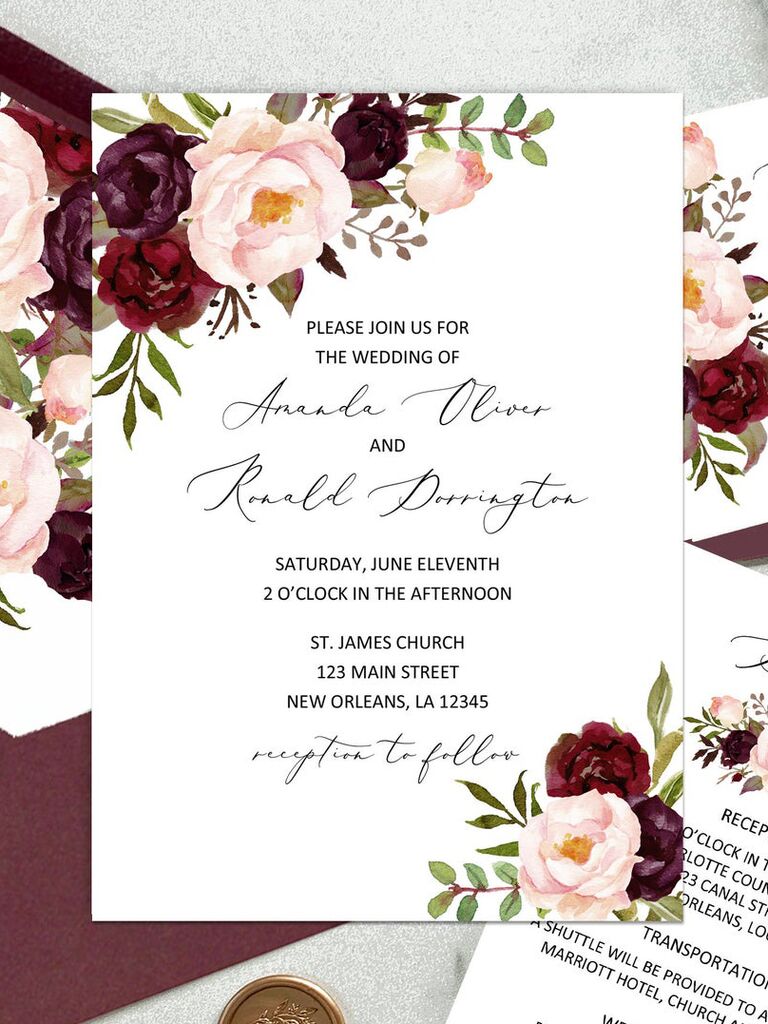 Burgundy and blush blooms provide a bold and beautiful detail on these paper wedding invitations. Choose between four different envelope colors, including burgundy, gold, blush or white. You can also add RSVP cards to your order without splashing out too much.

Playful Palette
Who said affordable wedding invitations can't be stylish? If the unique and playful text on this chic stationery doesn't instantly get your loved ones' attention, the bright, contemporary colors certainly will.

Wildflower Motif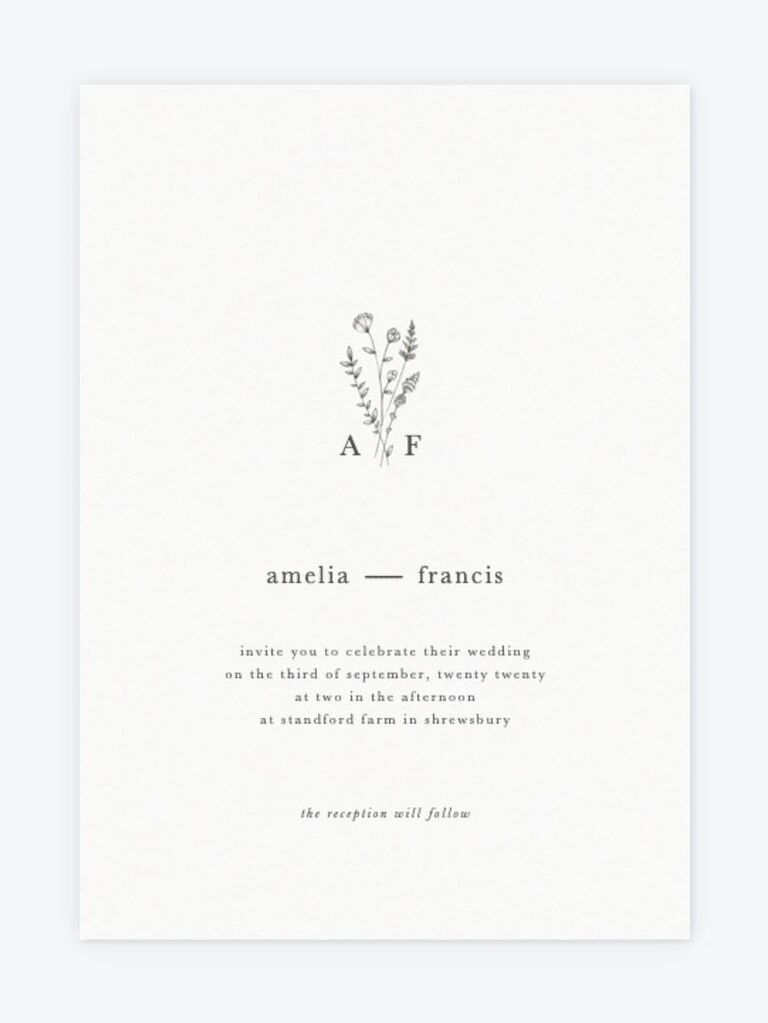 If you and your soon-to-be spouse are firm believers that less is more, you'll appreciate this minimalist stationery. Lowercase lettering has an elegant yet understated effect on these stunning invitations.