This Is the National Average Cost of Wedding Invitations and Stationery
Here's how much paper couples are spending on paper.
You've hashed out your wedding guest list (our deepest condolences to your college roommate's roommate who didn't make the cut). Now you're probs wondering: How much do wedding invitations cost? The short answer is: It depends. Your location, vendor team and guest list size all factor into the final price—so does your stationery vision. And the extra craftsmanship that goes into handmade invites will increase the bottom line (as it should). A quick browse online will show that certain design details, like sparkly foil accents, also influence the overall cost. Finally, remember that other supplementary stationery pieces (like save-the-dates and wedding enclosure cards) will contribute to the total bill too.
All that considered, we're sharing some stats about the national average cost of wedding invitations. We tapped nearly 12,000 couples married in 2022 for our latest Real Weddings Study, which provides a comprehensive look at every facet of wedding planning and execution, including all things stationery. Check out the data below—we've broken it down for you.
In this article:
The Average Cost of Wedding Stationery
So, what is the average total cost of wedding invitations and stationery? Based on The Knot Real Weddings Study, it's $510 total. This number has stayed pretty steady over the past few years, with a slight dip in 2022. Below, we'll break the total down a little further.
How much do wedding invitations cost?
When considering the total cost of wedding invites, you should take into account the entire invitation suite. Most couples kick things off by buying and sending save-the-dates. And based on the study, that cost averages $150. From there, the lovebirds mail their invites and RSVP cards to guests. On average, these paper goods (which are often purchased together, along with other inserts such as reception cards) cost an additional $230 combined. As for the remaining $130? That average accounts for day-of stationery, such as menus, programs and place cards.
What goes into the cost of wedding invitations?
There are lots of factors at play when it comes to what goes into the average wedding invitation cost and overall stationery cost. First of all, markets and rates are different across the US, so stationery in your home city of Boston (go Sox) might go for more or less than your bestie's in San Fran. For reference, in this study, the average cost for total wedding stationery was highest in the Mid-Atlantic ($610) and lowest in the West ($460), with other regions falling in the middle as follows: the Northeast/New England ($580), the Midwest ($510), the Southwest ($500) and the South/Southeast ($490).
In addition, the labor and love involved affect the wedding invitation price. Luxury stationery suites crafted from high-end supplies are going to naturally come with a higher price tag—so is anything that's totally custom. In fact, some beautifully elaborate paper good sets cost thousands. Hand calligraphy and labor-intensive printing methods like letterpress tend to be splurgier than thermography or digital printing. And heavier cardstock is more expensive than thinner types of paper. You'll also want to budget extra for certain design elements, embellishments and add-ons, like foil stamping, wax seals and fancy envelope liners. And don't forget postage costs! A heavier invitation will cost more to send, as will those that are uniquely shaped (and uniquely shaped can simply mean square—not cut into the shape of you and your fiancé's silhouette).
How to Start Your Search for Wedding Stationery
Now that you're acquainted with the average cost of wedding invitations, save-the-date cards and more, it's time to start your paper party (AKA find your dream invites within your real budget). Keeping in line with all of this money talk, the first thing you should determine is your overall budget for wedding stationery. To help nail down a number, ask yourself these questions: Are you springing for a full suite? Would you prefer all print or a mix of digital and paper elements? Besides the invitations, what day-of stationery will you need? And are custom elements important to you?
How much you spend is influenced by what you prioritize. There's nothing wrong with splurging for a super-fancy custom design if that's what you and your partner (and whoever else is chipping in) agree upon—especially if the resulting keepsakes will bring you joy for years to come. But on the flip side, don't feel pressured to break the bank for these wedding details.
You can begin your wedding invite search by checking out The Knot Invitations, which offers a wide variety of styles at approachable prices. Standard wedding invites begin at $1.59 each and you can even purchase your entire suite—from your save-the-dates to your thank-you cards—in the same exclusive design. Our biggest flex: our new all-in-one invitations, which are a wedding invitation, envelope and tear-off RSVP card that conveniently fold together. Starting at $1.49 per all-in-one invite, you get three paper essentials, plus complimentary address printing, combined. (FYI: They're also the best-priced all-in-one invitations of leading wedding stationery retailers.) For extra cohesion, match your stationery to your free wedding website.
If you're looking for an invite that's not only beautiful, but bespoke, you can search our marketplace of local stationery vendors to find stationers, boutique paperies and calligraphers in your area. Don't be afraid to ask questions as you explore your options. We suggest nailing down your wedding's theme or color palette before you search, as well as listing any invitation design elements you adore (maybe a custom crest with your initials is a must-have or you really dig all-script text). Then, present them to the maker when you're talking about designs. From there, you can simply ask: "With those things in mind, what can I get at this price point?" You should also inquire about whether or not purchasing certain items together (say, your invites and matching place cards) can help you save money in the long run.
Whether you go totally unique with the help of a stationer and calligrapher or you choose a predesigned template from an online retailer to customize, we know you'll find stationery that suits your wedding wonderfully without going over budget.
5 Stationery Designs You Can Sample for Free
Before you commit to a wedding invitation suite, you should sample the design to make sure you and your partner love it—so you don't end up with 100+ invites that aren't your style. To give you a little inspiration, we've rounded up a few of our favorite save-the-date designs from The Knot Invitations for you to sample (and swoon over), all of which have matching invitation suites and day-of wedding stationery.
1. The Knot Beloved Floral Save-the-Date Cards
One of our top-selling designs, these save-the-dates decorated with blushing blooms are classic and romantic. They're available in seven colorways and feature you and your love's gorgeous faces in the photo at the center. It's one for the fridge for sure.
2. The Knot Monogram Branches Save-the-Date Cards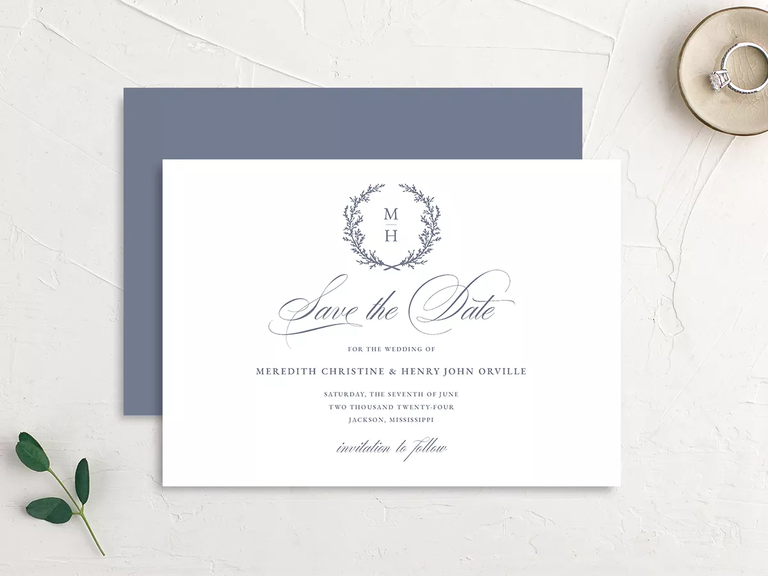 This monogram crest save-the-date is the definition of quiet luxury. A delicate wreath of branches encircles you and your beloved's first initials, while swooping script ensures the recipient will notice the "save the date" text straight away. These are so timeless and look really expensive for how reasonably they're priced.
3. The Knot Elegant Greenery Save-the-Date Cards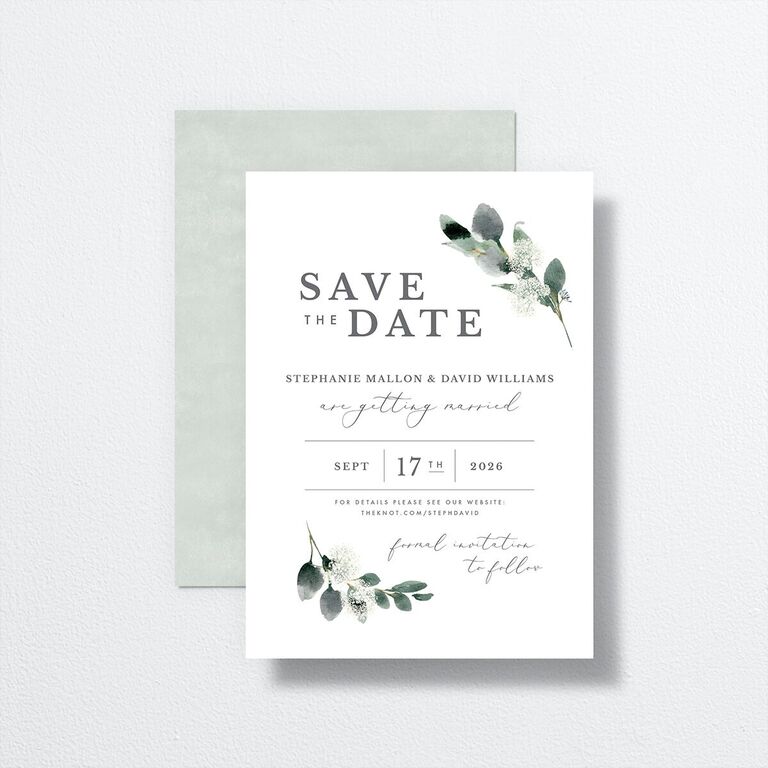 Springtime softness is the vibe with these flora-adorned save-the-dates. Delicate eucalyptus leaves and baby's breath offer all the classic beauty of traditional florals, but with a more streamlined aesthetic. They'd be just as fitting to notify guests of an upcoming black-tie affair as they would be for a countryside soiree.
4. The Knot Monogram Slant Save-the-Date Cards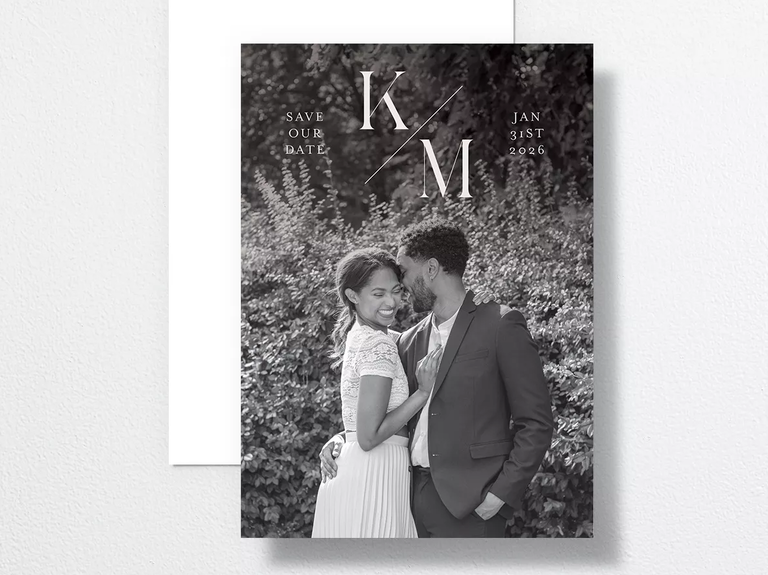 As far as save-the-dates that incorporate a photo go, this modern one is an exceptionally elegant choice. A slanted, minimalist monogram at the top is the centerpiece (that is, aside from the engagement portrait you choose to display). The back relays the relevant details in formal typography.
5. The Knot Vintage Nouveau Save-the-Date Cards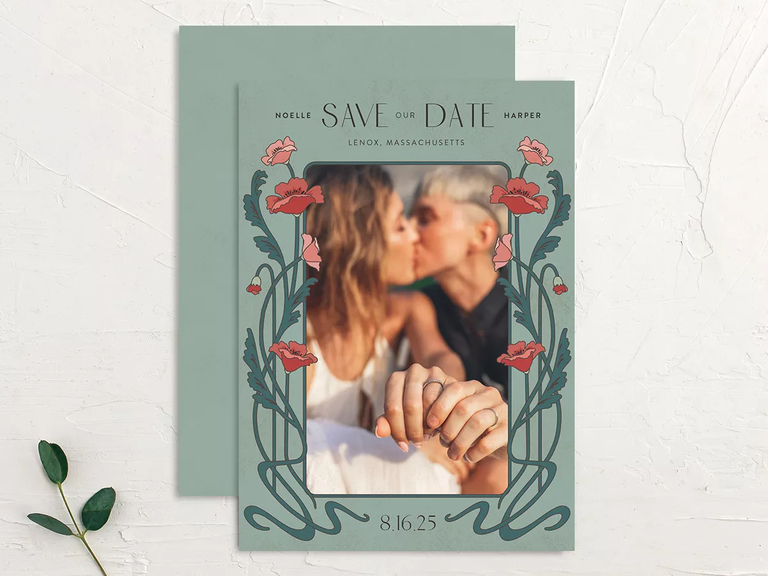 Going for a vintage-inspired affair? Inform guests of your desired wedding vibes with these floral Art Nouveau save-the-dates. We're swooning over the illustrated frame of winding vines and poppy-like flowers.
Survey Methodology: The Real Weddings Study captured responses from 11,646 US couples married between January 1 and December 31, 2022; respondents were recruited via email invitation from The Knot and/or WeddingWire membership. Respondents represent couples from all over the country with various ethnicities, income levels, race, age, sexual orientation and gender identity. To provide the most comprehensive view of 2022 trends, this report also includes findings from ad hoc studies conducted throughout the year. In a typical year, The Knot Worldwide conducts research with more than 300,000 couples, guests and wedding professionals globally.