How to Find the Perfect Rehearsal Dinner Invitation Wording
Here's everything to include on your rehearsal dinner invitations, plus some suggested wording.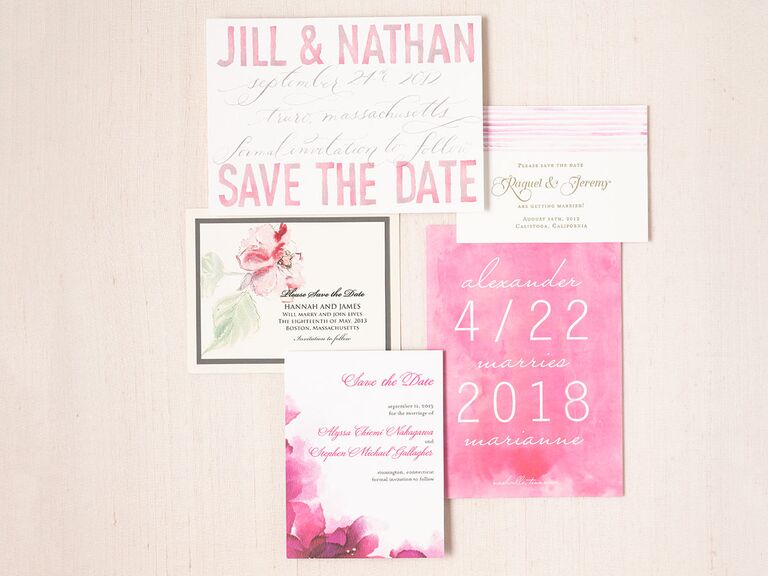 Devon Jarvis
We have included third party products to help you navigate and enjoy life's biggest moments. Purchases made through links on this page may earn us a commission.
To make sure you get hitched without a hitch, you'll likely want to do a quick run-through or wedding rehearsal before your Big Day. The wedding rehearsal gives you the perfect excuse to hold a rehearsal dinner afterward with your closest friends and family. Of course, if you expect anyone to show up to the meal, you'll need to send out the proper invites (check out our favorites from The Knot Invitations). What should you say? Here's what you need to know about rehearsal dinner invitation wording.
Why Send Out Wedding Invites
While rehearsal dinner invitations don't have to be as formal as your wedding invites, guests who already have a list of dates, locations and times to remember will appreciate the gesture of a paper or emailed invitation. If your wedding rehearsal will take place right before the dinner, simply list the time and place of the rehearsal in one corner of the invitation and the time and place of the dinner in the other. If you choose to send a separate invitation for your rehearsal dinner, send them out shortly after your wedding invitations to help everyone keep their schedules straight and ensure timely RSVPs.
Who Should Make the Wedding Rehearsal Invite List?
Who should you invite to your wedding rehearsal dinner? That is entirely up to you and to the people footing the bill . One of the primary purposes of the wedding dinner is to introduce the couple's family members to one another and to help them get reacquainted. If money is tight, then focus just on inviting your close family. Keep the venue in mind. If you're hosting the dinner at a family member's house or a restaurant, you may need to keep your guest list small.
Other than that, the sky's the limit. If you have the space and budget, include your close friends and out-of-town guests whom you don't see very often. Heck, if you want, you can invite your entire wedding guest list.
How to Choose your Rehearsal Dinner Invites
Your rehearsal invites don't need to match the theme, colors or formality of your wedding. In fact, if you want, your rehearsal dinner can have its own theme and vibe. Consider that theme when choosing your invites. If you want the dinner to be fancy, you can buy physical invitations. A less formal dinner may call for email invites. You can find plenty of sample rehearsal dinner invitations on Etsy and online invitation websites.
For Rehearsal Dinner Invitations Included With the Wedding Invitation
Not sure what the right rehearsal dinner wording should be? Here are three simple samples you can use.
Please also join us for a
rehearsal dinner
in honor of
Susan and Joe
Friday, September 3
at 6 p.m.
BlackFinn Restaurant and Saloon
19 East 7th Street
Cincinnati, Ohio
Please reply to Amanda
(XXX) XXX-XXXX
For Rehearsal Dinner Invitations as a Separate Paper Invitation
A rehearsal dinner
in anticipation of
Susan & Joe's wedding day
Please join us
Friday, September 3
at 6 p.m.
for drinks and dinner
BlackFinn Restaurant and Saloon
19 E. 7th St.
Cincinnati, Ohio
Please RSVP to Amanda
(XXX) XXX-XXXX
For Rehearsal Dinner Invitations In an Email
Please join us to celebrate with
Susan & Joe
at their rehearsal dinner
Friday, September 3, at 6 p.m.
BlackFinn Restaurant and Saloon
19 E. 7th St.
Cincinnati, Ohio
Rehearsal immediately preceding dinner
at St. Anthony's Cathedral.
RSVP to Amanda at (XXX) XXX-XXXX or in a reply to this email.
Find rehearsal dinner invitation ideas here.