What Would a 'Game of Thrones' Wedding Look Like?
Even Cersei Lannister would approve of these wedding details.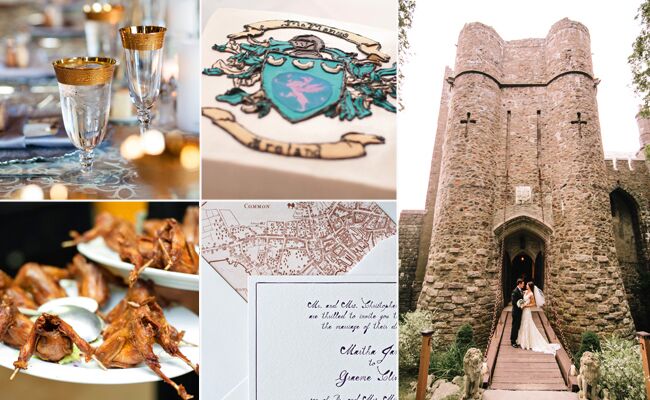 Watch any episode of Game of Thrones and you'll understand what we're talking about. Golden goblets and other regal details on the show are perfect majestic wedding elements — minus the whole Red Wedding thing. If you're in need of some serious Westeros style at your ceremony and reception, we've gathered up eight gorgeous ideas that Daenerys Targaryen would definitely approve of.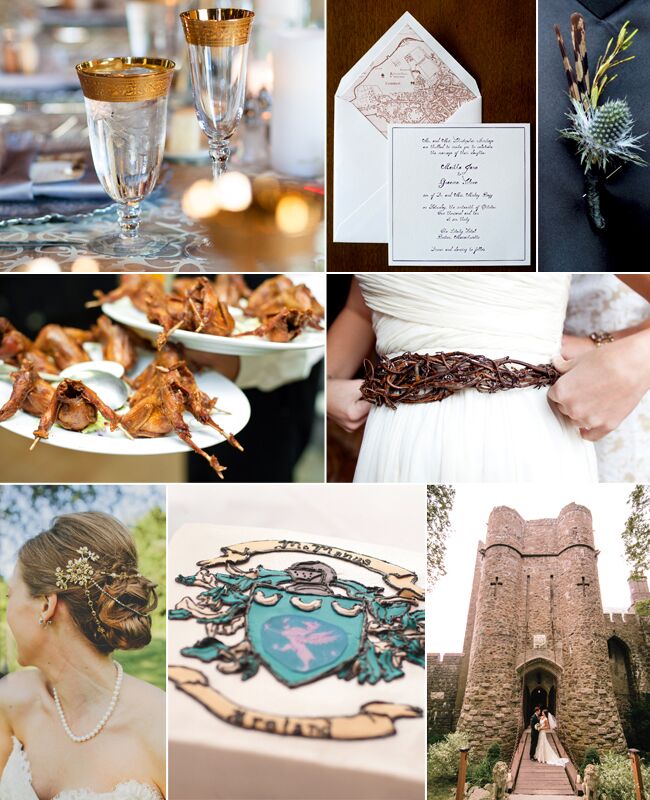 Clockwise from top left: Choco Studio; Ned Jackson Photography; Kristen Alexander Photography; Megan and Seth Photography; Shane Godfrey Photography; Lindsey Michelle Photography; Teale Photography; Marni Rothschild Pictures
From top left, clockwise:
Golden goblet: Gold-rimmed goblets on reception tables give off royal vibes.
An "X-marks-the-spot" invitation: The Seven Kingdoms are so vast that an ancient-looking map inside the invitation envelope is a must.
Blue thistle boutonniere: A blue thistle boutonniere for the groom is both rustic and elegant.
Branch belt: A dainty belt made out of entwined branches is perfect for an earthy look.
Castle ceremony: A castle ceremony will make for gorgeous photos (but just make sure the castle doesn't look as foreboding as Castle Black).
Coat of arms cake: Even if you aren't one of the rulers of the Seven Kingdoms of Westeros, having a regal coat of arms on your wedding cake or groom's cake is a fun idea.
Elaborate headpiece: A pretty headpiece or crown in a bridal hairdo is Cersei Lannister-approved.
Quails: Most weddings have chicken or beef as meat options — but for a true Game of Thrones wedding, quails with butter are also divine.