Here's Who Actually Pays for Bridesmaid Hair and Makeup
Plus, a few different options to make it work for you.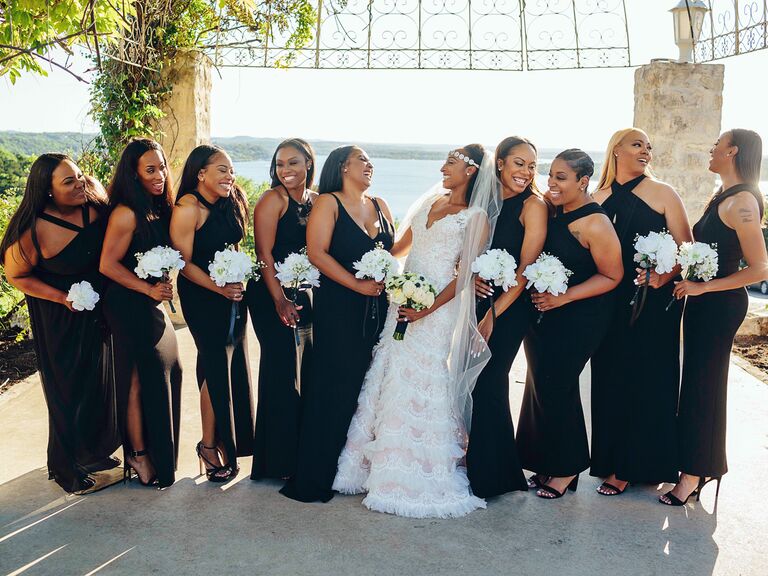 CHRISTINA CARROLL PHOTOGRAPHY
A pre-ceremony glam sesh guarantees your wedding party will look and feel gorgeous, and it's also a memorable experience you can share together (group getting ready photos, anyone?). But the question of who pays for bridesmaid hair and makeup may be on your mind (and your friends' as well). It's an extra expense, but we think hiring a beauty pro for your friends is worth it. Not only can they replicate the bridesmaid makeup look your friends picked out or the bridesmaid hairstyle they've been lusting over, but they'll be using professional-grade products. That means the group's tresses will last through a full night of dancing and their foundation won't wear off by the end of the sunny ceremony. However, that expertise does come at a cost.
If you're wondering who pays for bridesmaid hair and makeup, know there isn't one right answer to this question. It varies by wedding, which means you'll want to consider your bridesmaids' budget and your own expectations. Insisting that your wedding party get their glam done by a pro may mean you'll need to help out with the bill. If your budget is tight, ask your friends how they feel about chipping in (or covering the cost altogether). Talk to your whole wedding party—including the men or gender-neutral folks—to see what they might like to get done. For example, there are plenty of no-makeup, makeup looks they might like; plus, who doesn't like getting their hair professionally styled?
We know this particular expense can cause unwanted tension, especially if it isn't addressed in advance or handled carefully. That's why we asked wedding planners to share their expert opinions on this dilemma to help you decide who pays for bridesmaid hair and makeup. After you make a decision, we recommend hosting a kickoff meeting so that you can lay out expectations, time commitments and expected costs. That way, everybody is on the same page, and nobody will feel caught off-guard when the wedding day arrives.
Opinion 1: Bride Pays for Bridesmaid Hair and Makeup
If you want your party to get their hair and makeup done professionally, it's a thoughtful gesture to treat your bridesmaids. They'll probably have paid for dresses, travel, lodging and prewedding events (especially if you've had an out-of-town bachelorette party), so it can be burdensome to add this extra cost—especially if you don't bring it up until the last minute. "The bride should cover the cost of her wedding party's hair and makeup, especially if she's requesting or encouraging them to have it done," says Jove Meyer of Jove Meyer Events. Meyer says most of his brides fund bridesmaid hair and makeup for their crew.
Another idea is to pay for both beauty treatments, and make that their bridesmaid gift—it's a generous offer they'll definitely appreciate (perhaps even more than a personalized pocket journal or piece of jewelry).
Opinion 2: Bride and Bridal Party Split Bridesmaid Hair and Makeup
If you insist your bridesmaids get their hair and makeup done, but you can't swing full beauty services for everyone, offer to cover one (either hair or makeup), then let them decide to pay for the other or do it themselves. If you don't make both professional bridesmaid hair and makeup a must, you're leaving the choice up to them as to whether or not they want to spend the money on the service.
Opinion 3: Bridal Party Pays for Bridesmaid Hair and Makeup
As a bride, you may expect your friends to cover their own day-of beauty services. Jordan Williams, owner of Ever After Planning, says she usually sees bridesmaids picking up the tab themselves. The reasoning? It's part of the job. "Bridesmaids sometimes forget that upon accepting an invite to be in a wedding, they're taking on financial responsibilities," Williams says. "The key is to be open with your bridal party from the get-go when it comes to your budget and expectations. And again, you should leave the ball in their court so they don't feel forced to pay for something they may not be able to afford (although, odds are, they'll want to get primped alongside their fellow bridesmaids, knowing the pros will know how to make them look more photogenic).
Pro tip: If you know hiring a beauty pro isn't in the cards for you, have an honest discussion with your bridesmaids regarding hair and makeup, then hatch a plan accordingly to avoid any surprises and tension when it's time to primp on your wedding day. Not sure if you'll be able to budget it in? Find the average cost of every wedding vendor here, so you know how much you can expect to allocate to each of your pros.