Here's Who Actually Pays for Bridesmaid Hair and Makeup (Plus the Average Cost Per Person)
We combed through The Knot 2017 Real Weddings Study and consulted some experts to weigh in on this wedding day budget question.
by Maggie Seaver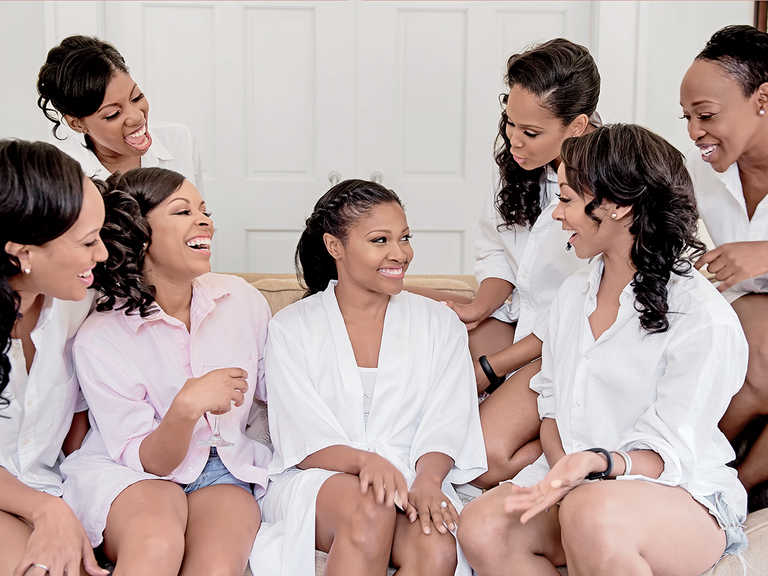 A day-of hair and makeup session guarantees your bridal party will look and feel gorgeous, and it's also a memorable experience you can share together (group getting ready photos, anyone?). Most bridal parties are big fans of getting their hair and/or makeup done professionally. The Knot 2017 Real Weddings Study shows 82 percent of bridal parties get their hair done, and 73 percent get their makeup done—which costs an average of just over $70 per person per service. But the eternal question remains: Who should foot the beauty bill?
It looks like the answer still varies by wedding, which means you'll want to spend some time thinking about your bridesmaids' and your own budget and expectations. Based on our survey responses, 47 percent of brides contribute to hairstylist costs and 43 percent contribute to makeup artist costs. That means more than half of bridesmaids pay for (or at least chip in for) their own hair and makeup.
We know this particular bridal party expense can cause some unwanted tension, especially if it isn't addressed or handled carefully. So we asked two wedding planners to share their different opinions about this dilemma to help you decide who should cover beauty expenses when your wedding day comes.
Opinion 1: It should be the bride's treat.
If you want your party to get their hair and makeup done professionally, it's a thoughtful gesture to treat them. They'll probably have paid for dresses, travel, lodging and prewedding events, so it can be considered unfair to drop this extra cost on them—especially if you don't bring it up until the last minute. "The bride should cover the cost of her wedding party's hair and makeup, especially if she's requesting or encouraging them to have it done," says Jove Meyer of Jove Meyer Events. Meyer says most of his brides fund prewedding prep for their crew. 
TIP If you insist everyone get it done, but you can't swing full beauty services for everyone, offer to cover one (either hair or makeup), then let them decide to pay for the other or do it themselves. Another idea is to pay for both beauty treatments, and make that their bridesmaid gift—it's a generous offer they'll really appreciate.
Opinion 2: It's part of their bridemaid duties.
As a bride, you may expect your ladies to cover their own day-of beauty services. Jordan Williams, owner of Ever After Planning, says she usually sees bridesmaids picking up the tab themselves. The reasoning? It's just part of the job. "Bridesmaids sometimes forget that upon accepting an invite to be in a wedding, they're taking on financial responsibilities," Williams says. "I would hate to see a bride pull back on her budget in other areas because her girls expect hair and makeup help." The key is to be open with your bridal party from the get-go when it comes to your budget and expectations.
TIP If you know hiring a beauty pro isn't in the cards for you, have an honest discussion with your bridesmaids, then hatch a plan accordingly to avoid any surprises and tension when it's time to primp on your wedding day.
Now it's your turn to weigh in: