31 Bridesmaid Makeup Looks For Every Aesthetic
Save these picture-perfect ideas for the big day.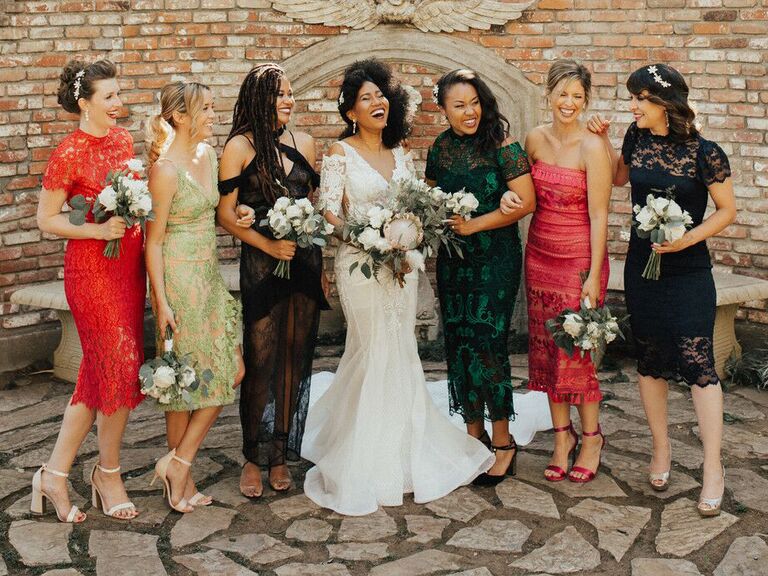 HEIRLUME PHOTOGRAPHY
As a bridesmaid, you've likely figured out your outfit and decided on a hairstyle. But there's one other key part of your wedding day look to consider: makeup. To assist and inspire you, we've rounded up 31 bridesmaid makeup looks you'll want to save ASAP.
If you're struggling to narrow down the options, consider the color palette of your outfit. B. Gandy, owner and lead artist at B For Beaute, says to think beyond matchy-matchy bridesmaid makeup. Instead, incorporate hues in the same shade family for a creative, cohesive look. "Maybe not the exact same color eyeshadow [as your dress], but a mixture of something slightly lighter and slightly darker to create some balance," she suggests. "Or, opt for complimentary shades of lipstick to add a pop of color." For instance, if you're wearing a lavender outfit, consider using an eggplant-colored eyeshadow. Alternatively, if you're wearing a green outfit, rock a berry-colored lipstick for a fun pop of color.
If you're working with a beauty pro on the big day, it's best to bring a picture of your desired makeup look so they know exactly what you want. The exception to this is if your friend has chosen the look for the day, in which case you get to sit back and relax. (Pro tip: chat with your friend about who will be paying for hair and makeup so that there are no surprises on the actual day). Ready to get inspired? Check out these stunning bridesmaid makeup ideas that will look amazing in pictures and in person. Ready to get inspired? Check out answers to your biggest bridesmaid makeup questions—plus stunning looks for every aesthetic.
Should I do my own makeup as a bridesmaid?
If you feel confident in your abilities to DIY your own makeup, communicate with your friend first. "I always recommend consulting with the bride," Gandy says. "It's her day, so check in with her to make sure you're on-trend with what she has envisioned for her wedding." They'll either ask that everyone get their glam professionally done or they'll allow you to do it yourself.
If, however, you're on the fence about working with a pro, consider the benefits of expert application. Not only will the makeup artist know exactly how to achieve your ideal beauty look, they'll be using professional-grade products and tools. That means your wedding makeup will last through the ceremony, reception and after-party. Plus, it will mitigate any unnecessary stress the day of the wedding. "Having a professional there will eliminate everyone having to run around trying to do their own makeup," Gandy says. "It creates a calm, relaxed and fun atmosphere that will allow everyone to be available to help the bride," Gandy says.
How is bridesmaid makeup usually done?
Normally, there's a schedule set beforehand so everyone in the bridal party can get their makeup done on time. If you're working with a beauty pro, you'll likely have a time slot to get ready. While you're waiting, bond with the wedding party, take goofy photos, and make memories as your friend preps to go down the aisle. If you're doing your makeup yourself, set yourself up in the wedding suite so you can have company while you primp. Be sure to bring all your products and tools plus a mirror in case the ones in the room are occupied by the bride. Pro tip: Bring makeup remover wipes for potential application mistakes, and don't forget your phone to document the fun!
Our Favorite Bridesmaid Makeup Looks
From simple bridesmaid makeup looks to dramatic bridesmaid makeup ideas, we have something for everyone. Plus, we have looks that will color-coordinate with your wedding day attire.
Natural Bridesmaid Makeup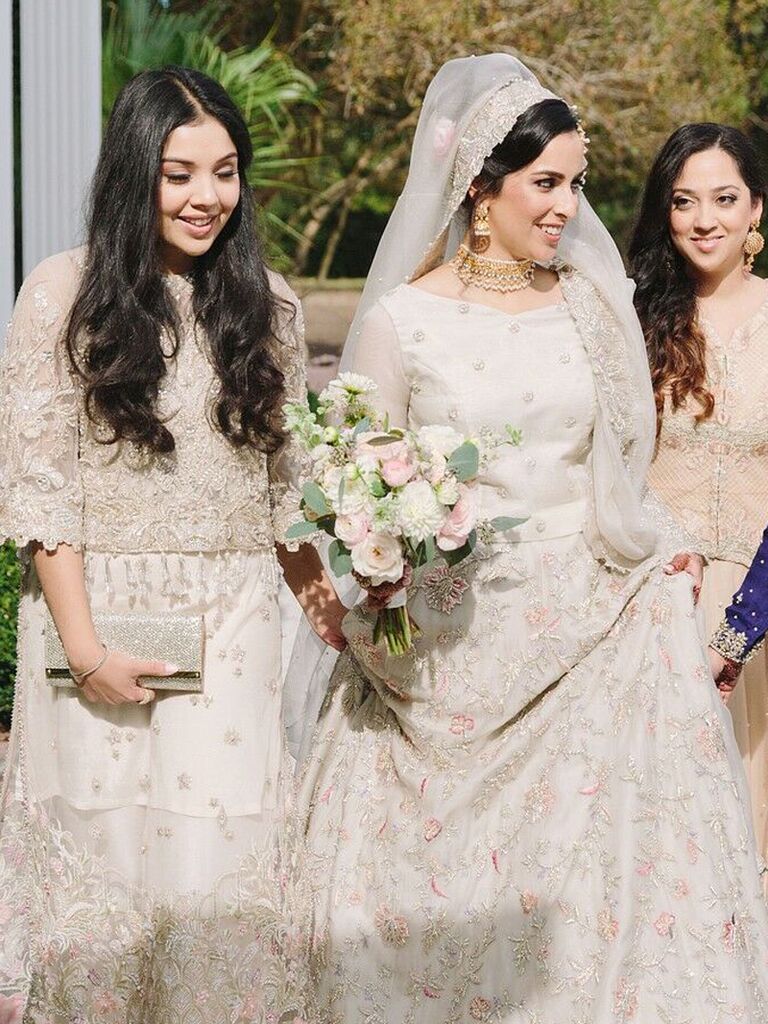 Aiming for a soft bridesmaid makeup look? Use medium-coverage foundation (which will give you the perfect balance of a natural- and flawless-finish), fill in your brows, and add mascara to your lashes. Dust blush onto the apples of your cheeks for a radiant look.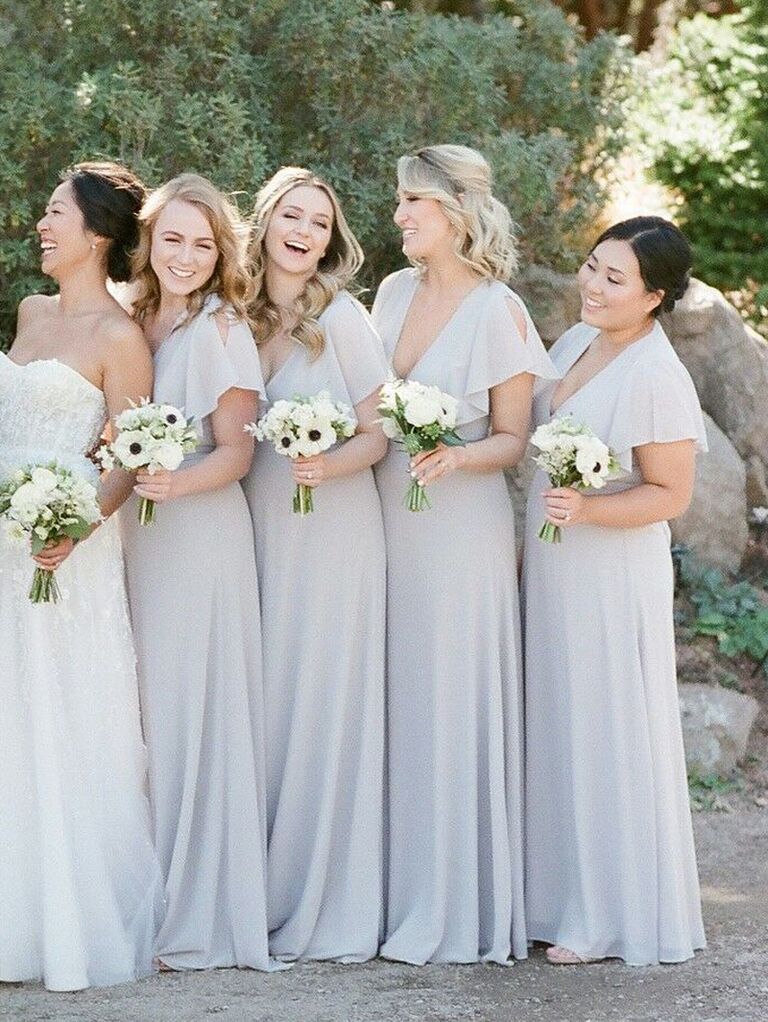 You can still rock eyeliner with a natural makeup look. Have your artist apply a thin coat of liner across the top of your lash line to create the illusion of thicker, longer eyelashes. It'll make your eyes pop in pictures.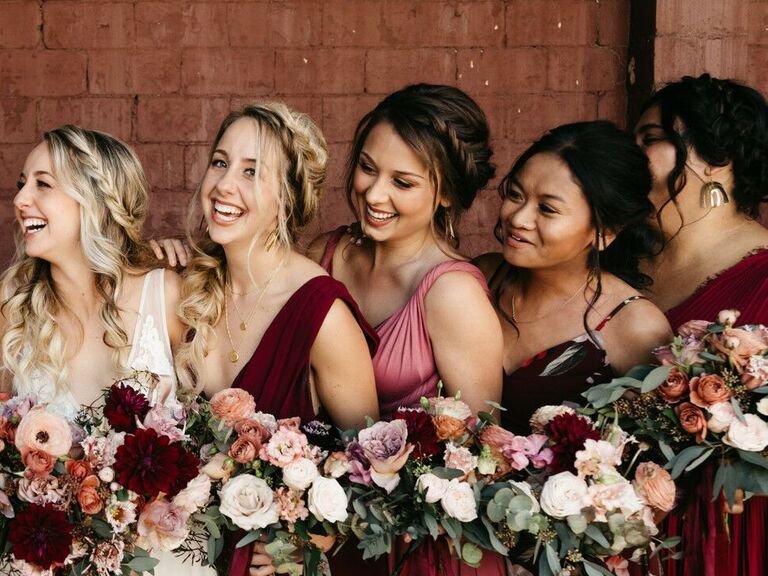 You can never have too much glow. Sweep a shimmery highlighter across the high points of your face (temples, cheekbones, brow bones and the tip of your nose) for a look that shines as much as you do.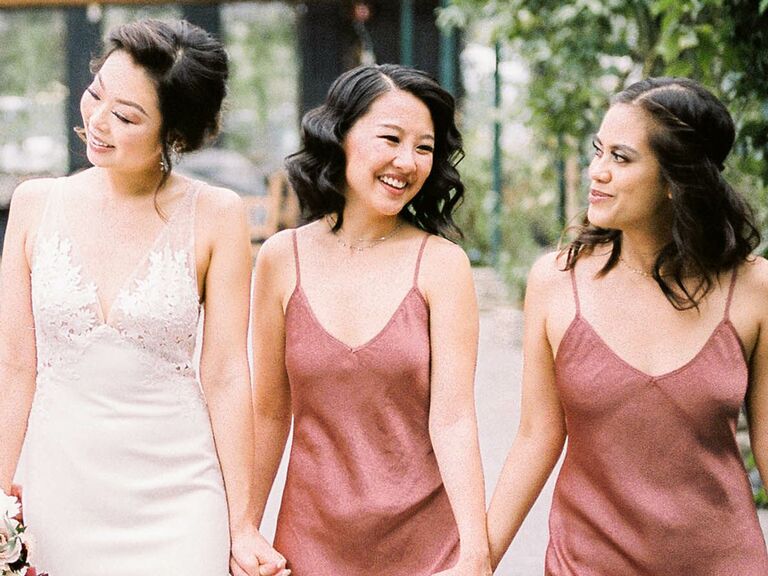 Add definition to your face with a subtle contour. Blend bronzer right beneath your cheekbones, onto your temples and below your jawline for a polished look.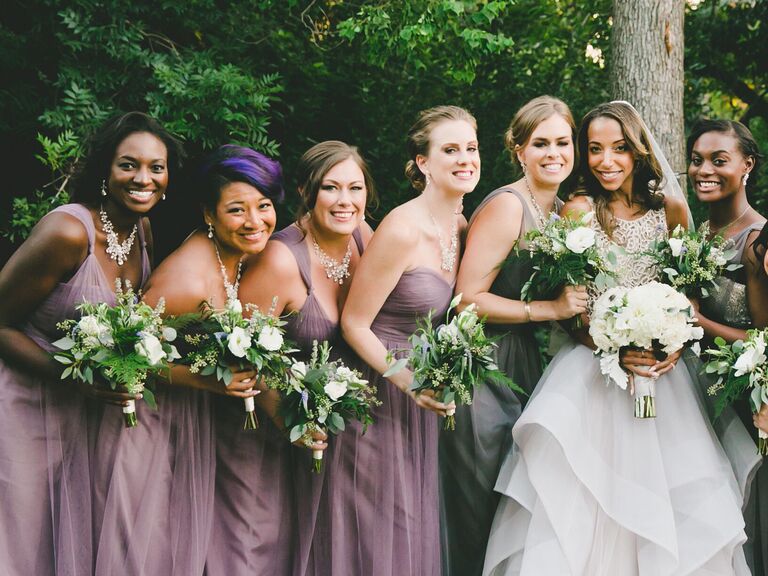 Searching for that lit-from-within glow? Add a pearlescent liquid illuminator into your foundation for a naturally dewy look.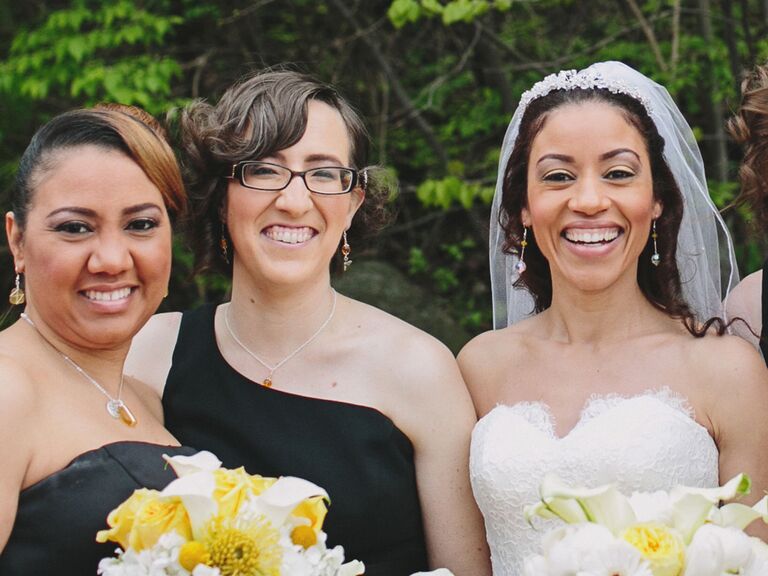 If you prefer to rock your glasses on the wedding day, keep your eye makeup simple (think: a sheer wash of color across the lids) to let your spectacles shine.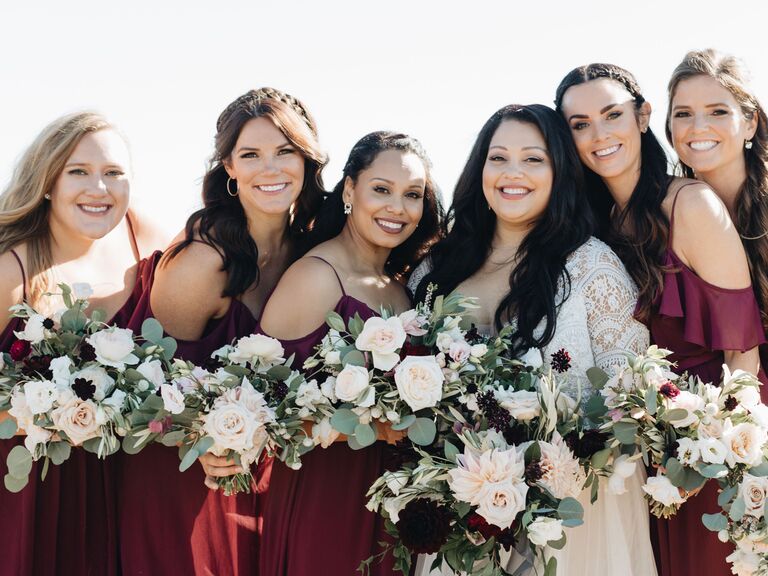 Enhance your natural eyelashes by layering your mascara. It'll make them look thicker and longer—plus it'll define your eyes in pictures.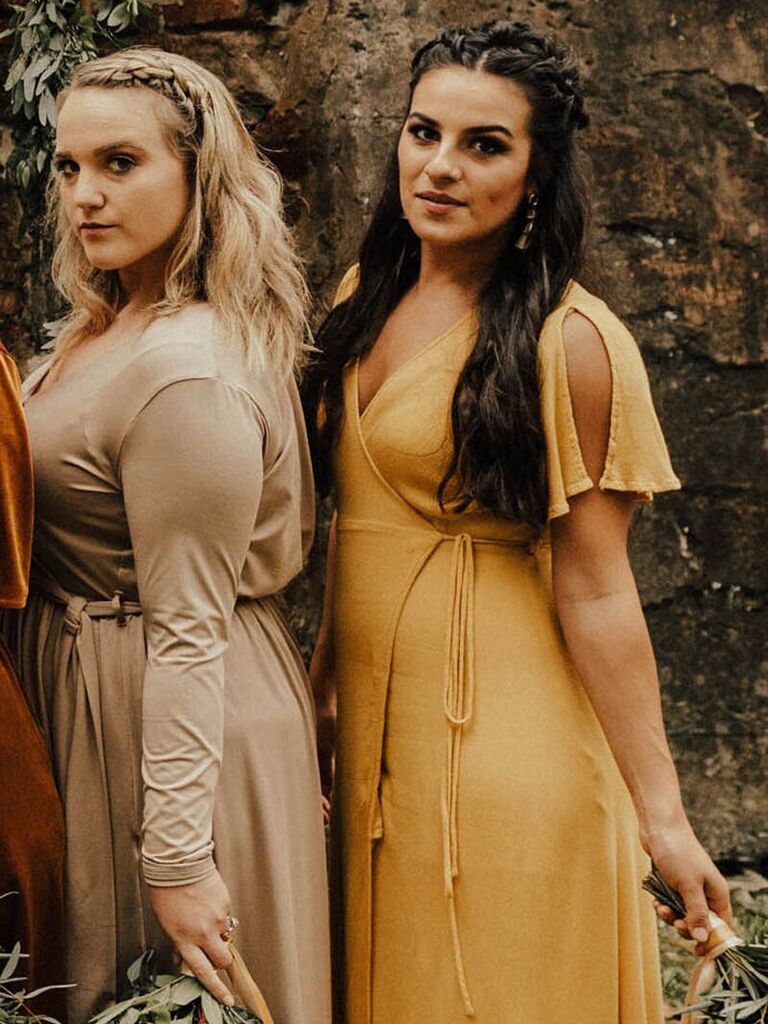 One way to elevate your natural look is by filling in your brows. It creates the perfect balance of done and undone.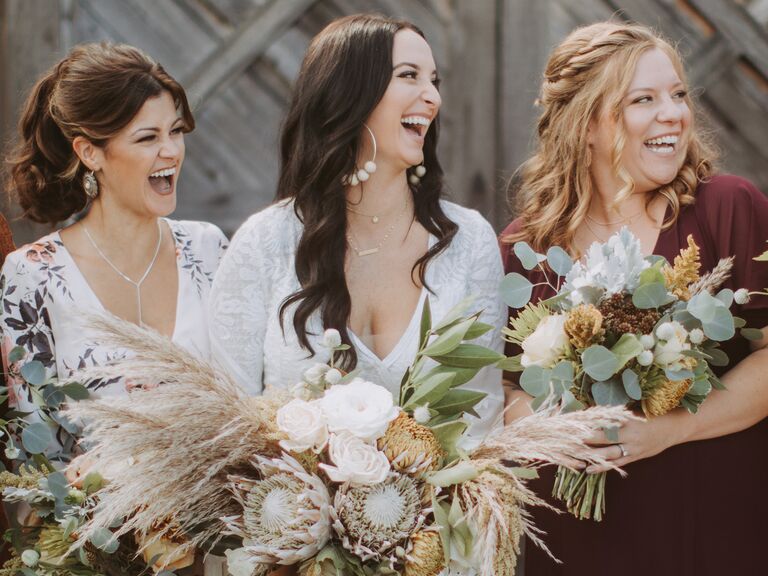 Add a touch of bronzer to your face for a back-from-vacation glow. Sweep it onto the apples of your cheeks, across your nose and on your forehead (where the sun would naturally hit) for a simple bridesmaid makeup look.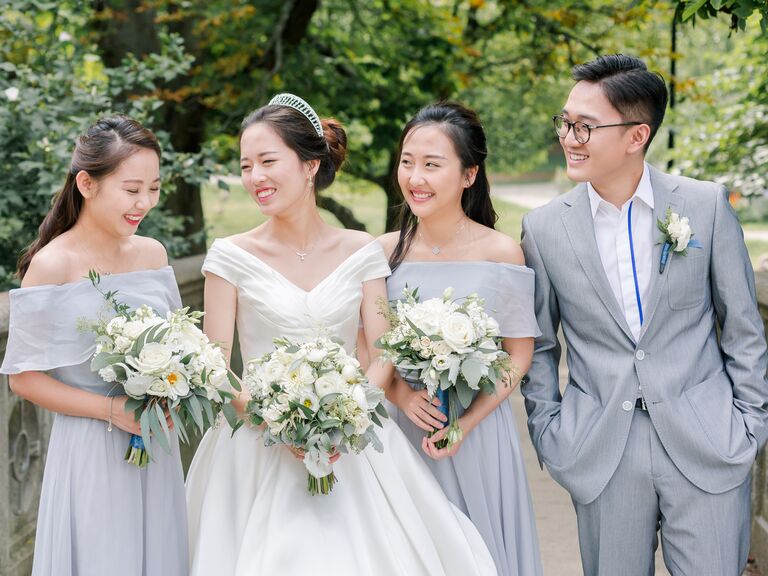 A staple in no makeup, makeup looks is popsicle-stained lips. Press a neutral lipstick color into your pout for natural-looking color that still pops.
If you don't want to commit to a matte red lip, consider a colorful lip balm instead. The sheer formula will give you a wash of color that's naturally pretty.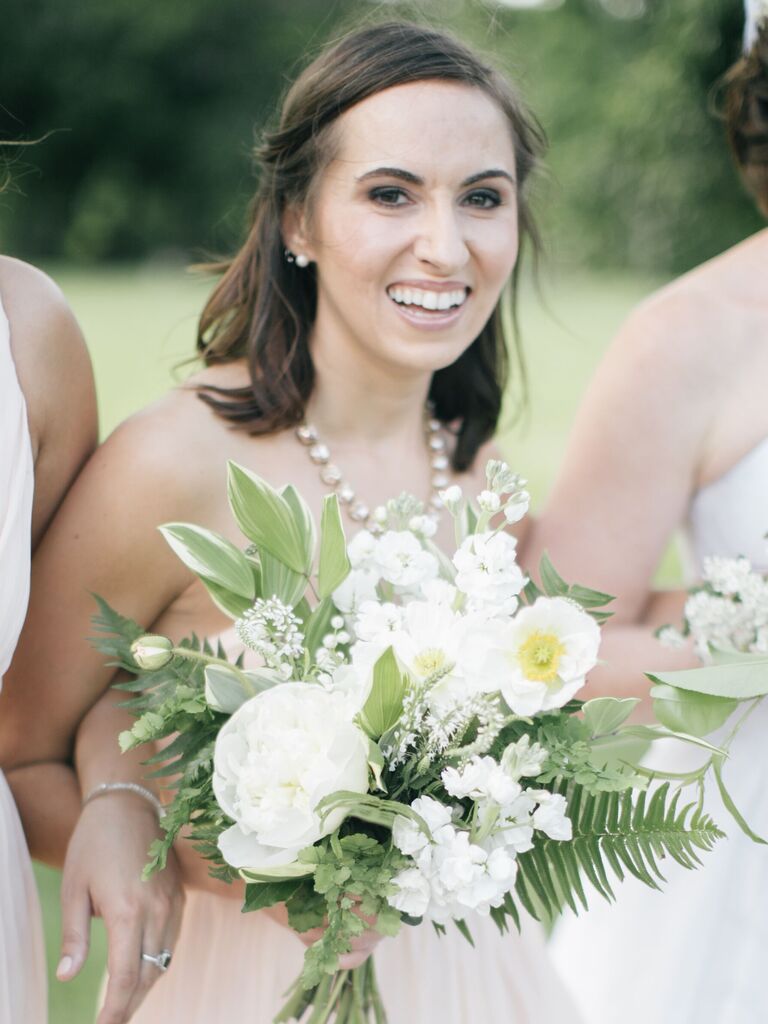 Amp up any simple bridesmaid makeup look with lip gloss.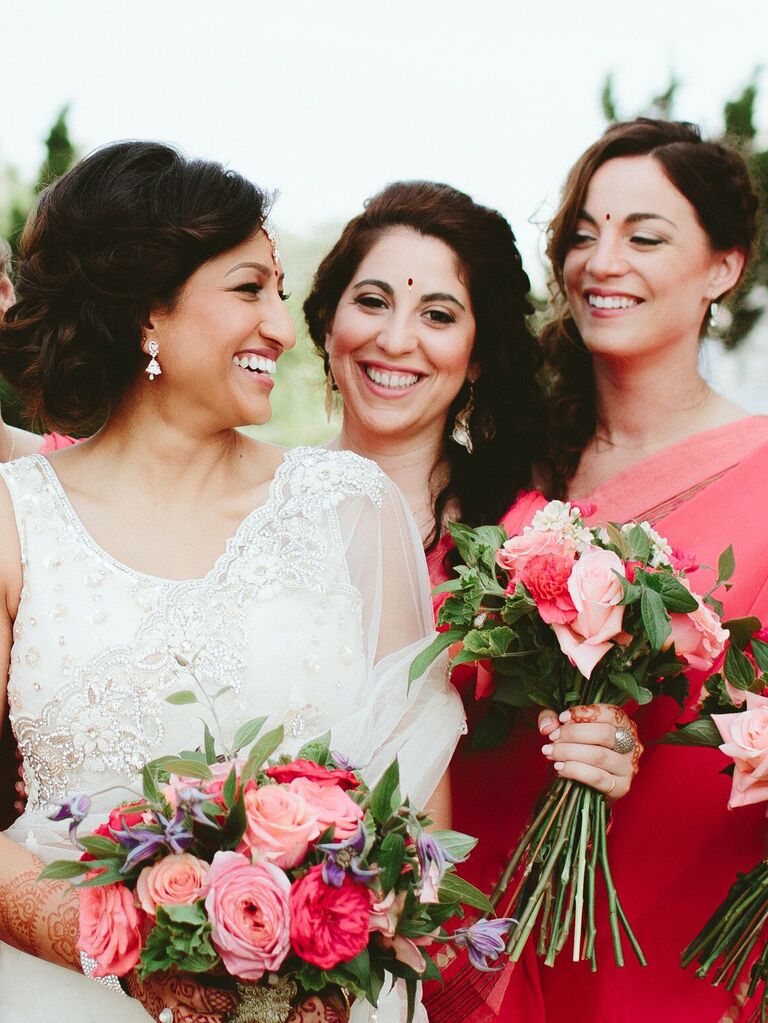 Flushed cheeks are having a major moment in the makeup space. Layer on blush for an extra-sweet bridesmaid makeup look.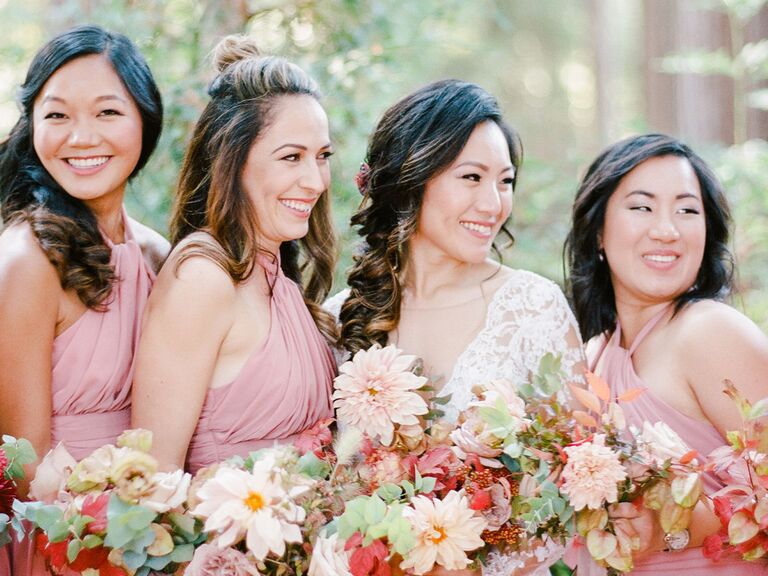 Don't love the idea of wearing much makeup at all? Keep things simple with a tinted moisturizer and extra mascara.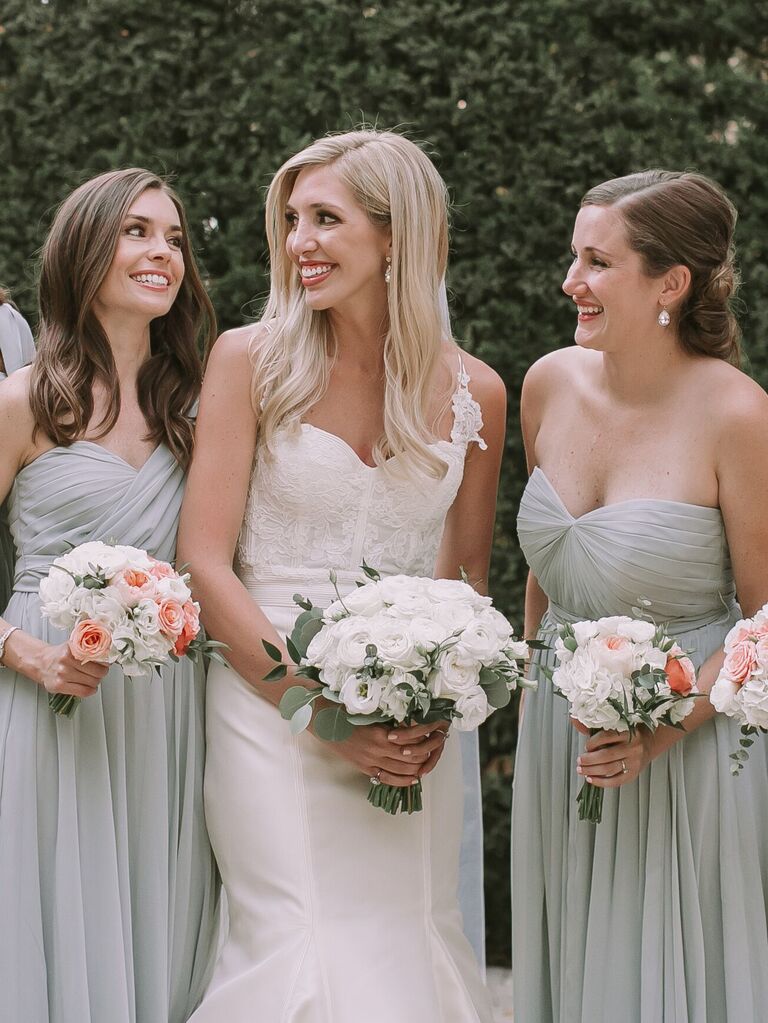 Rock a neutral lipstick on the wedding day to achieve a your-lips-but-better look. Choose a shade that's one to two shades darker than your natural color.
Bridesmaid Eyeshadow Ideas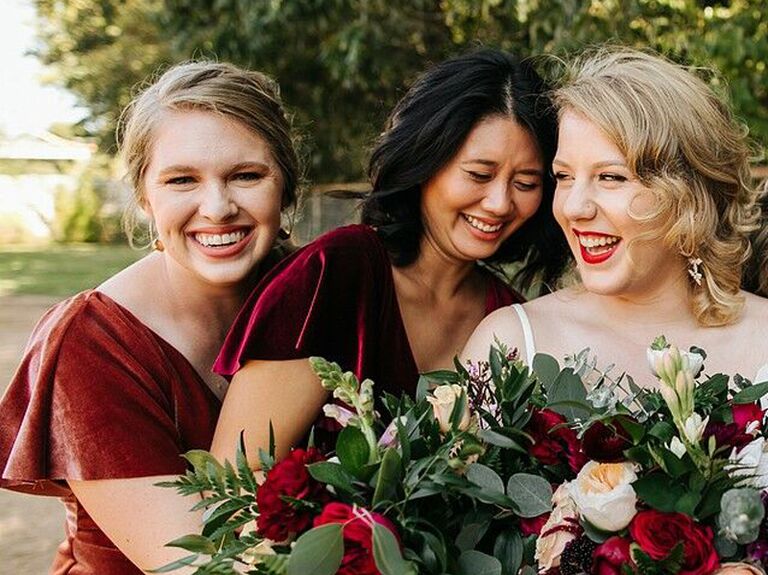 Show off your glowing personality with a bronze bridesmaid makeup look. Sweep a warm-toned eyeshadow onto your lid and in your crease.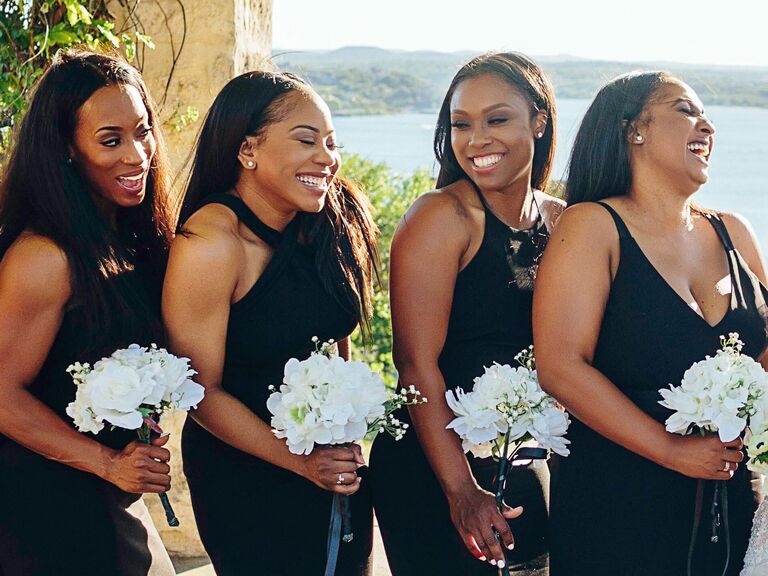 You can't go wrong with a neutral smokey eye. Have your makeup artist blend brown, gray or black eyeshadow into your crease for a defined, beautiful gaze.
Add drama to your smoky eye by asking your beauty pro to add darker colors on the outer corners. This will give you a cat-eye shape and bring attention to your gorgeous eyes.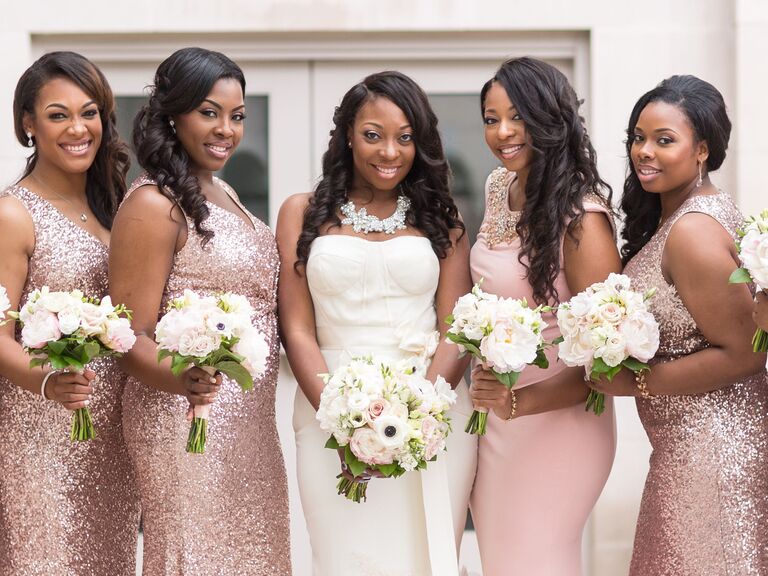 Wondering how to pull off rose gold bridesmaid makeup? Use a metallic pink eyeshadow to create a bright, beautiful look.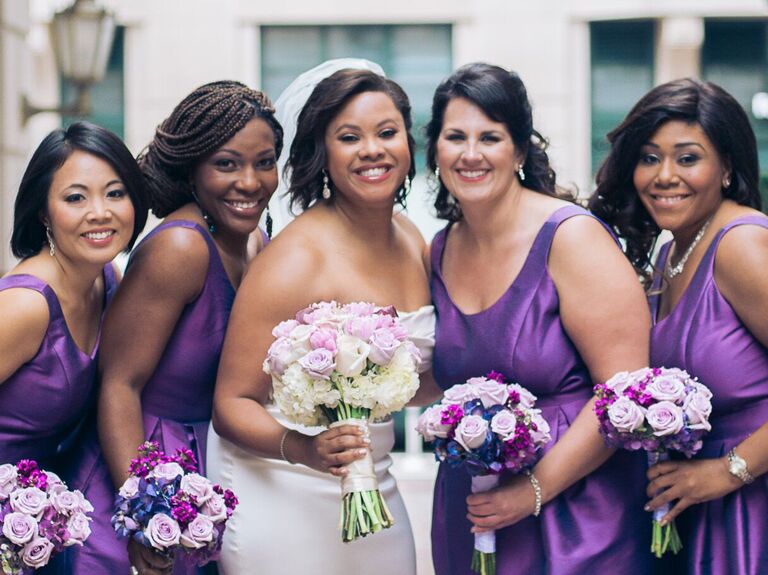 Match your violet bridesmaid dress perfectly with a purple bridesmaid makeup look. Have your artist use purple eyeshadow on your lids and top it off with a dark purple eyeliner.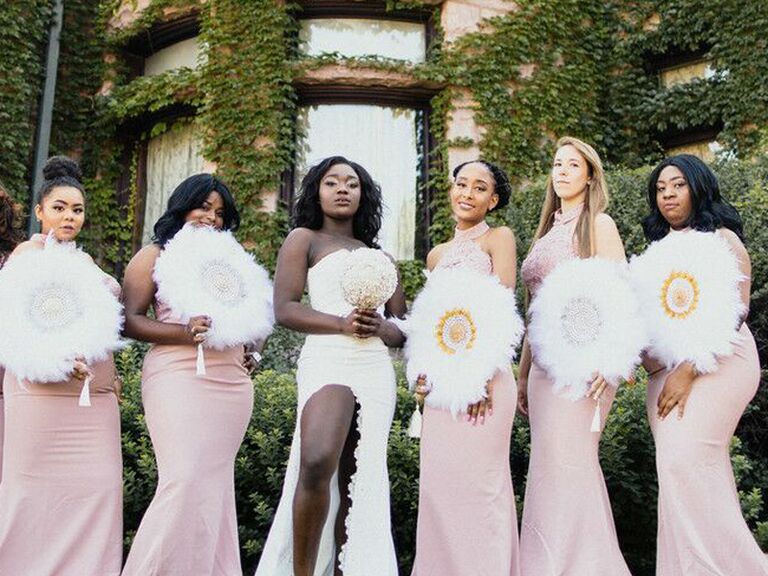 We love a pink bridesmaid makeup look because it can be soft or glam. For a simple bridesmaid look, swipe pink eyeshadow across your lid and add mascara to your lashes. Take it up a notch by adding cat-eye liner.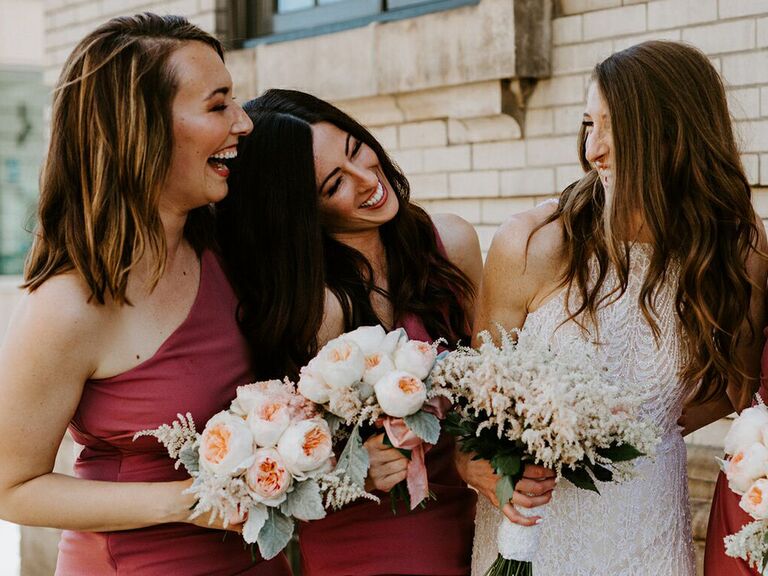 A monochromatic look is classic and elegant. Match the rosy tone of your dress to your makeup by using neutral lipstick, blush and eyeshadow.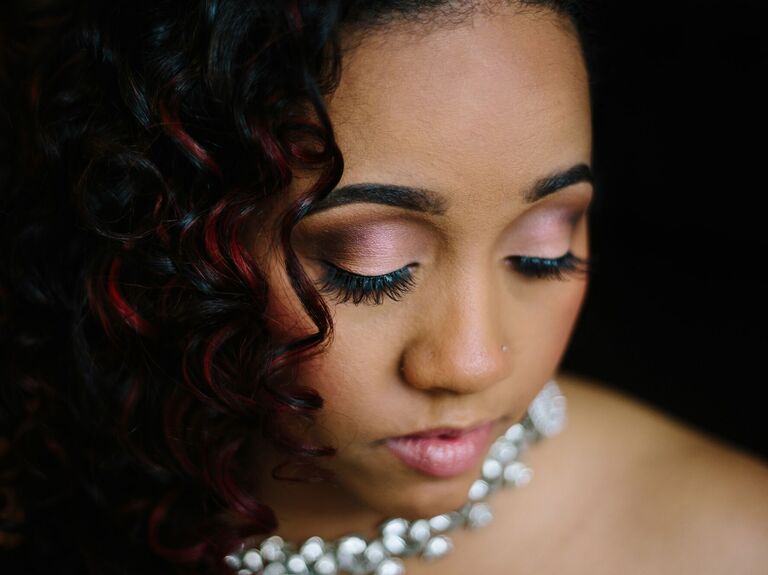 If your dress is neutral, consider a colorful eye to bring your personality into the look. We love this dramatic blush ombre look.
Dramatic Bridesmaid Makeup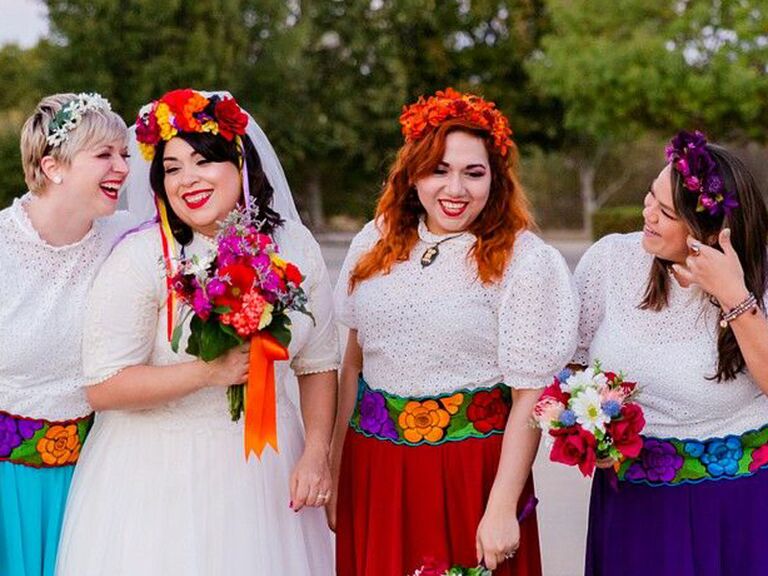 When it comes to this bridesmaid makeup look, more is more. Add a bold color to your eyes and accent it with a bright-colored lip.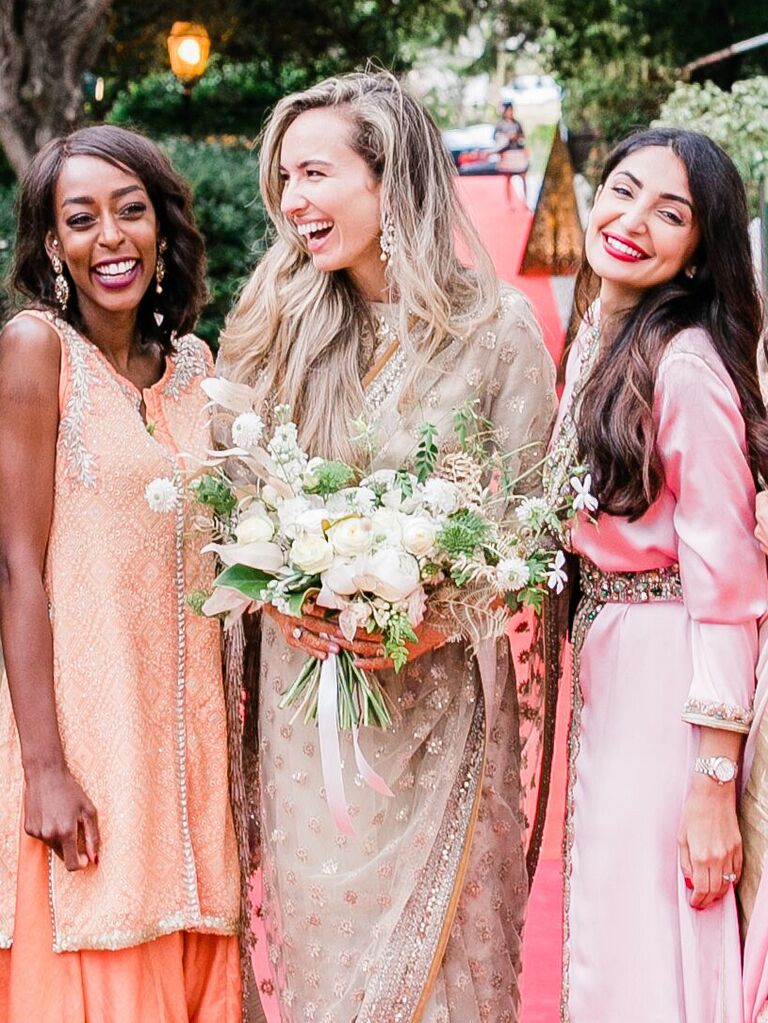 If you want to amp up the drama without going for a full-on red lip, consider a berry lipstick instead. It will bring attention to your gorgeous smile. Plus, it goes with almost any color bridesmaid dress.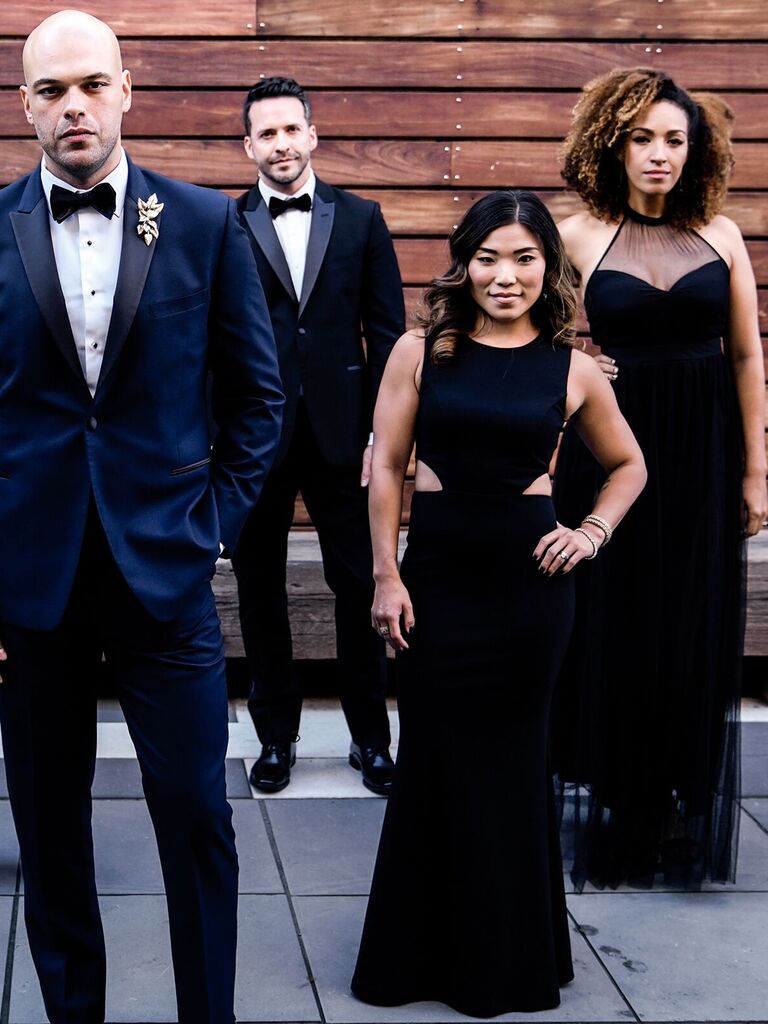 Score ultra-glam bridesmaid makeup by using a nude-colored lipstick. It will look effortlessly cool worn with a smokey eye.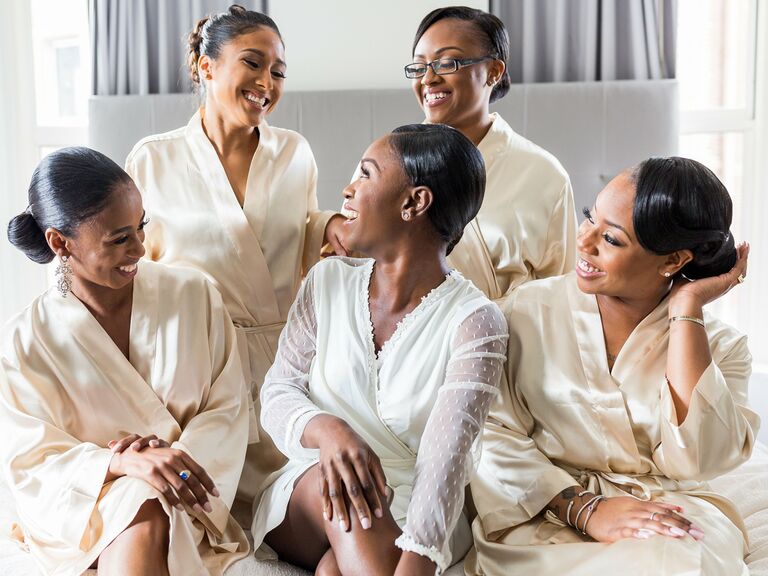 Give yourself a dramatic cat eye with false lashes (your makeup artist can expertly apply them so they stay put all night). Add them to your outer corners for an extra-fluttery look.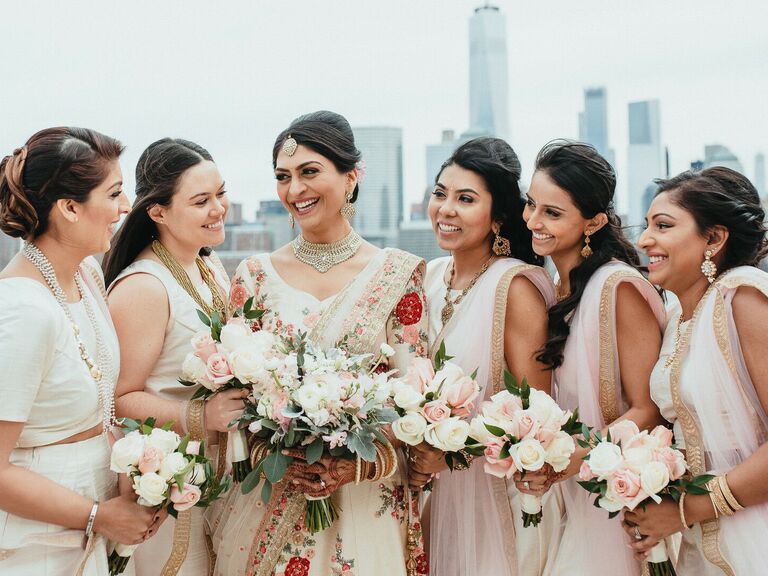 Have your pro use a full-coverage foundation (or even airbrush makeup) for a flawless, polished look.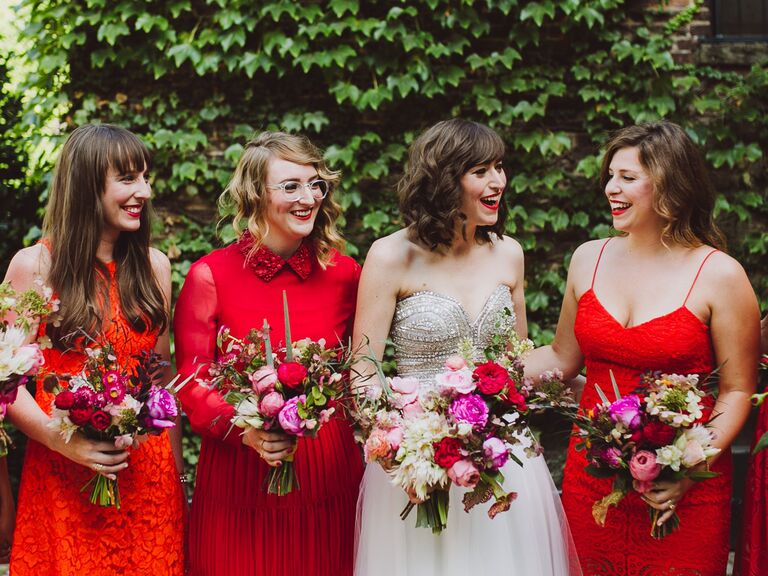 Nothing says drama like a red lip. A rouge lipstick will draw attention to your beautiful smile and make your teeth look extra-white. Plus, it'll match your red bridesmaid dress perfectly.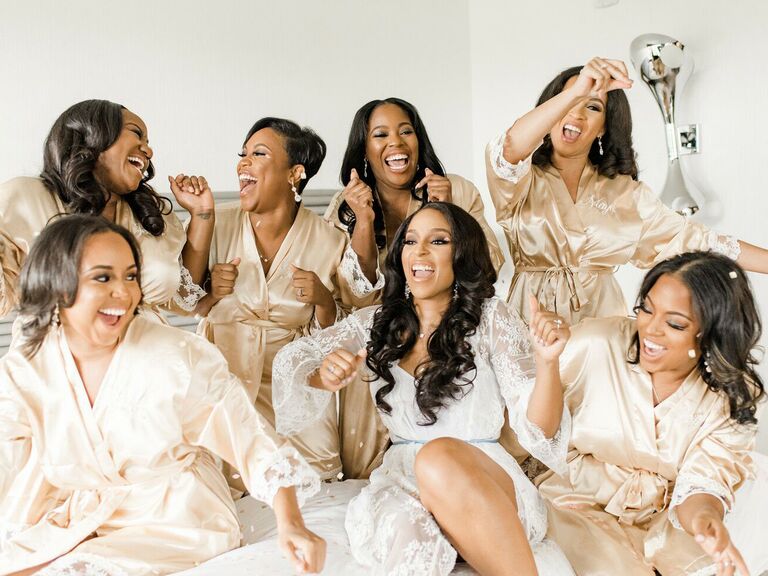 There's nothing more glamorous than a bold cat eye. Have your beauty pro create a smokey eye and line your eyes with eyeliner (extending up and out at the end of the eye for a feline flick). Top the look off with false lashes.
Bridesmaid makeup, but make it edgy. Try a vampy lipstick shade (like a deep crimson, eggplant or black) for a bold and beautiful look. Psst: this looks especially stunning with jewel-toned bridesmaid dresses.