Plan an Unforgettable Engagement With These Romantic Winery Proposal Ideas
Love, like wine, gets better with time.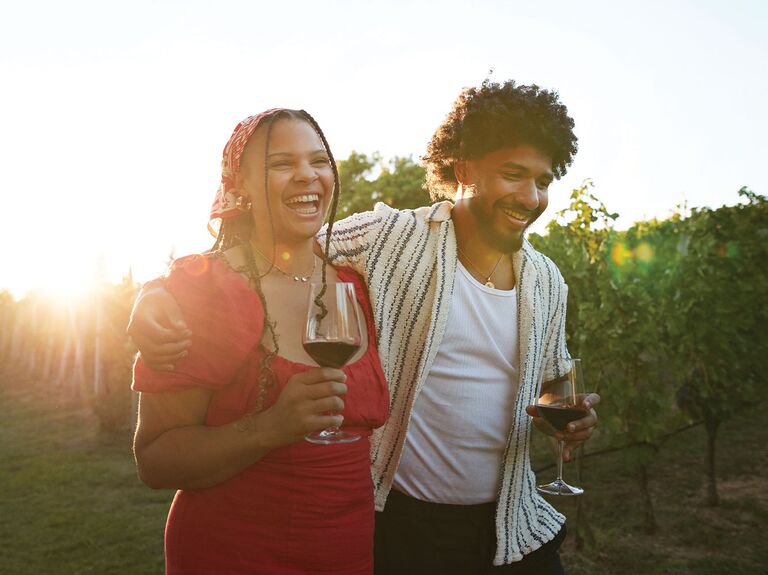 Photo: Getty Image / Klaus Vedfelt
Something about a vineyard is just so romantic with its lively greenery and fields as far as the eye can see. And what better way to celebrate a new engagement than with a glass of wine? A winery proposal is perfect for all the wine lovers out there who want to continue their love story in a magical place. And The Knot Vendor Marketplace can make it even easier to find proposal planners and photographers to truly elevate the moment. Let's take a look at some proposal inspo for your next trip to the vineyard.
In this story:
Eight Romantic Winery Proposal Ideas
Robert Louis Stevenson said it best: "Wine is bottled poetry." For the true romantic, planning a proposal at a winery combines all the best things in life. Here are some of our favorite proposal ideas and suggestions on where you can ask the big question.
Sweet Napa Valley Proposal
Napa Valley has many stunning wineries to set the scene for your big moment. You can try Sattui Winery, one of the area's most historic locations. Plan a picnic proposal at this spot for a memorable meal, complete with wines from on-site. Their fountain also makes a romantic location to pop the question.
Ku'uipo Hawaiian Winery Proposal
Oeno in Kailua, Hawaii, gives you a taste of smooth wine and gorgeous beaches during your tour. You can even get a personalized wine bottle to commemorate your trip or save for your wedding day. Plus, they're the only winery on the island of O'ahu and proposing here gives you a stunning view with an unforgettable wine experience.
California Dreamin' Temecula Winery Proposal Packages
One Temecula winery that offers unique landscapes and a gorgeous backdrop is the Avensole Winery. You can eat at their marketplace restaurant for a bite of fresh eats that pair wonderfully with their wines. Getting down on one knee at this vineyard means the perfect California weather and sunshine any time of year. You can also see what packages wineries in this area may offer to make your proposal as smooth as the wine.
"In Fair Verona" Winery Tour
Italy is known for its delicious pasta and incredible sights. You can also stop by some of their illustrious vineyards, like the Tenute Fasoli Lorena, to pop the question. This small family winery provides stunning green fields of grapes in the Italian countryside and unique selections of wine to celebrate your big moment.
Love in Long Island Winery Proposal
One Long Island winery is the Wölffer Estate, a sustainable vineyard in the heart of the Hamptons. Their grapes come from all over the world to provide stunning selections of wines that can't be found elsewhere. When you propose at this sprawling estate, you get rolling hills of greenery and a rustic Italian-style location right in New York.
Mi Amor Winery Proposal
Viñas del Vero is a winery in Spain that sits at the foot of the Pyrenees for a breathtaking view. Schedule a wine tasting or pop the question at their wine garden as you overlook the vineyards. You can even bring your pet to this location so that everyone in your little family is included in this special moment.
"Marry Me" in Michigan Winery Proposal
The Round Barn Estate in Southwest Michigan is a winery in an Amish round barn with rolling green acres and countryside. You can experience live music and other events during a wine tasting or take a private tour to make your proposal more intimate. Celebrate after with a taste of their fresh food and other drinks.
Just Said "Oui" French Winery Proposal
Take a trip to Bordeaux, France, and pop the question at Château Smith Haut Lafitte, a renowned winery. This estate dates back to the 14th century, and it's a beautiful backdrop to continue your love story. You can also tour their art sculptures during your wine tasting for an unforgettable experience.
Tips For Planning The Perfect Winery Proposal
Want to know how to take your winery proposal to the next level? We've got some tips for making this a truly customized experience for the happy couple.
Visit the Winery Ahead of Time
When you plan a visit before the proposal, you can find locations for popping the question and also the best photo opp spots. You can even speak with staff to try and help get some creative ideas for your proposal before the big day.
Consider Wine-Themed Gifts
A winery may be able to provide you with a custom wine bottle or wine box to top off your big moment. These special touches can elevate the proposal while giving you something to take home and cherish.
Cater To Your Partner's Tastes
We mean this both literally and metaphorically. Choose a winery that means something to your S.O., whether that's because of its offerings, location or even if it's somewhere they've always wanted to go. You can even schedule a private tour to make the moment just for the two of you.