The 20 Best Sparkling Wine and Champagne Gifts for Any Special Occasion
Celebrate with a bottle of bubbly recommended by experts.
We have included third party products to help you navigate and enjoy life's biggest moments. Purchases made through links on this page may earn us a commission.
Pop, fizz, clink! Champagne is a classic way to celebrate special occasions. The tradition started during the 18th century, when royal courts saw the drink as a status symbol, and we're happy to continue it today. From engagements and weddings to anniversaries, champagne gifts will help commemorate the moment. Plus, nothing gets a party going like a toast with bubbly. As Lauren Friel, Owner and Wine Director at Rebel Rebel, Wild Child and Dear Annie, says: "Gifting Champagne isn't just about gifting a special bottle of wine, it's about giving the recipient the celebratory experience they deserve! It's the perfect gift for any occasion, but especially those moments to be remembered."
What is a good sparkling wine or Champagne to give as a gift, though? What are some other gift ideas for someone who really likes champagne? We talked to experts to learn more about the best champagne to give as a gift. Find out more and even get shoppable suggestions below!
In this article:
How to Choose Bubbly at the Store
Before you go to a local liquor store, here are some tips on how to choose the best sparkling wine or Champagne bottle. According to wine and travel writer, Elizabeth Woessner, "The main factors to consider are budget and flavor profile, which can vary considerably, as bubbles are produced in nearly every wine region worldwide." The trick is knowing how to read the bottle. "Once you understand how to read the label, it's easier to know what the flavor of the wine will be," says Wossner. (You can then match flavor to your or your recipients' taste preferences.) Here's a rundown on what to look for below.
One of the most notable regions for sparkling wine is Champagne, France. To be called "Champagne," the wine must come from here. Most of these wines are a combination of chardonnay, pinot noir and pinot meunier. "If the label says 'blanc de blancs,' it's usually 100% chardonnay and will be crisp and clean with citrus notes and a touch of minerality," Woessner says. "If the label says 'blanc de noir,' it's made with only pinot noir or pinot noir combined with pinot meunier—yes, you can make white wine with only red grape varieties." These champagnes are full-bodied and fruity. Conversely, she recommends looking for a brut nature, extra brut or, really, "brut" anywhere on the label if you want dry champagne. And if the recipient likes sweeter wines, search for sec, demi-sec or doux.
True Champagne tends to be more expensive. So, if you're shopping on a budget, there are many sparkling wines that use the same method of production as Champagne, but include local grapes. These wines are known as cremants and Woessner recommends Crémant de Loire and Crémant d'Alsace. Friel echoes this advice: "[Crémant wines] are often a really lovely substitute that's much softer on your wallet." Woessner also suggests cava, the traditional sparkling wine of Spain. "Most cava is made to drink young and is crisp, citrusy, easy-drinking and considerably cheaper than Champagne." Lastly, "If you can get your hands on a good Franciacorta from Lombardy, Italy, buy it! This unsung Italian wine is rich and complex, and utterly delicious," says Wossner. Of course, prosecco is a well-known, inexpensive bubby from Italy as well. The fermentation occurs inside a vat instead of an individual bottle for a lighter and fruitier taste. Woessner says this is the perfect pick for mimosas.
All that said, there are sparkling wine producers worldwide—including in the US, New Zealand, Australia, Germany and even England. If you're shopping for someone who really likes bubbly, it's okay to branch out and help them try new sparkling wines. When in doubt, Friel says: "If it's possible to find an independently owned bottle shop in your area, I always suggest asking the owner or wine buyer for their recommendations—it's the best way to discover lesser-known wines that are often a better deal than the name-brand bottles you see everywhere."
Where to Order Sparkling Wine Online
If you're shopping online for a sparkling wine gift or Champagne gift, knowing how to read the bottle still comes in handy. Though, many online retailers will have product pages with thorough descriptions about the wine to help you out, too.
The Best Champagne-Themed Gifts
Wondering what goes well with champagne as a gift? Below are your answers! From wine glasses, bubbly drink mixes and luxe scented candles to even a vacation idea, these are the best Champagne and sparkling wine gifts.
1. Crystal White Wine Glasses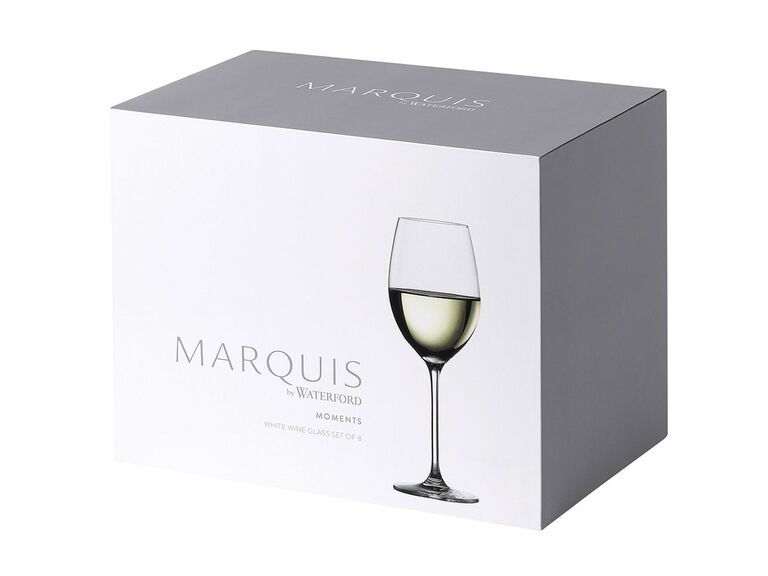 Try sipping champagne out of crystal white wine glasses instead of flutes. Woessner—who prefers this method—explains: "This glass concentrates the aromas and allows the complexity of the wine to shine through." This set of eight tall and slender crystal glasses by Waterford will accentuate the freshness of sparkling and still white wines.
2. Vintage-Inspired Ice Bucket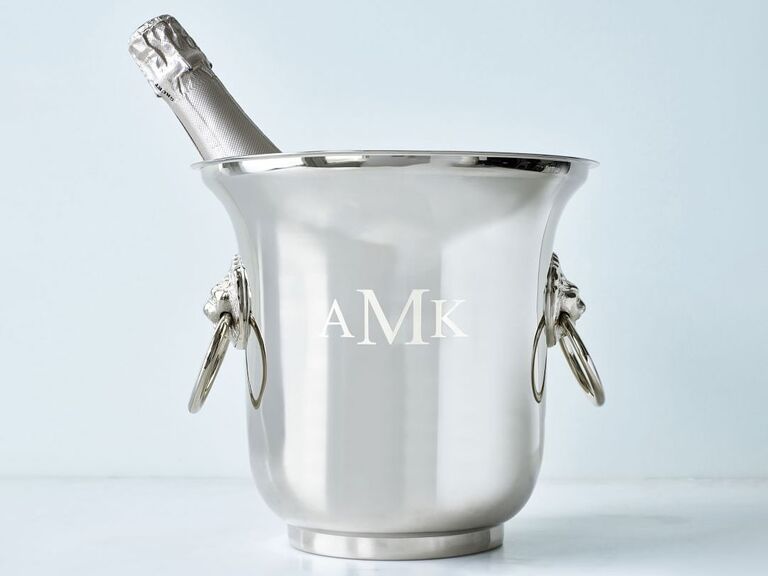 Friel's favorite gift for champagne lovers is a silver wine bucket—bonus points if it's vintage. She remarks: "Hunting for them at summer vintage markets is a joy, but you can easily find them online as well. They always feel elevated and they fit so many aesthetics." This vintage-inspired ice bucket from Mark & Graham is handcrafted from stainless steel, with a silver- or gold-plated finish. Its design isn't just timeless, it's also heirloom-worthy, thanks to the option for a custom-engraved monogram. It's a fitting champagne gift idea whether you're celebrating an engagement, wedding, anniversary, birthday or new home.
3. Sparkling Wine Preservation System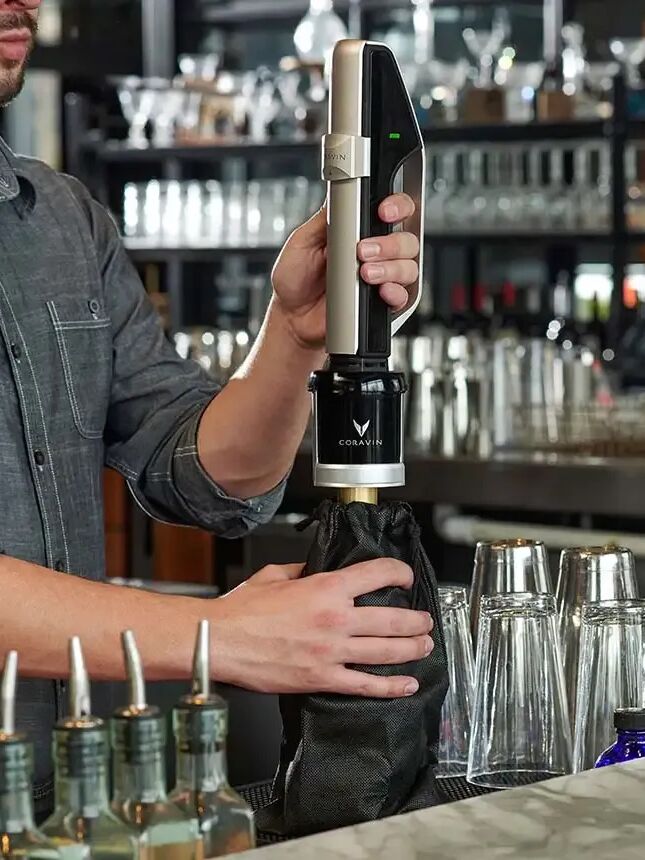 Another expert-suggested gift for someone who likes champagne is a bottle stopper. "If for some bizarre reason, you are not going to finish your sparkling wine in one evening, a champagne stopper will protect the precious bubbles," Woessner says. This sparkling wine preservation system from Coravin comes with one charger, four CO2 capsules and two stoppers that fit on all standard sparkling wine bottles, up to magnums. It even comes with a bottle sleeve. And together they'll preserve sparkling wine for up to four weeks!
4. Custom Wine Bottle Label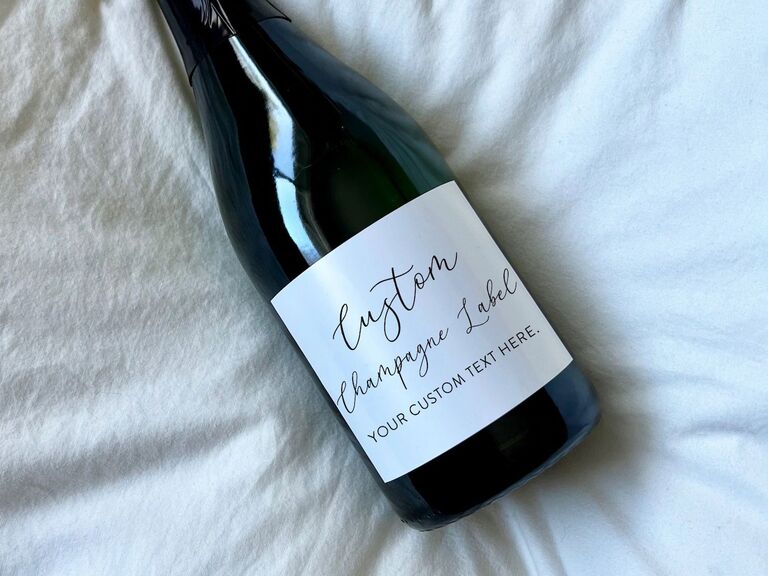 If you're wondering how to gift wrap a bottle of champagne given its tricky shape, a custom label with a ribbon around the neck is your answer. You can find hundreds of options on Etsy to personalize to your needs, including this simple black-and-white glossy label. Simply choose from 10 different fonts, then write up to three lines of custom text. The seller also has other, more colorful designs to shop if that's more your style.
5. Personalized Wine Cork Holder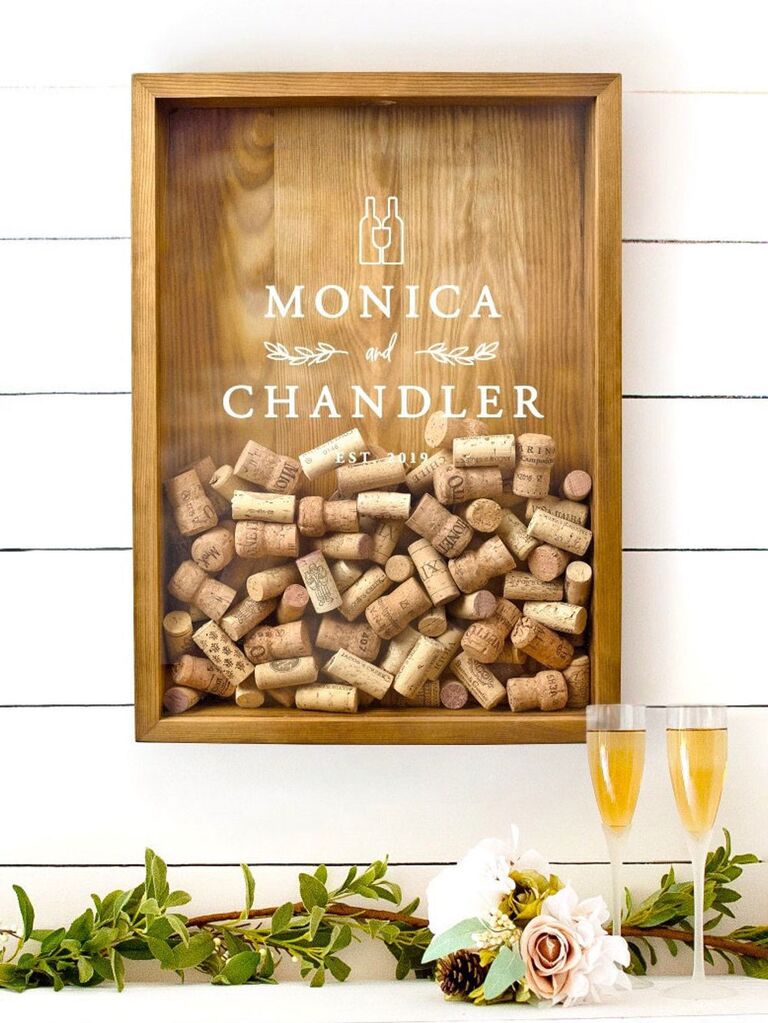 Every cork tells a story. Help the recipient keep track of every special Champagne or sparkling wine that they've popped in celebration with this wooden wine cork box. It can hang on the wall or simply stand on a counter to display their cork collection. The glass cover can be custom-engraved with a pair of names, a date, a short phrase and even clip art. We recommend gifting it with a Sharpie, so they can write the occasion they drank the bubbly on every cork in the case.
6. Colored Coupe Glasses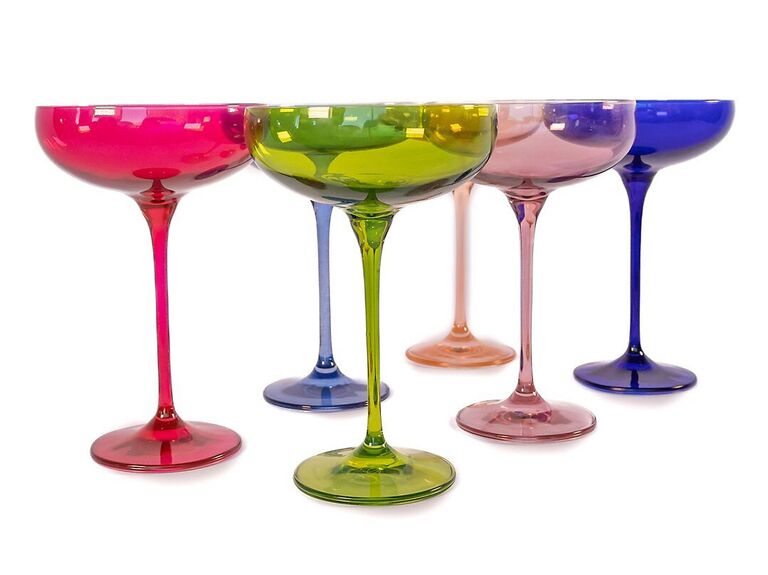 Coupe glasses are another great champagne-themed gift—especially when they're brightly colored, like this set from Estelle Colored Glass. The wide bowl exposes more air to the surface of the wine, which opens up the aromas and flavors. They come in sets of six with 13 different tint options and one assorted set.
7. Wine Bottle Chiller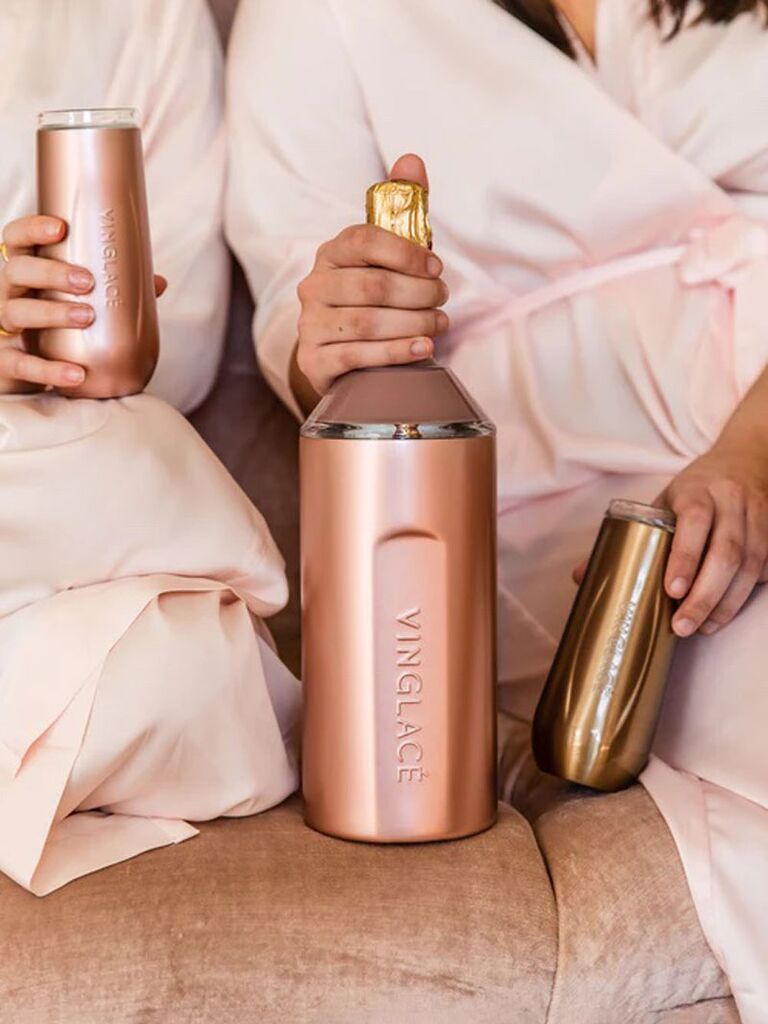 Keep a bottle cold without ice. This stainless steel, vacuum-insulated wine chiller will keep bubbles at the perfect temperature and ensure there's no slippery condensation when pouring. Better still, it comes in a gift box, so you just need to add a card and you have an easy champagne gift.
8. Pronged Cork Remover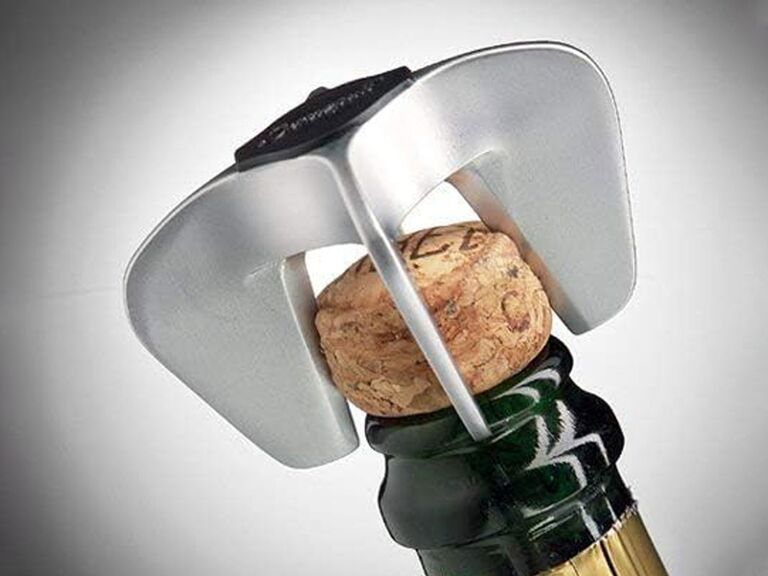 Note: When opening a bottle of sparkling wine, the cork should never be twisted. The cork should be held firm, while the bottle gets twisted to release it. Of course, this is easier said than done. A pronged champagne opener will help keep the cork in place while the bottle is rotated, then *pop*!
9. Mimosa Sugar Cubes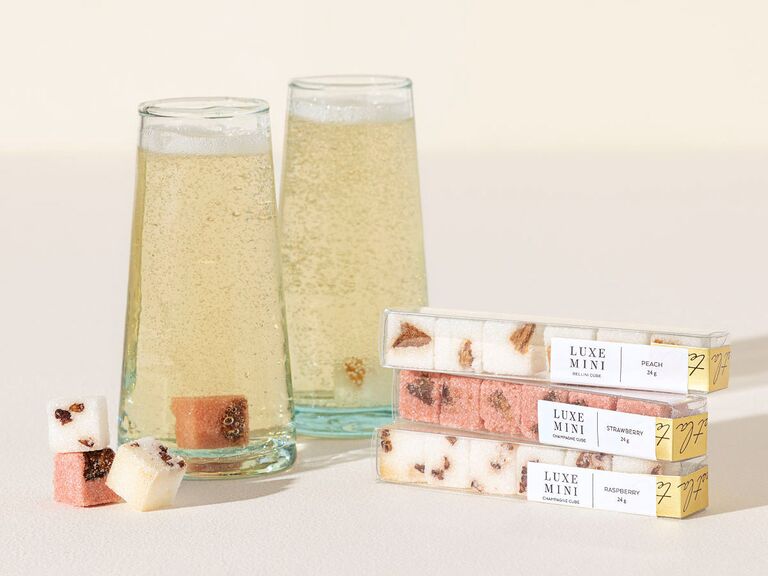 If they take their mimosas with a hefty pour of sparkling wine and just a dash of orange juice, these sugar cubes are the perfect gift. They simply drop a few of the flavored-infused cubes into a glass of bubbly, then watch it turn into a mimosa or bellini cocktail. Choose between the Citrus Trio (orange, grapefruit and lemon) or the Peaches & Berries Trio (strawberry, raspberry and peach)—or both—to gift with a bottle of prosecco.
10. Etched Flute Glasses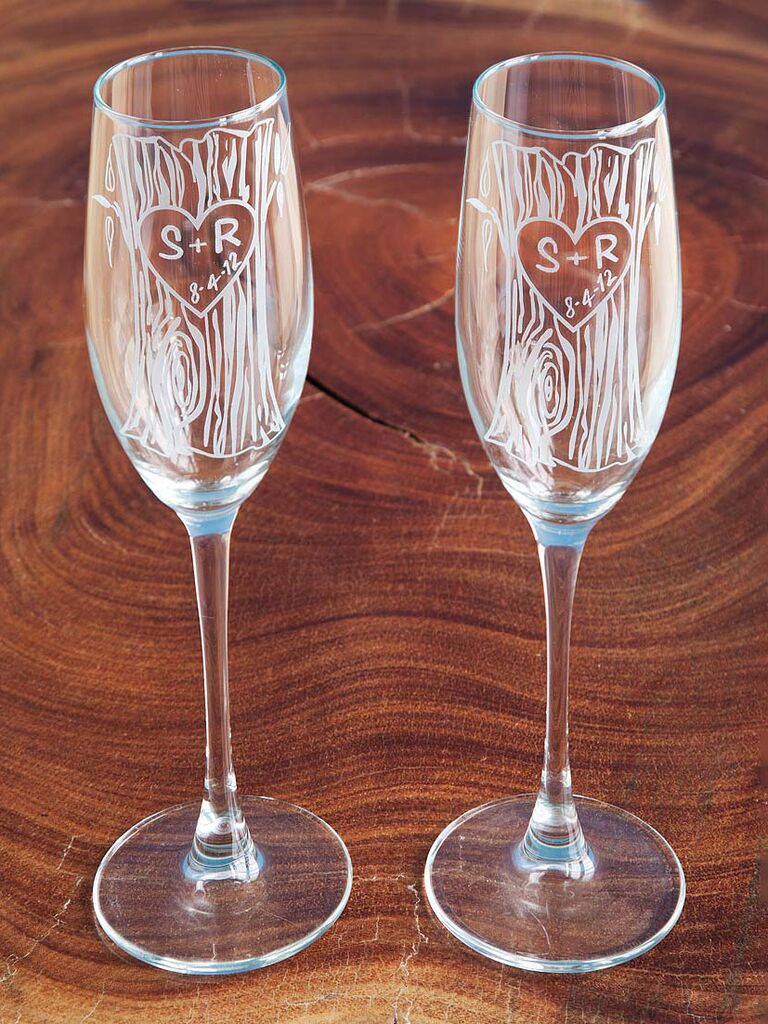 If you're wanting classic champagne flutes, we recommend this pair made specifically for lovebirds. The timeless bowl is hand-etched to look like a tree trunk, with the couple's initials and a special date (like their wedding anniversary) carved inside of a heart. They'll definitely want to put these in a place of prominence in their kitchen. The custom flute glasses make an especially great champagne wedding gift. Pair them with a nice bottle of bubbly.
11. Sparkling Cocktails Recipe Book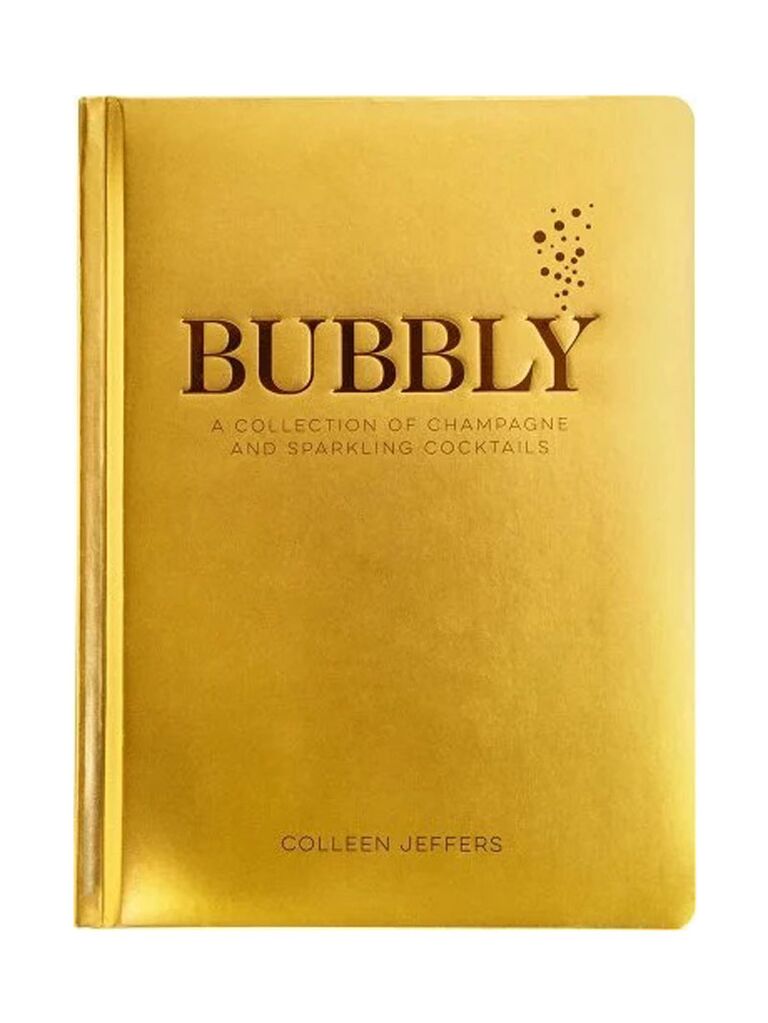 Sparkling wine is great on its own and as part of a cocktail. Bubbly is a recipe book of over 60 sparkling wine concoctions that'll wow expert and amateur mixologists alike. We especially love that there's a whole chapter on brunch cocktails.
12. Champagne-Scented Candle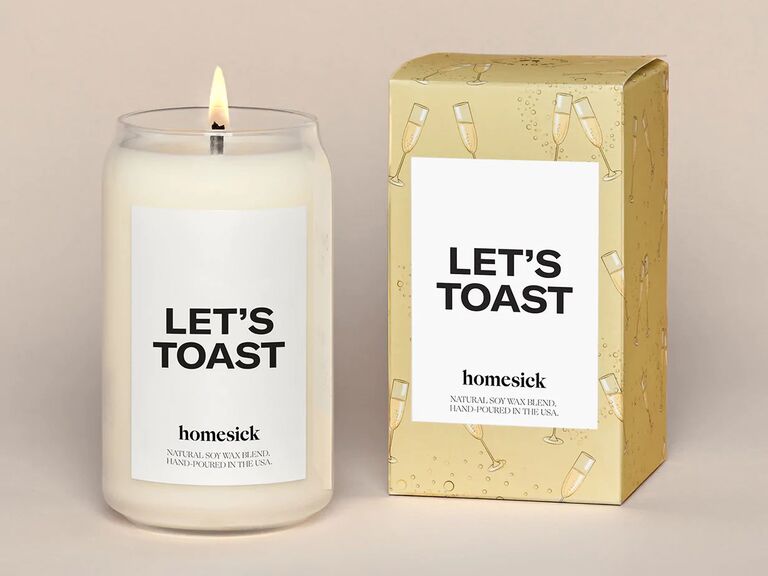 Shopping for a newly minted mother? "I'm especially a fan of gifting champagne to new moms!" Friel says. "They'll get plenty of baby-related gifts, but a bottle of champagne is just for her." Gift her this champagne-scented candle for celebrating the milestone before she has the baby and a bottle of Champagne or sparkling wine for after.
13. Champagne Saber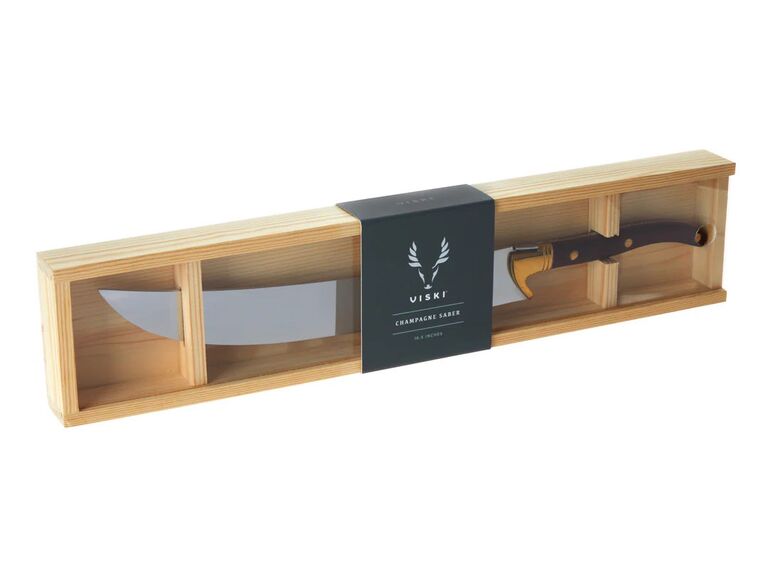 "The ultimate gift for the champagne lover in your life is a sabering sword. Sabering a bottle of bubbles involves gently tapping the bottle at the weakest point where the bottle seam meets the tip," Woessner says. "It's the greatest party trick of all time." This champagne saber is made with a 16.5-inch, stainless steel blade with a sleek wooden handle.
14. Champagne and Truffles Gift Basket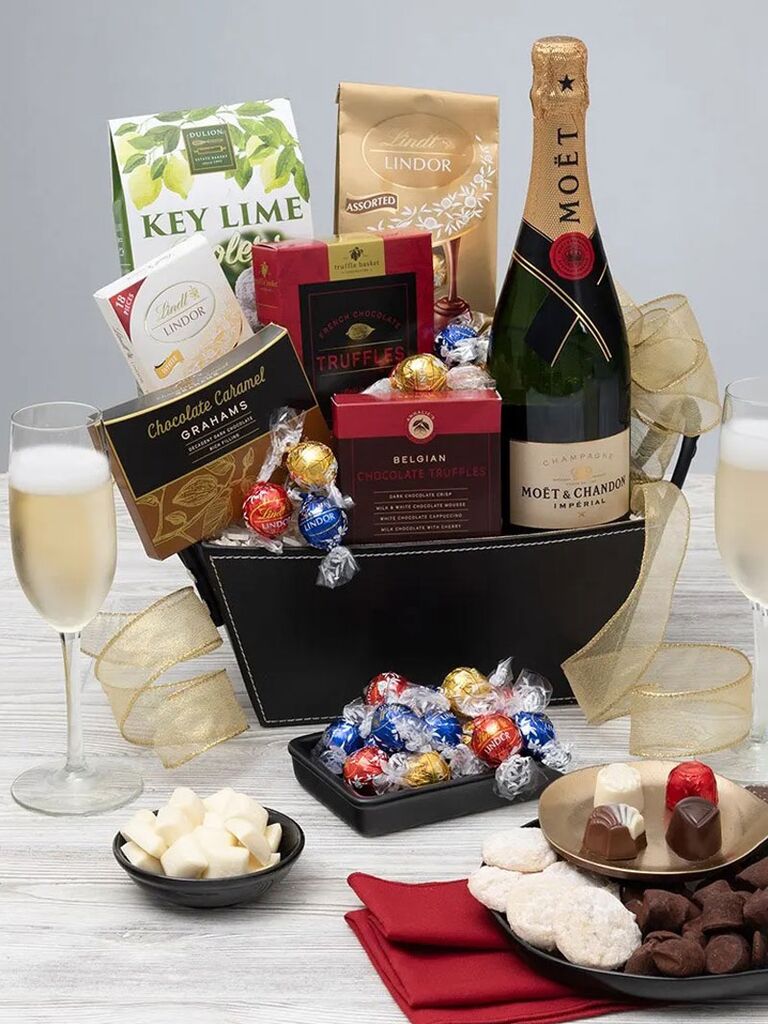 There's no denying wine—especially sparkling—goes great with chocolate. This Champagne gift basket includes a bottle of Moët & Chandon Imperial Brut alongside chocolate truffles. Add a personalized card to the delivery or send an email notification once it's shipped to let the recipient know their congratulatory Champagne gift is on the way.
15. Edible Glitter Packets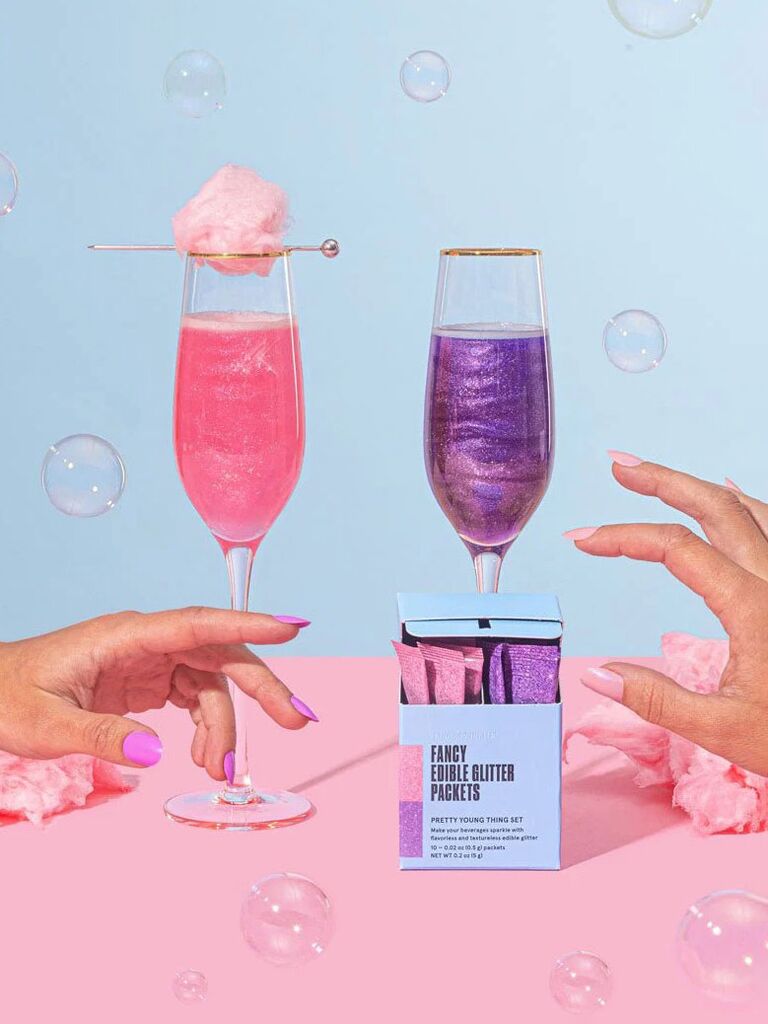 Searching for a fun champagne birthday gift? These edible glitter packets will make their flute of bubbly extra Instagram-worthy. The pack contains five bags of Tourmaline Pink and five packs of Amethyst Purple colors.
16. Life of the Party Earrings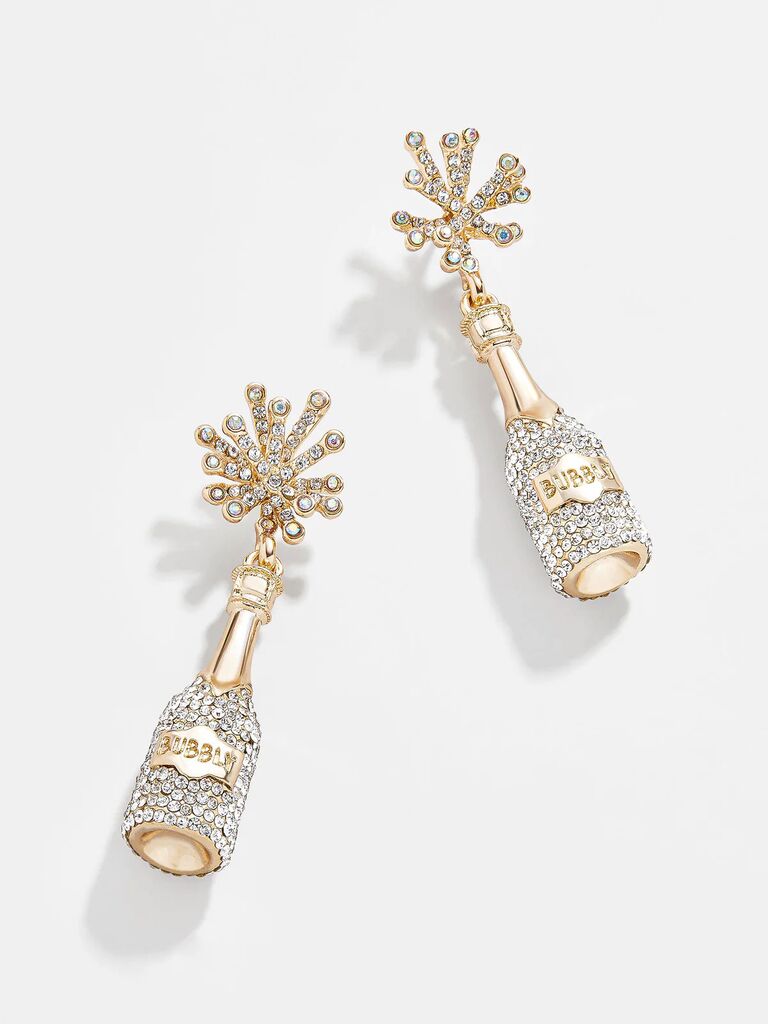 Whether you're shopping for a birthday or bachelorette weekend gift, these novelty earrings will be the finishing touch to any party outfit. The gold-toned and glittery drop earrings are in the shape of sparkling wine bottles encrusted with a bevy of handset rhinestones. They even feature an exploding fizz, which sits atop the lobe. Too fun!
17. Insulated Stemless Flutes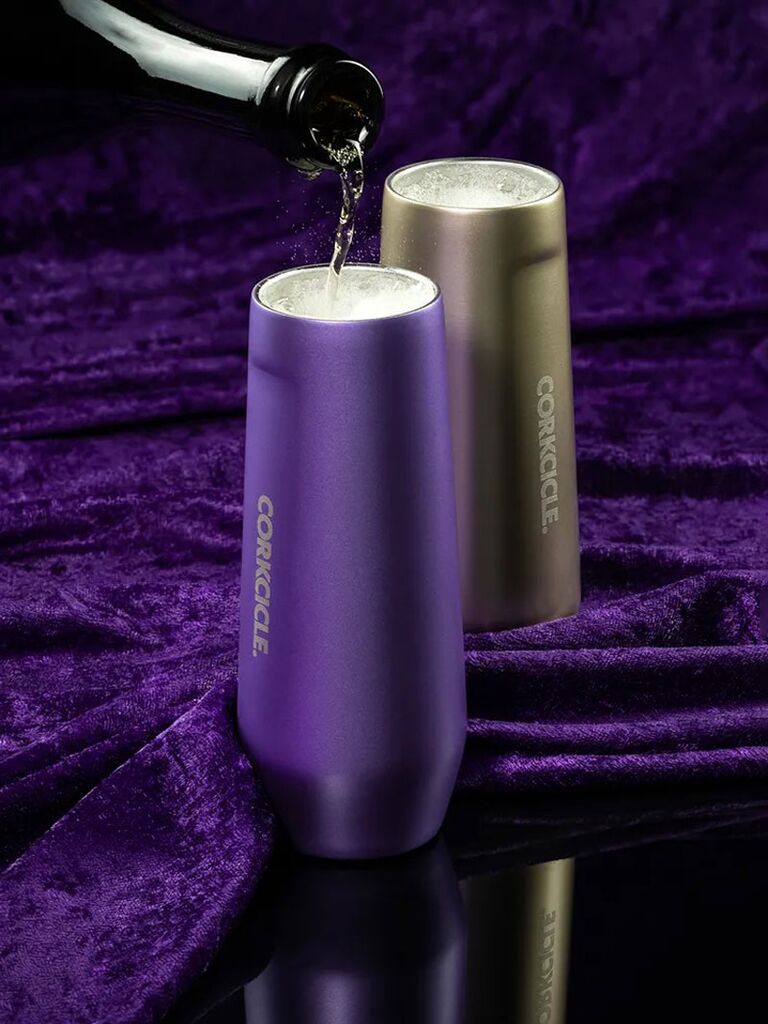 These insulated flutes will help them take their bubbly on the go! The stainless steel flutes are triple-insulated to keep sparkling wine cold, even if it's being enjoyed at a picnic in the summer heat. They come in five lustrous colors: purple, turquoise, mint, pink and shimmery white.
18. Floral Wine Charms
Here's a playful champagne-themed gift for a host. These wine charms look like different flowers and are designed to be strung around a glass's stem so each guest knows which drink is theirs. They're sold in sets of 12 and make a great addition to a champagne bottle gift.
19. Personalized First Toast Art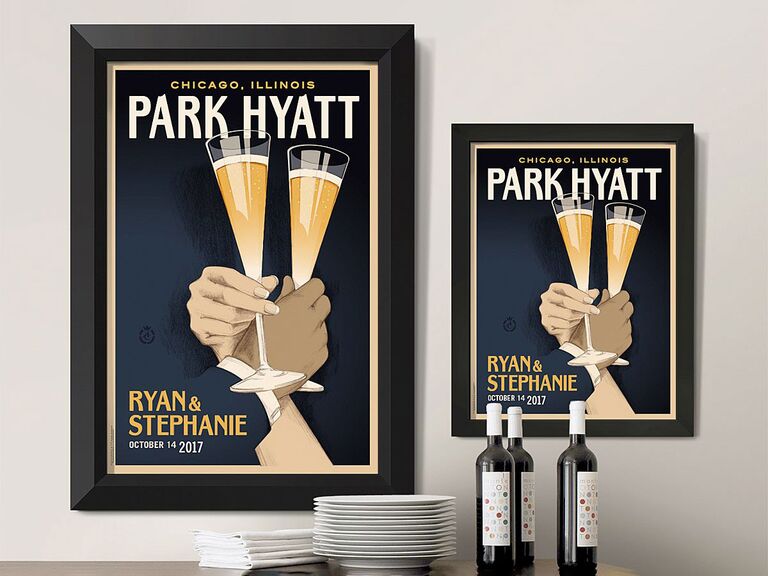 On the hunt for a champagne-related wedding gift? This custom art is just the thing. The nostalgic print features sharp, sans serif typography of the couple's wedding location, names and date, alongside a hand-sketched illustration of their hands raised in a toast. It comes in a standard or large frame, so it's wall-ready upon arrival.
20. A Trip to Champagne, France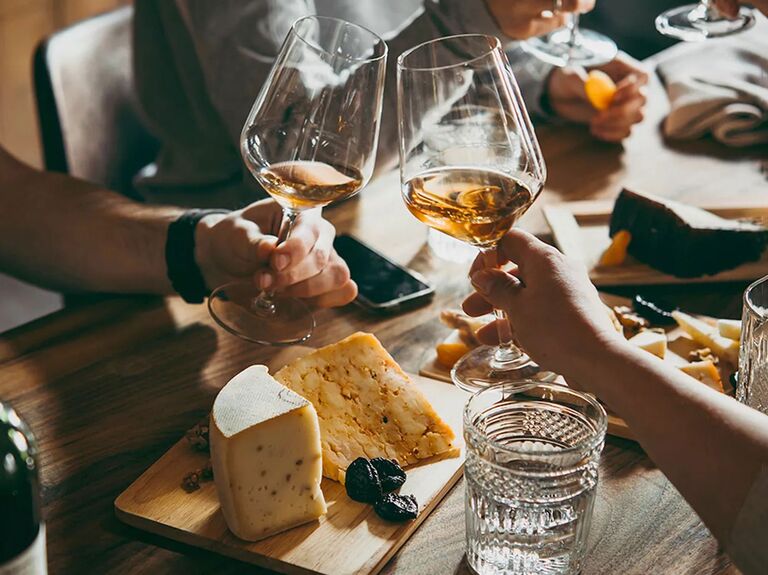 Here's a champagne gift idea for your partner—go on a romantic trip to Champagne, France together. This food and wine tour takes participants around Bordeaux, Burgundy and Paris with an extended excursion to Champagne to sample authentic French cuisine and, of course, bubbly over the course of 15 days. They take care of your hotels and flights as well as design the itinerary and pair you with local guides, so you can experience a new place without any stress.