12 Ideas for a Romantic Vineyard Wedding (And How to Plan Yours)
This elegant aesthetic ages like fine wine.
Whether you're a wine aficionado or you simply love the idea of exchanging vows in a scenic location, having a vineyard wedding might be the answer to your dream day. The upside includes a lot of perks (sweeping views and delicious wine pairings), but before you get started, take a moment to brush up on these expert tips for everything you need to know about planning your wedding at a vineyard or winery. And if you've already made your decision, we're sharing our favorite vineyard wedding ideas and winery-themed decor below.
In this article:
What Is a Vineyard Wedding?
In plain terms, a vineyard wedding takes place at a vineyard or winery venue. But just like any other type of event, there's no one-size-fits-all approach—ultimately, it's up to you to decide how much of the vineyard theme you want to incorporate.
"Vineyard weddings can be various events, ranging from dinner among the vines to a formal affair at a winery," says Meghan Magnasco, operations manager and principal wedding planner at So Eventful, a luxury event company in Healdsburg, California. "The options are as unique as each vineyard is, which allows any couple celebrating a vineyard wedding to let it be a reflection of who they are and their next chapter."
Vineyard Wedding Attire Considerations
Whether you're one half of the couple or you're attending as a guest, deciding what to wear to a vineyard wedding will depend on exactly where and when the event takes place. In general, you'll want to consider a few main things: your footwear, the season and the color palette of the surrounding scenery.
"If it's warm out, anything too heavy or restricting can be a damper on your wedding day," says Addie Reese, senior consultant at Mira Couture, a Chicago-based bridal boutique specializing in couture styles and custom designs. "No one wants to be dripping sweat in their wedding dress." For bridesmaid dresses, suits and other attire, Reese recommends dressing in a natural, earthy color palette, which looks stunning in a vineyard setting. Lastly, when it comes to footwear, keep the uneven terrain and outdoor location in mind. Open-toe shoes or stiletto heels can be uncomfortable (or even risky) to wear, so you may want to give guests a heads up about the venue so they're prepared accordingly.
How to Plan a Vineyard Wedding
Details like sound ordinances, liquor laws and limited utilities are all things to consider if you're hosting your wedding at a winery or vineyard. The good news is that you can work around these obstacles and still plan the celebration of your dreams. Read on to find out how to plan a vineyard wedding, from top to bottom.
Vineyard and Winery Wedding Themes
Vineyard wedding venues often inspire a laid-back yet elegant vibe that focuses on natural details and elements. Magnasco, who is based in California's famous Sonoma County, has years of planning wine country weddings and recommends either a rustic chic or boho vintage theme. Items like wooden farm tables, olive branch garlands, linen tablecloths and sophisticated glassware are just a few things to incorporate for an elegant vineyard wedding. Most importantly, focus on creating an environment that's welcoming and encourages mingling among your guests—preferably with a glass of wine in hand. "Set up a lounge made up of mismatched vintage and velvet leather pieces to layer together a beautiful and surprising space amongst the vines," says Magnasco.
Vineyard Wedding Venues
It goes without saying, but choosing a vineyard wedding venue that you love is another important step when planning your special day. The perks of having your wedding at a vineyard? You'll have beautiful built-in scenery, which means (potentially) less decor required on your end. "Vineyards are one of the few outdoor spaces that can truly allow you and your guests to connect not only to your wedding, but also to the amazing wine being produced, the winery's relationship to the area and the unique, intimate atmosphere," says Magnasco.
And because most vineyards have their own hospitality and event staff, you'll be able to work with a team of experts to coordinate every little detail. Some vineyards and wineries also have their own in-house catering teams, but if yours doesn't, they'll likely be able to recommend a selection of approved vendors they've previously worked with.
Vineyard Wedding Sustainability
If you're focused on planning a sustainable wedding, Magnasco says exchanging vows at a vineyard is a great choice. "Many vineyards and wineries, especially in Sonoma and Napa, are leading the charge on being organic and biodynamic, so holding your event at one of these venues is helping to support the movement," says Magnasco.
She notes that limiting the use of disposable items, limiting unnecessary power and water usage and working with vendors who have an eco-friendly mentality are all important when it comes to planning a sustainable vineyard wedding. Along with wine production, some vineyards also grow their own produce, which is ideal if you love the farm-to-table approach and want to embrace a seasonal, locally sourced wedding menu.
Vineyard Wedding Logistics
Just like any other type of wedding venue, there are a few hypotheticals to keep in mind when planning your vineyard wedding. Many are in remote locations, which is part of their appeal, but it could mean that you're dealing with limited or no access to utilities in some situations. There's also the uneven terrain to account for—both for your guests and your vendors—so it's important to think about wedding transportation and ease of movement in advance.
If you're dreaming of dancing all night long, be sure to ask about local sound ordinances, as some vineyards require music to be moved indoors or turned off earlier than usual. And because vineyards and wineries are in the beverage business, you might not be allowed to hire outside bartenders or serve hard liquor on the property (or there may be an extra charge to do so). We recommend working with a professional wedding planner, event coordinator or site manager to get all the details before you sign your venue contract.
Vineyard Wedding Ideas
Now that we've got the basics out of the way, it's time for our favorite part: ideas and inspiration. Bookmark these photos to inspire your own vineyard and winery wedding decor.
1. Rustic Elegant Wedding Invitations
For a chic-but-not-stuffy look, opt for wedding invitations that feature subtle natural details, like this laurel wreath crest around the couple's monogram. A timeless color palette of navy blue and white works well alongside vineyard-inspired tones, like green and burgundy.
2. Outdoor Wedding Ceremony
Showcase the natural beauty of your wedding venue by holding the ceremony outside if possible. Dress up the altar with a floral arch or chuppah, but overall, keep it minimal so you don't detract from the surrounding scenery.
3. Grape Escort Card Display
Kick off your vineyard wedding reception by displaying escort cards in wooden trays filled with bunches of grapes. It's a beautiful way to incorporate the natural elements of a vineyard venue.
4. Wine Cork Escort Card Holders
If your venue doesn't grow grapes on the property (for example, a standalone winery), you can incorporate the wine theme by using corks to display escort cards. Make each holder by bundling two or three different corks together using wine for a rustic look.
5. Grape Wedding Centerpieces
What better time to use grapes in your centerpieces than at a vineyard wedding? Complement fresh flowers with bunches of green or purple grapes depending on your color palette.
6. Long Reception Tables
This reception table setup is perfect for microweddings and family-style meals where guests pass and share plates. Arrange the table in the vineyard itself or beneath a grape canopy for an extra-cozy atmosphere.
7. Champagne Guest Book
Place a bottle of wine or bubbly at the center of each table and ask guests to write their well-wishes using a permanent marker. On future wedding anniversaries, you and your partner can enjoy the messages along with each corresponding bottle of wine.
8. Wine Bottle Seating Chart
Collect empty wine bottles throughout your engagement and use them to recreate this wedding seating chart idea. Fill the bottles with long-stem flowers and touches of greenery for added charm.
9. Charcuterie Board
No glass of vino is complete without some accompanying cheese or crostini. Set up hors d'oeuvres stations throughout the venue for cocktail hour or treat guests to miniature charcuterie boards at each table.
10. Laid-Back Place Settings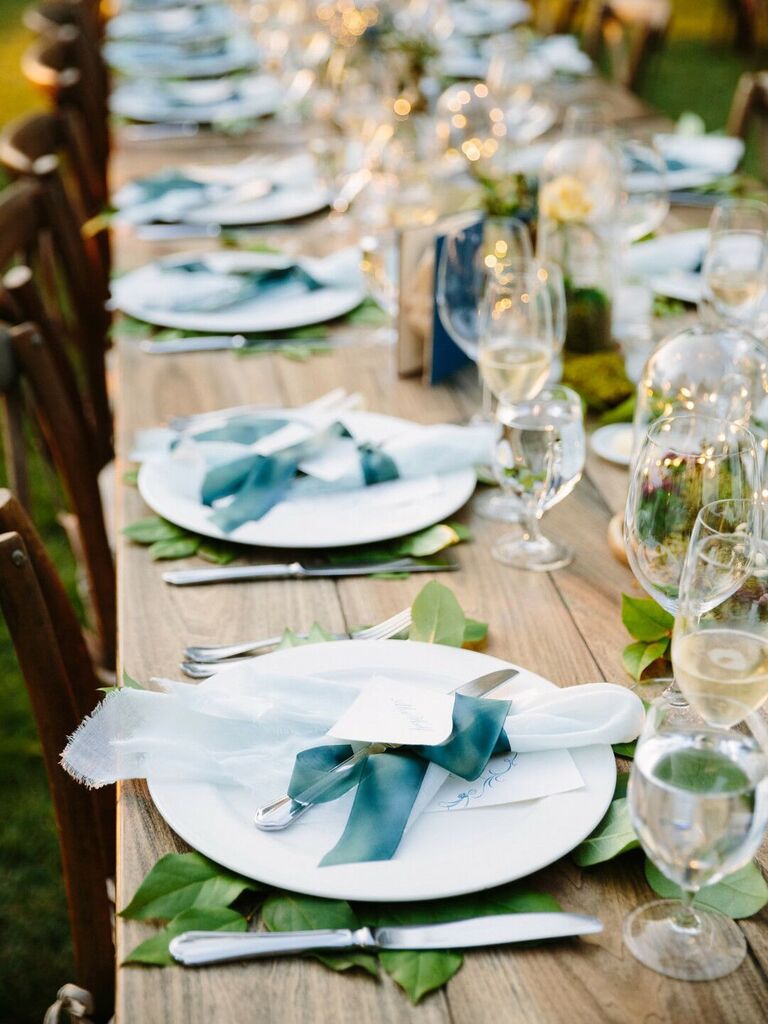 Your vineyard wedding decorations don't need to be fussy, especially for an outdoor reception. Keep your tablescapes stylish but simple by tying napkins with ribbons for a pop of color and accenting the centerpieces with fresh greenery.
11. Mini Olive Oil Favors
Edible wedding favors are always a hit, and they're a good pick for a vineyard or winery wedding theme. Send guests home with miniature bottles of olive oil, balsamic vinegar or other products inspired by your venue.
12. Greenery Wedding Cake
When it's time for dessert, slice into a buttercream wedding cake decorated with understated greenery to match the vineyard theme.