A Napa Valley & Sonoma Bachelorette Party City Guide to Plan Your Weekend
For a weekend full of vines, wines, and fun, there are no better places than Napa and Sonoma.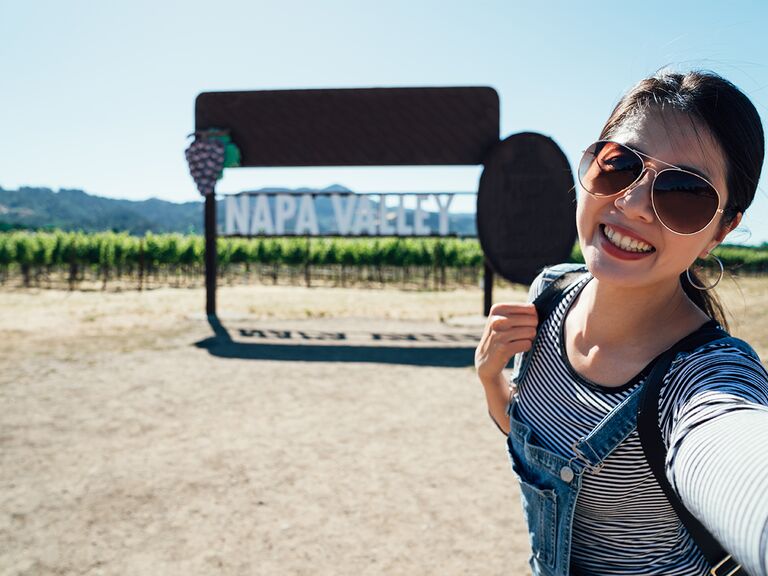 PR Image Factory/Shutterstock
We have included third party products to help you navigate and enjoy life's biggest moments. Purchases made through links on this page may earn us a commission.
If your bride is a wine aficionado, there is no better weekend than a Napa Valley and Sonoma bachelorette party. In these wine capitals of the U.S., you'll have plenty to taste, see, and do—and beautiful scenery to take in, too. From rolling vineyard hills to farm-to-table eats, and plenty of pampering, too, this is the ultimate girls' getaway. (Don't forget to thank the girls for making the trip with swag and matching attire from The Knot Shop—perfect for a bridal party photo shoot in the vines, too.)
What Are Some Napa Valley and Sonoma Bachelorette Party Ideas?
First thing on the menu on a Napa Valley and Sonoma Bachelorette Party: Wine of course! This is the trip for winos who want to taste some of the best sips on offer. But if you must stray from the vineyards, there is plenty else to see and do, including VIP spa packages, cooking classes, and even hot air balloon rides.
For the Wine Lovers
This is the bachelorette party for you! There are plenty of ways to get a multitude of tastings in on a Napa Valley and Sonoma bachelorette party. Pick from a number of options including the luxurious Napa Valley Wine Train, a private tour through four to five premier wineries (in a party bus, lunch included); take in both sights and sips with a half day of hiking and half day tasting tour; or work up a sweat on a bicycle tour through historic Sonoma Valley with stops at wineries for a quick refresher.
For the Foodies
While it's known for wine, Napa and Sonoma Valleys also have a great food scene, full of farm-to-table options and picturesque dining settings. Take a guided walking food tour of downtown Healdsburg (wine pairings included, of course); try your hand at seasonal cuisine with a cooking class; or eat at some of the most renowned restaurants, including The French Laundry.
For the Adventurer
If your bride has had enough wine that she's ready for a little thrill, there are plenty of activities to partake in. For starters, begin one of your days with a hot air balloon ride above the valleys, one of the best ways to take in the full scene. There's also plenty of hiking to scenic overlooks and waterfalls, as well as boat rides that will take you on a cruise to the San Francisco Bay.

What Do You Do at a Bachelorette Party in Napa Valley and Sonoma?
Day 1
Morning: If you're in time for breakfast or lunch, make your first stop Grace's Table, where you'll find iron skillet cornbread, cinnamon rolls, house-baked scones and croissants, grilled goat cheese, prosciutto and melon salad, pulled pork and egg tacos, and tamales on the menu, along with wines by the glass and tasty cocktails like the Jalapeno Wasabi Bloody Mary and Citrus Super Shandy.
Afternoon: Since guests may be trickling in throughout the day, skip hitting the vines today and opt for an afternoon cooking class at Cooking with Julie instead. In this hands-on cooking class, you'll get to experience Napa-style cuisine (think loads of local fruits and veggies) and of course the dishes you make (a 3-course lunch) will be paired with fantastic local fine wines.
Evening: For your first night, head to downtown Napa for dinner at Celedon, where you'll find a cozy rustic courtyard set along the Napa River. Here, you'll find the ultimate comfort food after a day traveling to your bachelorette party, including dungeness crab cakes, sweet coconut-fried prawns, rigatoni bolognese, and pan-roasted salmon. From there it's just a short walk to The Mule Lounge, a great spot for creative cocktails and one of the few (non-wine) bars in town open late. Or head to Cadet Wine and Beer Bar, open until 11 p.m. for everything from champagne to local wine to beer on tap.
Day 2
Morning: Wake up early to take to the skies for the ultimate Napa views. With Napa Valley Aloft, you'll have iews of Napa Valley that are well-worth the a.m. wake up call, plus a champagne breakfast following your flight.
Afternoon: Today's the day for exploring vineyards in Napa Valley. You can take the Napa Valley Wine Train or book a private tour that's set up for you, or you can create your own from the plethora of options out there. A few top notch spots to consider: Round Pond Estate offers one of the most scenic settings with a beautiful terrace overlooking the Mayacamas Mountains; have a picnic lunch at V. Sattui, which offers barbecue and wood-fired pizzas along with tastings in a beautiful oak tree-lined setting; Sterling Vineyards, where you'll take an aerial tram to a Greecian-style estate; Ovid Vineyards for tasty sips of organic Cabernet Sauvignon, Cab Franc, Merlot, and magnificent views; Domain Carneros if you're craving something sparkling to taste and a gorgeous chalet setting; or try your own hand at winemaking at Raymond Vineyards, where you can make your own blend (bottled and custom labeled) in their laboratory.
Evening: After a day of drinking, rest up a bit before heading out for dinner. Tonight is the ultimate in feasts: A booking at Thomas Keller's renowned The French Laundry. If you are lucky enough to snag a reservation here, it's well worth the price tag for this pre-fixe French dinner. Menus change daily but include options like hand-harvested Maine sea scallops with a saffron-orange emulsion, handmade macaroni with parmesan and shaved white truffles, and charcoal grilled Japanese Wagyu beef. Save room for dessert (think ice cream, chocolate, and candies). You're well outside of downtown for this top-of-the-line dinner, so consider making your way back to your house or hotel for the night and enjoying an easy night together—you'll probably be stuffed, anyway!
Day 3
Morning: Today, head to Sonoma Valley for the rest of your wine-tasting experience. Before starting out, stop at Alexis Baking Company for a quick breakfast (eggs benedict, omelettes, or challah French toast, for instance) or make your way to Sonoma and enjoy a quick pastry from Cafe Des Croissants in downtown Santa Rosa.
Afternoon: If you're skipping a pre-scheduled tour, consider booking a driver to take you to a number of Sonoma favorites so you can try them all. First, there's Viansa Sonoma, with its stunning courtyard and equally stunning views while you taste. Overlook Sonoma Valley at Arrowood Vineyards and Winery, with a tasting room set in a New England Farmhouse. Award-winning Moondance Cellars offers a boutique wine tasting experience in a casual country setting. In town you'll find other tasting room options, including the Lake Sonoma Tasting Room for a drink around fire pits on the outdoor patio. Or for estate-grown chardonnays and pinots, visit the historic Adobe Home in Sonoma square for Three Sticks Wine.
Evening: For your last night, head back to downtown Napa for dinner at Basalt, a great spot for fresh and locally-sourced cuisine including albacore ceviche tostadas, fried chicken sliders, steamed pork bunks, and Baja-style fish tacos. The chic restaurant also offers a private dining room for larger bachelorette parties. It's the perfect spot to end the perfect weekend.
Where Should I Stay in Napa Valley and Sonoma for a Bachelorette Party?
While there's plenty within walking distance in downtown Napa, you're going to be spending a lot of time in the car to get to vineyards and wineries in the sprawling valley. So be comfortable with booking car services or Ubers in order to get where you're going, and don't worry about staying right in town if it's not within your budget or party size restrictions.
Best Napa Valley and Sonoma Bachelorette Hotels
The Napa Valley Marriott Hotel is a great option for mid-range budgets looking to get away from the more boutique options in the area. Boasting renovated rooms, a resort-style swimming pool, and beautiful spa and garden, you'll find plenty of R&R here.
The Silverado Resort is a luxury-favorite in Napa, with a sprawling estate, spa, and a number of on-property restaurant options including local wines and home-baked goods at its Market & Bakery.
Hotel Healdsburg is a great option if you'd rather be closer to Sonoma. Its amenities include a spa, beautiful surroundings, and 60-foot pool and jacuzzi (plus a pool bar).
Best Napa Valley Bachelorette Party AirBnBs
Though on the pricier side of things, this Sweet Bungalow is perfect for small groups (up to 6) looking to be super close to downtown Napa.
Large groups will love this Vineyard View Estate, which sleeps up to 14 and offers a pool and hot tub, along with an extra guest house, set on two acres with vineyards, olive trees, and citrus trees for views..
In Sonoma, find the Villa Habana, a Mediterranean-style home with river views and plenty of outdoor hanging space. It's great for large groups, sleeping up to 12 across 6 bedrooms.
For other home rental options, we've found success using sites like VRBO and HomeAway.com.