Romantic Winter Proposal Ideas That Say "I Love You Snow Much"
Whisk your S.O. away into a winter wonderland for your proposal.
Photo: Wirestock Creators / Shutterstock
There's just something magical in the air during winter. With all the twinkling holiday lights, starry nights and snowy locations, 'tis the season for true love. That's why we put together this list of winter proposal ideas to help you plan an ultra-romantic engagement for the books. (Plus, a bulky coat pocket is the perfect place to hide the ring from your unsuspecting future spouse.) So grab your proposal checklist and get ready for some wintery inspo that'll sweep your love right off their feet.
In this story:
12 Wonderful & Romantic Winter Proposal Ideas
Between all the snow and cozy evenings, winter is such a romantic time to pop the question. We've rounded up some of our favorite proposal ideas for this sweet season to help you plan this major milestone in your love story.
Day in the Snow Proposal
What's more magical than a world covered in snow? Take a stroll through a snowy forest or make a snowman with your significant other before popping the question. This is one wintery proposal they won't soon forget.
Ice Skating Date
You can rent out an ice rink and play your favorite songs for this winter engagement idea. And if you've got the rink to yourself, you can ask about throwing flower petals down or even having a picnic on the ice after the "just said yes" moment.
Night Under the Stars
Bundle up with your coziest blankets and warm snacks for a night looking at the winter constellations. The love of your life will soon have a sparkler that rivals the stars when you propose.
Romantic Sleigh Ride Proposal
A sleigh ride through the city is on many romantic to-do lists. And what better way to elevate this moment than with a brand-new ring? Pop the question during this wintery activity for a memorable engagement.
Holiday Movie Night Engagement
You can easily make your holiday movie night one for the books with this proposal idea. Set up a screen outside or cozy up by the fire indoors with winter classics like The Holiday and When Harry Met Sally. You can even take inspiration from movies like Love Actually with some poster boards and seasonal music.
S'mores by the Campfire
Tell your S.O. "I love you s'more" with a night by the campfire for your big question. You can roast hot dogs, share memories from your love story and enjoy your newly engaged status around a cozy fire.
Wintery Scavenger Hunt Proposal
Send your future fiancé(e) on a race across town with a winter-inspired scavenger hunt. You can choose your favorite locations for hot cocoa or where you shared your first kiss. This will all lead them to the end, where a ring will be waiting for them at the finish line.
Fireplace Picnic
If you're not outdoorsy, then a night in might be just the thing for your big moment. Pop the question with a picnic indoors, right by the cozy fire. You can even try a fondue with the fireplace with your favorite melty cheeses, bread and treats.
Cabin Retreat Weekend
Book a weekend away in a snowy cabin for just the two of you. If flash mobs and big audiences aren't your cup of tea, then this private venue is perfect for a memorable and secluded proposal. Surprise them with rose petals on the bed or a champagne toast in the hot tub.
Winter Photo Proposal
Turn your winter photos into an opportunity to capture your proposal. You can even bring along your fur babies to help pop the question, and these pics will make a great engagement announcement for your annual holiday cards.
Ski Trip Engagement
This one's for the active couple who loves snow sports. Plan a trip to your favorite resort for skiing or snowboarding, and you can ask the big question at the bottom of the slope. Try surprising your S.O. by inviting their family to celebrate after.
Holiday Crafts Proposal
Turn your holiday crafting into a surprise proposal. Whether you're making ornaments, gifts or other winter-themed crafts, your love won't see the ring coming with this idea. You can even try hiding it in your craft supplies for a fun twist.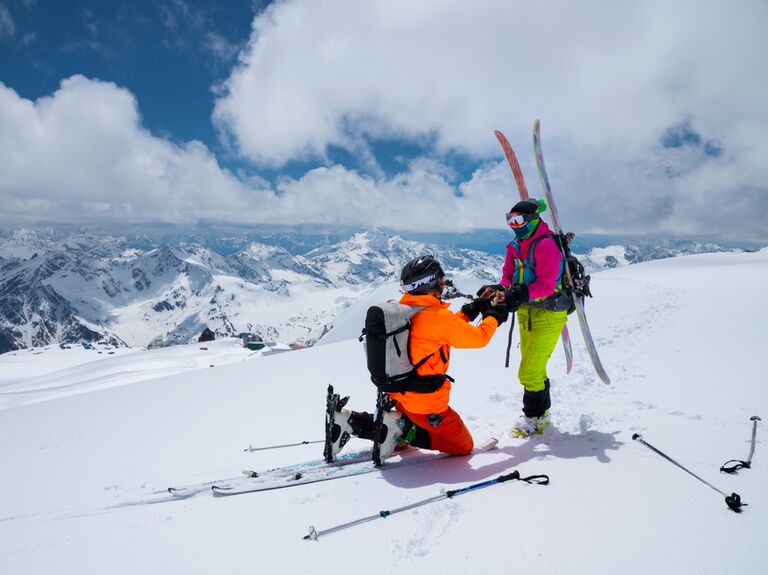 Four Tips for Planning a Winter Proposal
Planning the perfect proposal means figuring out what to say and where you want this memorable moment to happen. And for a winter proposal, there are some other things to keep in mind. Here are some tips for making your "just said yes" moment go more smoothly.
Consider the Weather
Winter weather can be tricky, which is why being flexible is key during this season. Make sure you're checking weather apps frequently and having backup plans in case things are a little too icy or snowy outside. Sometimes, an indoor venue can be even cozier and magical.
Hire a Photographer
Hiring a photographer to capture the moment on the sly is a great way to look back on this memory. Search on The Knot Vendor Marketplace for local engagement photographers you can work with for your winter proposal.
Cater It to Your S.O.
Has your partner dreamt of a big public proposal with all your loved ones gathered around? Or do they hate being the center of attention? Ensure you're catering this moment to their wants and needs, and plan around those for either a public moment or something more private, just the two of you.
Make it Memorable
There's no doubt this moment will be memorable, but adding a few extra touches to make it personal to your history will really stand out. Consider choosing a special date to you both, booking your favorite restaurant afterward or even placing pictures around the venue of your time together. Little things like this add up and will show your S.O. just how much you care.