Zika Virus 101: A Q&A With Experts Regarding Mosquitoes and Marriage Plans
Traveling for pre-parties or your wedding or honeymoon? Experts respond to your Zika concerns.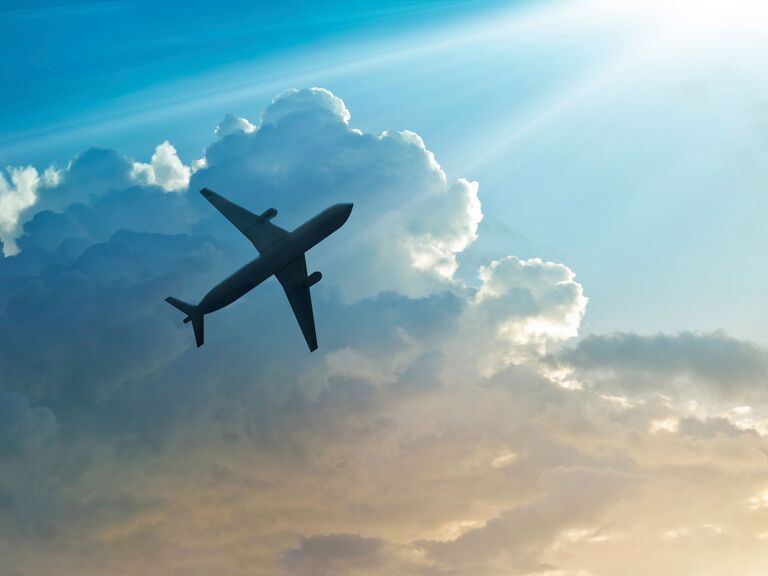 iStock
Regardless of travel plans, many people are on high alert given the alarming news coverage of the Zika virus—the sometimes mosquito-transmitted disease causing possible birth defects in fetuses. That stress intensifies when planning a destination wedding, honeymoon or related pre-party event, especially since so many couples choose Mexico and the Caribbean as destinations. Former The Bachelorette star Ali Fedotowsky even canceled her Mexico nuptials to prevent any of her friends in "baby mode" getting and spreading the virus.
If you're celebrating the last of single life in vacay style, bringing your guests in for a tropical celebration or getting the baby-making started early on your first newlywed trip, you likely have a lot of questions about how you and your guests can stay safe. We've paired up with two experts to provide answers and help put your mind at ease: Amy Pope, Deputy Assistant to the President of the United States and Deputy Homeland Security Advisor on the National Security Council staff of the White House, and Vivian Romero, MD, board certified in obstetrics and gynecology with Spectrum Health Medical Group with a special interest in high-risk pregnancies and preconception counseling.
Which areas of the world are currently affected by Zika?
Pope: Reports of active transmission have occurred in Central and South America, the Caribbean Islands, the Pacific Islands and Africa. The Centers for Disease Control and Prevention (CDC) recommends that pregnant women should not travel to areas with active Zika transmission and that men who live in or travel to an area with active transmission and have a pregnant partner should use condoms or not have sex during the pregnancy. This is a rapidly changing situation, so you should always check CDC travel notices.
What are all the ways Zika can be transmitted?
Pope: The primary routes of Zika transmission include:
● Mosquito bites: Zika virus is transmitted to people primarily through the bite of an infected Aedes species mosquito (A. aegypti and A. albopictus). These mosquitoes typically lay eggs in and near standing water in things like buckets, bowls, animal dishes, flower pots and vases, which is why it is important to remove standing water in and around your home. These mosquitos are found in many areas of the United States
● Mother to child: A pregnant woman can pass Zika virus to her fetus during pregnancy. Zika is a cause of microcephaly and other severe fetal brain defects. Pregnant women can protect themselves by taking steps to prevent mosquito bites and by avoiding travel to an area where Zika is spreading. If your partner has traveled to or lives in an area with active Zika, you can prevent Zika by using condoms during sex or not having sex during the pregnancy.
● Sexual contact: Zika virus can be spread by a man to his sex partners. CDC recommends men who have been infected with Zika use condoms or abstain from sex for at least six months to protect their partners. Regardless of whether they have confirmed Zika or not, men with pregnant partners who have traveled to or live in areas with Zika transmission should use condoms or abstain from sex throughout the pregnancy.
What are ways couples and their guests can protect themselves against Zika if traveling?
Pope: First, follow CDC recommendations and avoid traveling to areas with active Zika transmission. Second, if your partner has traveled to or lives in an area with active Zika transmission, you can prevent Zika by using condoms during sex or not having sex during the pregnancy. Third, at any time, to reduce the risk of Zika, you can:
● Use an EPA-registered insect repellent.
● Wear long-sleeve shirts and pants.
● Stay in places with air-conditioning or screens to keep mosquitoes outside.
● Take steps to control mosquitoes inside and outside your home, such as removing any small pools of water near your home where mosquitoes can lay eggs and repairing any damaged window or door screens.
How long after you return from an area with Zika should a couple wait before trying to get pregnant?
Romero: If a couple traveled to an area with Zika, they're at risk of being exposed to the Zika virus, but it does not mean that they've been infected. For those with symptoms, characteristic clinical findings are acute onset of fever, macular or papular rash, joint pain or conjunctivitis. Other commonly reported symptoms include muscle pain and headache. Clinical illness is usually mild with symptoms lasting for several days to a week. However, most people infected with Zika virus will not have symptoms.
Testing can be offered from 2 to 12 weeks after pregnant women return from travel to areas with active Zika virus transmission. However, routine testing is not currently recommended for non-pregnant women or men with possible Zika virus exposure who do not have clinical illness, even if the couple is attempting conception.
If the woman had Zika virus disease, she should wait at least eight weeks after symptom onset to attempt conception. If her male partner also had confirmed or presumed Zika virus disease, he should wait at least six months after symptom onset to attempt conception.
For brides who are taking their honeymoon several weeks after the wedding and could be pregnant and not yet know, is there a point during the pregnancy where she and her fetus are at highest risk?
Romero: There is limited information available about the risk of periconceptional (the period from before conception to early pregnancy) Zika virus infection. Three early case reports suggest there may be adverse outcomes associated with Zika virus infection in early pregnancy, including pregnancy loss and severe microcephaly. Information from other viral infections occurring around the time of conception indicate there are associations between periconceptional infections and adverse outcomes, although timing of infection and conception in these cases was often unknown.
When will there be a vaccine to protect against Zika?
Pope: Work is actively underway to develop a vaccine. Researchers are working to prepare vaccines for preliminary clinical trials this fall, which would examine whether an experimental vaccine is safe and generates expected responses. A safe and effective Zika vaccine for use in the broad population will likely not be available for a few years.
Are you safe if you honeymoon in the US?
Pope: Right now, there have been no cases of locally transmitted Zika in the continental United States. However, there have been hundreds of US Zika cases in travelers returning from areas with active Zika transmission. There also are more than a thousand cases of locally-transmitted Zika in the US territories, mostly in Puerto Rico. In the summer months, we expect to see cases of local transmission in the continental US, based on our experience with dengue and chikungunya, viruses that are transmitted by the same kinds of mosquito as Zika.
Considering all of this, what is your advice to couples planning honeymoons to these countries? Should they take the risk?
Romero: CDC recommends health care providers advise waiting at least eight weeks after a person's possible exposure before attempting conception.
Currently there are only recommendations for pregnant women. The CDC recommends pregnant women in any trimester not travel to an area with active Zika virus transmission. Decisions about pregnancy planning are personal. It's recommended that couples discuss their decisions about attempting conception in consultation with a health care provider.
How do you relax and enjoy a honeymoon with Zika top of mind?
Romero: Take appropriate steps to prevent mosquito bites and infection with Zika virus through sex.