A Kansas City Bachelorette Party City Guide to Plan Your Weekend
This Midwestern city is the perfect spot for a fun-packed weekend with the ladies.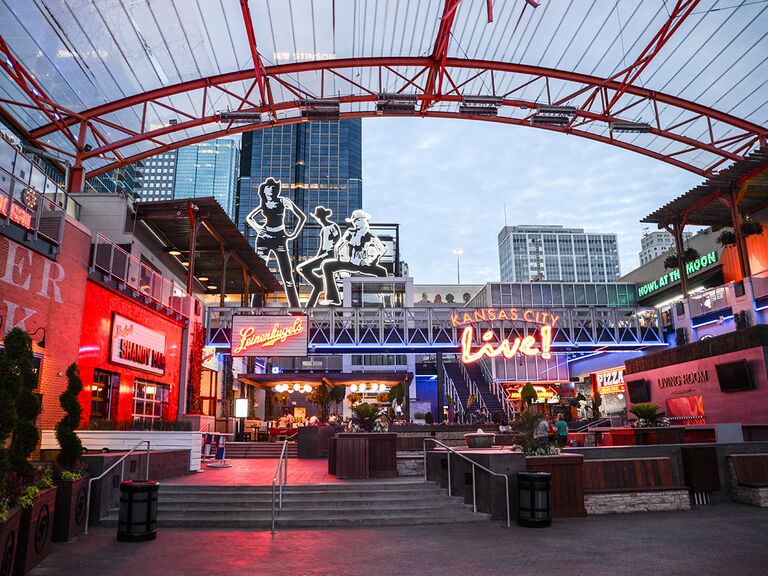 Suzanne C. Grim/Shutterstock
We have included third party products to help you navigate and enjoy life's biggest moments. Purchases made through links on this page may earn us a commission.
There's a reason Kansas City is called "Paris of the Plains." There's a ton to do on a Kansas City bachelorette party packed into this Midwestern city. For starters, a nightlife that rivals some of the biggest metropolitan areas in the country, with a food and drink scene to match. Then there's the city life: spas, shopping, and history to explore. For the ultimate getaway with the girls, consider this your personal paradise.
What Are Some Kansas City Ideas?
There's plenty to explore and do in Kansas City, so get ready for a weekend of fun. Whether you're looking to take on this midwest city, get a little R&R, dance the night away, or drink and eat until you can't take it anymore—a Kansas City bachelorette weekend has enough options to meet all your party needs. (Plus, The Knot Shop has plenty of gear to outfit your bride tribe in for the ultimate gal pal photoshoot.)
For the Drinkers
Kansas City has a lot to offer drinkers of all kinds, be they lovers of beer, wine, or spirits. For beer connoisseurs, hop on the Barley Bus tour to breweries like KC Bier Co., Red Crow Brewing Company, and East Forty Brewing. For wine lovers, find in-town wineries that offer tastings like Amigoni Urban Winery, KC Wineworks, or head a bit out of town for a day at Vox Vineyards. And those who prefer hard liquor over wine and beer can take a tour and tasting at Tom's Town Distillery, Mean Mule Distilling Company, or Lifted Spirits.
For the Explorer
There are lots of different ways to see Kansas City for those who want to explore the history and culture of this place. If you want to do it with a drink in hand, consider booking a Pedal Hopper, where you will explore the city on a party bike and hop in at a few different bars. For a different kind of fun, make a scavenger hunt of Kansas City to explore what the town has to offer, or take an urban hike through the city's art district and Westside.
For Those in Need of R&R
There are plenty of spas around the city that will help take your bride's mind off wedding planning. Consider the Spa on Penn for a facial, massage, or steam in the sauna. Or get ready for a night on the town with manicures at Paint Nail Bar, where the party package offers food, drinks, and decor along with your treatments.
For the Night Owls
In Kansas City, there is no shortage of fun to be had at night on a bachelorette party. Whether you attend a 70's-era disco party at Funky Town, sing your heart out at Hamburger Mary's or Howl at the Moon, or try your luck at Argosy Casino.
What Do You Do at a Bachelorette Party in Kansas City?
Day 1
Morning: If you arrive early enough, head to breakfast or brunch at Succotash, where you'll find a juice menu for a healthy start to the weekend, along with fun coffee options (a cotton candy cappuccino, for one), and breakfast staples like buttermilk pancakes, benedicts 4 ways, and French toast.
Afternoon: Take it easy this afternoon by pampering yourselves and your bride with manicures and pedicures at Paint Nail Bar. Book a party package and you'll enjoy small bites, cocktails, and fun bachelorette decorations along with your treatments. Now everyone will be ready for your first night on the town!
Evening: Head to Ca Va for your first dinner in Kansas City. The restaurant's champagne bar will have everyone feeling, well, bubbly, and the dinner menu options like roasted beets with caviar, salad nicoise, and the French dip will have everyone filled up for a night on the town. Then pick your poison for the night: Right next door you'll find The Westport Saloon, home to live music, a big whisky menu, and casual atmosphere. Or a few steps away you'll find ThrowBack, a 90s-theme club where you can dance the night away and book VIP bottle service. For a cocktail and girl talk kind of night, consider Julep, also right next door, where a chic vibe and craft cocktails are on the menu.
Day 2
Morning: Grab an easy breakfast at Harvey's at Union Station, where you'll find great fare to fill you up and get you ready for the day, including cinnamon roll pancakes, biscuits & gravy, omelets, breakfast burritos, and yogurt parfaits.
Afternoon: From breakfast, it's all about exploring the bevy of beverage options in Kansas City. The best way to do so is by booking a private Barley Bus tour which will take you to breweries, distilleries, and wineries around the city. Pick from one of the categories, or combine all three to get a taste of what Kansas City has to offer. Each tour includes three stops, tastings and a behind-the-scenes tours, as well as light snacks.
Evening: Skip a sit-down happy hour in favor of a Pedal Hopper, which will keep your buzz going. A two hour cruise (powered by you) takes you around some of Kansas City's best bars and watering holes, where you'll have time to stop and grab a drink or snack along the way. When you're done with your ride, head back uptown for a casual yet iconic dinner of Kansas City barbecue at Jack Stack Barbecue. Then it's off to drinks at The Monarch, which offers seasonal craft cocktails (we recommend the aptly named "Swipe Right"). Or for a more lively night, try Off Key Karaoke Lounge for a night of singing and dancing.
Day 3
Morning: Today is all about a last day of fun, so kick things off with brunch at Hamburger Mary's. This drag brunch (offered at 11:30 a.m. and 1:30 p.m.) includes drag queen entertainment, lots of laughs, big bloody Mary's and bottomless mimosas.
Afternoon: It's time to sweat out all the bad deeds of the weekend. Gather the girls for a fun bit of exercise that will have you flexing muscles and laughing in good fun. At Poleworx, you can book a private bachelorette party pole dancing class. Choose between a one-hour class that shows you how to work the pole, or extend your time for two hours to include food, games, and presents along with your workout.
Evening:. Head to the penultimate dinner at Corvino Supper Club. Here, you'll find a seasonal menu meant for sharing (think: beet salad, fish and chips, gnocchi bolognese, and homemade focaccia, for examples), a fantastic wine menu, and bartenders who will craft cocktails to your taste. Plus, there's live music every night. It can be pricey, but it's a great meal to end the weekend. Then, spend your last night in Kansas City at SoT, a casual cocktail bar where you'll find cozy booths, a comfy outdoor patio, and delicious high-end handcrafted cocktails.
Where Should I Stay in Kansas City for a Bachelorette Party?
Kansas City's downtown is pretty walkable, so consider staying in the heart of the action to make things easier on your crew. But if you need a bigger space for your bride tribe, cabs and Ubers are plenty easy to get for a short hop into the city.
Best Kansas City Bachelorette Hotels
The Crossroads Hotel offers a great downtown stay with modern, chic amenities, including a rooftop bar with cozy seating and great views. All for reasonable prices.
For a budget-friendly option, consider the Kansas City Downtown Marriott, which offers easy access to area attractions, and plush rooms.
If you're going for luxury, you can't be The Fontaine, in the heart of the city and near the upscale shopping of Country Club Plaza. This top-of-the-budget spot is ornate, but also includes suites and a bar and lounge with fire pits.
Best Kansas City Bachelorette Party AirBnBs
A Five-Bedroom House near downtown is a great central location that sleeps up to 12 and offers great hangout space for you and your crew at an affordable price point.
Large groups will love this Modern House with a Patio and Backyard that can sleep up to 15, also affordable, this comes with the perk of outdoor space.
For more intimate groups and settings, try a Kansas City Bungalow near Westport. The three-bedroom home can sleep up to 8, and comes with plenty of charm including modern finishes and an outdoor firepit.
For other home rental options, we've found success using sites like VRBO and HomeAway.com.