31 Destination Wedding Save-the-Dates for a Far-Flung Celebration
A wedding far away calls for an extra-special save-the-date.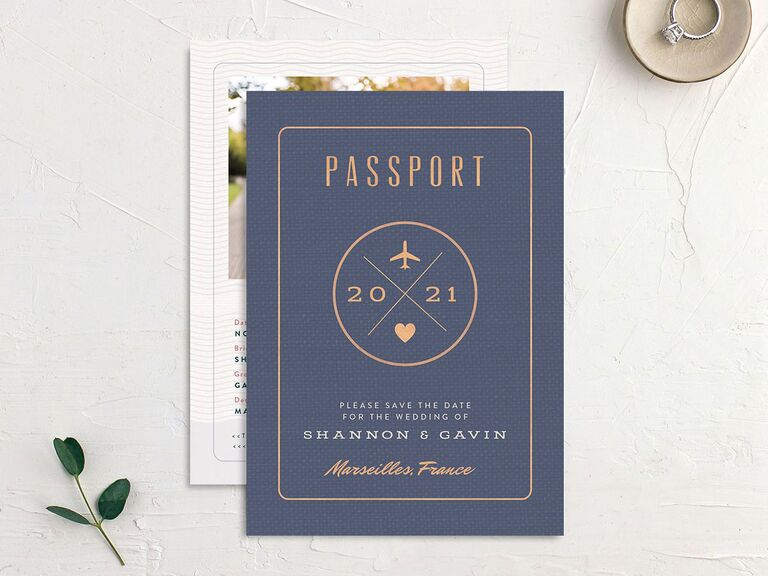 We have included third party products to help you navigate and enjoy life's biggest moments. Purchases made through links on this page may earn us a commission.
For most of your guests, a destination wedding means vacation time. So why not set the relaxed (or adventurous) vibe right from the get-go? Consider one of these destination wedding save-the-dates, guaranteed to get guests excited about your nuptials—and their upcoming getaway. (PS: With The Knot Invitations, you can match your customizable save-the-dates to your wedding invitations, RSVP cards and thank-you notes too.)
Boarding Pass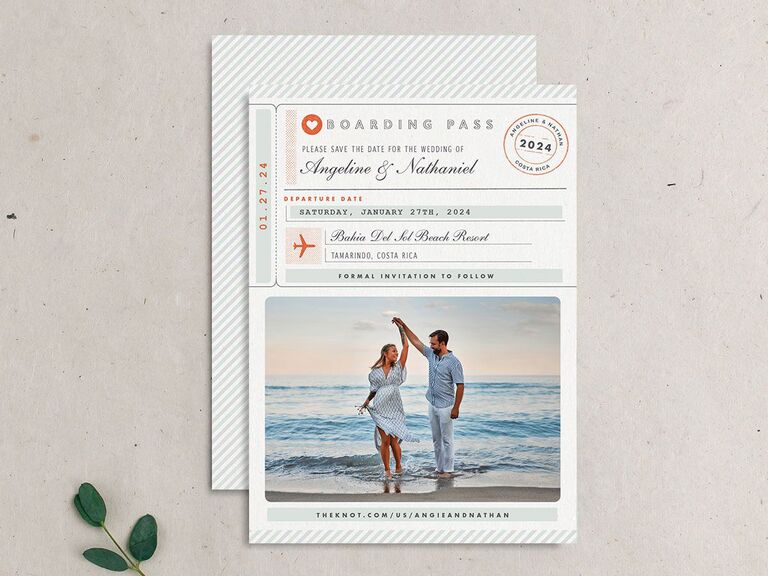 Let your guests know they're in for an adventure abroad as soon as they open the envelope. You can personalize these vintage boarding pass cards with your country, venue and even a picture from your engagement photo shoot.
Amalfi Dreaming
Saying "I do" in Italy's Amalfi Coast or Sicily? These Italian-themed save-the-date cards will instantly transport your guests to Europe. We'll raise a glass of limoncello to that.
Shore Thing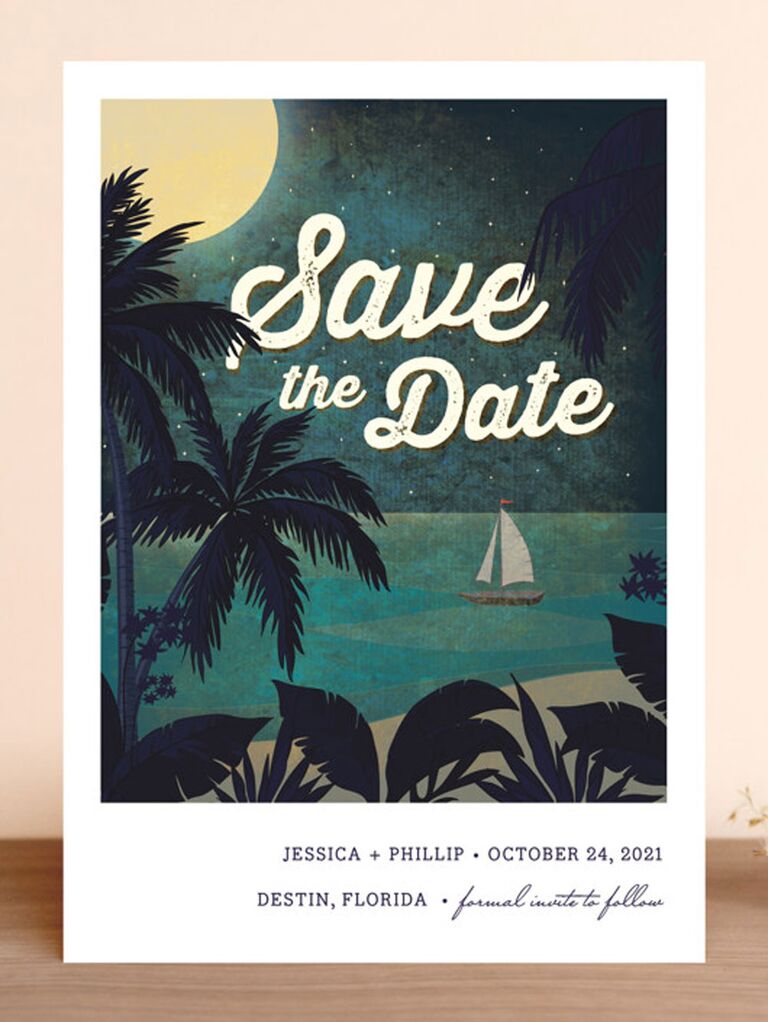 Give them a taste of what to expect at your beach wedding. The scene shown on these destination save-the-dates sets the tone for a nighttime celebration on a distant shore.
Pretty Protea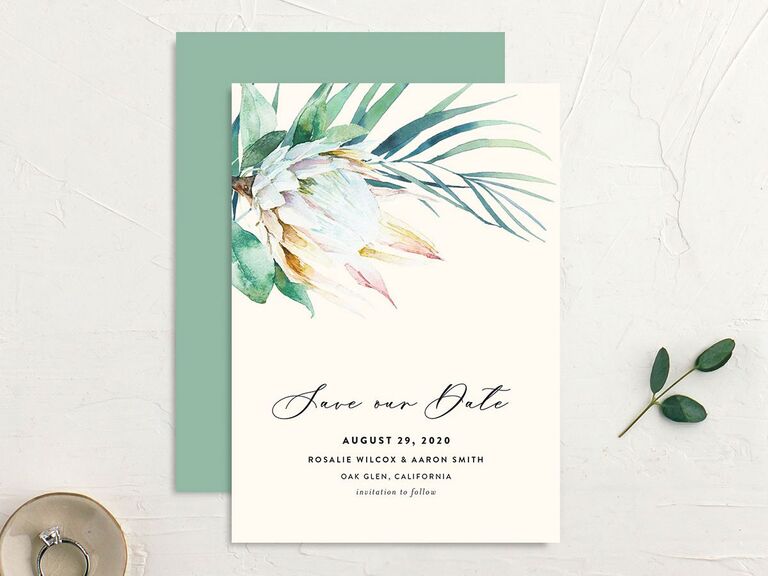 Start the island vibes early with these protea flower and palm leaf-adorned tropical save-the-dates. The protea flower is native to South Africa and Australia, for those planning on a southern hemisphere vow exchange.
High Expectations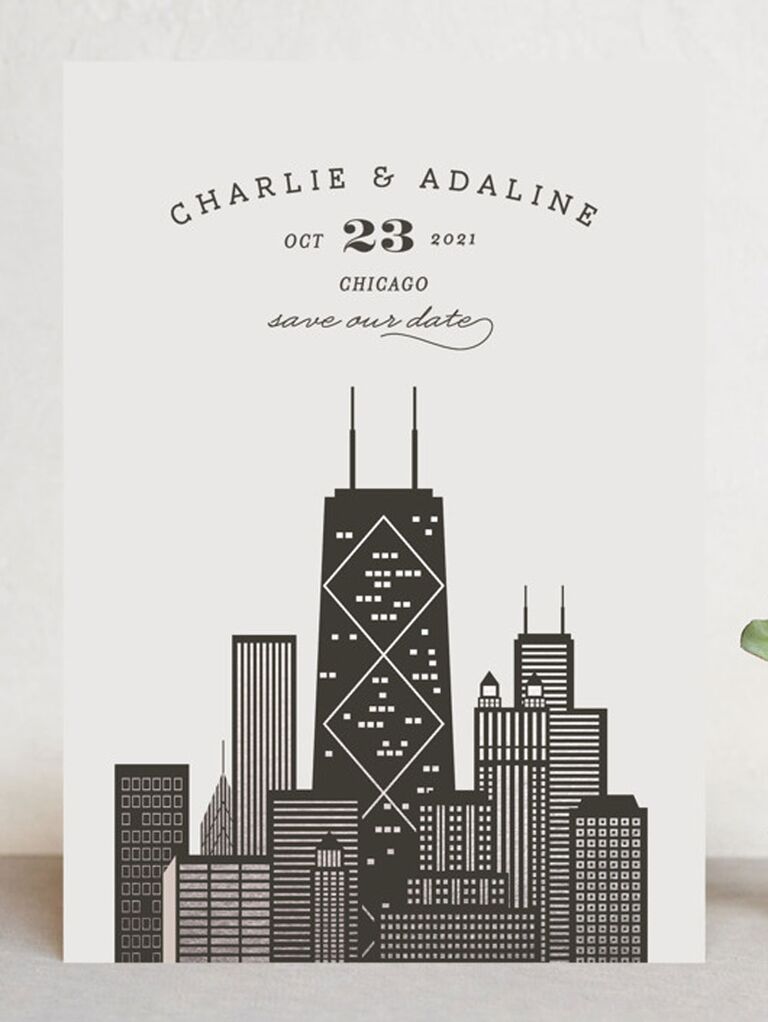 Set the bar high with skyscraper stationery for a city destination wedding. These unique save-the-date cards are so classy.
Grape Escape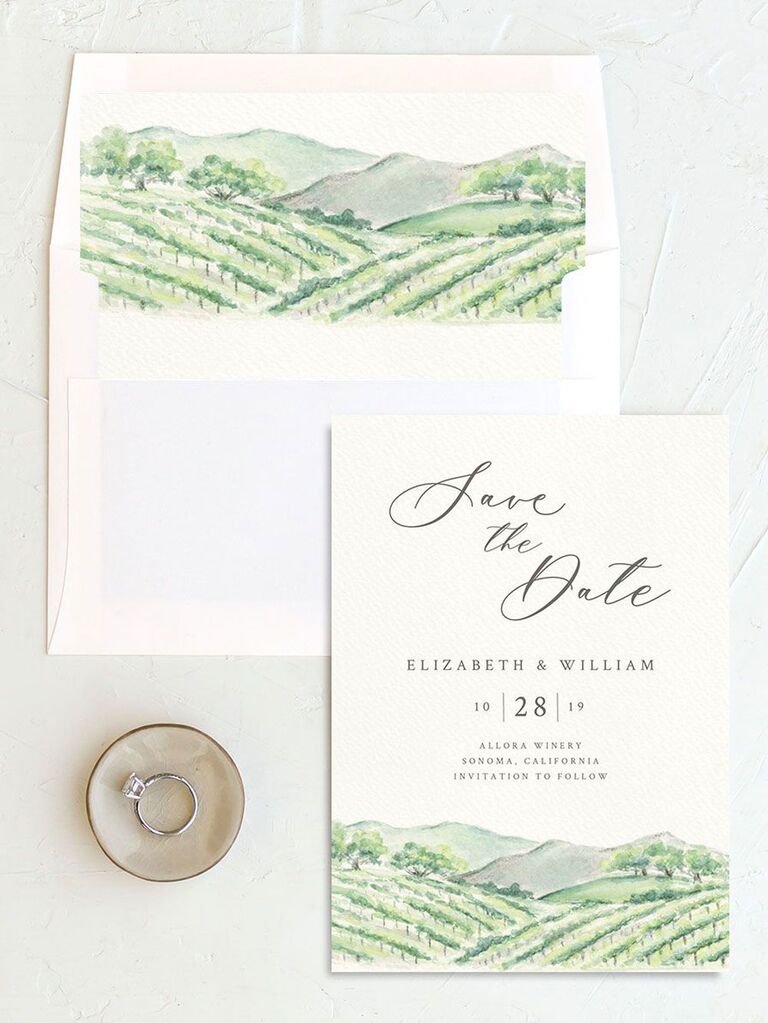 For the oenophiles among us, a winery wedding is a no-brainer. Set the pretty vineyard scene off the bat with these watercolor save-the-dates.
On the Slopes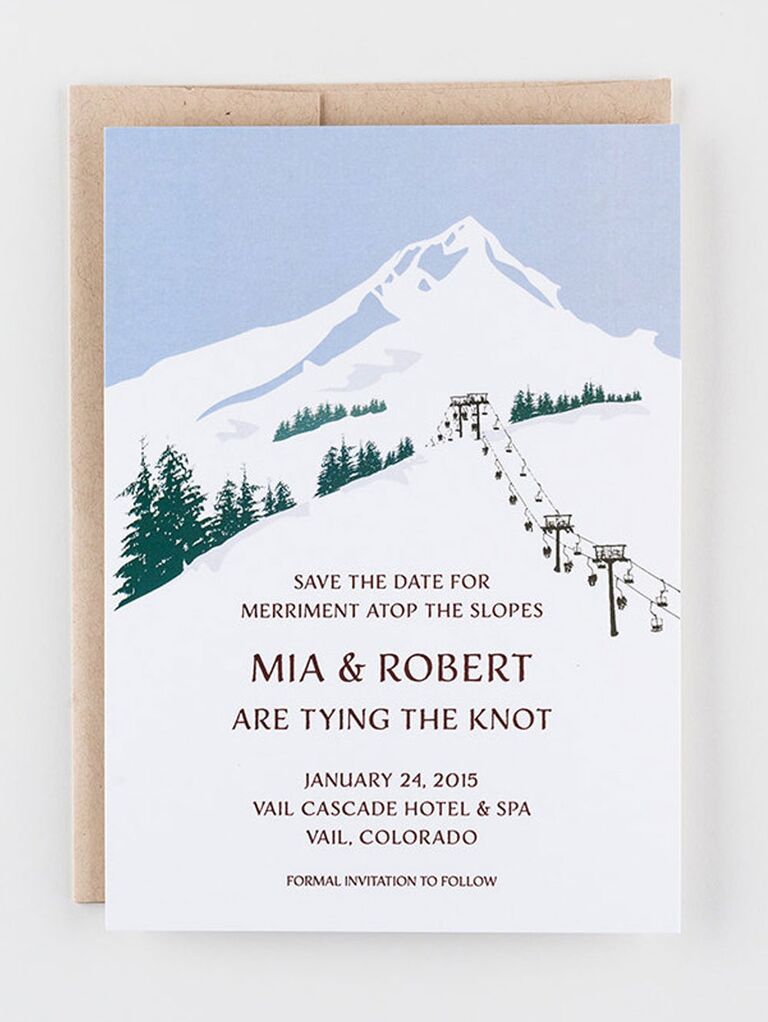 Whether you're heading to the Rockies or the European Alps, get everyone amped for a wintery destination with snowy wedding save-the-dates.
Passport Please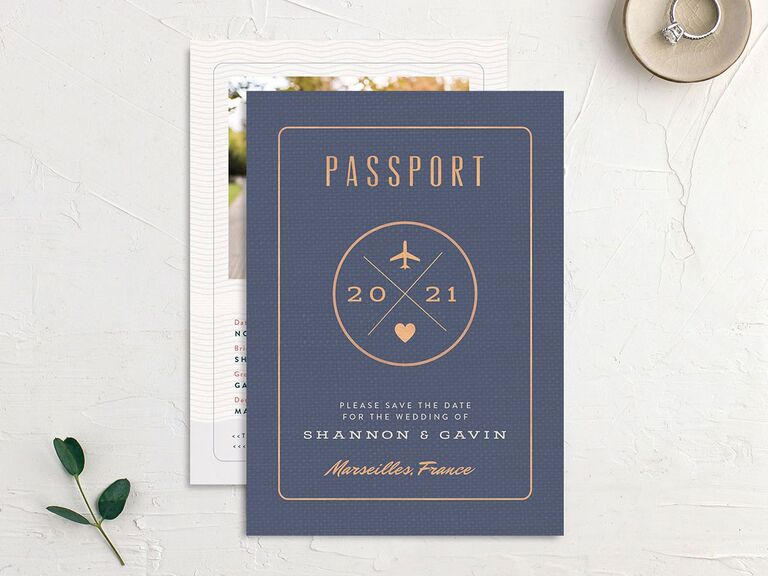 Nothing says "destination wedding" quite like a passport. These creative save-the-dates are ideal for your wedding abroad, with a passport theme on the back and space for your engagement photo and further details on the front. Parisian wedding, anyone?
Save the Weekend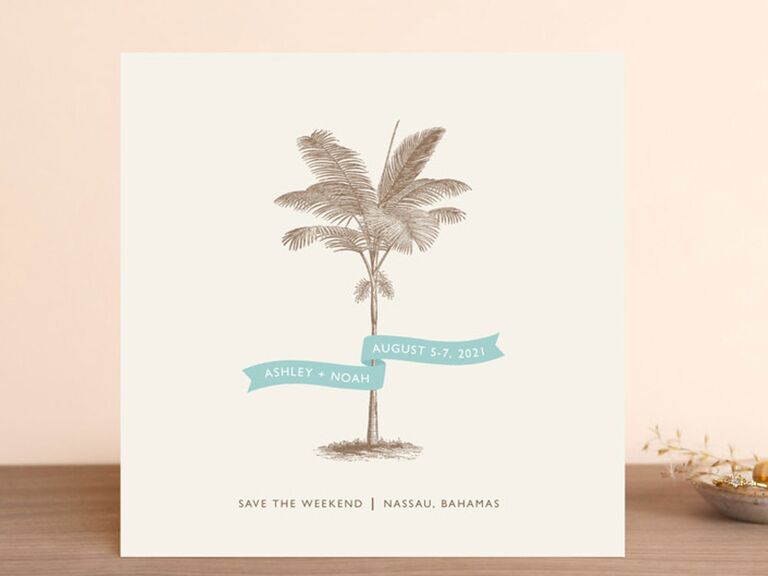 Lots of destination weddings span multiple days. If yours does (and happens to be somewhere filled with palm trees), these creative wedding weekend save-the-dates are right up your alley.
By the Seaside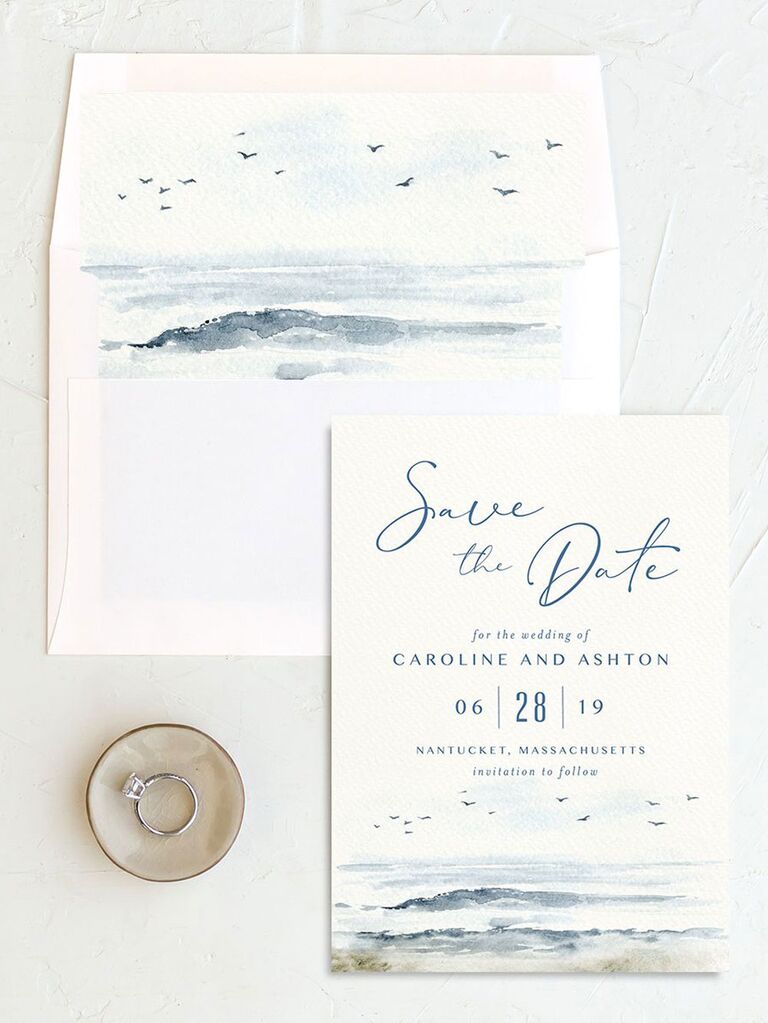 You don't have to get on a plane in order to have a destination wedding. If you're simply traveling to your nearest patch of coastline to get married by the sea, reflect the scene with these nature-inspired save-the-dates.
Desert Delight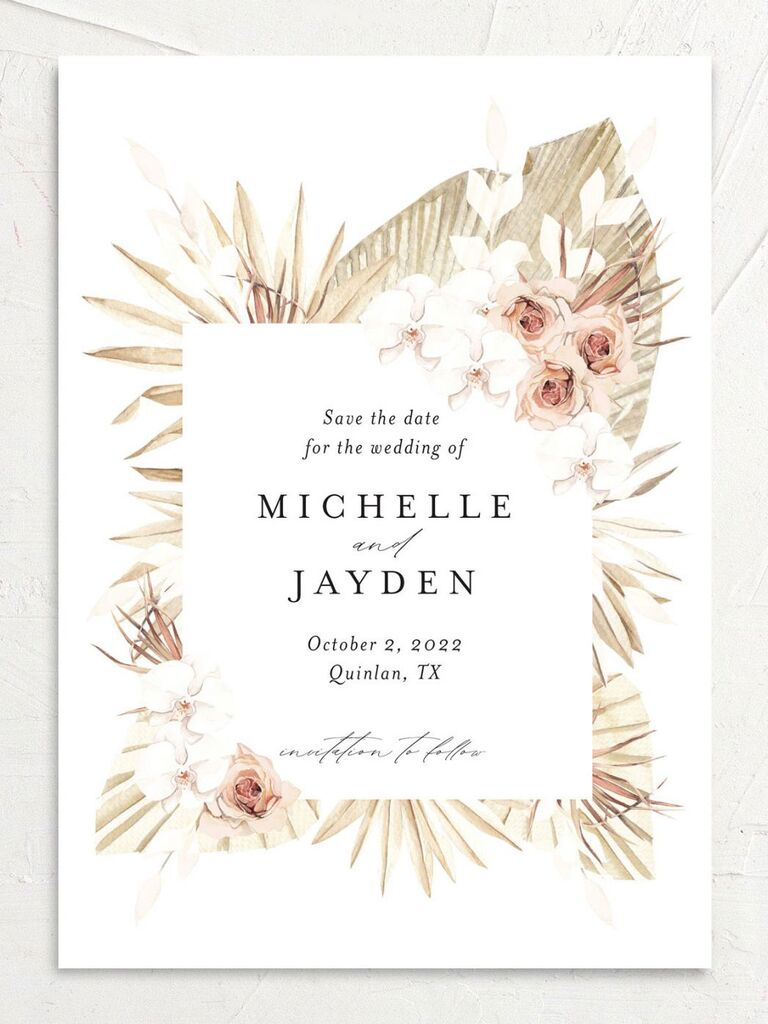 Throw your guests into your desert-themed nuptials with these cute save-the-dates. The sun palms and dried desert florals that frame your details on these cards would make a stunning IRL wedding arch.
New York, New York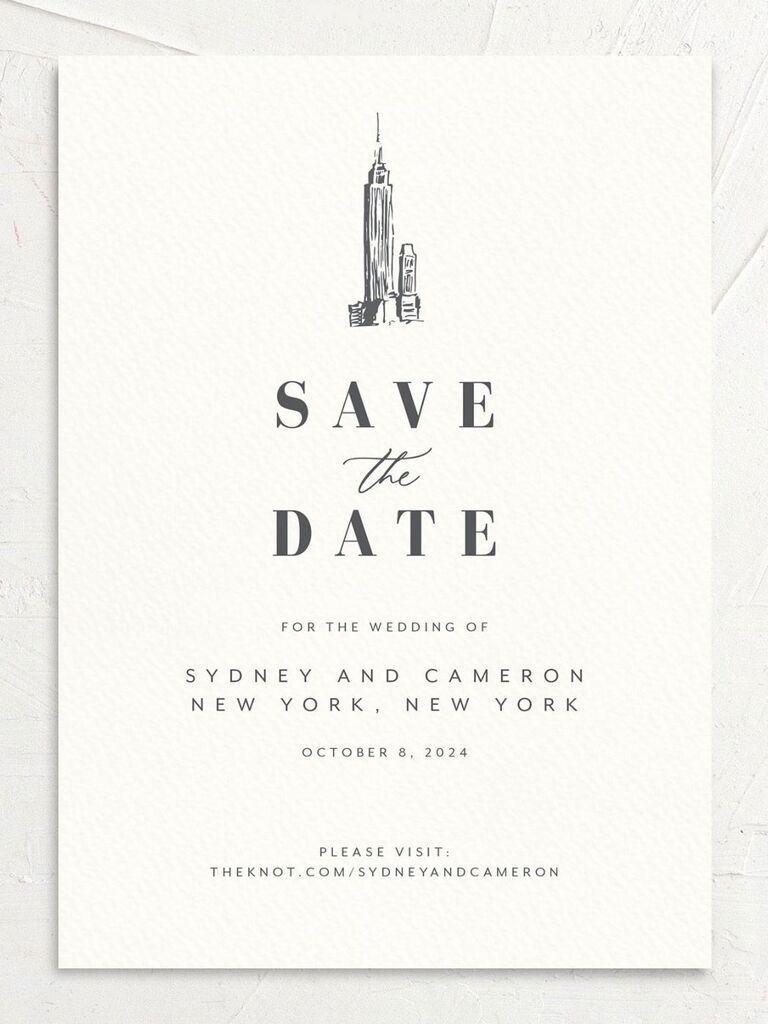 Start spreading the news: Your wedding planning is underway. For those opting for an elegant New York City wedding, give your guests a taste of what's to come with this illustrated save-the-date.
Pack Your Bags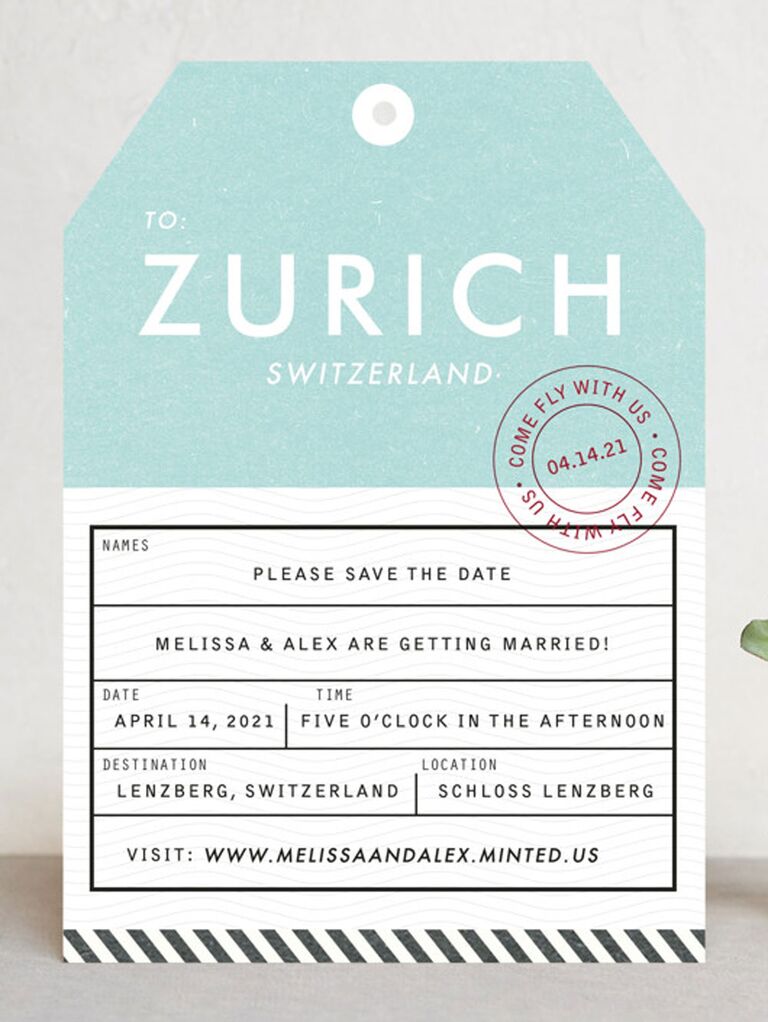 For something a little unexpected, try destination wedding save-the-dates shaped like luggage tags. These ones look surprisingly realistic.
Nature's Calling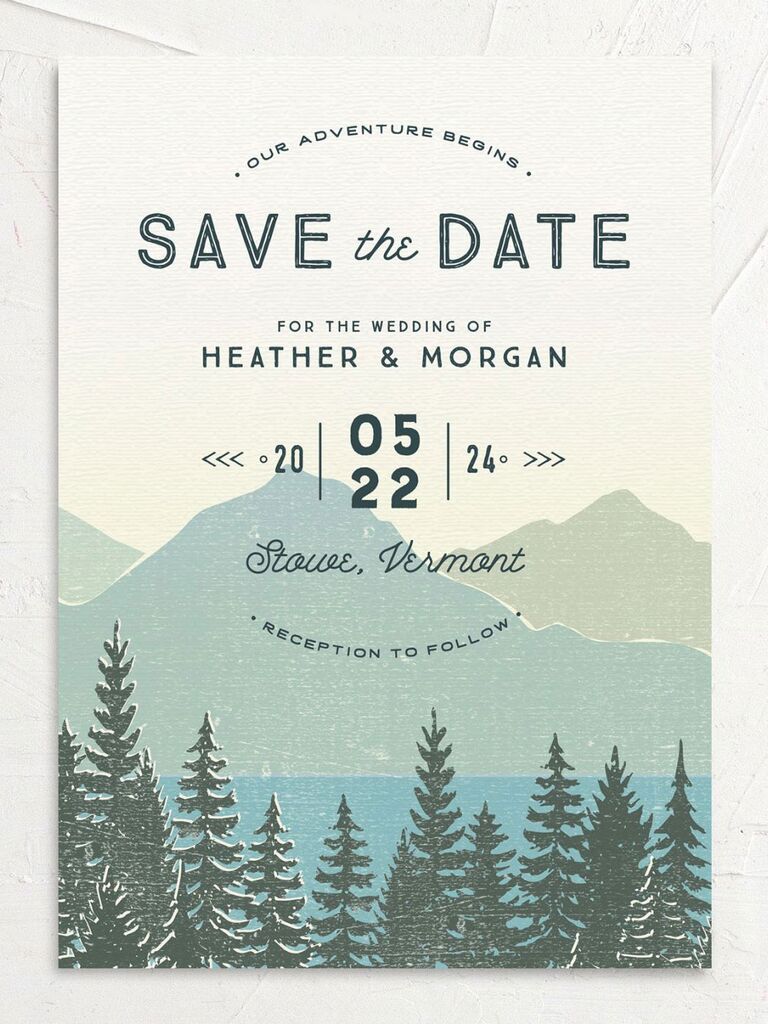 If you're dreaming of a mountain celebration, these nature save-the-dates are perfect for sending to your nearest and dearest.
Tropical Greenery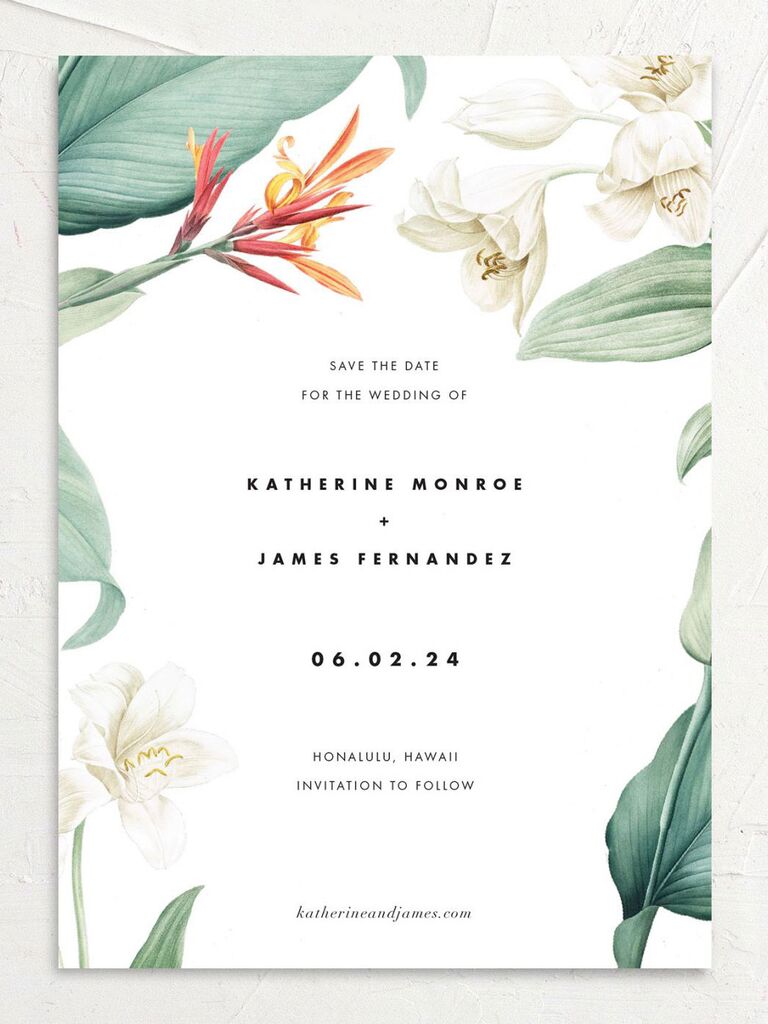 Whether you're heading to the Caribbean, Mexico or even to Hawaii, a warm-weather wedding calls for tropical wedding save-the-dates. These minimalist cards should do the trick.
Wild Side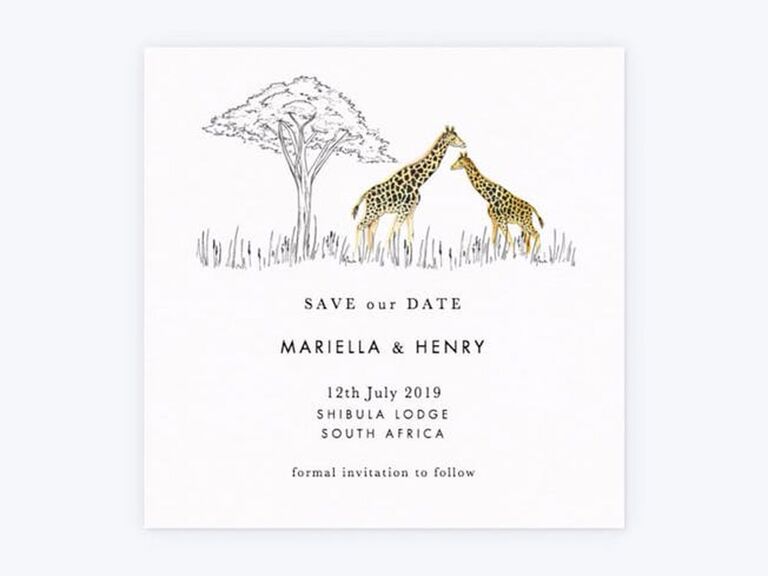 Tying the knot in the wild? (Or at a zoo?) Send out travel-themed stationery with local animals on it—these save-the-dates suit a safari-inspired soiree.
Painted Waves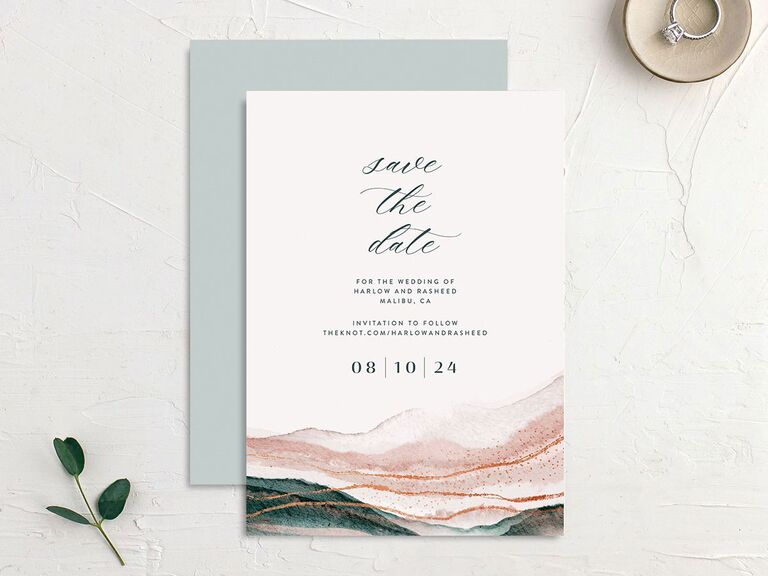 Go abstract with your beach save-the-dates. The painted wave print on these destination wedding cards mimic the appearance of sand dunes—perfect for a seaside summer wedding.
Pineapple Paradise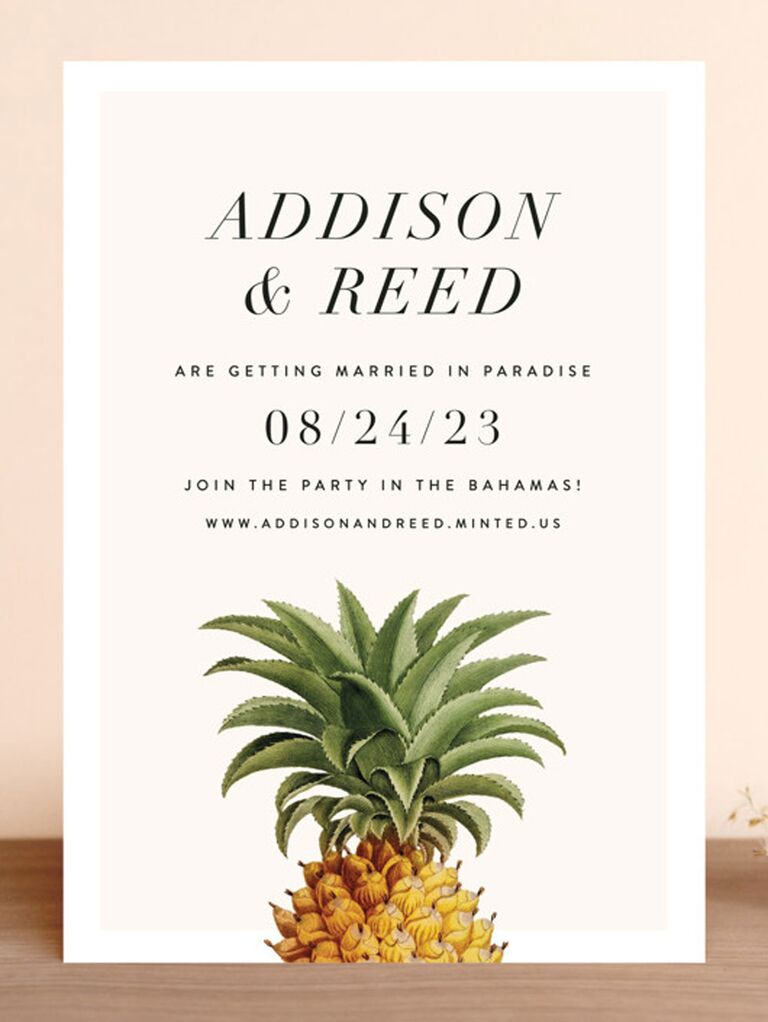 Pineapples aren't just tropical—they're also symbols of hospitality. Let guests know you'll be awesome destination wedding hosts with these save-the-dates.
Chic Citrus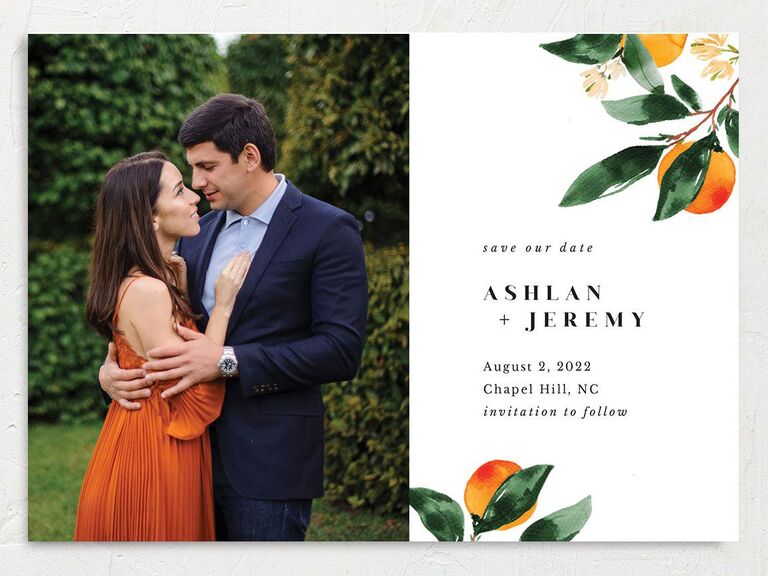 With leafy orange-filled branches framing your details and an engagement pic, these destination wedding save-the-dates are primed for nuptials taking place in California, Florida or even Spain—really, any destination that's synonymous with the citrus fruit.
Love Birds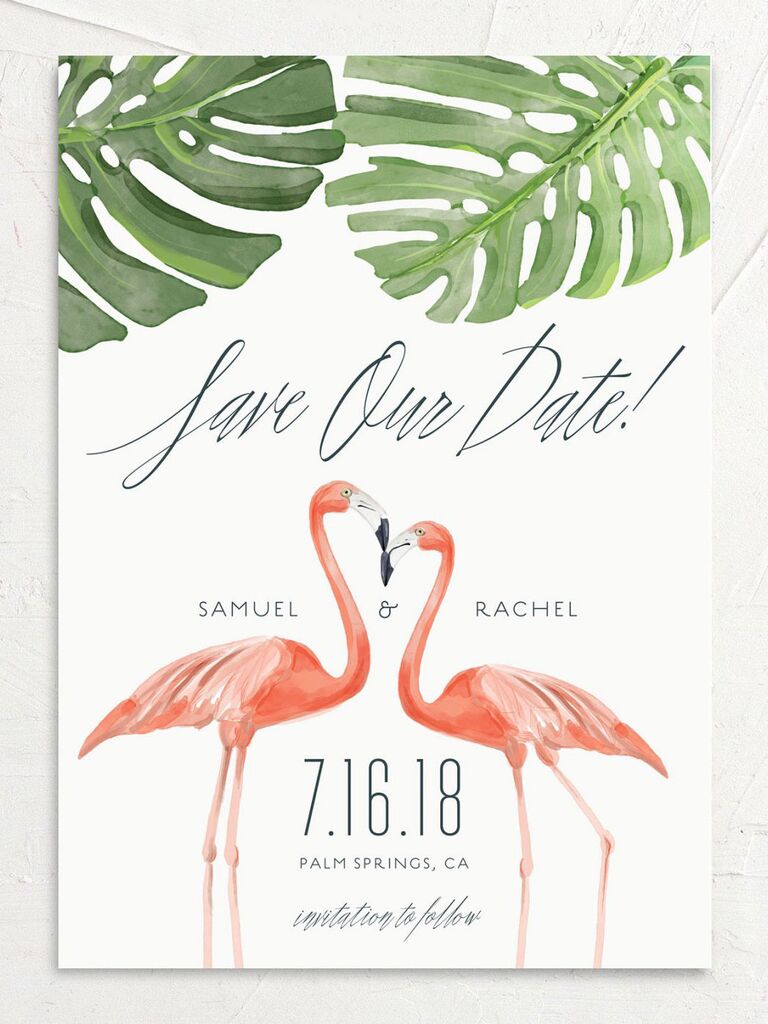 Let the flamingos on the front of these save-the-dates give guests the first clue about your destination. Flamingos are found in Aruba, the Bahamas and the Everglades in Florida—all excellent options for your far-flung celebration.
Heart It
Here's another destination save-the-date idea: a minimalist outline of the city you're getting married in. For those getting married in the capital, these save-the-dates are modern and romantic, thanks to the heart detail.
Hidden Oasis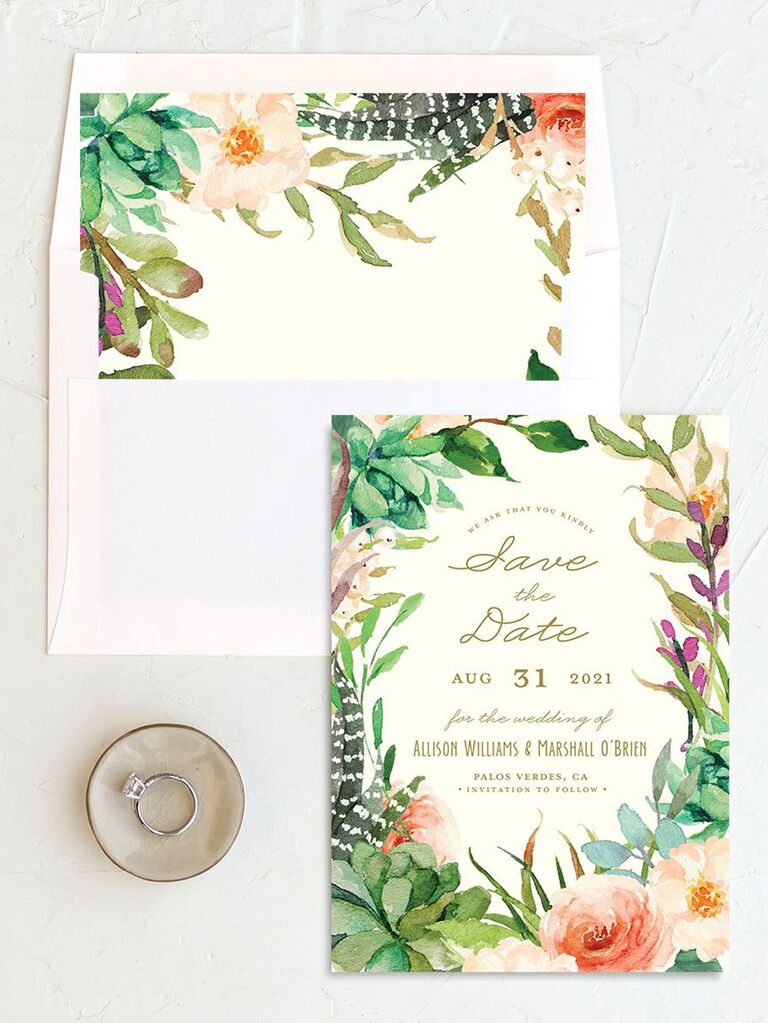 The oasis-style botanicals on these cute save-the-dates make us think of the Jardin Majorelle in Marrakech, which is full of succulents and desert blooms. Time for a romantic Moroccan wedding, we think.
Magic Monstera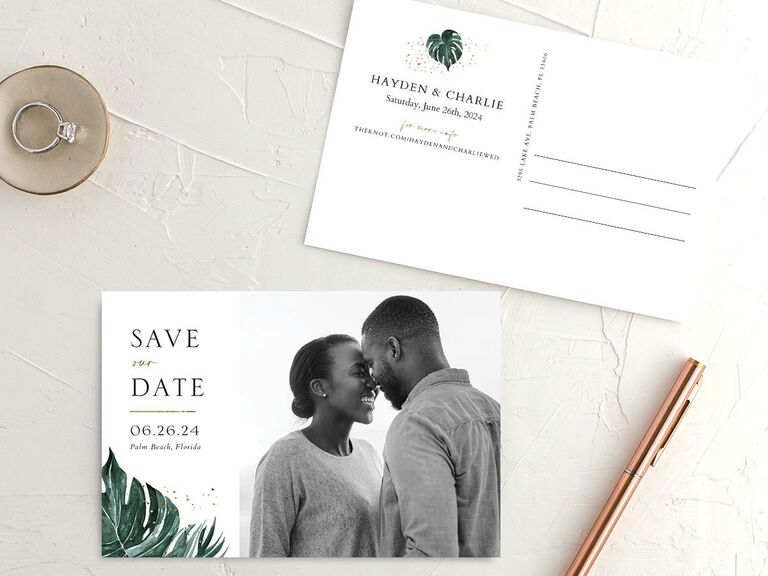 Sometimes, it's the simplest designs that make the biggest impact. Personalize these postcards with your engagement picture and allow the watercolor monstera—a plant native to the tropical forests of Mexico and Panama—to give a big hint at where your destination wedding will take place.
Up in the Air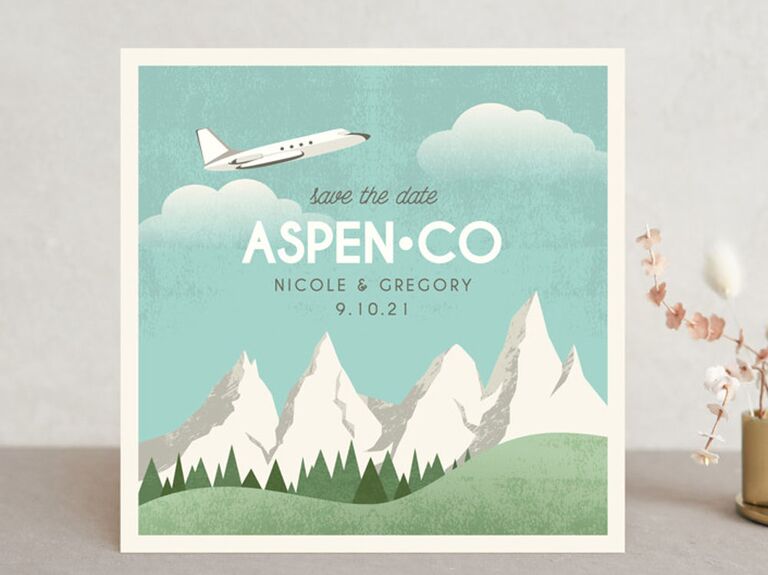 Get guests excited for air travel—yes, that's possible. Just put a pretty airplane on your save-the-dates, like the one shown on this destination wedding stationery.
Bright Lights, Big City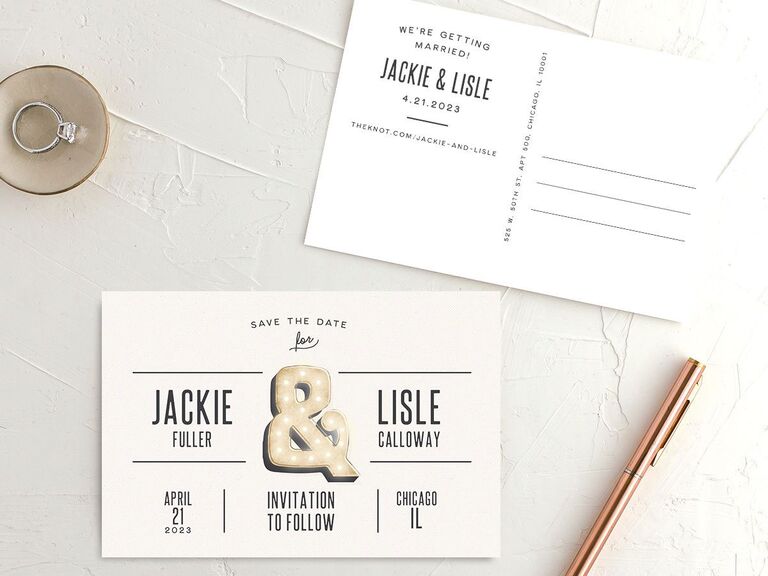 Whether you want to get married in Vegas or party the night away in Nashville, these postcards are ideal for a city-based destination wedding. Plus, they're under $1 each!
Desert "I Dos"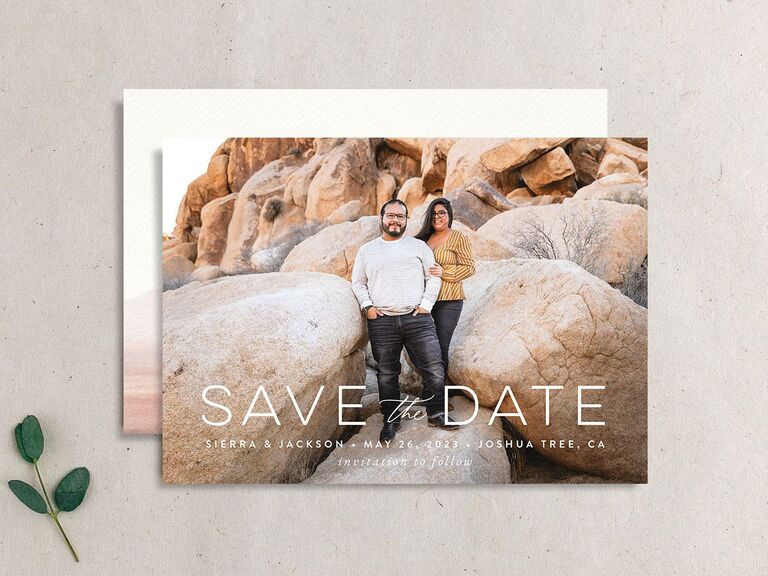 Planning a Joshua Tree wedding? The painted scene on the back of these destination save-the-dates will put your guests in the desert mood. You can personalize the front of the card with a picture of you and your soon-to-be-spouse for a special touch.
Show Off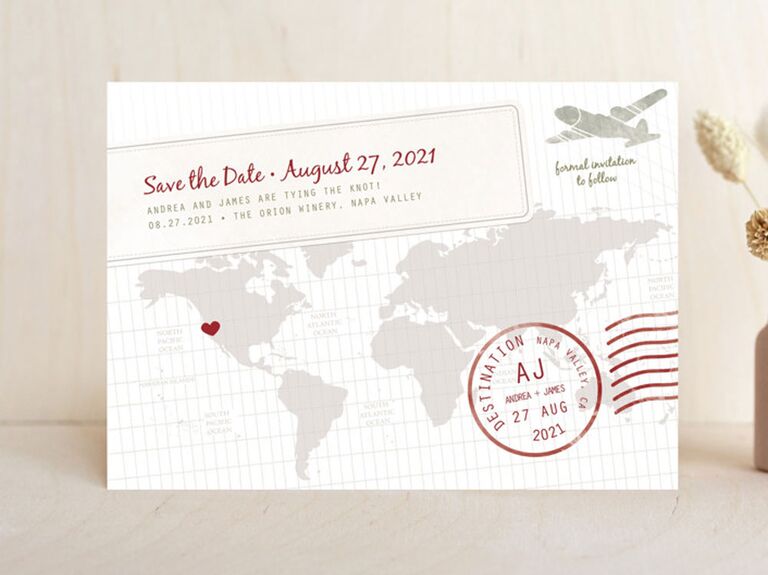 Show guests exactly where they're headed on a map. These destination save-the-date postcards have a heart over the wedding location.
Minimalist Greenery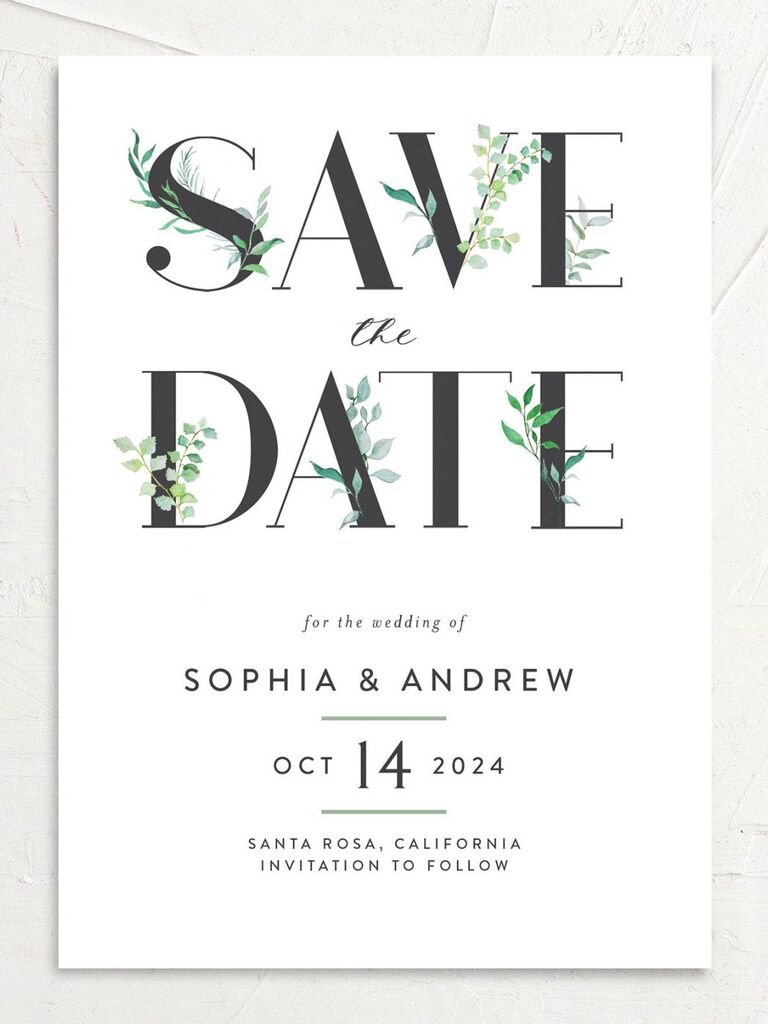 With foliage wrapped like vines around the minimalist lettering, these destination wedding save-the-dates wouldn't look out of place for an Italian or French-style celebration.
Contemporary Cool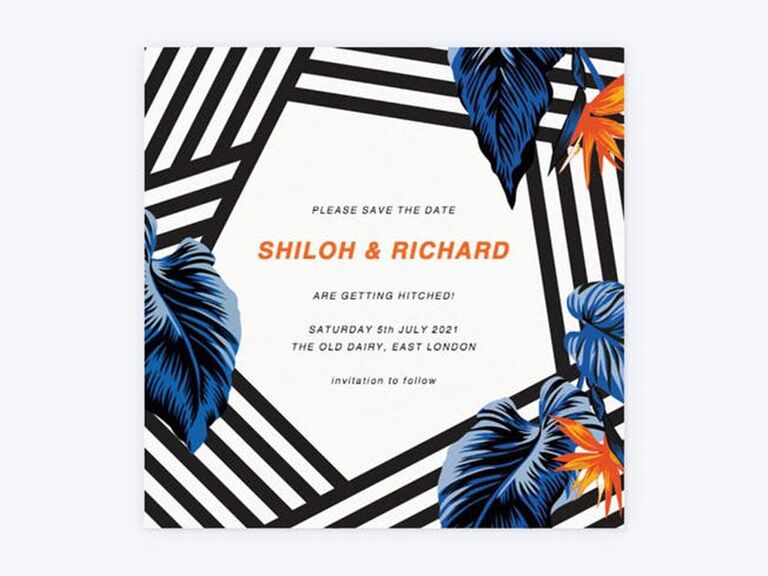 Combine your wedding's theme with destination motifs. These striped, tropical save-the-dates work well for a contemporary event.
Winter Wanderlust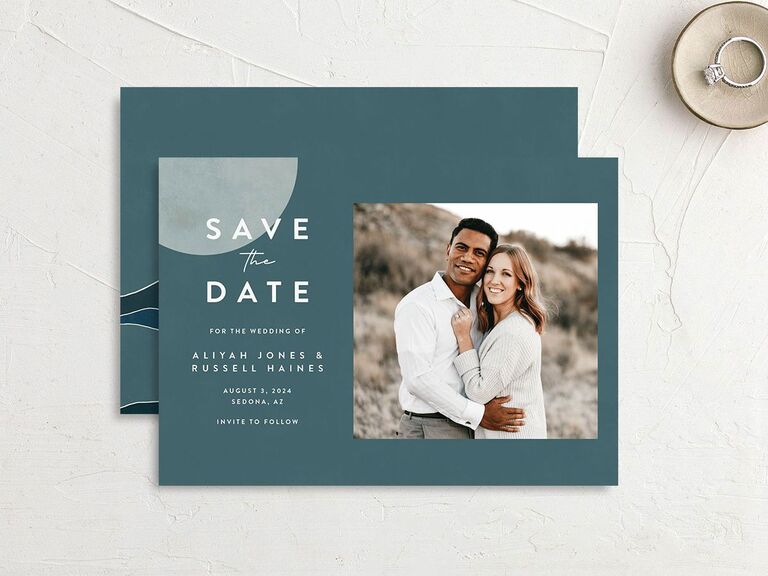 Heading somewhere cold for your winter destination wedding? Stick to your wedding color palette with these unique save-the-dates that were designed by Melissa Koby as part of our Black Artist Collective.
Bright Botanics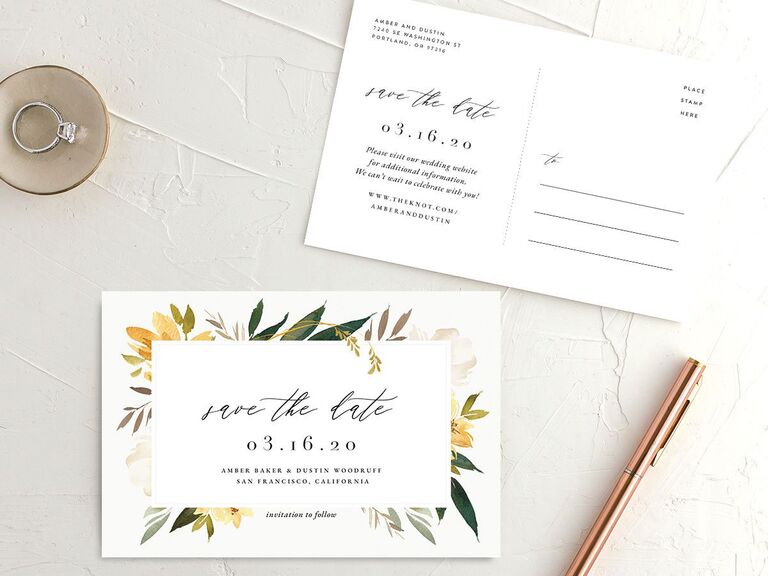 Make a statement with these pretty save-the-date postcards, which frame your details in bright yellow blooms. The color palette would suit a California or Mexico destination wedding.