Home

Scrumptious Crumbs, LLC
About this Vendor
Our Desserts Are Scrumptious Inside & Out!
Wedding cakes, specialty cakes, cupcakes and cookies, too! From the traditional to the unique, we will create the perfect cake for you; something scrumptious for all the sweet moments of your life together. The happy couple will receive a fresh, complimentary anniversary cake. Contact us today.
Details
Cake Accessories, Cakes + Desserts
Contact Info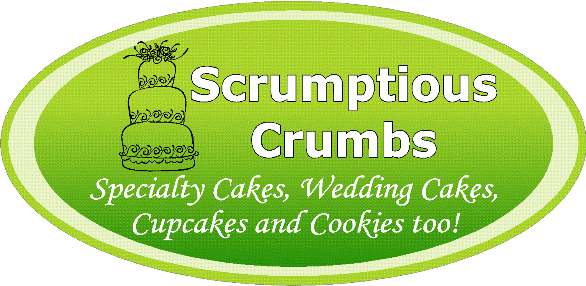 Columbus, OH
Serving Greater Columbus
I love this cake!
Reviewed on

1/10/2014
Sarah W
Ron is fantastic .... he is professional, creative, dedicated, talented and easy to work with.Scrumptious Crumbs has the best cake I have ever tasted in my life - and it is reasonably priced. Cake is a food group to me, and I take it seriously, Ron's cake rocks! He created a custom cake for my wedding, and it was beautiful, delicious, and a show-stopped. Almost 3 years later, and people still mention it in conversation. Since the wedding, I use Scrumptious Crumbs for all of my cake needs.
---
So flexible and the best cake in Columbus!
Reviewed on

11/26/2013
Katie C
Ron worked with us on our budget, style, and flavor. Out of all the cake tastings my husband and I went to, his cake was BY FAR the most delicious, moist, and flavorful! There was not one we didn't like--it was hard to choose! We gave him our price limit and he was flexible and able to work with us on pricing.
---
Delicious, would definitely pick this one!
Reviewed on

9/29/2013
Julie A
You should definitely go with Scrumptious Crumbs for your wedding cake. I tried three other cake vendors and none even compared to this one. It is obvious Ron has a passion for baking and he even delivered an extra top because he had remaining batter he didn't want to waste! I had a buttercream frosting with a three tiered cake (spice cake and vanilla) and cupcakes (chocolate). Many guests said the cake was the best they had, the spike cake I adored and the cupcakes went very fast. He does not do real flowers as I originally wanted due to potential pesticides (which I can appreciate) so he did sugar flowers and they were amazing! I sent him a picture and he followed it almost exactly. He also will make you a one year anniversary cake so you don't have to hassle with freezing your cake top. I thought the price overall was very affordable as well. Go with this one - easy decision!
---
Perfection!
Reviewed on

7/16/2015
Katie k
I cannot say enough about how much we loved our cake. After giving Ron a picture and a color scheme he created a beautiful and delicious cake. Our guests couldn't stop talking about how amazed they were that the roses cascading down the side weren't real. I think it was the third most photographed thing at the wedding (after us of course :) If you want a perfect cake, I highly recommend using Scrumptious Crumb!!!
---
Truly scrumptious!
Reviewed on

6/24/2015
Jen
Ron made my wedding cake and cupcakes, and he did not disappoint! Scrumptious Crumbs was the first and last cake appointment I went to. After sampling his cakes, I did not have to look anywhere else! I was amazed at how affordable he was because the quality of his products were outstanding! I just had my wedding, and the display he set up was beautiful! I am not very creative, so I left a lot of the details up to Ron and I was in awe of everything he created. Not only did it look beautiful, but tasted even better! My husband and I had many people throughout the night come up to us and ask who did our desserts and comment on how delicious they were. We had minimal cupcakes left over at the end of the night. Needless to say, they were a hit! I would highly recommend Scrumptious Crumbs for any of your cake needs. I know my family and I will definitely use them again!
---
Reviewed on

6/10/2015
Elizabeth L
Ron with Scrumptious Crumbs was by far the most impressive vendor we worked with on our wedding day! Our wedding cake was the most beautiful cake I have ever seen, it belonged in a magazine! We had white, chocolate and spice, and all 3 were delicious. Our guests are still raving about how delicious our cake was, I cannot wait to get our anniversary cake next year. Ron also offered to decorate our cake table for us upon delivery, and made sure everything was ready to go before the reception started. I cannot thank Ron enough for listening and creating exactly what I wanted, and more! Coming from a family of chefs and bakers, I recommend Ron and Scrumptious Crumbs for anyone looking to wow the crowd with taste and cake design!
---
Wonderful Wedding Cake
Reviewed on

4/07/2015
Courtney R
Ron did an amazing job on our wedding cake! It was beautiful and exactly what we had envisioned. Our guests loved the cake and it was delicious. We would highly recommend Scrumptious Crumbs and their cake tasting sold us!
---
Beautiful and Tasty!
Reviewed on

2/03/2015
terri v
We tasted a whole lot of cake all over Columbus and found many to choose from, but this was the best decision for a 'scrumptious' and beautiful wedding cake. Working with Ron was so easy and he had wonderful input and let us make changes until we had the perfect cake design. Then came the decision for flavors...Ron makes his own fillings and they are so delicious, we had a hard time selecting, so in the end we chose four different flavors and the very tasty raspberry filling with the vanilla layer. He matched the wedding flowers and wedding colors to the cake! This was simply stunning! You don't have to taste so many cakes, just call Ron!
---
THE BEST!
Reviewed on

1/21/2015
Jessica T
Delicious, absolutely gorgeous, and totally affordable. I would have them do a cake again in a heartbeat!!
---
Scrumptious Crumbs was perfect.
Reviewed on

11/24/2014
Emily D
Scrumptious Crumbs was perfect. The consultation was a no pressure environment. Ron had all the different flavors available in small sized cupcakes for both me and my (now!) husband to try. Everything is made from scratch and never frozen. It is delicious. He listened to our needs and had great ideas. We told him what our budget was and he respected it. He was timely with communication and giving us our deposit back for the cake stand we borrowed. I had no worries the day of the cake would arrive and be perfect, and it was. I recommend Scrumptious Crumbs to any bride and groom. On our one year anniversary I can't wait to have the cake again! (Yes, he will bake us a small cake on our anniversary because he said cake should never be frozen).
---
Awesome! Highly recommend!
Reviewed on

10/26/2014
Rebecca V
Very beautiful and yummy cupcakes/cake! All the guests raved about them! I really like that we get a free fresh anniversary cake! We also used Scrumptious Crumbs for my bridal shower and he made cupcakes that looked like cheeseburgers.. Really cool! Highly recommended! We had about 250 guests at our wedding. There was a HUGE snowstorm the day before and the cake/cupcakes were still delivered on time and perfect!
---
Amazing cake
Reviewed on

10/22/2014
Kristine S
Let me start by saying I am a very picky bride. We had met with several vendors but Ron far exceeded our expectations! He was so patient with us and catered to all the specifics we wanted. His attention to detail and expertise created a gorgeous piece of art that left us speechless. We even had a guest say "That can't be real, it's too perfect!" We were stunned to see this amazing cake and I'm still in awe several months after our wedding! In addition, his prices are generally lower than others around town. HIGHLY RECOMMEND to any couple wanting that "wow" factor for their wedding!
---
Scrumptious Crumbs is a home run!!!
Reviewed on

10/20/2014
Ron provided the cupcakes for my daughter's wedding in September. First and foremost, his cupcakes and frosting are DELICIOUS!!!! As my daughter (the bride) lived in Arizona and the wedding was in Ohio, it was difficult to make vendor decisions. But Ron made it easy! When she was here a few months before the wedding, we went to his location to finalize the details and design the table layout. He listened to what she wanted and within a few minutes he had created a display that perfectly matched her vision!!! We provided some of the decor for the table and I dropped it off to him a few weeks before the wedding. At that point I did not have to think any more about the cupcakes. He came to the venue the day of the wedding and set it up just as he had promised (it looked even better with the cupcakes!). The table was beautiful and I have received many compliments on the cupcakes! I would not hesitate to recommend Scrumptious Crumbs - not only for their product, but also for their service. We had such a positive experience!!
---
Fabulous Cake+Cupcakes
Reviewed on

10/20/2014
Lily H
We went and met with a lot of people, mostly because the cake can just make or break the wedding for me. We tried a variety of cakes and icing/cream/filling. But as soon as we tried Ron's, we knew that he was the one. Not only was his cake delicious but Ron worked with our budget too. He looked at the Pinterest cake board I had made and gave me honest opinions on combining designs. He was open to conversation as we consistently changed our count, sorry Ron! He offers the faux cake option while still making us a small cake to cut so we could take pictures of actually cutting into a cake. In addition, we had more than enough cupcakes that our guests raved about afterwards. The setup of the cupcakes fit our wedding so well. The mini-cupcakes worked great for our wedding because our guests just enjoyed them throughout the night. It was fabulous!
---
Very good cake for the price
Reviewed on

10/19/2014
He was on time did a cake tasting and is he best spice cake I ever had!!!
---
Perfect Spice Cake
Reviewed on

10/06/2014
My wife came across Scrumptious Crumbs during a bridal show last year, and we had a tasting before our wedding with Ron. We were blown away! I sketched a design for our cake with callalillies and roses (our wedding flowers) and our Mickey Mouse cake topper. Not only did Ron exceed our expectations with an outstanding spice cake, but the design was spot on!! We cannot wait until our 1 year anniversary to get our top made FRESH by Scrumptious Crumbs!! Everyone raved about it and we highly recommend them!
---
Awesome cake and service!
Reviewed on

8/31/2014
Lauren Y
Scrumptious crumbs is run by a guy out of his house. His cakes are not frozen, so he will make them the night before your event. He does not use a box mix for his cakes. Many bakeries do and then they add their own ingredients too. Our wedding cake was so delicious!! Our guests raved about how good it was. Our cake was beautiful, just very simple. It was white icing (no fondant), with 2 small ribbons of fondant at the base of each tier in our wedding colors, with some icing roses. We had changed one of our colors a few times, changing shades of green. Each time Ron, the owner, was so patient and just asked me to send him a sample each time so he could get the color right. Even though our cake was simple, he does some elaborate cakes too! We also ordered cookies from him for our rehearsal. Those were tasty as well! Super awesome person to work with! Highly recommend scrumptious crumbs!
---
AMAZING!
Reviewed on

6/20/2014
Jess L
Ron did a truly remarkable job providing the cakes for our wedding. I had a vision and a slightly different idea than your traditional wedding cake and Ron was more than willing to help make this vision become a reality. The cakes were gorgeous! Our wedding was over a month ago and I still have guests commenting on how delicious the different flavors tasted. We will be booking Scrumptious Crumbs for all of our future cake/dessert needs!
---
Perfect Wedding Cake
Reviewed on

9/29/2013
Christina D
Ron was such a pleasure to work with while preparing for our wedding. He listened at all of our meetings and provided suggestions that made our cake absolutely perfect for our wedding day. The detail he puts into his cakes is breath-taking and I am still raving about how real his flowers looked on our cake. Ron truly made our day perfect and I high recommend Scrumptious Crumbs for weddings and other events.
---
Beautiful Cake, Wonderful Company!
Reviewed on

9/27/2013
Rachel
When I saw our wedding cake, I couldn't believe it. It was so beautiful and so perfect. It was everything we asked for! All of our wedding guests told us our cake was so beautiful and delicious! Scrumptious Crumbs made everything so easy. We met for a consultation, told them what we wanted and it was at the venue waiting for us when we arrived on our wedding day. My husband and I so appreciate how simple the process was, and we could not be happier with how the cake turned out. I would absolutely recommend Scrumptious Crumbs to any couple getting married in Columbus!
---
Awesome
Reviewed on

9/19/2013
Kathy O
The wedding cake was beautiful and delicious. I would highly recommend Ron to anyone for a cake for any occasion.
---
Perfect!!!
Reviewed on

9/17/2013
Josie H
Scrumptious Crumbs was a delight to work with! They designed my wedding cake exactly the way I wanted them to, and it looked even better than I imagined!!! It was very apparent all the time, detail and craftsmanship that went into designing the cake. The cake was delicious, and the buttercream was fantastic! Highly reccomend them!!! Very very pleased.
---
Beautiful Cake for my wedding day!!
Reviewed on

9/17/2013
Ron was a great person to work with through the planning process and was able to combine the aspects from 3 different cakes that I loved and put them all into one spectacular cake!!! Thanks so much Ron.
---
Tracy and Lisa B Wedding March 2013
Reviewed on

9/16/2013
Lisa B
Scrumptious Crumbs was absolutely wonderful to work with, I knew of them from a bridal show in Columbus, Ohio and had a taste test of their cakes then, and after talking to Ron for a minute I knew I had to keep him in mind. I am so glad that I did because, Ron did a wonderful job on our cake. We had a six tier oval shaped cake and on it I wanted my husband's family crest in the center of each layer. Ron was able to make the crests perfectly. The flowers with my ostrich feathers on top were perfect. Even our wedding photographer said it was the most beautiful cake that she had ever seen, and this woman has photographed many weddings. The cake itself was so, fresh and moist, the fillings were delicious; Ron did a wonderful job with it. His professionalism was great, he was prompt with his replies to my emails and phone calls, he was also accommodating with my husband and I being from out-of-town. I would chose him in an instant if I had it to do all over again.
---
Delicious and beautiful!
Reviewed on

7/03/2013
Jennifer O
Ron was a lot of fun to work with and the cake for my shower and wedding were gorgeous and delicious. He had lots of ideas about design and is a wonderful artist. My highest recommendation.
---
Send Message