20 Inappropriate First Dance Songs You May Want to Avoid
These tunes aren't as romantic as you think.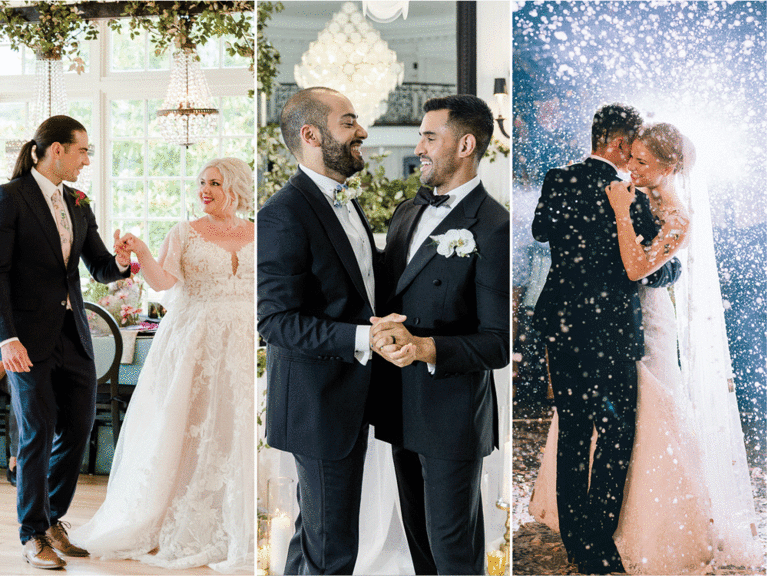 Sometimes songs that sound perfect for your wedding may not have the lyrics that match the romantic, celebratory feeling you're trying to convey. For example, there are lots of inappropriate first dance songs you should avoid if you can. Of course, if a tune speaks to you and your partner sentimentally, you can still use it (there are plenty of instrumental versions out there). We believe music helps represent your relationship in a special way other details can't and will leave a lasting impression on your guests. That's why we made a list of 19 songs you shouldn't play at your wedding below, along with similar alternatives to consider.
"Stay With Me," by Sam Smith
Questionable lyrics: "This ain't love, it's clear to see / But darling, stay with me"
This slow Sam Smith hit was all over the charts after its 2014 release—and while it's a painfully beautiful song, it's seemingly about a doomed relationship that won't work out. Not an ideal vibe for your first dance, right? Instead, try an acoustic version of "Latch," by Sam Smith and Disclosure, or go with the original for a unique first dance tune.
"You're Beautiful," by James Blunt
Questionable lyrics: "It's time to face the truth / I will never be with you"
There's a chance all of your guests will know the lyrics to this popular romantic ballad, but unfortunately, it's a song you shouldn't play at a wedding. The song is about two people who catch each other's eye, knowing they'll never see each other again. (Kind of sad, right?) Consider playing "You Are So Beautiful," by Joe Cocker in this song's place. It has a similar sound to Blunt's song, though the lyrics are much more first-dance-worthy.
"Marry You," by Bruno Mars
Questionable lyrics: "It's a beautiful night, we're looking for something dumb to do / Hey baby, I think I wanna marry you"
This isn't the most inappropriate first dance song ever, but there are some more lovey-dovey options from Bruno Mars. After all, this song is about a couple looking for something "dumb" to do, and we'd like to think your wedding day is anything but. Dance to a sweeter Mars song like "Treasure."
"Love Me Now," by John Legend
Questionable lyrics: "I don't know who's gonna kiss you when I'm gone / So I'm gonna love you now like it's all I have / I know it'll kill me when it's over"
Just like Mars' hit above, this catchy tune by John Legend isn't the worst first dance song, but some of the lyrics have sad connotations. Given Legend's catalog of wedding-worthy songs, there are plenty of options that better match your wedding day vibe. Choose the classic "All of Me," "You & I (Nobody in the World)" or "Made to Love."
"Total Eclipse of the Heart," by Bonnie Tyler
Questionable lyrics: "Once upon a time I was falling in love / But now I'm only falling apart"
This is a classic '80s hit that almost everyone can sing along to. But did you know the lyrics are actually about a vampire love story? In 2004, the song's producer, Jim Steinman, admitted that the song was for a vampire musical, hence the dark and mysterious undertones. The musical never came to fruition, though, and the song instead became Tyler's iconic hit. Replace Tyler's love song with "I Want to Know What Love Is," by Foreigner or Mariah Carey's cover for a modern twist.
"Hey There Delilah," by Plain White T's
Questionable lyrics: "Listen to my voice, it's my disguise / I'm by your side"
After the first listen, this sounds like a swoon-worthy love song about a long-distance relationship. Sadly, the real-life Delilah spoke out in 2013 and confirmed she was in another relationship when this song was written for her. In reality, this song was written about a fictional relationship that never worked out. Kind of a bad song to play at a wedding. Add "I'm Yours," by Jason Mraz to your wedding playlist instead. It's another mid-2000s pop love song that's a better fit for your first dance.
"Ho Hey," by The Lumineers
Questionable lyrics: "I don't think you're right for him / Look at what it might have been..."
There's no denying that this folksy song from The Lumineers is catchy. You'd probably get everyone to sing the words if you played this at your wedding. Despite this, it's an inappropriate first dance song since it tells the story of someone asking their flame to leave their current partner. If you like The Lumineers' indie vibe, try their 2016 tune "Sleep on the Floor" about a couple starting a new life journey together.
"Make You Feel My Love," by Adele
Questionable lyrics: "The storms are raging on the rolling sea / And on the highway of regret"
You may love Adele's cover of Bob Dylan's 1997 classic, but some of the lyrics make it a sad wedding song. While it's not explicitly an inappropriate first dance tune, it may not be the exact feel you're going for. Let "Remedy," by Adele be your new first dance music selection. While the Grammy winner is known for her painful tear-jerkers, this is a rare and powerful song about everlasting love.
"Marry Me," by Thomas Rhett
Questionable lyrics: "Yeah, she gonna get married / But she ain't gonna marry me"
Thomas Rhett is known for making wedding-worthy country songs, but this one doesn't make the cut. After all, he sings about a man showing up to a wedding knowing his true love is marrying someone else. If you want to use a Thomas Rhett song for your first dance, there are plenty of other great options. "Die a Happy Man" or "Look What God Gave Her" will create the perfect mood for your special day.
"I Will Always Love You," by Dolly Parton
Questionable lyrics: "Goodbye, please don't cry / We both know I'm not what you need"
Whether you're considering Dolly Parton's original or Whitney Houston's cover, keep in mind that this song is actually a breakup ballad, making it an inappropriate first dance song. Given the somber nature of the song's meaning, we recommend steering clear of this one for your first dance. If you still want Parton's beautiful vocals to be a part of your celebration, play "From Here to the Moon and Back," by Dolly Parton, Kris Kristofferson and Jeremy Jordan.
"God Only Knows," by The Beach Boys
Questionable lyrics: "I may not always love you…. / If you should ever leave me / Though life would still go on, believe me"
Ideally, your first dance song shouldn't include any breakup references like this tune from The Beach Boys. After all, your wedding day isn't the place for that. Try a different song from the band, like "Good Vibrations." This upbeat track is ideal for couples who want a high-energy first dance moment.
"My Heart Will Go On," by Céline Dion
Questionable lyrics: "You are safe in my heart / And my heart will go on and on"
If you can't hear this song without envisioning the heartbreaking scene from "Titanic," you're not alone. Consider skipping this one to avoid giving your guest Leonardo DiCaprio flashbacks. Céline Dion has plenty of powerful love songs, and some may be better options than this sorrowful tune. Play "The Power of Love," by Céline Dion, which is an amazing cover of Jennifer Rush's 1984 hit.
"Skinny Love," by Bon Iver
Questionable lyrics: "And now, all your love is wasted / And then who the hell was I?"
Sure, "love" is in the title but this is far from an ideal song for your first dance. Further investigation into the lyrics proves this song is really about a painful breakup. Use "I'm Gonna Be (500 Miles)," by Sleeping At Last. This cover of The Proclaimers' 1987 hit has a romantic folk vibe like "Skinny Love" without a sad underlying meaning.
"Every Breath You Take," by The Police
Questionable lyrics: "Every breath you take / And every move you make / Every bond you break / Every step you take / I'll be watching you"
In theory, this song's title makes it sound like a sweet option for your first dance. In reality, it's one of the most inappropriate first dance songs on our list. The Police have even admitted their 1983 hit is about a possessive lover. We suggest picking a different song that encapsulates your emotions a little better. If you want to stick to an '80s tracklist, play "You're The Inspiration," by Chicago or "Eternal Flame," by The Bangles.
"Jar of Hearts," by Christina Perri
Questionable lyrics: "Who do you think you are? / Runnin' round leaving scars / Collecting your jar hearts"
This debut single by Christina Perri was popular in 2010, but that doesn't mean it's the best song to ask your wedding DJ to play. Perri sings about a bad relationship with someone who enjoys breaking hearts and collecting them as trophies. We know this isn't the kind of tone you want on your big day, so add "A Thousand Years," by Christina Perri instead. The song is about eternal love and is featured on The Twilight Saga: Breaking Dawn Part I soundtrack.
"The A Team," by Ed Sheeran
Questionable lyrics: "But lately, her face seems / Slowly sinking, wasting / Crumbling like pastries"
A lot of fans hold this debut single from Ed Sheeran dear to their hearts, but unfortunately, it's an inappropriate first dance song. The song is about a homeless woman Sheeran met and the struggles she endured during her life. There are numerous other Sheeran tunes to add to your wedding dance playlist. "Afterglow," "Galway Girl" and "Perfect" are just a few love songs you can use.
"Always On My Mind," by Elvis Presley
Questionable lyrics: "Maybe I didn't treat you / Quite as good as I should have / Maybe I didn't love you / Quite as often as I could have"
The chorus to this Elvis song would lead you to believe it's the perfect choice for your first dance. But once you listen to the rest of the lyrics you'll find it's a tune about Elvis not appreciating his partner and not showing them enough love. Don't be afraid to take this song off the list and switch it with "Can't Help Falling in Love."
"When a Man Loves a Woman," by Percy Sledge
Questionable lyrics: "Well, this man loves you, woman / I gave you everything I had / Tryin' to hold on to your heartless love"
This initially sounds like a passionate song about a man doing whatever he can to show he loves his partner, but it's actually about a woman causing Percy Sledge misery. Need another option? Sledge's "Warm and Tender Love" is a slow-tempo '60s tune you and your significant other can feel good dancing to, guaranteed.
"Can't Feel My Face," by The Weeknd
Questionable lyrics: "And I know she'll be the death of me / At least, we'll both be numb / And she'll always get the best of me / The worst is yet to come"
Even though the chorus of this song is quite catchy, it compares drug addiction to the feeling of loving a woman. For couples in search of a R&B wedding song they can play during their first dance, try "The Closer I Get to You," by Luther Vandross and Beyoncé, a 2003 cover that received a Grammy Award for "Best R&B Performance by a Duo or Group."
"This Love," by Taylor Swift
Questionable lyrics: "Your kiss, my cheek, I watched you leave / Your smile, my ghost, I fell to my knees"
Even though it has a beautiful melody this is an inappropriate wedding song because of its lyrics about a relationship constantly going through good and bad cycles. Luckily, Taylor Swift is known for having numerous love hits that you can't get enough of. "Our Song," "You Are in Love" and "Lover" are must-haves on any Swiftie's wedding playlist.