The Most Romantic Ed Sheeran Love Songs for Your Wedding Day
The perfect wedding playlist doesn't exi—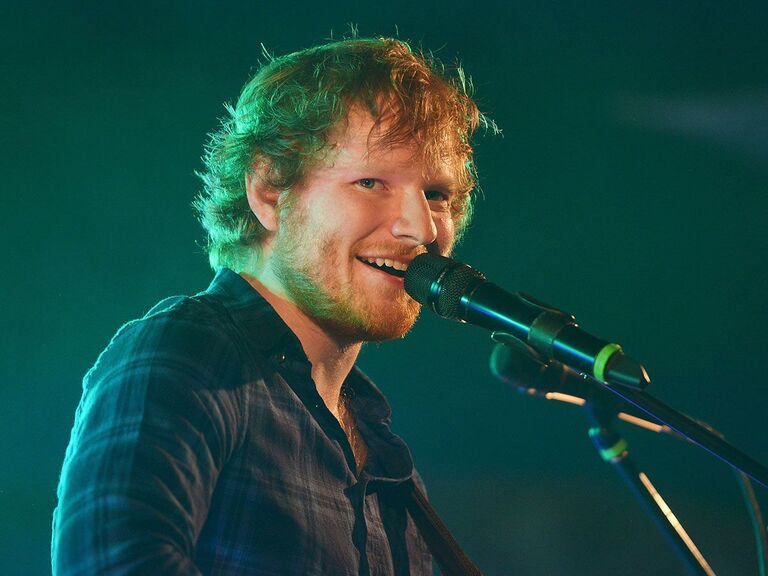 DAVE J HOGAN/GETTY IMAGE
When you think of the best wedding songs of all time, one or two Ed Sheeran hits probably come to mind. The Grammy award-winner has produced plenty of wedding-worthy love songs throughout his record-breaking career. In fact, he's broken a few of our records too. According to The Knot Real Weddings Study, "Perfect" has been the most popular first dance song for US couples since 2017—the longest run for any artist. Thanks to his unrivaled lyricism, Sheeran's romantic songs are perfectly fit for any part of your wedding day, from the processional to the reception exit.
But if you're looking for Ed Sheeran wedding songs beyond "Perfect," we're here to help. We've rounded up the best Ed Sheeran love songs of all time, right here. Use this comprehensive guide to plan a playlist that's simply perfect for you and your S.O. Then, once you've finalized your list of must-play Ed Sheeran songs for your wedding, tell your band or DJ so they can work your requests into their lineup of wedding music.
"Afterglow"
Lyrics you'll love: "We were love drunk, waiting on a miracle/Tryna find ourselves in the winter snow/So alone in love like the world had disappeared/Oh, I won't be silent and I won't let go/I will hold on tighter 'til the afterglow/And we'll burn so bright 'til the darkness softly clears"
Released at the end of 2020, "Afterglow" isn't actually attached to a studio album. "'Afterglow' is a song I wrote last year that I wanted to release for you," Sheeran wrote about the surprise drop on social media. "It's not the first single from the next album, it's just a song I love, and hope you love too." While he didn't elaborate on its meaning, the emotional guitar ballad appears to be about his wife, Cherry Seaborn, who he secretly married in January 2019, and their daughter, Lyra.
"All of the Stars," x (Multiply)
Lyrics you'll love: "So open your eyes and see/The way our horizons meet/And all of the lights will lead/Into the night with me/And I know these scars will bleed/But both of our hearts believe/All of these stars will guide us home"
You might recognize this euphoric love song from the 2014 coming-of-age drama The Fault In Our Stars. If you're looking for Ed Sheeran songs that aren't often played at weddings, this underrated track could be right for your ceremony or reception.
"Beautiful People," featuring Khalid, No. 6 Collaborations Project
Lyrics you'll love: "You look stunning, dear/So don't ask that question here/This is my only fear, that we become (hey)/Beautiful people"
In 2019, Sheeran teamed up with a variety of singers like Justin Bieber, Bruno Mars, Eminem and Cardi B to release his fourth studio album solely comprised of collaborative songs. This upbeat hit with Khalid is perfect for those planning a grand reception entrance (or exit!) that'll leave guests speechless.
"Best Part of Me," featuring YEBBA, No.6 Collaborations Project
Lyrics you'll love: "'Cause, baby, the best part of me is you/Lately, everything's making sense too/Baby, I'm so in love with you"
Also from No. 6 Collaborations Project, "Best Part of Me" is a great alternative first dance song for couples who love Ed Sheeran but want to break the mold with a romantic tune besides "Perfect."
"Castle on the Hill," ÷ (Divide)
Lyrics you'll love: "I'm on my way/Driving at ninety down those country lanes/Singing to 'Tiny Dancer'/And I miss the way you make me feel, and it's real/We watched the sunset over the castle on the hill"
Find your kind of venue
From barns to ballrooms, discover reception venues that feel like you.
If you turned on the radio at all in 2017, you definitely heard this insanely popular Ed Sheeran love song. The nostalgic track is inspired by Sheeran reminiscing on his hometown, and it's an absolute must-play if you want guests on the dance floor during your reception.
"Everything Has Changed," with Taylor Swift, Red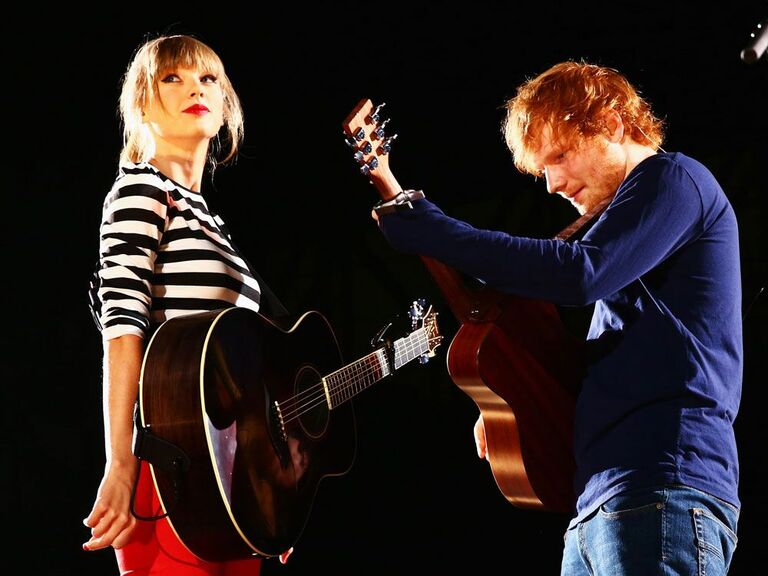 Lyrics you'll love: "'Cause all I know is we said, 'Hello'/And your eyes look like comin' home/All I know is a simple name/And everything has changed"
Ed Sheeran made a surprise appearance on Taylor Swift's 2012 album Red in this song about how a new love interest can change your life in a split second. Given its folk and pop vibes, it's a great song choice for couples planning an upbeat first dance at the reception.
"Firefly," Loose Change
Lyrics you'll love: "It just fits, light and smooth/Like my feet in my shoes/Little one, lie with me/Sew you heart to my sleeve/We'll stay quiet underneath/Shooting stars if it helps you sleep/And hold me tight, don't let me breathe/Feeling like you won't believe"
Released as an independent EP before Sheeran's first studio album, Loose Change features a few underrated songs like "Firefly." This soft pop song feels the embodiment of a magical summer romance, making it a great choice for an outdoor or backyard wedding set under twinkling string lights or a golden hour sunset.
"Galway Girl," ÷ (Divide)
Lyrics you'll love: "You know she beat me at darts and then she beat me at pool/And then she kissed me like there was nobody else in the room/As last orders were called was when she stood on the stool/After dancing to Cèilidh singing to trad tunes"
Looking for Ed Sheeran wedding songs that'll enhance the vibe of your after-party? Liven up your reception playlist with this high-energy tune that'll transport guests to the streets of Ireland. Sheeran collaborated with the Irish folk band Beoga for this fun song, and we guarantee it'll instantly change the energy at your reception.
"Hearts Don't Break Around Here," ÷ (Divide)
Lyrics you'll love: "Oh my baby, lately I know/That every night I'll kiss you you'll say in my ear/Oh we're in love aren't we?/Hands in your hair, fingers and thumbs baby/I feel safe when you're holding me near/Love the way that you conquer your fear/You know hearts don't break around here"
This swoon-worthy Ed Sheeran wedding song describes the fear of opening up to a potential love interest, along with the rewards that come when you do. Since this is some of Sheeran's most impressive lyricism, we also recommend using a line or two (like "Oh, we're in love, aren't we?") as a wedding Instagram caption.
"How Would You Feel (Paean)," ÷ (Divide)
Lyrics you'll love: "How would you feel, if I told you I loved you?/It's just something that I want to do/I'll be taking my time, spending my life/Falling deeper in love with you"
Consider this one of the most romantic Ed Sheeran love songs of all time. He wrote "How Would You Feel" about then-girlfriend Cherry as she was on her way to an airport after a visit. In a twist of events, Sheeran actually forgot that he wrote the song and included it on ÷ at Cherry's request.
"Kiss Me," + (Plus)
Lyrics you'll love: I'm falling for your eyes, but they don't know me yet/And with a feeling I'll forget, I'm in love now/Kiss me like you wanna be loved/You wanna be loved
Sheeran's first studio album, +, was responsible for mega-hits like "The A Team" and "Give Me Love." Though popular, these hits have sad undertones that aren't necessarily appropriate for your wedding day. Instead, we recommend something sweeter like "Kiss Me," which was actually written to be a wedding song. In 2012, Sheeran revealed that this ethereal love ballad was inspired by his godparents, who asked him to write a song to perform on their wedding day.
"Lay It All on Me," with Rudimental, We the Generation
Lyrics you'll love: "Let my love in, let my love in/Lay your heart on me/If you're hurting, if you're hurting/Lay it all on me/You can lay it all on me"
Need a fun hit for your ceremony recessional or reception entrance? Consider this EDM hit by Rudimental, which features Sheeran's vocals.
"Lego House," + (Plus)
Lyrics you'll love: "And if it's dark in a cold December, but I've got ya to keep me warm/And if you're broken I'll mend ya/And keep you sheltered from the storm that's raging on now/I'm out of touch, I'm out of love/I'll pick you up when you're getting down/And out of all these things I've done I think I love you better now"
This metaphorical Ed Sheeran love song showcases Sheeran's ability to fuse romantic lyrics with rap-inspired enunciation, making this a great alternative love song for your big day.
"Perfect," ÷ (Divide)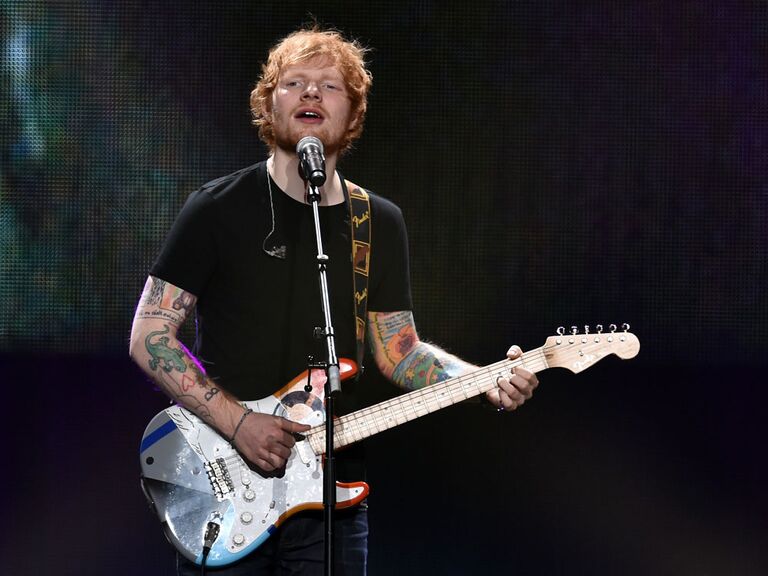 Lyrics you'll love: "I found a love for me/Darling just dive right in/And follow my lead/Well I found a girl beautiful and sweet/I never knew you were the someone waiting for me"
We'd be remiss not to include "Perfect" in our roundup of Ed Sheeran's best songs for a wedding. Just one look at the lyrics proves this hit is a great option for your first dance, your walk down the aisle, or your reception. While any song on this list is great for your big day, you can never go wrong with this one.
"Photograph," x (Multiply)
Lyrics you'll love: "We keep this love in a photograph/We made these memories for ourselves/Where our eyes are never closing/Our hearts were never broken/And time's forever frozen, still"
Remember this throwback Ed Sheeran love song? We can't help but swoon over these lyrics—so if you want something a little out of the ordinary for your big day, this one's a great choice.
"Shape of You," ÷ (Divide)
Lyrics you'll love: "I'm in love with the shape of you/We push and pull like a magnet do/Although my heart is falling too/I'm in love with your body"
Every guest will know the words to this popular Ed Sheeran love song, so you can't go wrong with including "Shape of You" on your wedding playlist.
"Tenerife Sea," x (Multiply)
Lyrics you'll love: "You look so beautiful in this light/Your silhouette over me/The way it brings out the blue in your eyes/Is the Tenerife sea"
We love the idea of walking down the aisle to an instrumental version of this deep cut, but any version of this Ed Sheeran love song will give you and your guests all the feels.
"Thinking Out Loud," x (Multiply)
Lyrics you'll love: "Take me into your loving arms/Kiss me under the light of a thousand stars/Oh darling, place your head on my beating heart/I'm thinking out loud/That maybe we found love right where we are"
While "Perfect" currently reigns supreme as the most popular Ed Sheeran wedding song, our Real Wedding data says that "Thinking Out Loud" is a close second. In previous years, this song has also appeared our the list of most popular first dance songs used by couples in the US.
"Wake Me Up," + (Plus)
Lyrics you'll love: "And you will never know/Just how beautiful you are to me/But maybe I'm just in love/When you wake me up"
"Wake Me Up" is inspired by the feeling of loving someone from the moment you wake up in the morning until you fall asleep, which makes it yet another Ed Sheeran love song perfect for your wedding day.