5 Adventure Honeymoons That Are Anything But Boring
Couples seeking more than beautiful beaches can check off their bucket lists with one of these exciting honeymoon adventures. Check out the best adventuremoon ideas from Jet Fete by Bridal Bar.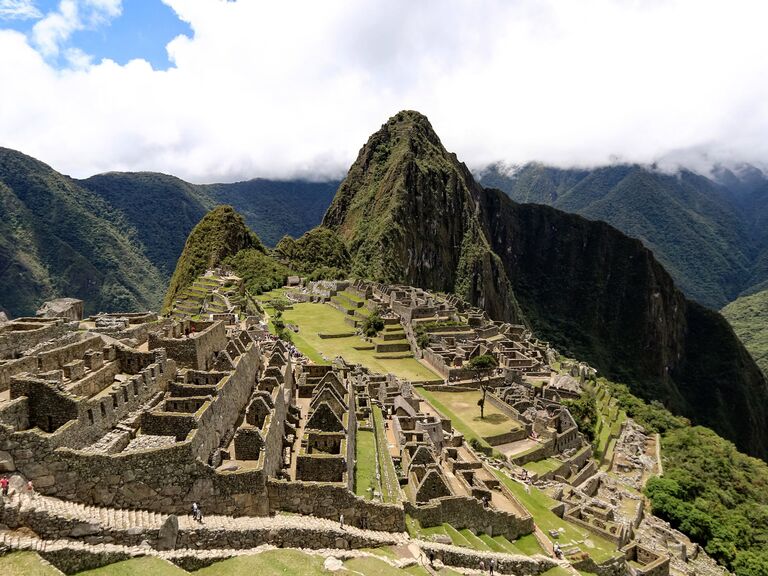 JW Marriott El Convento Cusco
Honeymoons aren't just for napping on the beach and candlelit dinners anymore. How about trekking to a mountaintop, swimming with sea lions or cat skiing off the grid? Adventure honeymoons—aka adventuremoons—can be incredibly romantic and dare we say, hot, when you take (calculated) risks together.
The good news is your destination options are endless, regardless of the season in which you wed. Start by discussing what types of thrills you want to seek and the level of adventure you're both comfortable with. You don't have to climb Mount Kilimanjaro to have an adrenaline-filled honeymoon (though you could!). If you prefer something a little less strenuous, there are plenty of options for all types.
Hiking at Machu Picchu in Peru
Perhaps your bucket list includes the wonders of the world. If so, check the box at Machu Picchu in Peru, a honeymoon that can be as active or as relaxing as you'd like. Couples can hike (and camp along the way) to the ancient ruins or ride in style in a luxury train up to the top. Either way, the moving moment the two of you arrive together to take in such a sight is worth the trek. Just don't forget to enjoy the rest of what Peru has to offer, including horseback riding in the Sacred Valley and shopping in the welcoming city of Cusco, a new culinary mecca for the region. Stay at the JW Marriott El Convento Cusco and enjoy plenty of oxygen pumped into your room and the romance of sleeping in a 16th-century structure restored for couples who seek adventure by day and delight in luxury at night.
Jungle Tours of Rwanda and Tanzania
Tour companies are a great place to begin if you want added adventure in your itinerary. Head to Africa with Heritage Tours and hike through the jungle of Rwanda to spot some of only 900 gorillas left on this planet. Heritage Tours plans a trip perfect for your level of excitement, no matter what that is. For those willing to go the extra mile, an 11-day honeymoon to Rwanda and Tanzania can include a Golden Monkey trek, a visit to the Ngorongoro Crater (a bucket list for wildlife seekers) and a stay at Ngorongoro Crater Lodge (a honeymooners' must), followed by a flyover to the Serengeti where couples unwind at one of the world's best properties. Luxury, romance and wildlife all in one.
Cat Skiing in Iceland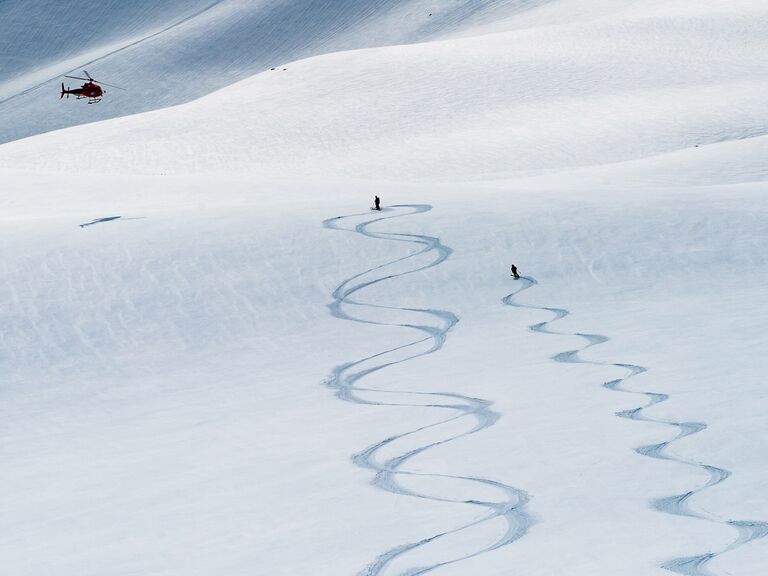 If winter sports are more your style, try heli-skiing or cat skiing, fat biking and snowmobiling, or even dog sledding in the Troll Peninsula in Iceland. Deplar Farm includes daily experiences for its guests ranging from mild outdoor activities to adrenaline-pumping once-in-a-lifetime sports. Go at the right time (October to April) and you just might spot the Northern Lights on your first nights as newlyweds too.
Exploring the Rain Forest in the Galapagos
The Galapagos Islands are another overwater honeymoon trip worth taking. You could stay on a boat, but why not stay on dry land at a romance-in-waiting boutique resort, like Pikaia Lodge, then see the sea life on its boat, the Pikaia I, by day. Swim with sharks and sea lions; spot blue-footed boobies and the only tropical penguins north of the equator, while hiking the beautiful rain forest around your room to find the giant tortoises roaming the area. Animal lovers who love the sea but want to stay on land, this itinerary is for you.
Deep-Sea Fishing in The Bahamas
For thrill-seekers who love a tropical destination, deep-sea fishing on The Mothership, a floating lodge and fishing boat in Andros, Bahamas, means excitement on the turquoise blue Caribbean waters. To get the best of both worlds, drop anchor after a few days at sea at The Mothership's nearby sister property, Bahama House, for some downtime at the hot spot Harbour Island and recover in style (and in the sun) from all the adventure.
Planning an adventure honeymoon means looking at the map, comparing bucket lists and taking the wild ride of life together, right from the start.
Harmony Walton is the founder of The Bridal Bar, host of Bridal Bar Radio airing on iHeartRadio and editor of the destination wedding blog, Jet Fete by Bridal Bar. With a vast celebrity clientele and over a dozen years of experience, her brands have been recognized around the world and featured in media outlets such as The Associated Press, The New Yorker, The Knot, The New York Times, Entertainment Tonight, People Magazine, The Los Angeles Times and many more.