Adventurous Honeymoons
Tranquil vacations not your style? Try one of these 10 active honeymoons.
by Miles Stiverson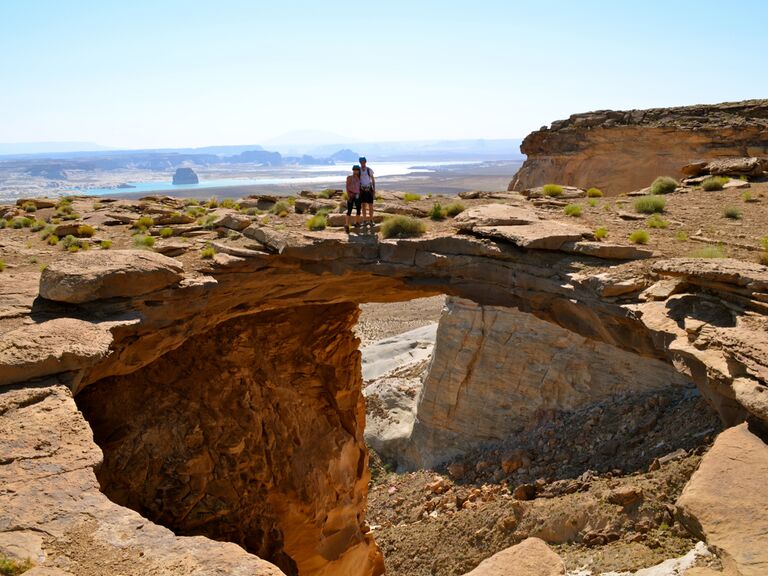 Sipping a cocktail while lounging on the beach will never lose its charm, but some newlyweds are using their honeymoon to see some of the most awe-inspiring sights on earth. Whether you take an afternoon to try a new activity (like surfing) or you want to go on an outright odyssey (driving through the Himalayas), here are 10 active honeymoons that will appease your adventurous side.
Himalayan Road Trip: Tibet to Nepal
How Adventurous? * * * * *
For one of the most beautiful rides in the world, travel by car from Lhasa (the capital of Tibet) to Katmandu (the capital of Nepal). On the way, you can visit ancient monasteries; stop by both the winter and summer palaces of the Dalai Lama; and get a view of Mt. Everest as you drive through the Himalayas. Traveling through Tibet can be tough if you're prone to altitude sickness, but you can rest assured your honeymoon will be a once-in-a-lifetime ride.
Where to Stay: Book your honeymoon through iExplore.com and they'll take care of your hotels at each stop on the nine-day trek.
Amazing Race: Southern France
How Adventurous? * * * *
What better way to see the French Riviera than cruising around in a European roadster? Rent an exotic ride -- like a Maserati or Lotus -- so that the time traveling from one picturesque town to the next is as enjoyable as the rest of your trip. Then shift gears (without breaking any laws) and take a few laps with a pro in a Formula 1 race car at the AGS Formula 1 Driving School. Packages start at $450, check out RacingSchools.com for details.
Where to Stay: After your travels, return each night to this legendary palace in the heart of Cannes. Majestic-Barriere.com
Underwater Discovery: St. Croix
How Adventurous? * * *
The clear blue water is reason enough to honeymoon in the Caribbean, but that's nothing compared to what's beneath the surface. Spend your honeymoon scuba diving in St. Croix and explore the largest living coral reef in the Caribbean and underwater canyons of exotic marine life. Companies like the Anchor Dive Center (AnchorDiveStCroix.com) offer dives for all skill levels and lessons if you're a novice.
Where to Stay The Buccaneer Hotel has a bunch of activities for sporty couples (including tennis and golf), along with three beaches and a spa when it's time to unwind. TheBuccaneer.com
Mountain Climb: Mt. Fuji, Tokyo
How Adventurous? * * *
Honeymoon in Tokyo for urban excitement as well as a taste of Japanese culture, then take a venture outside the city to see a sunrise from an amazing vantage point. A nighttime hike to the summit of Mt. Fuji -- Japan's highest peak and most recognizable mountain -- is a true challenge with a rewarding payoff. During the July and August climbing season, take a Fujikyu bus to the fifth station on the mountain, and start hiking at about midnight. It takes around four to five hours to get to the top of the mountain (there are a few rest stops along the way), and you'll reach the summit just in time to see the sun come up. A word of warning: The climb is doable but definitely not leisurely.
Where to Stay At the Mandarin Oriental, Tokyo, every room has an LCD television, an entertainment system for your iPod, and beautifully dramatic views of the skyline. MandarinOriental.com/tokyo
Ruin Hike: Angkor Wat, Cambodia
How Adventurous? * * *
Why travel to Angkor? Unless you see it for yourself, it's hard to believe the place exists. Exploring the twelfth-century ruins of Angkor Wat makes it quite easy to imagine you're in another world -- the sprawling complex of Hindu temples, towers, and sculptures sits in the middle of the
jungle in Cambodia. You can't see it all in a day, and it's definitely worth hiring a guide, both to avoid the crowds of tourists and to learn about the site's amazing history. Stay in nearby Siem Reap and bring your hiking shoes -- in total, the ancient city covers 60 square miles.
Where to Stay The Raffles Grand Hotel d'Angkor has limo service from the airport, beautifully landscaped gardens, and an art exhibition that changes monthly. SiemReap.Raffles.com
Snow Sports: The Swiss Alps
How Adventurous? * * *
If you look forward to weekend ski trips each winter, spend your honeymoon on some of the most stunning hills in the world. Pretty much any view of the Swiss Alps looks like it belongs on a postcard, and at the mountains around St. Moritz you can choose from 220 miles of ski trails. If you've aced skiing and snowboarding, try one of the newest winter sport fads -- ski boards are shorter than skis, curved at the ends like a snowboard, and a lot of fun.
Where to Stay: Badrutt's Palace Hotel -- which opened in 1896 -- has the charming character that makes a vacation to the Alps unique without sacrificing any amount of luxury. BadruttsPalace.com
Volcano Ride: Maui, Hawaii
How Adventurous? * *
Spend your honeymoon in Hawaii and you can expect great weather, amazing beaches, and beautiful scenery everywhere you look. Stay in Maui and you can rent a pair of bikes and coast your way down the dormant, 10,000-foot-high Haleakala volcano. Companies like Mountain Riders Bike Tours (MountainRiders.com) will drive you and your bikes to the top of the volcano (wear a fleece, it can get chilly up there!), and then lead you on the 38-mile ride down. During the seven-hour trip you'll see old lava flows, wildlife, and views of the island unlike any other. If you want a bit more time exploring the top, return to the Haleakala summit at night without a tour guide (the park is open 24 hours a day) and be blown away staring at the stars.
Where to Stay: The Fairmont Kea Lani has a spa, three swimming pools, and an 18-hole golf course. Fairmont.com
Surf Lessons : Tahiti
How Adventurous? * *
Simply relaxing is a great way to spend time in the South Pacific, but you can also take advantage of the setting by learning how to surf. Ecole de surf Tura'i Mataare has group or private surf lessons starting at $48 or -- if you already know your way around a surfboard -- take more advanced sessions with instructors who can help you hone your skills. Get more info at TahitiSurfSchool.info
Where to Stay An overwater bungalow -- where you can step straight from your room into the water -- is the ideal way to stay in French Polynesia. In Tahiti, try the InterContinental Resort Tahiti. Tahiti.InterContinental.com
Fishing Expedition: Costa Rica
How Adventurous? * *
Costa Rica is a perfect destination for honeymooners who want it all -- couples can relax on the beach, hike nature trails in the lush Monteverde cloud forest, or windsurf at the base of an active volcano at Lake Arenal. If you're staying near the shore, test your angler skills for a day of deep-sea fishing. In the Guanacaste province, take a chartered boat trip and cast for marlin, mahimahi, and sailfish, which can grow up to 10 feet long and weigh 200 pounds!
Where to Stay The Four Seasons Resort Costa Rica at Peninsula Papagayo will arrange your deep-sea fishing adventure, and supports catch-and-release fishing so you won't have to worry about damaging the environment. FourSeasons.com/costarica
Glacier Cruise: Vancouver to Anchorage
How Adventurous? *
A cruise to the Caribbean is a classic honeymoon, but if you're looking for a different sort of trip, sail north along the Alaskan coast on a glacier tour. A weeklong voyage, beginning in Vancouver and ending in Anchorage will take you past the Glacier Bay National Park, where each mile is filled with pristine mountains, wildlife, and massive glaciers. And don't worry about freezing -- the average high temperature in May is 61 degrees.
Where to Stay: Princess Cruises has cruise departures every few weeks in May through September. The ship features a casino, three pools, and a slew of restaurants and bars. Princess.com