Whistler Honeymoon: Weather and Travel Guide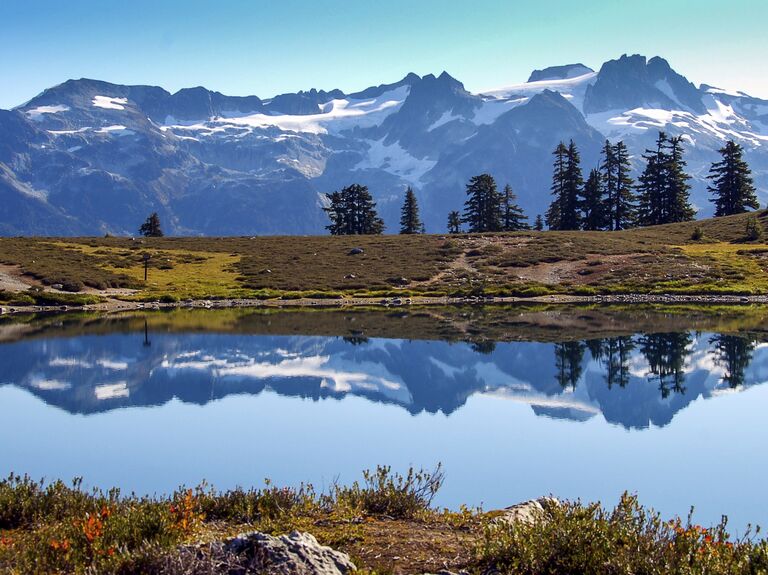 Thinkstock

Abundant slopes and a super-long season have helped Whistler rank as one of the top-rated North American ski resorts and have earned it the honor of hosting part of the 2010 Olympic and Paralympic Winter Games. Rent a slope-side chalet in this skier's paradise, and you can simply wake up, pop on you skis and hit the slopes. With roaring fireplaces and skiing from November to July, this easily accessible destination is a great choice for the active and the cuddly.

Before You Go: Need-to-know info
Language: English
Entry requirements: Passport
Flight time (to Vancouver): 6 hours from NYC; 3 hours from LA; about 5 hours from Chicago; then a two-hour drive to Whistler
Getting around: Skis, bus, village shuttle, bike and taxi

When to Go: Whistler at its best
Best weather: Slopes are open November to July. Winter months (December to March) are best for skiing, but temperatures sometimes dip to around 18 degrees Fahrenheit.
Best prices: April to June (during these months you can golf and ski)

What to Do:
Hit the slopes: The twin peaks of Whistler and Blackcomb offer more than 8,100 acres of skiing. There are 12 alpine bowls, 3 glaciers and more than 200 marked trails in this winter wonderland. You can even try heli-skiing (where a helicopter drops you on an otherwise unreachable slope) if you dare! Other options include snowmobiling, sleigh rides and dogsledding.
Global goodies: Whistler has become well known for its global cuisine and is home to dozens of delicious eateries. You'll find exceptional Japanese, French, Italian, Greek and Indian food among the shops of the charming, pedestrian-only Whistler Village. While you're off the slopes, you can wander the streets for antiquing and art gallery hopping or go for a relaxing treatment at one of several spas.