The Best Camping Wedding Venues Across the U.S.
Celebrate your nuptials in the great outdoors.

If you're dreaming of a rustic wedding that doesn't compromise on an unforgettable party and epic scenery, a campground wedding may just be what you've been looking for. From a wedding ceremony in a national forest to a reception under the stars, that's just the beginning of what camp weddings have to offer. You'll of course want to consider things like seasonality, as well as whether a venue provides an option to either leave the property after the party or stay somewhere other than a tent (think grandparents, babies, etc.).
We rounded up some of our favorite camping wedding venues, all of which offer accommodation in the form of tent camping, glamping, and/or cabins so you can turn your big day into multi-day special event in the great outdoors.
Slide Ranch in Muir Beach, California
If you thought that getting married with an ocean view while supporting a nonprofit mission and having a campout with your closest friends and family seemed like too much to ask for, Slide Ranch is your pinch-me venue. Located just a half hour's drive from San Francisco in Muir Beach, this venue has a truly epic view of coastline cliffs, white-capped waves, and aqua ocean as far as the eye can see. There are three location options at Slide Ranch, and you can choose one or mix and match for your ceremony and reception. The largest space can host up to 150 people or for a more intimate event, choose The Dome, which hosts up to 40 guests for dinner.
Gilbertsville Farmhouse in South New Berlin, New York
The husband-and-wife team behind Gilbertsville Farmhouse has been hosting weddings on their farm in Central New York since 2013. With 125 acres, multiple ceremony sites, tent camping, a huge barn, and a 100-year-old farmhouse, there's be no shortage of space for you and up to 200 guests. Better yet, you can host up to 60 guests onsite and experience farm life all weekend long (goat yoga, anyone?). If your heart is set on a camp wedding but you want all of your guests to feel comfortable, don't fret—Gilbertsville offers farmhouse suites with beds and en-suite bathrooms, as well as glamping. A self-described "party don't stop" venue with an after-party lounge, a wedding at Gilbertsville Farmhouse is bound to be unforgettable for those lucky enough to snag an invite.
Cypress Falls Event Center in Wimberley, Texas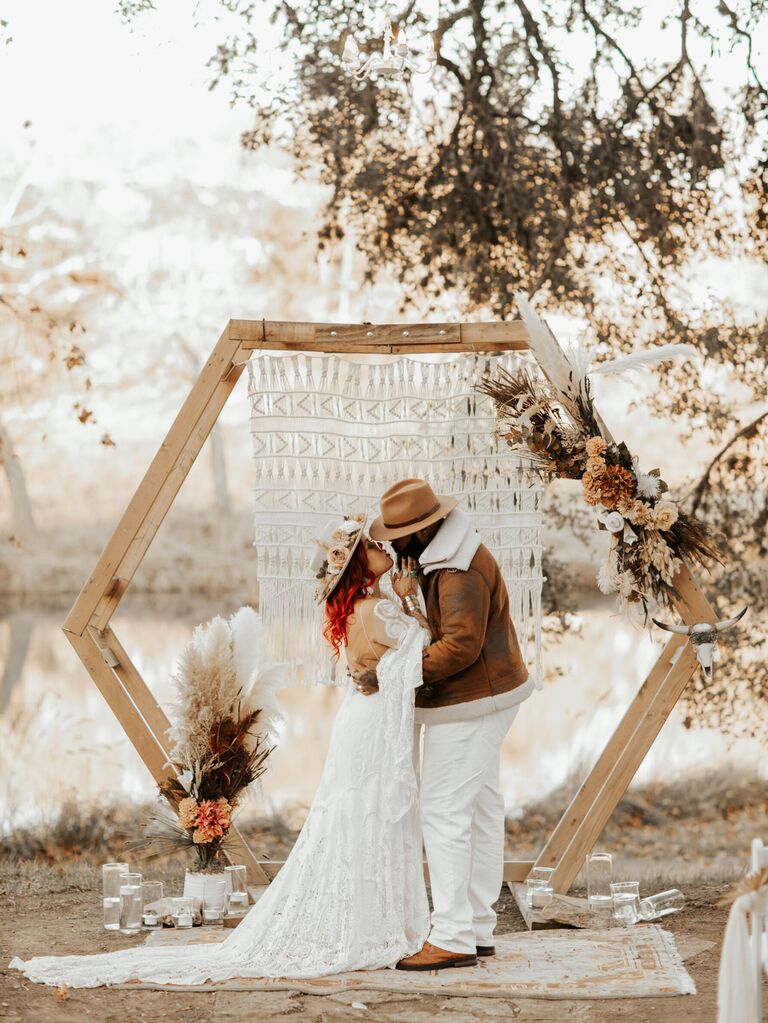 About 45 minutes outside of Austin lies the Texas Hill Country, where, you guessed it, rolling hills provide the perfect backdrop for outdoor activities like water sports, stargazing, and even saying "I do." Cypress Falls Event Center can accommodate up to 160 guests indoors and up to 250 outdoors. An outdoor dance floor means you can spend the entire evening under the big Texas sky, and an onsite bar makes for an easy after-party and quick walk back to your wedding room block. Round out the wedding weekend with swimming, fishing, kayaking, or exploring charming downtown Wimberley.
Cobb Hill Estate in Harrisville, New Hampshire
This mountaintop wedding venue is ideal for the couple who wants stunning natural beauty as the setting for their big day. Just 90 minutes from Boston, Cobb Hill Estate features 750 private and secluded acres as well as breathtaking views of three states. Many couples choose to make a weekend-long event of their wedding at Cobb Hill Estate, hosting their rehearsal dinner onsite and staying on the property in style with the wedding party. After hosting your event reception in the property's large event tent complete with dance floor, chairs, and lighting, up to 45 guests can stay the night in glamping tents on an adjacent property.
Camp Lindenmere in Henryville, Pennsylvania
Nestled amid the Pocono Mountains, Camp Lindenmere offers a selection of outdoor and indoor event spaces. One option—the amphitheater—is made of local trees, with hand crafted benches for rustic elegance and a backdrop of mountain views. After dancing the night away in Fireplace Hall, which boasts vintage details and a stone fireplace perfect for photo ops, guests can stay on property in one of Camp Lindenmere's 33 cabins and 25 private rooms. Each accommodation is equipped with private restrooms and showers, so you can have the summer camp feel without really roughing it. To top it all off, the venue features a range of outdoor activities like tennis, volleyball, soccer, and a lake for swimming, fishing, and kayaking.
Camp Colton in Colton, Oregon
If you want your wedding to feel like summer camp, look no further than Camp Colton, a beautifully restored former summer camp turned refined rustic venue. Settled amidst a lush forest with meandering creeks, you will feel like you and up to 300 guests are secluded in nature, even though you're only 45 minutes from Portland. With tents, yurts, and/or cabins to choose from—you can choose an accommodation package based on what will make your camp-like wedding weekend the most enjoyable for all of your guests. Couples rave about the fire pit nightcap, so if you'd pick s'mores over wedding cake any day, Camp Colton just might be the spot for you.
Piney River Ranch in Vail, Colorado
You'll be hard pressed to find a more stunning location for an outdoor wedding than beneath the Gore Range at Piney River Ranch. The venue can accommodate up to 200 guests with a breathtaking waterfront ceremony deck complete with mountain views. The ranch boasts four guest cabins, a lakeside yurt, three glamping tents, as well as tent camping so you can provide comfortable accommodations for as many of your guests as you'd like. The ranch also has an on-site restaurant and bar so you can have the camping while leaving the coolers and bear boxes behind.
Camp Wildwood in Bridgton, Maine
The ultimate summer camp wedding might just be at Camp Wildwood, a sleep-away camp during the summer that hosts weddings throughout the rest of the year. Choose for your ceremony either a lakeside backdrop or the steps of the 120-year-old lodge for a rustic, charming feel, and then move to one of several indoor options for your reception. The best part about Camp Wildwood? The entire property is yours for the duration of your celebration, with homes and bunks available to you and up to 300 guests.
YMCA Camp Campbell in Boulder Creek, California
It'll be tough to find a ceremony location more romantic than a forest of redwood trees. Located in the Santa Cruz Mountains with easy access to all of the outdoor activities the mountains and ocean have to offer, Camp Campbell is ideal for the outdoorsy couple. This Northern California venue is able to accommodate up to 250 overnight guests with its three day weekend wedding package. Campfires are encouraged and firewood and s'mores are provided, as if you needed further convincing of this unique wedding venue for your special day.
Nature (a Michigan Retreat) in Maple City, Michigan
Billed as a destination wedding venue, the remote Nature retreat lies on the Leelanu Peninsula, which extends 30 miles into scenic Lake Michigan. Host your special day in either the main event room, which seats 170 guests, or a giant tent pad which seats up to 300 on a swimming pond with a sugar sand beach. Scenery aside, added features like bonfire pits, 24 cabins, and 24 glamping tents outfit the venue with everything you need for a campground wedding experience your guests won't soon forget.
Lucky Arrow Retreat in Dripping Springs, Texas
If you're looking for the feeling of being out in nature with an entire venue to yourself but aren't quite sure about camping in tents, you may just fall in love with Lucky Arrow Retreat. An indoor event space is topped with a 1,500 square foot rooftop deck, giving you options for an indoor, outdoor, or mix and match wedding celebration. (You'll probably want an outdoor ceremony given the venue's incredible hill country views!) Lucky Arrow can host 120 guests in its deluxe cabins and luxury yurts. If you're not yet sold we'll leave you with this: the venue has its own pool, beer garden, and the cabins have their own private hot tubs.
Yosemite National Park in Yosemite, California
Believe it or not, you can get married in just about any national park in the United States with the right permitting. Lying at just about equidistance between Los Angeles and San Francisco, Yosemite National Park makes for an accessible destination wedding in a breathtaking location. Whether you want an easy permit for an unforgettable elopement or dinner and dancing with up to 250 guests at one of the park's lodges, Yosemite offers something for everyone.
Enchanted Oaks Farm & Lakehouse in Ocala, Florida
Enchanted Oaks Farm is a woman-owned, 8-acre farm and camping wedding venue located an hour north of Orlando. Between the lakefront farmhouse, glamorous treehouse, A-frame cabin on the lake, pergola, barn, and lakefront Oak tree, this venue is a wedding photographer's dream. After dancing with up to 150 of your nearest and dearest under twinkle lights and a tree canopy, head over to the glamping campsite to keep the party going (or give your dancing feet a rest!). This thoughtfully appointed venue offers its own decor as well as award-winning photo and video services. As for remaining vendors, you can bring your own. So, it's time to start searching for your perfect caterer and start building a dream team for your glamorous camp wedding getaway.