How to Plan an Epic Camp Wedding
Here's exactly how to pull off an awesome camp wedding, complete with color wars, bon fires and fabulous food. (Just don't forget the bug spray.)
Jeremiah and Rachel Photography
There's something about the fresh outdoors, a relaxed, family vibe and a nostalgic first look on the dock of your childhood summer camp that make for an unforgettable wedding. For the ultimate celebration, bring your loved ones together for a few days of camp-inspired activities like color wars, capture the flag, canoeing, and arts and crafts. (Bonus: It's awesome for kids!) Exchange vows at sunset, then dance the night away amid fireflies and a chorus of crickets. And who doesn't love a round of s'mores?
But before you speer any marshmallows, you've got some planning to do. So we went to two pros, Amy Shey Jacobs of Chandelier Events and Andrea Freeman of Andrea Freeman Events, who know all about pulling off a fabulous camp wedding, rain or shine.
Scheduling Matters
First things first: Make sure the campsite you're dreaming of is available on your preferred wedding date. A working summer camp will most likely only be available during its off season, so months like June, July and August could be off-limits. Also keep varying seasonal climates in mind. "Camps can often be in cooler mountainous locations, so their seasons can differ from what you're used to at home. Often, nights are 10 to 20 degrees cooler than average temperatures at higher elevations," Jacobs says. As gorgeous as your natural camp setting already is, you'll probably want to add personal wedding touches (especially if you're hosting a large group for a few days), whether it's an entire tent, your floral ceremony arch or a photo booth. So when it comes to picking a date and talking with pros, factor in time to set up and break down. Freeman recommends leaving anywhere from two to seven days for set up, and one to two days for cleanup.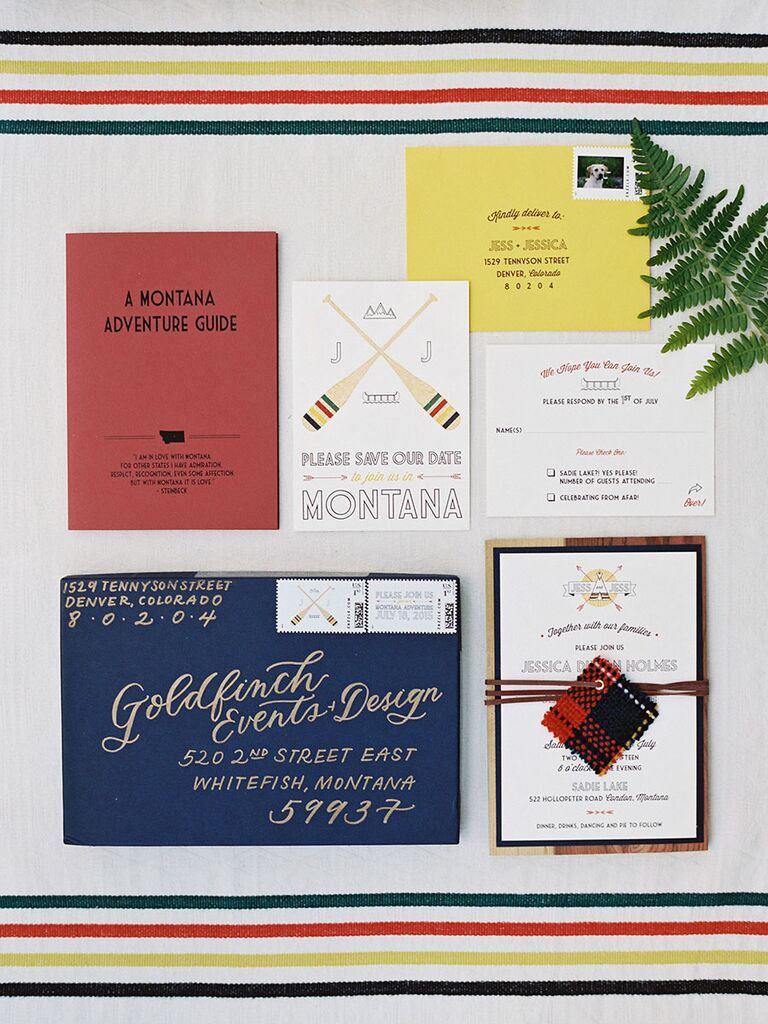 Dress Accordingly (and Tell Your Guests to Do the Same)
This probably isn't the venue for a long, cumbersome gown with lots of volume and multiple undergarments, however stunning they looked in that styled shoot you saw on Pinterest. But if you just can't part with the idea of a dramatic gown, don't worry, you have a few options. "A great bustle will usually do the trick—just discuss it with your seamstress beforehand," Jacobs says. "Otherwise, I say stick to shorter trains and get the drama with a removable tulle overskirt for a more low-maintenance silhouette—this will give you more control over your gown. Or, just go with the camp theme and opt for a short gown and a fun pair of wedges." Speaking of footwear, you won't want to deal with stilettos sinking into the grass, so Freeman says she recommends flats (or at least flat-soled shoes)—just make sure your dress is altered to the correct length to avoid letting extra fabric drag.
Have a Plan B
As with any outdoor wedding, the last thing you want is a rainstorm with no backup plan. Freeman always suggests using a tent for outdoor affairs, no matter the weather—even if you get a glorious day, you're going to want some shade. Freeman's best recommendation is a clear tent with removable sides. That way, you can adjust the tent setting according to the weather and temperature at a moment's notice. Otherwise, if you're set on an open-air wedding, check to see if the camp has indoor space you'd be able to use in case of bad weather. Other smart extras to have around (depending on the season) are heaters, fans, umbrellas, rain ponchos or blankets.
Beyond the ceremony and reception, if you're having a multiday celebration, Jacobs says to prep rainy-day activities just in case: "Basketball games in the gym, pottery and lanyard making in arts and crafts, movie nights with s'mores bars and flannel blankets—it's all possible, but think these things through before you get to camp."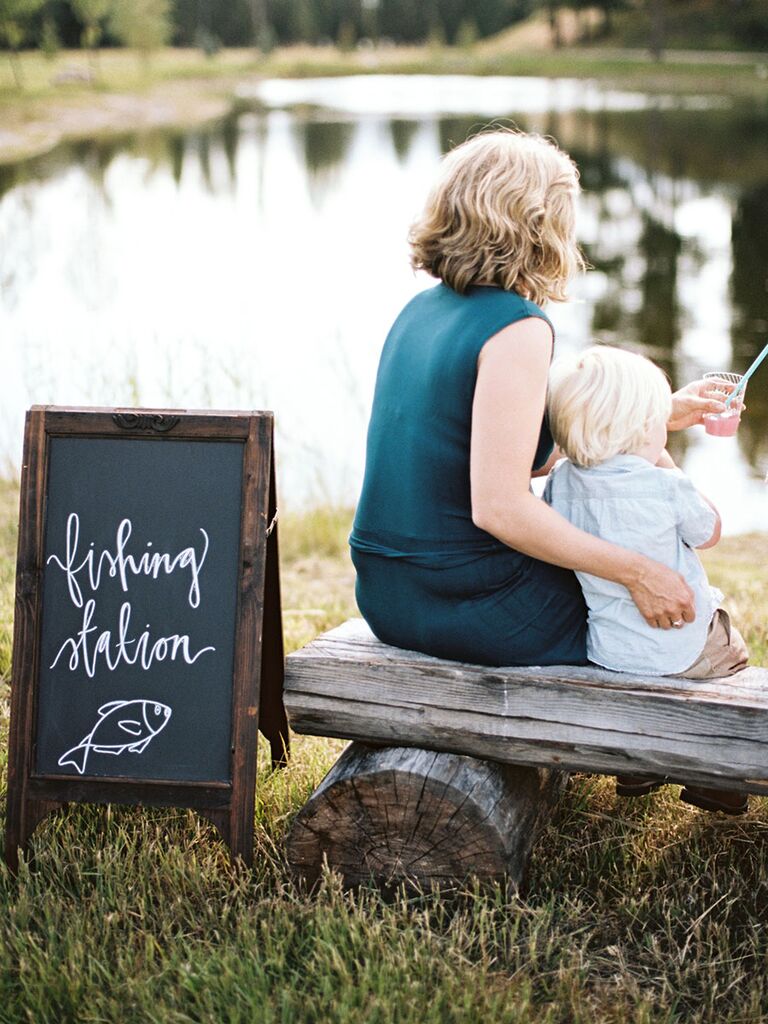 Budget for Camp Extras
Since your campsite is most likely not a full-service wedding venue, factor additional expenses into your budget like party rentals, proper lighting, suitable restrooms and additional lodging (in case the camp can't sleep everyone or you don't want your grandparents cramped in bunk beds). If you do block extra rooms nearby, don't forget transportation to shuttle guests to and from the camp. "Accessibility is also critical," Freeman says. "If the location you love for the reception is in the middle of the woods, but trucks can't get there to load and unload, you could be looking at increased labor costs for rentals and catering." And something you probably haven't thought of? Hiring a lifeguard—you'll definitely want a certified pro on duty during any activities involving water (especially if drinks are flowing).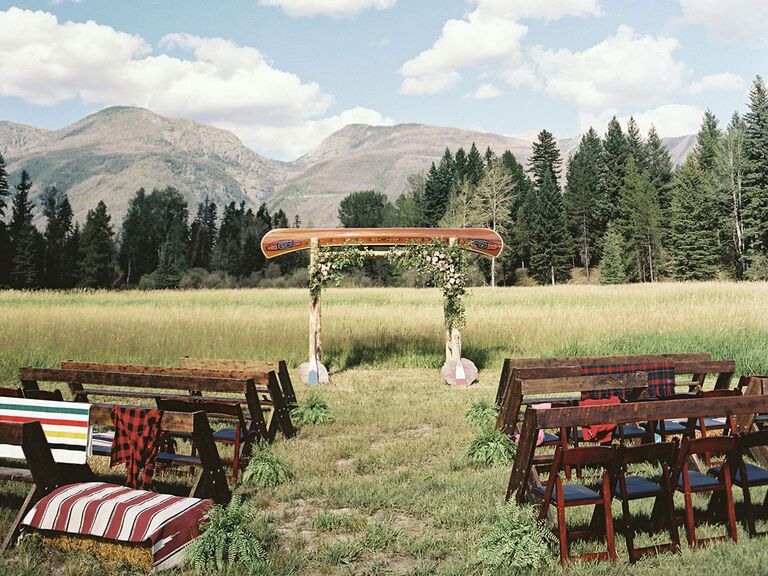 Prepare Electrical Backup
A rural or far-removed site means certain amenities, like electricity, aren't necessarily a given. First, discuss the electrical situation with the camp site director or manager and whether you'll need extra power from a generator. Then talk to all your pros—from the caterer and tent rental company to entertainment—about their electrical needs in order to do their jobs flawlessly. "When you plan things out, make sure you get a generator that has at least two more outlets than you think you'll need," Freeman says. "Also, the band may need two power drops, one for ceremony and another separate spot for reception." If your camp venue often hosts weddings, they may have a list of preferred vendors they've worked with before. Finally, make sure there are enough phone chargers, batteries and flashlights on-site, whether it's something the venue provides or you bring yourselves.
Take Care of Your Guests
Your guests are rock stars for making the trip to the camp, so give them the goodies they deserve (and need!). Greet guests with a welcome bag in their rooms filled with local treats, campsite maps, daily itineraries and local areas to visit. And seeing as the nearest pharmacy might be miles away, this definitely isn't the time to skimp on necessities. Make sure every room and restroom is stocked with nice soaps, shampoo, toothpaste, toothbrushes, bug spray, sunscreen and allergy medication—better safe than sorry. And if you're in a climate that gets chilly at night, always have cozy blankets and throws at the ready.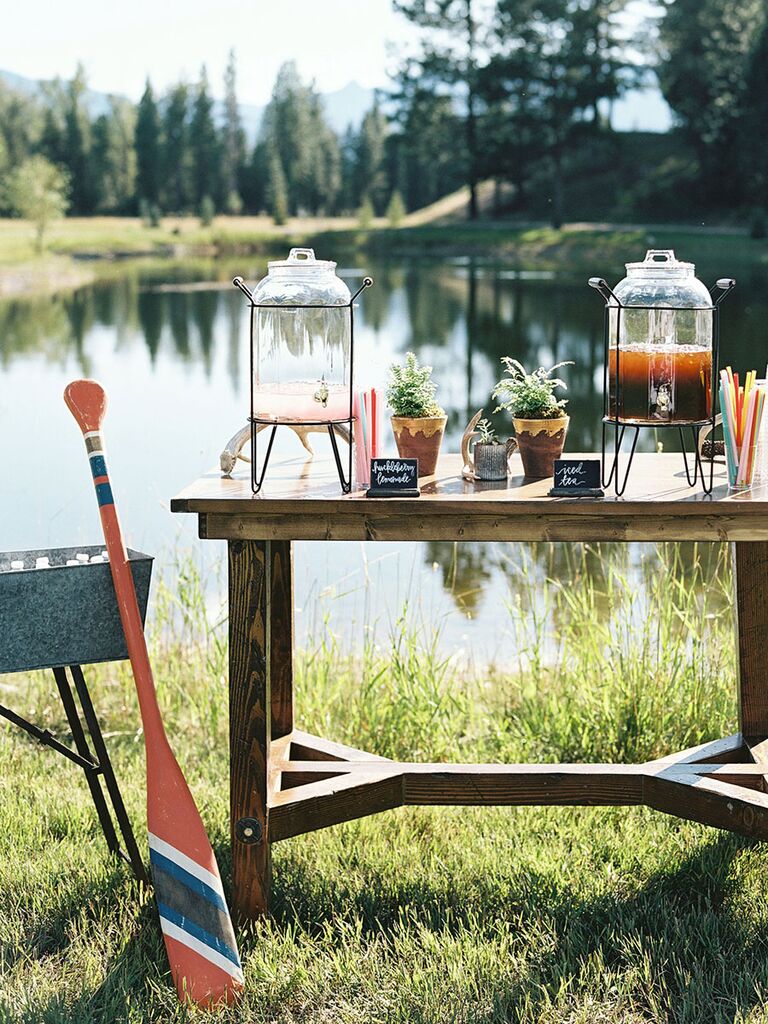 Check Local Sound and Alcohol Ordinances
You may be secluded in the woods, on a lake or in the mountains, but that doesn't mean there aren't any rules. You might have to work with a 10 p.m. noise curfew or need to obtain a permit that allows your band to play later into the night. Same goes for alcohol—do a little research and find out what the deal is with serving cocktails on camp premises. Your campsite staff might be helpful and point you in the right direction, especially if they're accustomed to holding events.
Offer Games and Activities
Now for the really fun part—camp games and activities. These will obviously depend on the size and age range of your party, but you have so many options to choose from. Jacobs loves organized all-camp activities like color wars, field day or tug-of-war to get everyone involved and spark some fun competition. It's also a good idea to have other equipment, like sports gear and arts and crafts materials, and give your guests some time to improvise (or take a break). You could set the younger ones up with a movie or game night while the adults enjoy something a little more festive, like a wine and cheese tasting. "You want to strike a balance between organized activities, free play and rest time for your guests," Jacobs says. Utilize the camp's facilities to the fullest and don't let your guests get bored, but don't micromanage—you don't want everyone exhausted and crabby for the wedding.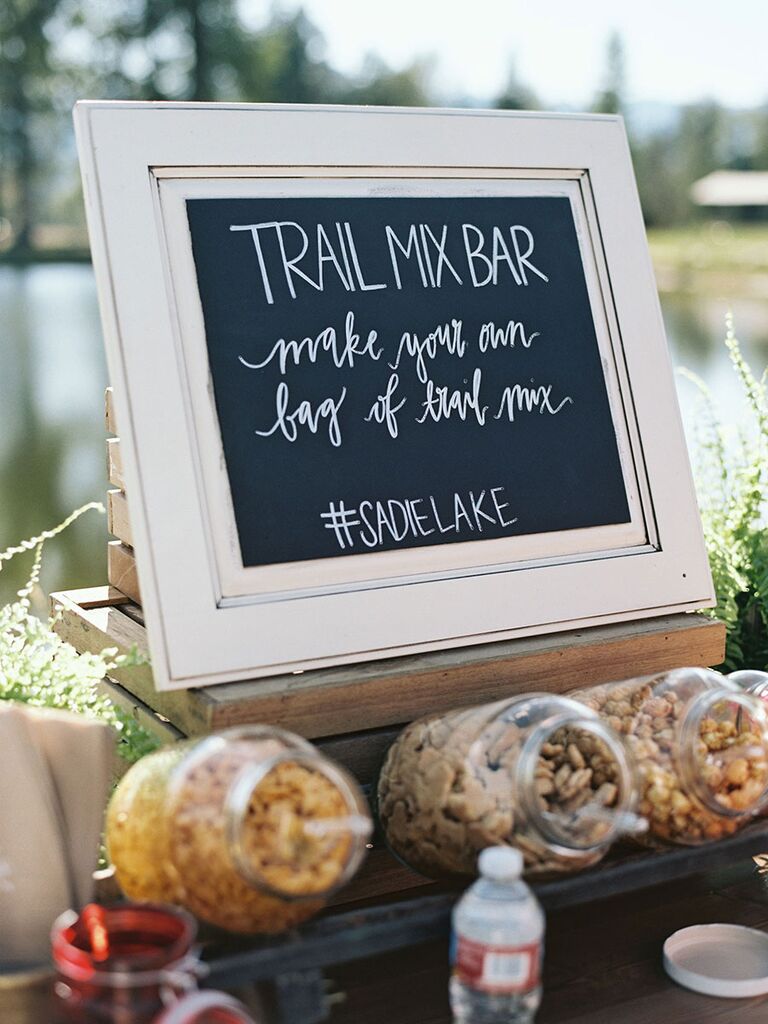 Keep Food Simple, Relaxed and Local
Celebrating over a few days? Jacobs likes to cater daily meals through the camp, if possible. Think: buffet breakfasts, deli spreads and barbecues.  She suggests recruiting a local caterer to craft a locally sourced and seasonally fresh menu for the main event. "Farm to table is the way to go, and don't expect to overcomplicate with fussy menu items or things that are hard to temperature control," Jacob adds. As for serving, Freeman loves food stations. "Guests can play lawn games, dance, or sit and chat on a blanket and grab a bite whenever they're hungry." Freeman says. It offers a more fluid, relaxed dynamic where the emphasis stays on mingling with loved ones instead of sticking to your assigned seat.