A Denver Bachelor Party City Guide to Plan Your Weekend
High times in the Mile-High City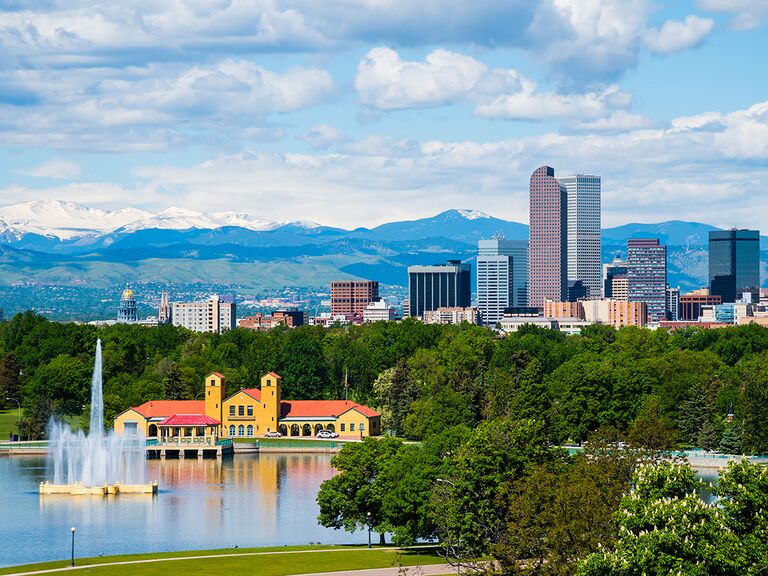 Andrew Zarivny/Shutterstock
We have included third party products to help you navigate and enjoy life's biggest moments. Purchases made through links on this page may earn us a commission.
There's a lot you can say about a Denver bachelor party. The Colorado capital is home to more than 148 breweries, a thriving restaurant scene, and plenty of outdoor adventure just a short drive away (not to mention, it's home to the highest concentration of recreational marijuana stores in the country, if that's your groom's thing). So gather your guys and head out to this Rocky Mountain paradise for some adrenaline boosting fun and plenty of city life.
What Are Some Denver Bachelor Party Ideas?
Nestled in the foothills of the Rocky Mountains, you'll find plenty of variety in this laidback city—from outdoor adventures in aforementioned mountains, to craft brewery tours, a hipster food scene, and so much more. (Don't forget to check out The Knot Shop for gear for your crew or a thank-you present from the groom).
For the Outdoorsmen
With the mountains just a short ride away, you won't be wanting for outdoor activity in Denver. Go in the summer for whitewater rafting, rock climbing and rappelling, mountain biking, ziplining, and hiking. In the winter you can hit the slopes on skis or a snowboard, go snowshoeing, or take a snowmobile tour of the mountains. Or you can take to the water for a fly-fishing trip. Plus, you can take tours of Rocky Mountain National Park, or take aglacier hike and stop at geothermal pools nearby.
For the Beer Lovers
This is the country's mecca for beer lovers, with more than 148 craft breweries in and around the city of Denver. Take a self-guided tour to as many as you can fit in one weekend, or hire a guide to lead your way.
For the Kids at Heart
Denver has some unique experiences that will thrill any groom who loves fast cars and video games. For instance: A virtual reality game room with a 360-degree treadmill for game play. And then there's the 15 Mile Canyon Road for big kids, where you can race the scenic and winding highway in a $300,000 luxury car.
For Stadium Fever
Whether your groom likes sports or music, there's plenty on offer on a Denver bachelor party. Check out the schedule for the Red Rocks amphitheatre just a half an hour outside the city to experience a one-of-a-kind outdoor concert. Or catch a Rockies game at Coors Field, if he's a baseball fan.
What Do You Do at a Bachelor Party in Denver?
There is a lot to pack into one weekend in Denver, so you may feel overwhelmed planning. Don't worry: We've got the ideal three-day Denver bachelor party itinerary to help you make the most of your groom's last single weekend.
Day 1
Morning: Check in your hotel or AirBnB and then head to Snooze, an A.M. Eatery. This breakfast and brunch spot serves up everything from more than 6 types of eggs benedict and 3 styles of French toast to breakfast tacos and sandwiches.
Afternoon: Dive right into what makes Denver the unmistakable bachelor party capital for beer lovers with a lower downtown craft beer tour. The two to three hour tour includes four stops with behind-the-scenes peeks at the brewing process, pluus tastings along the way. If you'd rather get some exercise along the way, opt for a bike and brew tour, where you'll pedal through the River North (RiNo) district and stop in at breweries along the way. If you and your crew are here for a different kind of buzz, take a dispensary tour through 420Tours. If you get hungry, stop at Zeppelin Station for lunch, a fusion-style food hall with vendors offering everything from burgers to banh mi to poke.
Evening: Head to happy hour at the Lowry Beer Garden, where you can enjoy $4.50 drafts, well drinks, and wine in one of Denver's preeminent beer palaces. Then it's off to a meat-lovers dinner at Guard and Grace, a topnotch steakhouse that includes options from a raw bar and sushi menu along with tasty cuts. For your first night out, head to Punch Bowl Social where you can drink inventive cocktails and craft brews while taking part in bowling, shuffleboard, pool, karaoke, or old-school arcade games.
Day 2
Morning: Wake up early for a big breakfast at Denver Biscuit Co. to gear up for the day ahead. The local hot spot has everything from biscuits and gravy to biscuit cinnamon rolls (plus everything you can sandwich on a biscuit!) along with bloody mary's and mimosas.
Afternoon: Today it's time to hit the outdoors with all that Denver has to offer just a short drive outside of the metropolitan area. Take your pick: Fishermen can gear up and head to Middle Fork or other nearby rivers for trout fly fishing led by a private guide. Skiers and snowboarders who've come at the right time should spend the day at Keystone Resort (also a great spot for hiking and mountain biking in warmer months). And those daredevils who want to do their best Alex Honnold impression can take a climbing course in the Rockies.

Evening: Happy hour tonight is all about the tequila to take off the edge from that adrenaline pumping activity. Head to Palenque for tequila, mezcal, and cerveza specials. Dinner tonight is more casual at Work and Class, where the menu rotates based on seasonality but includes tasty options like blue corn empanadas, roasted goat tacos, fried trout, and apricot and whiskey barbeque brisket, plus a robust cocktail and beer menu. For your night out, choose between the more laid back Dive Inn, where you can drink and play games, a plethora of beer options at Falling Rock Taphouse, or Tap Fourteen for a rooftop bar and beer garden with a lively crowd as epic as the views.
Day 3
Morning: Breakfast today is at Bacon Social House, where—you guessed it—the menu is 100% bacon-forward. Along with a bacon flight and bacon-infused bloody Mary, other dishes include a pulled pork breakfast burrito and bacon hash.
Afternoon: Let the games begin today with a friendly competition in the form of archery dodgeball. At Archery Games Denver, you and your crew will go head to head in two teams, competing by bow and "arrow". It's a fun day that brings out the best in your competitive natures. After the arena (and yes, only after), head to Stranahan's, Denver's original whiskey distillery, for a tour and tasting or even a cocktail making class if you're up for it.
Evening: For starters, make your way to Prohibition for speakeasy-style seasonal cocktails and happy hour snacks before your last dinner will be at the Viewhouse Eatery Bar & Rooftop, where you can dine on everything from ribs and brisket to Nashville hot chicken and waffles and Thai-style peanut chicken alongside craft beer and cocktails. The views aren't bad either. You can spend the rest of your night enjoying this lively spot or head to Death & Co, a popular Denver staple in the RiNo district for artisan cocktails.
Where Should I Stay in Denver for a Bachelor Party?
Denver is a big city but downtown is pretty walkable if you choose to make your home there. Otherwise, cabs and Ubers are reliable to get you where you need to be—and van services are offered to take your group into the mountains for outdoor adventures (guided trips often include transportation).
Best Denver Bachelor Party Hotels
Budget-friendly Residence Inn Denver City Center is in the heart of downtown and in easy walking distance to many attractions, including Coors Field.
The Art Hotel sits in the RiNo district, in walking distance to many popular bars and restaurants, and offers a bachelor-friendly suite for your group to pregame in.
The Curtis is a great option for mid-range budgets with pop-culture themed rooms and a great location in the heart of downtown.
Best Denver Bachelor Party AirBnBs
A RINO/Downtown Denver modern and newly renovated house is a prime spot for large groups (the house sleeps 15) looking to be in the heart of everything.
Smaller groups (up to 8) will enjoy a comfortable and fully loaded townhouse just 1 block from Mile High stadium—and easy access to all other Denver attractions.
This Downtown Spacious Three Bedroom has enough space to sleep up to 16 (if you don't mind sleeping in common areas) right in the middle of RiNo, plus this super host can arrange for private chef dinners and cannabis hardware.
For other home rental options, we've found success using sites likeVRBO and HomeAway.com.