The 39 Best Bachelor Party Ideas & Themes for an Unforgettable Time
It's time to celebrate with the crew.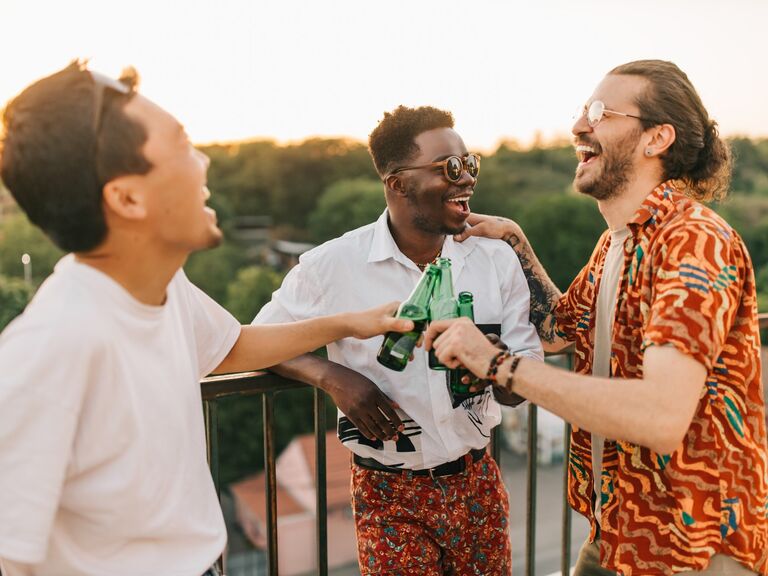 astarot / Shutterstock
It's time to gather the crew for an epic bachelor party. However, the concept of planning an entire bachelor party may seem daunting. What are the best bachelor party ideas? Where can you research things to do for a bachelor party? What about bachelor party ideas for a large group? Do winter bachelor party ideas differ from summer ones? There are plenty of questions while deciding what to do for a bachelor party.
Before you get into planning out the minutiae of the bachelor party, like buying bachelor party decorations, making a playlist of bachelor party songs and sourcing bachelor party favors and shirts, you need a theme. The bachelor party idea or theme you select will inform everything from your destination to what expenses will be incurred. Maybe the groom is outdoorsy and wants a camping trip near Lake Tahoe, California. Or maybe the to-be-wed wants to surf and sip margaritas on the beach in San Diego. And, of course, there's the classic Las Vegas bachelor party filled with poker.
We've gathered the trendiest and best bachelor party ideas to get your brainstorming started. Plus, our knowledgeable wedding experts weigh in with their thoughts on these great bachelor party ideas.
In this story:
Funny Bachelor Party Ideas
Get ready to laugh. These great bachelor party ideas are packed with humor.
Take a Walk Down Memory Lane
This idea works well if you're looking for surprise bachelor party ideas. Have everyone attending dress up as the groom from a different stage of life. Bonus points if you dress up as the version of him that you knew when you first met. Did you connect during college? Time to break out your alma mater attire. Maybe you were pals on a flag football team? Better rock that jersey for the party.
Embark on a Scavenger Hunt
The great thing about a scavenger hunt is that you have the power to make it as simple or as complex as you want. Have a little fun with it and incorporate some clues that require the groom to partake in silly activities.
Serenade Your Friends With a Taylor Swift Sing-Along
This idea gained popularity on TikTok and it isn't hard to see why so many people love it. The premise is simple: you and your buddies get together and sing your way through Taylor Swift's musical repertoire. This works especially well if you play the corresponding music videos on a TV to accompany your karaoke.
Dress Like a Dad
Yet another fun TikTok idea, except this one is all about embracing Dad-life. Think: polos and cargo shorts. This is a funny way to celebrate where the soon-to-be groom might be in a few years.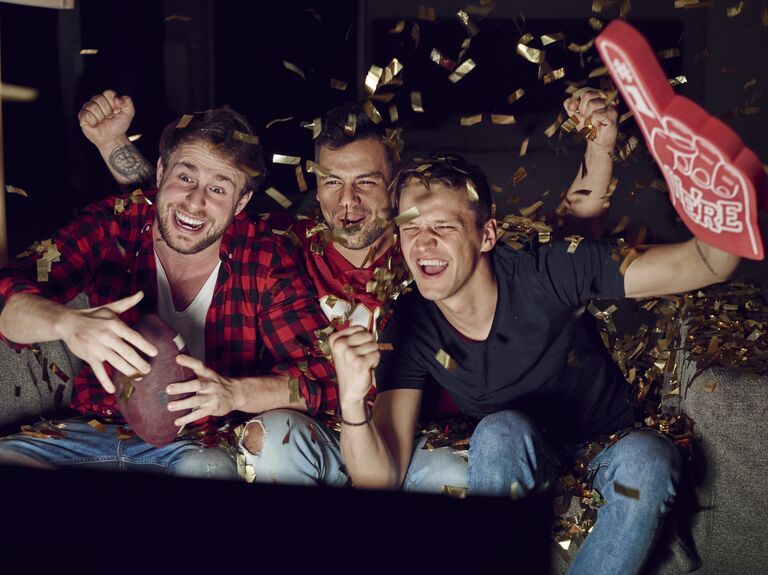 Fun Bachelor Party Ideas
On the search for fun bachelor party activities? These cool bachelor party ideas are sure to be loads of fun.
Host an Elevated Bar Crawl Bachelor Party
Wedding expert Casey Stamouli, owner and lead planner of Casey & Co. Events, suggests a unique take on the classic bar crawl. This idea is especially good for cocktail enthusiasts because the pro suggests you plan out certain drinks to try at each bar. "This will provide an experience in a new destination for everyone and bonus points if the bar locations have games such as darts, shuffle board, etc!"
Celebrate Together With a Joint Bach Party
The more, the merrier. Get everyone in the wedding party together for one big memorable joint bach party. This is a fun way to have all the wedding attendants get to know each other so that they feel like old friends by the time the big day rolls around.
Go Bowling at the Bachelor Party
Put on your bowling shoes and go for a strike. Bowling is the ultimate retro relaxation activity that's approachable and fun for everyone involved. If you're not too good at bowling, or you want to imbibe but still knock down all the pins, there's no shame in asking for guardrails.
Play Poker at a Las Vegas Bachelor Party
Are you a fan of "The Hangover"? The Las Vegas bachelor party is a classic for a reason—it's impossible not to have fun hitting the slots at a Vegas casino.
Cheer on Your Favorite Team at a Sports Game Bachelor Party
The great thing about a sports game bachelor party is that it works pretty much any time of year. You could enjoy March Madness if you want a spring bachelor party, kick it at a tailgate for a fall bachelor party or even watch a zamboni during an NHL game at a winter bachelor party.
Sing and Dance at a Music Festival Bachelor Party
If going to concerts is one of the groom's favorite pastimes, consider taking him to a musical festival. Sing, dance and party in honor of the upcoming wedding.
Find your kind of venue
From barns to ballrooms, discover reception venues that feel like you.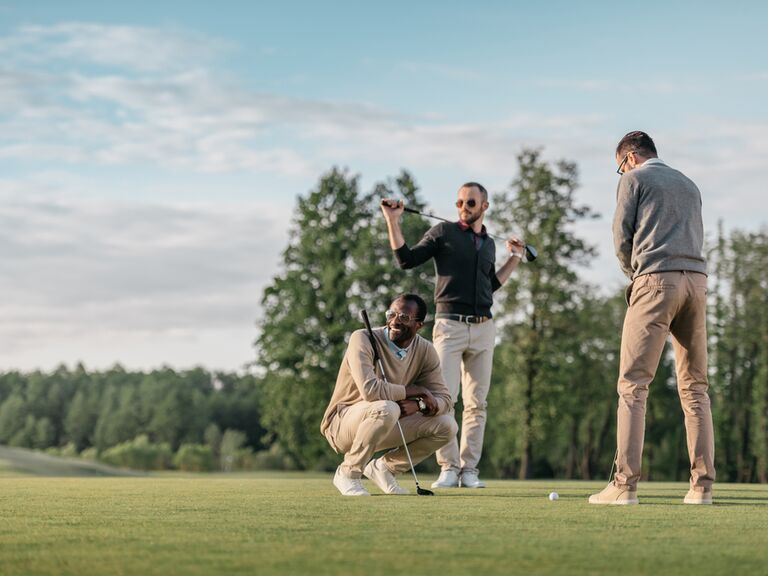 Golf Bachelor Party Ideas
Is your golf-loving friend about to tie the knot? We've gathered some fun golf bachelor party ideas just in time for tee time. And if you want even more ideas, check out our guide to the best bachelor party destinations for golf lovers.
Relax With a Putt-Putt Golf
Sure, true golfers might not count mini golf as true golf, but the bachelor party is all about fun. Putt-putt golf is a low-key, low-stakes option that's good if you would rather drink and relax than get caught up in the competition on the green.
Tee Off at a Bucket-List Course
Every great golfer has a list of courses they're itching to play. Treat the groom to a trip to play a round of golf at a course he's been eyeing.
Attend the Masters Tournament
You don't have to play golf in order to enjoy a gold bachelor party. Take a trip to Augusta to watch the pros tee off at the Masters.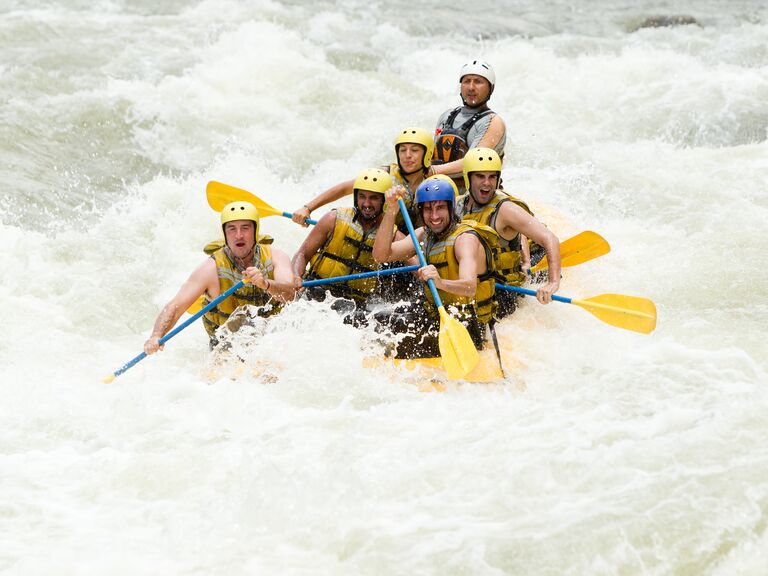 Outdoor Bachelor Party Ideas
If you and the crew are big on the outdoors, these creative bachelor party ideas are for you. A lot of these concepts are especially good if you're looking for sober bachelor party ideas as you'll want to be fully alert to participate in these outdoor activities.
"So it's bachelor party time! In 2023, let's skip the overdone gentleman's club for these fun ideas that will cater to everyone; even your overly picky father-in-law. Deep-sea fishing and boating trips are a fun and unique warm-weather way to celebrate your last days as a single man. Axe throwing, ATV riding, and paintball are perfect for the groom who's looking for a little adventure," advises wedding expert Lisa Nightingale of Infinite Events.
Take Aim During a Paintball Bachelor Party
If you have a big group of groomsmen or groomswomen and you're interested in team sports, paintball is the way to go. With activities that are more active and slightly riskier, make sure everyone is on board before committing to this idea to ensure no one feels left out or uncomfortable.
Go Fishing for the Bachelor Party
Picture this: It's a warm day and you're basking in the sun watching your fishing line drift in the lake while sipping a cold one with the crew. How's that for a great outdoor bachelor party? End the day with a festive fish fry with what you catch.
Make a Splash at a White-Water Rafting Bachelor Party
If you're up for a serious dose of adventure, raft down a river. First, make sure none of the crew is easily susceptible to sea or motion sickness. Most rafting companies have different offerings depending on how long you want to be on the river and may even allow you to pack food and drinks to enjoy partway through the excursion. A white-water rafting bachelor party is sure to be a memorable time.
Navigate a Ropes Course During the Bachelor Party
If water isn't quite your speed, take to the tree tops. Navigating high-ropes courses involves teamwork and cheering each other on—great qualities for groomsmen to practice ahead of the wedding.
Hit the Trail for a Camping Bachelor Party
Ask the groom if there's a National Park he's had on his bucket list and then hit to road. Depending on how adventurous the crew is, you could go glamping or tent camping. And if you're looking to add a bit of competition to the weekend, plan out "Survivor"-inspired games and activities to make things like cooking and setting up camp a fun challenge.
Shred the Slopes at a Skiing Winter Bachelor Party
It can feel tricky to find winter bachelor party ideas since many bachelor parties happen during the summer. But if the wedding party is made up of ski buffs, then a skiing and snowboarding bachelor party is a must. Bonus points if you scour a thrift store for retro ski suits. Then plan to end the day with fun après ski snacks and drinks.
Set Sail for a Cruise Bachelor Party
Do you like the outdoors but don't want the stress of planning every single detail? Book a cruise so that everything from food to accommodations is taken care of in one fell swoop.
Rent ATVs and Go Off-Roading
If you're ready to get dirty, ATVing is the way to go. From the sand dunes of Utah to mountain trails in Colorado, there's plenty of fun to be had off-roading during a bachelor party.
Make Waves at a Surfing Bachelor Party
Surfs up, bro! What's better than sand, sun and waves? Enjoying all three with your favorite buddies. If you live near the beach in San Diego, Los Angeles or the Outer Banks, then this could be a local getaway for you. But surfing is also a great activity if you want to enjoy a destination bachelor party somewhere tropical like Mexico or the Carribean.
Go Rock Climbing for the Bachelor Party
Rock climbing is a fun bachelor party idea that can be combined with other outdoor activities like ATVing, rafting and camping. Work with the groom to figure out what outdoor adventures pique his interest the most and then plan an epic outdoor bachelor party weekend that won't soon be forgotten.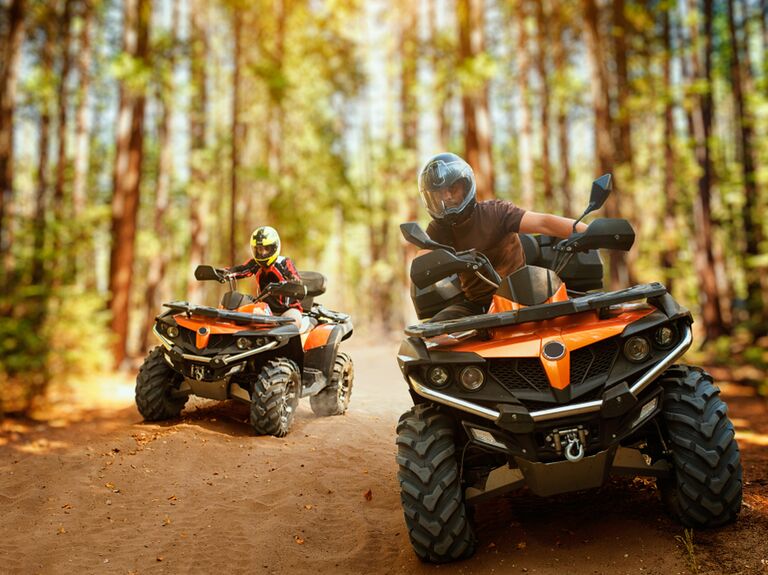 Unique Bachelor Party Ideas
Looking for out-of-the-box bachelor party weekend ideas? We've gathered the best unique bachelor party ideas to help you plan an unconventional and unforgettable celebration.
Enjoy a Whiskey Tasting Bachelor Party
There are a few ways you could bring a whiskey tasting bachelor party to life. If you like the idea of DIY, visit a liquor store and buy an assortment of top-shelf offerings for everyone to sip and enjoy. Or you could visit a local distillery for a tour and tasting. But if you're feeling especially adventurous, take a trip down the Kentucky Bourbon Trail and visit multiple iconic whiskey distilleries.
Herd Cattle at a Dude Ranch
Ready to commune with your inner cowboy? Saddle up and learn to herd cattle at a dude ranch. Many ranches also offer accommodations, food and additional activities like fishing for the groom and groomsmen to enjoy.
Get Crafty at a DIY Workshop
A crafting workshop is fun for groups that want to do something interactive and have a favor to take home as a memento from the weekend. A few of our favorite ideas include a rug tufting class, a pottery workshop, a beer making workshop and a cooking class. Whatever hobbies the groom enjoys, there's sure to be a fun workshop that will allow him to showcase his interests to his buddies.
Alter Reality With a VR Experience Bachelor Party
There's no rule that the bachelor party take place in the physical world. For tech-loving to-be-weds, a metaverse or VR experience could be a fun way to celebrate the upcoming nuptials in another dimension.
Take a Train Trip for the Bachelor Party
Choo-choo, all aboard! If the to-be-wed is an engineer, this might be the option for him. Book a scenic train tour aboard an antique train. Or jetset to Tokyo to ride a bullet train. Instead of driving to the bachelor party destination, you can kick-back and relax while the train gets you there.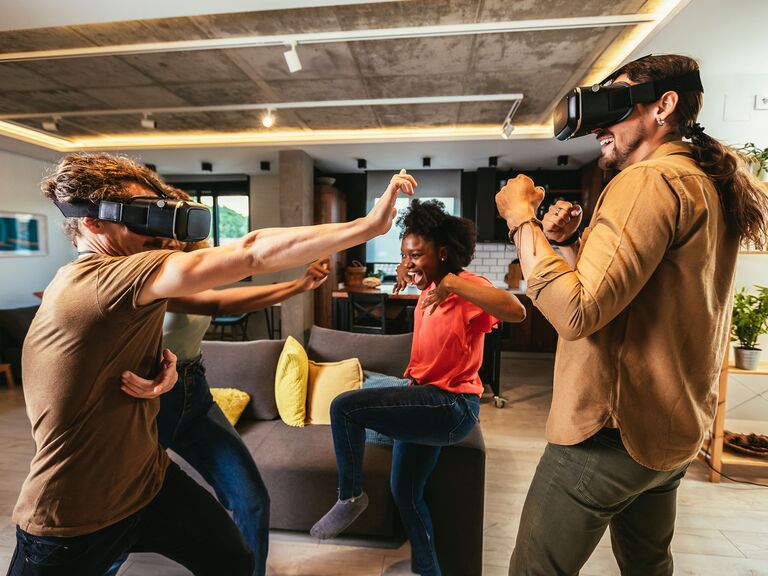 Epic Bachelor Party Ideas
Some grooms love the idea of epic, wild bachelor party ideas. These awesome bachelor party themes and ideas are just the ticket.
Take Flight With a Skydiving Bachelor Party
This is for the fearless, risktaking groom. A wedding is a memorable celebration, so why not usher in the big day with an equally thrilling bachelor party?
Let Loose During an Axe Throwing Bachelor Party
You don't have to travel far for an epic bachelor party. Many cities have axe-throwing bars you can visit if the bachelor party is a one-night-only local event.
Break a Sweat With a Field Day Bachelor Party
Is the soon-to-be groom a sport-loving competitor? Plan out a field day with an assortment of games for everyone to play. This is a great option if you're having a joint bach party. Face off with a game of capture the flag that pits the two sides of the wedding party against each other.
Speed Away With a Sports Car Driving Bachelor Party
Satisfy your need for speed with a few loops around a race track in a speedster.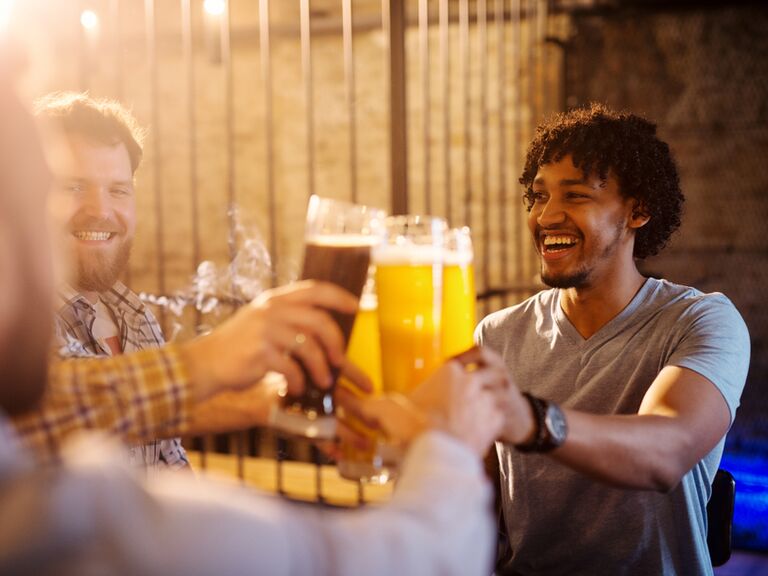 Chill Bachelor Party Ideas
Maybe crazy bachelor party ideas aren't quite your speed. Here are some chill, clean bachelor party ideas to consider if you want a low-key event.
Grill Out at a Backyard BBQ
If you're tight on time, a backyard barbecue is a great last-minute bachelor party idea. Grab some burgers, hot dogs, ribs and a few cases of beer then turn on your favorite tunes and you're ready to go.
Book a Charter Boat for the Bachelor Party
Maybe you like the idea of a day on the water, but don't want the hassle of planning out all the minutiae. Contract a charter boat that specializes in bachelor parties and will take care of all the planning for you. Then you can relax and enjoy.
Enjoy a River Tubing Bachelor Party
Tubing is a popular Reddit bachelor party idea. One user suggests tying the tube that contains the drink cooler to the groom's tube so he always has easy access to beverages.
Relax on the Beach During the Bachelor Party
A beach bachelor party is by no means a new idea, but there's a reason it never goes out of style. It's almost impossible to have a bad weekend at the beach. Grab your SPF and towels and hit the road—the sand is calling.
Reminisce With a Childhood Favorites Food Tour
This is a culinary version of a walk down memory lane. Ask the groom what foods he loved as a kid and serve those up at the bachelor party.
Indulge With an Around the World Food Tour
Another idea for foodies is to think globally when planning the bachelor party. Ask the groom what cuisines are his favorite and serve up food from all around the world for the bachelor party.
Play Video Games at the Bachelor Party
TikTok and Reddit are both great sources for bachelor party ideas. A funny idea we've seen circulating around TikTok involves making your partner think you're going to have a wild night in the town, only to actually surprise them by letting them know you're staying in with lots of video games and snacks.