10 Bachelor Party Ideas Everyone Can Agree on
Let these no-fail ideas inspire your perfect bachelor party.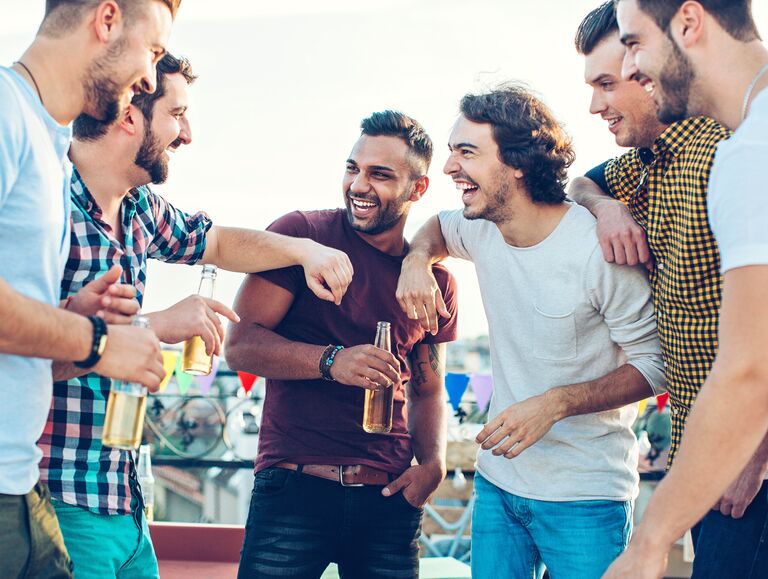 iStock
The concept of planning an entire bachelor party might seem daunting, but there's nothing that tough about it. It just takes a little organization (think: draw up a guest list, pick a date and choose your ideal festivities), some teamwork and an awesome idea the groom will love. Here are 10 bachelor party ideas that really can't miss.
1. A Trip to Las Vegas
If you can swing it, nothing beats a quick trip to Sin City, filled with neon lights, poolside cocktails, slot machines and all-you-can-eat buffets. Your best bet for a successful Las Vegas bachelor party that won't cost everyone an arm and a leg? Book a late-night flight (flights to Vegas from anywhere are usually cheap) and a large suite at a decent hotel. Celebrate all night, crash in the morning, then get your act together for dinner and a quick round of 21 the next day. One late-night flight back home later, and you'll have enough memories to get you through the next 10 years. (And for Vegas vibes on the East Coast, try Atlantic City.)
2. Bring Vegas to Him
If scheduling a trip (not to mention airfare and hotel rooms) isn't feasible for the group, host an all-out poker night at someone's place for the Vegas experience for quarter of the hassle. Stock the bar, order in your favorite food and get that deck of cards handy.
3. Dinner at a Steakhouse
This is a bachelor party we're talking about here—no time to be sensible. Treat yourselves to a feast at the best steakhouse in town and order a bottle (or several) of awesome red wine. When else will you have such a good reason to eat and drink like kings?
4. Charter a Boat
You don't have to own a boat to enjoy some time on the water. Look into chartering a yacht for a few hours during the day or evening for a luxe boating excursion worthy of the groom-to-be. Bring a few bottles of top-shelf champagne (or stick to your favorite beer) and celebrate in style on the high seas.
5. Chill at the Beach
Sun, sand, swimming, beach volleyball and cold drinks—need we say more? If your location allows, grill up some food right on the shore or enjoy beers and a bonfire late into the night.
6. A Cigar Bar
Take the groom and his crew out to a swanky cigar bar for some old-world bachelor party fun. Stop by your favorite cigar bar and puff away on top-notch cigars while sipping single-malt Scotch.
7. Play a Round of Golf
Sometimes, nothing beats a few rounds of golf. Eighteen holes of sun, laughs and a little friendly competition. If you can rally the troops, go for a three-round weekend retreat. We suggest Palm Springs, California, home of PGA West, Desert Dunes and Bob Hope. Play in the morning, swim by afternoon and barbecue by night.
8. Take a Road Trip
Grabbing a few close friends and setting off for destinations unknown is a part of the appeal of a road trip. Adventurous groups can drive as far as one tank of gas will get them—but if you need a little more structure (we don't blame you), map out your stops along the way to an awesome destination to optimize sightseeing and experiences.
9. Hit the Town
Ever dream of hosting a wild, all-night party at an exclusive club? Get in touch with the management of a nearby hotspot and ask about renting out one of its VIP rooms for the evening. This could get expensive, especially if you have an open bar, so make sure all the partygoers are prepared to chip in on this kind of party. But clubs might not be the groom's scene, so stick to a going-out plan you're all on board with. Try a more low-key bar crawl that hits all his favorite local spots, or take a local brewery tour and stay for dinner, brews and live music.
10. Get Outside
For outdoorsy wedding parties, let Mother Nature be your guide. Hiking, mountain biking, rock climbing, fishing, bungee jumping and camping are all awesome, fresh-air alternatives to the typical bachelor party scene. And the latest rugged bachelor party craze is definitely unexpected: axe throwing—and yes, it's exactly what it sounds like. Book a private event at your nearest axe-throwing destination (there's probably one closer than you think) and spend the day eating, drinking, hanging out and throwing hatchets (with certified instructors, of course).