19 Magenta Wedding Ideas Inspired by Pantone's Color of the Year
Here's a hot new take on pink for 2023.
Viva Magenta, the Pantone Color of the Year for 2023, is here and ready to make a statement. And if you ask us, the raspberry pink hue, which is described as "brave and fearless" by The Pantone Color Institute, is a solid choice for this year's wedding color palettes. Not only does it evoke a sense of energy and liveliness, but it's also on par with the trending wedding colors for 2023. If you love this color, here's how to embrace it for your wedding day with our magenta color palette ideas and tips.
How to Incorporate Viva Magenta Into Your Wedding
From flowers to stationery and attire, magenta—and pink in general—is already a popular wedding color. So luckily, there are plenty of different ways to incorporate it into your special day.
Some of the most common flowers naturally bloom in magenta and hot pink hues, such as peonies, phalaenopsis orchids, roses, dahlias, zinnias, and many more. Using any of these flowers in your wedding arrangements is a super easy way to incorporate magenta into the decor, but you'll want to double-check with your florist about what's in season (and within your budget).
Since it's so bold on its own, you don't need to go overboard with the color unless you really want to maximize its impact. There are ways to add Viva Magenta to your wedding decor through small details too, such as colorful table glassware, linens, candles or accessories (like magenta wedding shoes) to complement your attire.
Magenta Wedding Color Combinations
Wondering which wedding colors go best with Pantone's Color of the Year? Here are some of our favorite magenta color scheme recommendations depending on style and season.
Magenta and Emerald Green
Bring the drama to your wedding day with this jewel-toned color palette. The pairing of magenta and emerald green is a twist on the soft blush and sage green duo, which is a favorite for garden-themed weddings and romantic aesthetics. The saturated versions of these colors are just as sweet—but with a little more wow factor.
Magenta and Orange
If you're envisioning a lively, party-ready atmosphere on your wedding day, these colors don't disappoint. A magenta and orange color palette is ideal for both summer and fall weddings, depending on how you style your decor and the accent colors you choose. Include citrus fruits and tropical flowers for a summer wedding at the beach. Colorful autumn foliage, terracotta pot accents and fresh pomegranates are ways to incorporate these hues at a fall wedding.
Magenta and Blush
Blush and mauve are classic options when it comes to accenting a magenta color palette. These lighter pink tones will soften the overall look of bright magenta, making it feel more appropriate for a formal wedding theme. A pink-on-pink palette is also perfect if you're having a Valentine's Day wedding or simply want to create an extra-romantic vibe. Round out this color palette with white, black or metallic gold and silver accent tones for an elegant finish.
Viva Magenta Wedding Ideas
The Pantone Color of the Year for 2023 is a natural fit for wedding decor, attire and more. Use these magenta color palette ideas to inspire your own details.
1. Magenta Wedding Invitations
Accent your wedding invitations with floral motifs, calligraphy and other decorative details (think: envelope liners, wax seals, postage stamps) in a magenta hue. The bold color scheme will let guests know right from the start that your wedding isn't one to miss.
2. Magenta Wedding Suits
You could wear a suit that's full-on magenta, but if that's too much for your style, try incorporating a print with hints of the color instead. Patterned jackets, dress shirts and accessories like ties or pocket squares are just a few ways to pull it off.
3. Magenta Wedding Hairstyle
If you normally rock colorful hair in your everyday life, don't stop just because of your wedding day. Take a magenta 'do to the next level by adding glittery hair gel and sparkling accessories.
4. Magenta Wedding Bouquet
Flowers are one of the easiest ways to add color into your wedding details. For your bouquet, use magenta flowers like peonies, orchids, roses or ranunculus for a splash of color.
5. Magenta Bridesmaid Dresses
Neutral-colored and pastel bridesmaid dresses will always have their place, but if you want your wedding party to really stand out, dress them in a bright magenta hue. You can choose a matching style or have them wear similar-but-different looks to embrace the mismatched bridesmaid trend.
6. Magenta Bridesmaid Bouquet
Don't pass on including color in a bouquet just because it's on the smaller size. Add a few magenta-colored statement flowers, then finish the design with coordinating ribbons around the stems.
7. Magenta Wedding Ceremony Decor
This dreamy fabric ceremony backdrop got a burst of color thanks to hot pink bougainvillea. Using magenta flowers is especially helpful if you're getting married outdoors and want the altar to stand out from its surroundings.
8. Magenta Table Linens
Dress up your reception tables with colorful magenta linens and matching tabletop accents, like patterned cloth napkins. The pops of color throughout the venue will instantly liven up the space.
9. Magenta Wedding Signage
You can even weave your magenta color palette into the smaller details of your wedding decor, like the text on a signature cocktail sign.
10. Magenta Escort Cards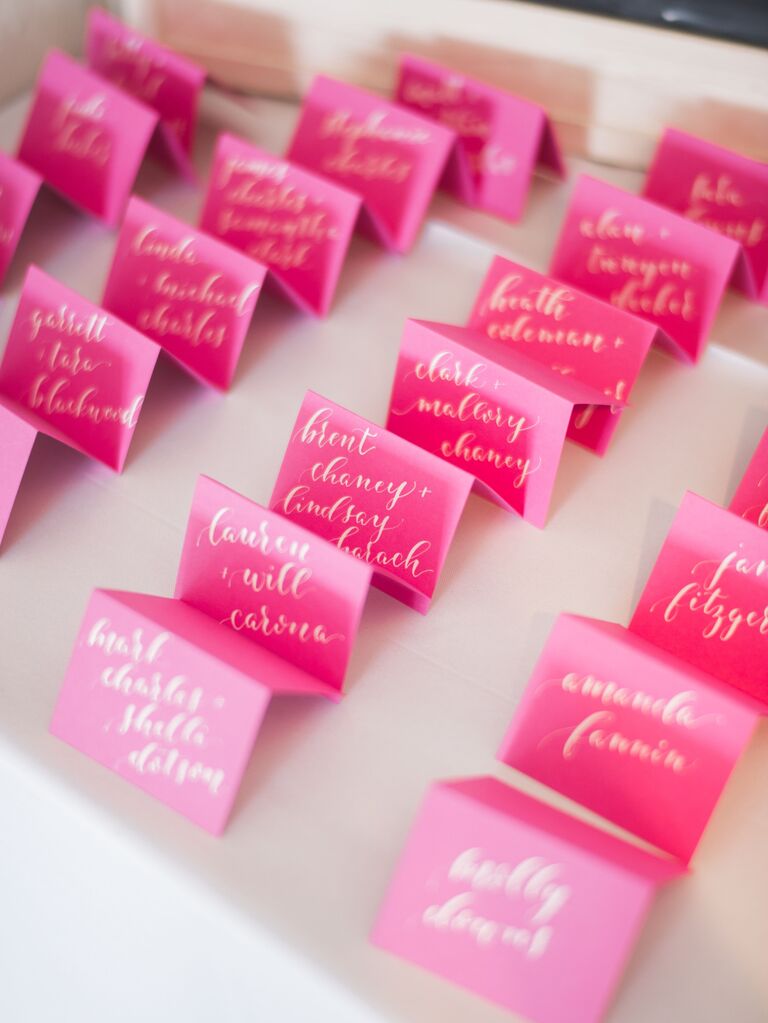 Viva Magenta is a colorful alternative to classic white paper for your tented escort cards. Use gold calligraphy for each guest's name to stand out against the pink background.
11. Magenta Wedding Flowers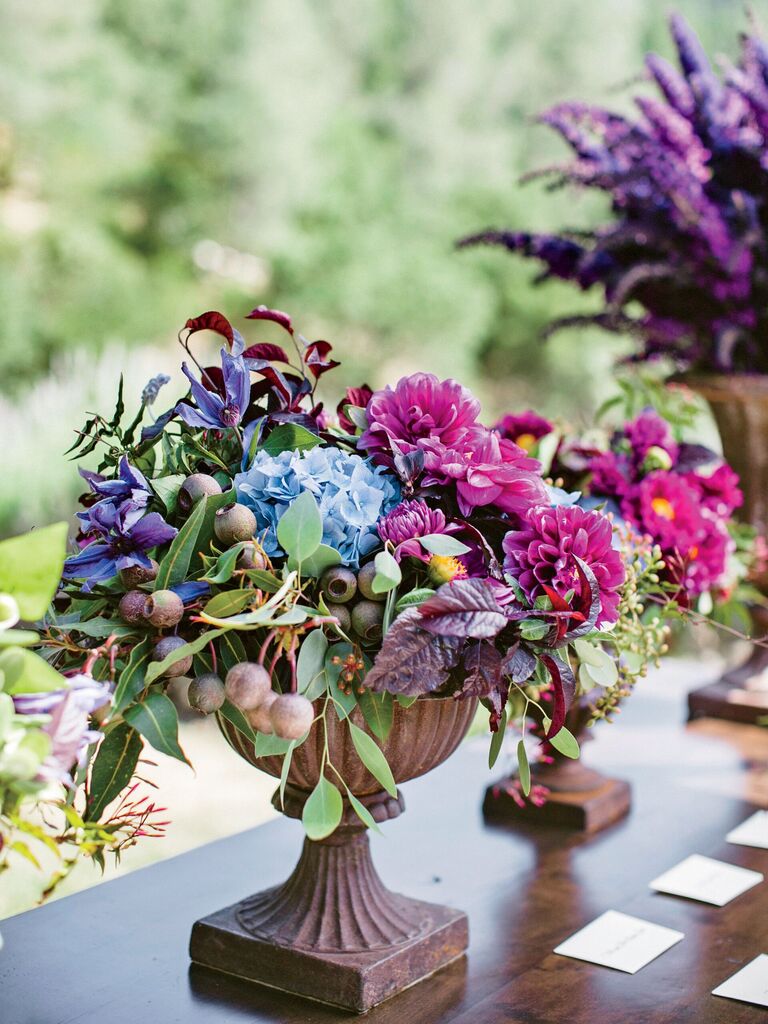 Purple and blue look especially rich when paired with magenta. Work all three colors into your wedding flower arrangements with blooms like hydrangeas, zinnias, dahlias, irises, delphinium and orchids.
12. Magenta Table Runner
This gorgeous floral table runner with magenta roses, peonies and bougainvillea is more decorative than the everyday fabric options. We love how the bright pink blooms contrast with the velvet emerald tablecloth.
13. Magenta Neon Sign
Use a magenta-colored neon sign as a unique ceremony backdrop or a fun photo booth backdrop for guests during the reception.
14. Magenta Bar Decor
Filled with statement flowers like anthuriums, orchids, pincushion proteas and painted palm fronds, this rainbow-colored arrangement is a great way to accentuate areas of interest, like the bar, dessert table or gift table.
15. Magenta Wedding Centerpiece
When you're working with such a bold color scheme, you need wedding decor that's equally as impressive. Hanging flower installations are a guaranteed way to give your wedding centerpieces a boost.
16. Magenta Table Number
Lilac, orange and magenta are the perfect trio for a summer wedding. Keep magenta as the main color of the palette and add touches of the accent hues through flowers, paper goods and tabletop details.
17. Magenta Place Setting
Magenta charger plates will bring oomph to your wedding place settings, even if the rest of the tablescape is fairly simple. For a maximalist vibe, don't stop there—add colorful tablecloths, glassware and individual watercolor menu cards too.
18. Magenta Wedding Cocktails
Your signature drinks don't have to match your wedding color scheme—but it doesn't hurt either. Pink simple syrup, food coloring or garnish can bring a dash of magenta to your beverages.
19. Magenta Wedding Cake
We can't resist a good wedding cake with flowers. Deck yours out with a cascade of magenta-colored blooms, like these decadent roses and peonies.