How to Navigate Weddings If You're Sober
Whether you're a guest or wedding party member, read these practical tips.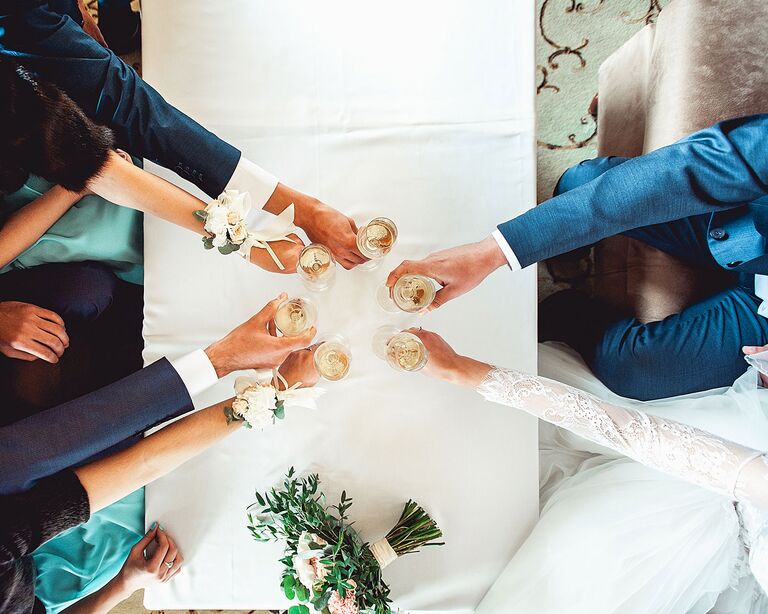 Getty Images
We have included third party products to help you navigate and enjoy life's biggest moments. Purchases made through links on this page may earn us a commission.
The ceremony is over and champagne toasts are abundant. But what if you enter into an atmosphere where there's an abundance of alcohol and you've committed to sobriety? There are ways to navigate booze-fueled events, especially if you know how to stay sober in these instances. It starts with setting personal expectations.
"Even though alcohol is a staple at weddings, it isn't the main event," says Hilary Sheinbaum, author of The Dry Challenge: How to Lose the Booze for Dry January, Sober October, and Any Other Alcohol-Free Month. "Without alcohol, you can focus on the couple and be more present around friends, family, or even strangers." Here's how to stay sober at a wedding, among other alcohol-free tips, especially if you've made resolutions to cut back on alcohol in 2021.
In This Article:
If You're a Guest at a Wedding
Guests attending an open bar event, oftentimes weddings of friends or family members, find sobriety tricky at these occasions, especially when involving reunions with old circles and more. "Weddings often include toasts and open bars, but just because the alcohol is flowing doesn't mean that you have to imbibe," notes Sheinbaum. "There are other major parts of the wedding to look forward to—food, cake, dancing, speeches and so many other traditions. Whether you know everyone there or you're only familiar with the couple, socialize with old acquaintances and make new friends too." Here are three steps for guests to take to prepare for the experience.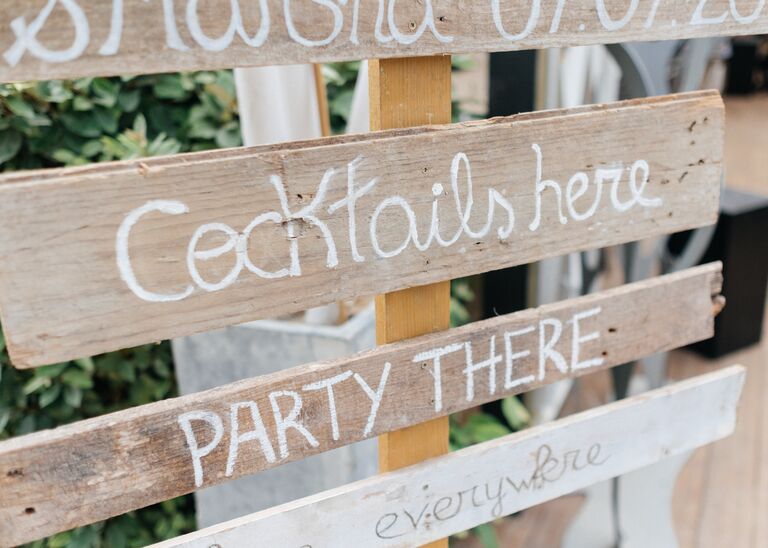 Step 1: Recruit Your Plus-One or Buddy
Find a friend or recruit one on the spot. Perhaps another attendee prefers to stay sober with you. "Having someone else who isn't imbibing can offer support, company and also backup. While your friends, family or other guests are getting buzzed, you'll have someone by your side that is on your level of intoxication (read: zero)," says Sheinbaum.
Step 2: Come Prepared With a Nonalcoholic Beverage
If you have a favorite mocktail you enjoy: a sparkling basil lemonade, for example, or a rosemary-infused spritz, come prepared with the nonalcoholic recipe for the bartenders. "Whether you enjoy a seltzer water with a splash of fruit juice or something a bit more complex, the event's bartenders can whip up your favorite go-to drink recipe that doesn't involve booze, especially if you have a simple recipe memorized," notes Sheinbaum.
Step 3: Rehearse the Line: "I Want to Be Fully Present"
Look into the mirror and repeat after us: "I want to be fully present." If a fellow guest asks why you aren't drinking, you don't need to opine into a full-fledged soliloquy. "You can tell them you aren't drinking that night, month or for any specific or nonspecific period of time," Sheinbaum notes. "The bottom line: answer however you feel most comfortable. Often, people don't ask twice—unless they're offering you a drink—in which case, tell them that you're OK for now. And, if you so please, kindly change the subject."
Other useful tips include avoiding the general bar area and occupying your hands. "More often than not, if you're dancing (at a socially distant-safe proximity) or babysitting any beverage—or a plate of cake for that matter—it's unlikely you'll be able to simultaneously sip Champagne or any other form of alcohol," notes Sheinbaum.
If You're a Wedding Party Member
You're at a bachelorette party or you're getting ready the morning of the wedding. As weddings and related events are sunrise-to-sunset events for the inner circle of a couple, here's how to stay sober if you're a close friend or a member of the wedding party. Often, groups will bond over beverages and partying, but there are hacks to keep in mind, even as you're taking photos. "Kindly pass when offered a beverage," suggests Sheinbaum. "Or, you can replace it with nonalcoholic sparkling wine for photos, video and of course for supping, if you want to experience the same taste without a buzz."
Champagne toasts are another tradition in a best man or maid of honor speech, where it's fine to opt for a nonalcoholic sparkling wine (yes, they exist). "No one, except for you and the bartender, will know the difference," says Sheinbaum.
Finally, if the alcohol continues to flow at an event and inhibitions continue to be lowered, at least you're in control over your decorum. "If party-goers are getting out of hand and it makes you feel uncomfortable, you can remove yourself from the madness entirely," says Sheinbaum. "If someone is in need of your help—for whatever reason—you can also get involved to help in a positive way. Finally on a more positive note: if the party is going strong into the night, and you want to be as hyped and excited as the other guests, grab a coffee or another caffeinated drink! Just because you've passed up alcohol doesn't mean you can't join in on the fun and stay energized."
If You're the Couple and Want to Stay Sober
It's your wedding day and under no circumstances are you required to drink alcohol, especially if you've made a commitment to sobriety or you're finding it beneficial to forego the booze. At its core, your wedding isn't about how much alcohol you consumed; it's about your pact to each other.
"This day is about you and your partner—it certainly shouldn't be about what is or isn't in your cup. Instead of answering guests one-by-one about your drinking status, if you'd like to make an announcement—but keep it subdued—offer a framed announcement at the bar," says Sheinbaum. "Something simple and sweet to the tune of, "We aren't drinking alcohol on our special day but we invite you to if you'd like," will deter questions or at least push them off for another day and time. Or, you don't have to announce this at all, and can politely decline beverages from guests while sipping on your own nonalcoholic liquids."
Again, nonalcoholic options exist on the market, and these innovations in the food and beverage world look and replicate the taste of booze without its effects. "While many couples create a signature cocktail at their weddings, couples can also offer a nonalcoholic version of that drink, or a different recipe altogether," suggests Sheinbaum. "It's nice to have varieties so people who aren't drinking can enjoy this (including kids). You can also stock the bar with nonalcoholic wines, beers and spirits so people have choices. And, these options aren't just for people who don't drink—guests can start their nights with alcoholic beverages and transition to alcohol-free drinks without changing the flavor palette."
One final idea if you decide to nix the liquor: You can still enjoy a one-of-a-kind drinking experience. Coffee bars, milkshakes and green jusice stations all make for really fun additions to your wedding menu. So maybe during cocktail hour, ask your caterer to create a non-alcoholic drink for everyone to enjoy. Or after the cake cutting, add in a tea or hot chocolate bar, just in time for dessert. Either way, be confident in your decision not to drink alcohol at your wedding.
For more practical tips for how to stay sober, pick up The Dry Challenge: How to Lose the Booze for Dry January, Sober October, and Any Other Alcohol-Free Month by Hilary Sheinbaum.