See Amsale Wedding Dresses From Bridal Fashion Week
Here's the designer's latest collection to hit the bridal runways.
by Lauren Levy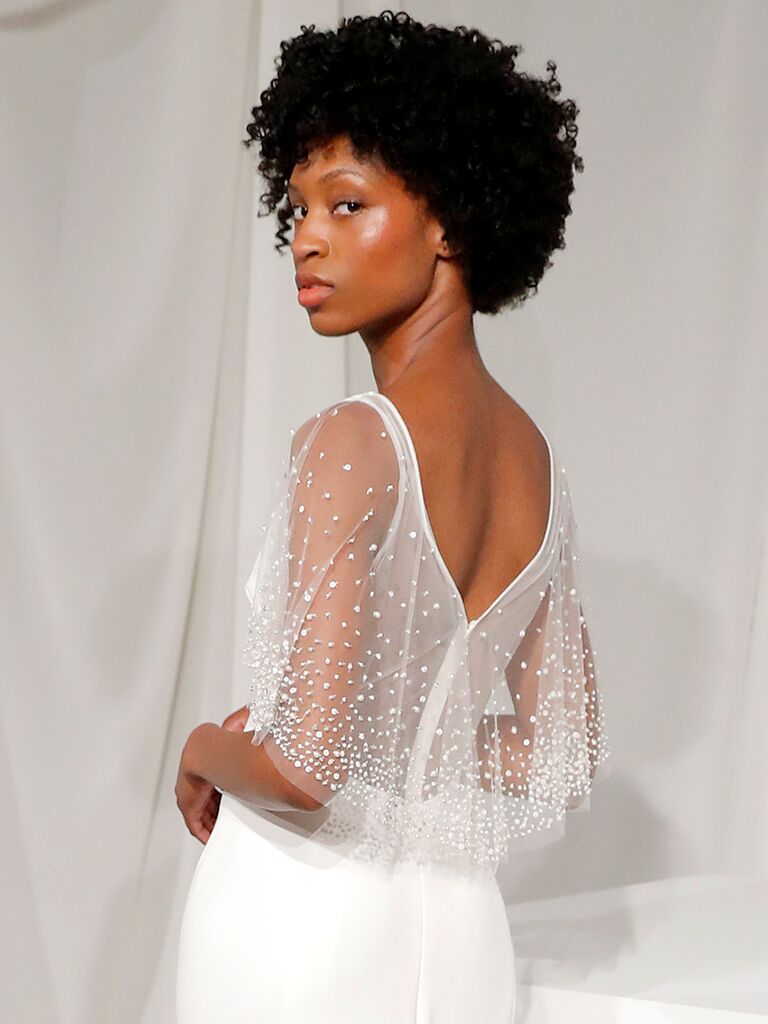 When it comes to sophisticated yet minimalistic silhouettes, brides know that Amsale wedding dresses consistently deliver with breathtaking designs. Amsale gowns are beloved by  celebrities and traditional brides alike because they stand out on both red carpets and wedding aisles due to their signature take on timeless femininity. Although Amsale Aberra tragically passed away following a battle with uterine cancer in April 2018, The Amsale Fashion House is devoted to carrying on her 30-year legacy under the creative direction of Margo Lafontaine . The sculptural elements that walk the runway during Amsale 2020's shows continue to pay tribute to a classic aesthetic while expertly blending both romantic and clean details. Jewelry by KatKim.
Amsale's Fall 2020 Wedding Dresses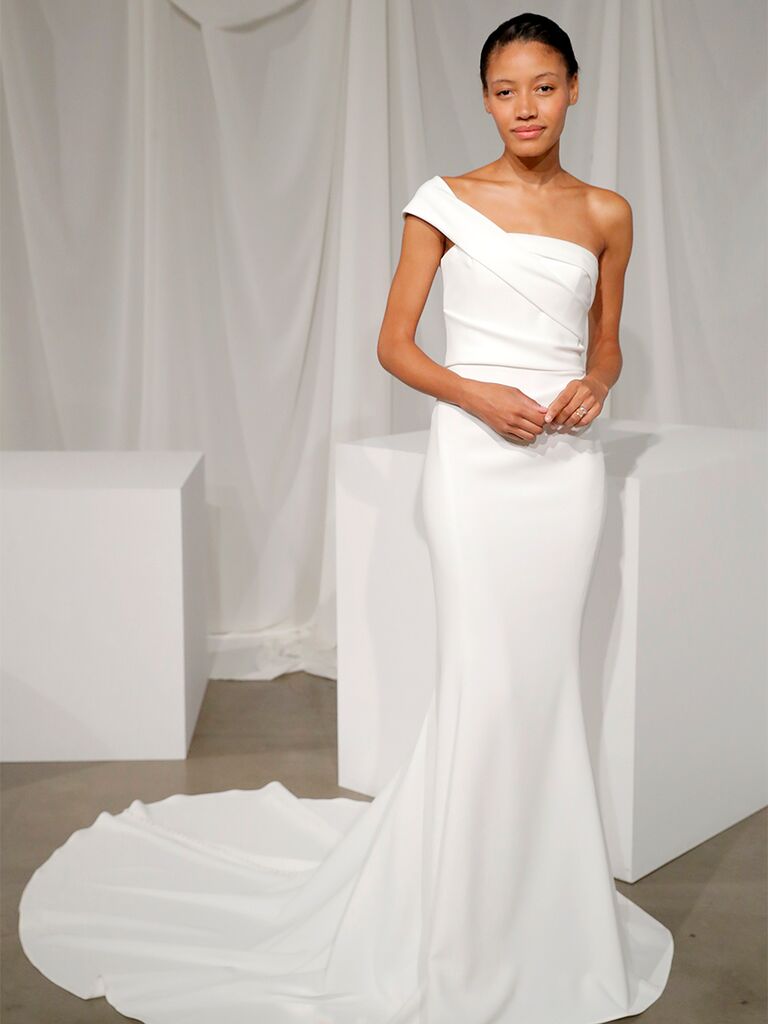 The Adriana: A crepe, fit-and-flare gown with an asymmetrical draped bodice and skirt.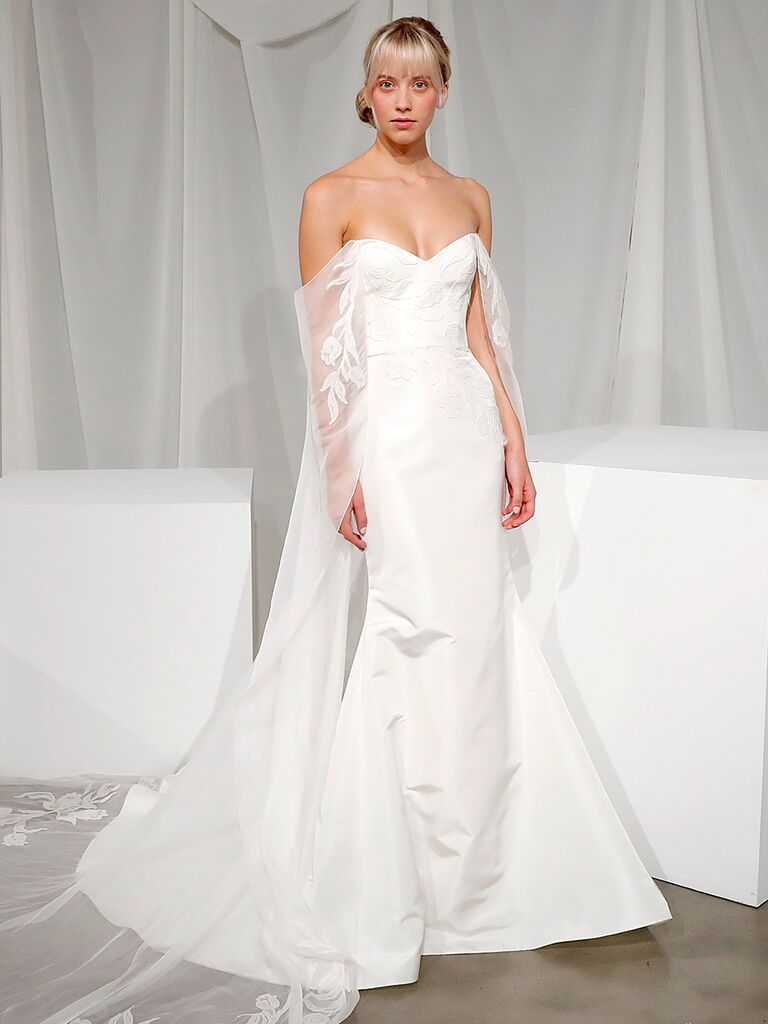 The Angeline: A faille, strapless, sweetheart-bodice, fit-and-flare gown with a detachable, chiffon organza, off-the-shoulder cape and hand-appliqued Lyon Lace.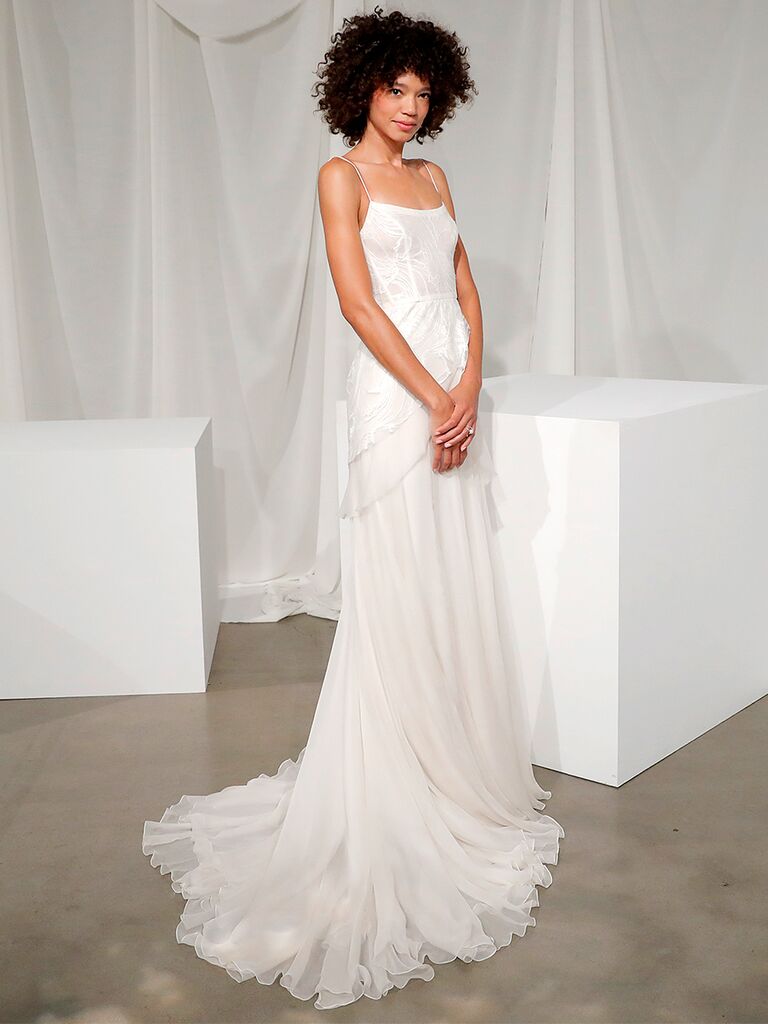 The Ari: A Chantilly Lace slim gown with a cut-away layered chiffon skirt.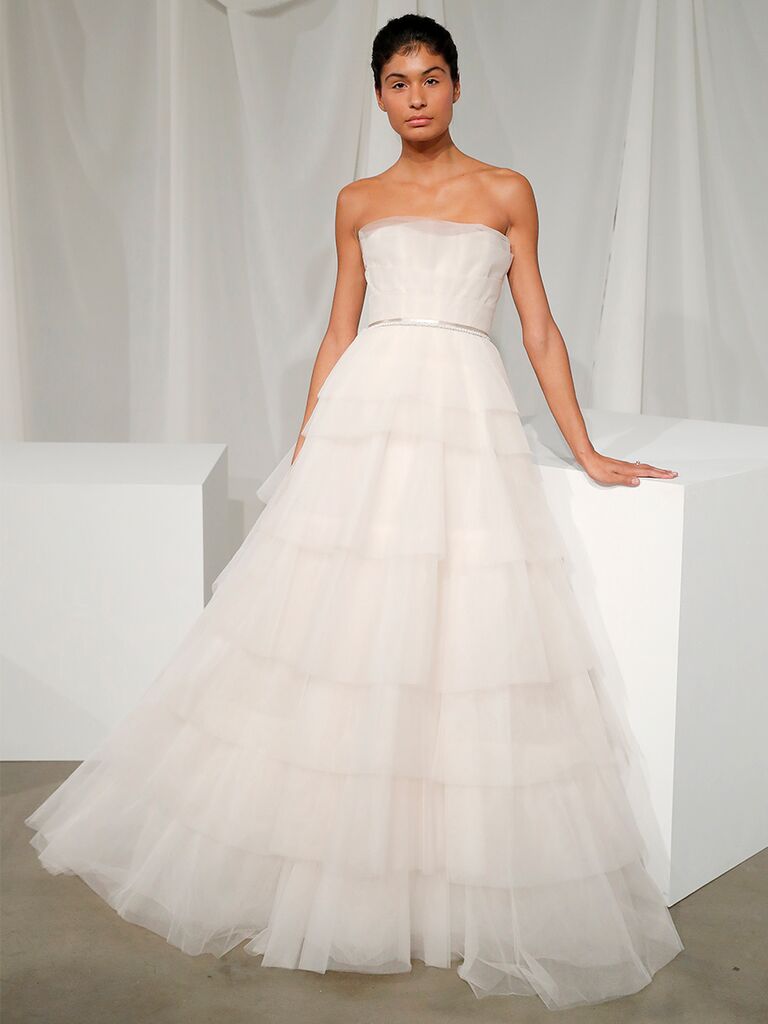 The Bella: A tulle ballgown wtih a tiered bodice and skirt.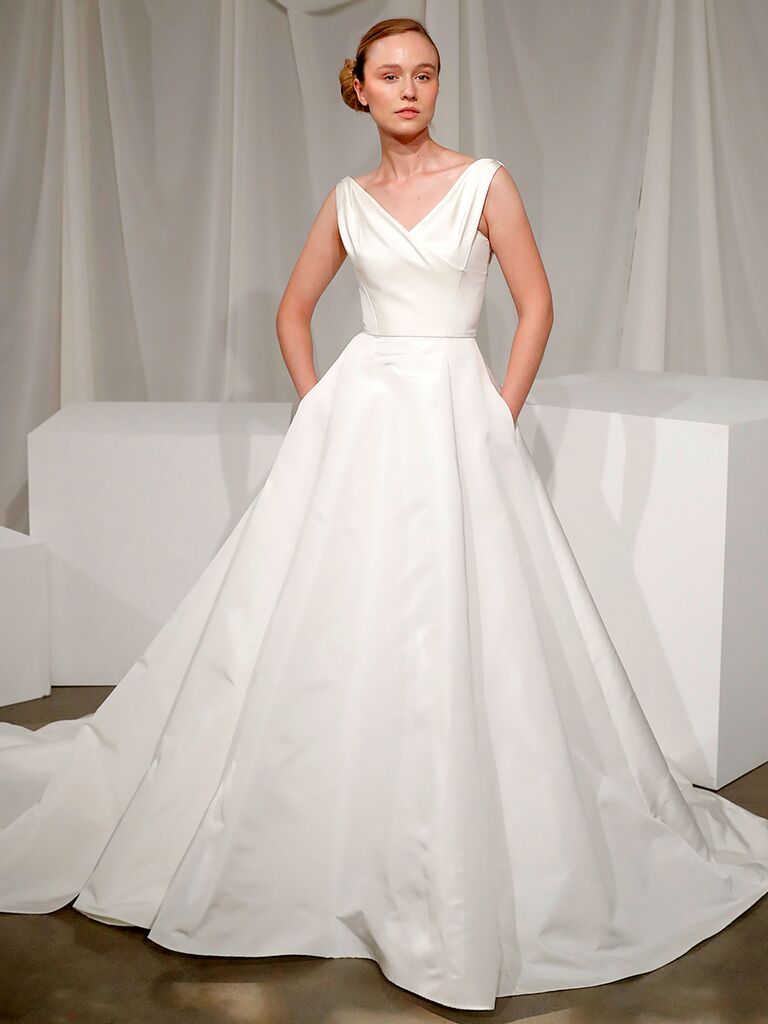 The Cambridge: A faille ballgown with a top-of-the-shoulder draped bodice.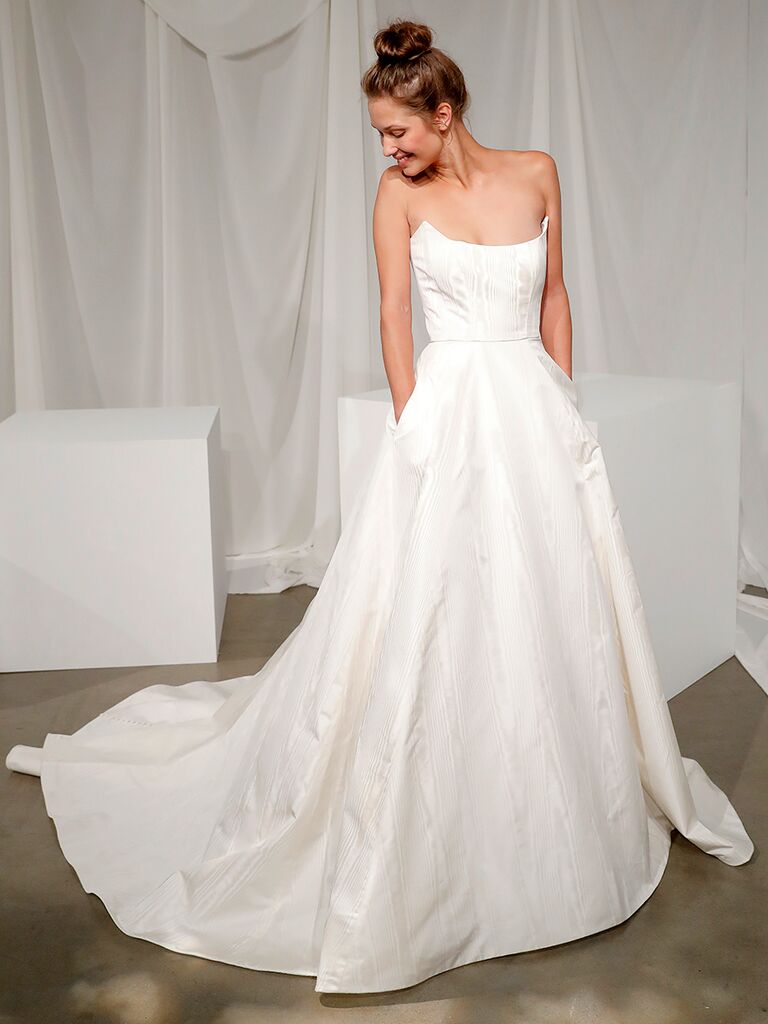 The Clotilde: A moire strapless ballgown wtih a scooped neckline.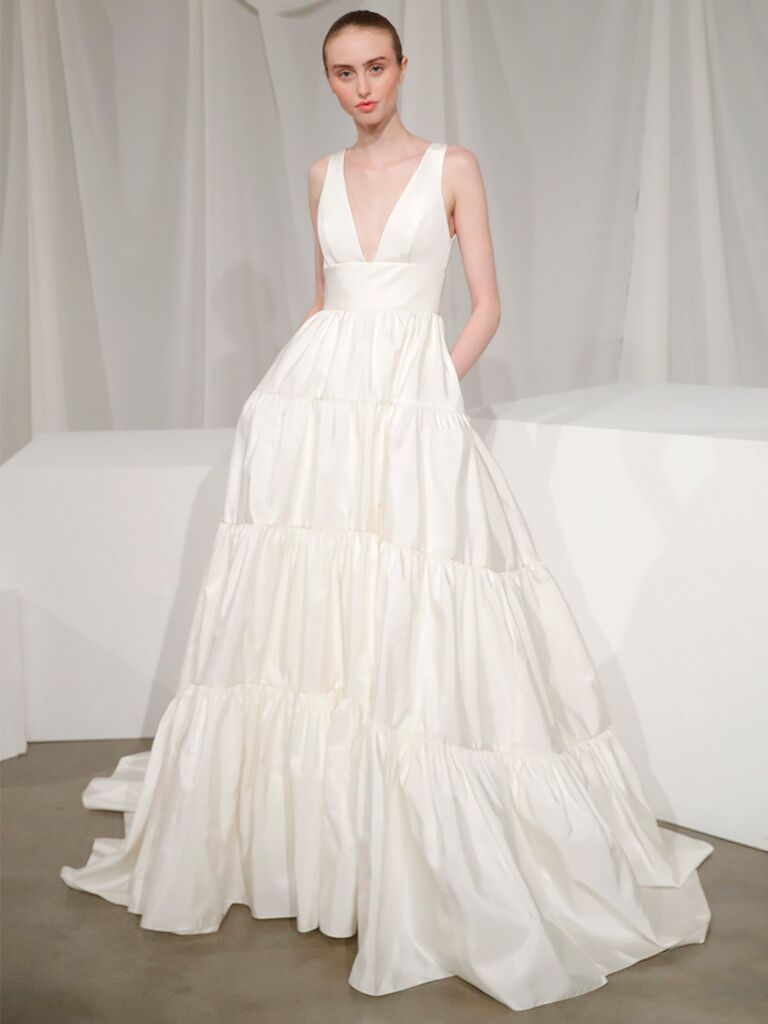 The Connor: A faille notched A-line gown with gathered tiers and pockets.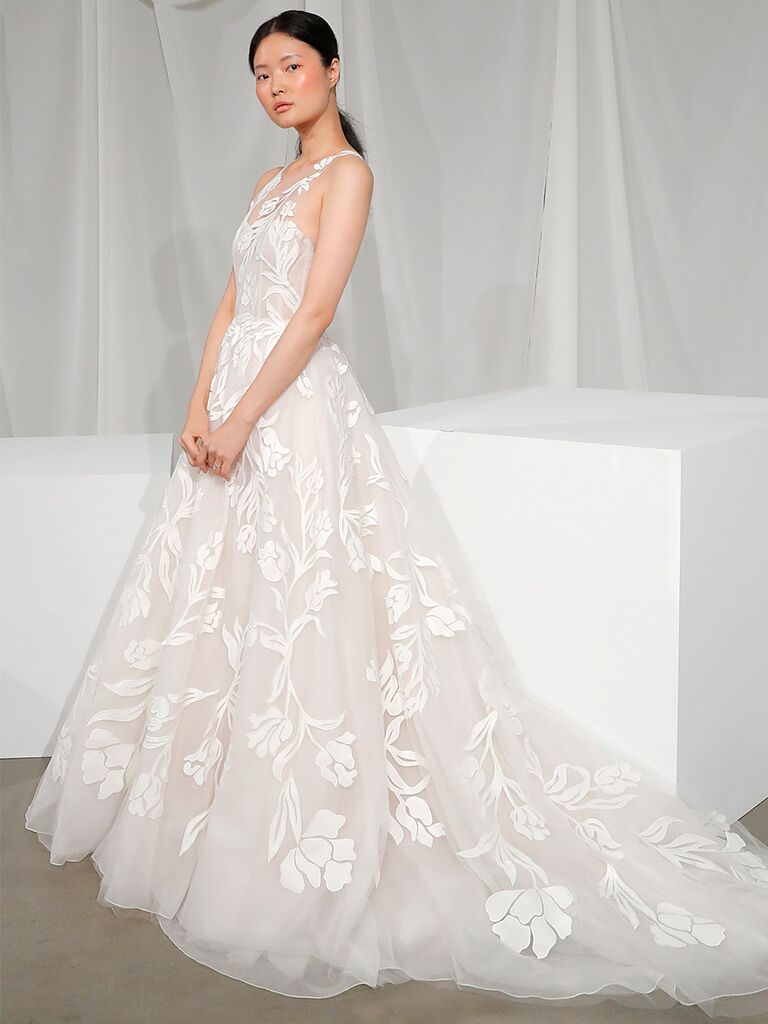 The Imogen: A tulle jewel-neck ballgown with faille florals sprinkled throughout the skirt.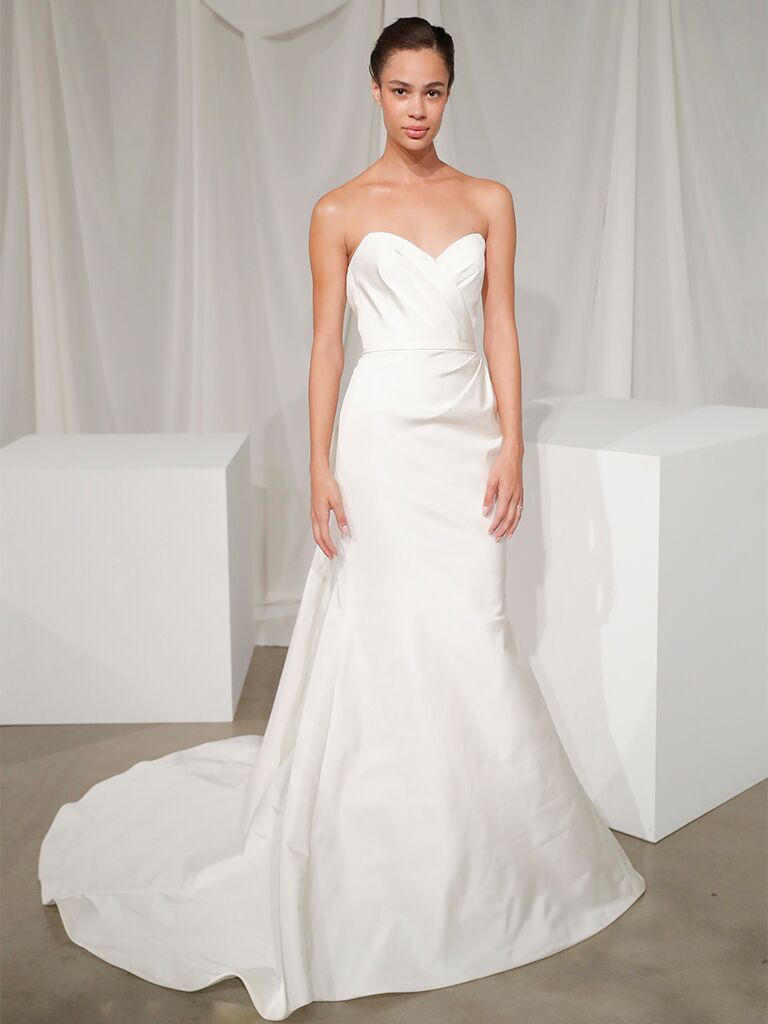 The Jamison: A faille, strapless, sweetheart, fit-and-flare gown with a draped bodice and a back bow.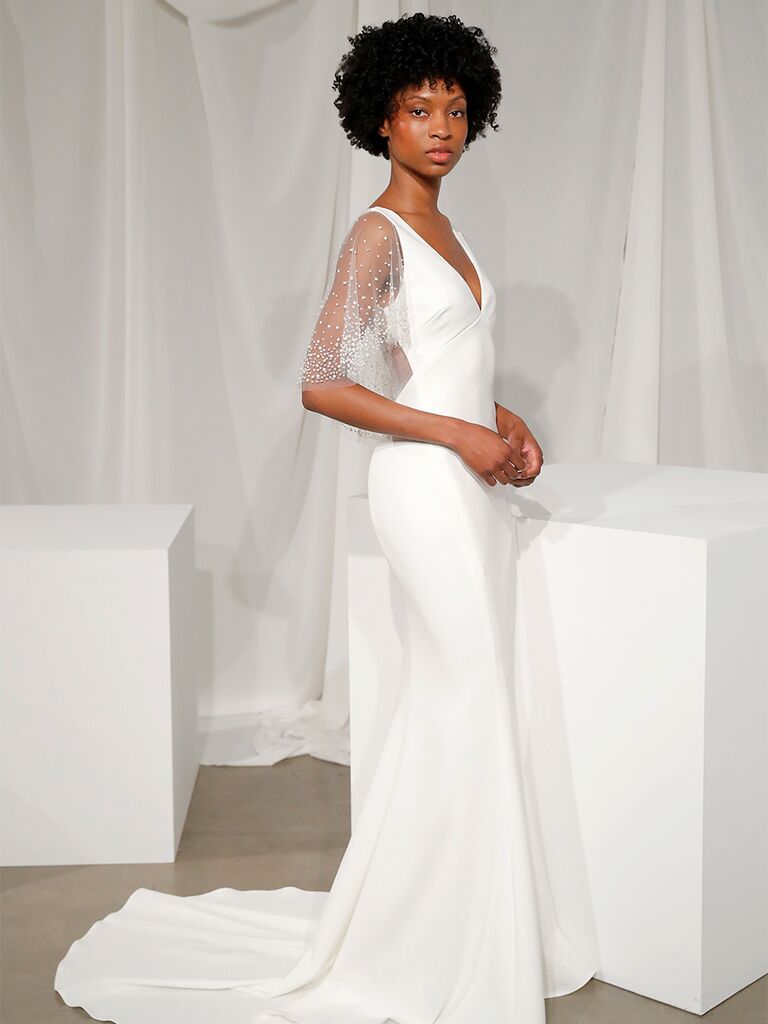 The Jay: A crepe, V-neck, fit-and-flare gown featuring a sheer tulle back and embroidered cape sleeves.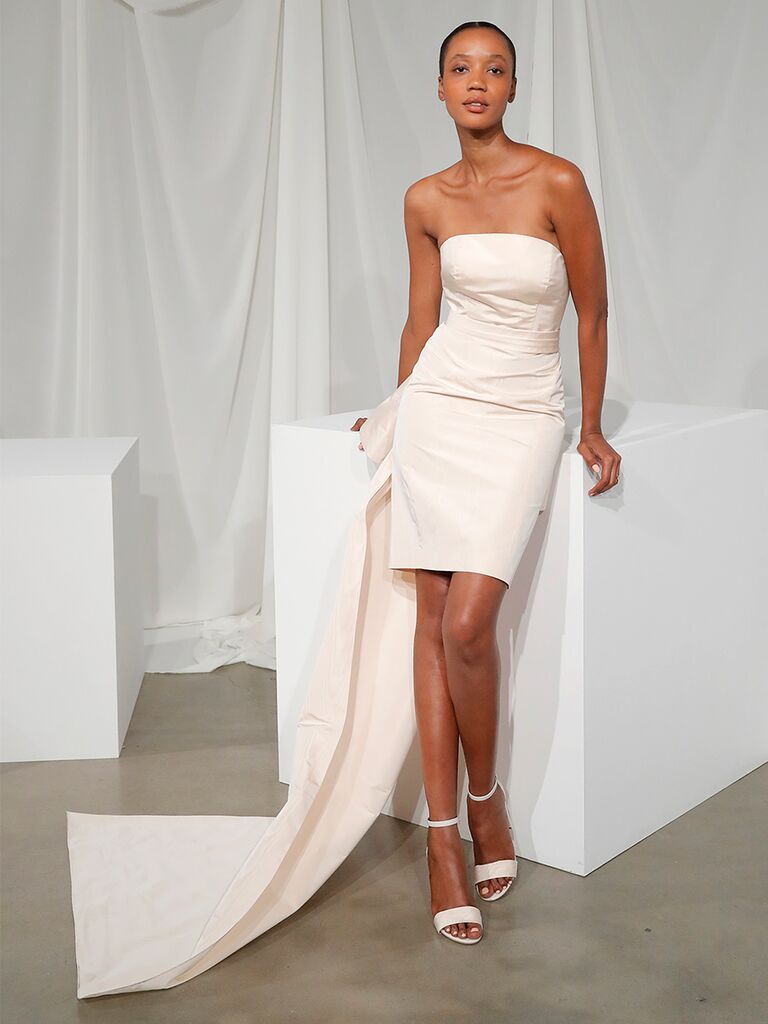 The Marland: A moire strapless dress with a back bow train.
The Nemi: A chantilly wave lace slip dress with an embroidered tulle overlay.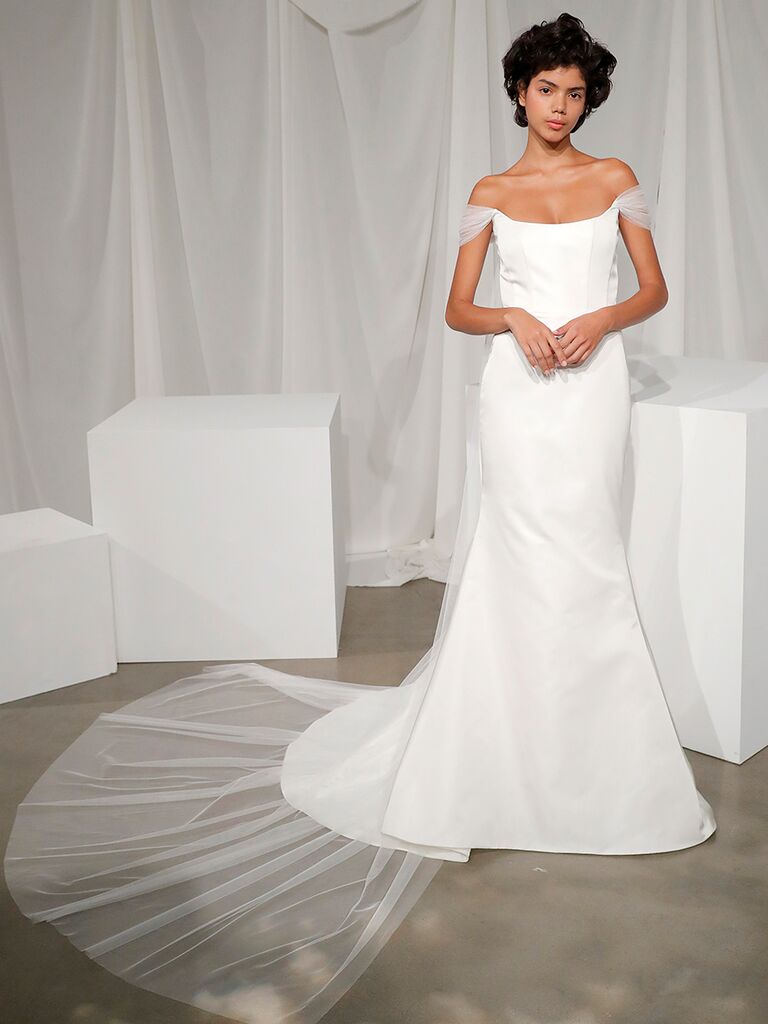 The Salem: A strapless, fit-and-flare gown featuring a scoop neck and a detachable soft tulle train.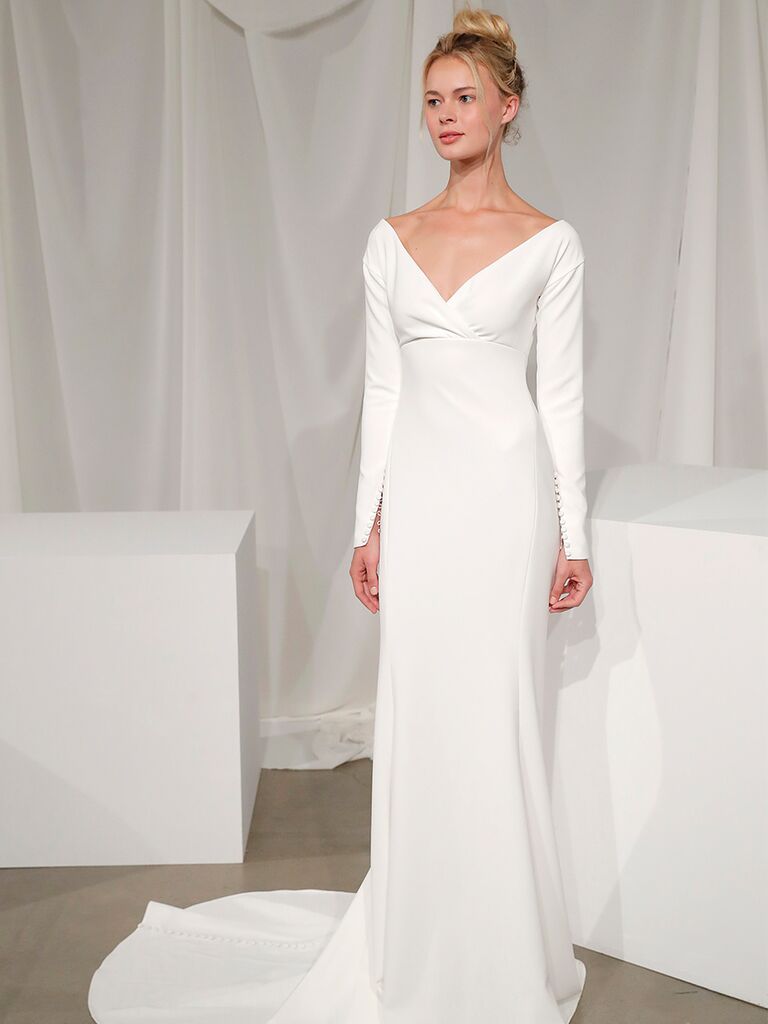 The Vika: A crepe, fit-and-flare gown with a portrait neckline.
Amsale's Signature Style
Amsale wedding gowns always have one thing in common: they make a refined statement with their timeless silhouettes and elevated attention to detail. The graceful gowns incorporate understated lace, beaded embellishments, and sleek structural elements for a polished impact. Although many Amsale bridal gowns feature textured floral appliqué accents and layered fabrics for a soft and ultra-feminine feel, the overall subtle aesthetic appeals to the timeless bride looking for a simple and classic wedding gown instead of dresses boasting bolder of-the-moment trends.
A Brief History of Wedding Dress Designer Amsale Aberra
Since Amsale Aberra first launched her namesake label in 1990 with groundbreaking designs, she's built a reputation for refined collections that wow on the runway. The Ethiopian-American designer first moved to the United States to study art when she was 19 years old before pursuing a career in fashion. After graduating with a degree in fashion design from New York's Fashion Institute of Technology, Amsale launched her own successful bridal brand in New York City. 
Amsale went on to have a daughter and grow her luxury bridal house along with her husband, Neil Brown, before being diagnosed with uterine cancer. Amsale passed away in 2018, leaving her legacy in the hands of her family who are dedicated to ensuring that Amsale wedding dresses 2020 continue to offer brides modern-meets-traditional gowns. According to a tribute following her death, "For over 30 years, Amsale has been an icon for designs that are powerful in their simplicity. Drama, she believed, emerges when a single striking detail is offset by a clean silhouette."
Other Amsale Labels
In the years since first launching Amsale bridal, the devoted designer worked to expand across different labels, impacting a larger range of women. The Amsale Blue label features gowns with a more luxe appeal while Little White Dress offers a more casual feel for understated affairs, rehearsal dinners, and reception dresses. Amsale also designs cocktail and bridesmaid dresses to infuse that modern femininity into other areas of celebrations. In 2003, Amsale debuted Kenneth Pool, a label that veers away from the understated and is dedicated to dramatic ball gowns as well as statement wedding dresses with intricate details. Brides on a tighter budget also appreciate Amsale Nouvelle Bridal and Amsale Nouvelle Bridesmaids; two additional labels that strongly exude Amsale's quiet but breathtaking style. 
Amsale Collection History
It's no surprise that Amsale's sophisticated aesthetic appeals to so many brides, considering that the inspiration behind her brand stems from the designer's own wedding dress. When Amsale was shopping for an understated and clean gown, she wasn't impressed with the over-the-top 1980s trends and found her options to be limited. So instead of compromising, she designed her own gown. Determined to serve other brides like herself in the years that followed, Amsale started selling custom wedding gowns from her New York City apartment. From there, Amsale bridal took off on its pared-down designs that still have an elegant impact. According to the brand, which is headquartered in New York City, Amsale has even been credited as the inventor of the modern wedding dress that is personal and dramatic without being overwhelmingly ornate. Before her death, Amsale believed that style was a way of life and this mindset continues to be reflected in her timeless aesthetic that transcends collections and even decades. 
Famous Amsale Brides
Over the years, many A-list celebrities have donned Amsale bridal on their wedding days. Ayesha Curry stunned in a simple yet modern design during her 2011 nuptials to Steph Curry. Other Amsale brides include Lisa Loeb in 2009, Bethenny Frankel in Amsale label Kenneth Pool in 2010, and Hilaria Baldwin during her 2017 vow renewal ceremony to Alec Baldwin. 
Fun Facts about Amsale
For Grey's Anatomy fans, it's hard to forget two of Amsale's wedding dresses that appeared during one of the show's major moments: Callie and Arizona's wedding. Both brides wore Amsale as they exchanged vows during the third season finale in 2007.  
But it's not just the TV characters who've rocked Amsale wedding dresses. Amsale bridal has also made appearances in big movie hits including Runaway Bride, 27 Dresses, American Wedding, When in Rome, and The Hangover. 
Amsale Previous Wedding Dress Collections
Amsale Spring 2020 Collection
See every dress from Amsale's Spring 2020 line below.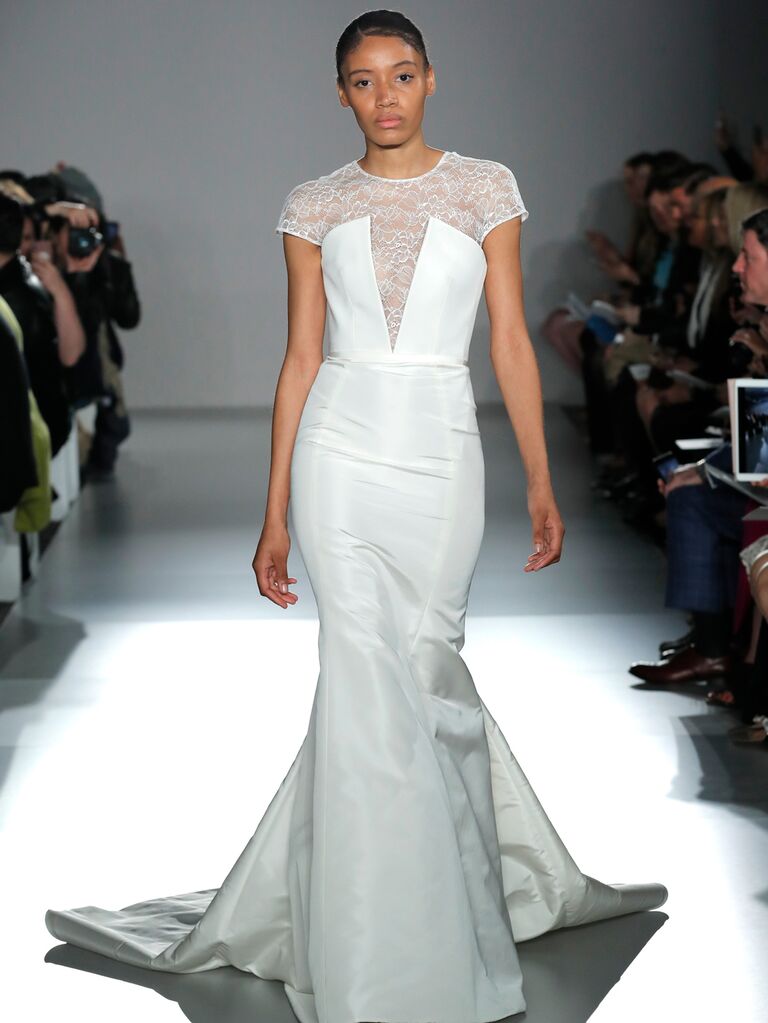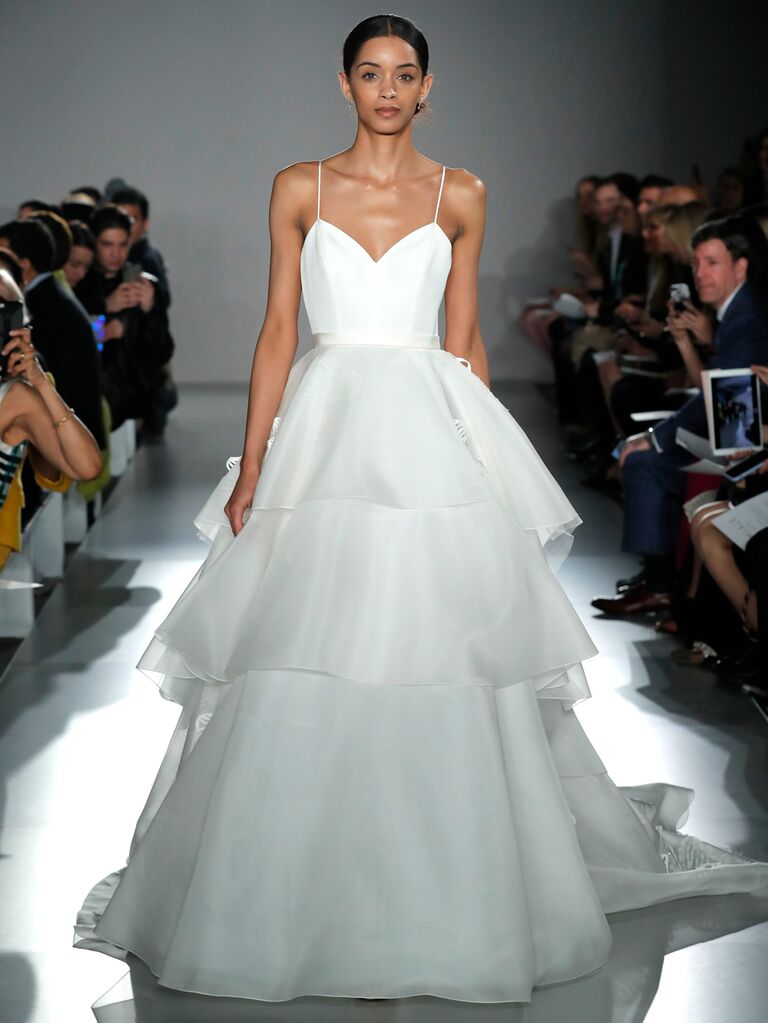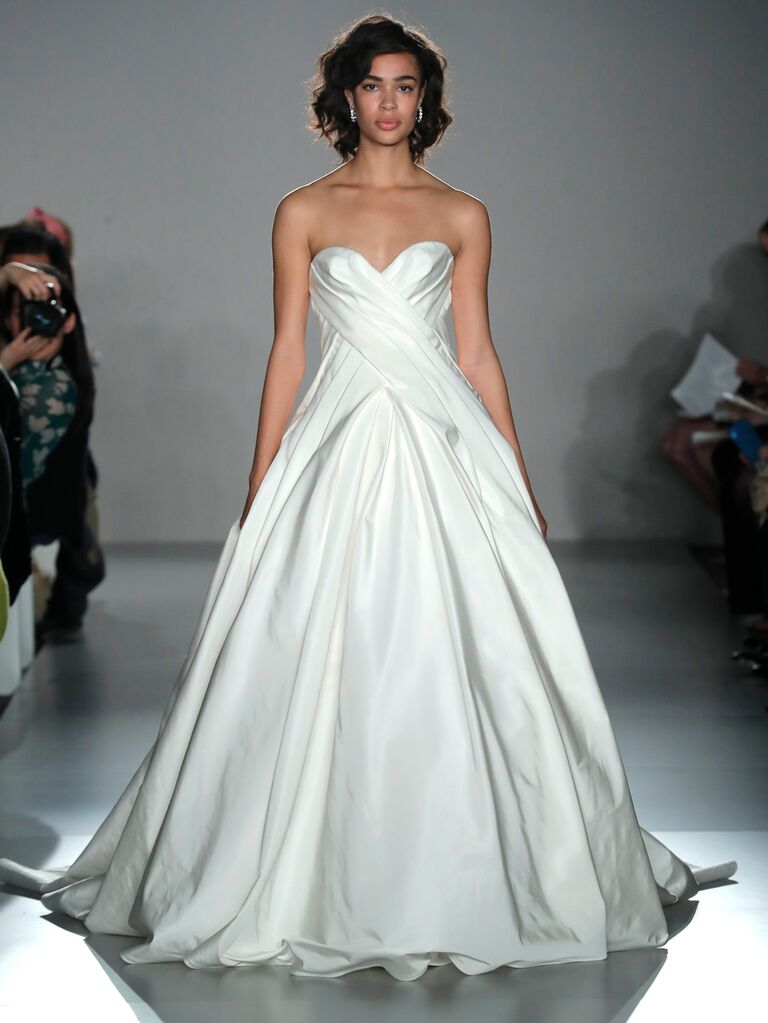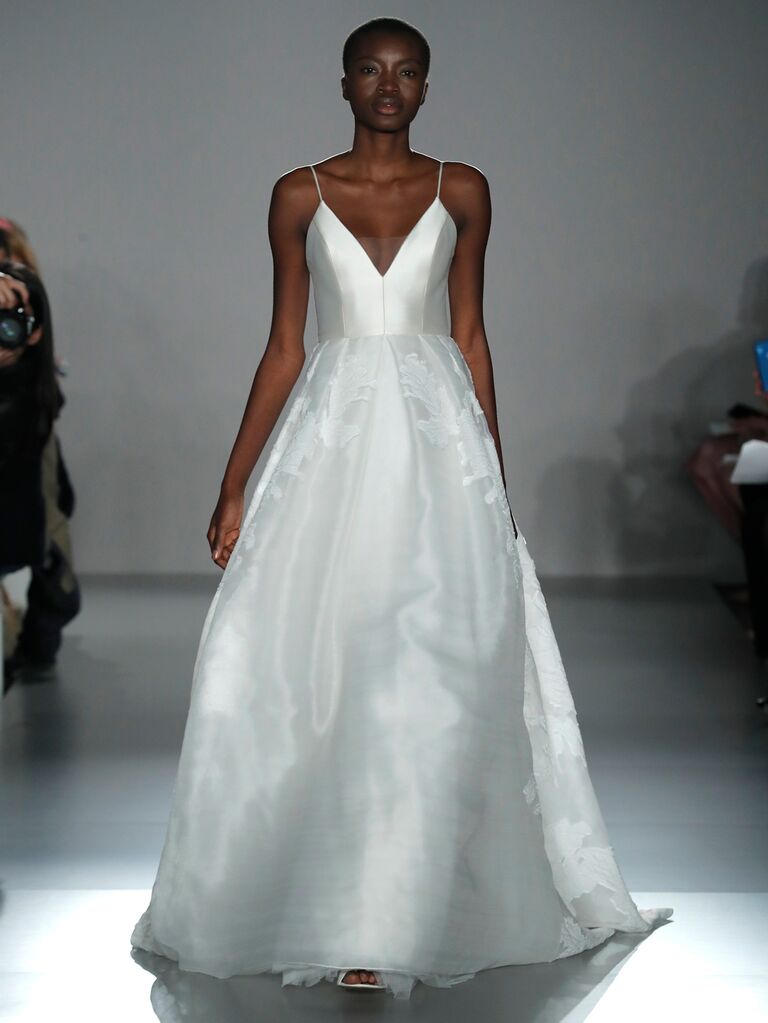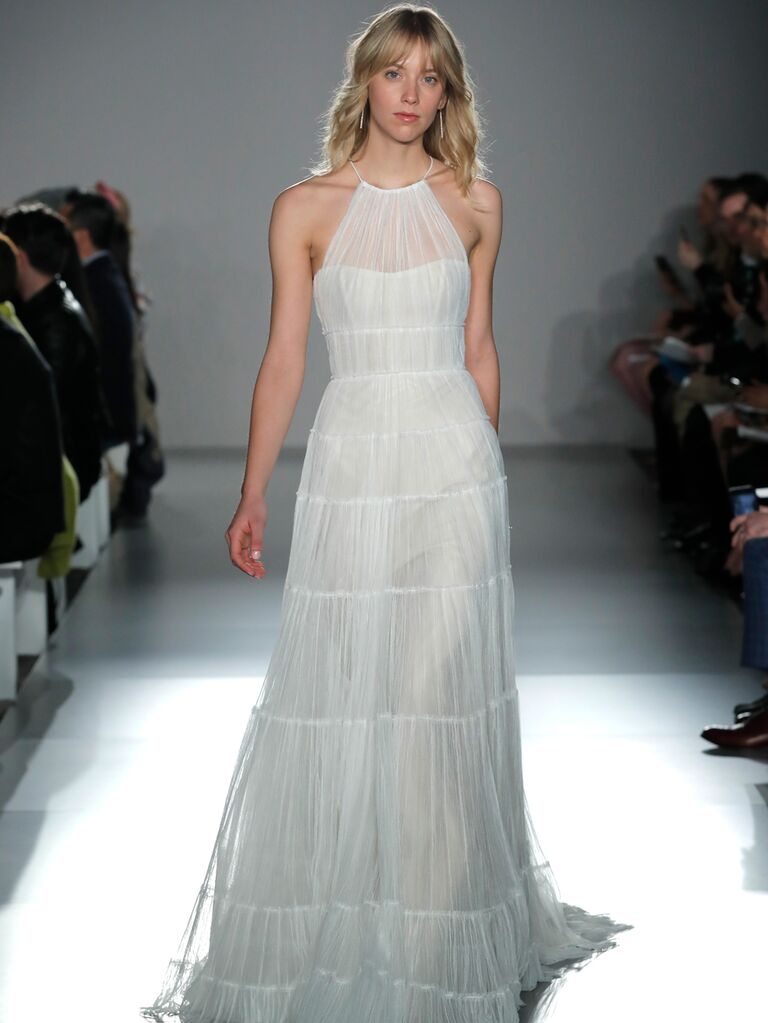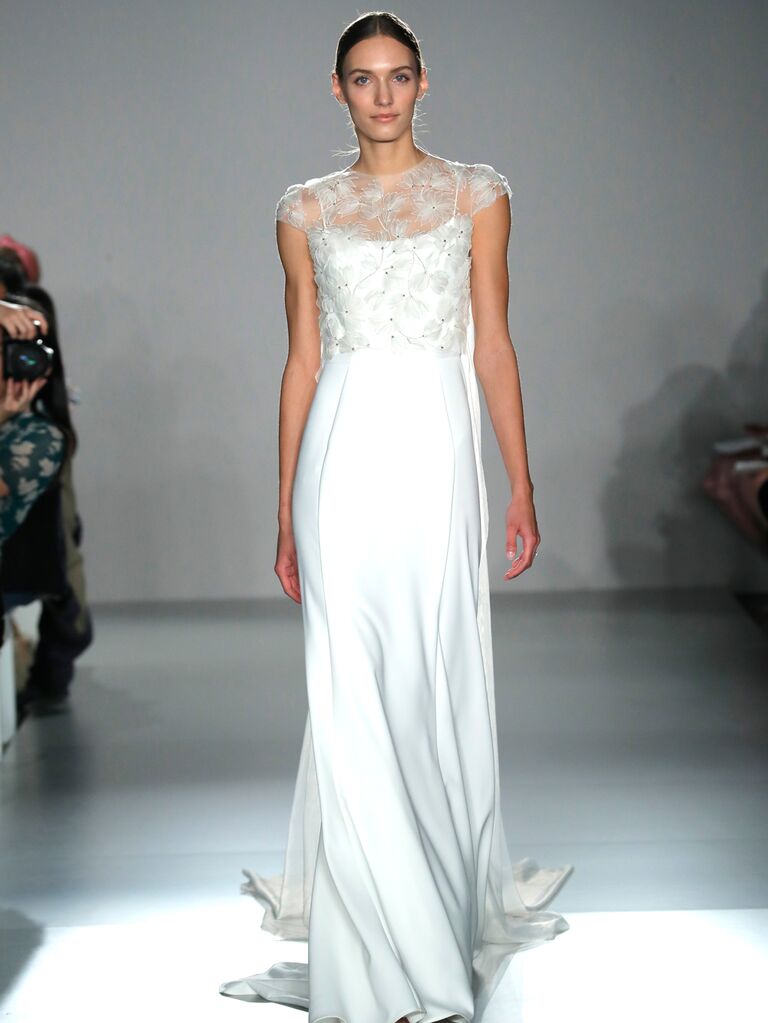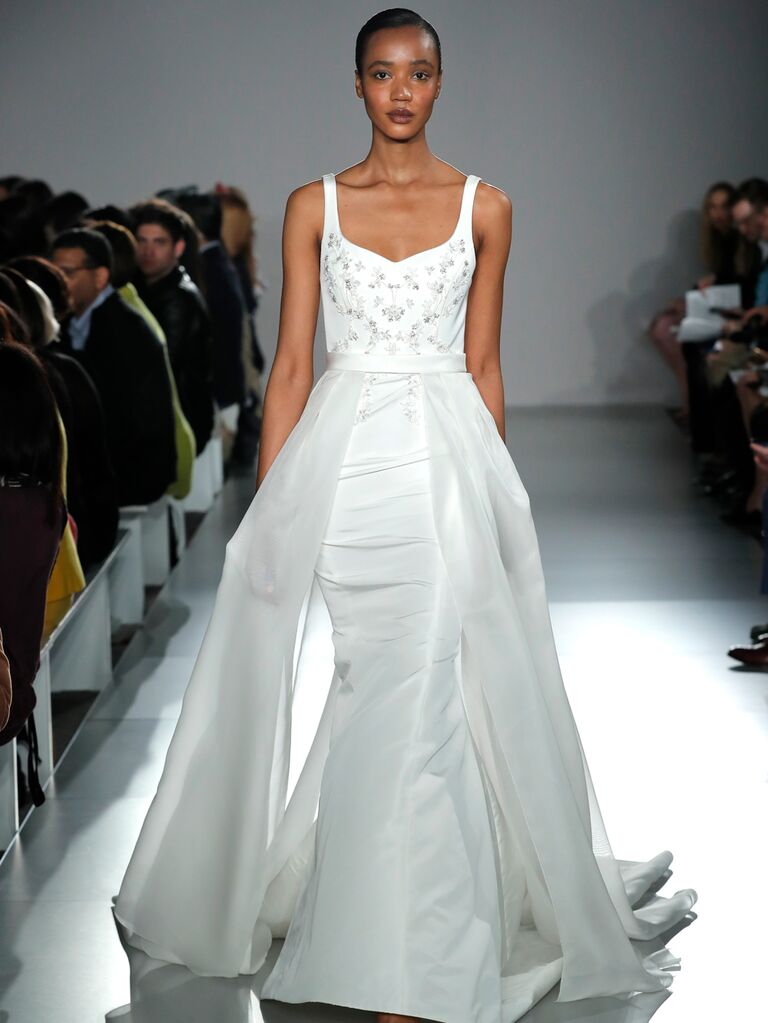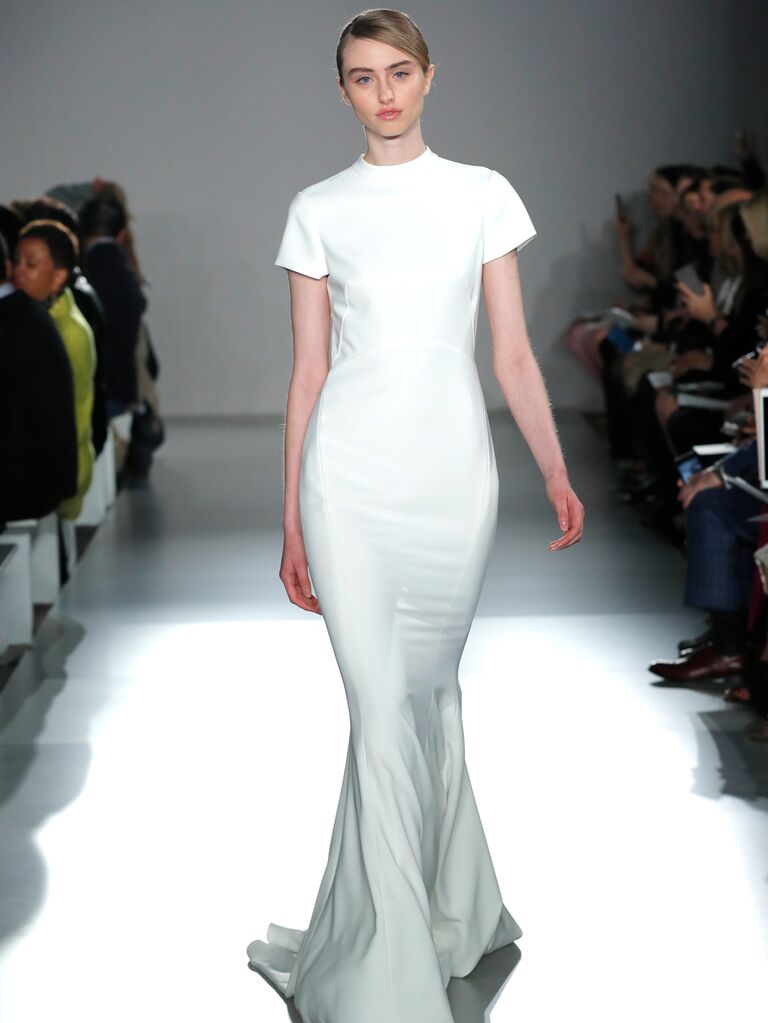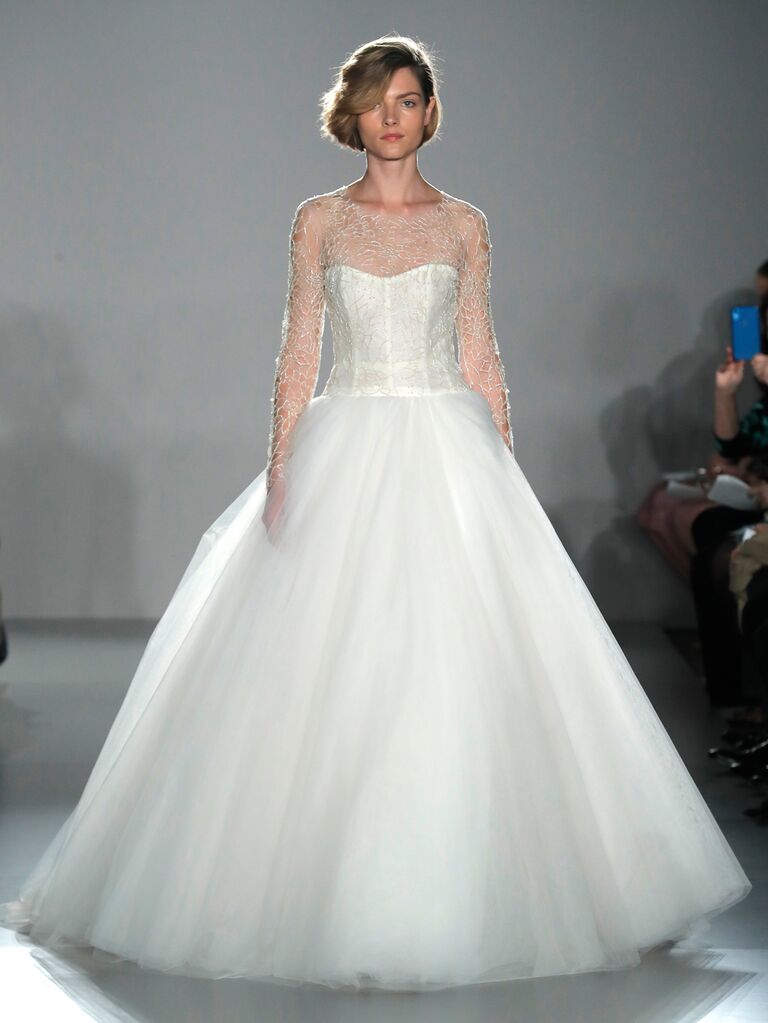 To check out all the Bridal Fashion Week galleries, plus wedding dress advice and more, go to TheKnot.com/bridal-fashion-week.