The Complete Guide to Planning a Destination Wedding in Antigua
Say "I do" on some of the Caribbean's best beaches.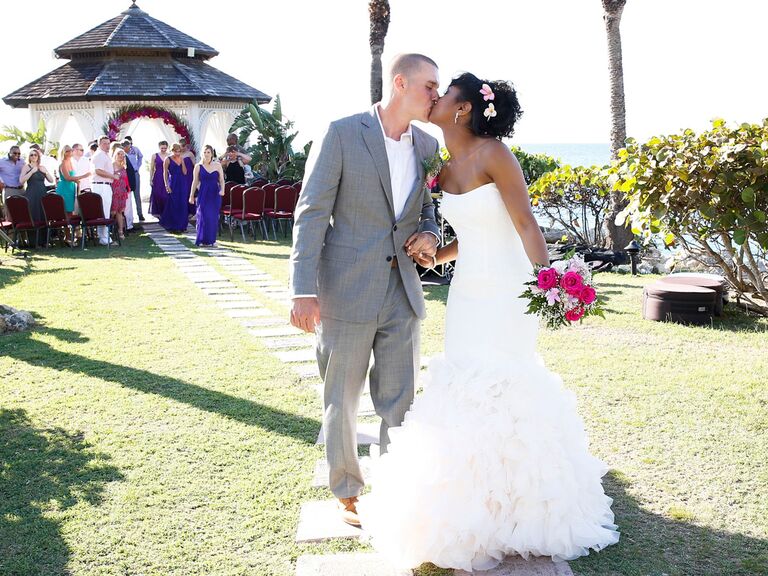 If a picturesque wedding in the heart of the Caribbean is what you envision for your nuptials, Antigua is the spot to consider. One of two islands in the country of Antigua and Barbuda, this island is full of gorgeous beaches, stunning venues and swaying palm trees. We can't think of a better destination to host every beach-adoring couple's wedding day.
Here, we cover everything you need to know about planning an Antigua destination wedding. From fantastic wedding packages to the best spots for a beach wedding, this is your guide to the best Antigua wedding. You'll never want to leave this country after saying "I do" (and we don't blame you).
Why Couples and Guests Love Antigua
JoAnn Gregoli, a destination wedding planner with expertise in the Caribbean, says Antigua is relatively flat compared to other Caribbean islands. As a result, Antigua has some of the best beaches in the Caribbean, making it a desirable spot for a beach wedding ceremony. "They're really known for their beaches," she says.
With soft white sand and blue waters, any beach on the island makes a gorgeous wedding venue—minimal decorations required. This country is known for its lush vegetation, making it the perfect spot for nature lovers. You'll feel as though you're on your own private island in this slice of Caribbean paradise.
The Best Places to Get Married in Antigua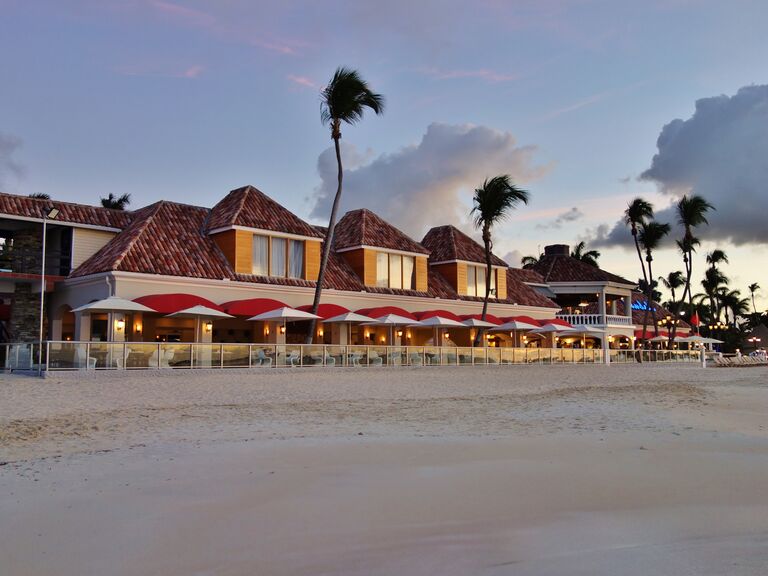 Even though Antigua is a relatively small island, there are tons of fantastic wedding venues to choose from. From smaller boutiques to larger venues with extensive wedding packages, we're confident you'll be able to find exactly what you're looking for.
Western Antigua
The Western part of this Caribbean island is full of gorgeous harbors, bays and coves. Head to Pearns Point for a stunning overlook over Pearns Bay. In close proximity to Pearns Point is Hermitage Bay, one of the most breathtaking luxury resorts on the island. Gregoli says she loves this resort because it's eco-friendly and a beautiful property. Other wedding venues on this side of the island include the Galley Beach Resort & Spa, an all-inclusive resort, and the Sugar Ridge Resort Antigua, a hillside spot with beautiful views of the sandy beaches.
Northern Antigua
Head to the Northern part of the island for a bustling downtown. The capital city of Antigua and Barbuda, St. John's, is located on this part of the island and is home to historic spots, busy ports and authentic restaurants. One of the most popular wedding venues on this section of the island is the Sandals Grande Antigua, an adults-only resort close to the airport. Another great wedding day spot on this part of the island is Blue Waters Resort and Spa, a four-star hotel with tons of beautiful gardens. On its own private island, which couples will reach with an extra leg of transportation, is arguably one of the best properties on the island, Jumby Bay Resort.
Southern Antigua
Gregoli pinpoints the southern portion of this Caribbean island for its fantastic beaches. She especially loves the Carlisle Bay Antigua, a five-star hotel with close proximity to Cactus Hill, a hiking area, and Carlisle Bay Beach, a secluded sandy beach spot. Other venue options on this part of the island include the St. James's Club & Villas, Antigua, an all-inclusive resort, and the Antigua Yacht Club Marina & Resort, located in close proximity to English Harbour.
Antigua Legal Requirements
Before jetting down to say "I do" on the white sand beaches of this blissful island, you'll want to take into account all of the legal requirements around getting married in Antigua. Thankfully for you, we've already done all of the work. Read on to learn more about how to legally marry in Antigua.
Legal Weddings vs. Symbolic Weddings
If you want to save some money on your big day, you can opt to have your legal ceremony in the US before jetting over to Antigua for a more symbolic ceremony. Gregoli says this option is quite common for couples looking to avoid the headache of planning a civil ceremony in a foreign country.
Required Legal Documents
In order to tie the knot at this island in the West Indies, you'll need valid passports and a completed application form signed at Antigua's Ministry of Legal Affairs. You'll also need your proof of status, which establishes whether you are single, divorced or widowed. If you are single, you and your partner will need to sign a declaration saying such within Antigua. If you or your partner are/is divorced, you'll need to provide the Original Decree Absolute (a British term for a court-issued divorce certificate). Additionally, if you or your partner are/is widowed, you'll need to provide a copy of the marriage certificate for that marriage and the death certificate of the deceased.
Legal Marriage Timeline
Looking to say "I do" in a timely manner? You're in luck. In Antigua, there is no residency requirement prior to your wedding ceremony for a special license. To obtain the special license, you'll first need to pay the necessary fees and sit for a brief interview with the Marriage Coordinator at the Ministry of Legal Affairs. You'll be able to say "I do" in less than 24 hours. Note that your wedding ceremony must occur between the hours of 6 am to 6 pm local time.
Legal Marriage Cost
There are a few fees associated with a wedding in Antigua. Prior to being issued your special license, you'll need to pay the license fee ($150), registration fee ($37), obtain a certified copy of your marriage certificate ($10) and pay for a marriage officer to oversee your wedding ($100).
Wedding Planning Tips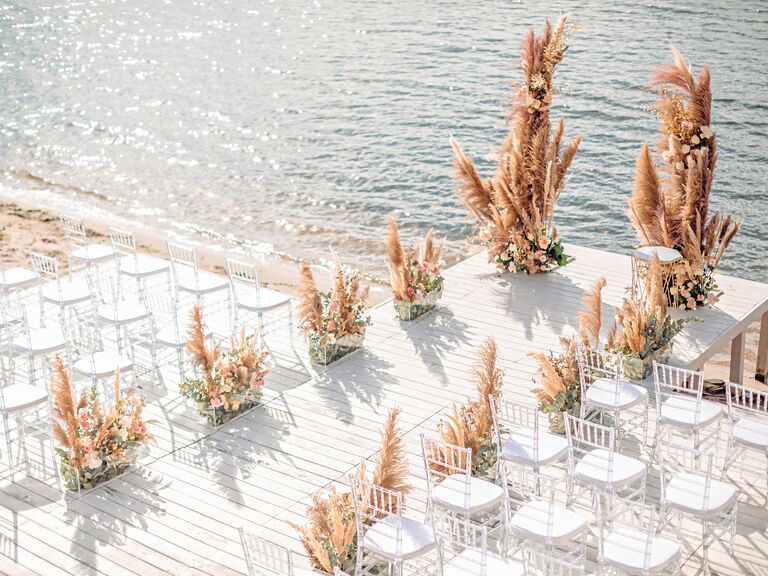 Stressed about planning a wedding in Antigua? From booking your wedding coordinator to finding the perfect wedding location, we have all of the information you need to know.
How to Get There
With multiple cities offering direct flights to Antigua, traveling there is relatively easy. Some of these cities include: New York, Miami and Newark. Once you arrive on the island, you can opt to take the bus, hail taxis or rent a car to travel around the island. If you or your guests decide to rent a car, you'll need to pay a fee of 50 East Caribbean dollars (roughly 19 American dollars) for an Antiguan driving permit.
Antigua Weather
Gregoli says the best season for good weather in Antigua is typically between December and April. If you choose to wed during the off-season, you'll want to be mindful of potential rain storms and hurricanes. While hurricanes don't tend to directly hit the island, you'll want to be mindful of heavy rains during this part of the year (July to November).
Choosing Your Venue and Vendors
When selecting a wedding venue in Antigua, Gregoli says it's important to ask about their specific policies. No two venues will have the same policies, and different restrictions and time limits may apply. You'll want to consider the size of your wedding, the time frame, the preferred ceremony location and the overall vibes when selecting your venue. Having a wedding planner or wedding specialist can also be helpful in determining the venue and vendors that fit your specific needs best. Head to The Knot's Marketplace for a complete list of planners and vendors that specialize in destination weddings.
Budgeting Tips
Antigua uses the East Caribbean dollar, which is roughly equivalent to 37¢ U.S dollars. You'll want to take into account the costs associated with obtaining your special license to wed in Antigua, as these costs can catch some couples by surprise. The cost of your wedding in Antigua greatly varies based on the wedding venue and the wedding package you select. However, many venues offer discounted packages during shoulder seasons and lower rates for all-inclusive packages.