The 8 Most Popular Destination Wedding Trends of 2023
Guarantee your guests a memorable time with these upcoming concepts.
In the age of revenge travel and bucket list getaways, couples are increasingly selecting destinations and accompanying experiences for their upcoming destination weddings. With chosen loved ones traveling far and wide to celebrate, the overarching theme of destination wedding trends in 2023 is based off new patterns of thinking, emerging aesthetics and prioritizing convenience for guests. Weddings, at large and at present, are all about the high-touch experiences you're providing for loved ones–and the memories they'll take home.
Antiquities as Themes
Classical themes and culture have long been interesting topics to couples who consider themselves aspiring historians. However, relying on antiquities and ancient remnants of humanity has emerged as a 2023 destination wedding trend. This could apply to a destination of choice (Jordan, Rome, Greece, Egypt) or an actual design theme that showcases coins or structures that point to civilizations of the past.
Destination Wedding Mood Boards
Black-tie optional or smart garden-party-casual? As dress codes still remain up to the interpretation of each guest, the aesthetics-driven generation is propelling another trend forward: wedding dress codes presented in the form of mood boards. With a variety of events filling each destination wedding itinerary, couples are increasingly providing creative direction for each festivity outlined throughout the wedding weekend. This allows guests to get a feel for each event while grasping how to prepare attire for the evening affair or brunch… without the faux pas of over-or-under-dressing. So encourage guests to dress in a "fresh lemon" palette for your Capri welcome party–but don't forget to provide the vibe.
The American West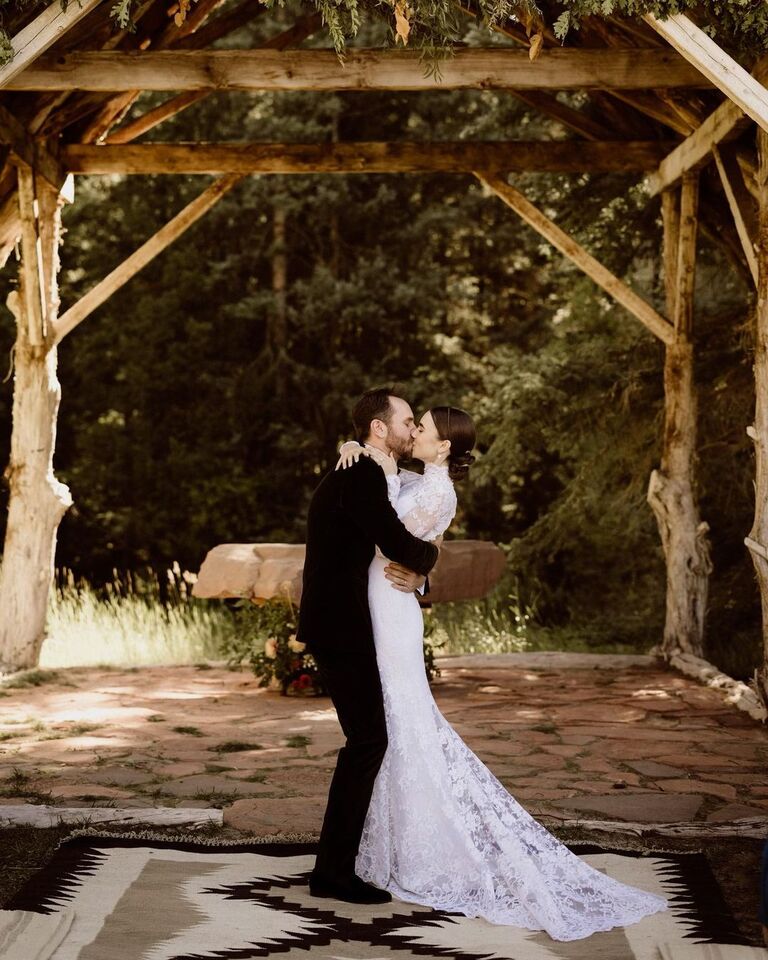 We've seen the disco cowgirl trend among bachelorette party-goers and luxury properties sprout across the vast plains and rocky regions of the American West. In 2021, Lily Collins (yes, the Emily in Paris) married at a luxury property in Colorado, and more to-be-weds have since selected the sprawling Western states of the US for their weddings. Between the general aesthetic and theme, the American West is one of our 2023 destination wedding trends that will continue to skyrocket in popularity over the next few years. With choices between fascinating destinations like Jackson Hole, Santa Fe and Big Sky, trendy couples are determining Western locations to host their US-based weddings–with a clear "destination feel" for loved ones.
Wedding Website Packing Lists
As a guest, there is nothing more jarring than packing the wrong converter or forgetting a light sweater for cooler evenings (even with days reaching 100-degrees-plus). Pending the wedding location, a modern form of etiquette among thoughtful couples is found by communicating the anticipated environment of the chosen destination to guests. This means providing a general packing list on your wedding website. That way, your guests feel nurtured and your planners aren't scrambling to recharge their battery packs every 10 minutes because your loved ones were ill-prepared. This portion of your website could also be supplemented by the wedding website FAQ page–a trend that emerged and stayed post-pandemic.
Local Mocktails and Cocktails
You may have heard of the sober-curious movement from health-conscious couples post-pandemic. With so many friends and loved ones abstaining from alcohol and, instead, opting for alcohol-free libations, the mocktail movement has swept global destination weddings. Among destination wedding trends, couples are providing both options: a mouth-puckering espresso martini or Aperol Spritz, and its sober sibling as an alternative.
Equidistant Destinations and Celebrations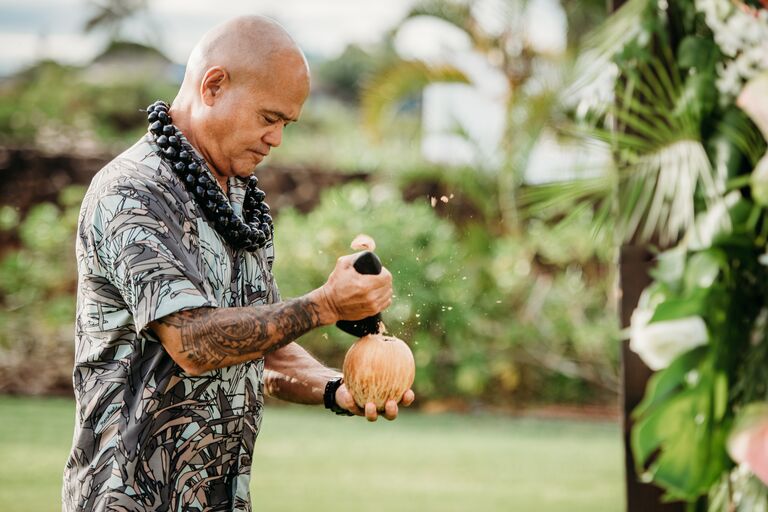 Practical international couples are now considering destinations that serve as halfway points between both sides of the family. For example, a groom raised in New Zealand and a bride from the East Coast of the US are engaged and now face the dilemma of where to host the wedding: does one side have to travel the distance, or is there another proposed solution? The answer, for many globally-minded couples–especially those who consistently explore new places–is to choose a central location or to host a "meet-me-in-the-middle-wedding," says the weddings director of Koloa Landing Lodge in Kauai. The chosen destination may be new to both parties or a frequented vacation spot, yet its purpose is to be central and conveniently located for all. For example, the aforementioned to-be-weds could choose Greece or Italy for the destination wedding, or perhaps they'd consider Hawaii. Whatever the decision, their loved ones will gladly follow.
Destination Wedding 'Closers' and Toasts
Slideshows are back and bigger than ever with its nostalgic feel. However, after a weekend of partying with old and new friends, destination wedding recaps are especially popular and a memorable way to top off the festivities. As a grand finale to the wedding weekend, couples are hosting parting events, often complete with slideshows from the wedding week… commentary, included.
Post-Wedding Buddymoons
Thanks for traveling and celebrating. Now, let's keep the party going. After the wedding, couples have been excitedly packing their bags and venturing off locally within their destination wedding location. In fact, they're voyaging with the same group of friends who've taken time off to join them abroad for the wedding. This allows both the couple and guests to venture beyond the wedding destination to explore a chosen destination together with the couple, while bonding beyond the wedding day.