Is a Destination Wedding Right for You? Consider These Pros and Cons
From the cost to your guest list, here are 10 things to keep in mind.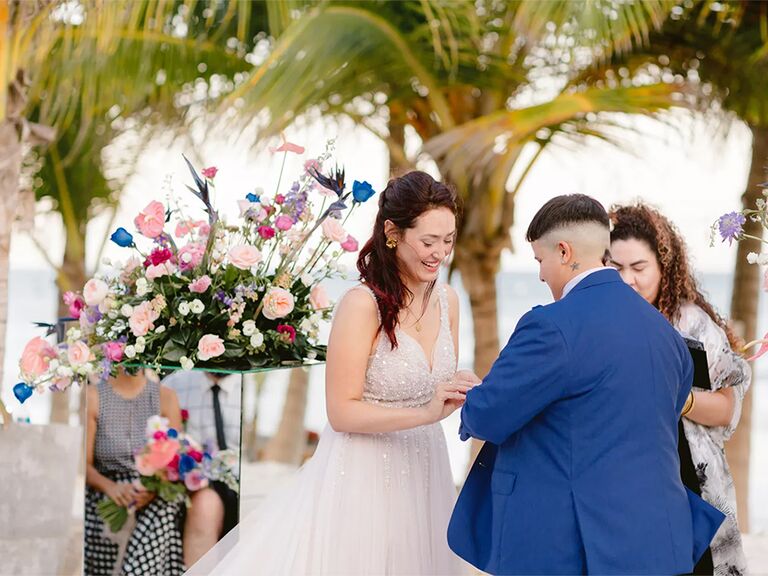 Some couples have always envisioned getting married in a traditional wedding ceremony in their hometown, while others dream of going off the beaten path and turning their big day into an unforgettable getaway.
If you're planning a wedding, you've likely considered the pros and cons of destination weddings. Destination weddings offer couples the chance to put a unique stamp on their nuptials. Some find them easier and less expensive, and a big vacation with loved ones can be so much fun. Still, there are some things you'll want to keep in mind as you weigh your options, like travel costs for family members and your wedding party.
Below, a professional wedding planner shares everything you need to know about destination weddings to help you navigate your decision.
In this article:
Pros of a Destination Wedding
Destination weddings allow couples to start their lives together on an adventurous note, often with their closest friends and family. Plus, the chosen destination may provide a unique backdrop for wedding photos you may not find if you get married closer to home. Here are the six top reasons to say "yes" to a destination wedding.
1. Your special day becomes an adventure.
Any wedding day will likely feature high emotions and a surprise or two. And wherever you get married, it'll be the start of a new adventure. But Jessica Ghazal, the owner and founder of JG Eventi, says a destination fete can kick things up a notch.
"[Destination weddings are] new and different," Ghazal says. "[They're perfect for] adventurous couples. I think they're so fun and exciting."
2. They can be small and intimate.
Some couples crave soirees with only their immediate families and best friends, but they may have large extended families and a wide social circle. Cutting down the guest list can be difficult. Ghazal says long-distance wedding celebrations are a way for couples to have their dream guest count without hurting anyone's feelings in the process. It's an especially genius hack if couples know many guests won't want to take time off of work or spring for added costs like airfare.
"Some couples know friends and family won't be able to come, so it's kind of a trick," Ghazal says.
You can still find ways to celebrate with friends and family members who won't be able to make the big day. Ghazal suggests having local parties, like bachelorettes and showers, to celebrate with them in other ways.
3. Destination weddings are vacations.
Destination nuptials turn weddings into a big getaway with your closest friends and family members. Besides toasting to new adventures with welcome drinks and sharing an intimate first dance, couples can create so many unique memories with their nearest and dearest.
"[Destination wedding couples] are [people] who want to spend quality time with family and friends," Ghazal says.
4. You can have a large guest list if you want.
Ghazal says destination weddings have a reputation for being small affairs, but that's not always the case.
"I've had one in Mexico with a count of 30, but I've done destination weddings where [the final head count] is closer to 200," she says. "A lot of times, a family can travel."
And sometimes, they want to. Perhaps your friends and family are adventurous, or maybe your chosen destination is on their bucket list, too. When it comes to wedding guest lists, Ghazal says it's important to know your crowd.
5. You might save some money (and stress).
The average cost of a destination wedding, excluding the engagement ring, is $32,000, according to a 2019 survey by The Knot. Couples who call certain states home may find the price tag a steal compared to what they'd have to fork over to say "I do" locally. In 2020—even with the rise of microweddings because of the pandemic—it cost an average of $53,400 to get married in New Jersey, $39,700 in Illinois and $39,000 in California.
Besides having fewer guests, couples can often save money by booking all-inclusive destination wedding packages.
"With destination celebrations, there are all-inclusive resorts and wedding venues that include [all vendors], from hair and makeup to video, DJs and florists," Ghazal says.
Not only can these packages cut down on costs, but they can also make the wedding planning process easier for busy couples who don't have time to select vendors a la carte or provide a ton of DIY details.
6. Destination weddings offer flexibility.
Ghazal grew up in Oklahoma, which isn't exactly the best location for a beach wedding or an outdoor ceremony in February. By opting for a destination bash, couples in a similar predicament can set the scene they want, regardless of their wedding date or their hometown's landscape.
"By doing a destination wedding, you've opened up your venue research to so many more states and destinations," Ghazal says.
The Caribbean and Mexico offer year-round beach wedding backdrops, which can be especially convenient for couples who want to get married with their toes in the sand but have more PTO in the winter. Some foreign countries, such as Norway and Sweden, have cobblestone streets and medieval buildings that exude a Gothic vibe not easily found in the US.
Cons of a Destination Wedding
Although destination weddings are a fun and exciting option for some couples, they aren't for everyone. Ghazal says you'll want to consider your guest list—particularly VIP loved ones and your wedding party—and your personal idea of a dream celebration when making your final decision. Here are four potential drawbacks to a destination wedding.
1. They're not always cheaper.
The overall cost of a destination wedding is cheaper than what a local wedding would be in some states—but not all. In fact, local weddings are typically less expensive. A survey by The Knot found the overall cost of a wedding in 2021 is projected to be around $22,500, which is about $10,000 lower than the average destination affair. Ghazal suggests establishing a budget before deciding whether or not to plan a destination wedding.
2. You may have fewer guests.
Destination weddings may not only be pricier for couples—the travel costs can add up for guests. What's more, Ghazal says not everyone can get time off approved for travel. If your heart is set on having all of your loved ones in attendance, you may want to ask them if they'd be on board with a destination bash ahead of time.
3. All-inclusive packages can feel impersonal.
Although it's convenient to have a venue provide a package with everything you need, Ghazal says sometimes these packages can make parties feel a tad cookie cutter.
She says couples often choose destination nuptials for the unique factor—and they want to see it reflected in their wedding photos. But it can be challenging to meet with a florist in person if you're from Idaho and getting married in Italy. Ghazal recommends having virtual consultations with your vendors and bringing in a wedding planner who can communicate with them to ensure your special day is the one you envisioned.
4. Legality can be an issue.
Couples holding a local wedding simply have to obtain a marriage license, hire an officiant and exchange vows. Destination wedding couples may need to jump through a couple of added hoops—and ensuring the legality of a marriage is not something Ghazal suggests saving for the last minute. It can get confusing, and some places, like England, have a residency requirement.
"Research local laws before you go," Ghazal says. Sometimes, it's easiest to simply go down to the courthouse and get married (in the eyes of the law) before jetting off for your destination wedding.