Top 5 Reasons to Have a Destination Wedding
Here's why you should say "yes" to marrying away, according to a wedding planner.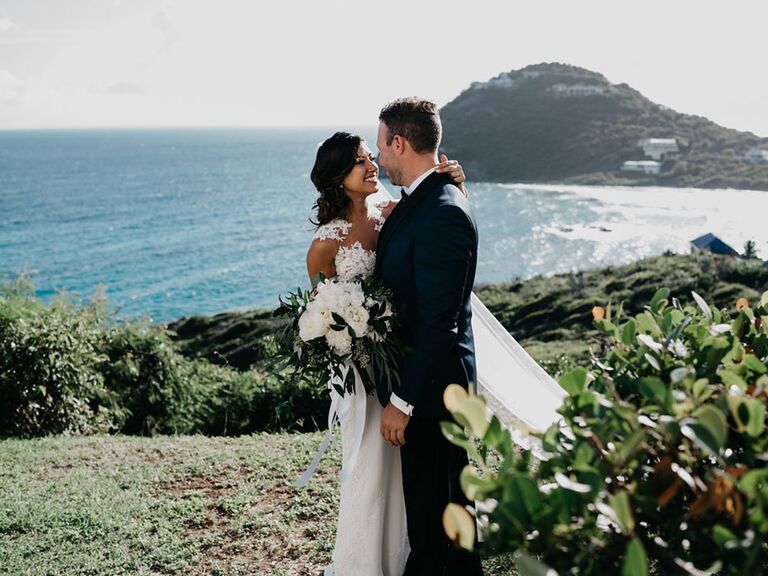 Lindsay Vaughn Photography
Can't decide whether to marry local or somewhere a little different? There are some amazing pros to both home-based and destination weddings, of course, but Kisha Barner, founder of K. Barner Events in New Jersey, is here to explain the five sweetest benefits of hosting far-flung nuptials
1. You'll Probably Save Money
"Of course there are exceptions, and there's always a way to spend money, but generally speaking, destination weddings are a fraction of the cost of a traditional wedding. Various locations usually have lower priced, inclusive packages that include many of the essential vendors and services needed, so you don't have to go crazy trying to figure it all out. You also probably won't have as many guests attend your destination wedding as you would if you stayed local. That all adds up to fewer people you need to feed, less flowers/décor you need to have and more coins in your pocket."

2. You Can't Beat the Beautiful Scenery
"There's nothing like beautiful views. And those iPhone-wallpaper-worthy photos can be the backdrop for your wedding! Not to mention, being in such a beautiful environment brings a glow to your faces."

3. There Are Great Photo Ops (Beyond Your Wedding Day)
"Speaking of scenery, destination weddings really put photographers in their happy place. You don't have to be limited to photo shoots just at your resort. In fact, I encourage you not to stay put, because you'll have enough photos there from your wedding. Instead, go out and explore the area, have fun with locals, go shopping and anything else you want to do. Your photographer will soak up the natural lighting and capture beautiful memories as you're out having fun. The photo opportunities are endless, and your 50-pound wedding album will be a testament to that."
4. It's Like a Wedding and a Honeymoon in One
"As couples get closer to their day, they're not only looking forward to the wedding—they're beyond excited about the honeymoon too. An opportunity to get away, relax and not have a care in the world—what could beat that? With a destination wedding, you're either already in your honeymoon location, or it feels like a vacation before you jet off to the next locale."
5. A Multiday Celebration Is Basically Guaranteed
"Let's face it, your wedding day goes by pretty quickly—you plan forever and then it's all over in a few hours. With destination weddings, you'll have days instead of hours to celebrate, and you can control how many different events you'll have. There are so many possibilities—welcome cocktails and dinner, day excursions, horseback riding on the beach, game night, day-after brunch and more. Have fun with it. There aren't many opportunities where you'll have so many people you love all in the same location."