The Official Guide to an Athens Honeymoon for History Buffs
Experience Greek mythology in real life.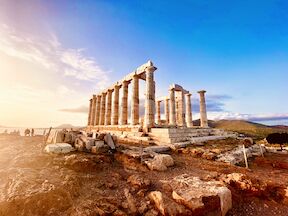 Stephane Lagonico / EyeEm / Getty Images
We have included third party products to help you navigate and enjoy life's biggest moments. Purchases made through links on this page may earn us a commission.
Stepping onto the streets of Athens is like stepping through a time portal as the Mediterranean destination bridges life BC. Marked by honeymoon-worthy romance, hilly streets covered in vines, majestic structures tangled in tales, and candle-lit taverns serving scratch-made Moussaka, Athens offers that whimsical, far-flung feeling that's impossible for anyone to resist.
During an Athens honeymoon, couples will enjoy historic wonders like the Parthenon and the Acropolis up close, and on the other end of the spectrum, indulge in modern luxuries like buzzing nightclubs and swanky hotels. The city is unsurprisingly one of Europe's most visited, and it's safe to say that facets of exploration here are limitless. Remember, Greece is the birthplace of Western civilization: that of art, literature, culture and enduring ideas.
Direct flights to Athens International run from New York (with an ETA of nine hours), though the city can also be reached from major US cities via single connections in Zurich, Copenhagen and Frankfurt. If you're ready to slip on those sandals, satisfy some curiosities, and take on an Athens honeymoon, here's everything you need to know.
Is Athens Good for a Honeymoon?
The Pros of an Athens Honeymoon
Athens is one of the most affordable cities to visit in Europe. Public transportation is also very reliable, making visits to the multitude of available attractions a breeze. Traditional Greek food is varied and generally healthy, catering well to most diets.
The Cons of an Athens Honeymoon
Athens is a very safe city for travelers, but like all big cities, you'll need to look out for pickpockets. It's best to keep valuables safe in the hotel or at home. Peak months are overwhelming with tourism, far from the remote and romantic experience most couples desire. In that case, plan an off-peak getaway.
The Best Times of Year to Go on an Athens Honeymoon for Good Weather
Naturally, couples want optimal conditions for the honeymoon. In Athens, summers are extremely hot and busy, particularly with cruising tourists hopping all the Greek islands. Visit during the shoulder seasons of late spring (April or May) and early fall (September and October) for the best prices and conditions.
Things to Do During an Athens Honeymoon
Hike Up to the Acropolis
Without a doubt one of the most famous attractions in the country, if not the world, the Acropolis is a fifth-century BCE citadel and UNESCO World Heritage Site. Though you can see it from many corners of the city, the best thing to do is to hike up a steep hill and see it up close. Go early in the morning to avoid crowds, or delve deeper and join a walking tour where you'll skip the lines with an expert guide in tow. Alternatively, the Acropolis Museum can answer post-hike questions.
See Delphi
Around two and a half hours northwest of Athens is the town of Delphi. As one of the most popular attractions in the country, a day trip is absolutely worth factoring into any honeymoon itinerary. Delphi, an ancient religious sanctuary dedicated to the Greek god Apollo, was once considered the 'center of the world' and is now a beloved UNESCO World Heritage Site.
Feast on All Things Greek
Love Mediterranean cuisine? Prepare for a feast. The streets of Athens are lined with traditional taverns where you can get your fill of Pastichio, Moussaka or Chtapodi. In terms of street food, you can't fill an empty stomach without a stop at a Souvlaki stand. And don't miss Greek coffee while you're at it; though be warned, a traditional brew here is much stronger than what's served in North America.
Go on a Boat Cruise
There's no better way to see the glistening Aegean Sea and pretty nearby Greek Islands than by boat. Options include Viator's all-day cruise to the islands of Agistri, Moni and Aegina, with lunch and drinks included, Yachthop's sunset wine and cocktail cruise and GetYourGuide's Saronic Islands Day Cruise that offers free time to wander the islands of Poros and Hydra.
The Best Hotels and Resorts in Athens for a Honeymoon
The finest way to spend those hard-earned Bonvoy points: Hotel Grande Bretagne is a five-star 1874 landmark. Rooms and suites are old-world elegance meshed with modern amenities, and many feature views of the Acropolis, Syntagma Square and the original Olympic Stadium.
A contemporary stay, the InterContinental's rooftop patio has such beautiful views of the Acropolis, that they called it the Acropolis Terrace. Honeymooners looking to make their stay extra special can opt to stay on a Club-level floor, with special access to lounge amenities and private check-in and check-out.
Plum Guide hand-picks the most delicious homes in Athens. Dionysus, for example, is situated in Plaka, known as the Old Town of Athens and right in the heart of it all. Ideal for couples seeking privacy and wanting to do things on their own terms.
What to Pack for an Athens Honeymoon
Pack comfortable clothing and shoes because you'll be doing plenty of sightseeing on foot. A reusable water bottle is a must too. Tap water in Greece is safe to drink and it'll save you time, effort and money when hiking up those hills.