The Greece Honeymoon Guide for the Best Things to Do and Places to Visit
Take it from local tastemakers and our Deputy Editor, who is now spending every summer in the islands.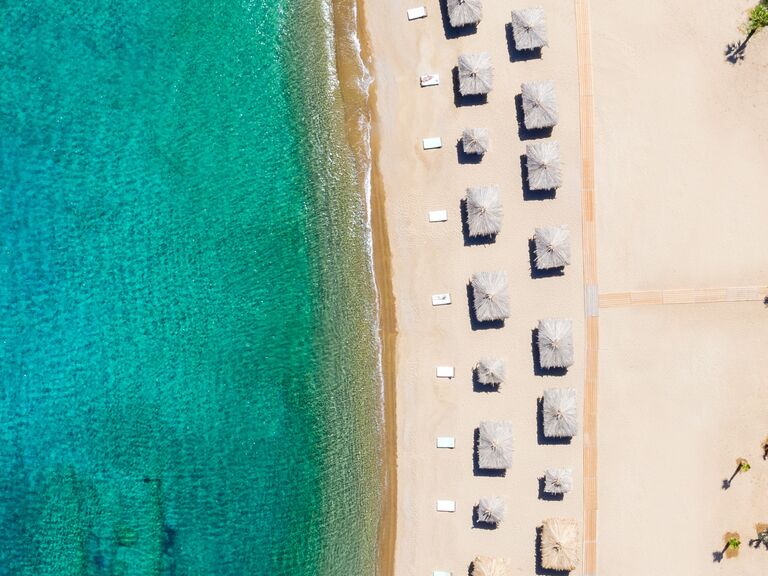 Photo: Calilo Resorts
We have included third party products to help you navigate and enjoy life's biggest moments. Purchases made through links on this page may earn us a commission.
For someone who considers herself decently traveled, I plan to spend the rest of my life in pursuit of the calming effect of the Mediterranean. The perfect morning, according to me, begins with a deliciously crisp and salty plunge into the sea's either rocky or sandy shores, snorkeling gear in tow. It ends with me, bobbing up and down, ears submerged in the water, as I look up at the powdery blue sky. At that moment, my checklist for the day dissipates as I look forward to the possibilities that will follow with a savory Greek phyllo pastry and a freddo cappuccino. It's this very routine, which begins at the mouth of the Aegean, that has left me determined to repeat this ritual every summer after exploring eight Cycladic islands in the summer of 2023. If this sounds like heaven to you, then a honeymoon in Greece or a romantic getaway to the islands with your partner should be seriously considered.
"A Greek summer should be had by all," confirms Andria Mitsakos of her global travel PR firm and a Greek-American herself, who's since relocated from New York to Athens. "Why not use your honeymoon to kickstart those memories? The pace is easy, the pressure is off, and there is such a resounding sense of freedom that all of us associate with summer here. And that's important when you're starting any relationship. Pace, in life, is everything to me." Before simply booking a trip to Santorini, however, you'll want to read our comprehensive guide to a Greece honeymoon. It not only includes the basics of honeymoon planning across the country, but features, most importantly, inside tips from local tastemakers like Mitsakos, who truly know the finest across the islands.
Greece Travel Tips in this Article:
Is Greece Good for a Honeymoon?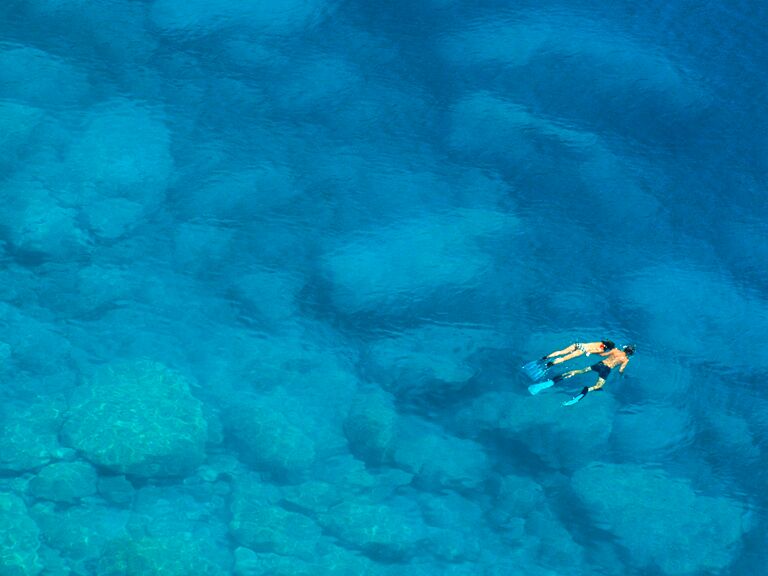 The Pros of a Greece Honeymoon
Glistening water, rich culture and historical roots, fresh fava and Greek yogurt, as well as unprecedented natural beauty are just a few pros that immediately come to mind with a honeymoon in Greece. It's one of those places in the world that especially speak to aquatic and sailing enthusiasts—and even if not, those with thalassophobia need not worry: there are plenty of sun beds, seaside taverns, vineyards and inland hikes to keep you occupied.
With plenty of gorgeous olive groves, beautiful roads carving against hulking trails of coastline, five-star hotels and splendid sights, honeymooners will especially thrive in romantic Greece. It's the perfect destination for those who love exploration with a touch of luxury.
The Cons of a Greece Honeymoon
Once you're in Greece, the cons are rather limited. However, it's best to be aware of potential challenges in advance than while on the ground for your honeymoon. The first is straightforward: nearly 28 million tourists traveled to Greece in 2022, making it one of the most popular countries to visit in Europe and that number is only expected to go up through 2023. Couples who travel during peak season are already facing higher rates and increased crowds for some of the main sightseeing destinations across the country (think: Santorini's Oia at sunset, the windmills of Mykonos, or the ruins of Delphi, Knossos and the Acropolis). It's why one of our biggest honeymoon tips is to book your stay and experiences as early as possible. If not, anticipate sold-out properties and higher incurred costs.
If your mind jumped to when "things settle down," the reality is summer in Greece has long teemed with activity–and now the shoulder seasons are there too. While the months of May and October are still quieter in comparison, we encourage planning in advance to experience the best the country has to offer.
Also, consider the logistics of getting from one island to another. The Greeks rely on the ferry system (unless you plan to sail around). Expect occasional delays with ferries, as well as mild chaos when embarking and disembarking. The situation may create some stress for those who don't travel frequently, so brace yourselves for these types of various moving parts.
The Best Times to Visit Greece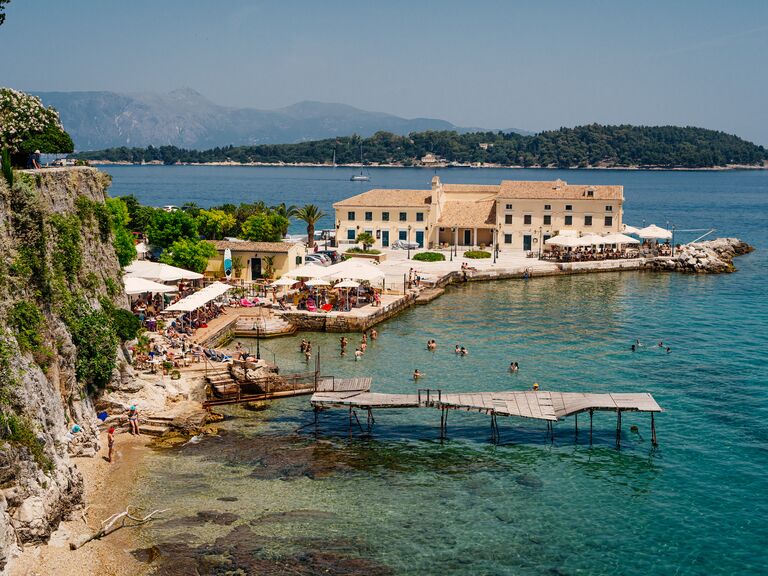 Summers are surprisingly pleasant across most of Greece–the Meltemi winds aren't a myth. The intense dry air sweeping across Cycladic destinations feels remarkably refreshing, especially in the summers when the daytime sun settles over the rocky landscape of most islands.
"Any time is the best time to visit Greece," says Michapoulos. "You can do plenty of activities and visit various historical places. If you're looking for a less crowded time to visit Greece, I would recommend the shoulder seasons of spring or fall. But if you want to live the authentic Greek experience, then you have to choose the summer season."
Greece Tourism Tips for Couples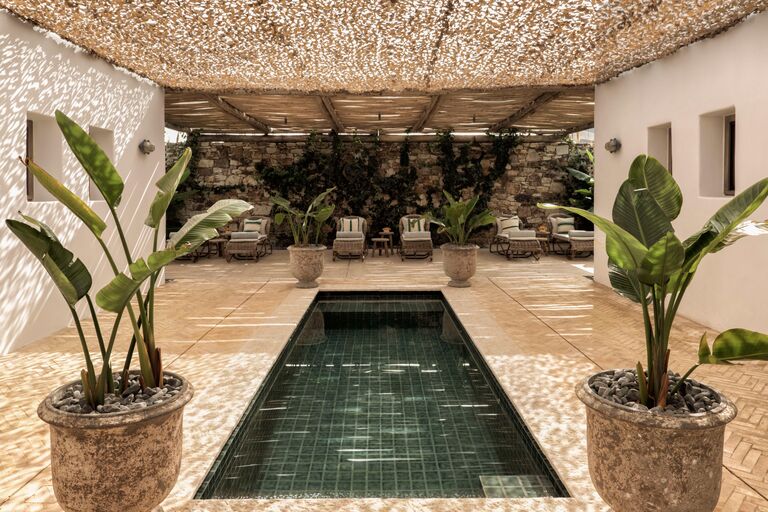 Greece is marvelously safe and for those who aren't well-adjusted to the concept of trust in public spaces, it's quite surprising how respectful most folks are on ferries and in public spaces of others' items. That said, be mindful of petty theft, especially in dense destinations like Athens, Mykonos and Santorini.
The hospitality is unparalleled in Greece. For someone who's traveled her entire life, this editor can confidently say that the best, heartwarming service has been found in Greece. Therefore, it's important to show kindness and dignity to those in service. Start by learning the basics of the Greek language (basics like good morning, good evening and thank you are universal).
It's also important to respect the local culture: Be kind to the stray cats and don't carve your name on ancient ruins. If you're driving, know this: many roads are unpaved, one minute you can be on a straight road, the next, if you turn the wrong way, you will be in the Aegean. Stay alert when you're on the road as it's vastly different from American traffic patterns. Get a car with navigation—trust me when I say it's worth the extra 10 euro a day. Speaking of which: the country operates on the Euro and the exchange rate fluctuates. Round up when tipping at local establishments and have local currency on hand in case you need a last-minute taxi service.
The Best Places to Visit in Greece
Counting over 6,000 islands, each with its own distinct local feeling and energy, Greece is arguably the best destination in the world for island hopping. "There are many different islands and cities in Greece, so you'll need to choose one that fits your interests," says Michapoulos. "If you're looking for a romantic getaway, consider Ios, Santorini, Milos, or Hydra. If you're interested in history and culture, visit Athens, Delphi, or Meteora. If you are a party animal, then you have to visit Mykonos."
Athens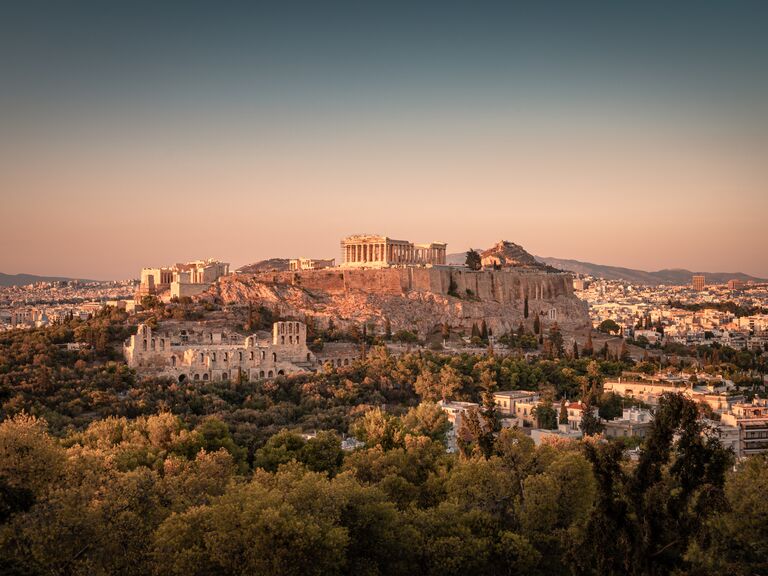 The birthplace of democracy is a must-see for a multitude of reasons. Of course, its 5th-century BC ruins are a marvel; nearby neighborhoods like Plaka and Psyri. "Do not skip Athens," says Mitsakos. "It's a magical city."
Crete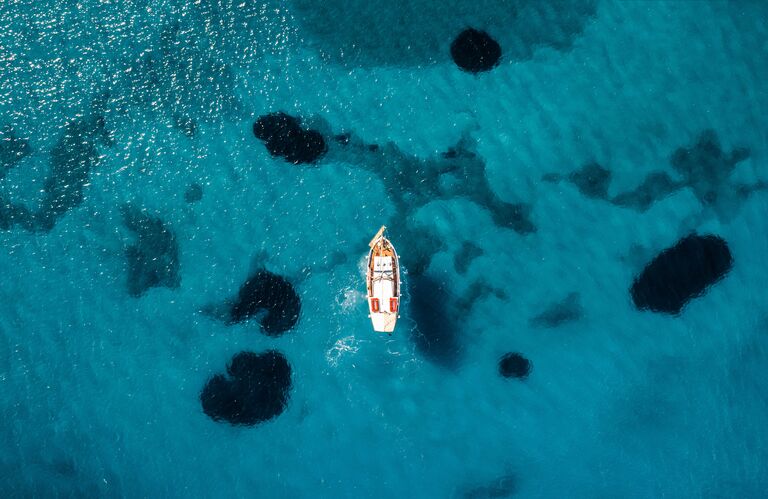 The largest Greek island is its own destination for a reason—and couples should dedicate at least one week to exploring Crete. The island's world-famous beaches, local Cretan fare, and adorable villages dotting the eastern and western regions are just a few ways to spend the days. However, the crowning landmark of the island known to both tourists and Cretans is the Palace of Knossos, the residence of the legendary King Minos and the fabled Minotaur. Arguably, the western part of the island has "better" beaches, but it depends on your vacation style. The medieval village of Chania, for example, offers an old-world-meets-new-world feel. The harbor bustles with restaurants and tavernas, while the inner portion of the town has plenty of shops and gelato stops to explore (Priorities, if you ask us). On the easternmost part of the island, however, luxury resorts line startling blue coastlines, where tourists who prefer a mix of culture and beauty will find both especially prevalent across Elounda and Agios Nikolaos.
Ios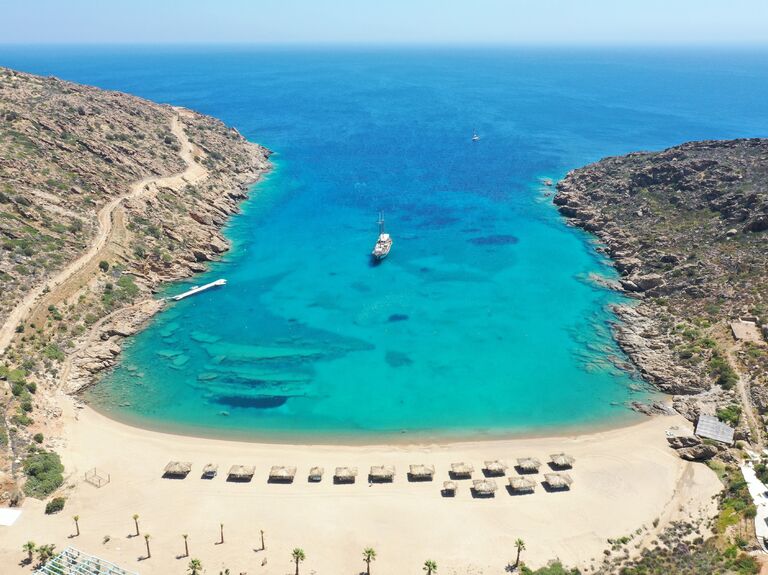 Known as the "Blue Island" in Greece for its panoramic and 360 views of the sparkling sea, Ios has also long been known as the "Island of Youth" for its famed nightlife for generations. Honeymooners and couples, however, will most likely make their way to Calilo Resort for its inspiring artwork and luxury suites and Pathos Club & Restaurant for its theatrical sunset experience. Couples can't beat the views. "The island is home to some of the most beautiful beaches in the Cyclades, with clear blue waters and soft white sand. Some of the most popular options include Mylopotas Beach, Manganari Beach and Kalamos Beach," says Erica Michalopoulou, whose family owns and operates Calilo, Pathos and other establishments across the island. Ios also happens to be the burial site for Homer (the great and presumed poet of the Iliad and the Odyssey). "Ios has a rich history and culture, dating back to the Bronze Age," confirms Michalopoulou. "There are several archaeological sites on the island, including the ruins of the ancient city of Ios. Overall, it's a great island to visit for those who are looking for a summer vacation with beautiful beaches, lively nightlife and a fascinating history."
Milos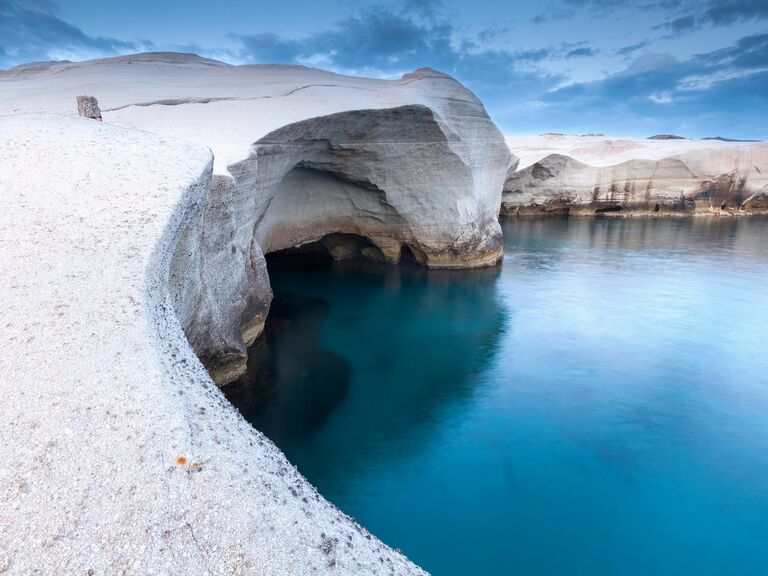 One of the most uniquely featured islands in the Cyclades is Milos, known for its turquoise-blue Aegean water and volcanic beaches. Arguably one of Greece's most famous sites for cliff jumping, crystalline coves and an otherworldly landscape is Moon Beach (Sarakiniko Beach) on Milos. Honeymooners will especially appreciate the island for its peaceful and quieter ambiance.
Mykonos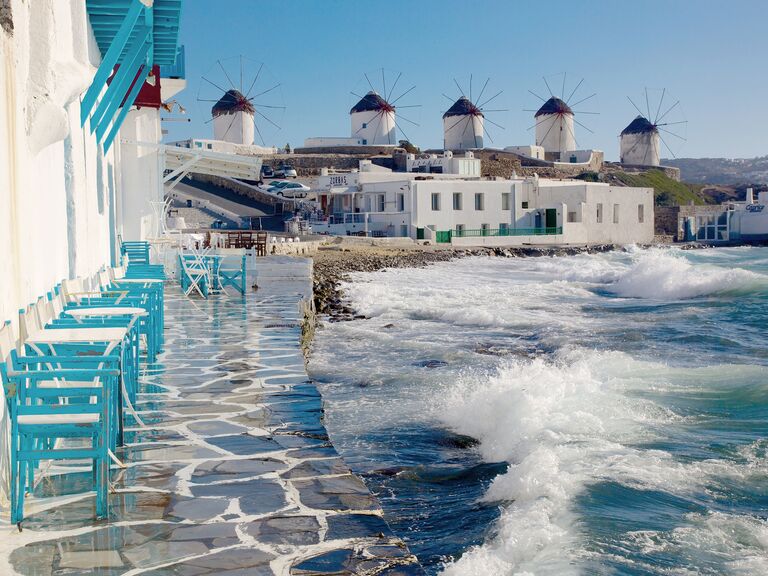 Formerly a bohemian destination, this Northern Cycladic island is known for its bumping party scene, luxury resorts, picturesque 16th-century windmills and the sunset in Little Venice. If the thought of enjoying a tasteful brunch followed by daytime at a trendy beach club and evenings dancing to world-renowned DJ sets all sound like a dream to you, then Mykonos is a Greece honeymoon haven. Be prepared, however, to pay and to wait in lines as peak seasons especially run higher-than-standard prices for stays, along with dining and beach club rentals.
Naxos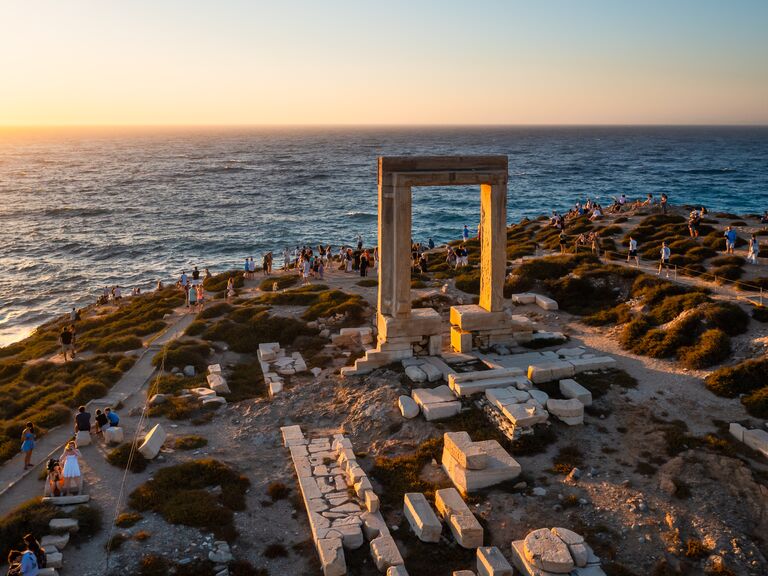 The most rustic Cycladic island of all is also the biggest. Couples can find some of Greece's most beautiful sandy beaches (Plaka, for one) and affordable dining and hotel options on the island. Arriving at Naxos Port means a gorgeous greeting from the Temple of Apollo's Portara of Naxos, translated to the "Great Door." Surrounded by the blue sea, the hulking marble door from 530 BC is the only part of the incomplete temple that still remains intact.
Paros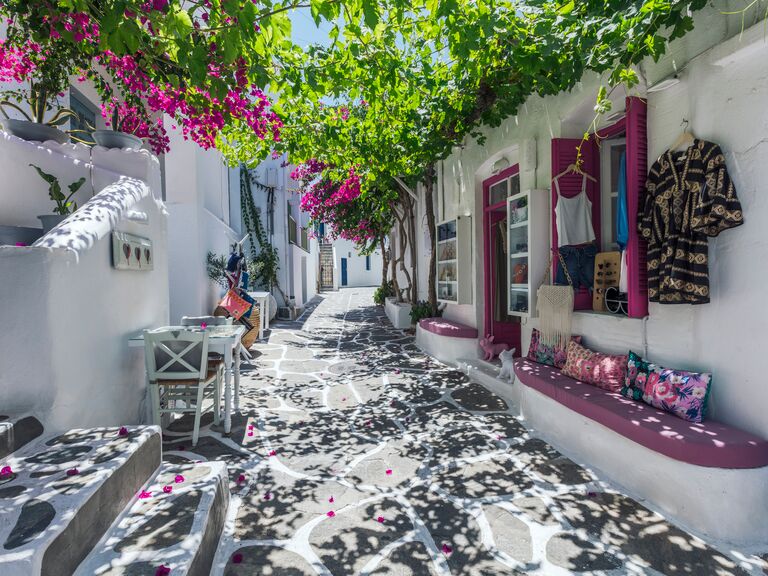 Between the trendy town of Naoussa, top restaurants across the Cyclades and its adorable shops, Paros is the destination for couples who want to combine luxury and authentic Greek culture. Over the last five years, Paros has ballooned in volume (we call it the Instagram effect), but if you're truly looking for the local experience, we recommend staying in Naoussa. The town's adorable shops, fantastic restaurants and overall walkability make it a worthy destination for couples who want a few days stocking up on authentic Greek treats to bring home. (Don't forget dinner reservations at Siparos Restaurant, followed by a night out at Barbarossa.) Since you're surrounded by trendy shops, a stop by Anthologist Paros at the Cosme Hotel means you'll find especially well-curated and one-of-a-kind souvenirs and pieces for yourself. A day trip to sleepy Antiparos is an added perk—it's just 10 minutes away by ferry.
Santorini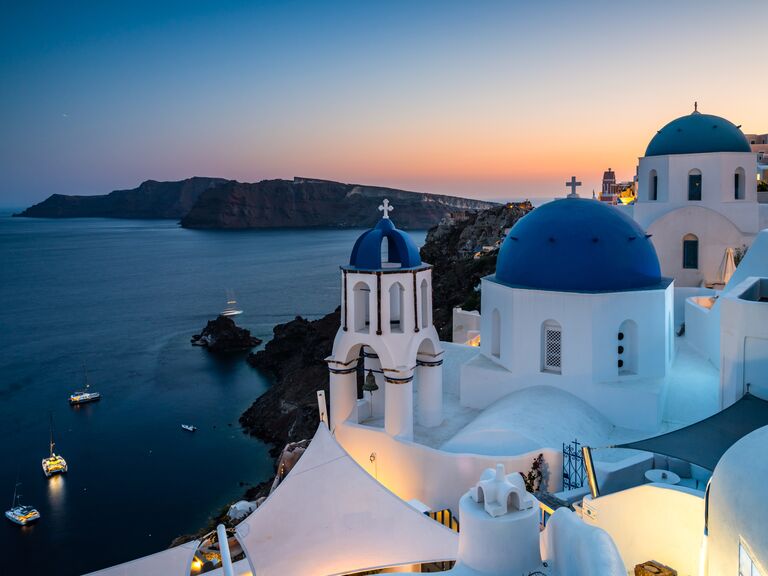 The island of Santorini is considered one of the most otherworldly destinations and highly-visited islands in all of Greece. Santorini is already one of the most popular honeymoon destinations in the world, but couples can find their magic and private alcoves depending on their location for a stay. "Of course, Santorini is on everyone's list," acknowledges Mitsakos. "So if it's on yours, be sure to go early, like late May or early June. Stay at Mystique for the Caldera view, then hop on a ferry and go to Crete after that. The Ionian [Islands] are also having a moment, and you'll find fewer Americans there."
Sifnos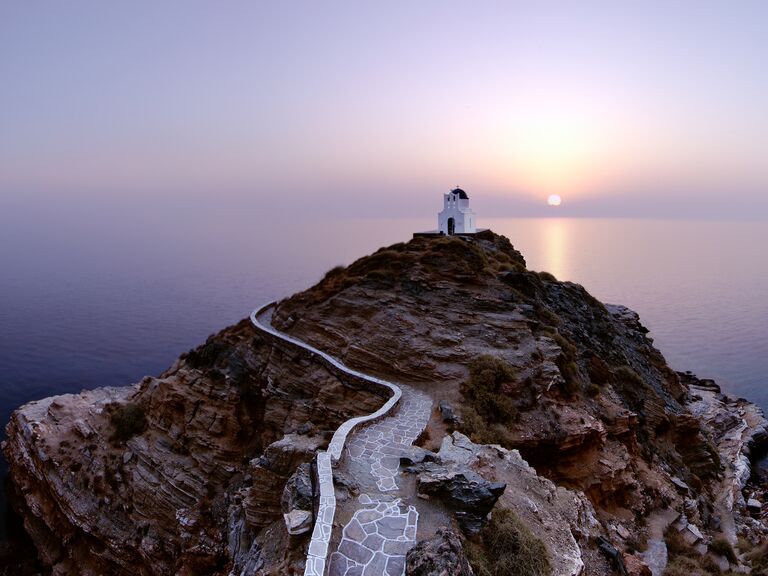 Arguably this editor's favorite Greek island is the delicious destination of Sifnos. Though lesser-known compared to its neighboring Cycladic islands, Sifnos is the place for traditional Sifnoan pottery, rustic tavernas on the beach, and, hot take, the best dining the Greek islands have to offer. We encourage renting a car as it's a destination that becomes even without zipping from Vathi to Apollonia.
Skopelos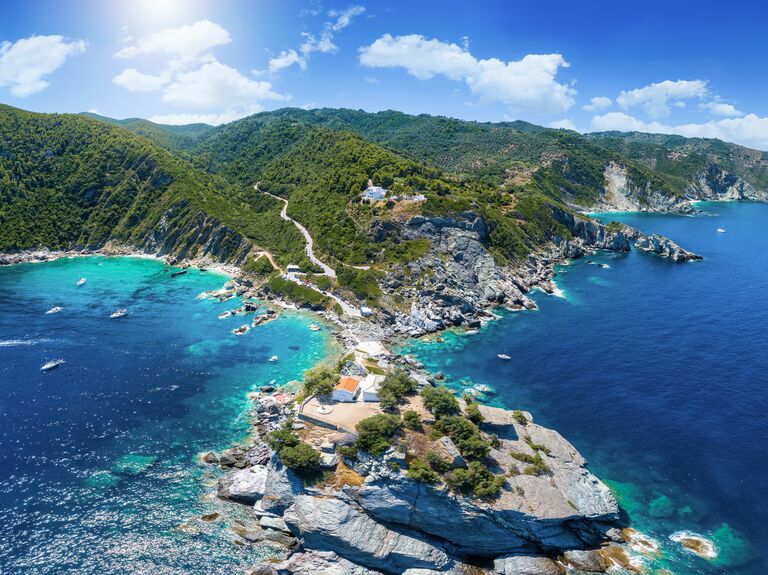 Call it the Mamma Mia! effect. The island of Skopelos has experienced a surge of interest from travelers who couldn't believe the beauty of Agios Ioannis Kastri in the film. The archipelago island is part of the Sporades island group located in the Northwestern part of the Aegean (including Alonnisos, Skiathos, Skopelos and Skyros).
Zakynthos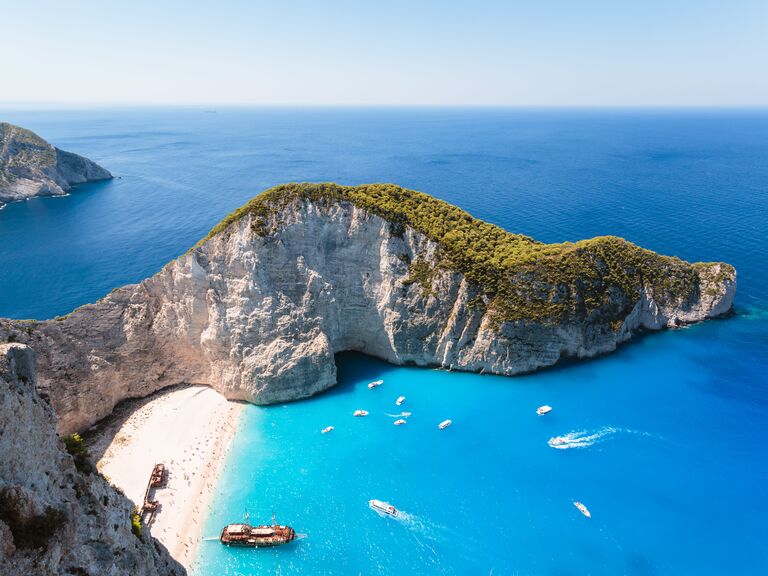 One of the most visually appealing images of Greece is the electric blue Aegean lapping against Navagio Beach (Shipwreck Beach) on the island of Zakynthos. The island sits on the Ionian Sea and is surrounded by brilliant blue water. Couples will find architectural resorts across the island and they're guaranteed a romantic ambiance.
Fun Things to Do in Greece for Couples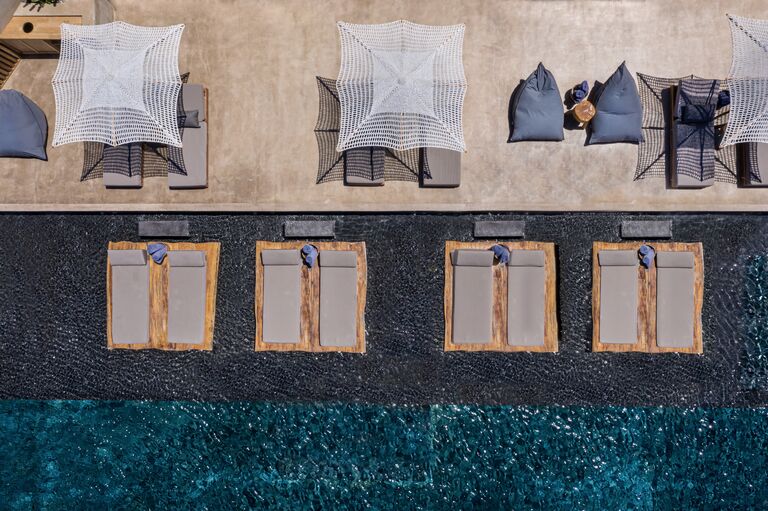 Explore the Ruins of the Acropolis and Knossos
Once teeming towns and cultural epicenters for an ancient civilization, the ruins of both the Parthenon and Knossos Palace remain some of the most visited preservation sights in the entire world. It's a humbling experience to stand between history and the present, especially when considering the historical figures who walked through these spaces.
Take a Cooking Class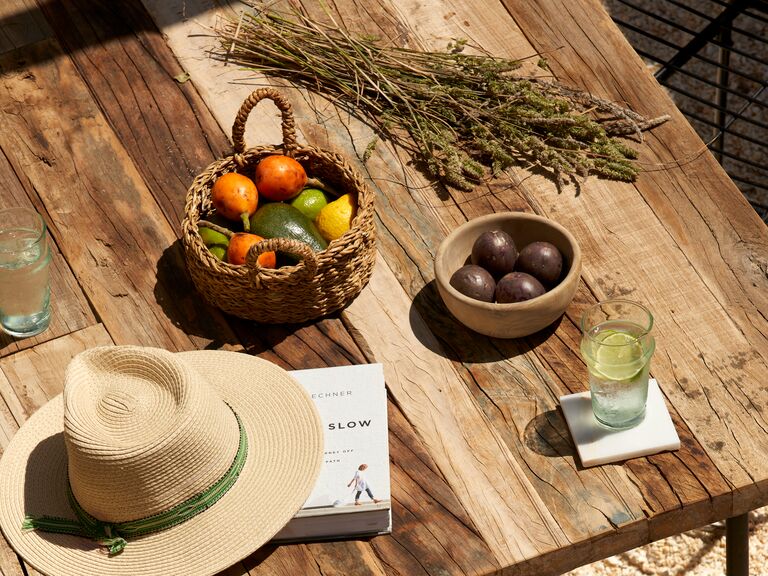 If your regular diet involves a fresh Greek salad at dinners or Greek yogurt at every breakfast, it's worth exploring the history and food culture of the destination. "Greek food is some of the best in the world," says Michalopoulou. "Taking a cooking class is a great way to learn about Greek cuisine and to have some fun together."
Beach Hop in Crete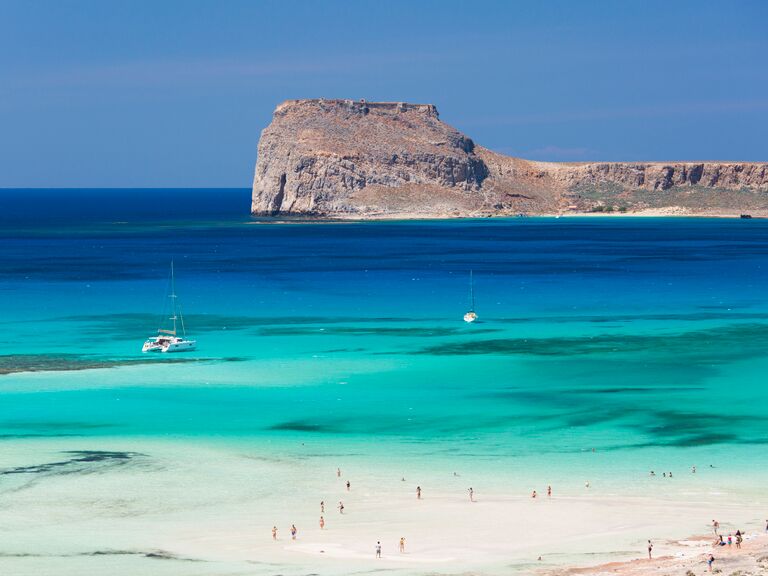 Between the powdery pink sands of Elafassoni to the breathtaking sight of a lightning bolt-shaped cove known as Seitan Limani, the beaches of Crete are among the most beautiful and well-recommended in all of Greece. A rental car is encouraged if you plan to drive from one beach to the next. Plus, there is plenty of local honey and olive oil stands along the way for souvenirs and personal shopping.
Indulge in Greek Spa Treatments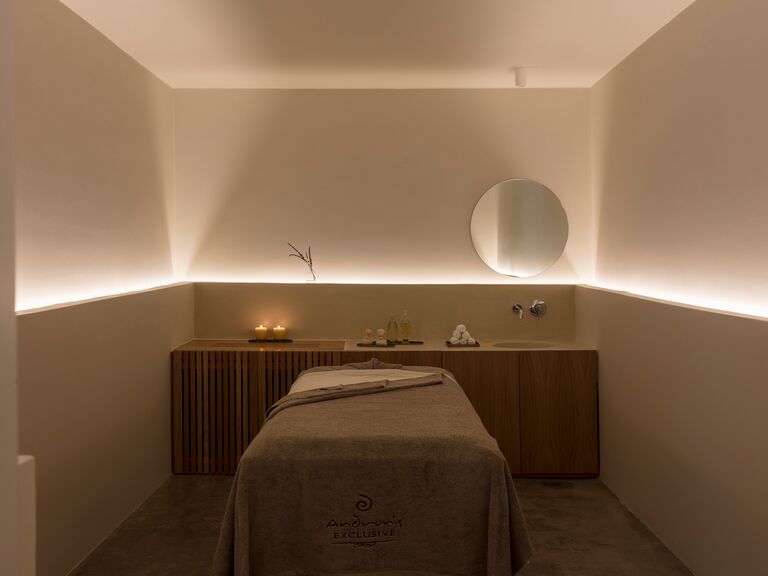 The Greeks have nailed the wellness concept with its holistic, natural remedy treatment options, found across resorts dotting the islands. After all that travel (by plane, ferry and car transfers), your body will feel grateful you decided to indulge and melt away. We recommend Bostani Spa (Sifnos), Poseidon Spa (Crete), Calilo Spa & Wellness Center (Ios), and many more unforgettable experiences for mindfulness.
Shop for Unique Gifts
If you packed an empty bag for gifts and goodies from Greece, you're in good company. This editor came home with two additional carry-on bags at the request of loved ones, but mainly because self-control wasn't an option among the organic and beautiful handmade goodies on every island. Personally, my checked luggage was stocked with Sifnoan pottery, olive oil, Cretan local honey, Ios beeswax ointments, a gold-plated necklace from the Anthologist, and Korres skincare to hold me over for months.
Sail the Islands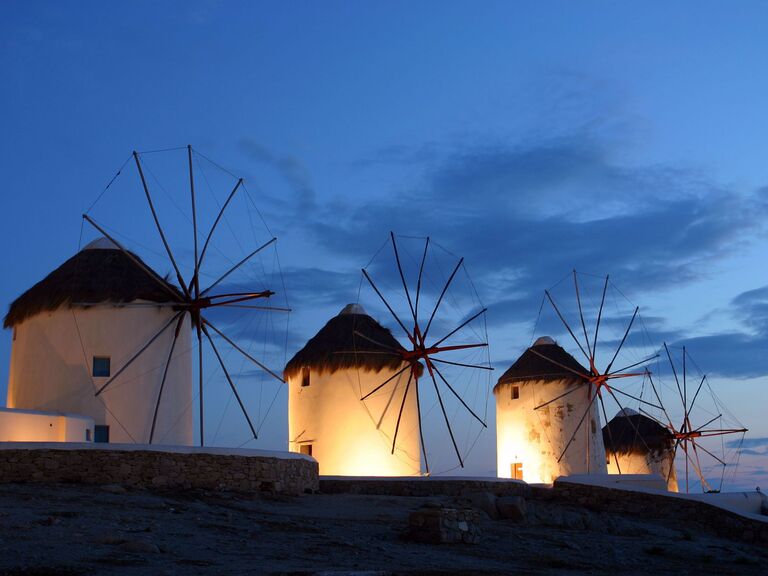 There's another way to island hop and save time while enjoying the glorious Grecian sun and the Mediterranean the classic way. "If you want to see more destinations, then book a week-long odyssey with Variety Cruises," says Mitsakos, who represents the brand. (She does, however, caveat that by saying she only takes clients she believes in.) "It's a fantastic brand, the owners are friends (and clients), and you'll explore multiple destinations and only have to unpack once."
Make (or Buy) Pottery in Sifnos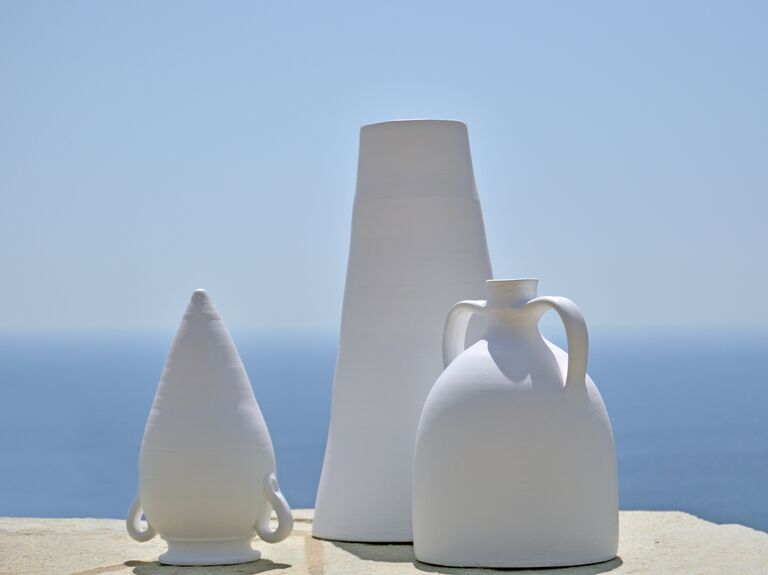 Drive down a steep and winding road overlooking Vathi Beach and you'll find yourself pumping the breaks down a dusty, undeveloped road. An outdoor kiln and a rabbit on a leash greet guests outdoors. This is the experience of how this editor arrived at Atsonios Ceramics at Tsopos Beach. Inside, rows of world-class pottery and terra-cotta pots produced by the Atsonios family eagerly await exploration and packaging to take home. If you're on the island of Sifnos, a deeper dive into Sifnoan pottery is worth the cultural exploration.
The Best Hotels and All-Inclusive Resorts in Greece
There's no shortage of romantic and top-tier Greece honeymoon resorts and hotels. Couples will be ushered into their hotel rooms and suites with a welcome drink (a delicious local cocktail inspired by organic goodies) or a warm note of reception. While all-inclusives are rare in Greece, some properties offer half-board (breakfast included) or full-board (breakfast and dinner) options. Many five-star properties also offer an incredible complimentary breakfast spread. That, alone, could be its own activity for couples.
Verina Astra, Sifnos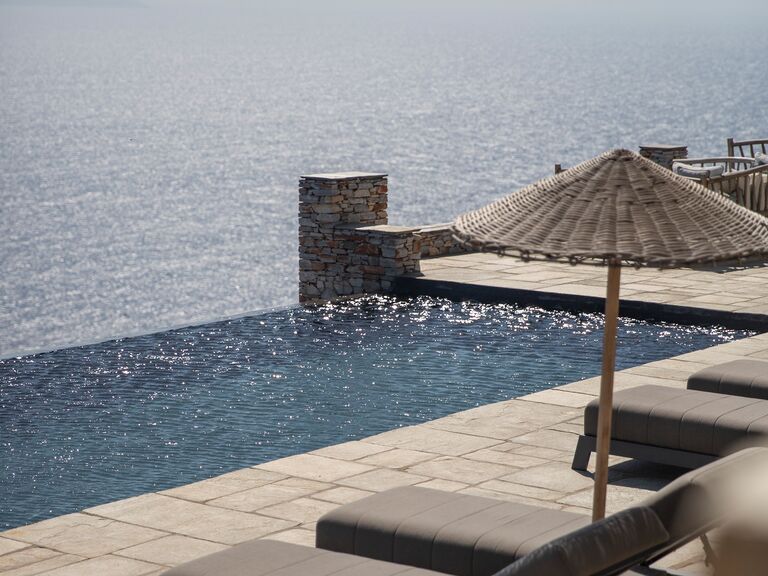 One look out to the Aegean from the Verina Astra and couples will acknowledge–no wonder the ancients thought the Greek gods existed. They must've thought Zeus, himself, looked out from that very spot. Verina Astra has claimed the perfect location on the island of Sifnos—overlooking the Aegean blue, multiple seaside monasteries, two distinguished hiking trails and the medieval town of Castro. Close to the stars (astra), your honeymoon will resemble the celestial heavens with a stay at this boutique property. The Bostani Restaurant & Spa are a must-do for its views alone. If Verina Astra's 16 rooms are booked, couples can still experience genuine Greek hospitality at its sister property, Verina Terra.
St. Nicolas Bay, Crete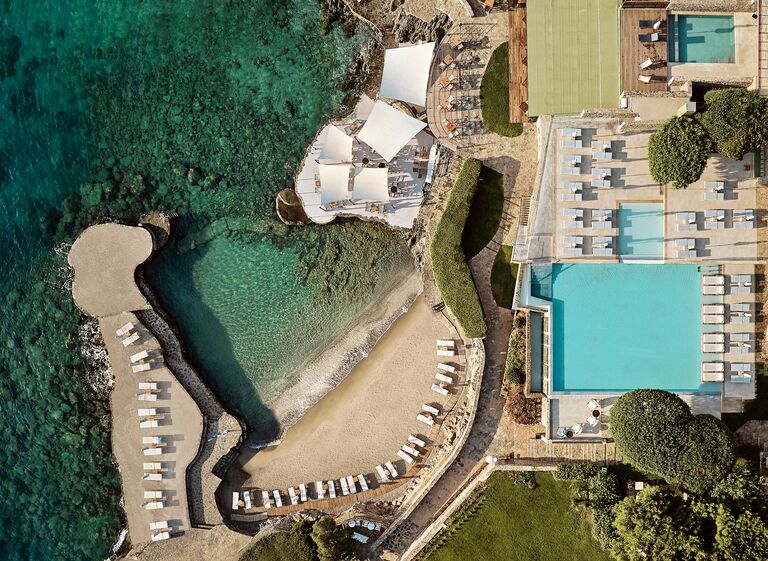 Low-key luxury isn't a buzzword here; it's a lifestyle. This top-rated property in all of Greece is located on the eastern coast of Crete, wrapping around a natural bay within the Mirabello Bay. It's one of the most spectacular properties in, arguably, the world, complete with a White Lotus-like infinity pool overlooking the sea. Guests can enjoy a sizable Greek and Cretan breakfast at either a half-board or full-board option for something that resembles an all-inclusive stay. During the days, snagging a spot by the water (both sea and pool) are a must.
The Rooster, Antiparos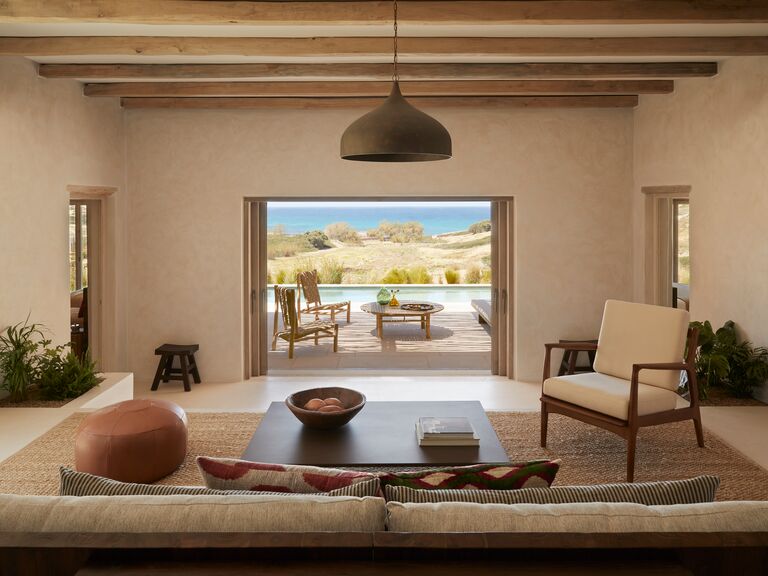 Considered one of the most delicious wellness properties in the entirety of the Mediterranean, the five-star wellness resort is located on the lesser-traveled and tiny island of Antiparos. There are reasons for this: you have to first take a flight to Athens or a nearby island, then a ferry to Paros, followed by a cab drive to the opposite side of the island, plus a ferry ride over to Antiparos, ending with a drive to the resort. It's worth the travel. The brainchild of interior designer Athanasia Comninos, the Rooster especially meets those couples who want to unplug, restore and connect with each other in rooted Grecian beauty and the fundamentals of wellness during their stay. Couples can indulge in private yoga sessions and spa treatments at the House of Healing, including a medicated buttermilk balancing item or an herbal ointment experience. Idyllic for a honeymoon, the only caveat is that The Rooster's 16 standalone cottages or suites book well in advance. So get moving.
Cosme Hotel, Paros
This Luxury Collection Resort on the trendy island of Paros provides terrific accommodations for couples especially. The Cosme's discreet lobby leads to the Anthologist pop-up boutique, where couples can pick up everything from resortwear to notebooks and matchbooks. A discreet turn to the left and guests are greeted by the Cosme's private pool, overlooking a plush arrangement of beach chairs and umbrellas. For newlyweds who prefer an oceanfront setting, that can be arranged too. With perfect views of Naoussa, the Cosme comes with one additional perk: the best part is enjoying all the town has to offer without the noise. Distanced enough from the busy strip of restaurants and shops, a retreat back to the hotel ensures a good night's rest.
Calilo, Ios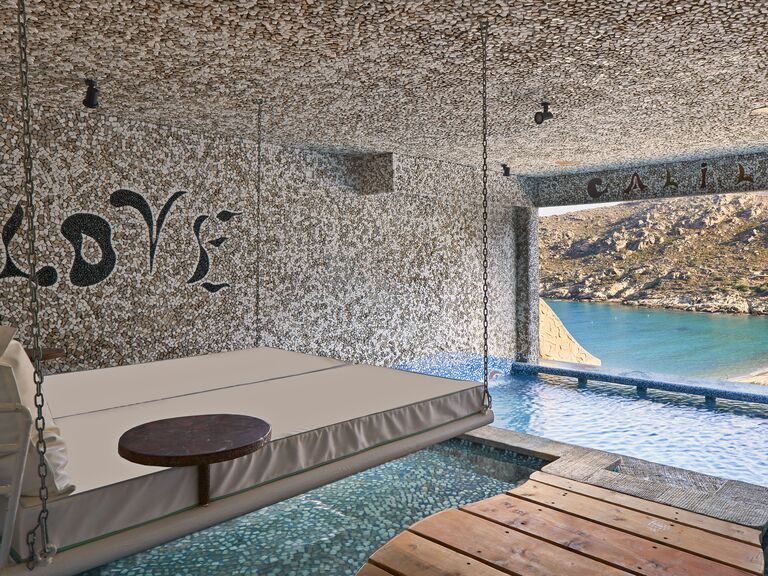 Creatives, executives, and all those who want to improve their lives and the world around them should book a stay at this five-star property on the smaller island of Ios. The developer and founder of Calilo, Angelos Michalopoulos, conceived its architecture and design with the ethos of "Create the Life You Love." Embedded throughout the property, couples will feel inspired and nourished from the moment they arrive to their departure. Every message seemingly takes guests one step closer to their destiny. Turndown services include a special treat—involving taste, sight, scent and smell. It's an immersive property that tantalizes the senses.
Blue Palace Elounda, a Luxury Collection Resort, Crete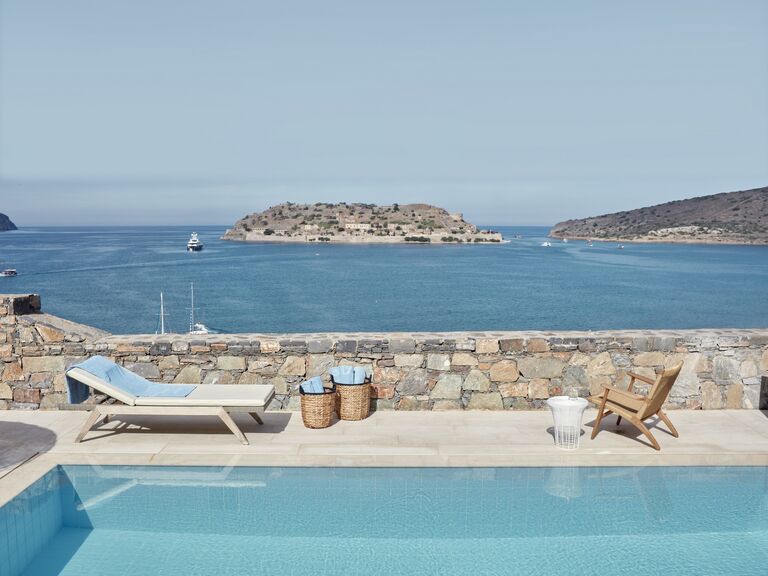 Arguably the place to be seen on the island is the town of Elounda. With luxury properties dotting the coastline, the Blue Palace overlooks dreamy sunrises, the electric blue water of the Gulf of Elounda, and the uninhabited isle of Spinalonga. Another added plus is that the property falls under the Luxury Collection Resort umbrella, so honeymooners can put those Marriott Bonvoy points to good use, as well.
Andronis Arcadia, Santorini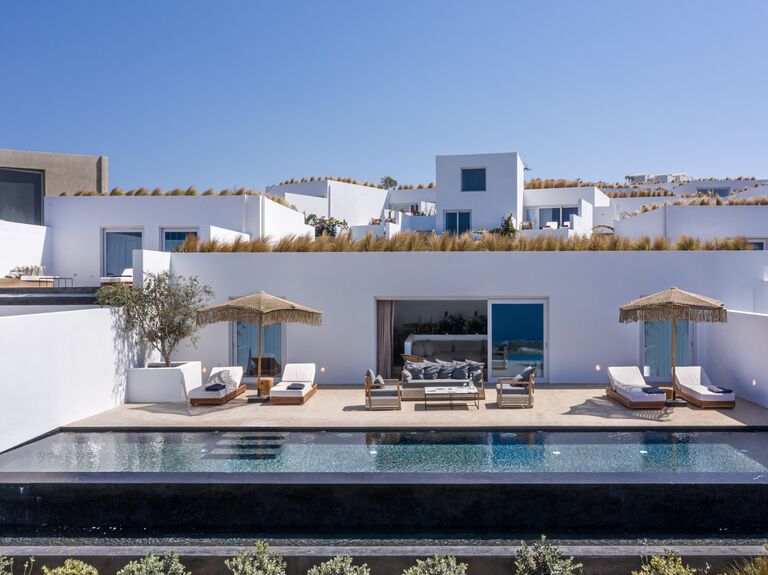 Though a five-minute walk away from busy Mia, this five-star, all-suite property feels like it exists on its own private island. The hotel's architecture and immaculate landscaping alone make guests feel as though they're walking in a wonderland. Dinners are exciting at this sunset destination, where Pac-Man offers delicious fare and vibrant energy to welcome couples to romantic Santorini.
The Romanos, a Luxury Collection Resort, Costa Navarino
Fun fact: Greece is a massive country with beautiful beaches dotting the mainland, not only the islands. This Luxury Collection Resort is well-known for its architecture and its two 18-hole golf courses.
Skinopi Lodge, Milos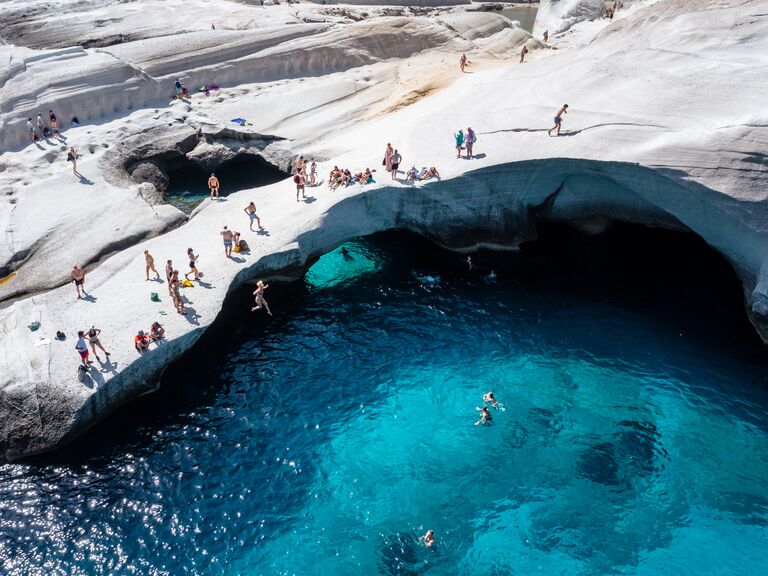 A recommendation by Mitsakos, these luxury villas are a local secret on the beautiful island of Milos. (The Cycladic Island is also where the statue of Aphrodite, known as the Venus de Milo, was unearthed in the 19th century.)
Santa Marina, a Luxury Collection Resort, Mykonos
The trendy and party-loving island of Mykonos is home to numerous five-star properties, including the Santa Marina beach resort. A Marriott Bonvoy property, couples will be happy to exercise their points and take in the magic of Ornos Bay among the hotel's 101 room options and suites.
Porto Zante Villas & Spa, Zakynthos
Luxury villas dotting the water, impeccable service and thoughtful architecture are all markings of Porto Zante, a five-star resort located on the island of Zakynthos.
What to Pack for Greece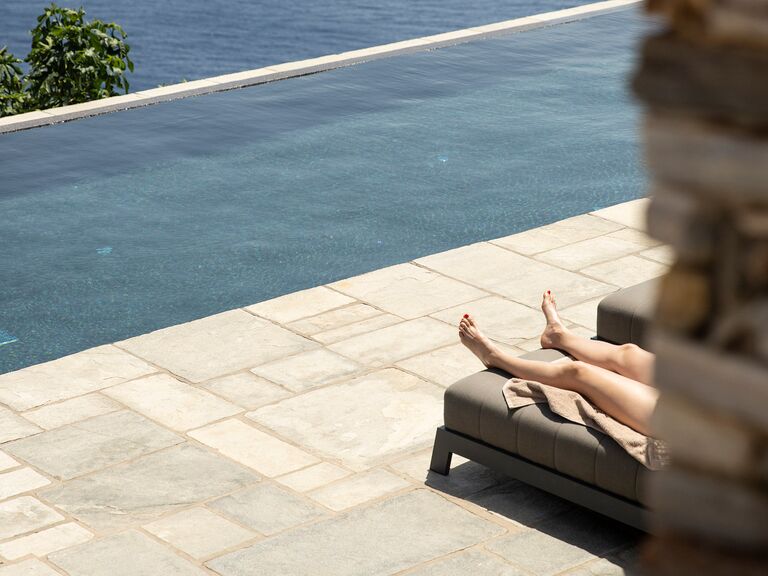 Take it from an editor who did a month with only carry-on bags. You'll want to pack a sturdy suitcase with a solid set of wheels, especially if you plan on island hopping via flights or ferry. Summer honeymoons in Greece require standard vacation outfits (comprised of fabrics like silks, linens and fast-drying materials), as well as chic swimwear and resortwear. "Swimsuits and cover-ups are a must-have," agrees Michalopoulou. "You'll be spending a lot of time at the beach or pool, so you'll want to be prepared. Same as for hats and sunglasses. Pack a hat, sunglasses and of course a high-quality sunscreen to protect yourself from the sun." From the moment you land in the hot Greek sun, you'll be grateful to have these items on hand.
Depending on where you stay, couples should also prepare trendy evening looks for dinners and meals. Greece is also known for its hikes, so active types should also pack select athleisure with their sneakers. "If you're visiting in the spring or fall, you may want to pack a light jacket or sweater," adds Michalopoulou. "Pack comfortable shoes that you can walk in. You'll be doing a lot of walking, so you'll want shoes that are supportive and won't give you blisters."
In addition, save the Mach & Machs for a dinner date in the city. "Flat shoes are a must," Mitsakos says. "Don't bother with heels in Athens or the islands. Maybe a kitten heel for a hotel dinner only. My summer travel bag has a few caftans, a bikini and a one-piece, and a great pareo or scarf, which has multiple uses. I wear it as a dress, belted, or tied over a one-piece for lunch." This editor agrees as she purchased the most comfortable pair of original Greek leather sandals in Chania, Crete, from local maker, Diniakos Leather Sandals.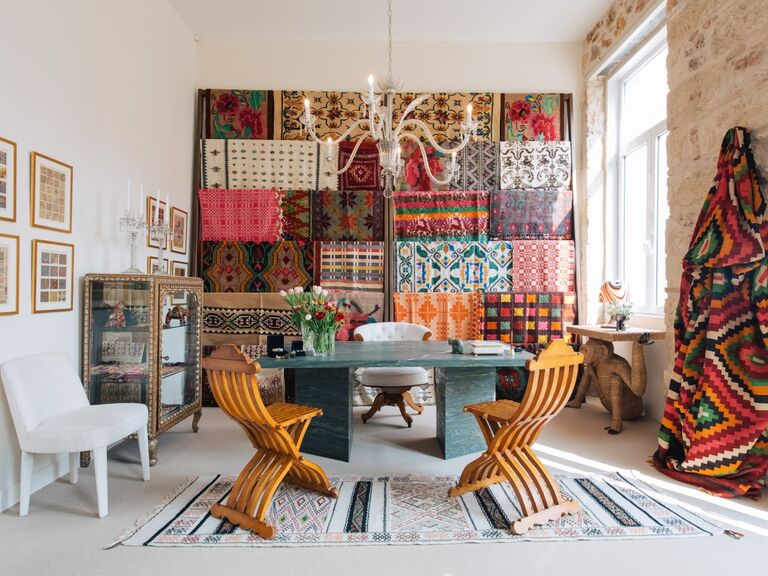 The other option is to start with a clean slate and a near-empty suitcase. "You can shop ahead with my brand, Anthologist, and we will send everything to your hotel, right down to your sunscreen," says Mitsakos. "If you feel the need to toss a few things into a bag, then, by all means, bring a carry-on. Don't check your suitcase."
Unless you're hyper-attached to your snorkeling gear, you can also pick that up from a local convenience store. As Greece is home to natural beauty products renowned across the world, we recommend stocking up on full-size bottles of sunscreen, beauty products and other liquid must-haves once you're at your destination. In addition, don't forget an empty bag so that you can pack it to the brim and check your amazing local gifts (think: olive oil, honey, beauty products, pottery and so much more) on the way home. "Last but not least, don't forget your camera!" says Michalopoulou. "Greece is a beautiful country with so many photo opportunities. So, don't forget to pack your camera so you can capture all of your memories." (It's true: my SD camera card was full during my visit to the first three of eight islands.)
A final editor's tip for what to pack for Greece: you can opt for laundry service, but it's worth having backup detergent for swimwear and fast-drying items. Purchase an easy-to-store laundry line—here's a good one from Amazon—and detergent sheets to easily wash and line-dry items throughout the day. The Greek sun is strong and glorious, meaning you'll be able to enjoy fresh laundry by evening.