A Switzerland Honeymoon Is Perfect for Foodies and History Buffs Alike
From cozy mountain chalets to medieval castles, Switzerland offers romance in spades.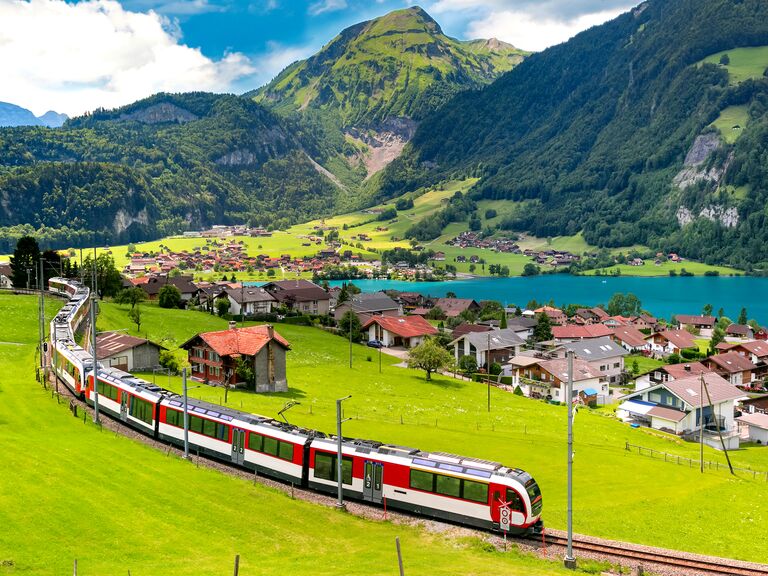 Kavalenkava/Shutterstock
Does the thought of a honeymoon spent at an all-inclusive beach resort bore you? Then it's time to head to Europe, where culture, history and food overshadow the beaches by a long shot.
But don't just go to London or Paris. Take the less-traveled path and embark on an adventurous Switzerland honeymoon instead. Primarily known for skiing, cheese, chocolate and watches, this tiny country sandwiched between Italy, Austria, Germany and France has so much to offer you and your honey.
Ready to see and do it all? Switzerland is small, so careful honeymoon planning is key for enjoying only the best of the best experiences, from Lucerne and Grindelwald to Lausanne and Montreux. We're here to help you get started.
Is Switzerland Good for a Honeymoon?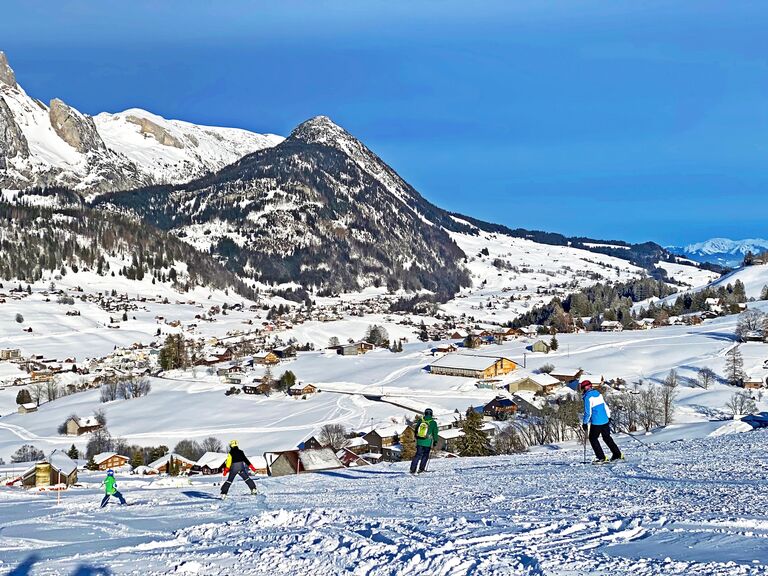 Pros of a Switzerland Honeymoon
Switzerland is an excellent honeymoon destination for those who could care less about sunny beaches, and who'd rather spend their vacation exploring the cultural offerings of a country rather than its coastlines. Still, for those who like a bit of nature, skiing and hiking are plentiful. There's certainly no shortage of things to do in Switzerland, making it an ideal destination for couples who like to be busy.
Cons of a Switzerland Honeymoon
What some couples may love about Switzerland, others may loathe. If you're wanting a place to simply kick back and relax after all that wedding excitement, you could likely find other destinations better suited to your needs. You don't want to visit a cultural hub like Switzerland only to relax in your hotel room all day.
The Best Times of Year to Go on a Switzerland Honeymoon for Good Weather
Switzerland offers desirable weather both in the summer and in the winter. Which season is best all depends on what you plan to do. If you dream of a honeymoon spent zipping down the slopes during the day and cozying up to your sweetheart in a ski chalet at night, you'll want to visit in January or February, when skiers and snowboarders report the best snow conditions. For warmer weather, you'll definitely want to visit in July or August. However, for the best deals, consider traveling during one of Switzerland's shoulder seasons, which are in March–April and October–November.
Places to Visit in Switzerland for a Honeymoon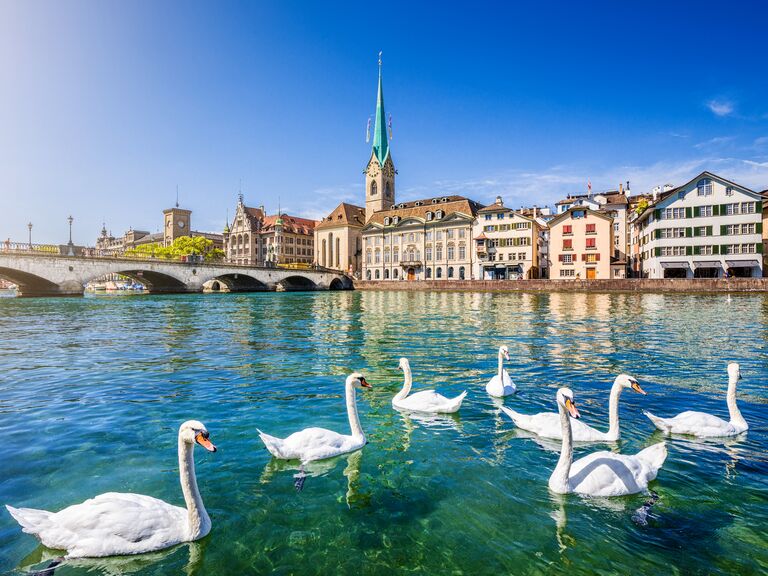 There are near-endless spots in Switzerland that you might consider visiting during your honeymoon. If you've never visited the country before, you might want to start with two of the most popular destinations: Zurich and Geneva. Both are bustling cities filled with history, culture and romance, with plenty of luxury accommodations to boot.
For something a little more nature heavy and a little less urban, try Interlaken, a popular spot and one of the best honeymoon destinations in the country. Another smaller romantic honeymoon destination to consider is Lucerne (also called Luzern); with its medieval architecture, you'll feel like you stepped right into a fairytale.
If you're visiting in the winter months, you can't go wrong with the luxury-heavy ski resort town of St. Moritz. Even if you don't visit during the winter, the summer months offer plenty to enjoy in St. Moritz as well, from mountain biking to paragliding.
Things to Do During a Switzerland Honeymoon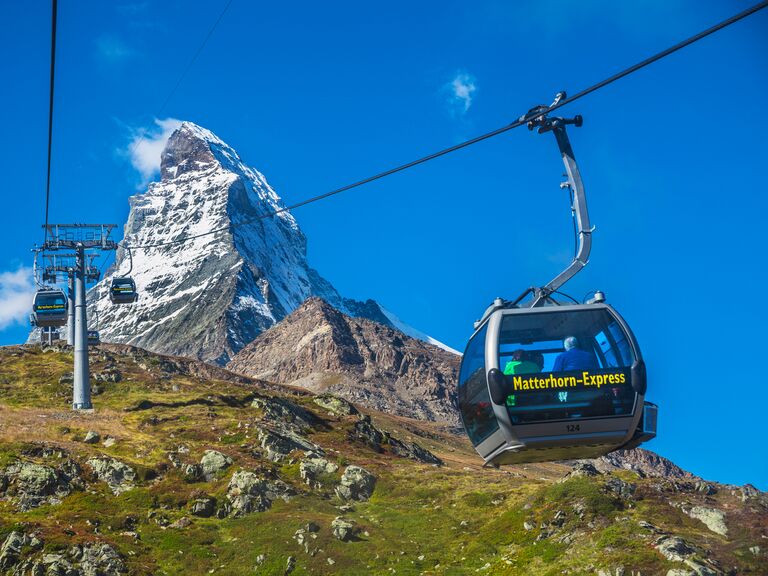 Take in the Views
Switzerland boasts some of the most magnificent mountain vistas in the world. The best part? You can see many of them without even breaking out your hiking boots (though avid hikers will definitely have beautiful trails at their disposal).
At the Matterhorn, arguably Switzerland's most famous peak, a cable car ride (one of Europe's highest and longest) allows visitors to enjoy the views year-round.
Jungfraujoch, which is sometimes referred to as "the top of Europe," is also accessible via a brief train ride to the observatory. The UNESCO World Heritage Site and tourist attraction boasts the start of the longest glacier in Europe.
If you're planning on visiting Interlaken, you can take a combination of cable cars, trains, gondolas and chairlifts to the tops of some of the area's snow-capped mountains for some seriously excellent views.
Stroll Historic Streets
The history of Switzerland is just as accessible as the mountains. Simply grab your sweetie and head out your hotel door for a romantic walk filled with culture. In many cities and villages around the country, medieval architecture is the norm, allowing you to get up close and personal with Swiss history.
The Old Town of Bern, with its Renaissance fountains, is a favorite for history buffs, as is Chateau Chillon Castle, known as Switzerland's most beautiful castle. Other castles to add to your itinerary include the castles of Bellinzona, a series of three castles you can see in one easy day trip. Bookworms will enjoy the Abbey of St. Gall, a UNESCO World Heritage Site that contains one of the oldest medieval libraries in existence, as well as architecture dating back to the 8th century.
Get a Taste of Switzerland
Many European destinations are renowned for their food, and the same holds true in Switzerland. Foodie couples (or just all couples, really) will want to make an effort to get a true taste of Swiss culture and not merely leave their dining choices up to chance.
Plan to visit the Lavaux vineyards, Switzerland's largest vineyard region. And what goes better with wine than cheese? Make tracks for the town of Gruyères—the country's cheese capital and, yes, creator of the cheese by the same name. Make sure to get some chocolate while you're in the country, and definitely don't pass up the fondue.
Best Hotels and Resorts in Switzerland for a Honeymoon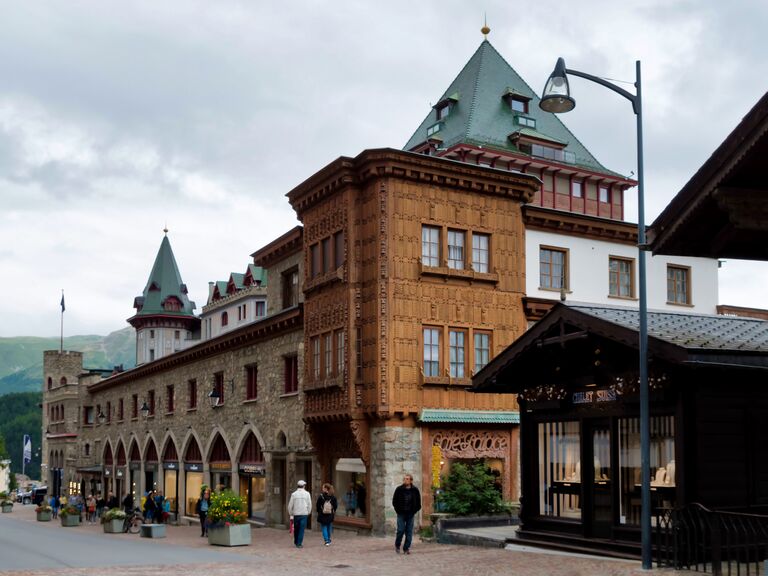 You'll be in good company at this luxurious hotel and spa complex that actually comprises multiple hotels, as well as countless restaurants and on-site activities. Past guests have included Audrey Hepburn, Charlie Chaplin and Sophia Loren. The newest hotel among the complex is the Bürgenstock Hotel and Alpine Spa, which is only a few years old and offers guest rooms with floor-to-ceiling, breathtaking views of Lake Lucerne and the Swiss Alps beyond.
For snow bunnies looking to book a Swiss honeymoon in St. Moritz, Badrutt's Palace Hotel is a high-end property with true flair. The rooms bespeak traditional European elegance and, beyond your guest room, you'll find endless ways to play without ever leaving the property, from educational classes and dancing to spa treatments.
For travelers with a bit of brand loyalty, the Four Seasons property in Geneva is a good place for you to cash in some of those hotel loyalty points. The beautiful, traditional European hotel has been hosting Geneva travelers since the early 1800s. The opulent accommodations are accented by panoramic views of Lake Geneva.
What to Pack for a Switzerland Honeymoon
Winter visits require heavy coats, gloves, scarves and all the rest, as temperatures average in the 30s. For a summer getaway to Switzerland, come prepared with a mix of activewear for outdoor activities, business casual clothes for everyday sightseeing, and more formal attire for evening meals. It's smart to pack a jacket or other warm clothing even in the summer, as temperatures can dip into the 60s.
If you're planning to also elope in Switzerland, don't forget to bring along the appropriate documentation.