An Austin Bachelorette Party City Guide to Plan Your Weekend
Keep Austin Weird with a bachelorette party that's full of good eats, live music, and much more.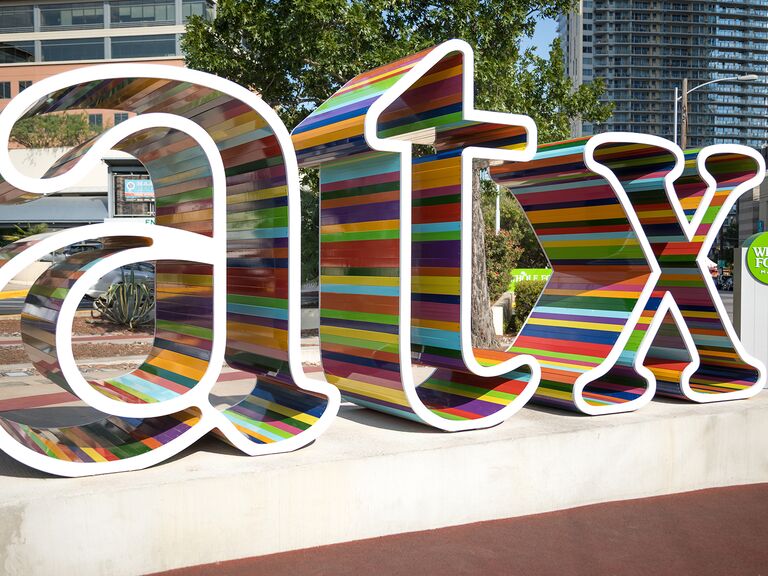 Shutterstock
We have included third party products to help you navigate and enjoy life's biggest moments. Purchases made through links on this page may earn us a commission.
Austin may be known for its festivals—Austin City Limits and SXSW—but you don't have to time an Austin bachelorette party to the city's most populated times. Make your own festive weekend full of live music, good food, and plenty of outdoor fun with a bachelorette party built to make any bride happy. From barbeque and craft brews to boating and tubing Austin's lakes and rivers, an Austin bachelorette party is perfect for the fun-loving bride and her crew.
What Are Some Austin Bachelorette Party Ideas?
You can theme your Austin bachelorette party in many different ways (and outfit your bride squad to match on The Knot Shop), whether your squad is looking for great food, a little R&R, some adventure—or all of the above. But whatever you're seeking, every bride and her crew should take advantage of the fact that Austin is the live music capital of Texas—if not the country. Whether you're here for a festival, concert, or just a random weekend, you'll find plenty of opportunities to dance the night away to a live band throughout the city.
For the Adventurous Bride
You'll have plenty of options to get outside and do, whether it's paddleboarding and biking or grabbing the mic for karaoke nights.
For the Bride Who Just Wants to Relax
For plenty of down time and a little pampering there are plenty of spa retreats to hole away in for the entire weekend including Miraval Austin and Lake Austin Spa Resort.
For the Foodie Crew
Of course, Austin is also a mecca for good food and brews, so if your bride is a foodie, you're planning a party in the right place. You'll find everything from top tacos, gourmet Asian-fusion, and delicious barbeque to sample throughout the city, as well as craft breweries and bar hopping on Rainey Street to wet her appetite.
What Do You Do at a Bachelorette Party in Austin?
An Austin bachelorette party should be loaded with good eats, plenty of adventure, and lots of quality time. Take advantage of it all with a loaded three-day itinerary.
Day 1
Afternoon: After checking into your hotel or AirBnB, start your trip with a delicious lunch at the Laundrette. This converted, old-school laundromat serves up new American small bites like beet hummus, burrata, and Old Bay aioli fried shrimp for a lighter meal, or delicious plates like roasted chicken kale salad, a fried chicken sammie on challah bread, and grilled cheese and tomato soup. Next up: Walk the city to explore its landmarks and make your way to South Congress street, where you'll find loads of shopping and cute boutiques. This is a great way to introduce yourselves to the city without overloading day one. If you're not feeling to ragged from your trip in, it's also a great opportunity for a bridal crew photo shoot.(there are plenty of perfect photo opp spots you'll want snaps from to cherish). To do so, book a photographer through Flytographer, and plan a day of exploring with a camera following your every move.
Evening: Your first dinner should be at Emmer & Rye, a farm-to-table spot serving food from around the globe (crispy pork shoulder and dry aged wagyu NY steak, for example) with dim sum-style carts passing by throughout your meal offering options like red corn johnny cakes and butternut tartare. The restaurant is within walking distance to Rainey Street, the perfect spot to bar hop for your first night on the town.
Day 2
Morning: Begin your day with breakfast at the aptly named Better Half Coffee & Cocktails (don't miss the sweet corn pancakes and the bloody mary with house-pickled green beans) before heading out for a day on the water on LakeTravis.
Afternoon: Rent a party parge from VIP Lake Travis. Their offerings range from small pontoon boats for parties of 10-12 to large double-decker party parges featuring water slides. Or for calmer waters, head to Barton Springs, a spring-fed public pool where you can swim and cool off on hot summer days. Whichever you choose, pack a picnic lunch from the Whole Foods Flagship Store in Austin.
Evening: Head over to The Roosevelt Room for award-winning cocktails to pregame your night. Then it's off to Home Slice Pizza for a casual, yet absolutely delicious dinner that's easy for a large group. Before heading out to the rowdier bars on Sixth Street for live music and drinks, stop in at Midnight Cowboy, a reservations-only (book far in advance) cocktail lounge hidden on Sixth Street. You'll get instructions on how to enter with a secret password after you make your reservation.
Day 3
Afternoon: Take advantage of all Austin has to offer with a Austin beer and food tour from Place Pass for your last day in the city. You'll pedal your way to two top breweries (flights included) and three top-notch spots for food, including a Tex-Mex taco joint, mouthwatering barbeque, and boozy ice cream. Along the way, you'll pass through the city's greatest landmarks and find out just how the locals keep Austin weird. If you'd rather keep things calm, consider taking in the city with rooftop yoga and mimosas, followed by a bit of pampering at The Woodhouse Day Spa.
Evening: Round out the day of eating with dinner at Wu Chow, one of Austin's best spots for gourmet, farm-fresh, and modern Chinese cuisine, before heading out for a last night of good music. Check out The Continental Club, C-Boys Heart & Soul, or Cedar Street Courtyard for live performances without a need for tickets in advance.
Where Should I Stay in Austin for a Bachelorette Party?
There are plenty of options for lodging in Austin, the key is to be close to downtown (Sixth Street or Rainey Street) to keep things convenient. Look through TripAdvisor to find the hotels with the best locations. We recommend theW Austin if you're looking for a chic spot in downtown close to the action and only steps from Lady Bird Lake (plus the hotel's luxury pool doesn't hurt!). If you'd rather be closer to South Congress Street, Hotel San Jose is a nice, budget-friendly option with an urban bungalow feel and just a few blocks from downtown. There are also plenty of options for house and condo rentals throughout the city via AirBnBand VRBO. For larger parties, consider a downtown condo that sleeps 16 with a pool and skyline views for for smaller groups, The Ethel, downtown near Zilker Park is a great option. For mid-size groups, a private home with a poolminutes from downtown may be the way to go, or consider a lakehouse on the shores of Lake Travis.