Our Favorite Country Bach Party Destinations Down South
Want the country vibe without the crowds? Head to one of these alternatives with your boots, hats and glittery outfits.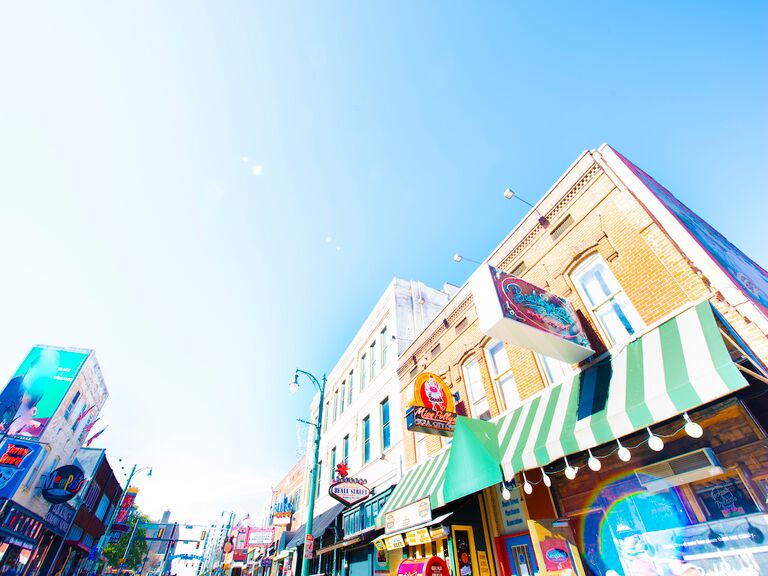 Getty Images
We have included third party products to help you navigate and enjoy life's biggest moments. Purchases made through links on this page may earn us a commission.
With country music crossing onto pop charts, the disco cowgirl theme trending all over social media and in fashion, and the rise of popular TV shows like "Yellowstone," it's safe to say country bachelorette party ideas and destinations are ultra-hot right now. It's no surprise that Nashville, culturally at the epicenter of this trend, is a top destination for bachelorette parties, according to The Knot. If you've ever strolled around its Broadway district, you've come across at least a few peddle taverns packed with bachelorette groups, no matter the day or time. If battling against other brides for bookings, activities and attention isn't exactly your ideal rodeo, look to one of these alternative Southern cities instead.
Each of these seven laid-back destinations allow a bride and her maids to be a little more laid-back, too, and there's much more to country-themed bachelorette parties than hitting the town to celebrate the bride's last hurrah as a single gal.
Unique Country Bachelorette Party Destinations
"Country bachelorette themes are trending because of how immersive they are," says Jessica Laskow, lead planner with Mavinhouse Events in Charleston, South Carolina. "The cities are typically pretty casual, have a good food scene and a great local culture to immerse yourself in—whether it be live music, arts or shopping." The event professional is seeing entire wedding parties book tours. Plus, opting for a country-conducive bach party destination helps to create a central vision around the festivities, providing everyone with a fun baseline for styling, coordinating outfits for the trips, and coming up with captions.
Fort Worth, Texas
Home to the Fort Worth Stockyards, a former livestock trading center turned Western-themed entertainment district with a real cattle drive, Fort Worth is the ultimate country bachelorette party destination though it still flies under-the-radar.
Where to Stay
The adorable micro-resort Hotel Otto has eight bungalows practically made for bachelorette parties. Its girls' getaway buyout includes welcome cocktails, active experiences, dining, spa treatments, transportation around town and professional photography. Hotel Drover in the Stockyards is another option with Western-themed decor, a pool, cabanas, firepits and a restored horse trailer bar.
Where to Eat
Within the Stockyards, find everything from white-tablecloth Italian dining (Caterina's Ristorante, good for groups) to pit barbecue (Riscky's), laid-back Mexican (Paloma Suerte), local coffee (Avoca Coffee Roasters) and even a winery (Cowtown Winery, with blending classes and famous charcuterie boards).
What to Do
Take a walking tour of The Stockyards, which ends with a stop at the twice-daily cattle drive. Shop for country attire at artisan bootmaker Lucchese and customize a Stetson hat at Wide Brim, then hit the town. Stroll with bottled cocktails from Second Rodeo Brewing to Billy Bob's, which has dozens of bars, dance floors, live music, a faux bull-riding photo station and a cowboy boot-shaped disco ball.
Tupelo, Mississippi
This small city may be best known as the birthplace of Elvis, the King of Rock and Roll, but make no mistake: Tupelo's country roots run deep, and there's a lot more to do here than you might expect.
Where to Stay
The best spot in town is Hotel Tupelo, which opened in early 2022 and is within walking distance from everything on the city's Main Street. Rooms are musically themed, and suites sleeping four are a great option for bachelorette party groups. Jobos restaurant on-site serves up coastal cuisine and the best margaritas in town.
Where to Eat
Come hungry to Tupelo, and don't judge Clay's House of Pig by its exterior: The restaurant inside a bait-and-tackle shop serves up mouthwatering barbecue (try the "Tater" topped with pulled pork and queso). For something a bit more upscale before a night on the town, try Forklift or Kermit's Soul Kitchen. Crave dessert cafe is a must-stop for late-night sweet treats.
What to Do
Hit up Blue Delta Jeans, where everyone can be custom fitted with a pair of bespoke raw denim jeans. Visit Queen's Reward, the only meadery in the state, to sample flights of honey wine or enjoy a charcuterie board and mead slushies on the expansive lawn. Active group? Try a self-guided bicycle tour through downtown seeing all the sights influential in young Elvis's life, adding a stop at Reed's, a locally owned department store since 1905. Catch live music and karaoke at spots like Toast Cocktail & Piano Bar and Ethel Mae's.
Memphis, Tennessee
Just three hours southwest of Nashville, an entirely different Tennessee experience befitting bachelorette parties awaits in this city that country greats like Johnny Cash and his daughter Rosanne.
Where to Stay
Built in a former train factory, which still has operating lines, Central Station has a cool vibe and great views of the Mississippi River, along with a bar with a library of vinyl records. The elegant Peabody Memphis is a classic option, and the new Caption by Hyatt Beale Street is a convenient option within walking distance of Beale Street action.
Where to Eat
Barbecue and beer are staples, and it's hard to go wrong with any spot you choose, from Central BBQ to Blues City Café. For something different, try brunch at Owen Brennan's or Beauty Shop, Jamaican dishes at Evelyn & Olive or cold-pressed juices and vegan offerings at local favorite Raw Girls.
What to Do
Live music is the lifeblood of Memphis. Don't miss all the blues bars on Beale Street, and check out Hernando's Hide-A-Way, the town's closest thing to a honky-tonk, with embodying that country-rockabilly sound. Or, catch a bigger concert at Graceland Soundstage. Dance the night away to music from vintage jukeboxes at Earnestine & Hazel's, also famous for its late-night burger.
Pensacola, Florida
The beach may be an unexpected destination or a country-themed bachelorette party, but this area's iconic beach bar sets the tone for a weekend straight out of a Kenny Chesney song.
Oyster Bay Boutique Hotel is a beautiful luxury offering in Pensacola, but for bachelorette groups, renting a beachside vacation home may be the best option. Find a wide variety of rental companies in the area.
Where to Eat
Try a private cooking class at Bodacious or get a taste of the town on Seville Savories Food Tour, both great for groups. Restaurant Iron and Union Public House each serve delicious "Southern fancy" menus, while the pirate-themed Peg Leg Pete's is a must-visit for amazing seafood and oysters. Find upscale cocktails and light bites for a night out on the town at The Kennedy.
What to Do
Flora-Bama, so named for its location in Perdido Key straddling the Florida-Alabama state line, is an iconic music hall, restaurant and bar that hosts many events throughout the year — and even a beach rodeo in September. Trade flip-flops for something more country-appropriate by outfitting your feet at The Boot Store. Palafox Market downtown, held every Saturday morning, is a fun spot to peruse art, antiques and more from local vendors.
New Orleans, Louisiana
This multifaceted city can be molded into nearly any experience you want it to be. Country-themed bachelorette, complete with line dancing? Check, check.
Where to Stay
The newest offerings in town befitting a girls' group include the trendy Virgin Hotel, artsy Hotel Saint Vincent and the classic luxury Four Seasons Hotel New Orleans, along with boutique properties like One 11 and The Chloe. Near the French Quarter, Mint House has 3-bedroom apartments ideal for groups.
Where to Eat
Narrowing down a restaurant list in New Orleans is like trying to tame a wild bull. A few new favorites to try: "tropical roadhouse" restaurant Mister Mao has an eclectic vibe that jives with electric cowgirl style, Saba's Lounge has an Israeli-inspired menu full of small plates for sharing, and Saint John Nola has a brunch menu full of authentic New Orleans cuisines.
What to Do
Turn up the Shania Twain and get grooving at Boot Scootin Rodeo, a honky tonk right on Bourbon Street that serves up a signature boot filled with spiked sweet tea. Or, take a turn on a faux horse at the iconic Carousel Bar inside Hotel Monteleone. For something outside the city, try a swamp tour led by Cajun Encounters to see alligators.
Auburn, Alabama
Home to Auburn University, established as an agricultural school in 1856, the college town of Auburn — located just 90 minutes south of Atlanta — retains all its country charm along with an energetic spirit.
The Laurel Hotel & Spa, new in summer 2022, brought a new level of luxury to Alabama, with 26 beautifully appointed rooms and suites right in the heart of campus and downtown. Perks for bachelorette parties: An ahh-worthy spa complete with a Himalayan salt room, and included daily breakfast, snacks and desserts served in the private lobby, i.e. The Library.
Where to Eat
Auburn's culinary scene is one of the best in the state. Feast on brunch and frose at Lucy's, grab lunch at Irritable Bao (terrible name, buns worth waiting in line for) and score dinner reservations at Acre, which serves Southern classics and an unforgettable peanut butter pie with banana meringue. For a fancy evening, book 1856, a tasting menu restaurant on the ground floor of The Laurel.
What to Do
Grab coffee and spend the morning walking around Auburn's iconic campus, making sure to pop into Toomer's Drugs for a famous lemonade. Shop local downtown boutiques like Behind the Glass or Therapy to scoop up Western-themed attire like hats and boots before hitting downtown favorites like SkyBar Café or The Wittel Rooftop Bar.
Lexington, Kentucky
Taking the definition of cowgirl to a new level, Lexington is an underrated Southern city for bachelorette parties with an equestrian theme.
Where to Stay
The Kentucky Castle encompasses a 110-acre estate, where you can stay in an actual castle and go horseback riding around the grounds, ending with a picnic. For art-loving gals, 21c Museum Hotel Lexington doubles as a museum, while the charming boutique Elwood Hotel has two-room suites designed for larger groups.
Dudley's on Short has an amazing brunch and Bloody Mary bar, while Corto Lima is the place to go for Latin-inspired cuisine and margaritas. For a more upscale meal to really celebrate the bride, get a reservation at Coles 735 Main, a Lexington staple.
What to Do
It's off to the races at Keeneland, where you can watch regular thoroughbred horse races, or, if your group isn't afraid to get their cowgirl boots dirty, saddle up with a behind-the-scenes tour of private horse farms. Clean up and book a custom bag-designing party with Henry Dry Goods, then take your new purses out on the town to The Burl (which has hosted Dolly Parton disco parties) and explore Lexington's bourbon scene in the Distillery District.