Wedding Dress Embellishment Glossary
Everything you ever wanted to know about your favorite bridal fashion flourishes.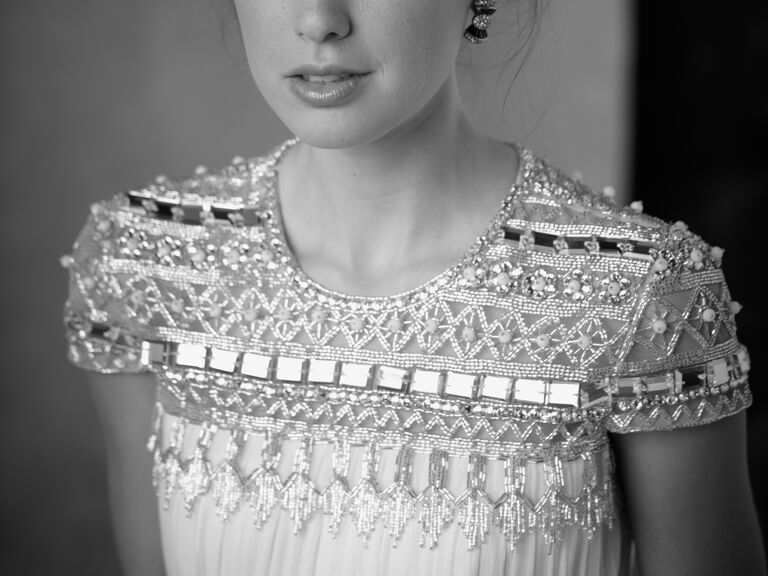 Sergio Kurhajec
Embellishments on a gown are like sprinkles on ice cream: unessential, but the ultimate finishing touch on an already delicious confection. Used decorously, embellishments can add shimmer and individuality to a gown. Throughout history, brides have taken to embellishing their wedding dresses. Queen Victoria added fresh orange blossoms to her otherwise pure ensemble back in 1840, and throughout the 18th and 19th centuries, elaborately trimmed gowns were an indication of wealth.
Today, there are all sorts of embellishment options. Elaborate beading and embroideries are used to add richness and texture to plain fabric. Small, iridescent sequins and gems are sewn on to add light and give dresses their decorative twinkle. And layers of fringe, crystal droplets, and colorful beading that spills down the gown are all favored flourishes for adding movement.
Appliques
Fabric cutouts sewn onto the dress.
Beading
Pieces of glass, crystal, gem, or other material glued or sewn onto the gown.
Austrian Crystal
Lead crystal polished and faceted to give full-spectrum light.
Border Trim
Braided, ribboned, ruffled, or scalloped edges.
Bugle Beads
Long, tubular-shaped glass beads.
Crystal
Beads carved out of genuine transparent quartz.
Edging
Narrow decorative border of lace, embroidery, braid, or fringe used for trim.
Embroidery
Fancy needlework or stitching on a gown done by hand or machine.
Fringe
A sequence of cut fabric or threads; adds movement to a dress border, or can be applied all-over for a flapper look.
Jewels
A look created from an illusion back speckled with faux sparkling jewels.
Ribbons & Bows
Used in various lengths and sizes, from one giant butterfly bow in back to a tiny shoestring tie in front.
Seed Pearls
Tiny real or faux pearls used to adorn gowns, headpieces and shoes.
Baroque Pearls
Natural or faux pearls in irregular shapes.
Sequins & Paillettes
Small, shiny, iridescent plastic discs sewn to fabric to add "twinkle"; sequins are secured flat in place, paillettes are larger and usually hang off of the fabric, adding movement as well as sparkle.