Start Sliving With 70 of the Best Bachelorette Shirt Sayings
Even Paris Hilton, the queen of coining legendary phrases, loves these.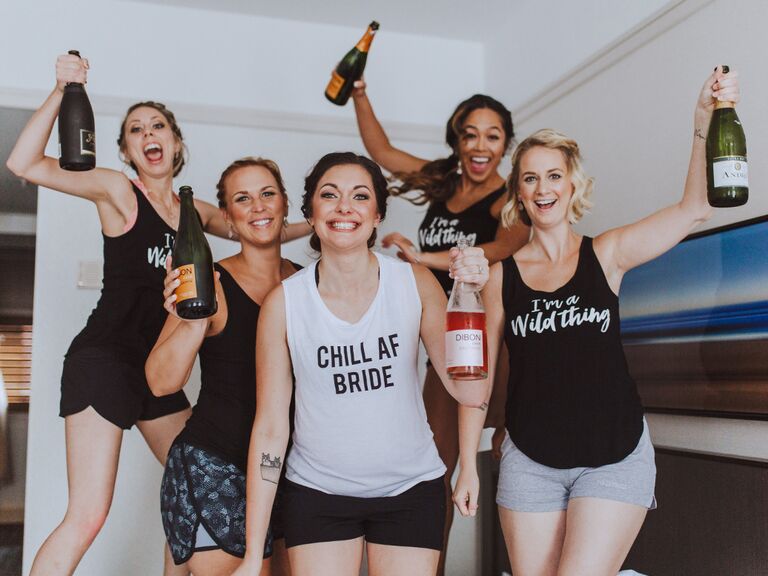 Photo: Kayla Lupean Photography
We know the scenario all too well: You've seen a million funny bachelorette shirt sayings while scrolling through friends' bach party photos on social media—and now it's your turn. You start to panic because you want the shirts to be original, cute and witty (everyone loves a triple threat), but you're overwhelmed with how many sayings are out there. Fortunately, you've come to the right place in your time of need. Whether you're the bride or a friend in charge of the fits, I've got you covered. Below is a list of 70 popular and unique bachelorette party phrases to put on bach party shirts and accessories. I've seen these sayings combined in a ton of different ways too, so you should definitely mix and match your favorites.
In this article:
Funny Bachelorette Sayings
Finding funny bachelorette t-shirt sayings that fit your and your friends' vibe can be hard. Luckily, I made a list of bachelorette puns and sayings that'll make your group and strangers laugh out loud.
Yes!/That's What She Said
Get in Loser, it's [Name]'s Bachelorette
Bridin' Dirty/They See Us Rollin', We're Celebratin'
Conductor of the Hot Mess Express
Bride Or Die
'Til Death Do Us Party
Bach Sh*t Crazy
Look Like a Beauty, Drink Like a Beast
Feelin Nauti'
I'm Getting Married/So We're Getting Drunk
MILF of Honor
Cute Bachelorette Sayings
These cute bachelorette party shirt sayings are appropriate enough for people inviting their mom but also fun enough that you don't look basic. For the bachelorette party phrases with "/" in them, the first half is for the bride-to-be and the second half is for the partygoers.
12. [Name's] Last Fling Before the Ring
13. Bride's Brew Crew
14. Team Bride
15. When I Sip, You Sip, We Sip
16. This Is How We Roll
17. Bachelorette Support Crew
18. I Do/I Do Crew
19. Pop the Bubbly, I'm Getting a Hubby/Pop the Bubbly, She's Getting a Hubby
20. Aloha Bride/Aloha Beaches
21. Let's Get Shipfaced
22. [Name] Found Her Hunk, So We're Getting Crunk
23. Future Mrs./Cheers B*tches
24. [Name]'s Last Ride Before She's the Bride
25. [Name's] Last Rodeo
26. Fiesta, Siesta, Tequila, Repeat
27. Let's Go Girls
Clever Bachelorette Sayings
No matter if you're having a themed bach party or keeping it simple, you'll probably want to have fun and clever bachelorette sayings on your outfits. Display your bach party's location, favorite musician (Beyoncé, of course) or just let strangers know alcohol is the only thing on the menu.
28. Flamingle With Me, I'm the Bride-to-Be
29. Wed, White and Boozed
30. Tan Lines and Good Times
31. Last Sail Before the Veil
32. he Said Yes, We Said [Location]
33. It's My Party and I'll Wine if I Want to
34. About to Raise Hell Before the Bells
35. Buy Me a Shot, I'm Tying the Knot/Buy Her a Shot, She's Tying the Knot
36. Boots and Bling, It's [Name's] Last Fling
37. Something Borrowed, Something Blue, We Definitely Party Harder Than You
38. Feyoncé/We Be All Night
39. [Name's] Last Thrill in Nashville
40. He Popped the Question/We're Poppin' Bottles
Unique Bachelorette Sayings
It can be tough to find truly unique bachelorette shirt sayings. That's why I did the hard work for you—you're welcome.
41. These Boots Were Made for Walkin' Down the Aisle
42. [Name]'s Rat Pack
43. My Last Margarita as a Señorita/Drinking Margaritas With My Señoritas
44. Sun, Sand and a Ring on My Hand/Sun Sand and a Drink in My Hand
45. It's Giving Wifey
46. Tequila & Tacos: A Match Made In Mexico
47. She Found Her Cowboy/Cowgirl
48. Margs & Matrimony
49. Feelin' Lucky In Las Vegas
50. Man, I Feel Like a Bride/ Man, I Feel Like a Bridesmaid
Cards Against Humanity Bachelorette Shirt Sayings
I don't know what brilliant mastermind created Cards Against Humanity bachelorette shirts, but I love them dearly. Have the bride-to-be wear a black shirt that says, "This bachelorette party was brought to you by ____," which matches how the card game's prompt looks. Then have the partygoers in white shirts with outrageous phrases that can fill in the blank. This is a hilarious way to get creative with your crew because you can match the shirt to the person's personality.
51. This bachelorette party was brought to you by ____.
52. Dancing on tables.
53. My parents' credit card.
54. Real hot girl sh*t.
55. Bad decisions.
56. Lots of day drinking.
57. 8 different group chats.
58. Using all my PTO.
59. A Virgo planning everything.
60. 6 easy payments of $69.99.
"Most Likely To" Bachelorette Shirt Sayings
Who's most likely to fall in a pool? Who's most likely to get McDonald's delivered? Who's most likely to sing Broadway songs in the shower? The options are endless with this fun bachelorette party sayings idea.
61. Most Likely To Get Married
62. Most Likely To Leave Early
63. Most Likely To Fall Asleep At The Club
64. Most Likely To Flirt With The Bouncer
65. Most Likely To Be Sober
66. Most Likely To Dance On a Table
67. Most Likely To Talk In a Fake British Accent
68. Most Likely To Black Out
69. Most Likely To Join The "Jersey Shore" Cast
70. Most Likely To Make Sure Everyone Drinks Water