The 5 Best Panini Presses, Picked by a Home Editor and Sandwich Enthusiast
Whip up melty masterpieces and so much more.
We have included third party products to help you navigate and enjoy life's biggest moments. Purchases made through links on this page may earn us a commission.
When my husband and I were crafting our wedding registry, we only added gear we'd use regularly. From an espresso machine (NYC coffee is expensive!) to a slow cooker, we came up with a list of favorites that would upgrade our day-to-day. Another must: the absolute best panini press on the market. It's right up there with an air fryer. Weird thing to be passionate about? Maybe—but as someone who has spent a lot of time in Italy, a gooey, melty panini is my happy place. And boy, did I do my market research.
Having spent over a decade as a home editor (including as the Style and Planning editor at The Knot), I have a passion for finding the best appliances, gear and home goods to help elevate your space—and life. When it came to sussing out the best panini press on the market, there were a few clear winners that combined an intuitive user experience with stand-out design features, so anyone can find the right sandwich maker for your registry and lifestyle on this list. From a mini marvel that takes up virtually no cabinet space to a versatile pick that can also score you perfectly seared fish and fluffy pancakes (really), my favorites offer up something for everyone. Below, shop our picks for the best panini grill for your registry—or even a "just because" present for yourself. It's one of the best wedding registry ideas out there—because everyone deserves a crunchy, melty sandwich IMO.
What I Looked For
When it came to determining the best panini presses on the market, I paid close attention to a few important factors. First priority? The end result, of course. The panini makers that made our list had to churn out perfectly crispy sandwiches using a variety of different types of bread, from the classic ciabatta to thicker loaves. They should be capable of heating the sandwich through completely, resulting in a uniformly gooey cheese (or warmed protein, like chicken), while delivering on an evenly toasted exterior with no burnt spots.
Versatility was also a consideration during my research. While I now live in the suburbs, I spent 12 years in a small city apartment, so I know how valuable cabinet space can be. True to form, I still shop with functionality at the forefront and often prioritize buying appliances that can pull double (or even triple) duty in my home. The point being, finding the best panini maker was great—but finding the best panini press that could also do other things was even better. Last but not least, I took a hard look at how intuitive each press was to use. Is the temperature preset well and/or does it have the ability to be adjusted? Are there preprogrammed settings that save time? Can the grates be easily cleaned? Rest easy knowing that, for all the winners on our list, the answers to those questions are: yes, yes and yes.
Overall, my research was a blend of my own hands-on experience (I own two of the beauties on this list and have had my hands on two more) as well as scouring the web for options that have special features to suit the needs of different lifestyles.
The Top 5 Panini Presses
1. Cuisinart Deluxe Electric Griddler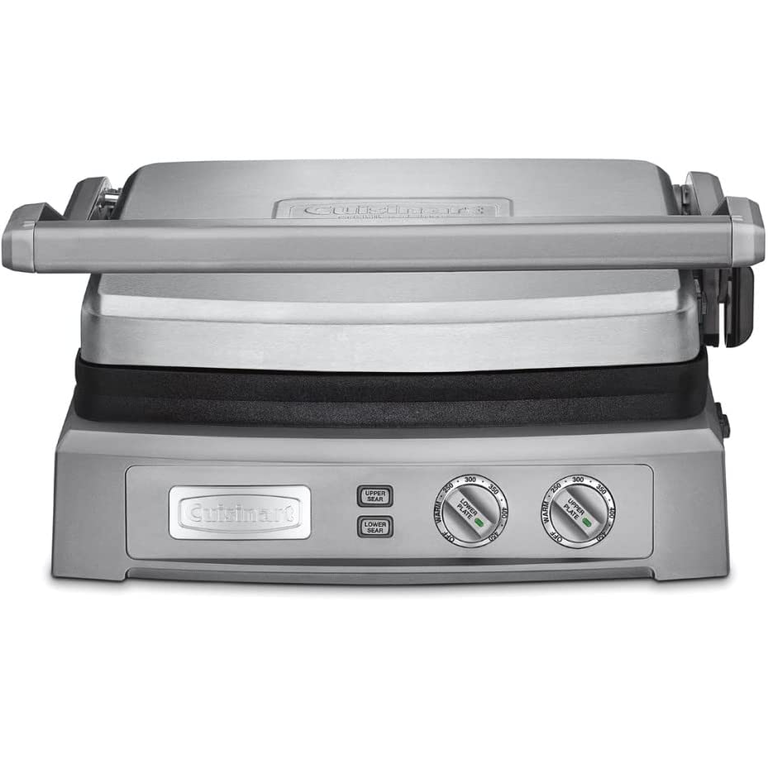 Best: simple panini press for two
Pros: heats up quickly, boasts six different cooking combinations and features, can replace multiple appliances in your kitchen
Cons: can be heavy to lift in and out of upper cabinets, no digital display
For the best sandwich press that does it all (and does it well), look no further than Cuisinart's Deluxe Electric Griddler. It heats up fast, going from warm to 500 degrees Fahrenheit in under three minutes. The hinged, floating top and handle self-adjust to accommodate thicker sandwiches (great if you like to load up on the toppings) and grant you that quintessential panini "press" motion. While that goes far in making me feel like a real sandwich pro, it's this model's versatility that really earned it a spot on our list. With reversible and removable cooking plates as well as six different cooking options (including a panini press, full grill and full griddle), this panini machine can carry you from breakfast to dinner, delivering everything from pancakes and bacon to chicken and seared fish. The best part? The user interface is so simple and intuitive, you barely need to read the instructions.
2. Lodge Cast Iron Square Ribbed Panini Press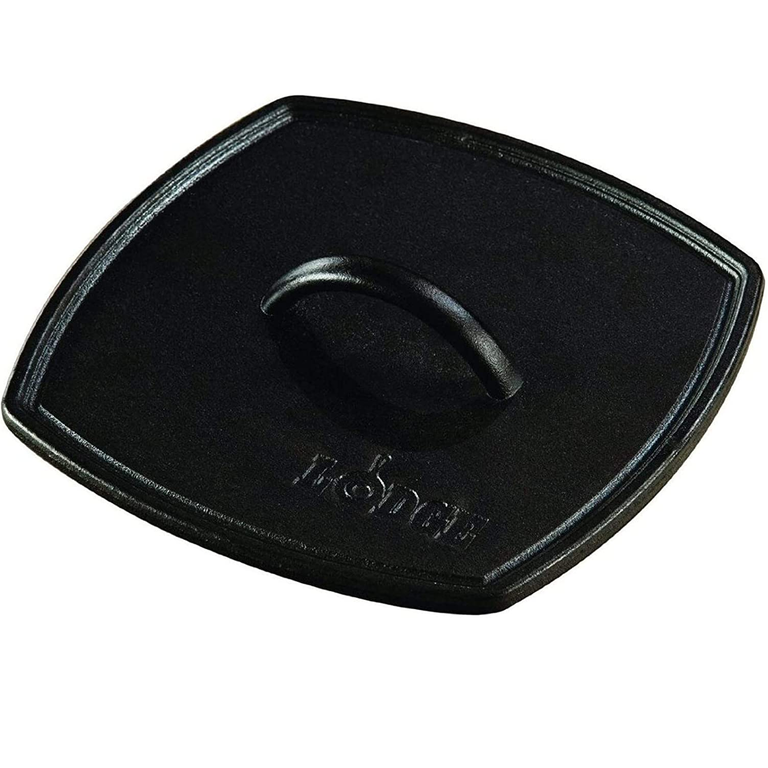 Best: cast iron stovetop panini press
Pros: oversized diameter accommodates sandwiches of all shape and sizes, small, budget-friendly
Cons: will need to be "seasoned" and cared for properly (like all cast iron)
There's a reason that cast iron presses are a staple in restaurant kitchens nationwide: They're simple, straightforward and really get the job done. This ribbed panini press from Lodge touts a roomy 8.5-inch diameter, covering a good amount of surface area while still fitting comfortably in most skillets and pans. Like all cast iron from the iconic brand, this press comes preseasoned and ready for use right from the box—but you will need to maintain it as you would any cast iron pan, seasoning it occasionally and only using warm water to clean it. The payoff? A hands-on approach to panini making that will churn out crispy, perfectly pressed sandwiches. It works by firmly pressing a sandwich into the skillet below, searing both the top and bottom simultaneously. And it tackles more than just sandwiches—use it to get the perfect crust on a rib eye or fast food-style smash burger. I have this one in my own home kitchen, so I definitely can vouch.
3. Dash Mini Maker Portable Grill Machine and Panini Press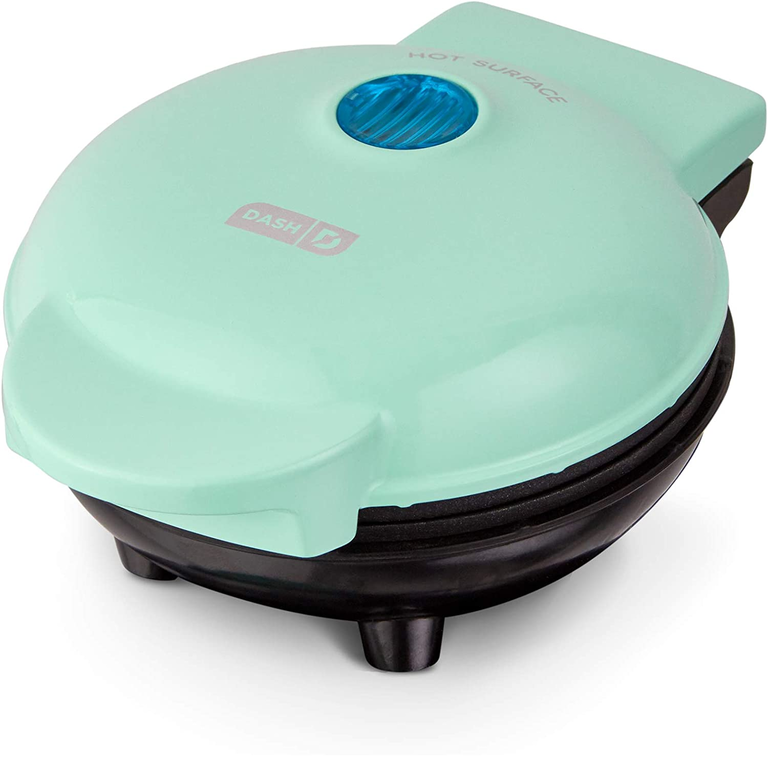 Best: mini but versatile panini press
Pros: comes in fun colors, lightweight, takes up almost zero storage space
Cons: small capacity, no temperature variation or control
If you're a small space dweller short on storage, you're probably used to making concessions about what appliances you can (and can't) buy. Well, I have good news: You can still get in on the panini-making fun without sacrificing an entire cabinet for the storage of said press. Enter: Dash's Mini Maker Portable Grill Machine and Panini Press, a mini-but-mighty small panini press that delivers just the functionality you need in a perfectly petite package. Coming in at an impressively light one pound, you simply plug in this press and go without fiddling with temperature controls or settings. The 4-inch wide nonstick griddles leave those telltale grill marks and can be used on breakfast sandwiches and burgers in addition to helping you master your signature Caprese panini.
4. Breville Sear and Press Grill
Best: electric panini press for easy cleaning
Pros: additional accessories like waffle plates available for purchase, top and bottom griddles can be set to different temperatures
Cons: no digital display, larger and heavier
Do you constantly find yourselves flipping a coin to decide who's on dish duty? If so, it's probably in the best interest of your impending marriage to shop for appliances with easy cleaning in mind. This Breville sandwich grill does just that, with a slew more features you're going to love, too. (I would know—this beloved appliance was a wedding gift for my husband and I!) The plates and drip tray are completely removable and dishwasher-safe, so there's no awkward cleaning necessary after you use it. Beyond that, you'll find other perks, like a large cooking surface and intuitive controls with three presets (panini, burger and sear). The hinged top accommodates larger items and allows the press to open 180 degrees flat, so it can also be used as a diner-style griddle to cook up bacon and eggs or an indoor grill when the weather isn't cooperating for your BBQ.
5. DeLonghi Livenza All-Day Grill, Griddle & Waffle Maker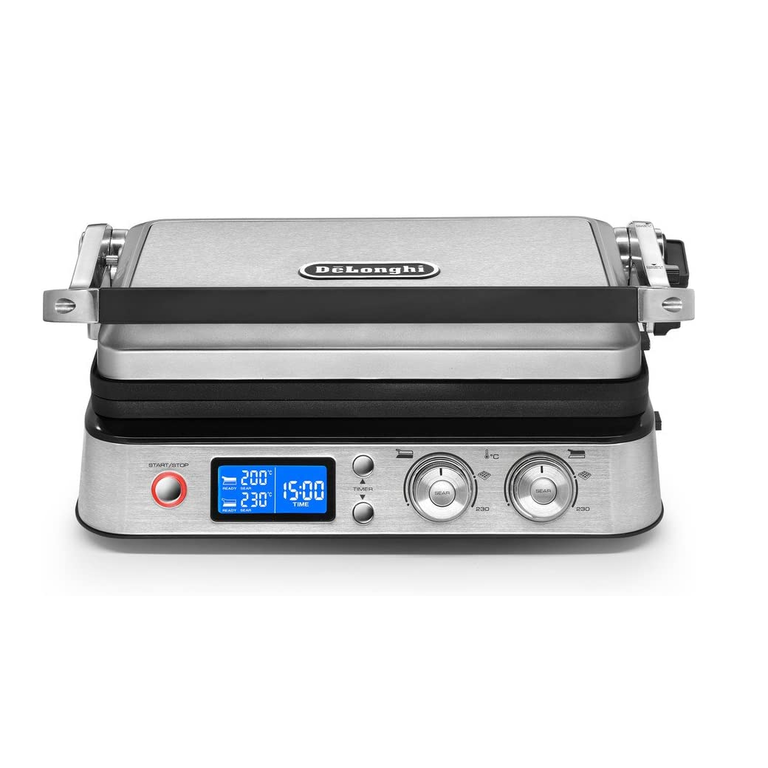 Best: advanced multipurpose panini press
Pros: largest capacity (a great option for families or those cooking for a crowd), included waffle and griddle plates
Cons: expensive, large footprint
Calling this DeLonghi device just a panini maker is doing it a bit of a disservice—it's really so much more than that. If you're looking to splash out in honor of your impending nuptials, this is the best griddle panini press for you, thanks to its superior functionality and upscale features—like a timer, digital display, preset functions and preheat indicators. It even comes with a digital cookbook app, which provides recipes and setting suggestions for whipping up everything from roasted veggies to pizza. Like other models on our list, it boasts a float top and hinged handle to accommodate thicker items, plus an integrated drip tray that whisks away excess fat from your food, resulting in a crispier cook. This versatile model comes with three sets of plates—nonstick grill plates, nonstick griddle plates, and nonstick waffle plates—which can be adjusted as needed to accommodate seven cooking functions. The best part? All of the plates (and the drip tray) are dishwasher-safe, so you can focus on the important stuff—like mastering the perfect homemade pesto for your panini.