The Best Panini Presses You Can Buy Now
Looking for the best panini press? Check out The Knot's top picks here.
We have included third party products to help you navigate and enjoy life's biggest moments. Purchases made through links on this page may earn us a commission.
Are you looking for the best panini press? Do you dream about warm, crispy bread with gooey melted cheese paired with flavorful meat and veggies? Then you've definitely come to the right place. We're here to help you find the best panini maker, based on what features are most important to you when toasting and grilling.
And if you've never owned one before, a panini press is a type of contact grill used to apply pressure to both sides of a panini (an Italian-style sandwich) as it's toasted. The ribbed top and bottom plates of the panini press stay parallel as you lower the top plate onto the food, toasting your food evenly and giving it those fabulous "grill" marks that seemingly make food taste even better.
And wait—if you thought a panini press was good only for making delicious sandwiches, think again. From mini cakes to juicy grilled kebabs, some of the top-rated panini presses out there can prepare all kinds of food quickly and efficiently without compromising on taste or health.
In this Article:
Panini Press Options
You've heard of ceramic panini presses and ones with removable plates, but what's the difference? Before diving into our list of the best panini makers, we've outlined some of the key characteristics to help you make your purchasing decision.
Cast-iron panini presses:
This kind of press features plates made from cast iron. These plates are often favored because they are a non-stick and chemical-free option. They are easy to clean and have a long life span, too.
Panini presses with removable plates:
Some of the best panini presses have reversible, removable plates, which let you use both sides of the plates. One side of the plate usually has grooves for grilling, while the other side has a flat, griddle-like surface. Removable plates also make cleanup easier than can be.
Flat panini presses:
These panini makers generally feature plates that are flat and smooth, rather than ribbed. The flat plates help the grill heat the food entirely across all surfaces. These are especially great for making sandwiches!
Ceramic panini presses:
Another prime option, these panini makers are ceramic, which means they are durable, non-stick, and scratch-resistant. What's more, they are free of PTFE and PFOA chemicals.
Now that you have a better understanding of some of the differences between the best panini makers available, it's time to explore our top picks. The following list includes some of the best panini makers on the market due to their high customer ratings, advanced and versatile features, and positive reputations. Review our list and get ready to grill!

1. Cuisinart GR-4N 5-in-1 Griddler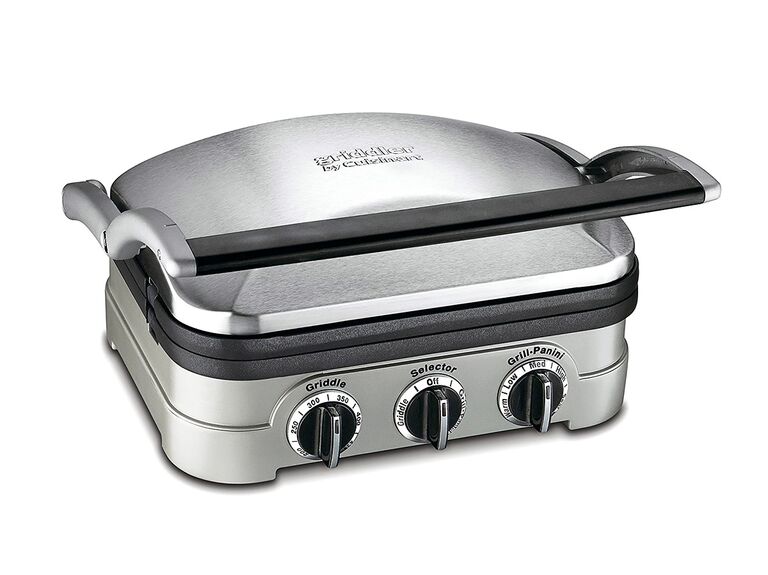 This is the panini press that we're all rushing out to buy. It's the ultimate in versatility; you can use Cuisinart's stainless steel panini press to whip up everything from pancakes to paninis, and the reversible grill/griddle plates give you multiple cooking options.
Cuisinart GR-4N 5-in-1 Griddler, $60, Amazon.com
2. Breville BGR820XL Smart Grill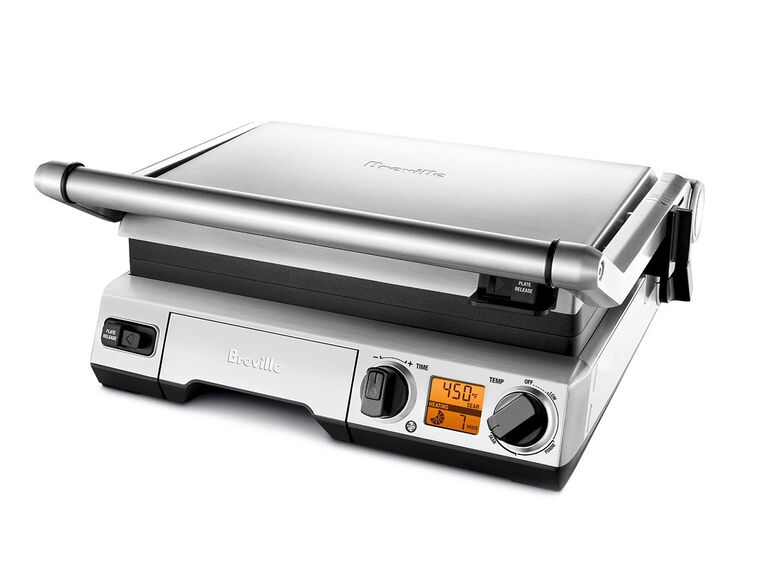 With Element IQ technology and an 1800-watt heating system, the Breville Smart Grill is one of the most advanced and versatile panini presses out there. The grill plates have embedded heat sensors, which inject more heat to compensate for the temperature drop caused by cold food being placed on the press.
Breville BGR820XL Smart Grill, $239, Amazon.com
3. Hamilton Beach 25460A Panini Press Sandwich Maker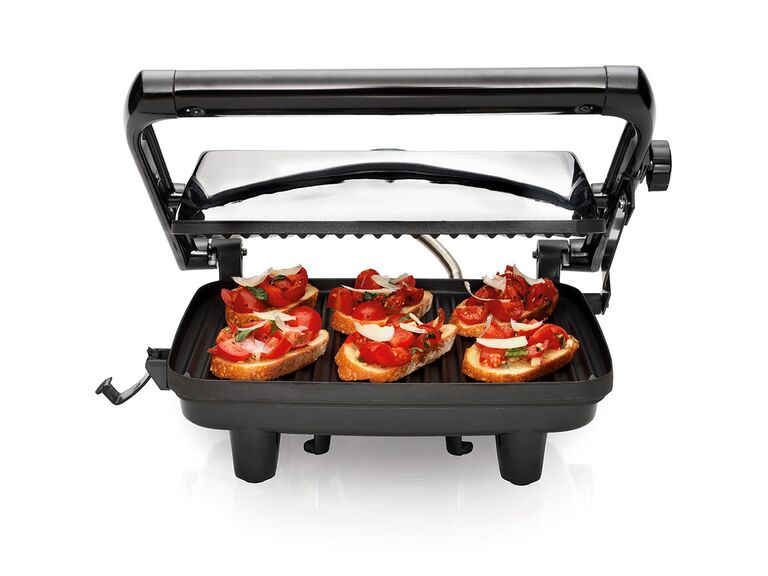 Make restaurant-quality paninis and quesadillas at home with the top-rated Hamilton Beach panini press for a fraction of the cost. This cheap panini press is easy to clean, easy to store and comes without a lot of complicated settings, so if you're on the hunt for a simple but high-quality panini press, this may be the one for you.

Hamilton Beach 25460A panini press sandwich maker, $35, Amazon.com

Best Cast-Iron Panini Press
If you're a fan of healthy, cast-iron cooking, we have just the thing for you. Here are some of the best cast-iron panini presses.
4. Waring Commercial WPG250 120-volt Italian-Style Panini Grill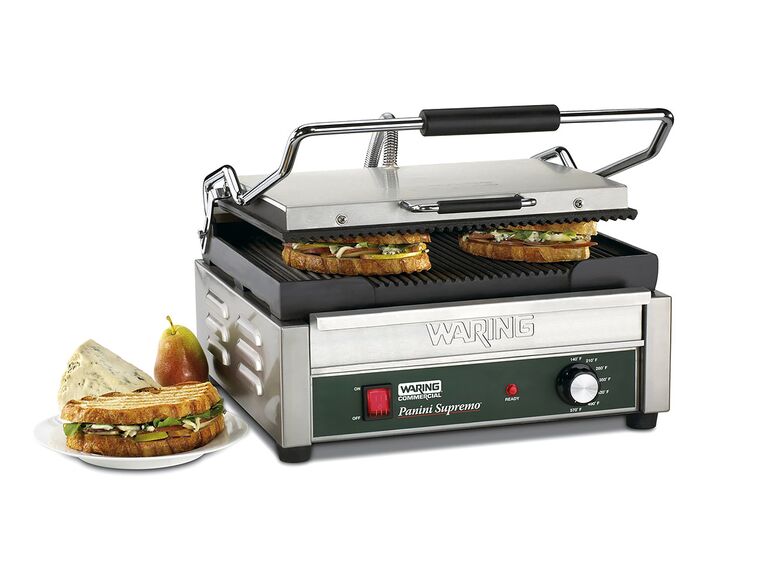 If you're looking for a serious, industrial panini press, look no further than the Waring Commercial panini grill. This model can do it all—cook amazing grilled paninis, vegetables, hamburgers, chicken and more with the Waring commercial panini press. Due to its large size, plan on giving this beast a permanent spot on your countertop.
Waring Commercial WPG250 120-volt Italian-style panini grill, $500, Amazon.com
5. Lodge LPP3 Cast Iron Square Ribbed Panini Press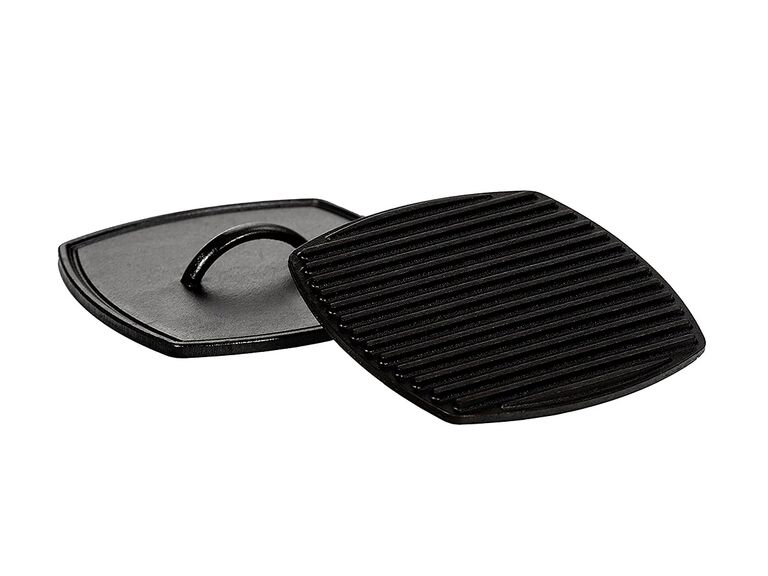 Lodge, the well-known maker of all things cast iron, is back with their own panini press. Use the hand-held Lodge LPP3 Cast Iron Square Ribbed Panini Press in conjunction with a cast-iron skillet or an outdoor grill to create mouth-watering sandwiches and steaks.
Lodge LPP3 Cast Iron Square Ribbed panini press, from $36, Amazon.com
6. Avantco P78 Commercial Panini Sandwich Grill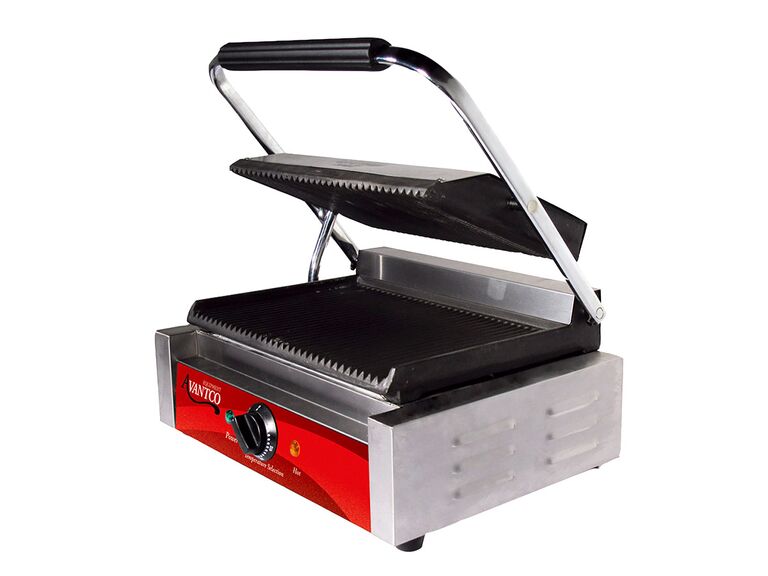 Create amazing paninis, hamburgers and quesadillas at your home or restaurant with the powerful Avantco P78 panini press, one of the best commercial panini presses on the market today.
Avantco P78 Commercial panini sandwich grill, $200, WebstaurantStore.com
Best Panini Press With Removable Plates
If you plan to use your panini press on a regular basis, choosing one with removable plates will make cleanup simple and easy. All you need to do is scrape off the stuck-on food and throw the plates in the dishwasher. We've rounded up a few of the best panini presses with removable plates right here.
7. DeLonghi America, Inc CGH912C Indoor Grill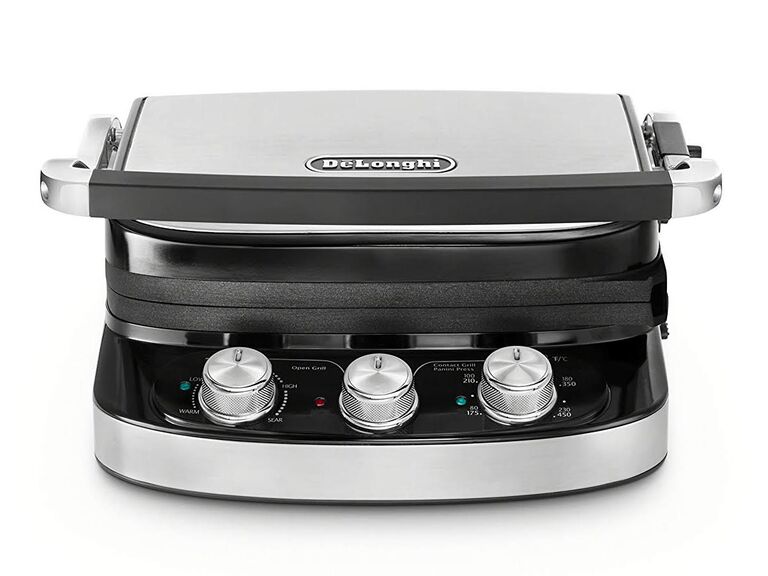 With a whopping five different cooking functions including a full griddle, this DeLonghi indoor grill is one of the best panini presses with removable plates. Not only does it look sleek, but it also has an oil drain system that helps with disposing grease and fat for healthier cooking.
DeLonghi America, Inc CGH912C indoor grill, $134, Amazon.com
8. Cuisinart GR-1 Griddler Panini and Sandwich Press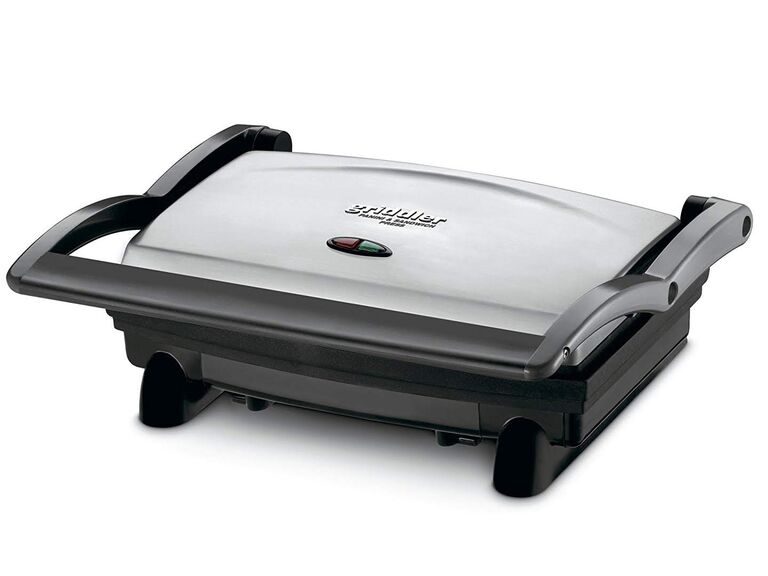 Solid, stainless steel construction and removable grill plates make the Cuisinart GR-1 Griddler panini and sandwich pressa great addition to any kitchen. At a lower price point, this is definitely a basic model with no bells and whistles, but it redeems itself with its sizable cooking surface, making it one of the best panini presses.
Cuisinart GR-1 Griddler panini and sandwich press, $60, Amazon.com
Best Flat Panini Press
Not a fan of the grill marks? Don't worry; there are plenty of panini presses and sandwich makers with flat cooking surfaces to choose from, or you could choose a combination model. We found that the combination model is more widely available, so we're assuming most people love those delightful grill marks!
9. Breville BSG520XL Panini Duo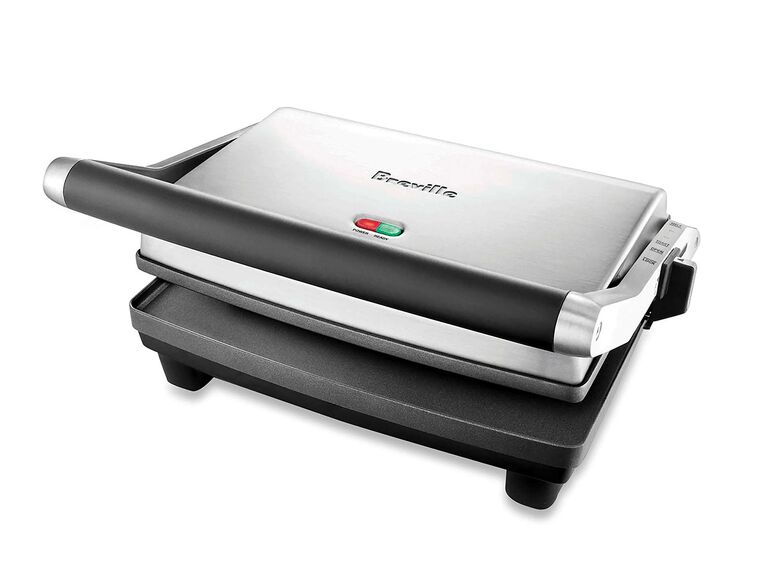 With a flat bottom plate that ensures fast, even cooking and a ribbed top plate, the Breville BSG520XL Panini Duo offers a combination of a flat press and a grill-like finish. This is the best panini press if you want an inexpensive, basic model with sturdy craftsmanship and reliable results. Another bonus—it folds flat for easy, upright storage.

Breville BSG520XL Panini Duo, $70, BedBathandBeyond.com

10. Breville Perfect Panini Press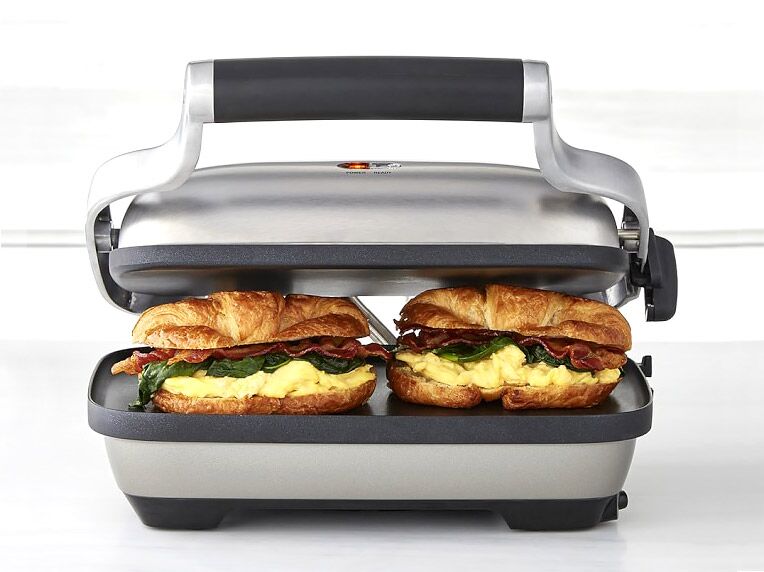 This small panini maker offered by Williams Sonoma has two flat surfaces for even toasting. Though it doesn't come with the combination or add-on plates offered by some of its competitors, consistency is the name of the game with this high-quality panini press that delivers warm, yummy sandwiches every time. This may be the best small panini press you can buy.

Breville Perfect Panini Press, $150, Williams-Sonoma.com

11. IMUSA GAU-80102 Large Electric Panini Press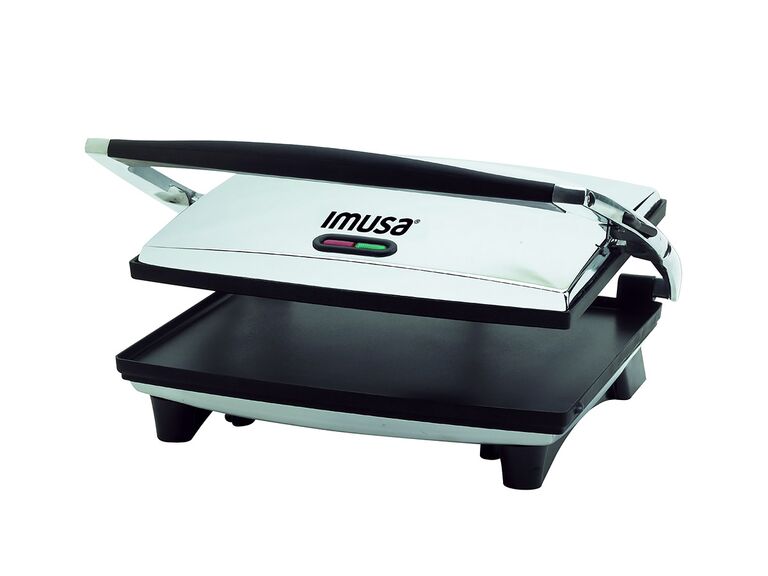 The surface of the IMUSA Large Panini Press is super slick, providing a perfect, even finish to your sandwiches. It's large enough for a gathering or a big family too. Quick to heat and with an adjustable top, this cheap panini press is one of the best flat panini presses for the money.

IMUSA GAU-80102 large electric panini press, $70, Amazon.com
Best Ceramic Panini Press
If you want to cook healthy paninis at home with the best ceramic panini presses that don't contain harmful PTFE and PFOA chemicals, we've got them right here.
12. Oster Titanium-Infused DuraCeramic 2-in-1 Panini Maker and Grill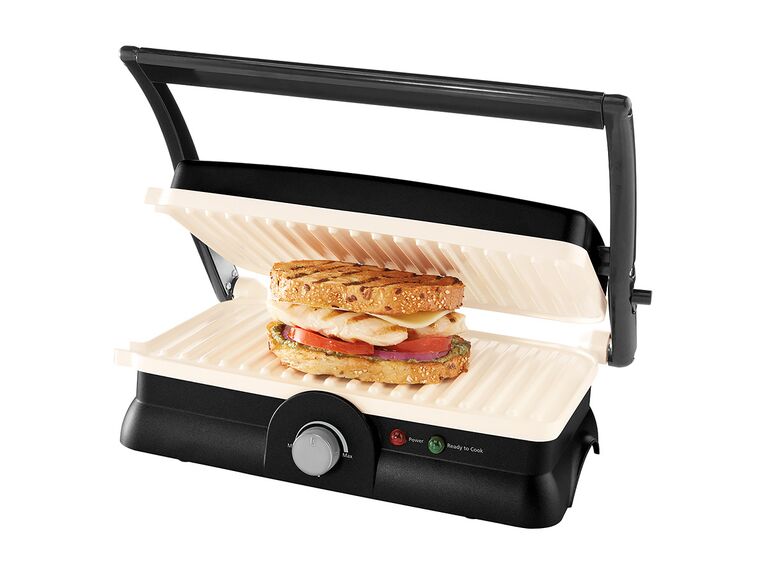 The Oster DuraCeramic panini maker and grill has a durable ceramic coating free of harmful chemicals and won't flake or peel like ordinary non-stick coatings. We loved this ceramic panini press because it's so lightweight and portable compared to cast iron or aluminum panini presses.

Oster titanium-infused DuraCeramic 2-in-1 panini maker and grill, $56, Amazon.com
13. Oster Extra Large Titanium-Infused DuraCeramic Panini Maker and Indoor Grill
A larger version of the other Oster panini press but with a few upgrades, the Oster extra large DuraCeramic panini maker and indoor grill is the best panini press for large families, allowing you to cook up to six sandwiches at a time. This model is obviously not as lightweight as the smaller panini press from Oster, but it does have a hinged top, which allows for thicker, more versatile cooking.

Oster extra large titanium-infused DuraCeramic panini maker and indoor grill, $56, Amazon.com
14. George Foreman GRP4842P Multi-Plate Evolve Grill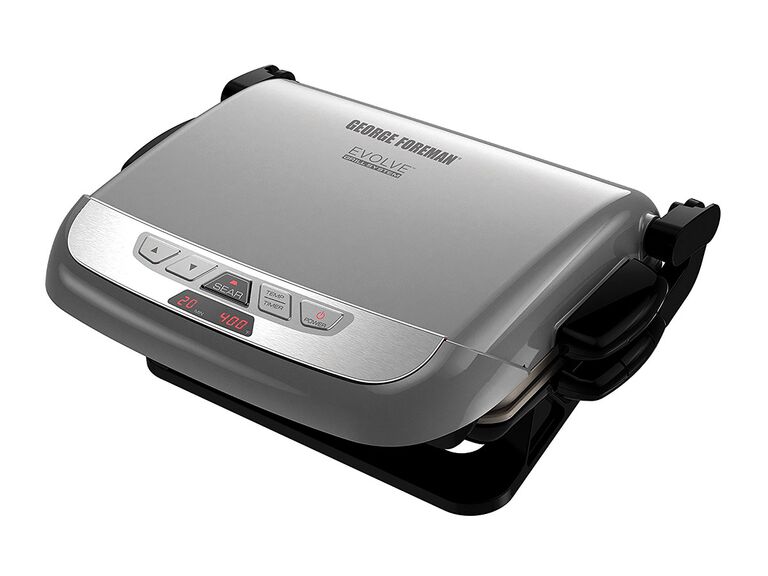 With more than 900 four-star reviews on Amazon, the George Foreman GRP4842P Multi-Plate Evolve panini maker is a versatile three-in-one gadget with grill, panini and waffle cooking modes. Not only that, it comes with a deep baking dish and a muffin pan too.

George Foreman GRP4842P Multi-Plate Evolve Grill, $120, Amazon.com
Whether you're looking to create the ultimate grilled cheese sandwich or you're searching for the best panini maker to add to your collection of kitchen appliances, we have you covered. Between flat panini grills and ceramic ones, our list will lead you to the perfect one for you and your kitchen.