The 30 Best "Just Because" Gifts to Show Your Loved One a Little Appreciation
You don't need a reason to surprise someone with one of these thoughtful little presents.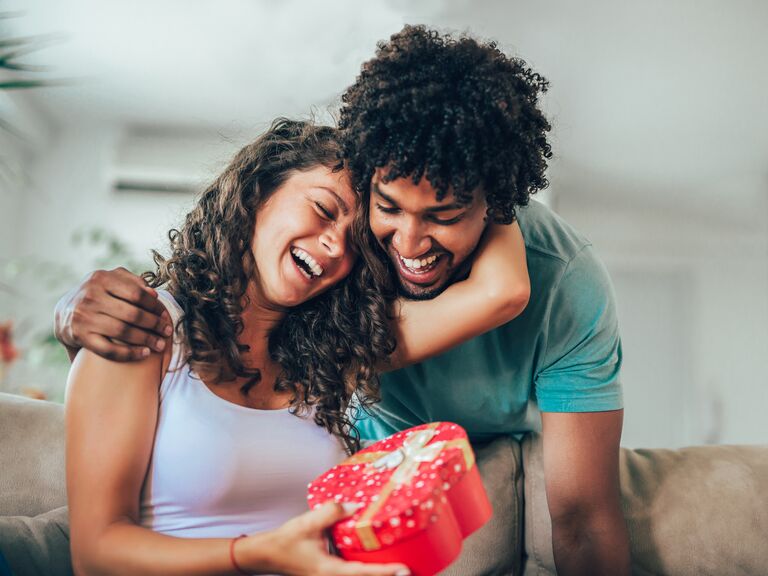 adriaticfoto / Shutterstock
We have included third party products to help you navigate and enjoy life's biggest moments. Purchases made through links on this page may earn us a commission.
There are lots of reasons to celebrate your special someone, be it their birthday, an anniversary or the holidays. That said, you certainly don't need an excuse to show your appreciation. Sometimes, it's nice—or even better—to surprise them with a little something spontaneously. To help you out, we've gathered our top "just because" gifts for your favorite person that'll give them all the feels. Whether you're planning a surprise romantic gesture or just want to give an "I miss you" or an "I appreciate you" gift, these super-cute picks are the way to go.
1. Celebrity Video Message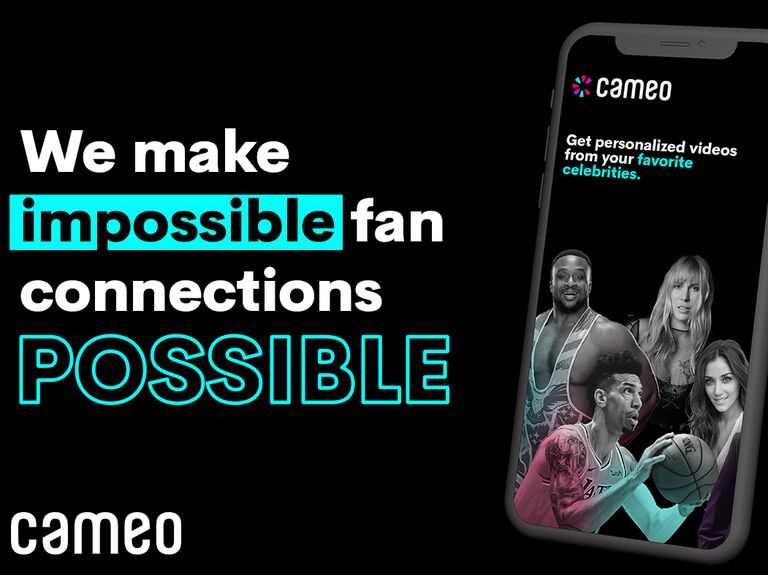 "Just because" gifts for your S.O. don't get much cooler than this. Make them starstruck with a custom video from their favorite celeb. Just pick out their most-adored star from Cameo's lineup—think professional athlete, famous actor, comedian, professional chef or reality TV star—and you'll have a personalized video from them to your special sweetie in seven days. We wish we could see their face when they open their inbox to find this special surprise greeting.
2. Beautiful Bouquet Delivery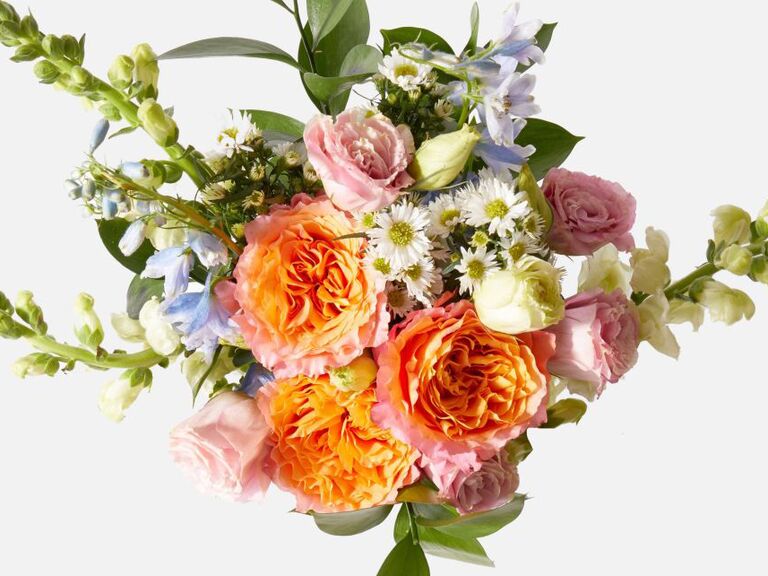 It doesn't need to be Valentine's Day or an anniversary to surprise your partner with flowers. Show your loved one you care with an unexpected delivery of gorgeous blooms with a card that says: "Just 'cause I love you." We particularly love this colorful arrangement of delphiniums, lisianthus, roses and asters, but you can also shop dozens of bouquets by UrbanStems that will ship straight to their door (shoutout to their next-day delivery)—no leg work for you!
3. Luxurious Bath Bombs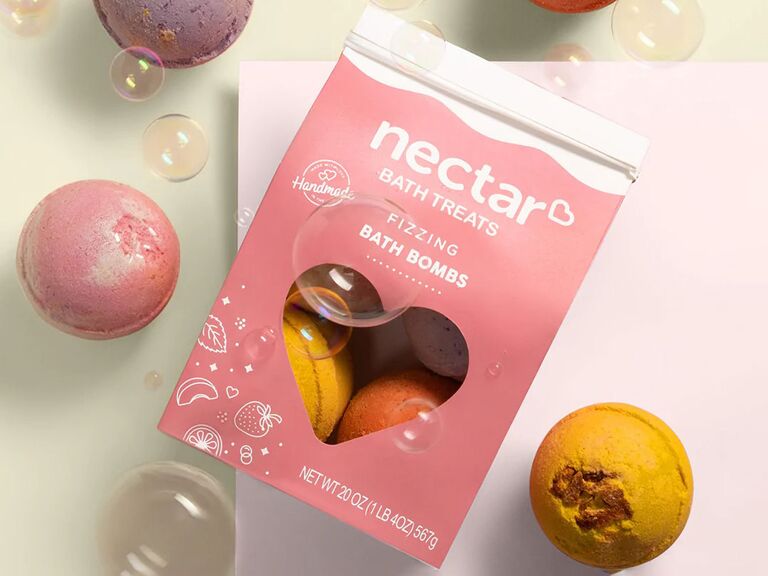 Everyone can use a little extra self-care in their life. If your boo has been working extra hard lately, treat them to some "me time" with this set of four bath bombs. You get to mix and match the scents—choose between options like soothing Lavender Blossom and sweet Peaches & Cream—so they get a custom selection. Bonus points if you take care of dinner while they enjoy a relaxing soak in the tub.
4. Cozy Heatable Plushie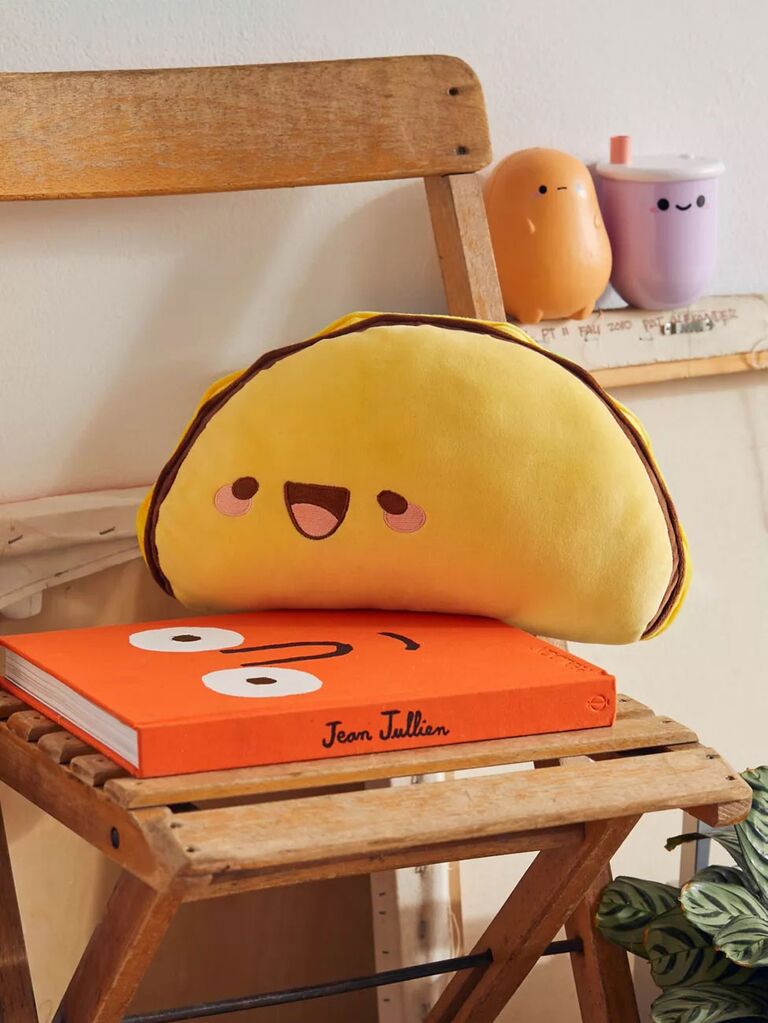 If you're looking for a cute, yet silly (and slightly random) gift for your snack of a girlfriend, boyfriend or partner, this taco plush is a great choice. They can snuggle up with this soft fleece version of their favorite entree whenever you're not around. There's even one with a heating pad inside for extra coziness.
5. Mailable Gift Box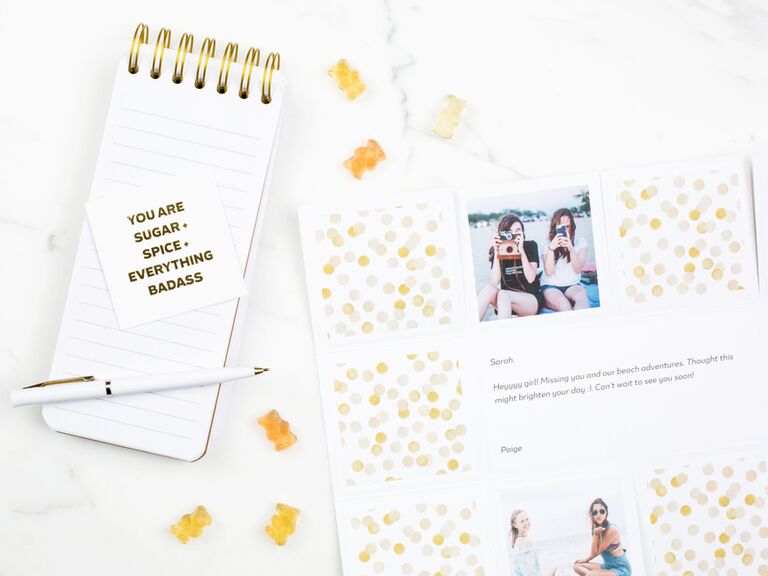 Don't underestimate the power of snail mail! Greetabl will help you create thoughtful "just because" gifts for him, her or them. The service helps you build a one-of-a-kind gift box that unfolds to reveal a heartfelt note, favorite photos and a pocket-sized present of your choosing like cozy socks or Champagne-flavored gummies.
6. Pocket-Sized Hug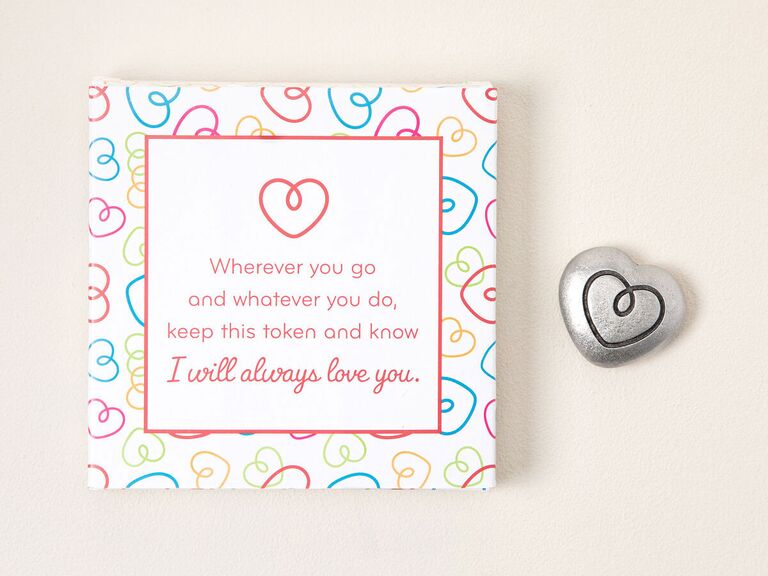 Whether you're in a long-distance relationship or you and your partner have conflicting schedules, this little token will show them how much you care even when you're apart. The solid pewter heart symbolizes your touch when you can't hug them yourself and comes in a romantic package decorated with a sweet poem and space for your own loving message. It's small enough to slide into their wallet, purse or pocket, so they can squeeze it every time they miss you. It's arguably one of the most romantic gifts for her, him or them—just because.
7. Funny Flower Pot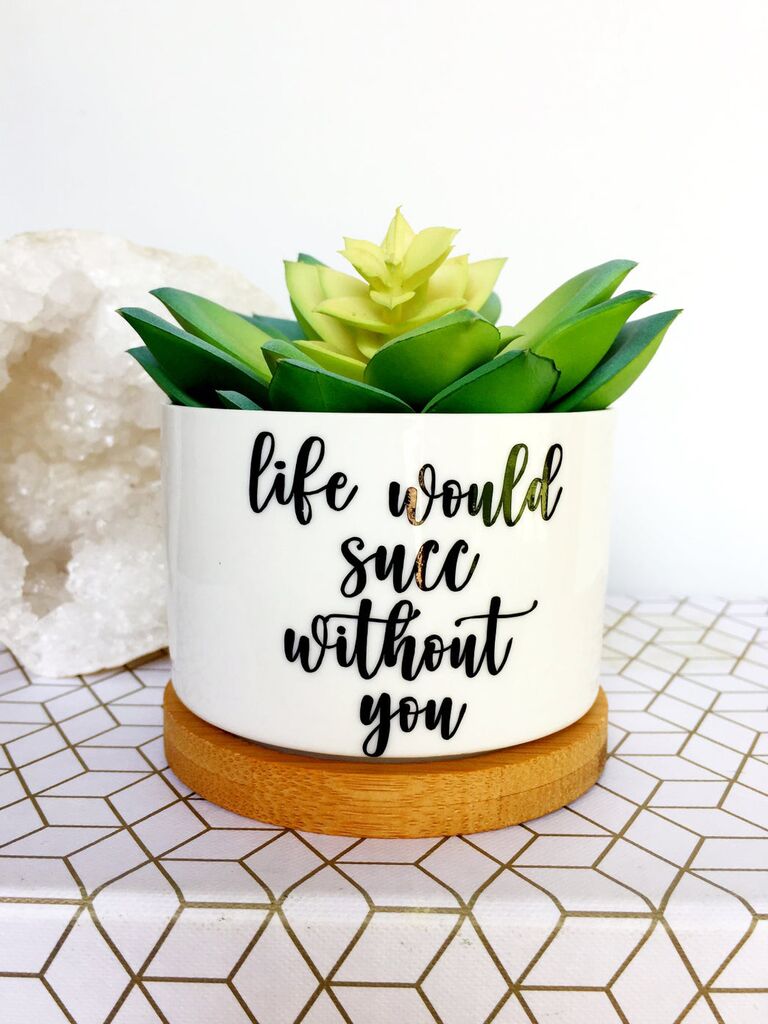 Shopping for a plant parent? This surprise gift for your girlfriend, boyfriend or spouse who has a green thumb will show them you care about their hobbies as much as you care about them. The ceramic pot reads "life would succ without you" and comes with a bamboo tray. Bonus points if you fill it with a sweet succulent plant—assuming there's still an open windowsill spot in their home.
8. Romantic Photo Frame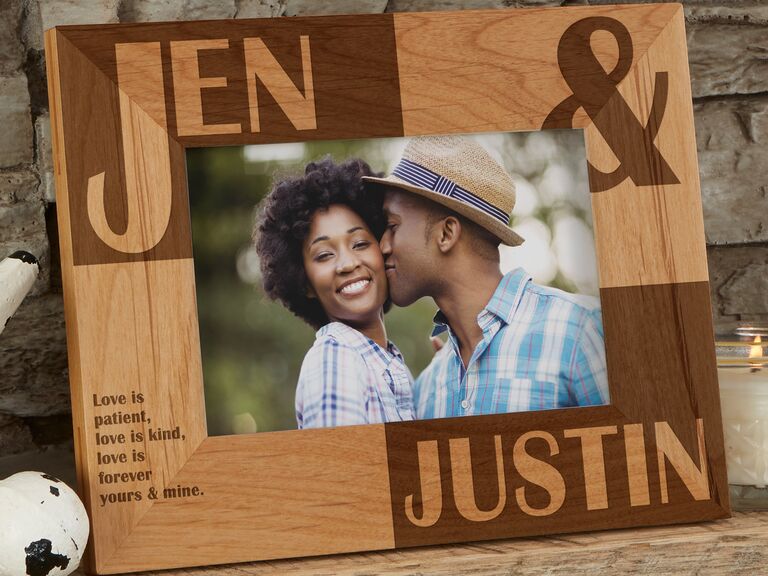 Is their bedside table looking a little empty? Add this unique frame—with a cute photo of you two inside, obvi—to their space for a sweet surprise. The two-tone wooden frame spells out each of your names alongside a short poem that'll make their heart melt.
9. Loose-Leaf Tea Infuser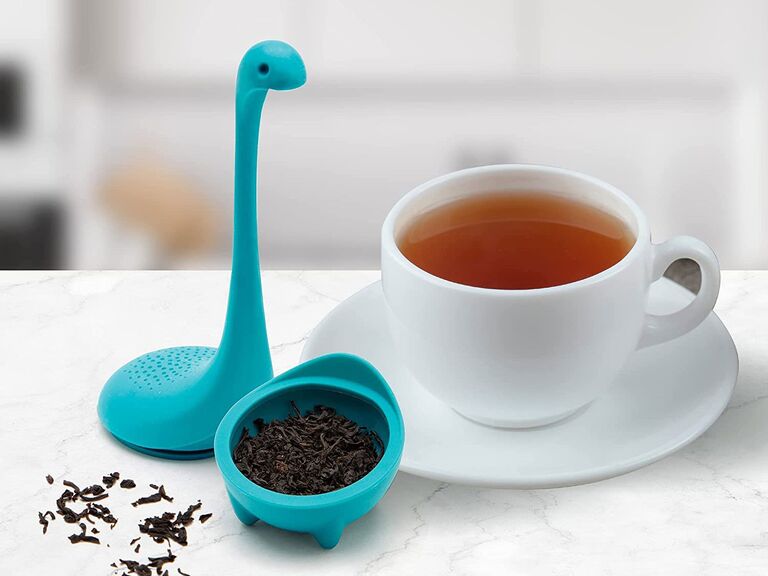 Looking for a "just-because" gift that will make them giggle? This quirky tea infuser makes it look like the loch-ness monster is swimming in their cup. It comes in three colors—pink, green or turquoise—and if you're also a tea-lover, you can pick up the yellow submarine version to "hunt" Nessie, too.
10. Edible Cookie Dough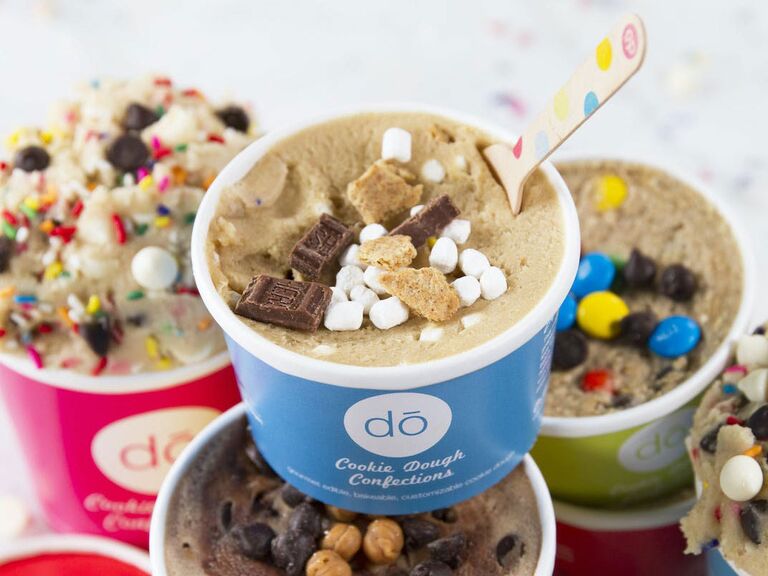 Sweet treats are universally adored "just because" presents since the giver and receiver can both enjoy them (get your two spoons ready). This dough-licious gift set comes with four cups filled with the edible cookie dough flavors of your choice—like Cake Batter, Gimmie S'more or Fluffernutter. They even have gluten-free or vegan options. Yum!
11. Pop-Up Butterfly Bouquet
If your S.O. has a case of winter blues, this paper pop-up flower bouquet is the perfect "just because" gift that'll get them excited for spring. It features a flock of colorful butterflies alongside daisies, lilacs and ferns. Best of all, it will never wilt—just like your love!
12. Chic Initial Necklace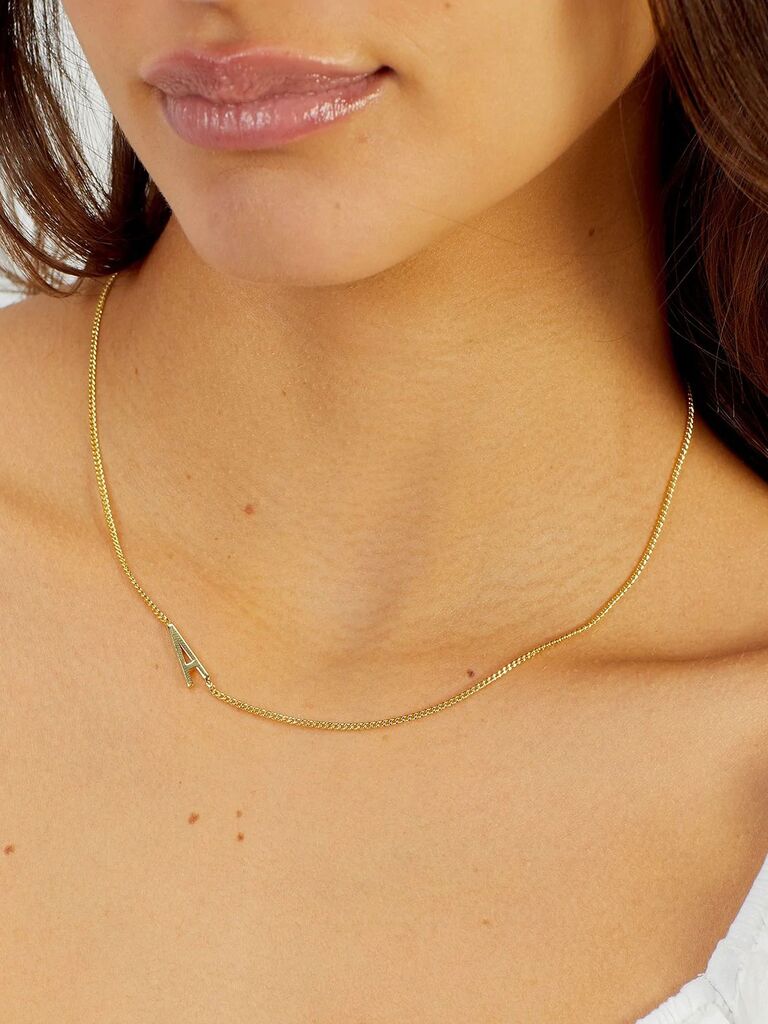 If you're looking to spoil your dearest and nearest, consider jewelry for a "just because" gift. This stunning 18K gold-plated brass initial necklace makes a subtle statement and stacks perfectly with their everyday accessories, so they'll never have to take it off (and they'll never want to, either).
13. Stainless Steel Apple Watch Strap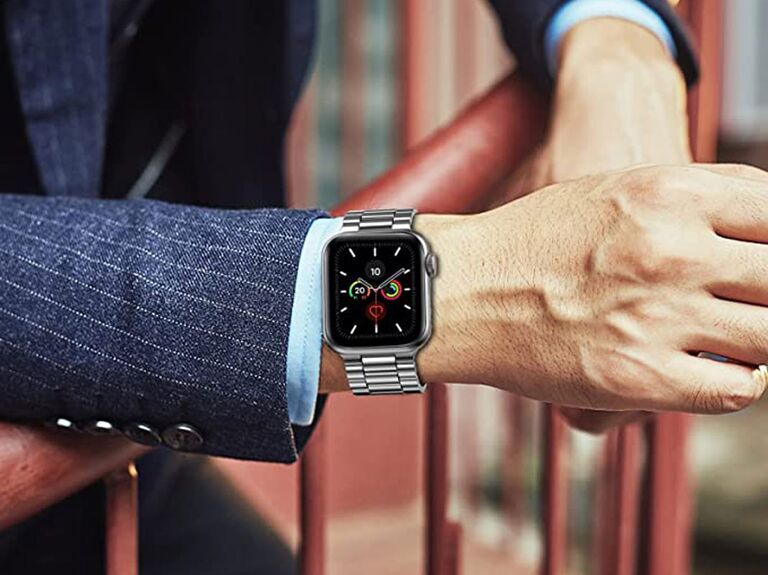 If your partner's go-to accessory is their smartwatch, dress up their style with this stainless steel link strap. You'll both love the elevated look on your next date night. And it would be extra cute paired with a note saying: "I love our time together."
14. Ring of Hearts Ceramic Mug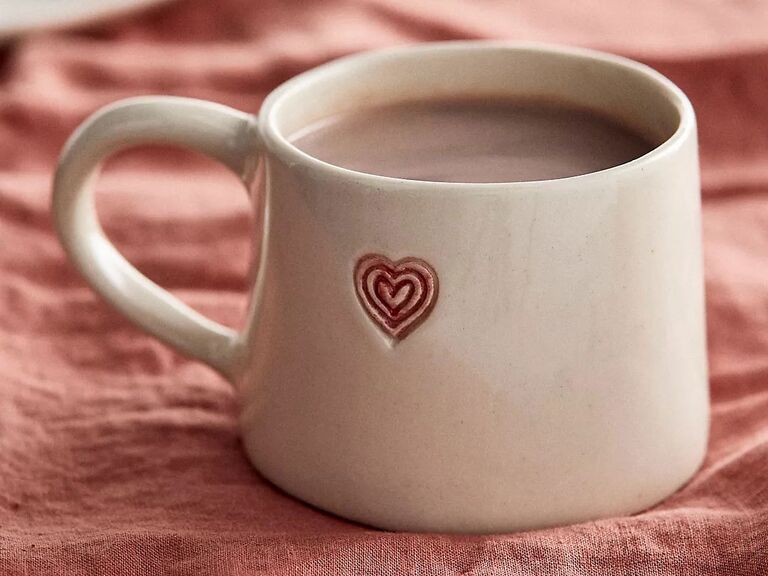 Your S.O. will think of you every single morning (okay, we bet they already do) thanks to this adorable coffee mug. It's shaped and glazed by hand and features a sweet red heart. Go the extra mile and pair it with their favorite coffee grounds, tea or hot chocolate mix.
15. Custom Engraved Spoon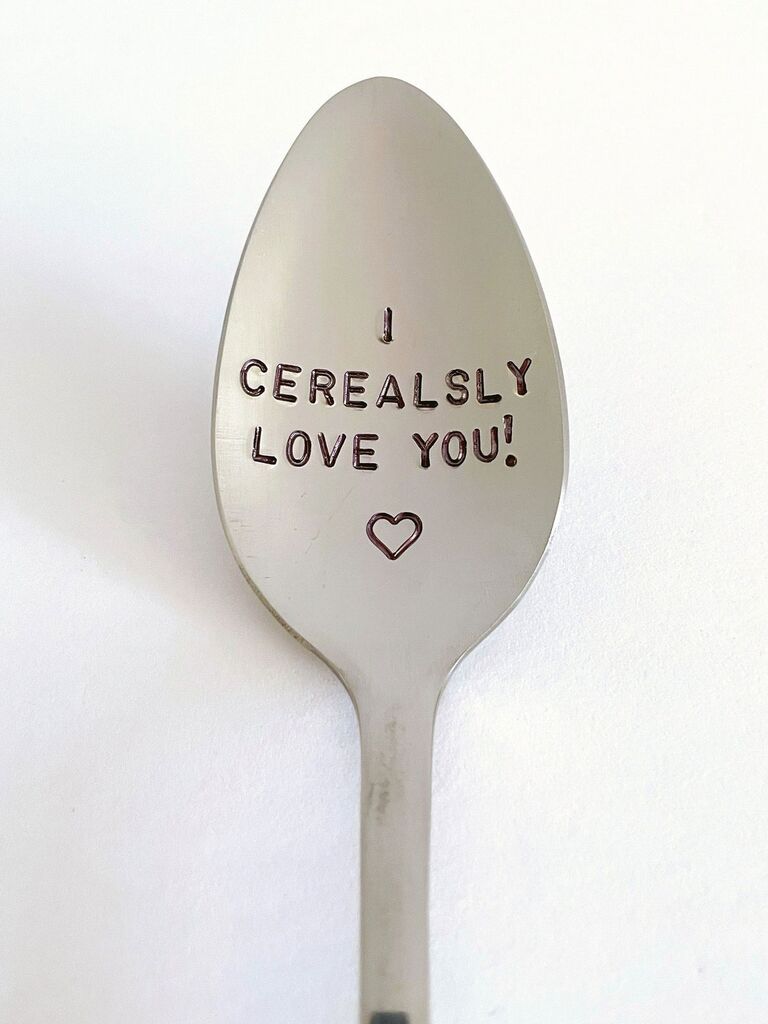 Speaking of ways to brighten your partner's morning, how about a funny spoon they can use at breakfast? This utensil is handstamped with a custom phrase of your choosing like "I cerealsly love you!" and "I'll go wherever yogurt." Our personal favorite? "You're my favorite big spoon."
16. Cold Brew Gift Set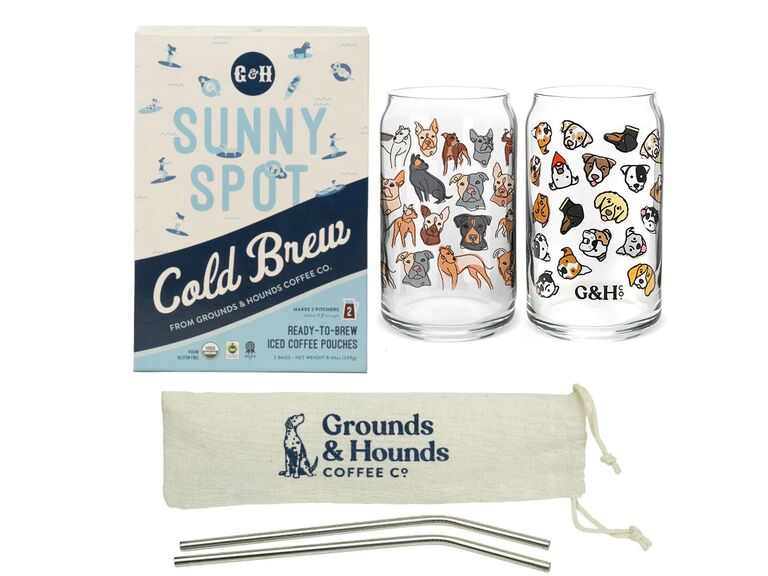 The two requirements to be your boo: Must also love coffee and dogs. Celebrate your shared love of canines and caffeine by giving your partner this cute "just because" gift set from Grounds & Hounds. It comes with iced coffee pouches, two glass cups decorated with pups and two reusable straws (so you can get in on the action, too). Best of all, the brand donates a portion of every sale to animal rescue organizations that provide safe havens for dogs between homes.
17. Funny Magnetic Bookmark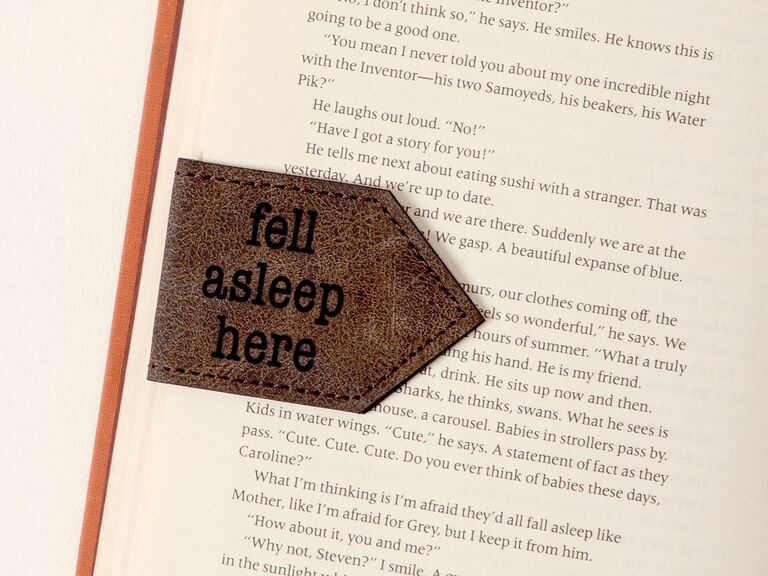 Dating or married to a reader? Then this is a good surprise gift for your girlfriend, boyfriend or partner. It's a vegan leather bookmark that says "fell asleep here." We love how it's magnetized, too, so it can be placed at any spot on the page. Just slip it into their book the next time they doze off between paragraphs so they're greeted with your thoughtfulness the next time they open it.
18. Wearable Sherpa Blanket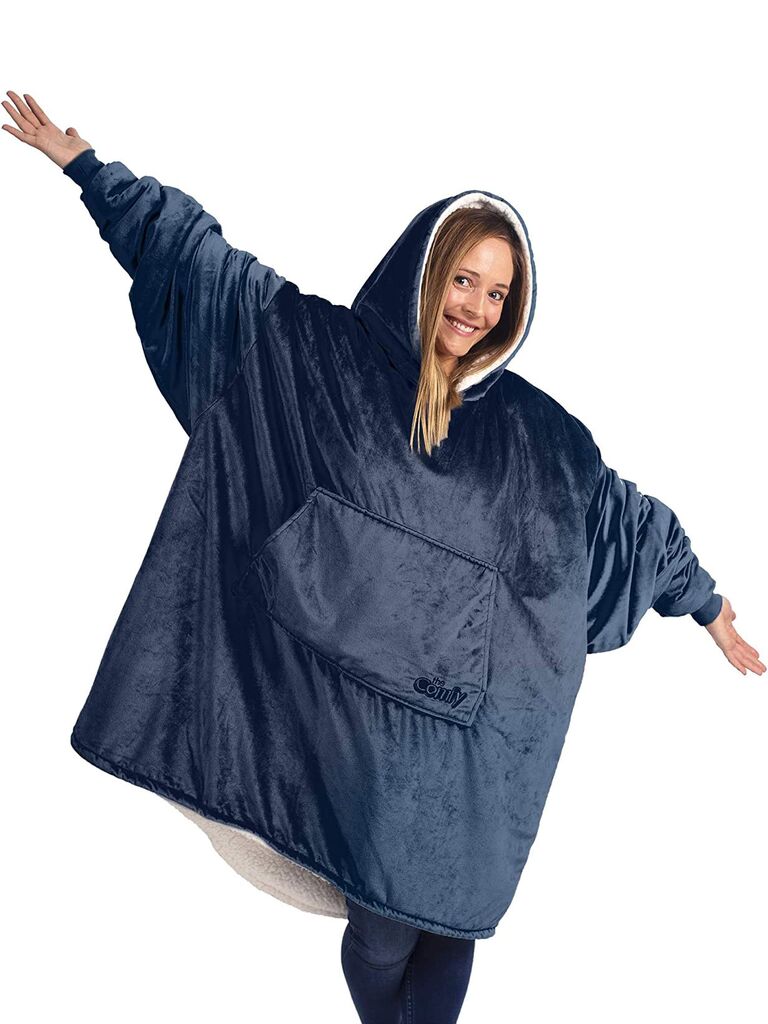 Comfort is the name of the game when it comes to this "just because" gift for her, him or them. It's a wearable blanket made from super plush sherpa and fleece. They can just slip it on like a hoodie, then tuck their feet underneath the hem thanks to its very-oversized fit. Trust us, they'll love it. But you don't just have to take our word for it: It was featured on Shark Tank and has over 90,000 five-star reviews.
19. Fun Themed Socks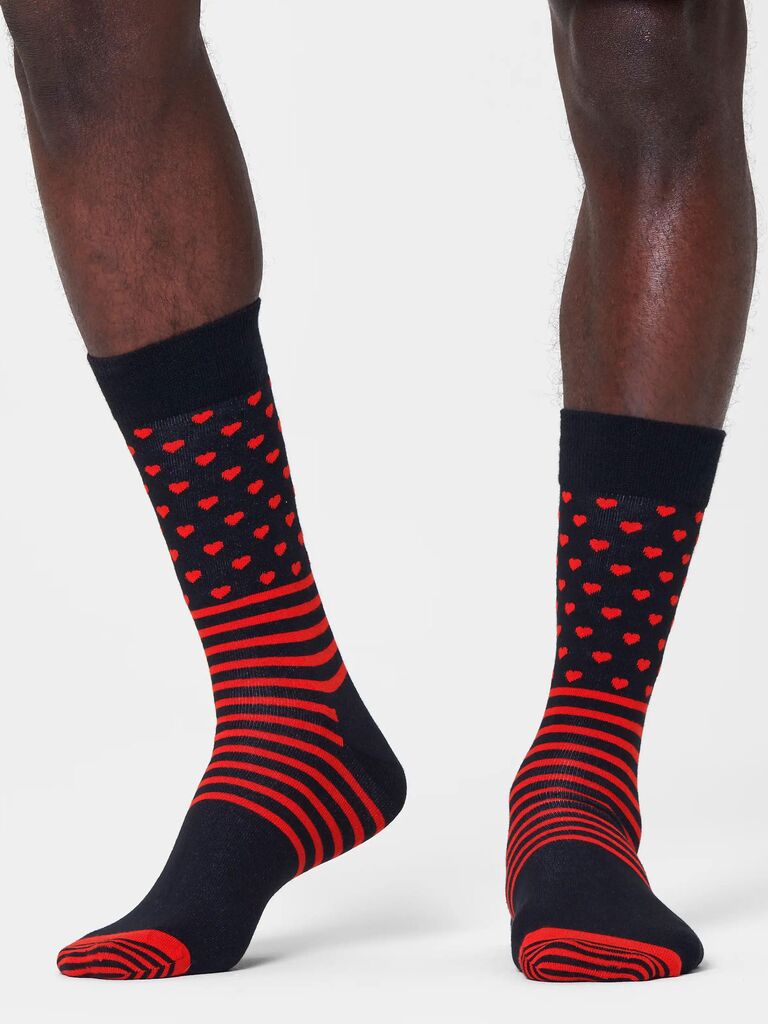 If your partner has a habit of squishing their chilly feet against you to get toasty, this surprise gift will be warmly welcomed. Socks are the perfect sweet thing to surprise your S.O. with since you really can never have enough. Simply pick a size and a funky pattern you think they'll like, then add to cart. We personally love this pair covered in hearts.
20. Leather Custom Initial Phone Case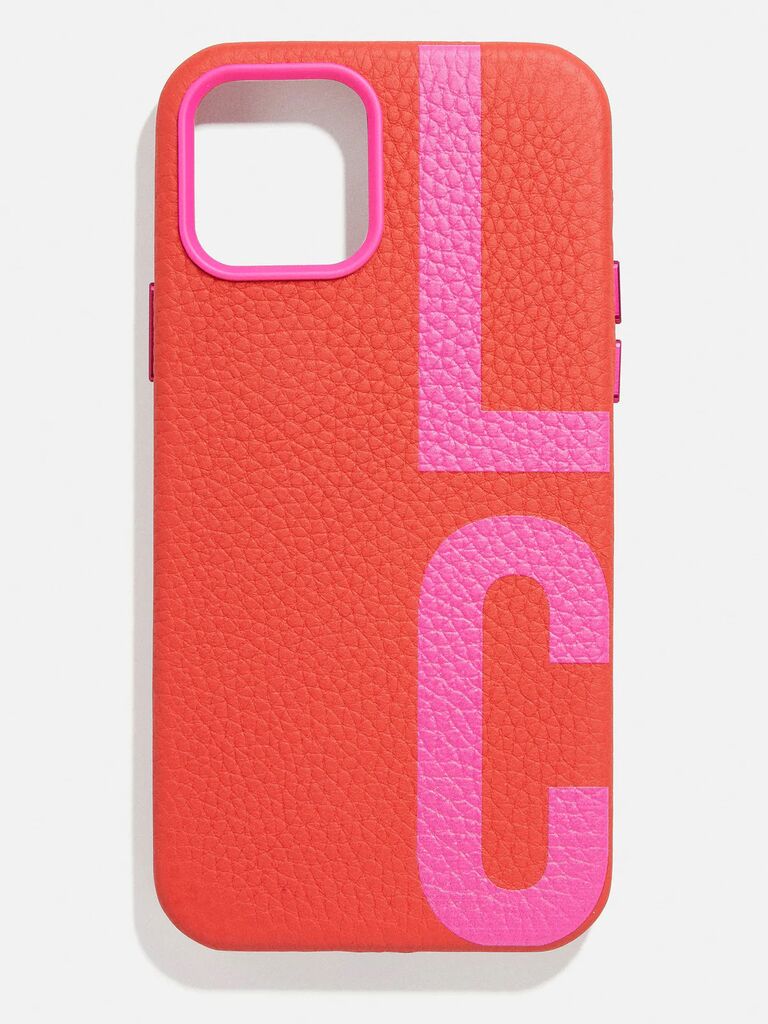 Phone cases can go under the radar as holiday gifts, but they're the perfect option for a quick surprise present your sweetie will actually use and appreciate. They're cute and super practical. For an extra-special "just because" gift, splurge on a custom phone case. This one is made from brightly colored, textured leather and is decorated with their initials.
21. Custom Map Glass
In search of a small gift for your boyfriend "just because?" Or your girlfriend or spouse that's a cocktail connoisseur? This glass tumbler will add an extra layer of meaning to their evening sips since it's etched with a city map of your choice. You can get the place they grew up, where you two met or their current home. Just one question: neat or on the rocks?
22. Surprise Drinks Delivery
Edible and drinkable gifts are a win no matter the occasion. If you heard that your partner has had a rough day or you want to add a little fun to their chill night in, have Drizly deliver their favorite bottle of wine or liquor to their home. It'll instantly show them you're thinking of them when you can't be drinking with them.
23. Personalized Bottle Opener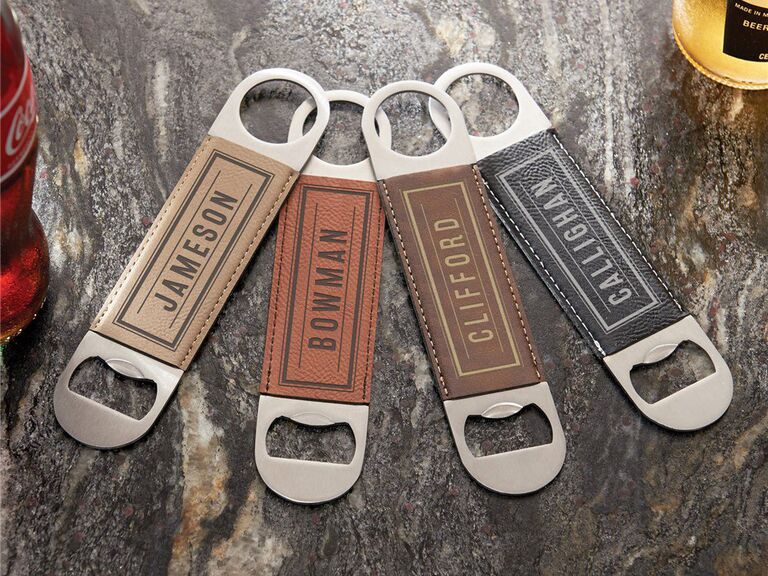 Small, bespoke tokens always make good "just because" gifts. We love this custom faux leather bottle opener because it's equal parts personal and practical. Simply have it personalized with their name then hand it over with a six-pack of their favorite brews.
24. Ceramic Zodiac Dish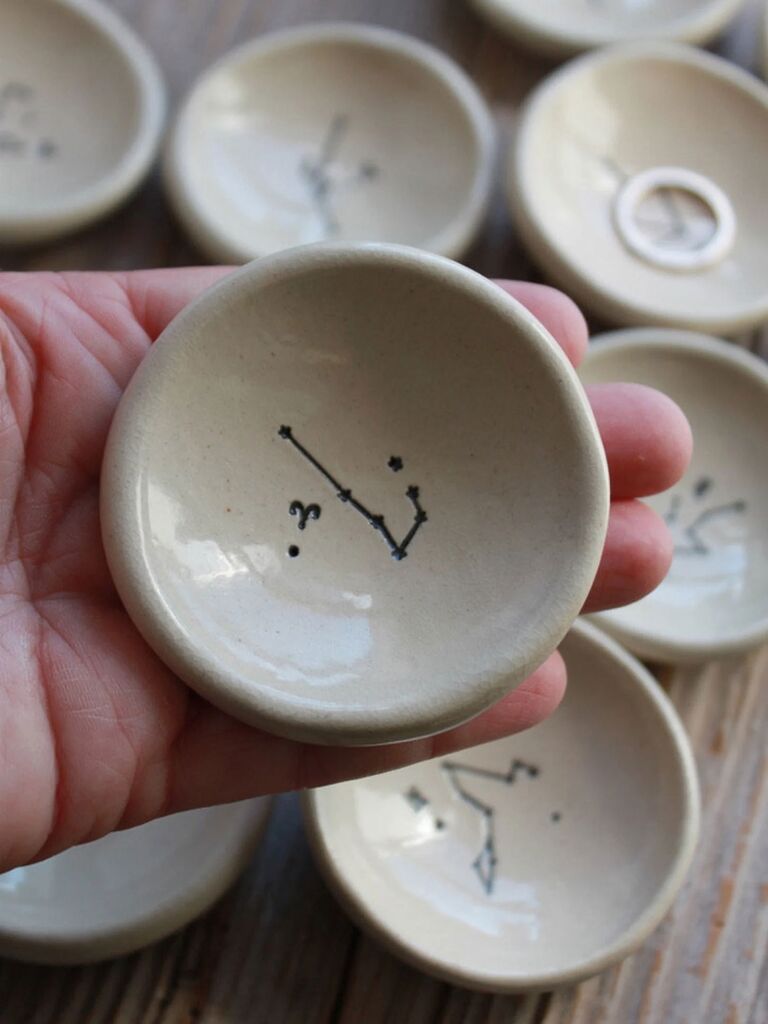 We've got plenty more great ideas for gifts that say: "I'm thinking about you." Whether you're shopping for him, her or them, you should honor something that makes your favorite person who they are—like their star sign. This cute ring dish will make a lovely little gift for someone who's out of this world.
25. Date Night Candle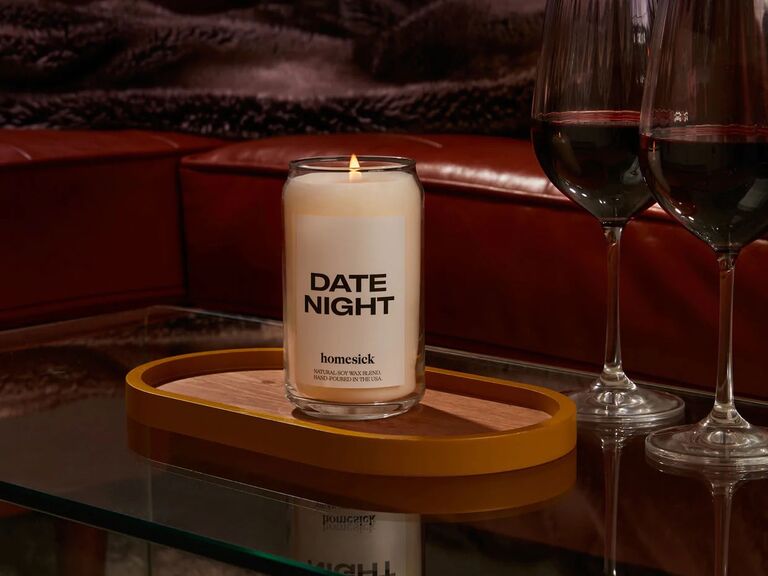 Get a little gift for your boyfriend, girlfriend or spouse that makes at-home date-nights extra special. This candle will set the mood and fill the room with pleasant notes of fig, cashmere and red currant. It's the perfect way to say: "You're the light of my life."
26. Coconut and Hibiscus Massage Oil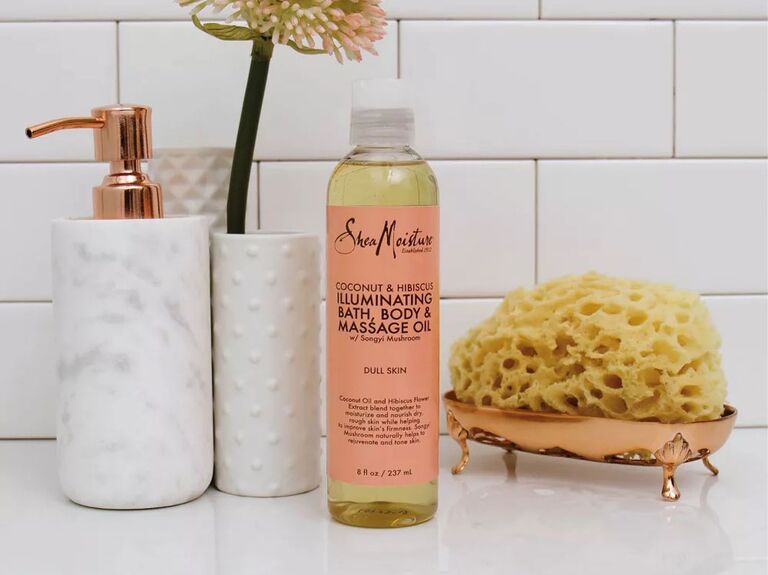 Nothing shows your S.O. how much you appreciate them like an unprompted back and shoulder massage. Make it extra relaxing with some soothing massage oil. This one smells like coconut and hibiscus, so they'll really feel like they're on vacation.
27. Sweet Custom Care Package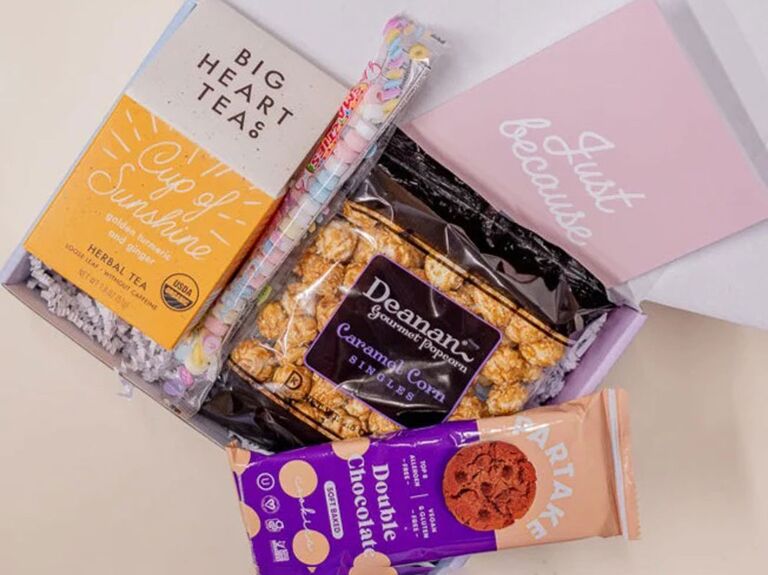 A care package does exactly what it promises: It shows your loved one you care. Use HappyBox to customize a gift just for your partner. You can select from dozens of snacks (including treats as sweet as they are), candles, apparel, drink mixes and more, then add a personalized card that's even handwritten for you.
28. Aesthetic Moon Lamp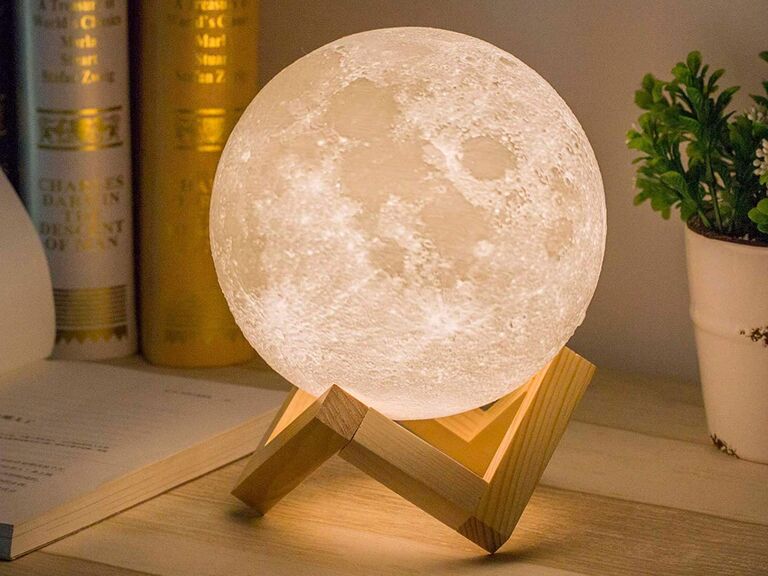 Say, "I love you to the moon and back" with this unique lamp. This 3D-printed moon light that stands on a minimalist wooden base is touch activated and creates a fun vibe in any room. It's exactly the gift to surprise your boyfriend, girlfriend, wife or husband with if they're night owls.
29. Aphrodisiac Cooking Class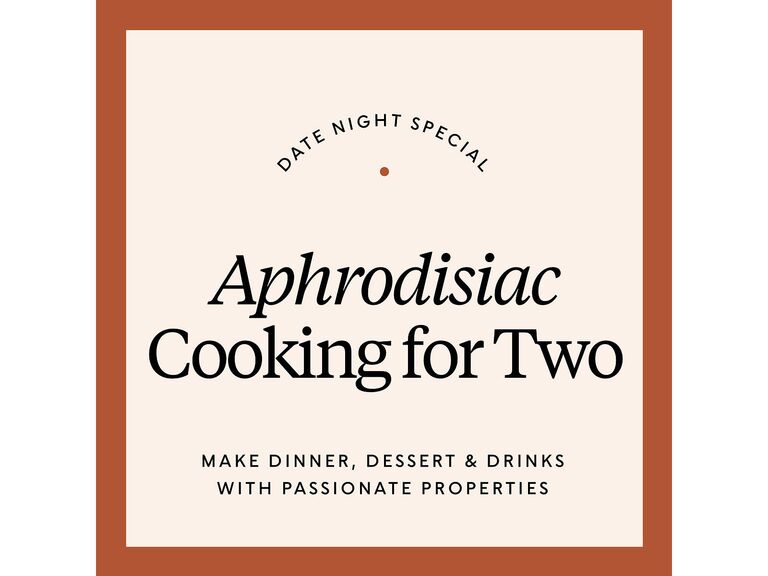 If your partner is always the one to plan your dates, switch things up for a change. Uncommon Goods' virtual experiences are a fun way to surprise your partner with a fun date at home. In the Aphrodisiac Cooking Class, you'll learn to make a drink, dinner and dessert together from professional chef Mark Kalix.
30. You Are My Sunshine Music Box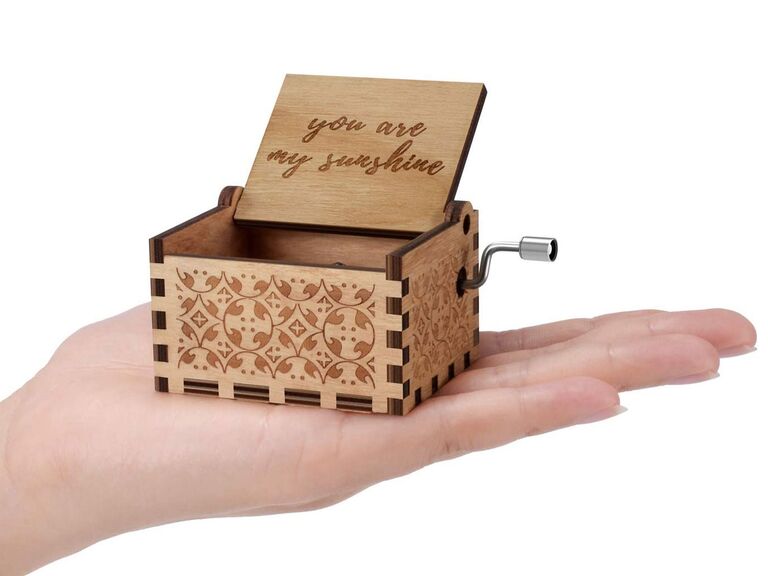 They're going to gush when they open this cute, little surprise gift. It's a wind-up wooden music box that plays the tune to "You Are My Sunshine." They'll want to start every morning by giving it a listen. Aww!