43 of The Best Tinder Pick Up Lines (Go Ahead. Message First.)
Customize one of these conversation openers to get your match's attention.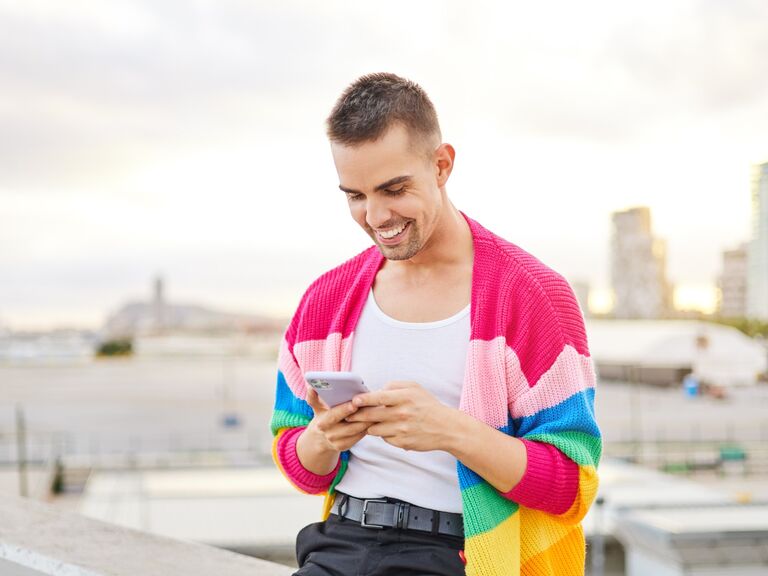 Photo: Javier Sanz | Getty Images
Love has to start somewhere—and, for many, it begins with a swipe. With an estimated 75 million active users per month, Tinder has been called the most popular dating app in the world. The downside of numbers like that? It can be hard to stand out from the crowd. So, we've collected the best Tinder pick up lines below to help up your match ratio. (You can thank us in the DMs.)
Depending on your personality and the type of relationship you're looking for, you can opt for funny, flirty, cute or clever Tinder opening lines. Just remember that the ultimate goal is to be yourself and show that you're putting a little effort into your message!
To compile the best tinder pick up lines, we turned to three dating and relationship experts:
Amber Lee is the CEO and Co-Founder of Select Date Society, a professional matchmaker and a relationship expert.
Liesel Sharabi, Ph.D. is an Associate Professor at Arizona State University, directing the Relationships and Technology Lab.
Professional matchmaker Susan Trombetti is the CEO of Exclusive Matchmaking.
With their expertise and these Tinder pick up lines, you'll be landing responses in no time.
In this article:
The Best Tinder Pick Up Lines
Bring on the matches! Overall, these are the best tinder pick up lines, according to the experts.
I noticed you enjoy hiking. I recently tried a new trail and couldn't help but wonder if you have any favorite hiking spots.
That's a great photo of you. I love the nature scene in the background! Where did you take that picture?
Wow! You have the best smile!
Don't tell my friends I'm reaching out to a Cowboys fan.
Your profile has me intrigued. I'd love to know more.
I need a map because I just got lost in your eyes.
Oh no, you are so beautiful [or handsome], I forgot my pickup line!
Funny Tinder Pick Up Lines
The quickest way to get their attention is to make them laugh, so consider one of these funny Tinder pick up lines.
Do you like me? Write yes or no.
Someone call NASA. I think my heart just rocketed to the moon.
Are you a Wi-Fi signal because I'm feeling a strong connection here?
Are you a parking ticket because you've got fine written all over you?
You are a ten. I am not. Let's conduct a social experiment and see if we have chemistry when we meet.
Cheesy Tinder Pick Up Lines
These cheesy Tinder pick up lines are just the right amount of punny—or endearingly mushy.
You must be tired because you were running around all night in my dreams.
Hey baby, you should date me because I won't break your heart. (I will just steal it!)
You are so fine, you made me forget my pick up line.
Are you a magician? Because the moment I saw you, everyone else on here disappeared.
Is your name Google because you have everything I've been searching for!
Pardon me, do you have a map because I keep getting lost in your eyes?
Cute Tinder Pick Up Lines
Make them swoon with a sugary sweet opener, like these cute Tinder pick up lines.
I promise I'm more interesting in person. Or maybe not. But you'll have to meet me to find out!
I think something is wrong with my eyes because I can't take them off you.
Can I get your name? Because all these years I've been calling you my dream girl.
If snowflakes were kisses, I would love to share a blizzard with you.
Is your dad a baker? Because you are a cutie pie.
Where have you been all my life? I've been looking for you.
Is your smile made of magic, because every time you smile you make my day brighter?
Are you a camera? Every time I look at you, I can't help but smile.
Clever Tinder Pick Up Lines
Woo your potential love with your quick wit and charm by using a clever Tinder pick up line.
When I send your picture to my friends to ask their opinion, which one should I send?
Truth or date? Oops, I meant dare!
Swipe right. Swipe right. Swipe right. I'm manifesting our first date.
What's your phone number? I forgot mine.
I think I need to call the police because you stole my heart.
I am not a photographer, but I can picture us together.
Excuse me but I think you dropped something—my jaw.
Let's meet and delete! (I predict we'll both delete this app after our first date.)
Flirty Tinder Pick Up Lines
Go ahead and make them blush with a fun and flirty Tinder pick up line.
I hope you appreciate my honesty… You're hot!
I just watched The Notebook last night and Ryan Gosling has nothing on you.
Quick, call 911! You took my breath away!
Do you believe in love at first swipe, or should we match again?
Sexy Tinder Pick Up Lines
Once you establish a connection and consent, heat things up with one of these sexy Tinder pick up lines.
Do you prefer I seduce your mind or body first because I'm so attracted to both?
Do you kiss on the first date? Asking for a friend.
I am feeling a strong connection. Mind if I connect to your hotspot?
I am hoping you are a cougar because I want you to pounce on me.
When I get naked, the shower usually gets turned on.
Advice for Tinder Pick Up Lines
If you're intimdated by making the first move on dating apps, don't sweat over swiping! Instead, scroll on to see some helpful tips for navigating Tinder and dropping that first message.
Offer compliments and ask questions. Research shows compliments and questions are most effective at eliciting responses, shares Sharabi—even more so than a flirty pick up line!
If you use a generic line, immediately follow it with a question. It's easier for a person to respond to a custom message, so ask a question inspired by their profile. If they list their favorite book for instance, say: "I appreciate your taste in literature. Have you read [insert title of a book you love]?" Or try: "I see you're a big foodie. So am I! What's your favorite restaurant in the area?"
Invest time into your messages. Avoid messages you could send to 10 people without changes, counsels Sharabi. If someone feels you didn't invest the time to read their profile, they won't be as compelled to respond. To avoid the spam effect, use their name and cite something you have in common, or mention what about their profile got your attention, suggests Lee.
Keep it brief. Be short and sweet, advises Trombetti. Because we know response rates can be low, try not put too much emotional weight on crafting on the perfect opening line. Again, what will get the most likes is being yourself.