Get an Exclusive First Look at BHLDN's Vintage Capsule Collection with Maison Sully
Prepare to swoon over these one-of-a-kind wedding dresses and accessories.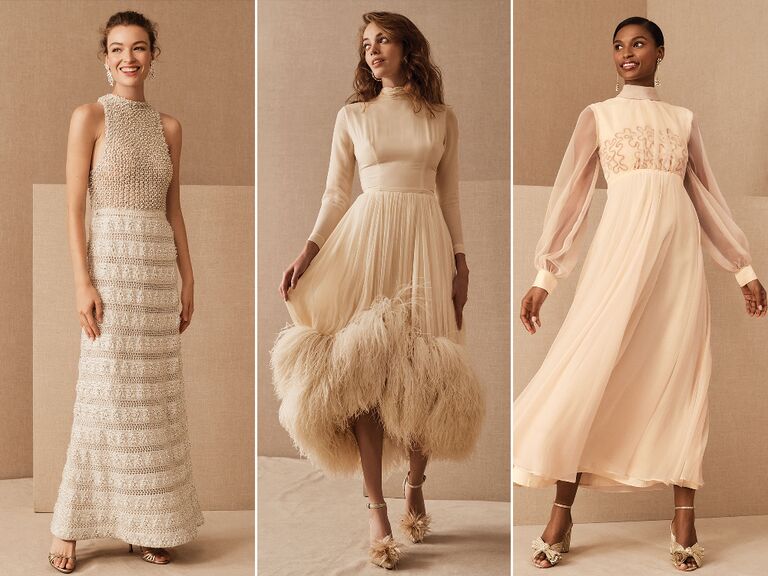 We have included third party products to help you navigate and enjoy life's biggest moments. Purchases made through links on this page may earn us a commission.
Every wedding dress has a story—but if you opt for a vintage gown on your big day, your look will carry years of special bridal moments as you walk down the aisle. And thanks to BHLDN's new partnership with Los Angeles-based bridal atelier Maison Sully, it's easier than ever to find a stunning, one-of-a-kind vintage design for your nuptials.
The bridal fashion brands have teamed up on an exclusive capsule collection of true vintage dresses and accessories that boast the best of fashion from the 1940s through the 1990s. "This collaboration with Maison Sully is a first for both brands, bringing to market an upcycled capsule of gowns curated specifically with the BHLDN bride in mind," Lori Conley, BHLDN's General Merchandise Manager, tells The Knot. "When exploring the perfect partners to collaborate with, we knew it had to be a vintage dealer who specialized in bridal specifically. Maison Sully was able to effortlessly source pieces that transcend decades and appeal to the modern-day sensibilities of brides."
The 26-piece collection was gathered and restored from iconic designers, fashion houses and wearers from around the globe—some dresses have even been seen on red carpets. "Each gown is a piece of fashion history with its own story and legacy of celebration," explains Melissa Sullivan, founder of Maison Sully. "We do extensive research to find everything we can about their history: the personal story, the physical story of materials, design, and creation, and the larger contextual story of where that gown fits into the history of fashion."
The collection launch is especially timely, as Conley notes a rise in the interest of vintage wedding attire—a trend largely accelerated by the pandemic. "During COVID, we started to see emerging interest for vintage and sustainable wedding options with customers being more considerate in the ways they shop, live and now marry," she says. "A vintage collection was the perfect marriage of delivering on the promise of uniqueness that BHLDN is known for while taking into consideration the lessened impact on the environment which is rapidly becoming more important to couples."
In fact, as more couples pivot to planning low-waste weddings, fashion is one area that can easily be adapted to fit sustainable practices. "Wedding gowns are primarily a one-time use item, which makes its toll on the environment tougher than ordinary apparel items," Conley adds. "Often, they incorporate synthetic fabrics which are harder to break down at the end of use. By giving new life to a previously worn gown, you help to shift the demand for production of new ones which lessens the environmental impact both during the manufacturing as well as the end of life of these gowns."
Plus, in addition to its sustainable benefits, a true vintage design gives the wearer something profoundly special: a wedding outfit that can't be found in a traditional store. "In an increasingly homogenous world, vintage gowns offer a true one-of-a-kind look," Sullivan tells us. "In many cases, you can't find these materials and design techniques in new garments, not to mention the additional work we've done to modernize and re-imagine that makes a gown even more singular."
Thanks to a detailed restoration process, each piece in this capsule collection has been delicately cleaned and repaired—and, in some cases, upcycled—to create an affordable, semi-custom vintage look that's been adapted for modern wear.
Now, you can shop the entire curated collection, which ranges in price from $400 to $6,000, on BHLDN's website.
Shop the BHLDN x Maison Sully Vintage Capsule Collection
If you simply can't wait to see the collab, we've got you covered. Below, we're giving you an exclusive first look at some of the pieces available to purchase in the BHLDN x Maison Sully vintage capsule collection.
Vintage 1950s Silk & Ostrich High-Low Gown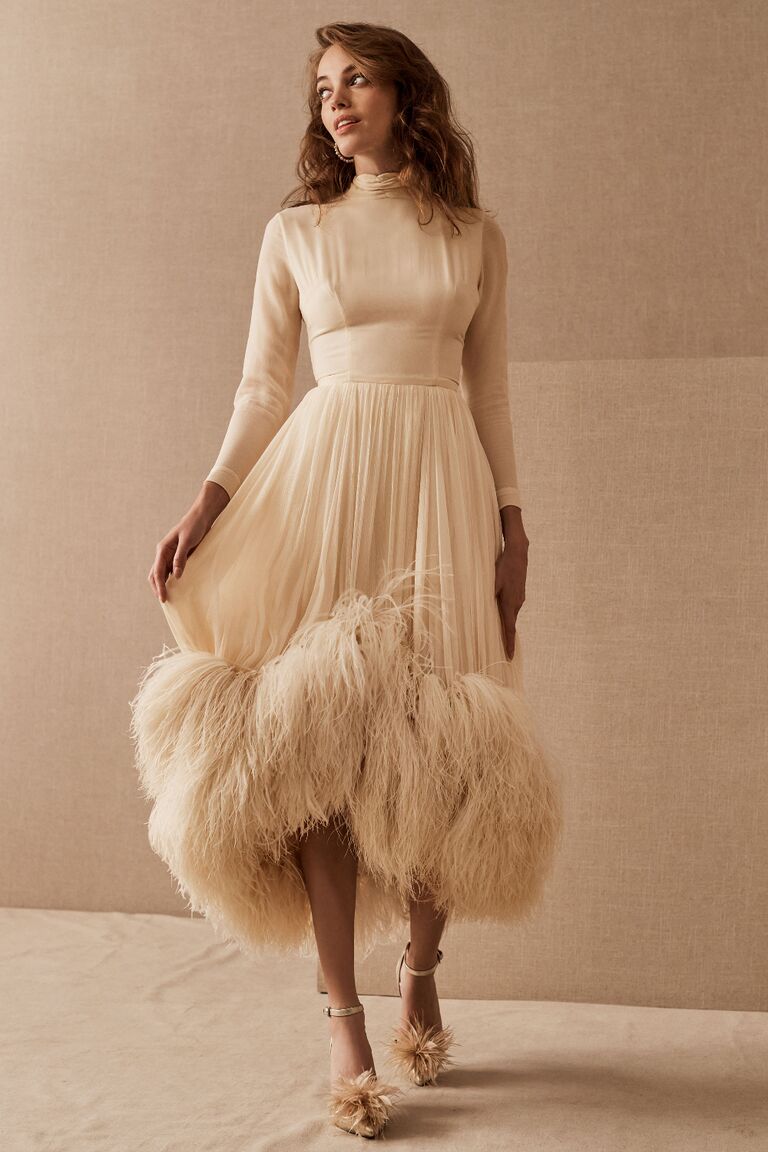 There's no question that this rare ostrich feather dress is truly a once-in-a-lifetime find. With a silk three-quarter-length sleeve bodice and a high-low skirt embellished with lavish ostrich feather plumes, this gown was made to be a showstopper. Need proof? It was once worn on a Hollywood red carpet by actress Chanin Hale.
Vintage Slip Gown, 1960s Wave Ruffle Skirt & Cape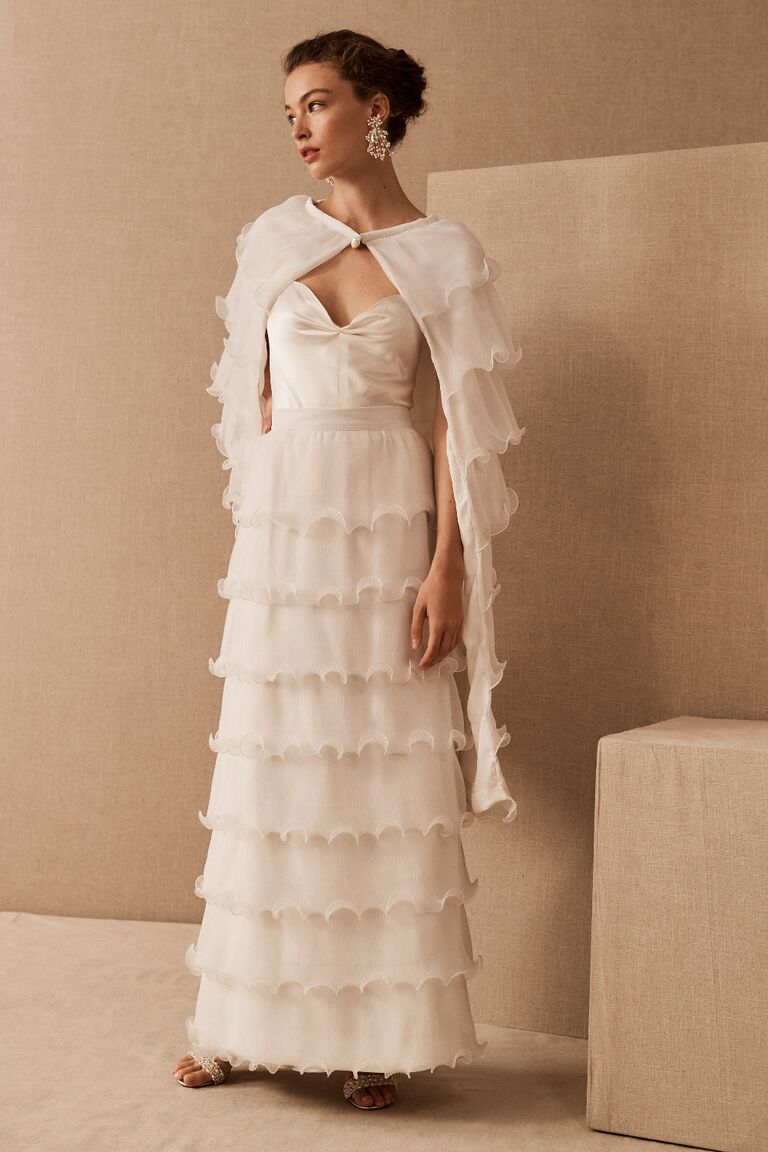 Consider this the dress that started it all. This three-piece set includes a ruffled skirt and cape made from two identical 1960s gowns, and one was the very first piece ever acquired by Maison Sully. The outer layers have been paired with a chic silk-satin slip gown, which previously belonged to Valerie Von Sobel, a Hungarian actress, artist and philanthropist. Like most pieces in this capsule collection, it has a fascinating backstory: Von Sobel's suitcase was once tossed in a pool while she was on vacation, thus ruining all of the clothes inside. She was left with just this slip dress, which she was wearing at the time of the incident.
Vintage 1970s Milanese Wedding Turban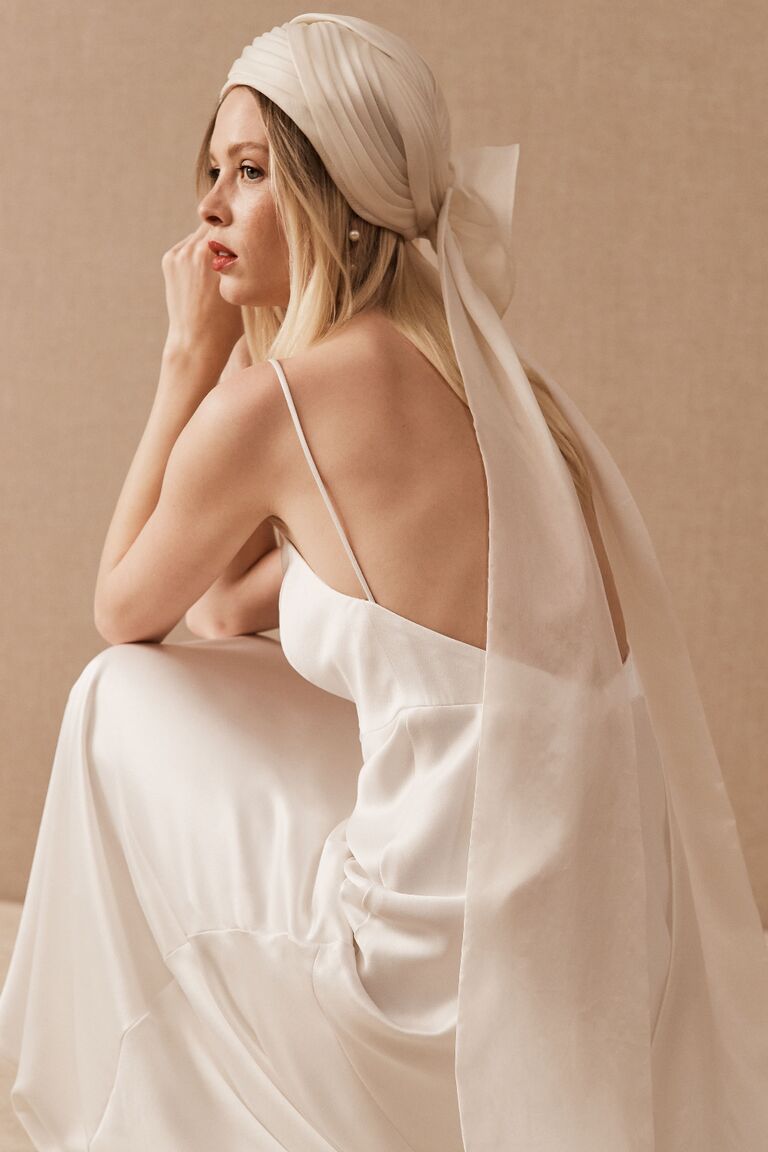 Looking for a dramatic headpiece for your wedding day? Perhaps you'll be inspired by this vintage silk turban, which was found in Milan and includes a long train and a bow in the back. As an added bonus, if you snag this rare find you'll also receive a piece of its history too: a corresponding piece of fabric that's been signed by every wearer.
Vintage 1960s Jole Veneziani Crochet Pearl Gown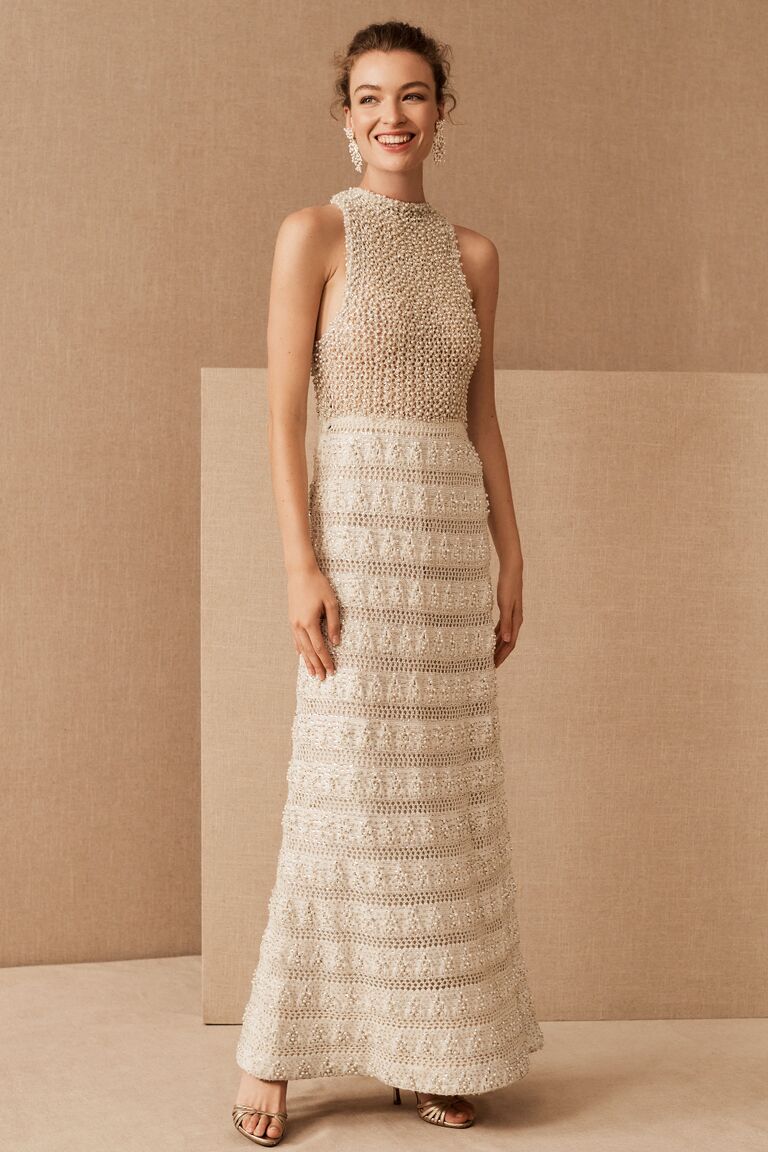 Intricate hand-sewn pearls and sequins adorn this crocheted racerback gown, which was acquired from a private seller in Milan. The couture dress was originally designed in the 1960s by Jole Veneziani, who's often referred to as the "Mother of High Italian Fashion."
Vintage 1990s Oscar de la Renta Striped Ball Gown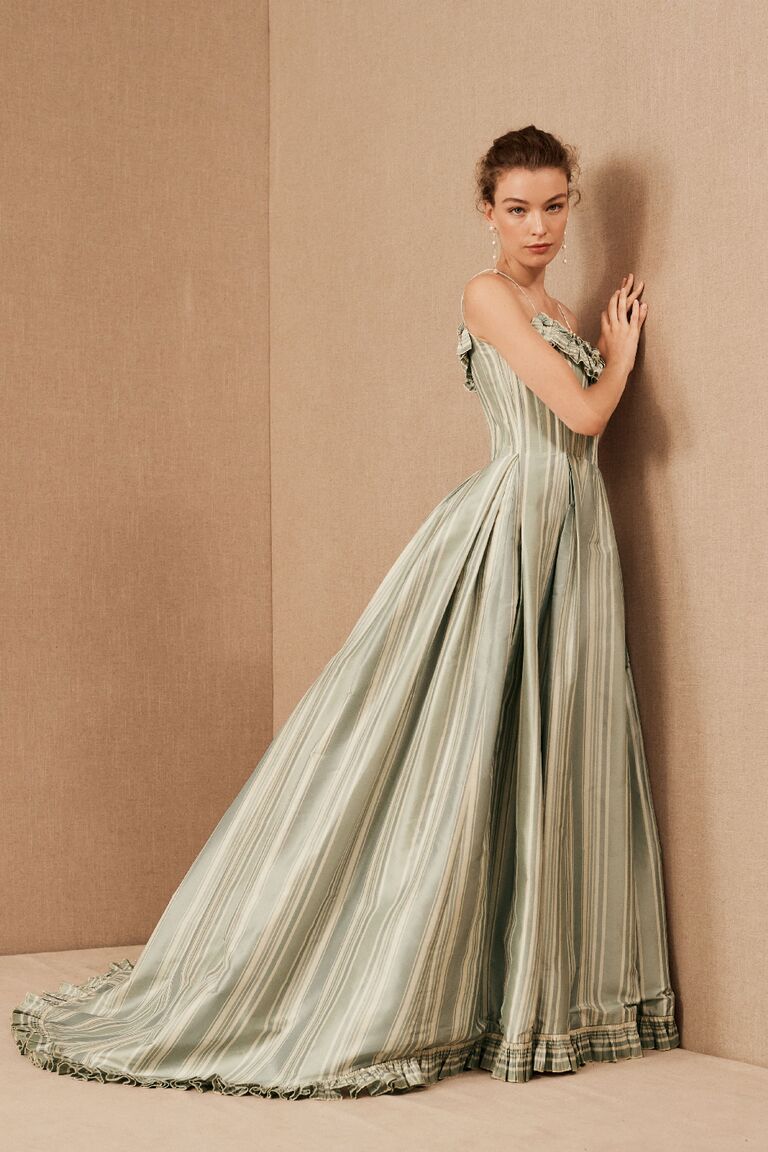 This colorful custom-made Oscar de la Renta ball gown was worn just once—to the Academy Awards, that is. Striped silk taffeta in hues of green, blue and ivory wrap around the corseted gown, which has dainty ruffles lining the bodice.
Vintage 1970s Bohemian Lace Top & Skirt Set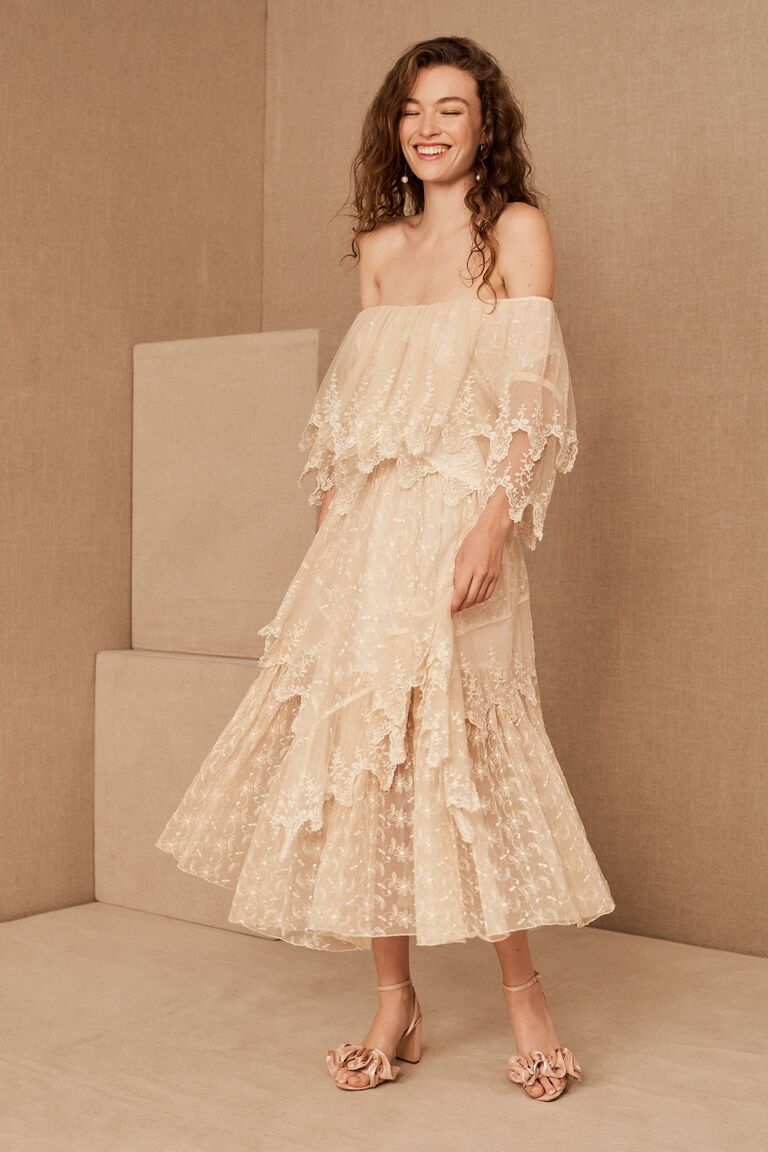 Boho brides may prefer this lacy two-piece set, which was sourced from Paris. An original design from Jean Louis Riesch, this restored off-the-shoulder rendition boasts delicate lace cascading from the top and the skirt, making it a great option for a rehearsal dinner or a whimsical outdoor ceremony.
Vintage 1980s Beaded Keyhole Mini Dress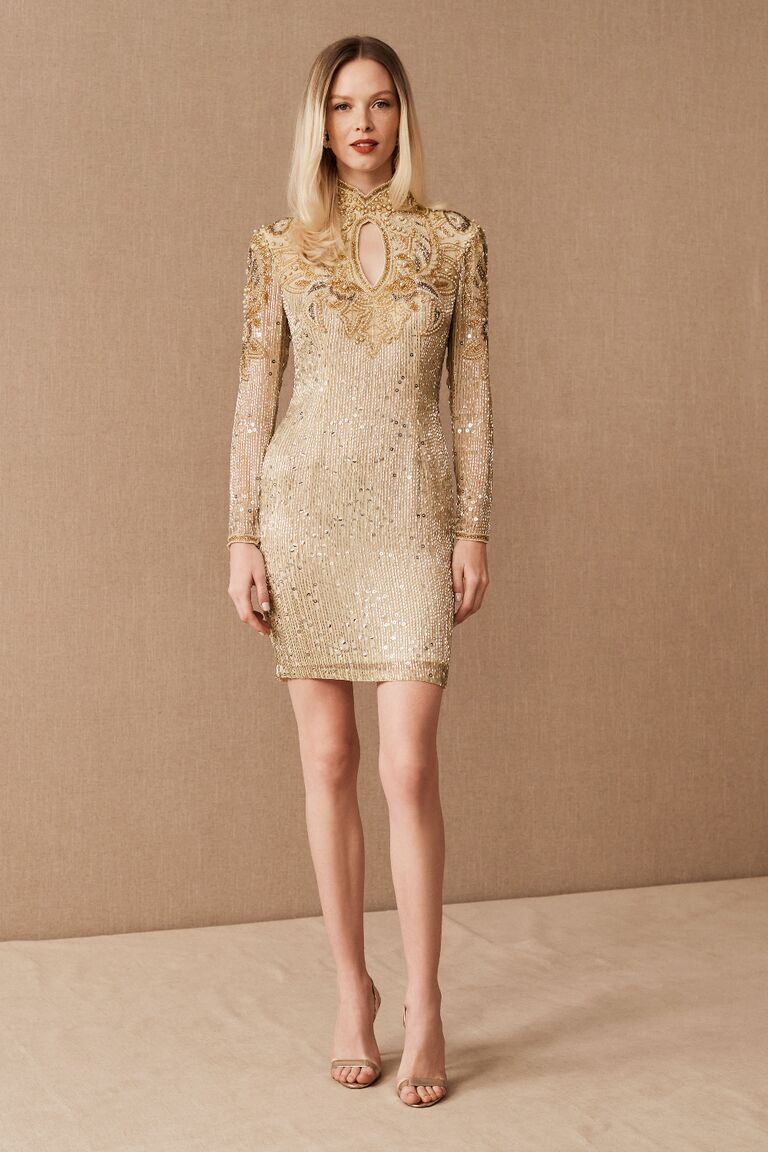 The '80s were known for maximal fashion, as evidenced with this hand-beaded mini. Dripping in intricate patterns of pearls and sequins, this ivory and gold number is equal parts flashy and sultry thanks to the metallic color palette and flirty keyhole cutout.
Vintage 1960s Peach Chiffon Gown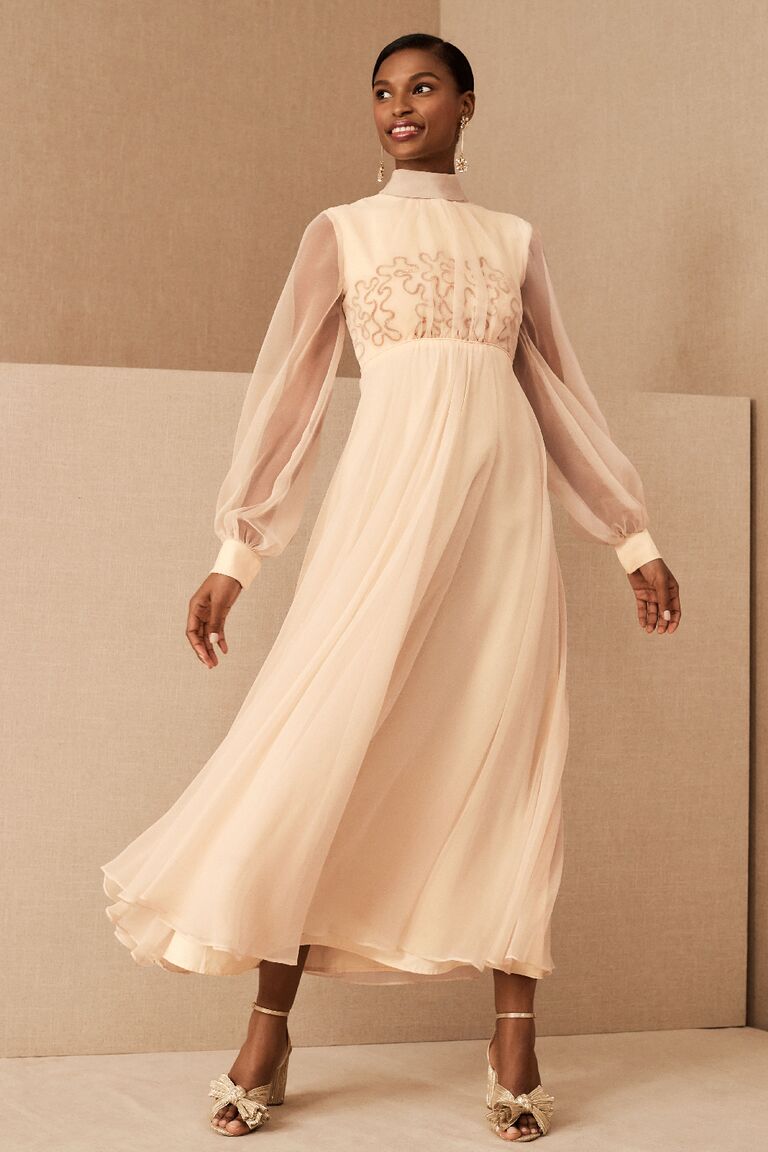 Perfect for a retro-inspired wedding, this airy dress includes swirly sequin details on the bodice underneath a gauzy later of chiffon. Sheer cuffed sleeves and a bow at the back of the high neckline draw clear influences from 1960s mod fashion.
Vintage 1980s Carolina Herrera Beaded Tank Gown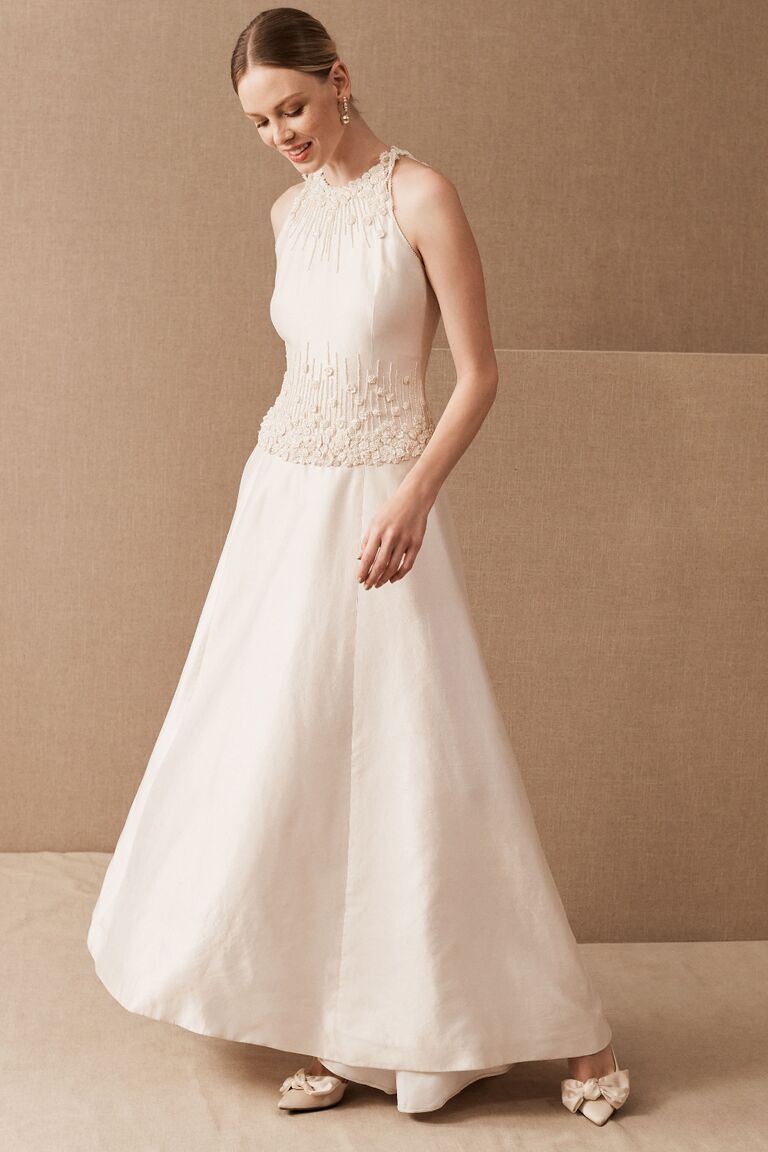 This beaded Carolina Herrera gown is like a work of art thanks to its rare shantung silk fabric. Pearl rays peek out from behind embroidered flowers on the neckline and bodice, which cascades into a full A-line skirt.
Vintage 1960s Sequin Floral Bolero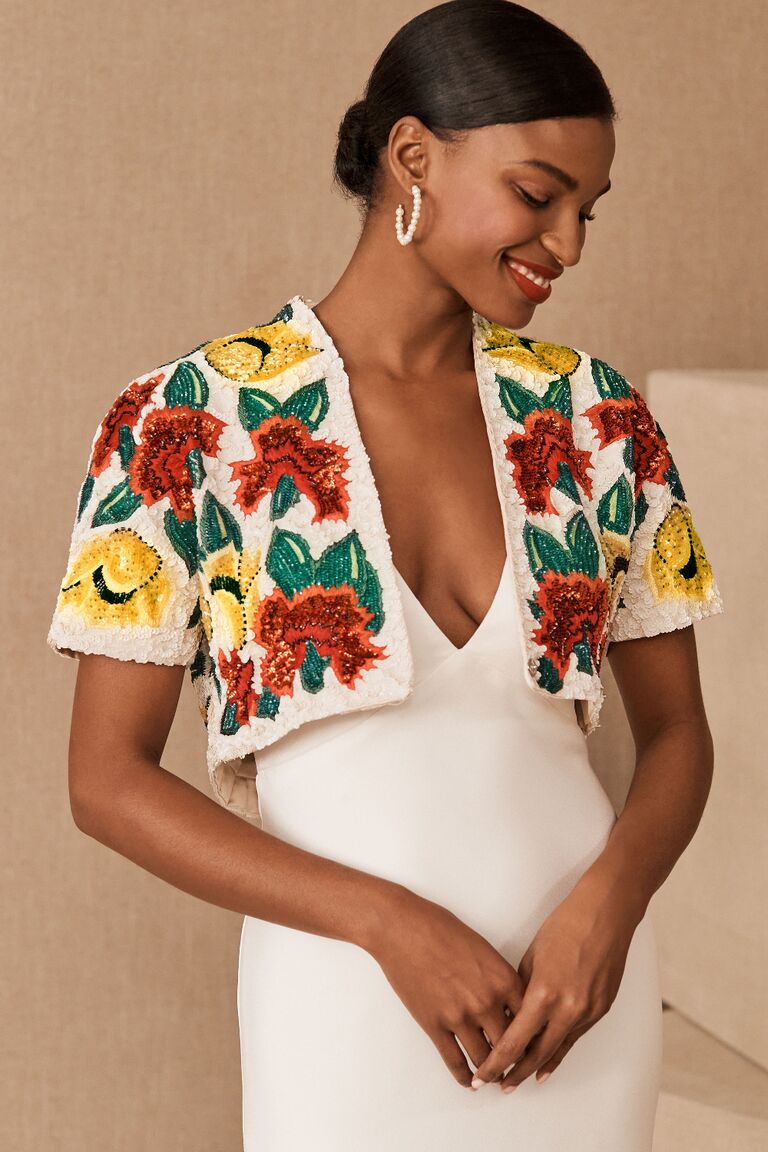 Florals for your wedding day? We're all about it. This colorful bolero was handcrafted in Saudi Arabia and includes vibrant layers of dimensional sequins and floral embroidery. The best part is that you can definitely repurpose this piece after your wedding day. (Honeymoon arrival outfit, anyone?)