Exactly How to Describe Your Dream Wedding Dress Aesthetic
From boho to bombshell, these buzzwords will help you find *the* gown.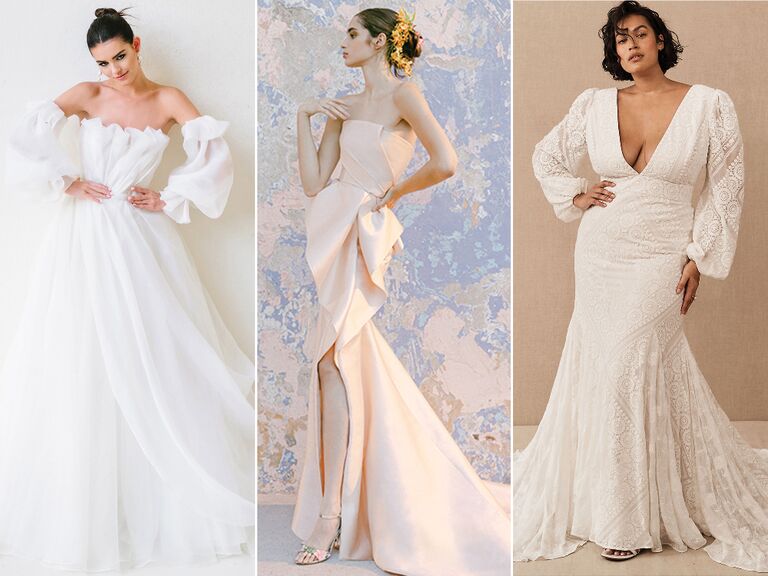 Watters,Monique Lhuillier,BHLDN
Getting creative with the visual aesthetic of your wedding day is one of the best ways to personalize your nuptials. And whether you've been curating your Pinterest board for years or you're new to the world of color palettes, fabrics and decor, we're here to help you narrow down your wedding style. Plenty of factors will contribute to the overall vibe of your wedding, from signage to seating and even your reception table setups—but one of the most impactful details, though, is your wedding dress. Your outfit has the power to serve as an extension of your wedding style. So, whether you've opted for a glamorous soirée at a luxe mansion or a beachy bohemian ceremony on the coast, your wedding dress aesthetic can (and should!) complement your overall vision. But how do you describe exactly what's in your head when it's time to go shopping?
During your dress shopping appointment, your consultant will likely ask what you want to look like on your big day before they start pulling designs to try on. And while you certainly don't have to be a wordsmith to get your point across, finding the right descriptors to explain your vision might feel like a challenge… but that's where we come in. If you're not sure how to describe your wedding dress aesthetic, it's helpful to familiarize yourself with common bridal fashion lingo. Ultimately, knowing exactly how to explain your vision will help your consultant lead you to the dress of your dreams.
As your go-to source for all things wedding fashion, we've created this useful guide to wedding dress aesthetics. Here, we break down the most common wedding dress styles, along with specific buzzwords (and photos!) that will help you explain exactly what you want.
In this article:
The Style: Bohemian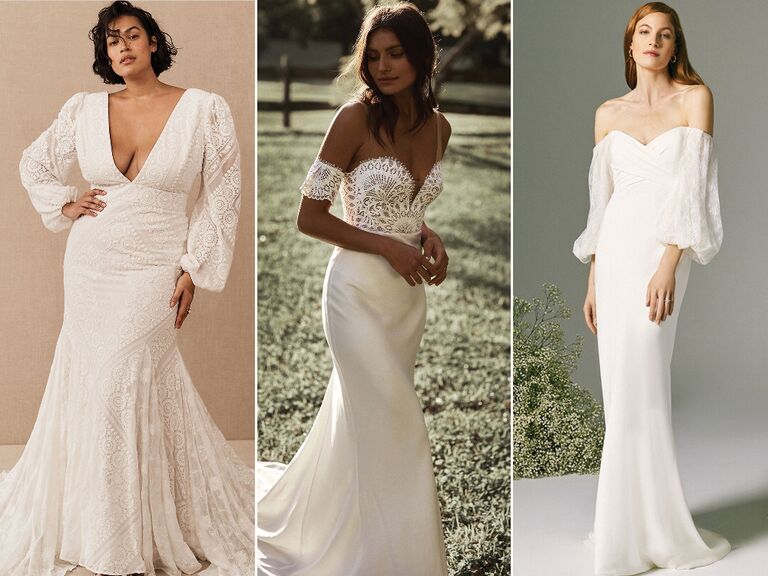 Buzzwords to use: Eclectic, effortless, off-beat, free-spirited, relaxed
Bohemian wedding dresses are notoriously laid-back and often have a free-spirited vibe. When you think of a boho wedding dress, you might envision something with an intricate lace pattern, fringe, tassels, mismatched textures or loose skirts full of movement. Boho weddings are effortlessly cool, and the dress style follows suit. You'll want to look for simple silhouettes (think: A-line, column or sheath) that have rich textures or lacy details.
The Style: Classic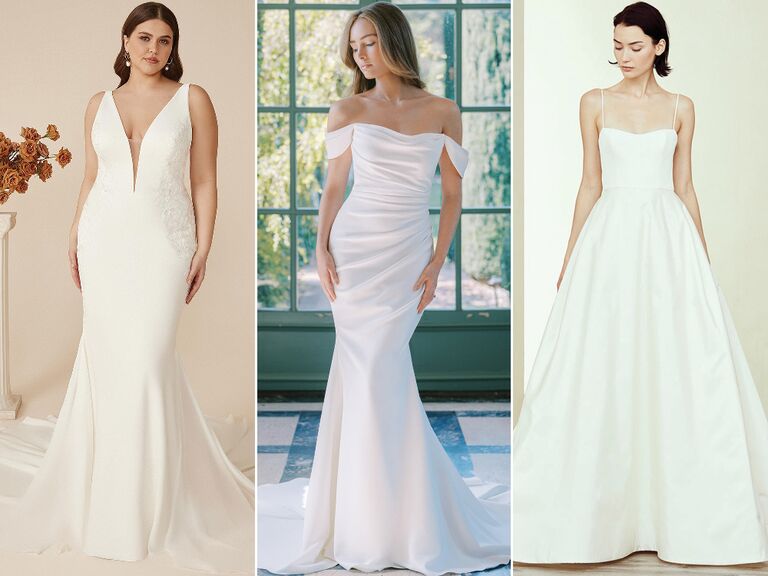 Buzzwords to use: Timeless, simple, minimal, traditional, clean
If you're looking for a wedding gown that'll never go out of style, a classic aesthetic is perfect for you. You won't find intricate beading, bold cutouts or layered textures on a classic dress. Instead, this wedding dress aesthetic is synonymous with simple shapes and fabrics (like satin, crepe, silk or taffeta). Ask your stylist to pull simple ball gowns, A-lines, trumpets or sheaths, as these silhouettes lend themselves to a timeless look.
The Style: Glamorous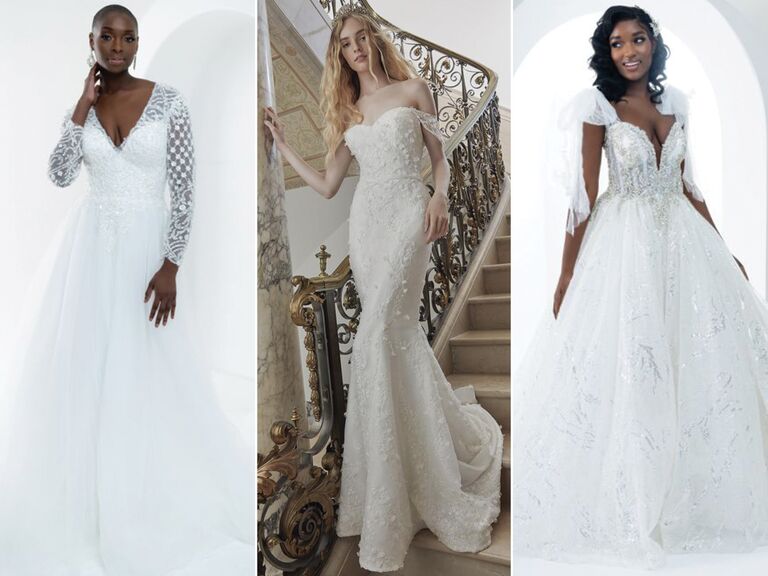 Buzzwords to use: Chic, polished, luxe, couture, high fashion, sophisticated
Whether you're channeling Old Hollywood or modern luxury, glam wedding dresses are perfectly fit for venues like mansions, estates, ballrooms or castles. This style often includes sparkling embellishments, like crystals or beading, as well rich, lustrous fabrics. (Think: the shinier, the better.) Glam wedding dresses can be interpreted a few ways: You might want a fitted mermaid dress with intricate hand-sewn beading, a lavish ball gown with a structured bodice and a full skirt, or a silky sheath with a statement crystal-encrusted cape. Your interpretation of a glam wedding dress may depend on where you're exchanging vows, but the key factor to know is that this wedding dress aesthetic is maximal and high-class.
The Style: Modern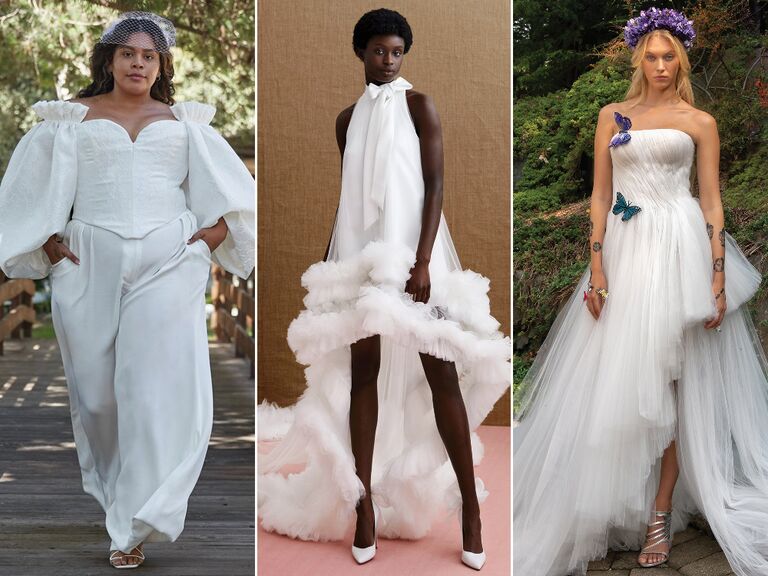 Buzzwords to use: Non-traditional, unique, fresh, avant-garde, edgy, experimental, inventive
We're all about feeling like your most confident self on your big day. If classic wedding dress aesthetics aren't for you, you might want to experiment with something completely non-traditional. Of course, everyone can interpret a "modern" wedding dress in their own way. Maybe you want something short and feathered, or perhaps a maxi with allover ruffles speaks to you. Another thought? Ditch the dress altogether for a sleek jumpsuit. As wedding traditions evolve over time, so do dress styles and, ultimately, there are no rules that say what you have to wear. The designers above are a great starting point to find a fresh, of-the-moment wedding dress that's completely unexpected. Wedding dress keywords like avant-garde and experimental will set you in the right direction.
The Style: Romantic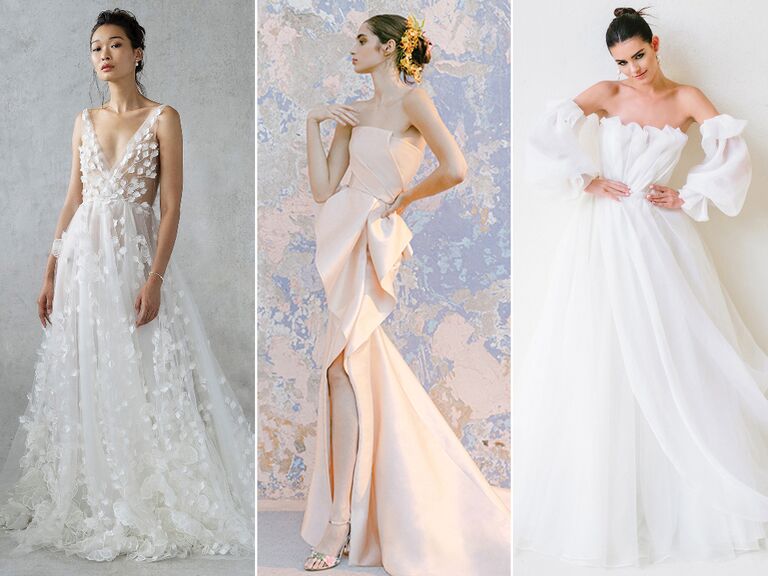 Buzzwords to use: Airy, elegant, soft, feminine
Hopeless romantics, this wedding dress aesthetic is for you. Weddings are full of emotion and joy, and it's completely possible to have your dress embody those warm and fuzzy feelings. (Think of romantic wedding gowns as Taylor Swift's Lover album, but in dress form.) You'll want to look for styles that have gauzy fabrics, full skirts, sweetheart necklines, lace patterns, billowing sleeves, or even blush undertones if you want to play with color. You might even consider something with a lush floral or botanical print if you really want to step outside the box with your ensemble.
The Style: Sultry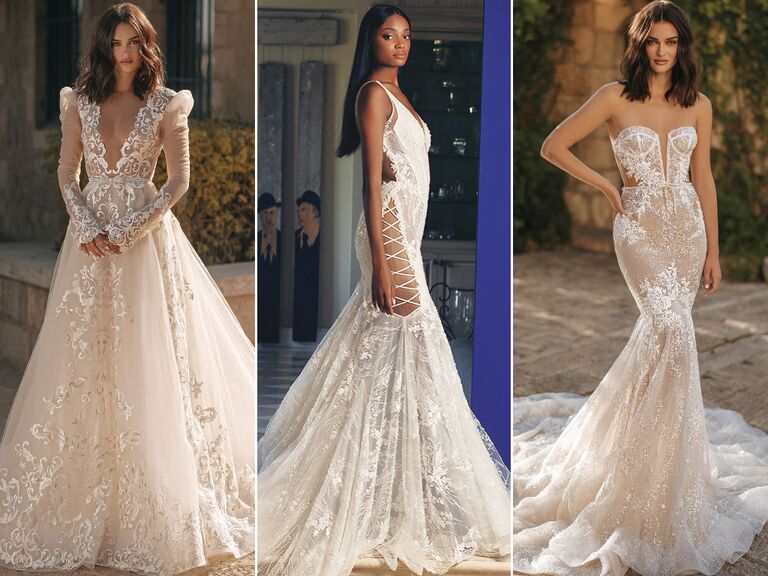 Buzzwords to use: Bombshell, flirty, modern, sleek, alluring, sexy
Want to look like a bombshell on your big day? A sultry wedding dress just might be your ideal aesthetic. Ask your consultant to pull figure-flattering silhouettes, like fit-and-flares, mermaids, or slips. You'll also want to be on the lookout for details like busier bodices, sheer paneling, draped open backs, high leg slits and plunging necklines. Pro tip: While sultry wedding dresses might often be associated with skin-baring elements, they aren't your only option. A long sleeve lace sheath, for example, can bring the drama too. When it comes to explaining your sultry vision, it all depends on your personal taste and what you want to look like on your big day.
The Style: Whimsical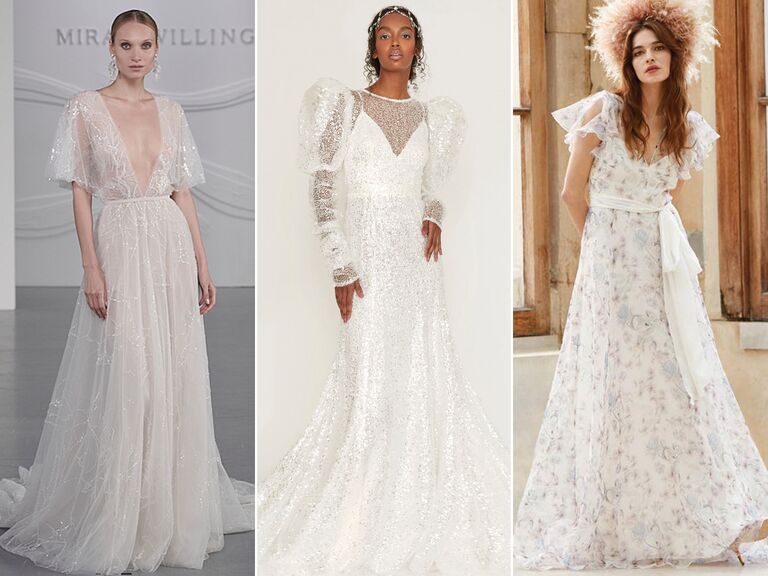 Buzzwords to use: Ethereal, playful, eccentric, artistic, creative, artisanal, magical
Whimsical dresses are imaginative, playful and fun—think Alice in Wonderland, but for your wedding. They'll often include artistic elements, like a full tulle skirt, sheer organza sleeves, or bold details like tiered layers, ruffles, or floral appliqués. You might consider donning full balloon sleeves, a draped off-the-shoulder neckline, or a strapless gown with a cascading cape. Ultimately, the options for a whimsical wedding dress are nearly endless, and the overall look lies in your interpretation of whimsy and fantasy.
The Style: Vintage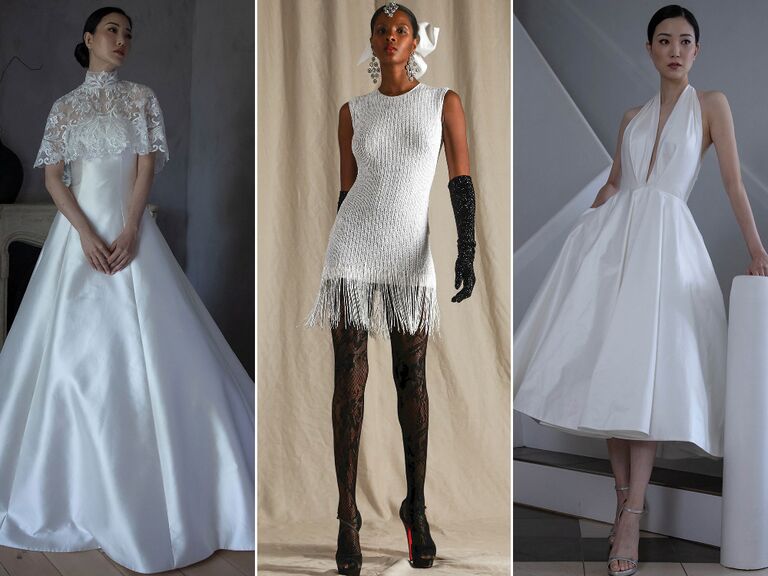 Buzzwords to use: Heirloom, antique, Victorian, mod, regal, retro, art deco
You can certainly pull inspiration from the past when curating your wedding day look. In fact, vintage elements are having a moment on bridal fashion runways; elongated cuff sleeves, mock necklines, retro jumpsuits and slip dresses are all back in style today. Bridal fashion trends are cyclical, after all, which means vintage elements are always coming back with modern touches. The way you describe your vintage vision depends on what era you're inspired by. For a 1920s wedding dress, use words like "flapper," "art deco," or even "Great Gatsby." Dresses inspired by later fashion eras, like the 1950s or 1960s, can be categorized as retro or mod, while 1970s-inspired gowns could be labeled as funky or disco. Styles pulled from the '80s and '90s, of course, would be categorized as maximal. (For a sleeker '90s look, tell your stylist that you'd like to channel Carolyn Bessette Kennedy's vibe—they'll know exactly what to do.) Similarly, if you're channeling a specific look from a historical figure, like Princess Diana or Grace Kelly, you'll want to check out LEGENDS Romona Keveza.